A good dresser is essential for any bedroom, providing functionality and style. However, finding the perfect dresser within a limited budget can be challenging. Thankfully, excellent options under $500 offer quality, durability, and aesthetic appeal.
Our first top pick is the WLIVE 9-Drawer Dresser. This dresser's sleek design and ample storage space offer style and functionality. It features a sturdy construction and is made of high-quality materials, ensuring durability. The SONGMICS Dresser for Bedroom is another excellent choice, blending modern design and practicality. Its nine spacious drawers offer plenty of storage options for your belongings. Lastly, the mDesign 30.9" High Steel Frame/Wood Top Storage Dresser combines a steel frame with a wood top, creating a stylish and contemporary look. Its tiny size makes it ideal for smaller places while yet giving enough storage.
In this blog article, we will explore further the features, pros, and cons of these top three dressers and provide user reviews and ratings. By the end, you'll understand why these dressers stand out and which one might be the perfect fit for your needs and budget.
What Are the Benefits of Having a Dresser?
A dresser in your bedroom provides several benefits that contribute to a well-organized and functional living space. Here are some key benefits of having a dresser:
1. Ample Storage Capacity
Dressers, especially double dressers with multiple drawers, like the best dressers for under 500, provide generous storage space. The large drawers can accommodate a variety of items, including clothes, linens, and accessories. This helps to declutter the bedroom and keep belongings organized.
2. Maximizing Space
Dressers allow you to effectively reclaim valuable property in your bedroom by utilizing wall space. Instead of relying solely on closets, dressers provide additional storage options, making keeping items within reach and in a well-organized manner easier.
3. Style and Aesthetics
A well-chosen dresser can be a perfect luxe accent in the bedroom, enhancing the overall style and decor. Mid-century modern dressers with unique brass drawer pull, clean lines, and cool brown stain, such as the oak mid-century piece, can add a chic and contemporary touch to the room.
4. Versatility
Dressers are not limited to the bedroom alone. They can be used in other spaces like apartments, playrooms, or entryways to store various items. Their versatility allows them to adapt to different rooms and serve as functional storage solutions.
5 Best Dressers Under $500
1. WLIVE 9-Drawer Dresser, Fabric Storage Tower for Bedroom
Sale
WLIVE 9-Drawer Dresser, Fabric Storage Tower for...
Multifunction Tower: This fabric dresser for bedroom is ideal for...
Roomy Storage Space: The 9 foldable deep drawers are so spacious...
Sturdy and Durable: Strong steel frame and water-resistant wood...
Safe for Your Family: Feel free to place chest of drawers...
Overall Dimension: The fabric dresser measures 39.4" L x 11.8" W...
The WLIVE 9-Drawer Dresser has been a game-changer in our room, providing a stylish and practical solution for keeping clutter at bay. This multifunctional tower has found its perfect spot in our bedroom, matching seamlessly with our existing WLIVE storage organizers.
One of the standout features of this dresser is its roomy storage space. The 9 deep drawers offer endless possibilities for organization, accommodating all our essentials with ease. The wooden top is a bonus, providing a convenient surface for the best lamps, clocks, and other daily items we like to keep within reach.
Image Source: WLIVE.com
Another significant feature that pleased us was its durability. The durable steel frame and water-resistant wood top provide sturdy stability, assuring that this bedroom furniture will last for years. The inclusion of 4 adjustable plastic feet not only protects our floor from scratches but also allows for stability even on uneven ground.
We greatly appreciate the safety measures taken into consideration. With the anti-tipping accessories included, we can place the dresser anywhere in the room without worry. The breathable, harmless, non-woven fabric adds peace of mind, especially for our family members, including children and teens.
2. SONGMICS Dresser for Bedroom
Sale
SONGMICS Dresser for Bedroom, Chest of Drawers, 6...
Bye Bye, Chaos! If you keep losing ground in the battle against...
Pleasing to the Eye: Charming charcoal gray tone, matte black...
Materials Speak for Themselves: When fabric meets a metal frame...
Every Room Scrambles for It: The closet wants a cabinet for...
What You Get: A practical dresser with 6 fabric drawers, a...
If you're searching for a high-quality dresser under $500, the SONGMICS Dresser is a standout option that combines style, functionality, and affordability. With its 6 spacious fabric drawers, it has become our go-to solution for tackling clutter and bringing tidiness back into our master bedroom.
Image Source: SONGMICS.com
The dresser's charcoal gray tone, matte black frame, and smooth solid wood knobs create an eye-catching look that lends a touch of refinement to any home. The combination of fabric, metal frame, and fiberboard top and front results in a stable, durable, and lightweight closet organizer that effortlessly supports our growing wardrobe.
We found this dresser incredibly versatile, making it a perfect fit for various rooms. Whether it's workout gear in the closet, baby essentials in the nursery, or a storage unit in the entryway, this cheap dresser meets all our needs with its ample storage capacity and well-designed compartments.
Assembly was a breeze, and the dresser's lightweight design allows easy movement and placement. The inclusion of 4 adjustable feet ensures stability on any surface. We were also pleased with the professional customer service, as they promptly answered all our questions and concerns.
3. mDesign 30.9" High Steel Frame/Wood Top Storage Dresser
mDesign 30.9" High Steel Frame/Wood Top Storage Dresser...
7 DRAWER CHEST: Features 7 removable drawers; Use in or out of...
STYLISH SMART STORAGE: This furniture stand boasts a lightweight...
FUNCTIONAL & VERSATILE: Create coordinated organization in any...
QUALITY CONSTRUCTION: Made of breathable non-woven synthetic...
THOUGHTFULLY SIZED: Measures 11.41" x 31.49" x 30.9" high
The mDesign Wood Top Storage Dresser has been a fantastic addition to our home, providing stylish and smart storage solutions. With its 7 removable drawers, this chest offers ample space for organizing all our clothing and accessories in one convenient place. We love how versatile it is, allowing us to use it both in and out of the closet, bringing clutter under control.
Image Source: mDesign.com
This dresser boasts a lightweight design that fits perfectly in smaller spaces without compromising storage capacity. The wood top offers a sturdy surface for placing lamps, books, and decor, adding a touch of style to the room. The easy pull handles on the generously sized drawers make accessing our belongings a breeze.
We appreciate the quality construction of this dresser, with its breathable non-woven synthetic fabric, strong steel frame, and durable MDF wood top. The included hardware made assembly a straightforward process.
4. T4TREAM 5 Drawer Dresser for Bedroom, Mid-Century Modern Dresser
T4TREAM 5 Drawer Dresser for Bedroom, Mid-Centry Modern...
Dimensions: 5 drawer chest size: 32"L x 16 "W x 48 "H, drawer...
Mid-Century Modern Tall 5 Drawer Dresser: The wooden rustic 5...
Stable and Sturdy Design:The 5 drawer dresser is made of sturdy...
High quality sliding rails and safety design: 5 drawers are...
Easy to Install and Customer Service: Our 5 drawer dresser have...
The T4TREAM 5 Drawer Dresser for the Bedroom is a stunning addition to our home, perfectly embodying the mid-century modern style we were seeking. Its unique brass drawer pulls, and cool brown stain gives it a chic and luxurious appearance, making it a standout piece in our main bedroom.
Image Source: T4TREAM.com
With its generous storage capacity and five large drawers, this dresser has solved our never-ending battle with a lack of closet space. Bulky sweaters, linens, and other items find a perfect home in this dresser, allowing us to reclaim priceless real estate in our room.
The sturdy construction of the dresser, made from high-quality engineered wood with a water-resistant finish, ensures its durability and longevity. The triangular design of the three-dimensional legs adds stability and a touch of elegance. We appreciate the included anti-tilting device, providing an extra layer of safety, especially in children's rooms.
The high-quality metal sliding rails of the drawers allow for smooth and easy access. We are impressed with the attention to safety, as the package includes an anti-fall device that can be used to lock the dresser to the wall, protecting our family members and preserving the integrity of our floors.
5. IKENO 6 Drawer Double Dresser
Sale
IKENO 6 Drawer Double Dresser, Industrial Wood Dresser...
【Industrial Style】: Add a classic, simple, storage solution...
【DURABLE & SAFETY】: Made with a powerful metal frame and...
【AMPLE STORAGE SPACE】: Measures 47.2" (W) x 15.7" (D) x 28.0"...
【Multipurpose Usage】: This vertical chest of drawers can be...
【Easy Assembly】: Hassle-Free Assembly with a simple structure...
Whether you're seeking a dresser for a main bedroom, apartment, or dorm room, IKENO 6 Drawer Double Dresser is a reliable and stylish option that exceeds expectations. It delivers the ideal balance of performance and appearance. Its industrial style, durability, ample storage space, and easy assembly make it a standout choice.
Image Source: IKENO.com
As a mid-century modern dresser, it adds a touch of chic and sophistication to our home. The cool brown stain gives it a timeless appeal that perfectly complements our decor. Durability and safety are paramount, and this dresser delivers on both fronts. A robust metal frame and a durable MDF wooden top ensure long-lasting performance. An anti-tip device adds an extra layer of safety, which is particularly important for households with children. The adjustable legs prevent scratches on our floor, providing peace of mind.
The ample storage space of this bedroom furniture is impressive. With its six large drawers, we can neatly store and organize our clothes, books, toys, and other essentials. The spacious top surface allows for displaying cherished items like photos and decorative pieces, adding a personal touch to the room.
We appreciate the versatility of this dresser, as it can be used in various settings such as closets, bedrooms, nurseries, playrooms, and entryways. Its compact size suits small spaces like apartments and dorm rooms. It pairs well with other pieces from the IKENO Collection, allowing for a cohesive and stylish ensemble.
Factors to Consider When Searching for the Best Dresser for Under 500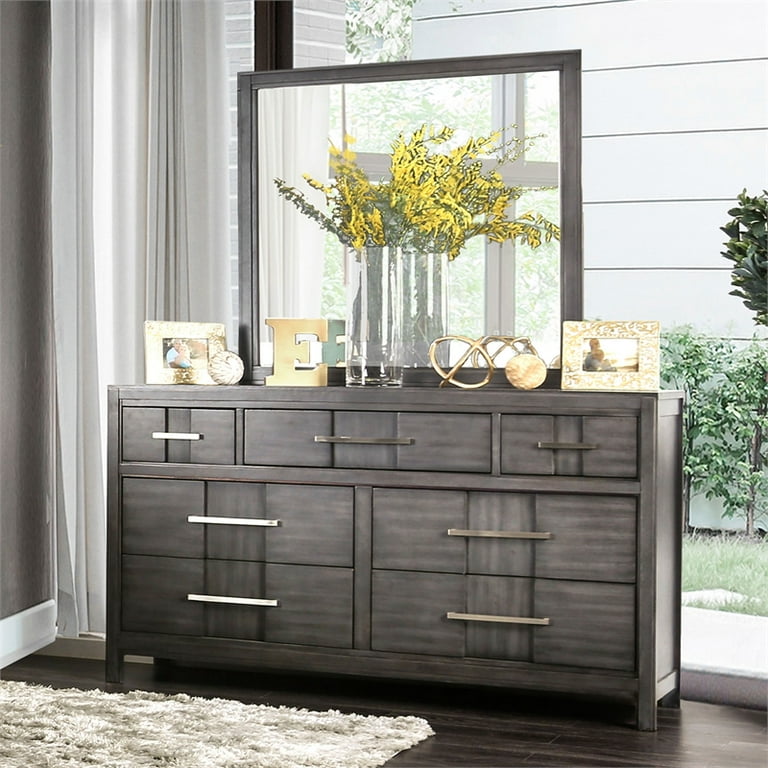 Image Source: walmartimages.com
1. Storage Capacity
Look for dressers with ample storage space, such as double dressers or those with six or more drawers. Consider the size and depth of the drawers to accommodate your items, especially if you have bulky sweaters or larger clothing pieces.
2. Quality and Durability
Ensure the dresser is made of sturdy materials, like solid wood or high-quality engineered wood, to ensure longevity. Check for reinforced corners, strong hardware, and reliable drawer mechanisms to ensure it can withstand everyday use.
3. Style and Aesthetics
Consider the dresser's general style and design, such as mid-century modern or contemporary, to ensure it compliments the décor of your bedroom. Look for unique features like brass drawer pulls or a cool brown stain that adds a touch of elegance.
4. Size and Fit
Measure your available space and consider the dresser's dimensions to ensure it fits well within the room. The dresser should be proportionate to the space, leaving enough room for movement and furniture.Consider the dresser's height, breadth, and depth to ensure it can be accommodated without dominating the area.
5. Assembly and Ease of Use
Check if the dresser comes with clear assembly instructions and the necessary tools for installation. Consider the ease of use, including smooth drawer operation and accessibility. Drawers should open and close easily without getting stuck or requiring excessive force. Opt for a dresser that offers user-friendly features and functions.
6. Reviews and Recommendations
Read consumer evaluations and seek suggestions from interior designers or credible sources before making a final selection. These insights can provide valuable information about the dresser's quality, durability, functionality, and overall satisfaction from those who have used it. Considering other people's experiences might help you make an informed selection and choose a dresser that matches your needs.
Dresser Organization Tips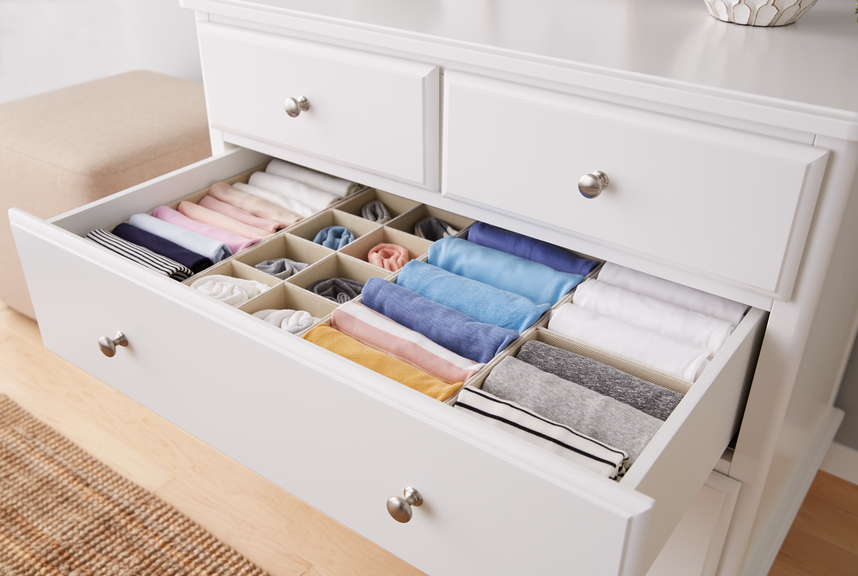 Image Source: prismic.io
To keep your dresser organized:
Sort and declutter: Start by removing everything from your dresser and decluttering items you no longer need or use.
Categorize: Group similar items together, such as socks, underwear, or accessories, to make it easier to locate them.
Utilize drawer dividers: Use dividers or small bins to separate items within each drawer, preventing them from getting mixed up.
Fold and stack: Fold clothes neatly and stack them vertically to maximize space and visibility.
Label drawers: Label each drawer to identify its contents and maintain order quickly.
Regular maintenance: Regularly go through your dresser to reorganize, discard items, and keep it tidy.
Final Take
Image Source: ikea.com
In conclusion, finding the best dressers under $500 is a rewarding endeavor that can enhance your bedroom's functionality and style. By considering factors such as storage capacity, quality, style, size, and ease of assembly, you can select a dresser that meets your needs and budget.
Whether it's a double dresser, a mid-century modern piece, or a contemporary design, these cheap dressers give plenty of storage space and add a touch of elegance to your living space. With careful thought and study, you may choose the ideal dresser that blends functionality, price, and aesthetic appeal.