If you want to uplift your ordinary homemade bread to an artisan-style rustic bread, then the best dutch oven for bread baking is probably the ideal investment to make. This is because a dutch oven is designed to withstand high temperatures and maintain that temperature consistently, meaning you will get that perfect, crusty loaf.
However, not all dutch ovens are designed the same, and finding the most suited to your specific baking and cooking needs can be hard. That is why we have compiled this guide with the best dutch ovens for bread baking to help you find the best for you. Read on to find out more!
What Is a Dutch Oven?
A dutch oven is a heavy, wide, and shallow pot with a tight-fitting lid. These pots are usually made of seasoned cast iron but you will find others made of cast aluminum, or ceramic. The dutch ovens are similar to both the Japanese Tetsunabe and the sac, a traditional Balkan cast-iron oven.
Image Source: southernliving.com
The most important feature of a Dutch oven is that it is heavy because it needs to maintain a constant temperature either in the oven or on the stove for a long time. Additionally, it needs to have a tight-fitting lid to ensure heat remains in the pot.
The best bit is that these pots are designed for more than just sourdough bread baking. You can literally cook anything in them from pork shoulder or lamb shanks to soups and stews.
Now with that understanding, let's dive in and look at the five best dutch ovens for bread baking.
1. Lodge L8DD3 Cast Iron Double Dutch Oven
Sale
Lodge L8DD3 Cast Iron Double Dutch Oven, 5-Quart
One Lodge Pre-Seasoned 5 Quart Cast Iron Double Dutch Oven
Lid converts to a 10.25 Inch Skillet
Loop handles provide secure control
Unparalleled heat retention and even heating
Pre-seasoned with 100% natural vegetable oil
The Lodge dutch oven is our all-time favorite option for a couple of reasons. First, this piece of cookware is super affordable, virtually nonstick after sufficient seasoning, and amazingly versatile. Our Lodge Cast Iron Double Dutch Oven was pre-seasoned, meaning we were able to use use it right away unlike most other dutch ovens made of raw cast iron.
The general shape of this medium-sized Dutch oven is typical of Dutch ovens, but the lid had a domed top complete with handles instead of a top handle. The best bit is that the lid design can be used as an additional cooking vessel for frying, baking, or simmering.
Thanks to its dark interior, it was incredibly easy to clean and care for. It should be hand-washed and then dried thoroughly before it's stored. While most people say that cast iron cookware should never meet soap, we're comfortable with the occasional use of soap, particularly after the pot is well seasoned.
2. Staub Cast Iron 4-qt Round Cocotte
Staub Cast Iron 4-qt Round Cocotte - Cherry, Made in...
Made in France
Heavy weight tight fitting lid retains moisture spikes on the lid...
Oven safe up to 900F/482C without lid Lids are oven safe up to...
Nickel steel knob
Smooth enamel bottom works on all stovetops including gas...
The Staub Round Cocotte Dutch Oven is an adaptable kitchen staple that is perfect for anyone who loves to bake. Though it is on the more expensive side, the Staub Round Cocotte is definitely worth the investment due to its superior construction and performance. Plus, its unique design makes it a fixture in your kitchen.
Image Source: Staub.com
Its enameled cast iron construction looked great in our kitchen and ensure consistent cooking results. Another one of our favorite features of the Staub Round Cocotte is its capacity to evenly distribute heat and retain it so well.
Additionally, our cast iron dutch oven had a unique moisture system that gave it the ability to retain moisture, something all bakers will admire. Also, the watering system of this Dutch oven for bread baking allowed us to create a drip water effect that evenly distributed moisture, ensuring it was cooked evenly.
3. Le Creuset Enameled Cast Iron Signature Round Dutch Oven
Le Creuset Enameled Cast Iron Signature Round Dutch...
45% larger handles that provide a sure grip, even with oven...
The superior heat distribution and retention of le creuset...
An advanced sand-colored interior enamel with even more...
A larger composite knob that withstands temperatures up to 500ºF
Colorful, long-lasting exterior enamel that resists chipping and...
Le Creuset enameled cast iron dutch oven is a perfect option if you are looking to achieve a perfect sourdough bread with a crispy crust and airy texture every time. Our dutch oven for baking bread was able to hold up to 1.75 quarts of dough, making it perfect for small families or couples.
Image Source: lecreuset.com
The pot also had a tight-fitting domed lid that ensured proper moisture retention for perfectly baked bread. Again the enameled cast iron dutch oven had a low-profile base edge that gave us a perfect seal when finishing our food, so we did not have to worry about soggy bread. Plus, these edges also helped prevent bubbling and splattering when we used the pot to make stew or soup.
Even better, the Le Creuset enameled cast iron Dutch oven came pre-seasoned, so we were able to use it right out of the box. Plus it has a porcelain coating that made it resistant to staining and chipping.
4. LoafNest: Incredibly Easy Artisan Bread Kit Cast Iron Dutch Oven
LoafNest: Incredibly Easy Artisan Bread Kit. Cast Iron...
LoafNest : The Revolutionary New Way to Easy Artisan Bread at...
EASY: No-Kneading, No-Shaping, No-Mess, No-Fuss, No-Cleanup. Less...
TASTY AND HEALTHY: Crunchy Crust and Soft Airy Crumb. Your Own...
RELIABLE: Consistently Great Results Every Time. No Guesswork for...
THOUGHTFUL DESIGN: Based on Proven Bread Science. Designed in The...
LoopNet is another perfect option that allows you to make all your favorite dutch oven bread recipes at home. Our dutch oven came with a non-stick liner that made it easy to clean and ensured our bread was baked to perfection, with a crunchy exterior and a soft, fluffy interior. Plus, with this pot, we were able to get the same quality and consistency as a professional baker.
Image Source: LoafNest.com
With quality construction and a practical oval shape, it's the best-size Dutch oven for bread, as it provides enough room for your loaves to expand. The best bit is that this pot will keep your dough from burning on the bottom since it is able to maintain heat at all levels.
Additionally, with this pot there are no messes, meaning you will be able to clean up in a very short time. You can expect to have an incredible time when you are baking bread with the LoafNest cast iron Dutch oven.
5. Emile Henry Ceramic Bread/Potato Cooker | Burgundy
Sale
Emile Henry Ceramic Bread/Potato Cooker | Burgundy
MADE IN FRANCE. Made of all natural materials and manufactured...
SAFE TO USE IN THE OVEN, ON TOP OF THE STOVE or ON BBQ GRILLS....
HEALTHY COOKING. Low, Slow cooking brings out the best flavors....
30% LIGHTER. Weighs up to 30% lighter than many types of heavy...
10 YEAR GUARANTEE. 10 YEAR warranty against manufacturing defects...
Emile Henry Ceramic Bread oven is another great option you could go for. We were intrigued by the fact that this dutch oven was made of natural materials and was designed with French Flame technology which provided an even baking environment that releases more moisture than other dutch ovens for bread baking.
Image Source: EmileHenry.com
Finally, this dutch oven had a beeswax finish that allowed for ease of release of our baked goods while keeping them moist on the inside. Again cleaning the pot was super easy since we only needed to wipe them off gently with a cloth. To add o that the pot was dishwasher friendly, but we preferred washing it by hand for longevity.
Factors to Consider When Buying The Best Dutch Oven For Bread
Image Source: truesourdough.com
1. Shape and Sizes
The first and most important factor to consider when choosing the right dutch oven for bread baking is the size and shape. Well, you should pick a shape that is easy to care for and maintain. The most popular shape is the round or oval dutch oven, but you can definitely get a shape that suits your needs.
When it comes to sizes, the options are more varied and you will need to choose a size depending on your needs. The most common sizes you will encounter include; 3.5 quarts, 4-quart, 5.5 quarts, and 7.5-quart. However, you can find others that are larger than that.
Ideally, if you are looking to bake or cook for one or two people the 3.5 quarts or the 4 quarts is a perfect option. For a larger family, with more than four members, it's best to go for the 5.5 quarts model. The 7 quarts is perfect for very large families.
2. Materials
When it comes to the material you have two main options to pick from, enameled cast iron and regular cast iron. The difference in this material is mostly in the coating, but the results will remain similar as long as you have a well-seasoned pot.
The enamel-coated dutch ovens are the ones that provide a shiny color and a non-stick surface. However, if you want complete non-stickiness you can use parchment paper or sprinkle it with flour. The limitation of enamel cast iron is that it can not be heated to the maximum heat required for some types of bread like sourdough.
Regular cast iron Dutch ovens, on the other hand, are not coated with enamel. This makes them more durable but more difficult to care for as they need to be seasoned frequently to prevent rusting. But if you are going to buy a Dutch oven made of bare cast iron, it best to bare in mind it will need to be seasoned prior to use in order to be non-stick
3. Interior Design
It is also essential to consider the interior design and color of the dutch oven you pick. Mainly you are going to choose from either black interiors or a lighter color. The dark interior Dutch ovens are perfect for hiding crazing, scuffs, and scratches much better than a lighter interior over time. This means they will keep your dutch oven looking new and pristine even after heavy use and constant stirring.
On the other hand, the lighter dutch ovens will allow you to see the pot better while cooking. However, they are likely to show wear much faster as compared to dark interior pots.
4. Perfectly Fitted Lid
When baking bread in a Dutch oven, the lid is one of the most significant concerns. Ideally, the lid should be heavy and tight-fitting, with a seal that does not allow steam to escape. The lid should also have a handle either screwed or welded to help you easily lift it when checking your bread or food.
5. Quality
Quality is another significant factor you will need to consider while choosing the best dutch oven for bread baking. Not all dutch ovens are designed or created equally. Some brands use quality products to make their pots while others will use substandard materials.
To purchase the best quality product ensure that you purchase from a well-known brand or you could read through customer reviews to get an idea of how good the dutch oven is.
How to Care for a Dutch Oven
Image Source: thespruce.com
Dutch ovens are rather easy to care for and with a few simple steps, they will serve you for years. Here are some tips on how you should care for and store your dutch oven to improve durability.
a) Caring for Enameled Coated Dutch Ovens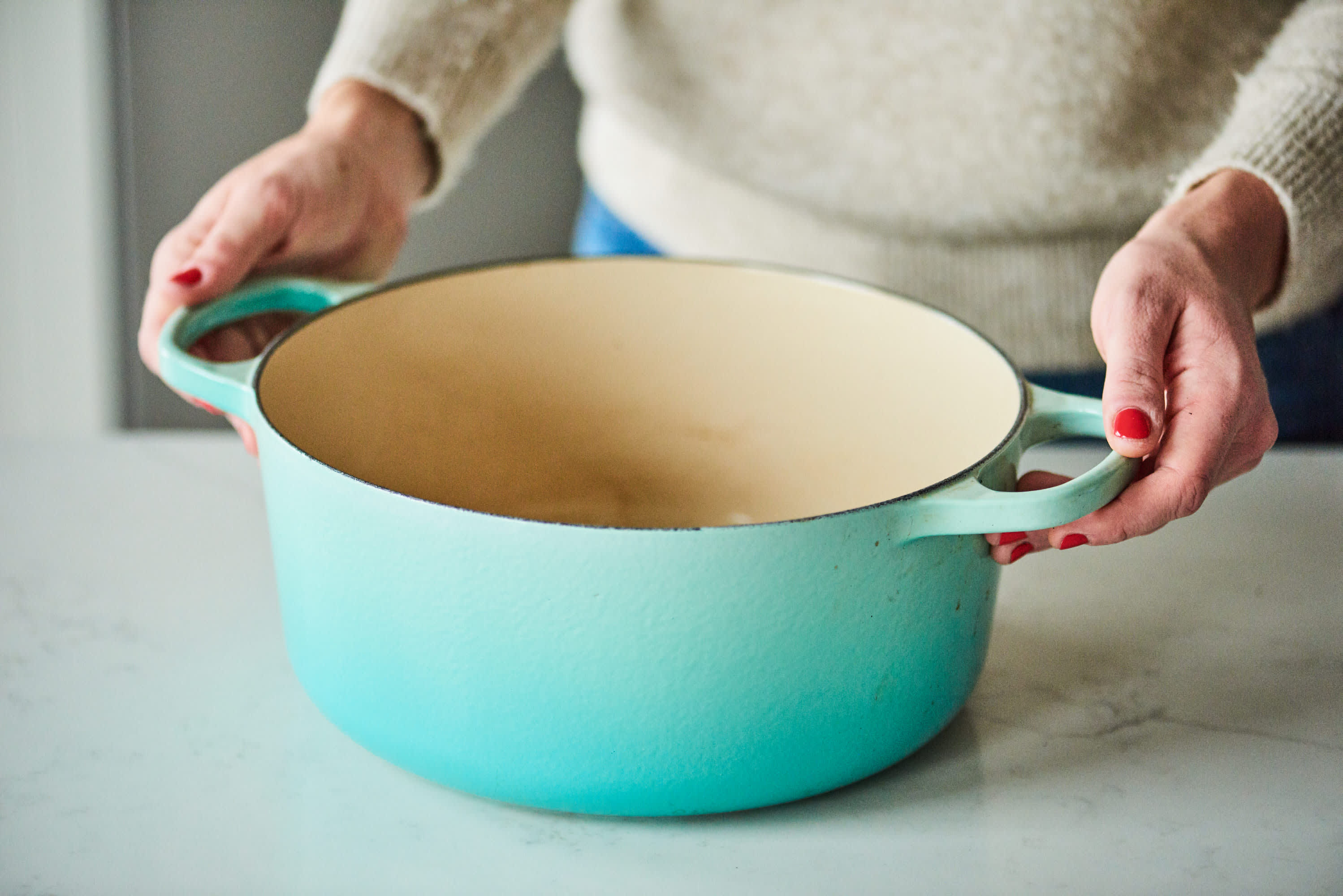 Image Source: thekitchn.com
Since the enameled dutch oven is already non-stick it can be cleaned out and dried with ease. In case your pot gets tough stuck food or stain all you need to do is soak with hot soapy water and then wash it off. Remember when cleaning the best enamel dutch oven, you should avoid using an abrasive pad since it can scratch the inside.
b) Caring for Cast Iron Dutch Ovens
A seasoned cast iron pot is a bit more challenging to care for. However, if you are using your pot to only bake bread there will be very little cleaning and re-seasoning. What you need to do is to allow your pot to completely cool and lightly rinse it out with running water and thoroughly dry it with a towel.
Image Source: thespruce.com
Next, fill the dutch oven with hot water and allow it to soak. Then scrub using a brush scrubber or you may also use a chainmail-wrapped sponge to remove stubborn bits of food. Thereafter, rinse it out with running water and then use a dry paper towel to wipe it down.
To ensure that it is completely dry, you can heat your oven over medium heat on the stove for a few minutes. After that, you can now give it a new coat of oil by rubbing the oil in using a paper towel. Now your pot is ready for storage.
Also read: Best Meatloaf Pan To Retain The Dish's Authentic Flavor
Rounding Up: Best Dutch Ovens for Bread
The baking dutch oven you choose will determine the type of bread you make and how good it is. You need professional dutch ovens to achieve professional results. Therefore, we advise that you consider the list we have provided and decide if they are suited to get you the results you need.
Featured Image Source: seriouseats.com