Once you have purchased a new TV, the best option is to mount it on the wall. A TV wall mount is minimal, saves on space, and ensures you have the best home-watching experience. With the best full-motion TV wall mount, you can tilt, extend, retract, swivel, and lower your TV instead of a fixed wall mount. A TV mount can make or break your viewing experience.
A full-motion TV mount always guarantees you the best seat in the house when watching. Having the best full-motion TV wall mount is important in terms of securing your TV. You have to consider the length and weight of your TV and the breath of motion the tv mount allows before making any purchase. It is important to note that no TV brackets are installed on drywall alone.
The best Full Motion TV Wall Mount that we reviewed is the Amazon Basics Full Motion Articulating TV wall mount. It is easy because it has a drill template and a built-in bubble level and will center your TV perfectly for the best view. Our second best choice is Mounting Dream MD2413 - MX, which only came second because it doesn't have a built-in bubble level. The third Full Motion TV Wall Mount we selected is the Bluestone TV Wall Mount which has unparalleled strength and tilts at a very affordable price making it our budget pick.
Best Full Motion TV Wall Mount To Buy
1. Amazon Basics Full Motion Articulating TV wall mount
Amazon Basics Full Motion Articulating TV Monitor Wall...
Full motion articulating TV wall mount fits most 22- to 55-inch...
15 degrees of tilt (+10 to -5 degrees) for optimal viewing angle...
Heavy-duty steel arm extends TV mount up to 16.3 inches from the...
Versatile TV wall mount fits VESA mounting holes from 100x100 to...
Includes television mount, mounting hardware, and bubble level...
If you have purchased a television wall mount in the past, you wouldn't be so worried about the installation process. The same cannot be said if it is your first time. Don't worry, though, if this is your first time choosing this wall mount. I was amazed at the ease of installation of the Amazon Basics Articulating TV wall mount. I chose it best overall because it comes with a drill template and built-in bubble level. I love this product because it works excellently with large flat-screen television sets ranging from 32 inches to 80 inches. This wall mount can hold a maximum weight of 130 pounds and tilt 5 degrees upwards and 10 downwards.
Image Credits: Amazon.com
I tested its swivel, and true to its words on the kit, it can swivel 180 degrees to give you versatile viewing angles. When purchasing a tv mount, the material of which it is made matters the most. Durable mounts are made using robust material; with this wall mount, the manufacturer did not go wrong when using aluminum as the main material. It also has a joint arm that extends up to 19.9 inches from the wall. This wall mount remains to be my best overall given the heavy weight it can sustain and swivel 180 degrees, turns, and tilts too. I thought you should consider purchasing it.
2. Mounting Dream MD2413 - MX
Sale
Mounting Dream MD2413-MX Full Motion TV Mount with...
MD2413-MX TV MOUNT COMPATIBLITY: TV wall mount with perfect...
MD2413-MX FULL MOTION & SPACE SAVING: TV bracket tilts TV up 5°...
UNIVERSAL TV MOUNT: TV wall mount fits for most of 42-75 inch TVs...
OPTIMAL VIEWING EXPERIENCE: TV bracket tilts TV +5°/-15° to...
WORLD-CLASS CUSTOMER SERVICE: Our US based customer service...
Just when I thought I had gotten the right television mount for my space, I realized later that it wouldn't hang my tv set the way I like. The mount ends up appearing off-center. Sometimes I want to hang my tv in a corner and hang it in two horizontal spots. But the task becomes impossible. These issues led me to discover the Mounting Dream television mount that helped me solve the problem. I think this television mount is unique like no other on our list, and that's why we believe you get the best value for your money when you purchase the wall stud.
Image Credits: Mountingdreamonline.com
I prefer to mount this bracket vertically rather than horizontally. This allows me to take advantage of the single vertical wall stud. This wall stud has 5 degrees upward tilt, and a 15 degrees downward tilt. It can extend up to 16.7 inches, and unlike our best choice, which has 180 degrees swivel, this one has 90 degrees swivel, but that doesn't make it less of a wall mount. It can hold a maximum weight of up to 77 pounds. Thus, you do not have to worry about hanging your large television screen. Not many studs that can hold such a heavy weight can be available at such a jaw-dropping cost. You can shop this stud at Amazon starting from a paltry $30.
3. Bluestone tv wall mount
Full Motion TV Wall Mount TV Bracket for Most 28-55...
Universal Design: BLUE STONE TV mount fits for most of 32-70 inch...
Optimal Viewing Angle Adjustment: This full motion TV bracket...
Wall Types - This TV wall mount fits up to 16" wood studs walls...
Easy Installation: BLUE STONE wall mount TV bracket with...
Quality service for you: BLUE STONE have expert technical and...
This is one of the perfect tv mounts for tv ranging from 32 inches up to 70 inches. What I loved more about this tv mount is its ability to hold heavy weights. I tried it with a tv weighing 121 pounds, and it worked excellently. Even so, it has never been good to overload any tv mounts, even as they can sustain such heavy loads. In this case, let the maximum weight you subject this mount to be not more than 50 kg tv. The mount allows up to 3 degrees upward tilt and up to 15 degrees downward tilt for reduced glare. You can enjoy a swivel of up to 120 degrees to suit your viewing needs. The wall mount can be extended up to 14.9 inches from the wall.
Image Credits: Amazon.co.uk
When you order this television mount, it comes with all you need for quick installation and all the hardware you need in a prelabelled bag. With these, even a beginner can install the mount at home without the help of a third party.
4. Full Motion TV Monitor Wall Mount Bracket By Pipishell
Sale
Full Motion TV Monitor Wall Mount Bracket Articulating...
TV Mount Compatibility - TVs wall mount fits SAMSUNG, SONY, LG,...
Full Motion for Optimal Viewing - Our articulating arm mount...
Universal Monitor Wall Mount - ideal for large computer monitors,...
Easy Installation - step-by-step instructions and all the...
Friendly After-sales Service - our corner tv wall mount is...
I needed to test the full-motion TV and monitor wall mount bracket by Pipishell due to its much-hyped articulating or full-motion, swivel, tilt, and wide rotation mount. And because it is made of alloy steel material and can support 13 to 42 inches of LED LCD flat, curved TV screens. It is available in black with an extension rotation of 13 inches and 2.2 inches retraction.
This TV mount has a 15 Degrees maximum tilt angle with a max VESA/mounting hole spacing of 200x200mm up to 44 pounds. It has 180 degrees max swivels display left or right depending on your sitting position. It is compatible with SAMSUNG, SONY, LG, VIZIO, TCL, ELEMENT, SCEPTRE, HISENSE, and other TV brands.
Image Credits: Ebay.com
Additionally, it rotates 360 degrees for a portrait or landscape orientation for enjoyable viewing. You can use it for a universal monitor Mount for large computer monitors sizes 13, 17, 19, 21, 24, 27, 32, 34, and 35 inches. It refers to wide monitors with VESA patterns from 75x75mm to 200x200mm.
This Mount is best for homes, public places, lobbies, offices, businesses, workspaces, living rooms, and hospitals. It is mainly used as a full-motion monitor mount to clear up desktop space and ergonomic computer screen installation to improve your posture. The installation is quite easy; follow the step-by-step instructions provided with all the appropriate hardware.
5. Mounting Dream UL Listed TV Wall Mount
Mounting Dream TV Mount TV Wall Mount Swivel and Tilt...
[Perfect centered design] TV wall bracket fits for most of 26-55...
[Flexible] with full motion TV wall mount, your TV can be easily...
[Easy installation] TV mount with decent instruction and full...
[Safety & Stability] Technology of robot welding makes the whole...
[Protected by Amazon Transparency] Verifies each unit's...
when I was looking for a full-motion wall mount, the Mounting dream UL listed TV mount bracket topped my list. It is suitable for most 26-55 inch OLED/LED/Plasma TVs. It can carry a maximum weight of 60 pounds with a max VESA of 400 x 400mm mounting hole spacing. I rated it the best full-motion wall mount bracket because I can freely adjust it to the desired angle and distance to provide comfortable viewing.
It has a 5° up and 15° down tilt to reduce TV glare. It has a left or right swivel, depending on your sitting position. It has an extension of 17 inches and a retraction of 3 inches allowing movement of the TV. A +/-3° post-installation adjustment ensures that your TV is leveled.
Image Credits: Mountingdreamonline.com
This TV mount comes with easy and clear instructions with all the necessary hardware packed in pre-labeled bags for easy installation. It also comes with offer cable ties and bubble level, as well as concrete anchors upon request. These TV mounts are safe and stable, thanks to the robot welding technology that makes the whole TV mounting bracket unit sturdy.
It fits 26-55inches TVs with mounting holes as close as 3 x 3 inches or as wide as 16 x 16 inches. In other words, VESA 75x75mm to 400x400mm. It is made of heavy-duty steel construction and Loading capacity Constructed with heavy duty steel materials with a durable powder-coated finish.
This TV mount can support a TV weight of up to 60 lbs. It is 100% welded by an automatic robot, an advanced welding technology that ensures the mounts are sturdy and securely mounted for TV stability. Includes all necessary mounting hardware. These TV mounts are only suitable for concrete wall installation and not drywall.
6. Mounting Dream UL Listed TV Mount
Sale
Mounting Dream TV Mount TV Wall Mount with Swivel and...
UNIVERSAL TV MOUNT: TV wall mount fits for most of 32-55" TVs up...
CHECKING THE COMPATIBILITY: Images on left side will help you see...
VIEWING BECOMES MORE COMFORTABLE: TV bracket tilts TV up 5°and...
EASY INSTALLATION: TV wall mounts with decent instruction and...
HEAVY DUTY UNIT: Technology of robot welding makes this wall...
What I liked about the Mounting dream UL listed TV mount is that it has a swivel and tilt that supports most 32-55 Inch TVs. So I could upgrade my TV without worrying about the wall mount. It is a full-motion mount with dual articulating arms with a max VESA of 400x400mm/ 16 x 16 inches mounting hole spacing that supports 99 pounds. It is available in black and is compatible with TVs with a maximum tilt angle of 15 degrees.
The best thing about this TV bracket that really attracted me to it is that it tilts the TV up 5°and down 15°to reduce glare and swivels to the left or right according to your sitting position. It also extends by 15. 2 inches and retracts back to 3 inches enabling movement of the TV. It comes with easy-to-follow instructions with well-labeled bags of hardware. It also comes with a paper template that eases the installation.
Image Credits: Amazon.sa
This TV bracket has a welding technology of a robot that ensures that the TV mount is sturdy and safe. This TV mounts suite TVs with all types of TVs with mounting holes as close as 3X3 inches or as wide as 16x16 inches. Specifically, the TV bracket fits VESA 75X75mm, 100X100mm, 200X100mm, 200X150mm, 200X200mm, 300X200mm, 300X300mm, 400X200mm, 400X300mm, and 400X400mm.
7. Full Motion TV Wall Mount Bracket By Pipishell
Sale
Mounting Dream TV Mount TV Wall Mount with Swivel and...
UNIVERSAL TV MOUNT: TV wall mount fits for most of 32-55" TVs up...
CHECKING THE COMPATIBILITY: Images on left side will help you see...
VIEWING BECOMES MORE COMFORTABLE: TV bracket tilts TV up 5°and...
EASY INSTALLATION: TV wall mounts with decent instruction and...
HEAVY DUTY UNIT: Technology of robot welding makes this wall...
These full-motion TV wall Mounts come with dual bracket articulating arms that swivel, tilt, and rotate. I am one person that likes changing TV models, and this mount was up to the challenge because it supports most 37-70 Inch LED, LCD, OLED flat, and curved TVs today. These TV mounts hold up to 132 pounds with a max VESA 600 x 400mm. It has a maximum tilt angle of 12 Degrees and 10 Degrees. It is available in black and is compatible with Televisions.
This extremely strong TV wall bracket is made of very high-quality steel materials. It is compatible with all TVs, such as Samsung, Sony, Panasonic, Thomson, Toshiba, Sharp, LG, Philips, and JVC. This full-motion TV wall mount has an adjustable optimal viewing as it tilts to +10/-10 degrees, swivels at+/-60 degrees, and level adjusts to+/-3 degrees, ensuring maximum viewing flexibility.
Image Credits: Walmart.com
You can easily customize your TV-watching experience to find the most comfortable and healthiest viewing position. The 3-inch retraction saves on space while extending up to a maximum of 15.4 inches from the wall.
It comes with a 30-minute fast and easy installation with all the required mounting hardware. It has instructions that include a detailed English graphical installation guide that comes in very handy. These wall mounts have been designed with strength and versatility in mind.
The TV mounts have an ultra-slim design that folds the TV flat against the wall when pushed back and from a central position. It can be extended outwards, maintaining its centralized position, tilted, and turned in any direction as you may be required to accommodate normal TV shows, video gaming, fitness programs, and video chats.
8. USX MOUNT Full Motion TV Wall Mount
Sale
USX MOUNT Full Motion Swivel Articulating Tilt TV Wall...
UNIVERSAL DESIGN This full motion TV mount fits for most of...
ADJUSTABLE VIEW COMFORTABLE This TV bracket with dual...
EASY TO INSTALLATION Easy installation with detailed instruction...
SAVING SPACE This full motion tv wall bracket can pull out to...
PRODUCT INCLUDES Come with bubble level, 3 pieces pack of cable...
These wall mounts come with a swivel articulating tilt, a TV bracket supporting 26-55 inch LED, OLED, and 4K TVs with VESA 75*75mm to 400x400mm weight capacity Up to 60 pounds. What I loved about this TV bracket is that it has dual articulating arms that include a +5° /-15° tilt and a ±90°swivel. The installation is easy, with detailed instructions and hardware in pre-labeled bags.
Image Credits: Usx-mount.com
It has a +/-5° post-installation adjustment that ensures the perfect TV leveling. All these properties ensure that your TV is flexible with a good view based on your seat in the room. The best thing about this full-motion wall bracket is that it saves space, pulling out to 18.95 inches and retracting back to 2.81 inches.
Essential Factors When Choosing The Best Full Motion TV Wall Mount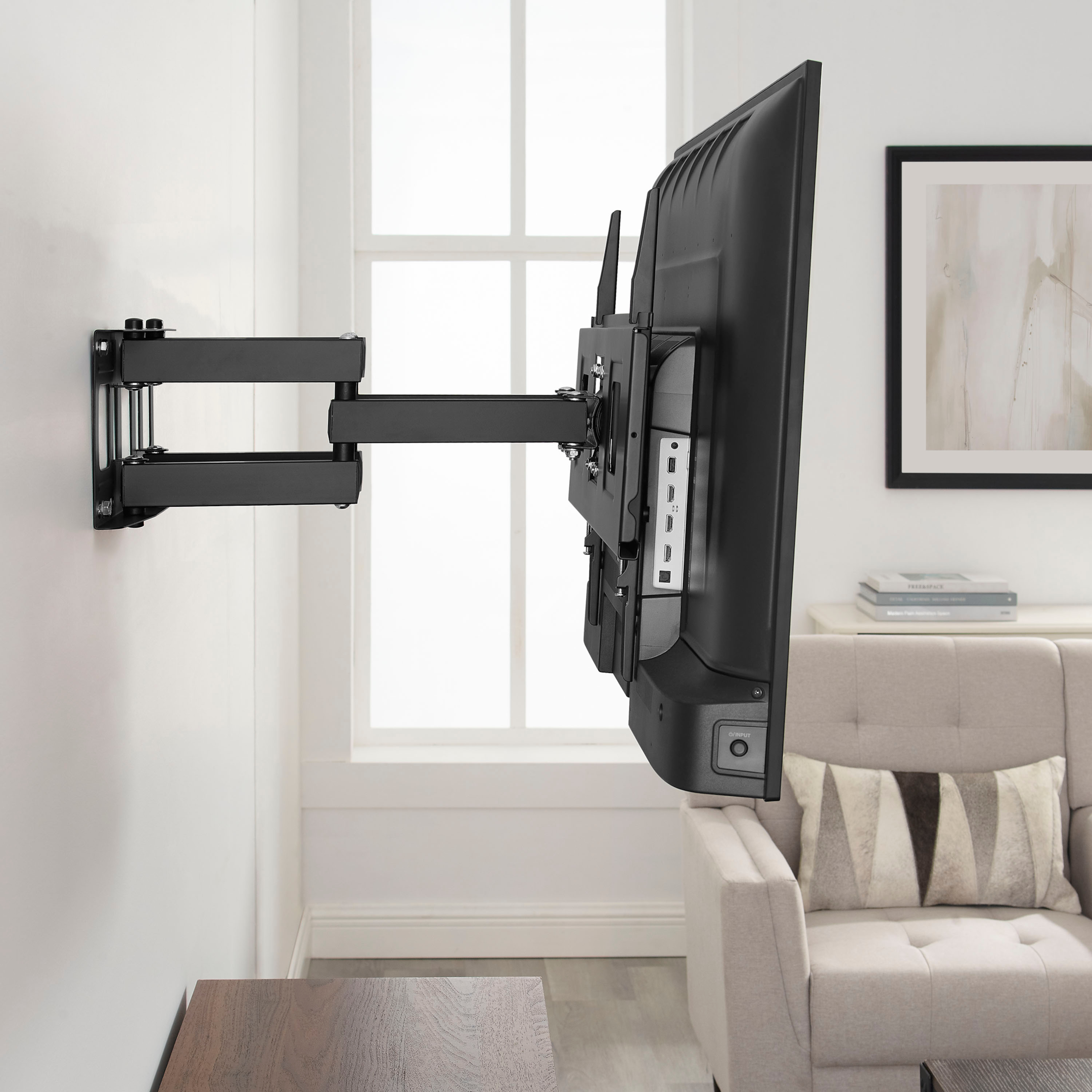 Image Credits: Bestbuy.com
1. Compatibility
It is the spacing between mounting holes. TV mounts must be compatible with your TV size, weight, and VESA Interface Standard. Most brands give a range of VESA sizes that it is compatible with. Always check that your television is compatible with the TV mount before making any purchase.
Additionally, make sure that the TV mount is compatible with your walls. Some wall mounts work on wood studs, while others work on concrete wall studs. All these different types of studs have different measurements and require specific hardware for installation.
You need to identify the studs first when installing on drywall, as you cannot install on empty drywall. You must also check for cabling, piping, and metals to avoid accidents.
2. Material And Strength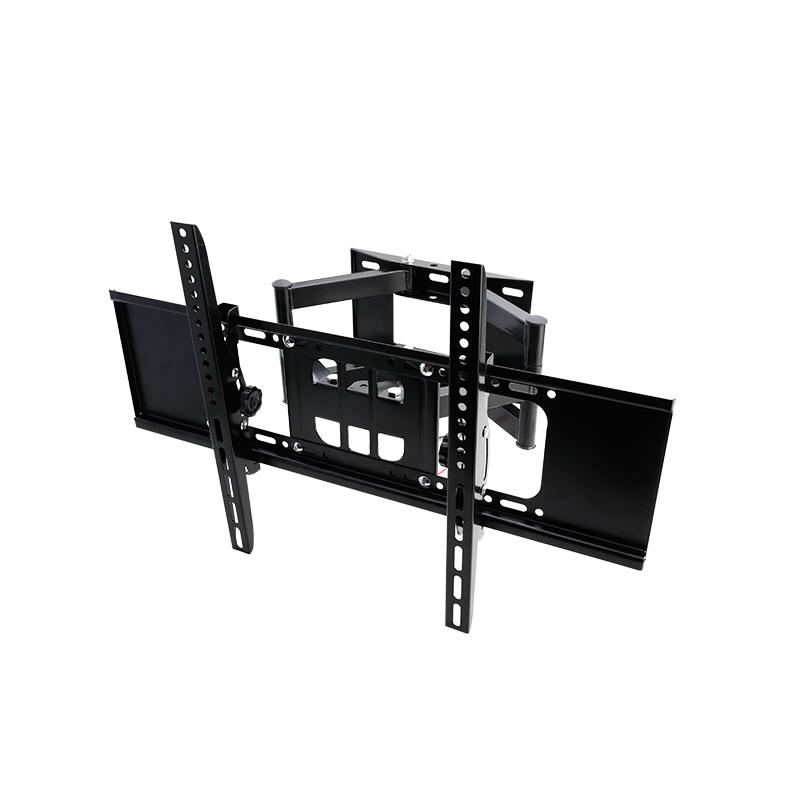 Image Credits: Amaze.co.ke
Consider wall mounts made of durable material to last you a lifetime. For instance, steel and aluminum are strong, durable, and affordable. They can support the weight of the TV. Ensure you acquire a TV mount with sturdy construction to support the weight of your TV.
3. Range Of Motion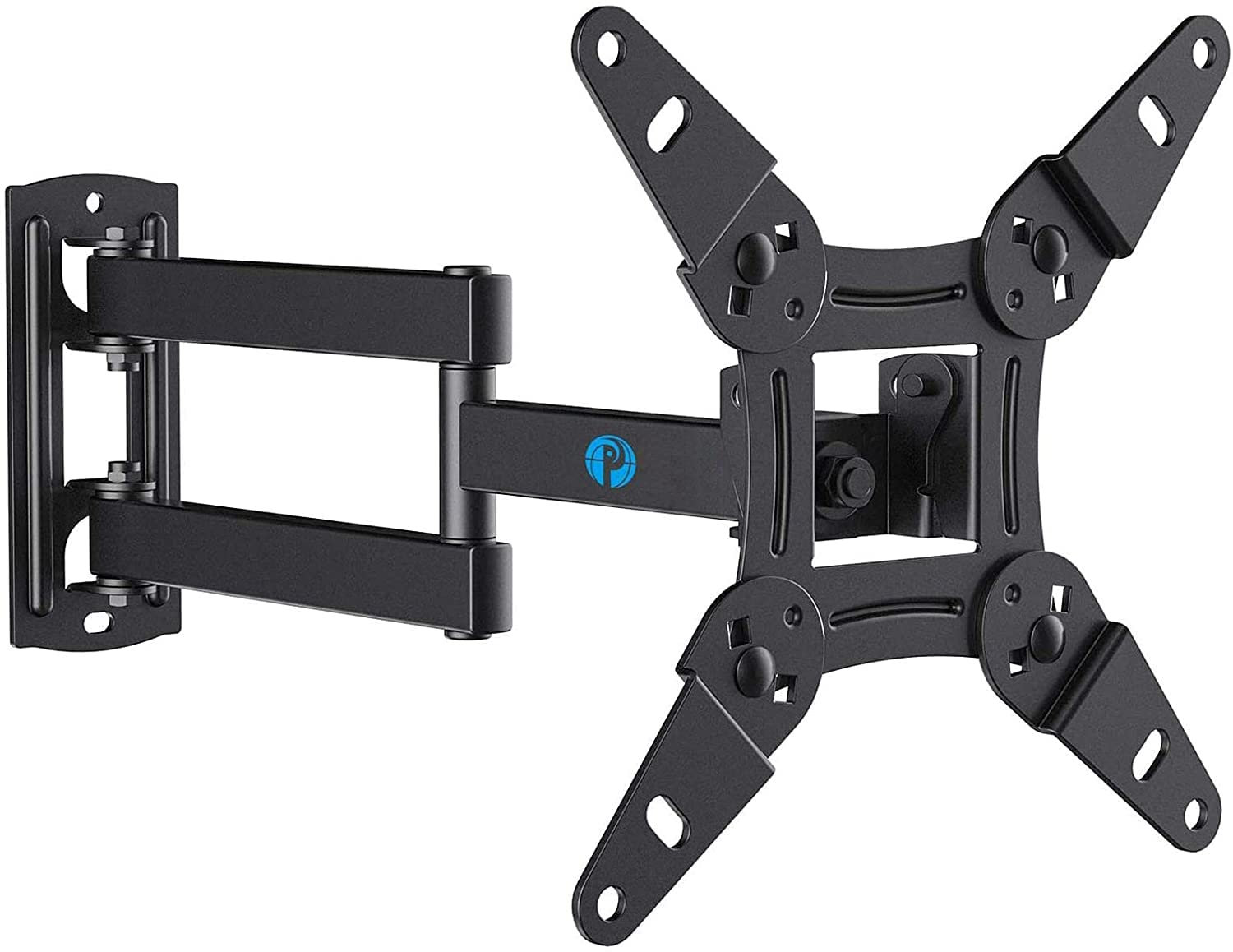 Image Credits: Amazon.com
Range of motion refers to the swivel and tilt of the arms. It could range from 90 to 360 degrees in rotation. It could also refer to the extension from the wall or retraction back to the wall. Such wall mount features help in angling the TV away from the glare of the windows; thus, you can enjoy your watching experience.
Next, you'll need to check that the bracket you've set your sights on can handle your TV's size and weight. It is usually clearly stated and should be strictly adhered to – they don't list them for fun.
4. Post-Installation Adjustment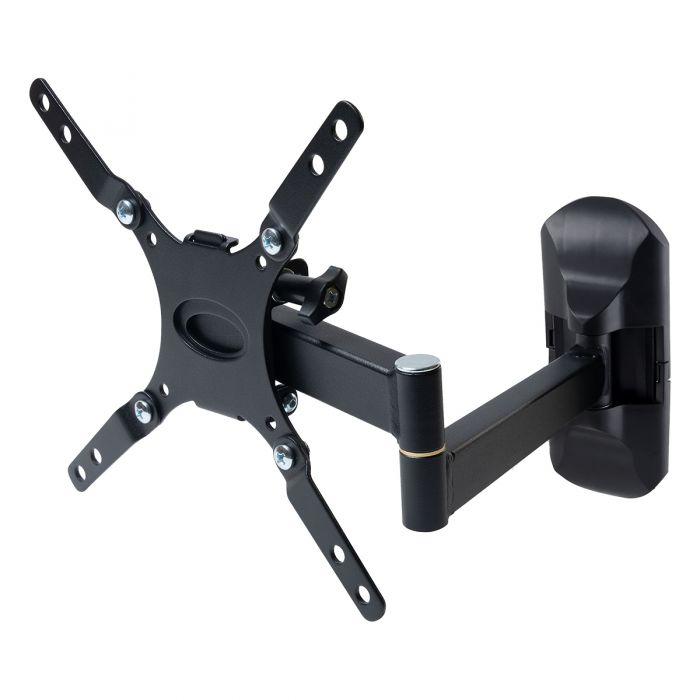 Image Credits: Byjasco.com
It isn't easy to get the TV installation right on the first try, even for the best DIYers. The best full-mentioned Tv wall mount is easy to install and easy to adjust post-installation. Most wall mounts today allow for 5-7 degrees of fine-tuning after installation.
5. Size Rating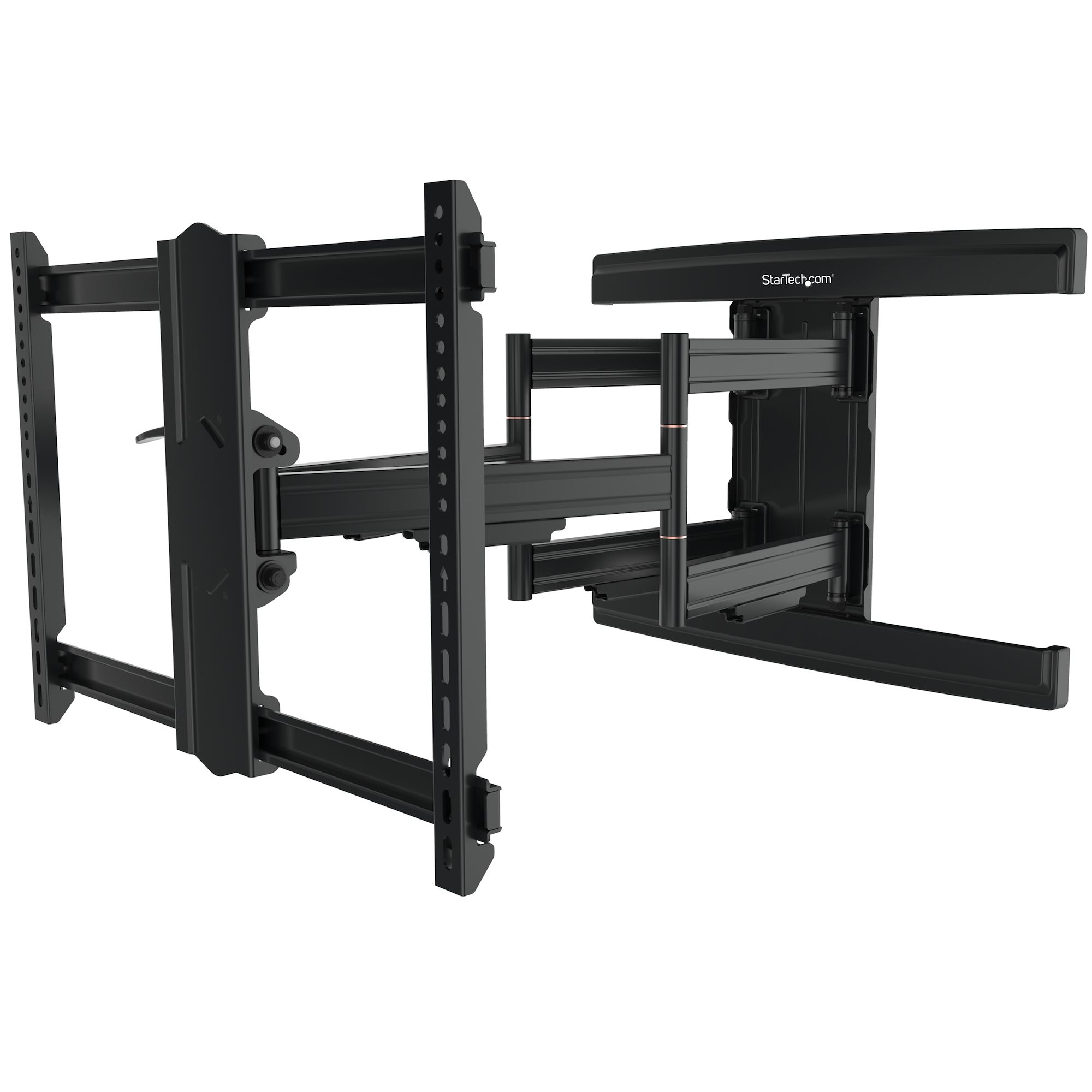 Image Credits: Startech.com
All TV wall mounts list the specific screen sizes they can support. This information is not put out there for fun; rather, it is t help you determine the best full-motion TV wall mount that supports your TV screen size. Kindly pay attention to this.
Frequently Asked Questions(FAQs)
1. What is a full-motion TV wall mount?
A full-motion tv wall mount has the most features of a wall bracket. It has adjustable arms, a base plate, and two adjustable tv mounting arms. Allows these features to allow you to position your tv to suit your viewing angle. This stand provides a robust mounting base and remains the utmost solution for hanging your digital television on the wall.
The television mount allows for the extension of your tv from the wall and pans it sideways to your preferred viewing angle whether you are sitting or standing or not directly in front of your tv, making it perfect to view it from the kitchen in an open plan home.
A full motion tv mount also offers a tilt movement for the television. It tilts down and up. This can help reduce glare that comes from outside, offering a better experience. The tv brackets allow for swivel, or pan movement and. can be mounted into a corner of a small room.
This mount extends the tv from the wall. You can mount it and do all your wiring afterward. Take note of the space between your tv from the wall. If the tv leans against the wall, you might want to have power connected to cables stuck into the wall or to the side. You may also have to consider new cables to use in that space, such as coaxial cables, HDMI, and power leads. Luckily they also come in right angles if you so wish. You can even resort to using right-angle adapters for the cables. Only ensure that the adapters and cables are of the right bandwidth.
Don't forget to consider your surface type before drilling holes in it. Masonry and timber frames are the most common walls. Most full motion tv mounts come with plugs and screws to soften those surfaces. Nonetheless, it is important to discuss the appropriate mounting solution with your local hardware store if a steel wall is what you have. Mounting a television on the wall using a full motion tv wall mount looks great, but even more, it is the safest for kids. That protects your kids from accidentally tipping it over while standing on its factory stand.
2. Are full-motion wall mounts safe?
Mounting your flat-screen television on the wall enhances flexibility and viewing quality. Even so, most people still don't know exactly how safe a television mount is. The short answer is yes, television mounts are safe. These days, mounts are fitted with various safety features which are useful, especially if you have small kids and pets.
In the past, television sets used to be bulky, huge, and heavy. If they were to fall on you, you could break yourself or cause serious injuries. Today's televisions are very different. They are slender and lightweight. They, however, lack adequate stand. They can be easily mishandled and fall.
Even though these TVs are not as heavy as their predecessors, they can easily fall since they lack adequate stands. They can injure or even kill your small kid or pet when they fall. Therefore mounting them on the wall is the surest way to prevent injuries and deaths due to them falling over.
If you are planning to mount your flat screen on the wall, you should know that while they are easy to install. They are fitted with a strong anti-tip strap that secures your television sets and furniture together.
These mounts can even house your accessories and other electronic components. If you want, you can install a streaming device panel behind your flat screen television to hind small streaming components such as Apple TV, Roku, etc., keeping them out of reach of children or pets. The tv mounts can also hide codes and cables from the reach of your kids when you have done the final mounting.
3. How can you hide plugs and cords when mounting a TV on the wall?
The sight of wires at the back of your expensive new flat-screen television is usually disgusting. If you have a new tv, you won't like the idea of spending much more money on hiding the wires in your walls. Along with this, you are not lowed to drill holes in an apartment you don't own. But if you have just bought a television set and mounted it on a full motion tv mount and you are worried about concealing the cable, then you might need to try the following tips to hide them at absolutely free or at a very negligible price without having to cut holes in tour walls.
1. Use code clips to hide them in your tv stand.
If you have mounted your tv on a stand, you can easily use cord clips to hide the wires. The plastic clips have an adhesive backing to help you safely stick the wires at the back of your furniture. Place the code clips around the back of your television mount and snake the wires around to the tv. This keeps your cables organized, stopping them from being tangled up.
2. Use zip ties
This method works well if your tv mount has holes at the bottom. Use zip ties to prevent the cables from hanging loose or touching the ground. Spool your cables and clinch them together in the middle using a zip tie. Remember to leave adequate slack to pull your television stand out and access your cables.
Use Velcro zip ties to avoid cutting the zip ties every time you have to move a cable up. A flat extender, on the other hand, saves you more space and allows you to plug your wires from the side. It can even triple the number of outlets you can plug your gadgets into.
3. Cable management box
Besides using zip ties or code clips to conceal your cables, you can use a cable management box. These are small boxes that allow for hiding big sizes of wires or even a small surge protector.
The best cable management box should have slits or holes around its sides to allow you to add cables in various directions. Next, cover it with its lid to hide the cables and put them off children's reach or pets. Cable management boxes are available in different sizes and colors, so you can pick one that appeals the most to you.
4. Wall code raceway kit
Since your tv set is mounted on the wall, a wall code raceway kit conceals cables. You do not have to cut through your wall. A wall code raceway kit has an adhesive backing to enable you to stick it on the wall without damaging it. You can then hide your cables inside the kit and then snap the cover on.
It is possible to add or remove cables when you like. This, however, means your cables are travelling a long distance hence you have to replace your current wires with others that are longer.. wall ode raceway is made of plastic, meaning you can always cut it down to the appropriate size.
If you want, also you can paint it the same color as your wall so that it blends with the background. It could be you do not know the best paint to buy, so you can cut out a small clip of your wall's background and take it with you to your local hardware shop. You might also want to use a vertical level to ensure your raceway is not crooked.
5. Base broad raceway
Are your outlets not behind your television stand? If not, you can use a baseboard raceway to conceal the cables without cutting through your wall. The baseboard raceway seats are on top of the baseboard and do not look so obtrusive. Like the other raceway, this has an adhesive backing and is also made of plastic. You can easily resize them at will.
It blends beautifully with the wall. It is hard for anyone to notice it. Some people cut them at 45 degrees angle before running their wires around corners. Raceways also are available in a wide array of colors, so you can choose your favorite.
4. How Can I Check If The Full-Motion Mount Is Compatible With My TV/Monitor?
You need to check for wall studs on the specific wall. Articulating wall mounts can only be mounted on concrete walls, brick walls, or studs on drywall. Next, check the weight of your TV or monitor and that supported by the wall mount you are about to choose.
Check the back of the TV area on the four mounting holes for cable outlets or sockets before installation. Lastly, the VESA standard range that has been provided on the TV mount you are about to choose compared to that on your TV.
5. Why Choose An Articulating TV Mount?
Just as the name suggests, a fixed TV wall mount is fixed. It does not move. On the other hand, full-motion mounts or articulating TV wall mounts are versatile. Full motion mounts can move in various directions and angles depending on your seat position and preference and support most flat-screen TV brands.
6. Does The Price Of A Full Motion Mount Matter?
Whatever brand of full-motion Mount you settle n, ensure you get value for your money. The best full-motion TV wall mount does not need to be expensive for it to be functional. As per the list above, the full-motion mounts are price-friendly yet very durable and functional.
7. How do I know which wall mount I need?
These television mounts come will all the accessories you need to install them into drywall. Nonetheless, if you intend to mount your tv on a different kind of surface, such as stone, brick, or plaster wall, you will require more equipment, some of which may not be included in the kit. For this reason, you might want to go with what won't stress you to install. However, if this is your only option, you will need different anchors plus a masonry drill bit.
8. How can I install my mount on the wall without wires showing?
When installing your television, start by cutting two small holes in the sheetrock where you will drop the wires through the wall. Start by cutting the top hole inside the bracket area. This is where the television will hide the code when you finally mount it. Now cut the second hole approximately one foot above the floor directly beneath the top hole. Now using a steal fish tape, feed the cables through the holes.
9. How high should I mount my television set on the wall?
Ensure that the center of your tv's screen is approximately eye level for viewers who are seated. This is about 42 inches from the floor to the middle of the television. However, this cannot fit everyone because of height, sometimes the size of the furniture, and various factors. Therefore you might want to tape a piece of paper on the wall and test the appropriate height before installing the mount.