A portable generator is essential for providing power to electronic devices, appliances, and lighting in remote settings such as campgrounds or RVs. However, when there's a power outage at home, a portable generator won't have enough power output to supply the entire home; that's why you need a standby generator; especially if the power outages are a frequent occurrence or a major concern for you and your family. The best home standby generator will do you justice.
What's a Home Standby Generator?
A home standby generator is a power source that is permanently installed outside your home in case of a power outage. It usually looks like an air conditioner powered by your home's existing natural and propane gas. These home generators often operate on two types of switches; manual or automatic transfer switches. An automated transfer switch (ATS) operates independently, without the need for you to manually turn it on.
A standby generator monitors your electricity, patiently waiting for a disruption in your home's main electrical panel and turning it on in the case of a power outage. Within seconds of no lights, your standby home generator kicks in to provide backup power to your home. (As a result, home generators are frequently referred to as backup generators.)
Now that we know what a standby generator is let's check out the best models on the market.
1. Generac Home Standby Generator, 7043
Generac 7043 Home Standby Generator 22kW/19.5kW Air...
True power technology delivers best-in class power quality (less...
Includes a 200 amp NEMA 3 (indoor/ outdoor rated) whole house...
Generac evolution controller features LED indicators for...
Tough, durable all-weather aluminum enclosure offers 3 removable...
Battery not included. Generac Battery 7043 5819 Sold Separately.
You can count on this Generac Home Standby Air-Cooled Generators for backup household power. This generator requires low maintenance and is inexpensive. When connected to a propane fuel source, the Generac Guardian provides up to 22kW of power and is one of the largest air-cooled generators available. Besides, this robust machine will appeal to you if you're looking for a generator that can manage rising power needs.
The generator has Wi-Fi capabilities, allowing you to monitor the unit's operation from anywhere. As a result, it maximizes power output while requiring the least amount of space. Besides, the unit's housing is 4 ft long and 2 ft broad, making it bigger than the most compact generators on the market but comparable to standard whole-home generators.
Furthermore, the generator has a Quiet-Test weekly self-test mode that works at only 57 dB. The machine is certified for 67 decibels of noise during normal operation, which is normal for a generator of this power output yet outstanding. The model also contains a transfer switch.
2. Kohler Air-Cooled Standby Generator, 20RESCL-100LC16
Kohler 20RESCL-200SELS Air-Cooled Standby Generator...
20,000-watt air-cooled generator automatically starts up when the...
Includes 200 Amp whole-house, service entrance rated, load...
Fast response--power to your home in 10 seconds; premium power...
100% corrosion-proof enclosure offers protection from even the...
Measures 48 by 26.2 by 29 inches; 5-year/2000-hour limited...
If you're looking for the best home standby generator to serve you for long during a power outage, count on the Kohler Air-Cooled Generator model 20RESCL-100LC16. This generator is ideal for commercial use like in airports and hospitals. Its dependability is due to its commercial-grade engine, developed for long operating hours and may run for days. Besides, after the electricity is off, it takes 10 seconds for this generator to achieve a full-functioning state.
The energy is extremely pure, with less than 5 percent Total Harmonic Distortion, which protects sophisticated electronics like computers. In addition, the design is high-quality, with corrosion-proof housing that can survive any adverse weather. There is also no need to create a concrete pad because this automatic standby generator comes with a polymer foundation for direct installation.
Like the Generac generator models, this Kohler generator has internet monitoring capabilities, and the system will even alert you through a text for maintenance reminders. Conversely, as mentioned, this high-capacity standby generator is ideal for business applications and big houses.
3. Generac Guardian Series Air-Cooled Home Standby Generator, 7033
Generac 7033 Guardian Series 11kW/10kW Air Cooled Home...
True Power Technology delivers best-in class power quality (less...
Includes a 200 Amp NEMA 3 (indoor / outdoor rated) whole house...
Generac's Evolution Controller features LED indicators for...
Tough, durable all-weather aluminum enclosure offers 3 removable...
Battery Not Included. Generac battery model 5819 sold separately.
Although the Generac Guardian 7033 is practically the same as the 7043 model, it has a lower capacity and is thus more suited to smaller houses. In addition, this model offers a maximum continuous power rating of 11,000W when powered by liquid propane and 10,000W by natural gas. Besides, the model has all of the Generac Guardian Series features such as the multilingual LCD, remote monitoring, RhinoCoat powder-coated finish, and G-force engine.
Since the capacity of this generator is lower, you get all of these dependable features at an affordable price. Therefore, this smaller generator is more cost-effective if you have lower power needs or are content with operating fewer electrical appliances during a power outage.
However, don't anticipate the Generac Guardian whole house generator, 7033, to take up less room than the Generac 7043. The dimensions are similar, with the main variation being that the Generac 7033 weighs around 100 pounds less, but as this is a stationary generator, weight is not an issue.
4. Briggs & Stratton 20kW Standby Generator, 40336
Briggs & Stratton 40396 20000-Watt Home Standby...
Includes dual 200 amp automatic transfer switch with flexible...
This 20kW with Symphony II Power Management module sold...
Closer placement options as close as 18 in. from your home per...
Comprehensive 5-year parts, labor, and travel limited warranty
For the best home standby generator that is safe for the closest placement to your house, we recommend Briggs & Stratton Standby Generator. This model is safe for the use that the National Fire Protection Agency (NFPA) allows its placement as close as 18" from the house. Also, the generator has a maximum continuous output of 20,000 watts though users describe it as relatively quiet. So considering how close it may be to your house, this is a nice feature.
You might be worried about exhaust fumes entering your house. However, you don't have to; this automatic standby generator reduces the danger of carbon monoxide poisoning by using front air ventilation on it, which directs the gases away from your residence. Nonetheless, if you live on a small property, consider where the fumes will be directed instead since you do not want to endanger your neighbors.
Another handy feature of this home standby generator is that it allows you to select the kind of transfer switch. As a result, this model is more adaptable than the other standby generators.
Home Standby Generators Vs. Portable Generators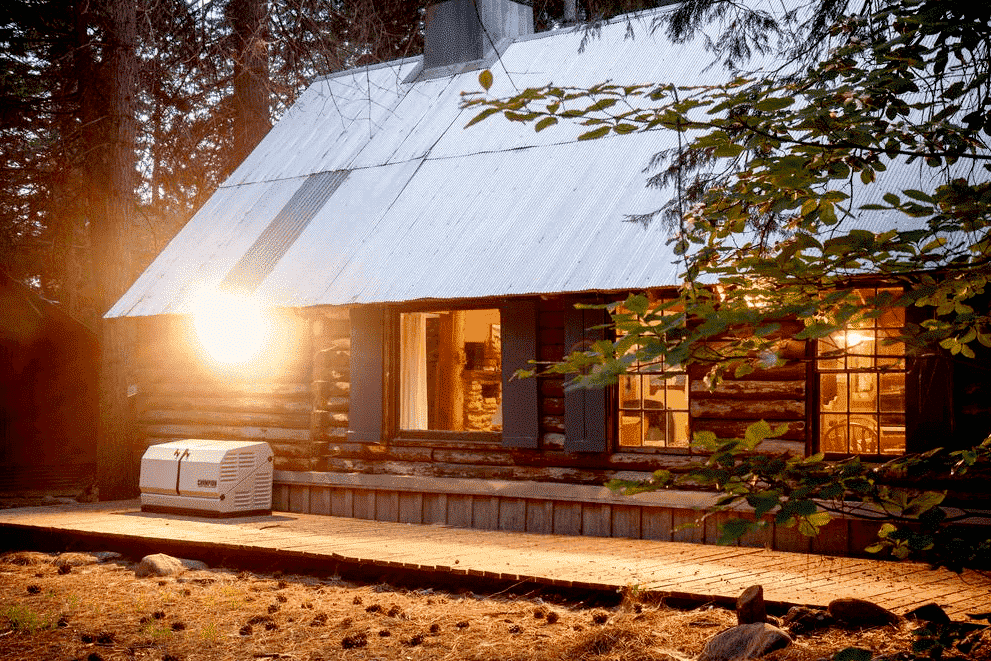 As the name suggests, a standby generator is a permanently installed backup electrical supply while portable generators can be moved. Though it's possible to install portable generators to start automatically in case of a power outage, we discourage it due to the risk of fire and reverse current flow.
Starting a generator can take a long time and involves a precise succession of processes. As a result, the best standby generators are the more user-friendly solution.
For commercial reasons, the rapid response of standby generators is critical. For instance, a power outage of just a few seconds may be devastating in hospitals and power plants.
These generator types have a difference in their capacity. A portable generator is rarely as strong as a standby generator for your house.
Most home backup generators are directly linked to the building's natural gas supply, ensuring a consistent fuel flow at a lower cost. Conversely, this is rarely achievable with portable generators because most run on diesel or gasoline, with greater operating expenses.
Factors to Consider Before Buying the Best Home Standby Generator
1. Size and power requirements
When deciding on the best home standby generators to supply power to your home, pay attention to the size and power needs of the home. Check the power wattage of essential appliances such as the refrigerator, freezer, and furnace. Then add the wattage of all relevant appliances to determine the total wattage required to run the residence. This power wattage will normally range between 5,000 and 7,500 watts, while it's recommended that you choose a generator that can offer more than the minimum requirement.
Conversely, the size of a generator, in this case, relates to its electrical output rather than its physical size. Whole house generators can range from as low as 7,500 watts for small houses and as high as 50,000 watts for large homes; however, most are between 20,000 and 30,000 watts. The starting watts level on these machines refers to the electrical output when the generator is initially turned on. It is typically 2,000 watts more than the operating watts output, which is the rating for the continuous power output when the generator runs for more than a few minutes.
Therefore, when selecting the best whole house generator for your appliances, always utilize the running watts rating because the starting watts rating is not a valid indication of the generator's capability.
2. Fuel source
When determining the optimum fuel source for the backup generator, there are various alternatives to consider, including liquid propane, diesel, natural gas, and dual-fuel solutions.
Liquid propane (LP)- This fuel type is the most commonly used for most home standby generators. Propane-powered generators can be connected to the home's primary propane tank or have their private tank. Besides, propane is a cleaner-burning fuel that is more efficient than natural gas.
Diesel- is a highly efficient fuel source that generates more power per gallon than natural gas and liquid propane. Nonetheless, diesel generators might be hard to obtain. They emit toxic exhaust fumes that may be a concern in a residential area, depending on the closeness of neighbors, the presence of children or pets, and the size of the yard.
Natural gas (NG) as a fuel type is relatively common, especially for backup power generators. Since these huge machines are semi-permanently installed, some users usually prefer to connect the generator directly to their natural gas line, eliminating the need to refill the generator. Nonetheless, natural gas is the least efficient fuel source available, although when compared to diesel generators, these generators usually make up for the inefficiency with a clean exhaust output.
Dual-fuel- Most backup generator manufacturers provide the dual-fuel capability, which allows the generator to run on either natural gas or liquid propane. Machines with this option provide a more adaptable alternative for those unsure which fuel is preferable.
3. Installation
The installation of a whole house generator is more difficult than merely operating a portable generator; therefore, manufacturers will frequently offer extensive installation guidelines. Some firms may even sell prepackaged and prewired systems to help install. Nonetheless, before deciding to install the generator yourself, consider whether you have what it takes and the experience to connect it directly to the home's electrical system. Moreover, consider whether you should extend the gas line and even know the right permits needed to install a generator per state and local codes.
Suppose any of these installation requirements appear to be above your ability level. In that case, it is recommended that you engage a professional electrician to connect the wiring and a plumber or gas fitter to connect a propane gas or a natural gas line to the housing supply. These specialists are aware of the necessary permissions, and they will have extensive expertise installing the standby generators and ensuring that the generator is reliable in emergency cases.
4. Transfer switch
A transfer switch is a typical feature on whole house generators that connects the generator to the home's main electrical panel, enabling the user to transfer or switch between the utility's power grid and the electricity generated by the generator. In addition, some models have an automatic transfer switch (ATS), which monitors the incoming power to your house and automatically switches to generator power in case of a power outage. This process normally takes 30 seconds to 1 minute and ensures that the residence is never without power.
Besides, automatic transfer switches help protect the house while the user is not at home. Another useful feature is remote monitoring, allowing users to connect to the standby generator through Wi-Fi and information on its operation. This service tells you when the generator starts on to give continuous power, or whether it is simply going on for a few minutes to replenish the starting battery, so you can rest easy knowing your home is safe from power outages.
5. Additional features
Automatic starts, generator status lights, remote start systems, and corrosion-resistant enclosures are just a few standby generator manufacturers' features to make the machines more appealing and functional for consumers.
Automatic start systems- Usually monitor the home's electrical system, and in case of power, the system senses the loss and starts the generator within 1 minute. These systems also execute workout cycles regularly to maintain the starting batteries charged.
System (generator) status lights- notify the user when maintenance is required, so you need to look at the generator to remain updated on the current state.
Remote start systems- might take the shape of a switch, push button, or even a remote control. This activates the standby generator without requiring a trip to the transfer switch, and it may even incorporate start commands from mobile devices via compatible applications and Wi-Fi connectivity.
Corrosion-resistant enclosures are often built of aluminum or composite material. These materials protect the standby generator from corrosion, rusting, and damage caused by rain, high humidity, sleet, and salt, protecting it from ocean spray in coastal towns.