Light blue is a calming hue that you can use to enhance home décor. When paired with other colors, lighter shades of blue can be vibrant; however, choosing the right colors is crucial. And though light blue is a cool color, it can be warmed up and brought to life with the right pairing. Here are colors that go with light blue.
13 Colors that Go With Light Blue
1. Pair light blue with other blues
You can pair light blue with other blues if you are a fan of monochromatic schemes. Shades of blue provide a relaxing and welcoming ambiance in your home. Blue, a cool color, will give your interiors a pleasant and tranquil feel. Besides, the shades of blue on your interior walls add a stately and classy look to your home.
Image Source: decoratingtogo.blogspot.com
However, to ensure the color combination plays well, look for blues with comparable undertones, such as navy blue and dark teal. Then, repeat the colors on the walls, curtains, and other décor pieces to get a rich, layered design. On the other hand, to keep the design from looking stale, use various textures and scales of patterns.
2. Pair light blue with white
Pairing light blue and white creates a calming design and refreshing vibe. The good thing about white is that it goes well with virtually any other hue, making it easy to curate the actual décor pieces for the rest of the space, such as furniture and accessories. Besides, since white is a clean and light hue, it will feel and appear clean when paired with light blue walls.
Image Source: rikk.hi.is
For instance, a light blue shade has been painted on the walls, while white (as an accent) on soft furnishings. The bedroom color scheme works together to create a clean, relaxing palette ideal for the bedroom's purpose of encouraging sleep and relaxation.
3. Pair light blue with black
The light blue and black color combination usually creates a clean and professional aesthetic for a more striking contrast. The impact of this color combination is creative and stylish in this home.
Image Source: bculinarylab.com
The walls are light blue. Besides, the black walls and pieces of furniture scattered throughout the room keep the baby blue tone from being too soft. Instead, the impact is dramatic and sophisticated, similar to a black and white monochrome scheme with a color tendency.
4. Pair light blue with rose pink
Pink is one of the colors that go with light blue. Though light blue and pink are extremely different colors, they can seem complementary, given that a light shade of blue and a light shade of pink is used. Besides, pink is pleasing to the eyes and has an incredible potential to brighten your mood. You will feel more optimistic and calm when these two hues are paired.
Image Source: home-designing.com
The rose pink will warm up the coolness of the blue color, while blue will keep the pink from being too vivid. Moreover, when light blue is paired with pink, the color creates a sense of calmness and tranquility, making it the right pale shade of blue without being too baby blue.
5. Pair light blue with green
Though these two colors clash on the color wheel, their contrasting nature may create a stunning design, especially when paired correctly. They are both vibrant tones with strong connections with nature, and using nature as inspiration should be a solid reason to try the combo. Besides, colors that complement each other are great to study since you learn how you have to use nature when contemplating color and how they work so well together.
Image Source: home-designing.com
For example, the light blue of the carpet and the seats are fantastic bases for contrast. Besides, blue is a beautiful hue in rooms with limited amounts of natural light since it's brought to life by overlaying it with strongly contrasting colors.
6. Pair light blue with red
When pairing light blue with red, the light blue color usually acts as a base, allowing the red color to take the stage. In color theory, red is close to light blue on the opposite side of the spectrum that why they complement each other well.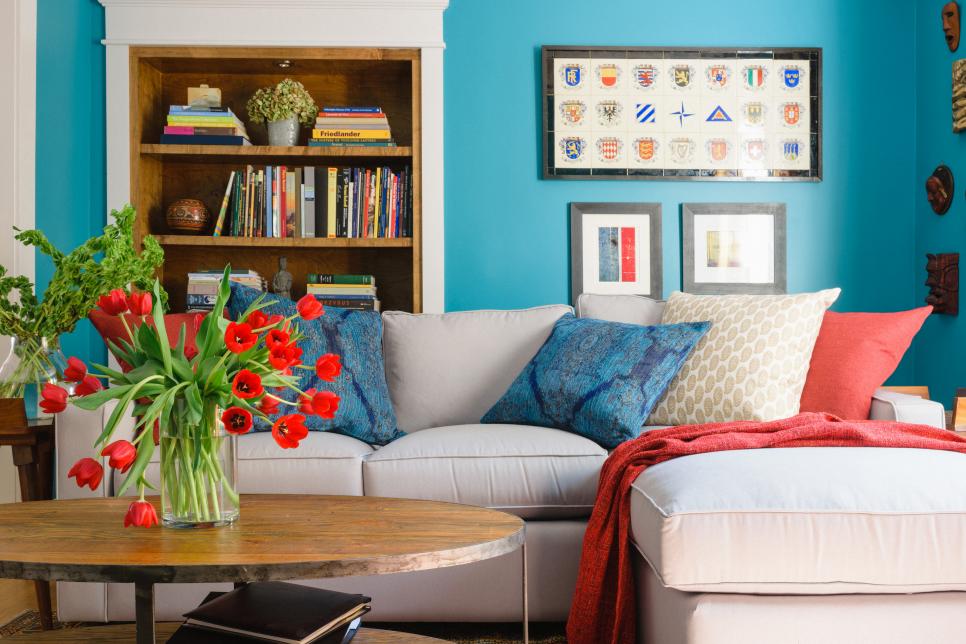 Image Source: hgtv.com
For instance, the room has a blue shade in various hues throughout. The walls in this room are a pale blue, and offers a focal point and a hint of luxury. Besides, the color combination gives it a modern twist with deep, playful textures and unique upholstered pieces. 
7. Pair light blue with brown
Brown is a dark tone of orange and sits opposite blue on the color wheel; that's why the two colors complement each other well. Pairing light blue with brown brings a fantastic, abundant, and elegant look.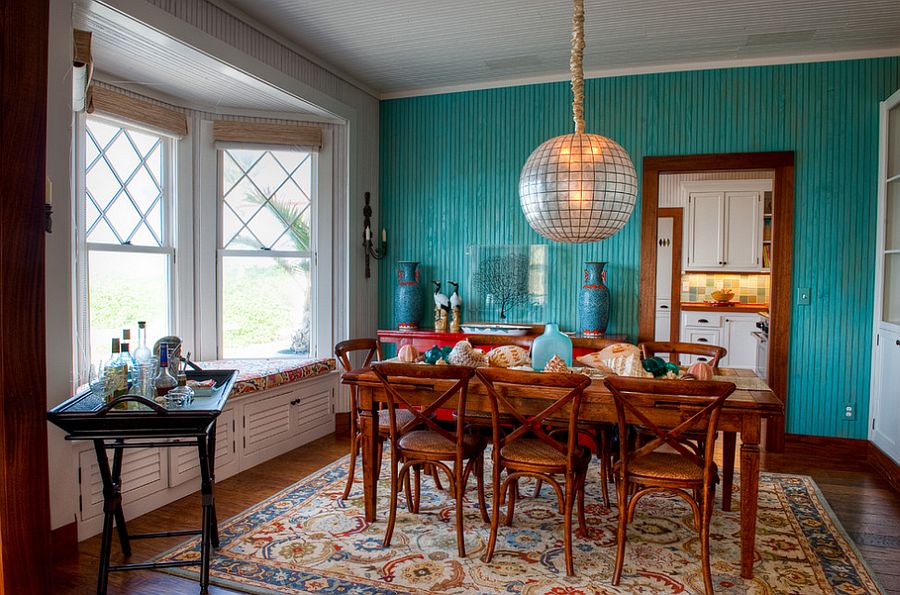 Image Source: decoist.com
For instance, the blue wall paneling design provides a striking backdrop and makes the space seems spacious. And the wooden furniture makes the room outstanding with a modern feeling.
8. Pair light blue with yellow
The blue and yellow color combination is referenced across decades of interior design and has deep roots in artistic theory. So, what makes yellow a good color that goes with light blue? This color scheme will make the décor look appealing and stunning. It's also ideal for creating a soft, tranquil, and relaxing look.
Image Source: housing.com
When designing a room, think about contrasting with complementing. For instance, the image above shows the light blue walls and vibrant yellow tones of the furniture. Though these colors contrast, their tones complement one another within the room and form a great pairing.
9. Pair light blue with orange
On the color wheel, blue and orange are complementary colors. This explains why these two colors complement each other in their varying forms. For example, a lighter shade of blue paired with a subtler shade of orange, such as terracotta, is a perfect complement for your interior design.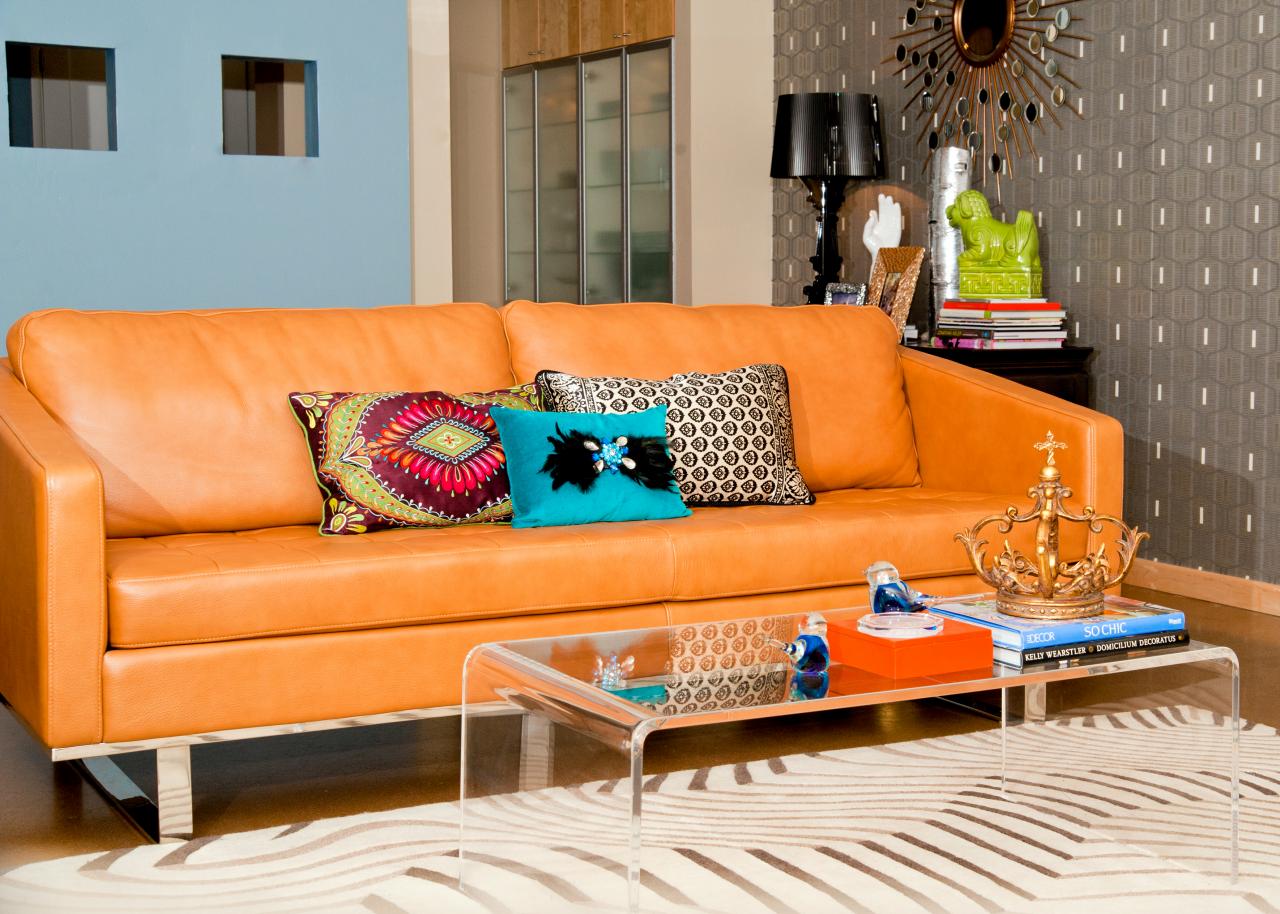 Image Source: hgtv.com
The orange color usually warms up the blue, while the blue provides a great neutral background for your orange shade. For instance, the light blue couch looks stunning against the orange wall.
10. Pair light blue with beige
Beige is also the right answer when it comes to what colors go with light blue. Light blue and beige work together to create a pull-together impact in this room. The subtle, patterned wallpaper complements this appealing room's dark and dramatic bedding and curtains.
Image Source: farmfoodfamily.com
Moreover, soft shades of blue usually create sentiments of calm associated with the sea—pair light blues with light-washed wood or a sandy-colored neutral for a seaside vibe.
11. Pair light blue with purple
The light blue and purple color combination looks sophisticated and romantic with earth-toned neutrals as well as metallic fixtures in this living room. Besides, the couch's smooth velvet blue fabric adds a nice touch without clashing.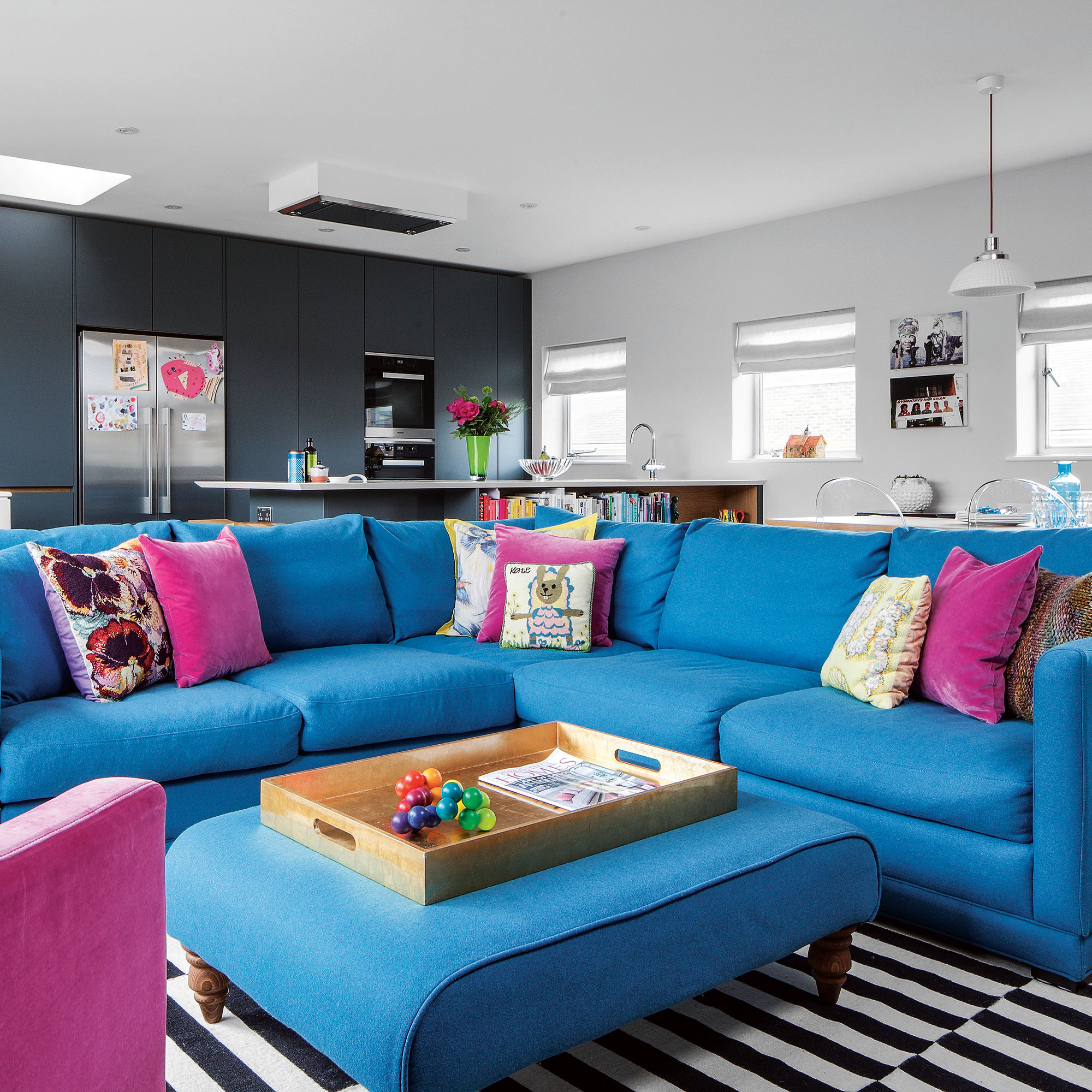 Image Source: idealhome.co.uk
Conversely, the light blues of this couch are complemented with decorative pillows in deep purple and other earthy shades. Lastly, the other color peeping out completes the classic appearance.
12. Pair light blue with gray
Gray is a cooler hue, yet it can look incredibly stunning when paired with light blue walls. It's simple to get a rich aesthetic, and you are not limited to a single shade of gray. That means you can use multiple shades of gray for this color scheme, which will still look great.
Image Source: besthomish.com
On the other hand, don't shy away from trying this calm and cool color combination, thinking it might be too dull or miss the mark. Besides, blue and gray look great together; the trick is to choose tones that contrast enough to create an effect. Then, try this in your bedroom or living room to create the ideal environment for relaxing and unwinding.
13. Pair light blue with emerald
Emerald is the next-door neighbor to blue on the color wheel. Since light blue is the primary undertone of emerald green, the combination honors the hue's origins while also creating a mesmerizingly balanced and calm setting. Besides, light blue and emerald are a rich and sensational combo that conjures memories of the deep ocean.
Image Source: thespruce.com
Furthermore, any shade of blue will work well when paired with emerald. On the other hand, when paired with matte black finishes, the color combination can help generate a whimsical, almost glam retro vibe, as shown above, or you can use it to make a space look ultra-sleek contemporary.
What Curtain Color Go With Light Blue Walls
The choice of fabric, height, length, valance style and density of curtains can make or break a space. Curtains usually protect a room from excess direct sunlight and heat, as well as cold temperatures, and they improve the décor style. Therefore, keep the space's color scheme in mind while selecting and hanging curtains in a room with light blue walls.
Image Source: nwrugs.com
Consider whether the furniture, trim, and wall decor complements the light blue walls or contrast. The curtains should have the same color scheme. For example, a space with light blue walls, dark wood floors, black furniture, and eclectic and rust-colored trim looks impressive with dark-blue, dark brown, royal-blue themed curtains.
Moreover, choose sheer, flowing drapes in neutral hues like soft gray, white, off-white, or beige for a room with light blue walls and neutral furniture like a cream-colored couch, a white-washed floor, and nautical-themed wall décor.
What Accent Wall Color Goes With Light Blue?
An accent wall color separates a section of space and adds depth, dimension, or unique design features to convey the homeowner's personality. The accent wall is usually a simple wall with a different angle or shape or a wall used to surround a fireplace, artwork, or window grouping.
Image Source: quora.com
When the room's walls are light blue, the accent wall, like the curtains, will either be a unifying, flowing hue or strikingly contrasting to the primary wall color. Once you've decided on an accent wall, consider whether the color should match or contrast the rest of the walls.
For instance, you can go for pale-white, off-white with light blue accents, a sandy shade, or any neutral tone that works well with the room's décor style for an accent wall that connects the other walls. Besides, obtaining paint samples for a preview of the accent wall color is handy.
An accent wall should be bold and stunning for the ultra-modern, contrasting color scheme, integrating the wall décor and furniture. Besides, you can use a mirror instead of an accent wall to brighten the space and add more light by positioning it opposite a window.
Furthermore, a room with light blue walls, brown hardwood floor, dark brown furniture, and burgundy-patterned curtains looks good with a burgundy, dark brown, or deep orange accent wall.
Frequently Asked Questions on Colors that Go with Light Blue
1. How many colors are required in a room?
It comes down to personal preference. Home decor professionals work with dominant, secondary, and accent colors. However, you can create a design with multiple accent colors, two secondary colors, and no accent color.
When determining how many colors to use, consider the shape and size of the room. Keep in mind that using more than two or three colors in a small room might make the space appear cluttered.
2. How do you warm up a blue room?
A warm accent color is a great way to bring your blue room to life. With the brown wood bed and orange pillows and bedding, this room will soothe and give you comfort.
3. What color complements baby blue paint?
Pairing complementary colors such as white, gray, pink, peach, and dark blue with baby blue creates a stunning appearance. Also, when paired with jewel tones, white, cream, sky blue, and gold looks great.
Featured Image Source: apartmenttherapy.com