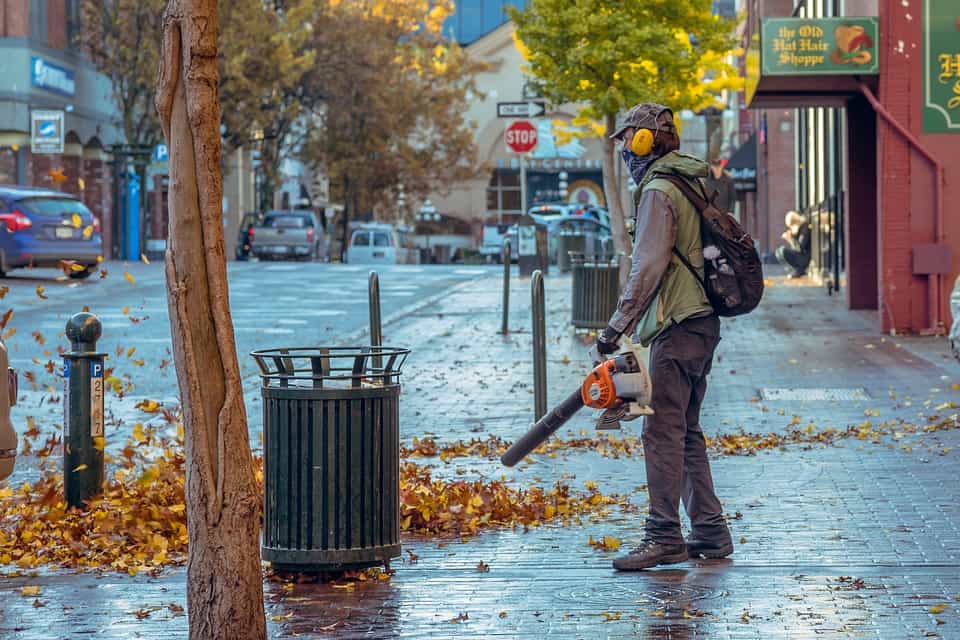 Best Leaf Vacuum Mulcher for Your Home Garden
Finding the best leaf vacuum mulcher helps to smoothen and ease things for you in your garden or yard. Purchasing the right kind of leaf mulcher appropriate for your yard will help you save a lot of time and money. A leaf mulcher vacuum can have either a gas engine, electric or cordless.
The ideal fuel type depends on how large the yard project is. Some people argue that only gas powered leaf vacuum mulchers deliver the best maximum power output but gas leaf vacuums also are difficult to start and louder than other engines. Below is a list of some of the best leaf vacuum mulchers in the market today.
the best leaf vacuum mulcher in the market today
Sale
Toro 51621 UltraPlus Leaf Blower Vacuum, Variable-Speed...
Superior blowing and mulching proven by controlled laboratory...
Powerful up to 250 mph degree. 350 CFM blow mode and 410 CFM Vac...
Vacuum tube, bottom-zip bag, cord storage hook, shred-all shred...
Variable speed control for better control in both blower and vac...
This bag is designed to capture leaf particles not dust. Product...
Toro 51621 Ultraplus leaf blower vacuum is the best leaf vacuum mulcher if the main feature you are looking for is superior performance. It functions as a yard vacuum, leaf mulcher, and leaf blower. This is a handheld leaf blower and works the best for patios or gardens that are medium-sized and in a small size yard. This best leaf blower also works as a leaf shredder and a vacuum cleaner. The mulching rate is impressive and as a result, fewer collection bags for your yard clean up. The debris bag has a bottom dump zipper that you don't need to unfasten and hence saving time.
The design is ergonomic and can work for long periods without affecting the quality or the user. The ergonomic handle allows it to be held with one or two hands with a lot of ease, saving plenty of time. There is less strain on the wrist because of the oversized handle and oscillating nozzle. This is a lightweight leaf vacuum mulcher and is well balanced and the leaf blower does not cause fatigue as it weighs 8.9 pounds (4.04kg). Toro 51621 Ultraplus best leaf blower has dual tubes that have different purposes. The first tube is used to move large and heavy debris with the powerful nozzle while the second tube which is thin works on the corners and the places which have limited access. Both the tubes can be removed and simply fixed by anyone without any specialized tools. The two tubes are necessary as debris usually needs a moderate flow rate.
This model of Toro 51621 Ultraplus leaf blower vacuum has a quick release latch that easily converts the electric leaf blower to a vacuum mode. It uses a 12 amp motor that runs for hours without straining and while having enough power. These leaf vacuum mulchers generate a maximum air speed of 250 miles per hour that eliminates small to large leaves and debris quite easily and has an output of 410 CFm in vacuum mode. To move large piles of leaves effectively, use a higher speed setting and for trapping the trapped leaves, around your house, use the slower speed setting.
While in use, this ultra electric blower vac barely moves and the vibration present is gentle and not bothersome. This electric leaf blower has two adjustable speeds in both vacuuming and leaf blowing mode and they help to regulate the air currents within their tubes. It effectively gives you the right pull while putting the mulch in the bottom zipped bag.
To sum it up, the outstanding feature of this Toro 51621 ultraplus best leaf vacuum mulcher is its rugged metal impeller and the bag attachment it comes with that is designed to capture the shredded leaves alone. This means it does not capture any debris or dust and helps you avoid creating a mess in your yard. It comes in handy when you need to spread mulch for a small yard or around trees. It also comes with a concentrator, an oscillating nozzle attachment, a power insert, and a shred ring. The shred ring helps to reduce leaves and lawn debris in your yard efficiently while the oscillating nozzle clears hard surfaces faster. The various components can be stored in the durable collection bag. For these unique leaf blower vacuum features, this leaf vacuum mulcher is one of the best garden tools that are important to have for your yard, and also it has a class to it. Also, it packs a two-year warranty.
Also Great Leaf Vacuum Mulchers
Sale
Greenworks 40V 185 MPH Variable Speed Cordless Leaf...
185 MPH / 340 CFM
Up To 21 Minutes Run-Time On High In Blower Mode
Brushless Motor Provides More Power, Performance, and Durability
Variable Speed Dial with Turbo Button - 6 Speed Selections
Tool-Less Blower To Vacuum Conversion
The Greenworks model is the best leaf vacuum mulcher is one of the most powerful cordless leaf vacuum mulchers in the market and the best for any yard size. It has a DigiPro brushless design of a motor that has a push-button start and experiences less wear and tear and may last longer because of the brushless design since you don't have to worry about overheating problems. This impressive leaf blower vacuum mulcher has a motor that has a maximum air speed of 185mph and a 340 CFM air flow capacity but has variable speed options according to your needs. The variable speed options have 6 settings for additional power and also an easy start and turbo button.
The Greenworks turbo button in this leaf vacuum mulcher ensures you have full control of the speed you need. It swiftly changes from blower to vacuum as it has a handy variable speed button built in the handle. The air nozzles are very durable and you can choose between narrow-angle attachments for concentrated and high-speed leaf blowing or a wider attachment for vacuuming or blowing a larger yard area. Weighing half the weight the other leaf vacuum mulchers weigh with the attachments and the nozzle, at only 11 pounds (4.98kg), this characteristic makes it an efficient tool to do yard work as it is very light for a battery-powered machine.
Additionally, as far as battery-operated tools go, this is one of the best leaf mulchers as it features a 40V rechargeable lithium-ion battery and can comfortably move dry or wet leaves. The biggest advantage of a battery-powered leaf blower is the mobility it provides. Notably, batteries are preferred because they are quieter, do not require a lot of maintenance and starting hassles that a gas leaf vacuum does, and easier to use. One battery can be used for leaf blowing about half an acre therefore this leaf blower can be very useful for large projects or yards. Recharging the Greenworks blower vacuum mulcher battery takes approximately 120 minutes. This leaf vacuum mulcher has an optional G Max battery that can be used with about other 40 different tools.
Some of the tools that can use the battery of this leaf vacuum include chainsaws, mowers, weed whackers, hedge trimmers, and many others. This simply means you can use one battery for a variety of garden tools. This can help you greatly save costs and even purchase several batteries. Besides, this leaf mulcher vacuum comes with an indicator that shows how much battery is remaining and therefore you can plan your yard work.
This Greenworks blower mulcher vacuum is the only model that comes with tool-less converting of the blower to vacuum function and this helps to save time in comparison to other cordless leaf vacuum models. Greenworks electric leaf vacuum blows leaves as impressive as gas powered leaf vacuums and can also function as a vacuum and mulcher quicker and easier.
Greenworks leaf vacuum mulcher comes with an oversized handle that is easy to carry, a quick-release latch, a cold storage hook, a bottom dump zipper, and variable speed control. Because of the blower mulcher multipurpose ability, this is one of the best reliable investments as part of your garden tools. Also, it comes with an amazing 4-year limited warranty.
Sale
Toro 51619 Ultra Electric Blower Vac, 250 mph, Red
New larger metal impeller drives power and improved mulching
Powerful up to 250 mph degree
Vacuum tube, bottom-zip bag, power insert, concentrator nozzle...
Variable speed control for better control in both blower and vac...
Top rated air horse power degree degree for comparison purposes...
Toro 51619 has almost similar features as the Toro 51621 model. Some of the features include a quick release latch that easily converts the blower to a vacuum, variable speed control, and also a concentrator insert. The power insert and the concentrator helps one to get any stuck leaves and debris from the hard to reach corners.
It is an electric blower vac with 12 amp and an air speed of 250MPH, 350 cubic feet per minute (CFM), and 410 CFM vac mode. Weighing just 8.5 pounds(3.86kg) this best leaf vacuum mulcher blows leaves and vacuums the leaves and also performs the mulching function effectively. Toro 51619 leaf vacuum mulcher has a strong metallic mulching propeller that assists in getting the finest and best mulch.
The major difference between the model Toro 51619 and Toro 51621 is the mulching ratio and how it shreds your leaves and debris. Toro 51619 has a slightly lower mulching ratio and also it shreds the leaves to 88% of their size while Toro 51621 sheds 97% of the original size. Another difference between the two models is that this leaf vacuum mulcher does not come with a nozzle and an oscillating ring. This Toro 51619 model comes with a leaf collection bag and three tube connections.
Sale
WORX WG518 12 Amp 2-Speed Leaf Blower, Mulcher &...
250 mph air speed 2992.2 gal/min Air flow AC supply handheld
Maximum air speed: 250 mph maximum air flow: 2992.2 gal/min
Power source: AC supply input voltage: 120 V AC
Mulch ratio: 16: 1
Lightweight and easy to use
This leaf vacuum is ideal for a small yard and it's one of the best inexpensive leaf vacuum mulchers if you are on a tight budget. The power of this Worx WG518 model is one of the best leaf vacuums in the market and is similar to the power that Toro gives. It produces an air speed of 250MPH and an air volume of 400 cubic feet per minute(CFM). The other differences come as Worx WG518 Trivac blower mulcher vacuum is sold at a slightly cheaper price and also Worx WG518 weighs 7.5pounds(3.4kg) a pound less than Toro leaf mulchers.
Worx WG518 electric blower vacuum mulcher has a mulch ratio of 16:1 and the mulching can be up to 12 bags of leaves before you need to dispose of them. Additionally, this leaf vacuum comes with a handy mulching bag. The leaf mulcher comes with an easy to use conversion switch that does not require you to purchase other attachments to switch from blower to vacuum. The dual-speed leaf mulcher attachments help to provide extra power or control when it is needed. It also comes with a nozzle and a concentrator that helps a blower vacuum mulcher get into tight spaces.
The Worx WG518 has an impeller that has a 10:1 reduction ratio and packs an impressive 10-gallon reusable collection bag. This is one of the best leaf vacuum mulchers that is ideal for a small yard where you have to limit the cord drag.
BLACK+DECKER 3-in-1 Electric Leaf Blower, Leaf Vacuum,...
The 12 amp motor operates a 3 in 1 blower, vacuum and mulcher all...
250 mph blower with variable speed selections
Disposable leaf bag system
Can grind up to 16 bags of mulch down to one
Air Speed: 140 250 mph; Bag: 1.5 Bushels; Decibels: 68 dBA;...
Black Decker BV6600 is one of the best leaf vacuum mulchers in the market with a powerful motor that has an airspeed of 140 to 250 miles per hour. This garden tool runs on a 12 amp motor and the main functions are mulching, vacuuming, and blowing. It is 3-in-1 yard equipment, that is an ideal leaf blower for vacuuming any yard waste, leaves and debris, grass clippings, and even pine needles. It does not clog while mulching as a result of the high impact metal fan.
The mulching ratio of this Black Decker leaf blower is 16:1 and it can turn up to 16 organic debris bags into a single one after mulching. Besides, this leaf blower has a handle with an ergonomic design that you can start with either both hands or one hand with no difficulty. Besides, Black Decker comes with a high impact metal fan that works to prevent the mulcher from clogging and also has a concentrator tube that provides extra power in the small spaces and is very useful in moving any leaves that are stuck to the ground. To transition from one function to another, is as easy as snapping a button and you go to another function.
Black Decker BV6600 electric leaf blower has a detachable shoulder strap that people can put on their shoulders and walk with it throughout the day and won't tire you as the leaf blower vacuum mulcher weighs 8.1 pounds(3.67kg) and you can be able to choose the speed that best works for you. With airspeed settings of 140 to 250 miles per hour, this helps any user to adjust the amount of power they need according to either the area they are working on or the dampness.
Black Decker being an electric blower vacuum mulcher, Black Decker is good for your ears and also good for the environment. It is probably 50% quieter than other models at 68 decibels and therefore you can clean your garden at any time. This model of Black Decker comes with its bag that has a capacity of 1.5 bushels. Another benefit is that this Black Decker leaf vacuum comes with a built-in cord lock mechanism that keeps the extension in place to avoid this leaf vacuum mulcher from unplugging while being used.
In conclusion, this Black Decker 6600 model of leaf vacuum mulcher comes with a reusable collection bag, detachable shoulder strap, concentrator nozzle, a vacuum tube, and an impressive warranty of two years.
Sale
Sun Joe SBJ606E-GA-SJG 14-Amp 250MPH 4-in-1 Electric...
4-In-1 design: blower, vacuum, mulcher and gutter cleaner for...
Quick + easy conversion: go from blowing to vacuuming in seconds!
Powerful 14-amp motor generates up to 250 mph of air flow
Durable, aluminum alloy impeller
6 adjustable wind speeds
The electric leaf vacuum mulcher Sun Joe Sbj605e is one of the best leaf vacuum and mulcher options and it has a 3-in-1 design that comprises an electric leaf blower, vacuum, and mulcher. All these three components speed up cleaning work in your yard. Sun Joe leaf vacuum mulcher is a handheld blower that is a 14 amp motor leaf vacuum mulcher is corded that provides an abundant flow of air. However, being a handheld leaf vacuum, it is on the heavier side weighing 8.6lbs(3.9kgs). The Sun Joe has a maximum air volume of 440CFM, an air speed of 250 MPH, and the mulch ratio of this blower vacuum and mulcher is 17:1. This mulching ratio means that this leaf shredder has a reduction ratio of 16 bags of leaves reduced to one bag of mulch.
Sun joe sbj605e has a high impact aluminum alloy impeller with a 16:1 reduction ratio, that makes the blower function and mulching function stress-free and simple for every user by easily sucking the leaves and shredding them faster. It is a slender and lightweight blower mulcher vacuum that has a noise of 96dB that can be ranged on the higher side of handheld leaf vacuum mulchers. The Sun Joe sbj605e leaf shredder converting from blower to vacuum is speedy and has six different wind speeds which help to meet the needs of either a small or a big yard.
Sun Joe employs a cord lock mechanism to avoid any unplugging problems during the operation. Notably, this leaf vacuum mulcher has a small bag in comparison to other leaf vacuum mulchers, and also it does not have straps. Nevertheless, it has wheels as a unique leaf vacuum feature. This leaf vacuum mulcher packs a 2year warranty but it is important to note that Sun Joe might not cover all the leaf vacuum mulcher parts.
FAQS
1. Do leaf vacuums work well?
Yes, they do. It requires plenty of labor work if you only use a leaf vacuum on its own to vacuum the leaves. Also, with leaf vacuums, you have to purchase the ones with a jet vac mode for the leaf vacuum to take care of the wet leaves efficiently. On the other hand, purchasing the best leaf vacuum mulchers that are multipurpose are better, as they come as three in one which saves you a lot of time energy, and money.
2. Are leaf mulchers worth it?
Yes, leaf vacuum mulchers are worth it because they ease the cleaning of leaves layers. To get rid of huge amounts of leaves, use stand-alone leaf vacuum mulchers that are strongly built to ensure you get your yard work done.
3. What is the best garden leaf vacuum?
According to our list, the best leaf vacuum mulchers is the Toro 51621 Ultraplus because of its unique features of the rugged metal impeller and the bag attachment it comes with that is designed to capture the shredded leaves alone.
4. Will a leaf vacuum pick up mulch?
Most leaf vacuum mulchers are not designed to pick mulch because they can jam the leaf vacuum. But some with metal impellers can easily shred the mulch sticks.