Garden borders are easy ways to create a separation in your space. You can add visual interest to a previously plain yard with the right plants and materials. Garden borders can also help prevent the growth of weeds and retain soil moisture.
If you add more plants to your garden borders, you will not need to spend more time on it. If you're itching to give your garden a bit of a makeover, below are a few garden border ideas that don't require maintenance.
What Is A Garden Border?
A garden border is a landscaping method that creates separation in certain areas in your yard. They can also be useful for making your space look more cohesive or for indicating a path to allow you to move around easier.
Plants – in the form of hedges, herbs, and flowers are commonly used as garden borders. But you can also utilize stones, pavers, and bricks to add contrast or texture. A good garden landscape will require careful planning, where you'll need to consider its size, style, and climate to figure out where and which type of garden border to add.
What Is A Good Border For A Garden?
Using plants that are native to your region is one trick to make your garden border low maintenance. Since choosing the right plants that can go in your garden can get overwhelming, here are a few ideas to get some inspiration:
1. Lavender Hedge
A lavender hedge is an excellent plant border if your garden is located in a sunny climate. These pleasing purple perennials grow best when planted in well-draining soil under full sun. They're also drought-resistant, so you won't have to worry when your area is prone to dry spells. Fertilizing them is also unnecessary, so you can leave them to grow independently.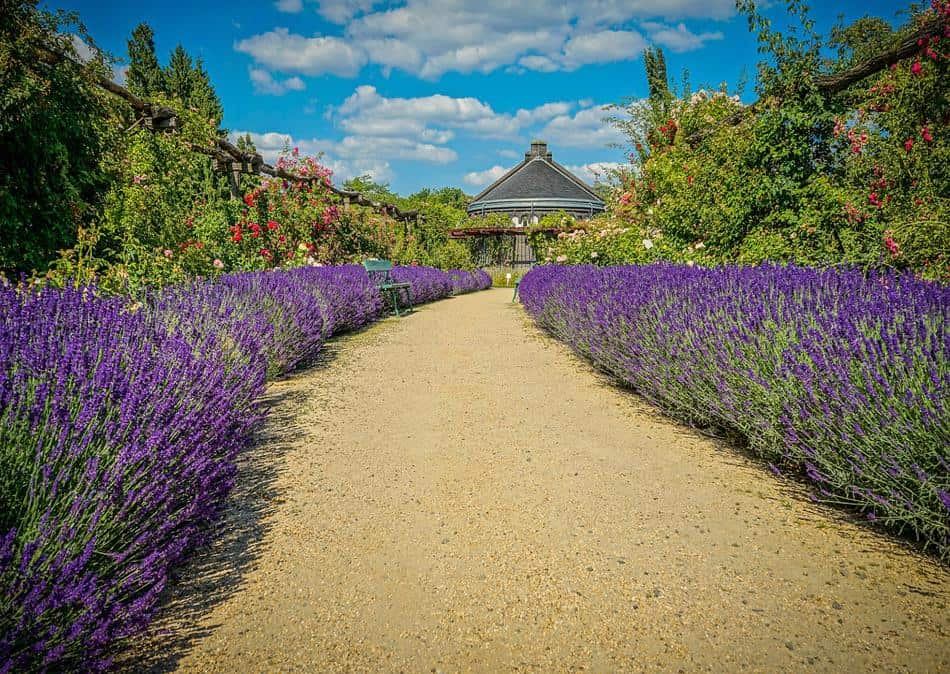 Image source: howtoplantyourgarden.com
Lavender is also an effective insect repellent since its pungent smell is enough to drive pests away. You just need to remember to prune them in the fall to keep their foliage well-kept.
2. Rosemary
Aside from adding flavor to your meals, rosemary is also efficient as a low-maintenance garden border. This hardy plant can tolerate almost any kind of soil,  including sandy or poorly fertilized ones. Plant cuttings are also easy to propagate, so you can quickly turn one plant into a hedge in no time. Since they can reach up to 2 meters high, rosemary is also commonly used as a privacy hedge.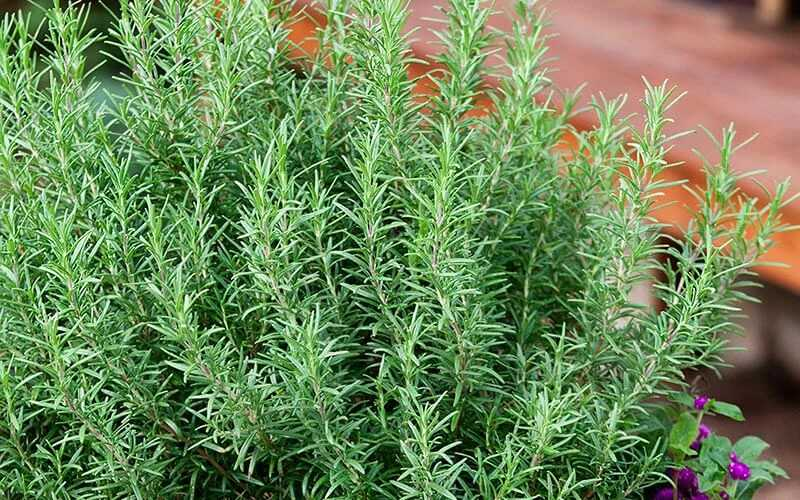 Image source: standardmedia.co.ke
But if you want to see some blooms, make sure to look for the Tuscan Blue variety since they can give off dark blue flowers in the spring or early summer.
3. Monkey Grass
You might want to consider planting monkey grass if you're looking for minimalistic garden border designs yet evergreen shrubs. Also known as liriope, this hardy plant can survive in any type of well-draining soil as long as it's exposed to partial or full sun.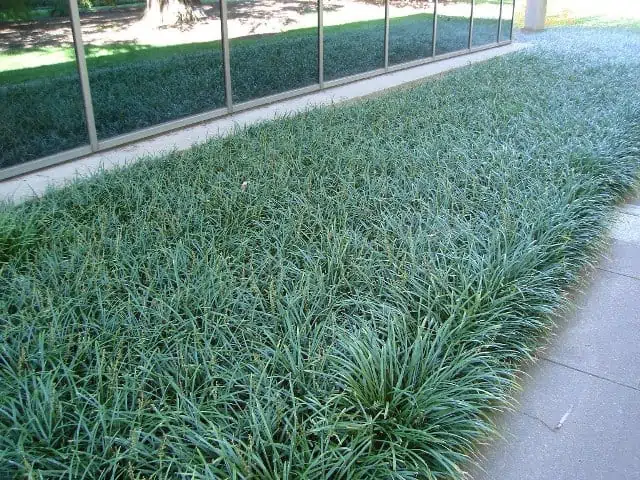 Image source: myattlandscapingblog.wordpress.com
But when planting monkey grass, make sure to use Liriope muscari since they grow in clumps. That's why they're great as plant borders. Avoid Liriope spicata since this invading species can easily take over your yard. 
To maintain monkey grass, you'll only need to remember to trim its foliage by the end of the growing season to remove any dead bits and prevent it from looking lanky.
4. Azaleas
Vibrant azalea shrubs are also great as garden borders since they can grow as tall as 6 feet. They thrive best in acidic soil, but remember to give them good drainage. Azaleas will give fewer blooms when placed in shady areas, that's why it's better to plant them under partial to full sun.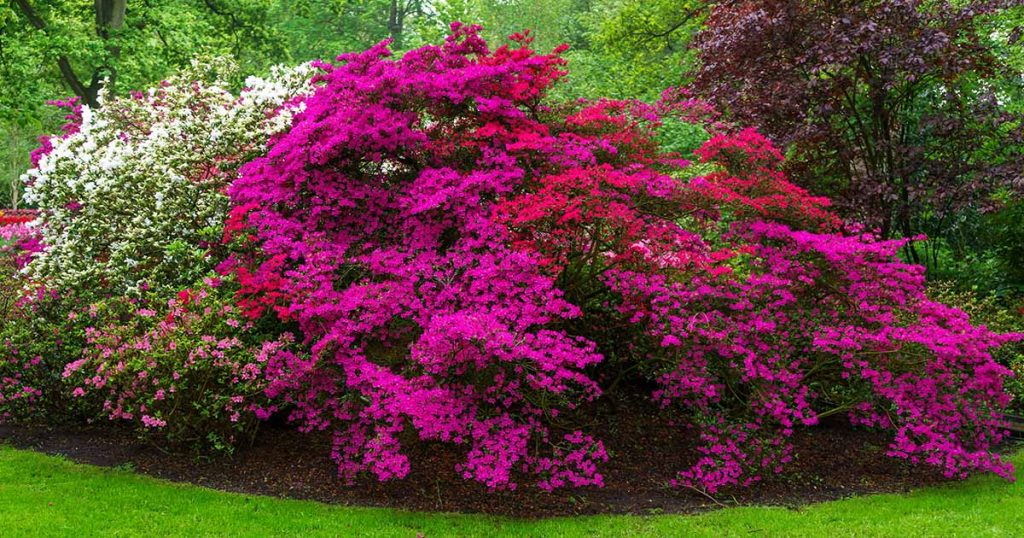 Image source: gardenerspath.com
Their flowers are also available in a wide array of colors, including red, pink, orange, yellow, and white, that can last from spring or autumn, depending on the variety. If you don't mind them losing their leaves in the winter, you can plant a few deciduous varieties – but if not, evergreen varieties will be ideal for your garden.
5. Bricks, Gravel, And Stones
If you think your garden has enough plants for its space, you can also use bricks, large rocks, or stones to create a clear border where your flower beds end. They're also handy for creating raised flower beds since they will stop soil from eroding when they're stacked firmly.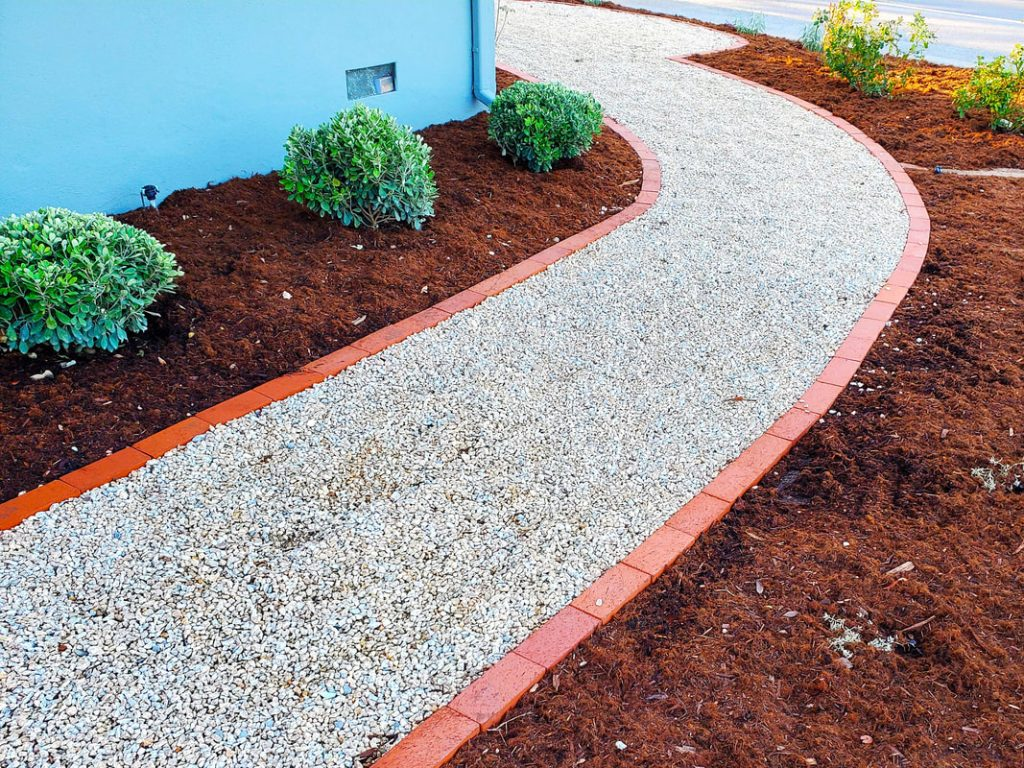 Image source: candigit.com
Bricks look best as garden borders when neatly arranged on edge. While using one type of stone can create a uniform look, and 2-3 types will make it look colorful. Covering your pathways with gravel will also eliminate your need to mow because weeds and grass will have a hard time growing out of them due to the lack of sunlight.
6. Bright and breezy Bougainvilleas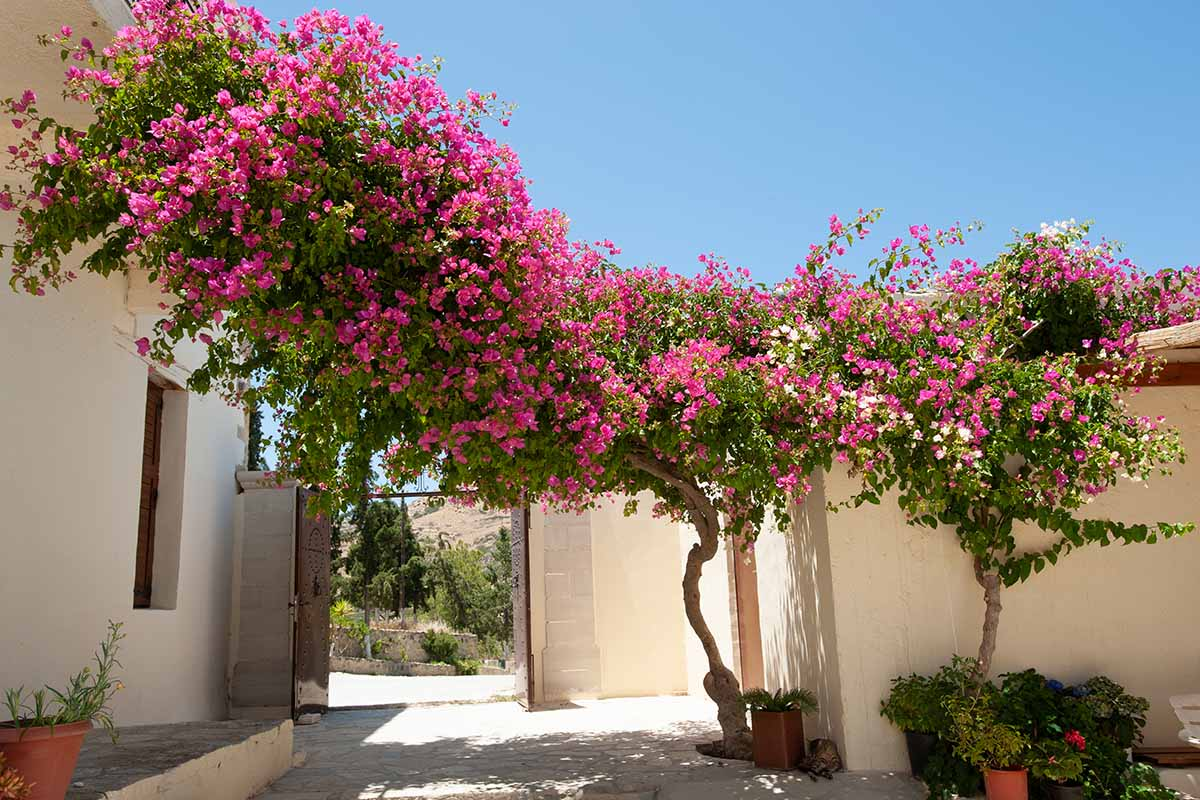 Image Credits: Gardenerspath.com
The hassle-free color Bougainvillea is a great option for garden borders, showing off its vibrant and long-lasting blooms. This evergreen shrub is low-maintenance and thrives in many climates. For best results, plant it in full sun.
Ensure well-drained soil or use high-quality potting soil in containers. Water when the top soil is dry. Fertilize every two months in the growing season.
Prune off dead or damaged branches and trim back if flowers become sparse. For colder climates, cover with a blanket. With proper care, your bougainvillea border will be a delightful addition to your garden.
7. Exotic Aeonium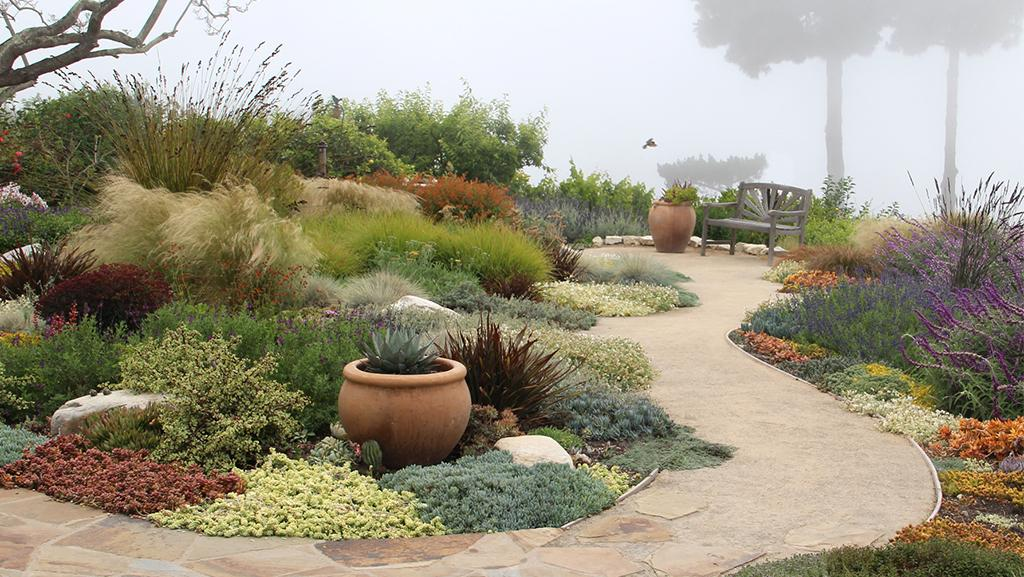 Image Credits: Monrovia.com
Aeonium, an evergreen succulent from the Canary Islands, is perfect for adding a tropical touch to your garden. This low-maintenance plant requires well-draining soil and twice-weekly watering. It also needs occasional fertilizer and protection from direct sunlight.
As a border plant, aeoniums are ideal: low-growing and easy to maintain, they will fill up any space while needing little water. When in containers, ensure adequate drainage and provide shade during the hottest times of the day. With the right care, Aeonium garden edging ideas are just about striking foliage and colorful flowers.
8. Vibrant Verbena
Image Credits: Architecturaldigest.com
Vibrant Verbena is a beautiful, drought-tolerant, and colorful plant, yet it is a cost-effective method that produces beautiful blooms throughout the season. It makes an ideal border for any garden and is a great way to add a splash of color to any landscape. To ensure vibrant Verbena stays healthy, it should be planted in zones 8–11 in a location that receives full sun.
For best results, it is important to maintain a regular watering schedule as well as fertilizing every 6–8 weeks. Additionally, since verbena can be susceptible to mildew and other diseases, ensuring that the plant receives adequate air circulation is also important. With the proper care, verbena can be an eye-catching addition to any lawn.
9. Perky Petunias
Image Credits: Backyardgardenlover.com
Perky Petunias make a great addition to any garden, adding vibrant color and a low-maintenance option for a garden border. Petunias are easy to maintain, requiring little more than regular watering and occasional fertilizing. They make a great choice for gardeners in zones 4–11, as they can tolerate both heat and cold.
When planting petunias, select a spot with plenty of sunlight, as they prefer full sun. When watering petunias, keeping them moist but not soggy is important. They should be checked often, particularly during periods of high heat. Fertilizer should be applied once a month with a balanced fertilizer.
Petunias may need to be pinched back as they grow to encourage more blooms. Finally, petunias should be protected from cold temperatures by covering them with a blanket or moving them indoors. With a little bit of care, your petunias will be perky and ready to give your flower garden a rustic feel!
10. ELegant English Ivy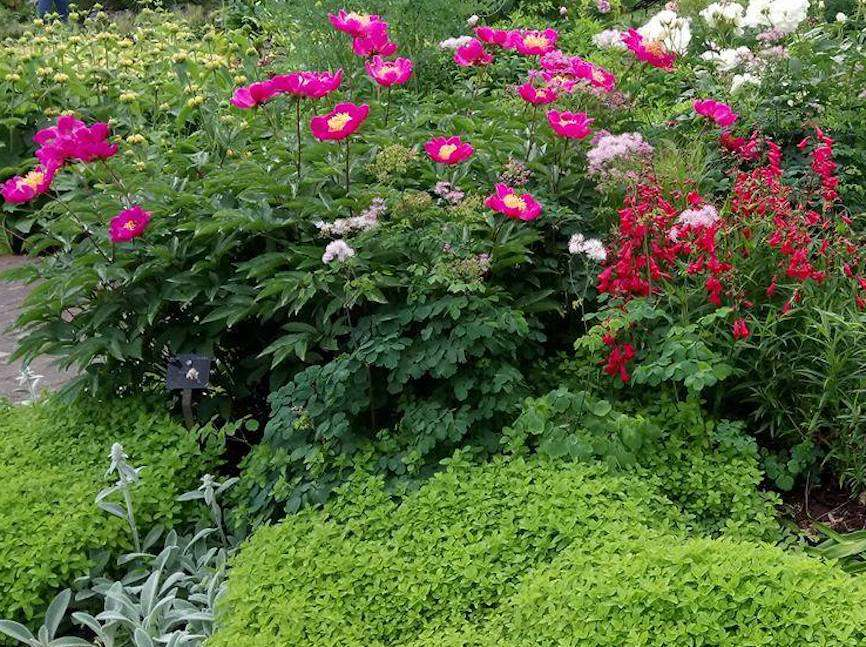 Image Credits: Thespruce.com
Any garden design can never be better without English Ivy, which is an evergreen. A classic favorite that is easy to maintain and provides a lush, green look. It is suitable as a houseplant and as a garden border, providing a stunning backdrop to any outdoor space. This hardy plant is drought-tolerant, requiring minimal watering when established, making it a great choice for the busy gardener.
English ivy thrives in zones 5–9 and prefers moist, well-drained soil. When growing outdoors, it needs regular fertilizing in the spring and summer months and can be pruned in the fall. It can also be grown indoors if it gets enough light and is kept away from drafts. This plant is a great choice for a beautiful, low-maintenance garden.
11. Lantana Camara Landmar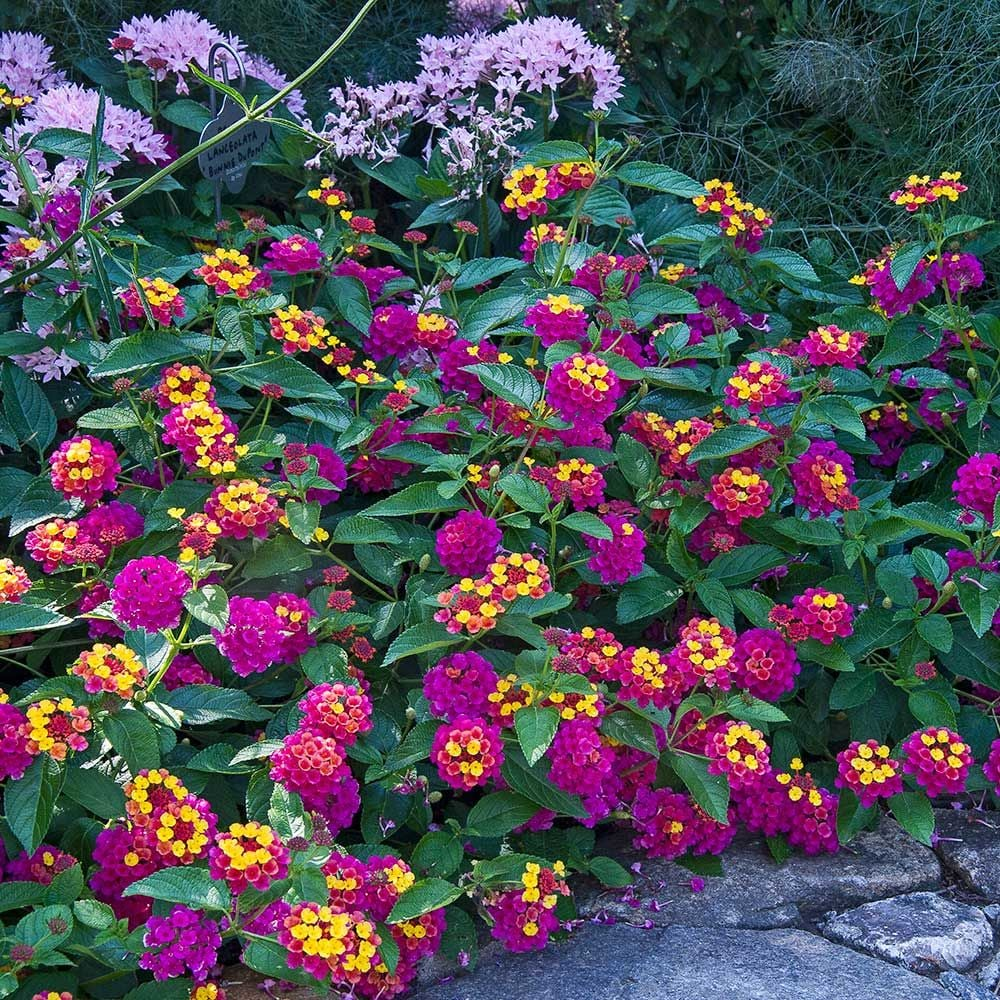 Image Credits: Whiteflowerfarm.com
Lantana "Landmark Peach Sunrise" is an attractive, evergreen shrub that produces bright, showy blooms that attract hummingbirds and butterflies. It's dense, mounding, and spreading habit is an excellent choice for garden borders. Additionally, you don't need garden beds for lantana, but a retaining wall might be ideal.
Its upright stems are topped with clusters of multicolored flowers that will bloom all season. This hardy perennial thrives in full sun and is tolerant of heat and drought. It can be grown in USDA zones 8–11 and makes a great addition to any garden or landscape.
For best results, Lantana "Landmark Peach Sunrise" should be planted in a sunny location with well-draining soil. It will need regular watering but should not be overwatered. Fertilizing once or twice a year is recommended to encourage blooming and growth.
Planting in partial shade is also an option but it will not flower as abundantly. To help keep this plant healthy, prune it back in late winter or early spring to encourage new growth and blooms.
12. Sedum

Image Credits: Michiganbulb.com
Sedum makes a stunning garden border plant. Effortless to grow and requiring little maintenance, it offers a wealth of shapes, sizes, and colors, plus drought-tolerant versatility. Plant them 2 feet apart in well-draining soil and ensure at least 6 hours of direct sunlight.
Keep soil moist but not soggy—about 6 inches deep. Remember to retain it in its flower bed by using brick edging in shallow trenches. Fertilizing isn't necessary for sedums unless there is sand; a layer of compost or other organic matter may help.
Hardy in USDA zones 3–9, some varieties may survive colder or warmer climates with mulch or other protective measures. Prune in late winter to remove dead foliage or promote new growth. Sedum: the perfect garden border plant!
13. Charming chrysanthemums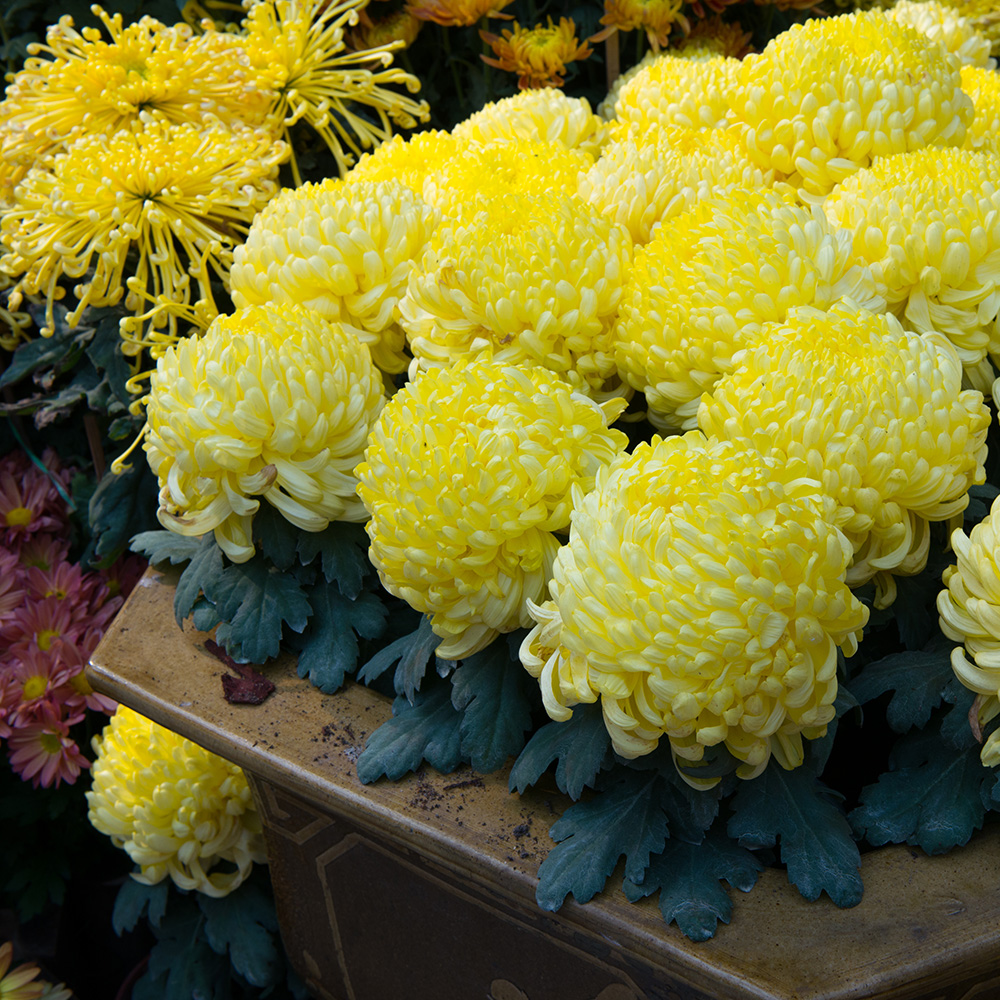 Image Credits: Gardensbythebay.com.sg
Add texture to your lawn with Chrysanthemums,  a popular favorite for garden borders and a great way to brighten up any garden. They bloom in the late summer and fall months and require a slight bit of maintenance to keep them blooming. To keep chrysanthemums looking their best, you need to make sure that they are planted in the right zone with the right amount of watering, fertilizer, and shade.
If you lack the vases, stone edging may suffice. Zones for chrysanthemums vary depending on the plant, but as a general rule, they should be planted in zones 4–8. Watering should be done two to three times a week, with fertilizer added once a month. Finally, make sure to provide enough shade for the plant to keep it from getting too hot in the summer months.
With the right care, chrysanthemums will stay in bloom for the entire season and make a stunning addition to any garden border.
14. Hardy Hollyhocks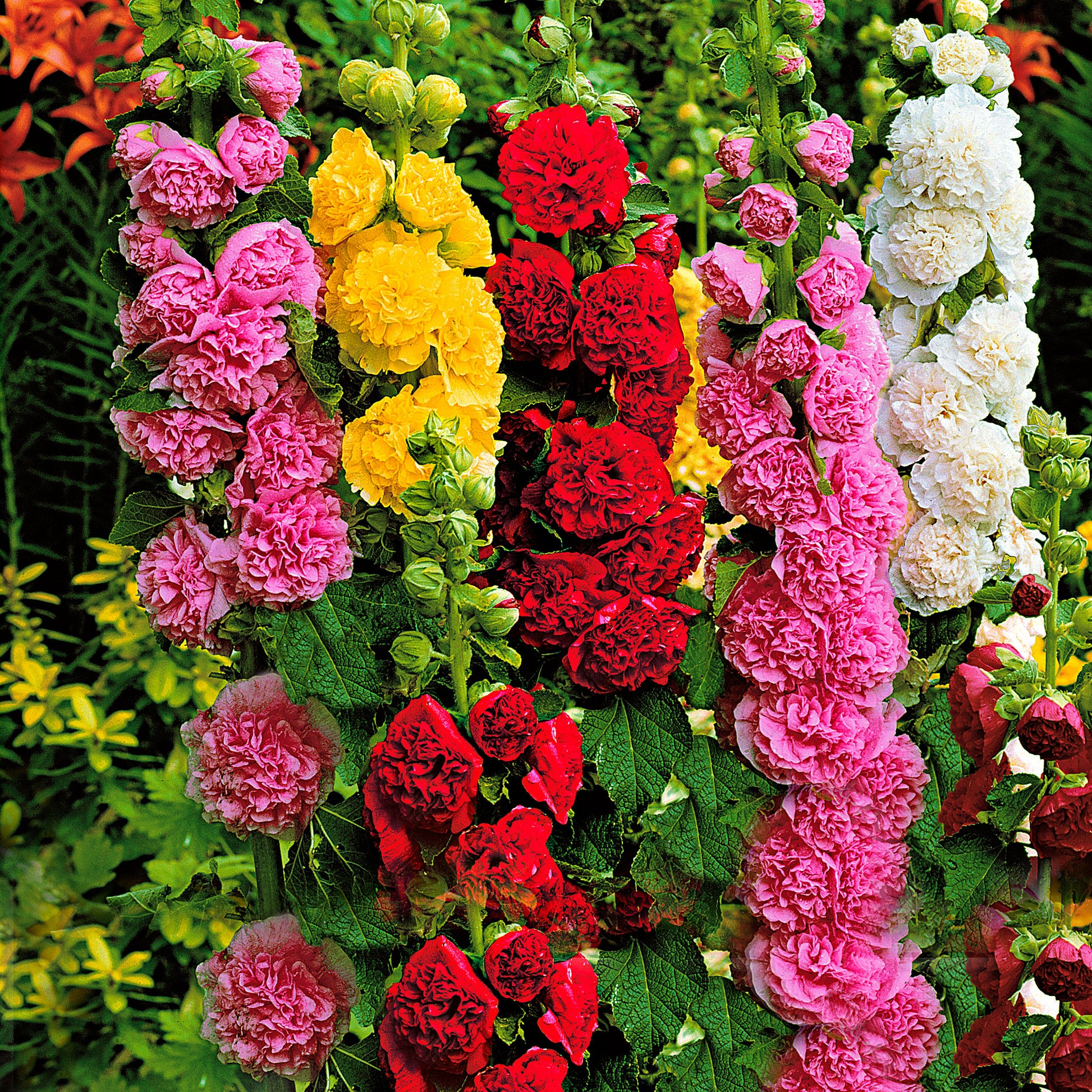 Image Credits: En-gb.bakker.com
Hard Hollyhocks are a classic flower for garden borders, with tall spikes of vibrant blooms that add a beautiful and colorful touch to the garden. They are easy to maintain and suitable for most climates with the correct conditions. They need a sunny spot and well-drained soil to get the best out of your hollyhocks.
Hollyhocks can be grown in zones 3 through 9 and thrive best in temperatures between 25 and 30 degrees. They will flower in late spring and need regular watering and fertilizing throughout the growing season.
The soil should be moist but not soggy, and the hollyhocks may need shade during the hottest part of the day. Hollyhocks should be cut back after the blooms have faded to ensure they flower well the following year.
15. Cheerful cosmos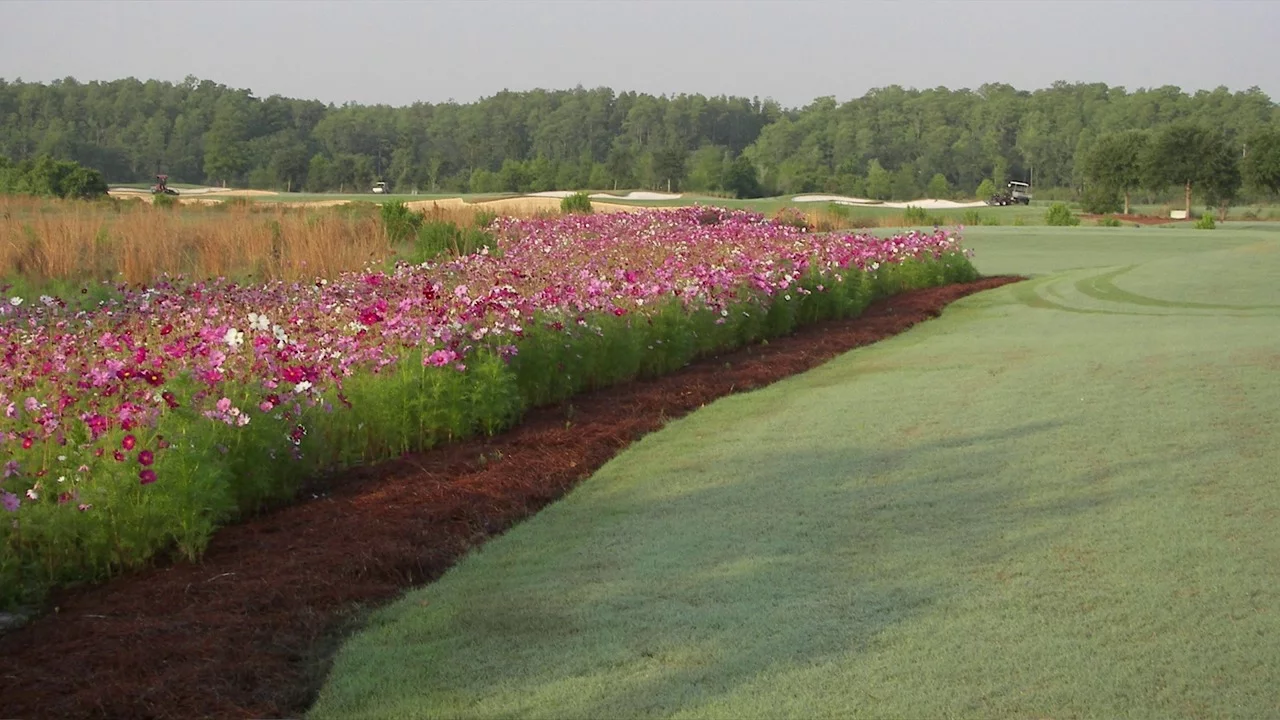 Image Credits: Americanmeadows.com
Cheerful cosmos is an easy-to-grow flower that produces a profusion of blooms throughout the season, making it a great choice for garden borders. It thrives in full sun in well-draining soil and needs to be watered regularly. It also needs fertilizer, such as compost or cow manure, to maximize its blooms.
Cosmos can withstand some drought but will perform best if kept evenly moist. It is hardy in USDA Zones 4–11 and can be grown from seed.
Cosmos plants can reach heights of up to five feet, so be sure to give them enough room to grow. To encourage more flowers, pinch off the spent blooms and deadhead the plant. This will also help keep the plant looking tidy.
Frequently asked questions
1. What is the cheapest landscape edging?
Plastic edging. Plastic also provides cheap edging, making it the best temporary garden option for many people.
2. What is the best material for a garden border?
Aluminum edge or edging is great for straight lines; no rusting or cracking will occur. It is anchored by a set of stakes that can shape and curve.
3. What dimension is ideal for garden borders?
Larger borders are easier to handle since they give your plants more room to develop and eliminate the need to prune continuously to keep them in place. It is preferable to have limited but larger growing areas. A meter is a bare minimum; 2 meters is preferable.
4. What is the best option for a garden outlining?
Basically, take your gardening hose and trace your desired garden bed over the grass. This approach is useful for making curves and arcs in floral beds. If there is no rain, hose tracks will remain in the lawn, allowing you to quickly detach the hose and begin burrowing all around the markings.
5. Is there a bare minimum for garden borders?
Normally, the best place to begin is by assessing the location. You must consider the size, dimensions, and form of your borders. If you desire wider borders, they ought to be deep (88 cm to 1.3 m deep must think about the size, dimensions, and form of your borders. If you desire wider borders, they ought to be deep (88 cm to 1.3 m deep); however, if you want a very long border, increase these dimensions!
6. What's a garden border?
The frontier garden, often known as herbaceous borders or perennial borders, is a traditional garden design staple.
7. What is the best way to edge your garden border?
Step 1: Make (or re-make) an edge. Your first phase is to trim the edges.
Step 2: Take out the turf. When you've created your line, use a shovel to sharpen it, extending the incision to four to six inches.
Step 3: Sharpen the edges.
Step 4: Leave leaf litter in the area.
8. What is the best way to fill gaps in garden borders?
Make use of existing garden pots. Color may be added to a space with tarragon in a pot.
Include blooming perennials and fragile showpieces. Perennial creeping Charlie serves as a colorful filler.
Make room for tender applicants. Canna flowers add a splash of color to a border.
9. When and why should you use rubber edging?
Rubber Edging – the perfect low-maintenance border for a garden! It's ideal for shallow trenches to create neat and stylish garden paths. This hard-wearing edging is made from recycled rubber, making it not only good for your garden but also good for the environment. It requires minimal maintenance, making it an incredibly practical choice for any garden. So, if you want to create a beautiful and long-lasting garden edge, look no further than rubber edging!
10. Is metal landscape edging more expensive than plastic edging?
Is metal landscape edging more expensive than plastic? Steel edging is the ideal low-maintenance border for deep and shallow trenches, but is it pricier than plastic? Surprisingly, the answer is no! Steel edging generally costs around $3.00 to $3.50 a foot. Plastic edging, on the other hand, is usually more expensive, in the range of $4.00 to $5.00 a foot. So there you have it, metal landscape edging is cheaper than plastic!
11. Is timber edging an attractive garden border idea?
Is timber edging is an ideal gardening border that creates a beautiful and effective retaining wall. It is easy to install and can be used to accentuate any garden design. With timber edging, you can create an attractive and unique landscape feature and define the boundaries of your garden. The natural look of timber edging adds a rustic charm to your outdoor space. It also provides a sturdy barrier between your lawn and flower beds, preventing weeds from entering your garden. With a few simple steps, you can easily install timber edging to add an attractive border to your garden.