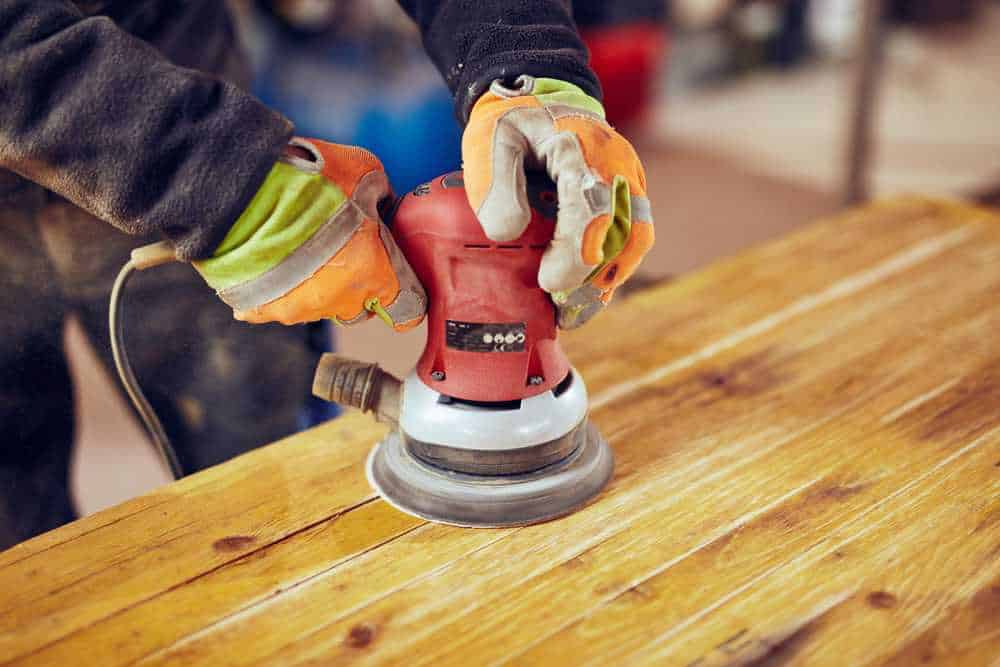 Best Orbital Sander For Ultra-Smooth Surfaces
If you are fond of DIY projects around your home, an orbital sander is one of the handy tools you can buy. Accordingly, an orbital sander effectively smoothens surfaces such as wood and plastered surfaces within your home. Ideally, a random orbital sander will help you achieve extra-smooth surfaces with minimal swirl patterns.
Therefore, we have compiled a comprehensive buying guide for the best orbital sander. Nonetheless, before we get to the reviews, let's first understand the basic concept of an orbital sander.
What is an Orbital Sander?
An orbital sander is a hand-held tool that is used for sanding. This power tool applies the random-orbit action for sanding a surface for a final finer finish. Depending on the sanding task at hand, you can find different sizes and models of orbital sanders.
After smoothening, an orbital sander leaves swirl marks on the surface. With a random orbital sander, you can expect finer and cleaner finishes with a reduced likelihood of swirl finishes. Having identified the application of a sander, let's review the best five products in this category along with their pros and cons.
1. BLACK+DECKER BDERO100 5-Inch Random Orbital Sander
BLACK+DECKER Random Orbit Sander, 5-Inch (BDERO100)
HIGH PERFORMANCE ORBIT SANDER - 2.0 Amp corded electric random...
HIGH EFFICIENCY - Delivers 12000 OPM (orbits per minute) to...
LIGHTWEIGHT & COMPACT - Fits in tight spaces for more versatile...
DUST COLLECTION SYSTEM - Keep your workspace free of dust and...
COMFORT GRIP HANDLE - Work comfortably and with less fatigue...
Our top recommendation for the best orbital sander is the BLACK+DECKER BDERO100 5-inch random orbital sander. This smoothening power tool is ideal for light household tasks, including refurbishing old furniture. With its considerable effective functionality, you can find this random orbital sander at an affordable price.
Its functionality is powered by a 2-amp motor that is sufficient for light jobs and swirl-free finishes. It is also a corded sander that operates at a fixed but highly efficient speed of 12,000 OPM. Its 5-inch description is for its Velcro system that is built to hold a 5-inch disc. For its ergonomic features, it has a rubberized palm grip, and this sander weighs 3.2 pounds for less strenuous wood sanding. However, you can find more effective sanders than the BDERO100's speed and motor power but at a higher price tag.
For its dust collection capacity, this Black Decker has an in-built dust bag containing sawdust. However, this sander doesn't come with a vacuum hose for connecting to your shop vacuum. Also, on dust, its switch is dust-sealed to prevent your tool from griming and has a 2-year warranty.
2. DEWALT DCW210B 20V MAX Orbital Sander
Sale
DEWALT 20V MAX Orbital Sander, Tool Only (DCW210B)
Orbital sander with brushless motor provides runtime and...
Variable-speed control of the hand sander from 8,000 to 12,000...
Low-profile height of the power sander allows user to get close...
Replaceable 8-hole hook-and-loop sanding pad (DWE64233) for...
Dust-sealed switch to protect against dust ingestion for long...
Among the best cordless sanders there is the DEWALT DCW210B 20V MAX Orbital Sander. This model uses rechargeable batteries for enhanced portability around your home. Accordingly, this tool applies a brushless motor for increased power efficiency. You will only need an extra charged battery for extended operation time.
This random orbital sander also comes with a variable speed control dial with speed ranges between 8,000 and 12,000 OPM, depending on the sanding application required. Moreover, this RO sander has a low height for allowing a user to achieve close and precise surface sanding. Regarding its smoothening pad, you can easily and quickly change a smoothening paper through its replaceable 8-hole hook and loop pad design.
In addition to its performance, this DEWALT tool has a dust collector port suitable for DWV010 or DWV012 collectors. You can also attach this sander with a shop vac through its 1.25-inch vacuum hose connector, for easier dust-sucking while sanding. Its switch is also protected from dust ingestion for increased durability.
When it comes to ergonomic features, it has a rubber overmold hand grip for comfortable working. Nevertheless, this sander comes only as a tool, and other accessories such as replacement smoothening pads, dust collectors, chargers, and batteries are bought separately. Thus, it is ideal for light home duties with the added convenience for OSHA regulation compliance due to its cordless design.
3. Bosch ROS20VSC Palm Orbit Sander
Bosch ROS20VSC Palm Sander - 2.5 Amp 5 in. Corded...
Smooth Finish: Pad dampening system designed to eliminate swirl...
Easy Disc attachment: Through Bosch's signature Hook and Loop...
Variable speed Control: Powerful 2.5 AMP motor allows speed to...
Dust collection: Features a micro filter system for fine dust and...
Kit contents: Includes sanding pad, sanding disc, dampening ring,...
Third, in our list of best random orbital sanders is the Bosch ROS20VSC Palm Orbit Sander. It comes with a 2.5-amp motor that is adequately powerful for home DIY tasks. You will also benefit from the adjustable variable speeds of this sander that range from 7,500 to 12,000 OPM, depending on your sanding needs. Furthermore, it is built for 5-inch disks with a convenient hook and loop system that holds a disc firmly in position during sanding.
Even with a lot of dirt during smoothening, this Bosch sander offers an incredible job with microfilter features that trap smaller grime particles of up to one-half micron diameter. Additionally, its effective dust canister offers visibility to see when it's full. Furthermore, if you prefer your shop vacuum's efficiency, this sander has a hose adapter.
Moreover, its ergonomic-designed handle offers a soft-grip with an adequate length for grasping this hand sander in different positions. Consequently, smoothening will be less strenuous on your wrist and hand. Also, this random orbital sander is only 3.5 pounds, making it lightweight. This Bosch ROS20VSC also has an 8-foot power cord for comfortable sanding while standing.
Other bargain features for this Bosch sander include a disk, pad, soft carrying case, polisher kit, grime collector, and vacuum adapter. Finally, this Bosch smoothening tool comes with a one-year warranty.
4. Makita BO5030K 5" Random Orbit Sander
Makita BO5030K 5" Random Orbit Sander, with Tool Case,...
Smooth and fast sanding with 3.0 AMP motor (12,000 OPM)
Rubberized grip for improved operator comfort and control
Large 1/8" random orbit action for fast and super smooth sanding
Pad control system for controlled pad speed upon start-up
Efficient through-the-pad dust collection system for a cleaner...
Another excellent choice for the best orbital sander is this Makita BO5030K 5" Random Orbit Sander. Specifically, this Makita sander is built with a 3.0 AMP motor with a speed of 12,000 orbits per minute. Its spinning random orbit is large enough to allow fast and excellent smoothening. For exterior use, you can use an extension cord for convenience.
This Makita sander has a rubberized grip with the additional benefit of increased sanding control for comfort. Additionally, you can get this sanding tool at an affordable price with the extras of one abrasive disc, one dust bag, and a plastic tool case. Lastly, this 3 amp Makita sander is typically effective for many home DIY projects.
5. Ryobi P411 5 Inch Cordless Random Orbit Sander
Sale
Ryobi P411 One+ 18 Volt 5 Inch Cordless Battery...
CORDLESS: compatible with the Ryobi One+ battery system. Work...
INCLUDED SANDING PADS attached using a hook and loop connecting...
RUBBER OVERGRIP with notches makes it easy to handle despite...
DUST BAG attached to the tool to collect any shavings from your...
10,000 ORBITS PER MINUTE make this perfect for any sanding and...
Last on our list is this Ryobi P411 5 Inch Cordless palm sander. Unlike other random orbital sanders in our list, this Ryobi tool has a lower speed of 10,000 orbits per minute. Despite its lower speeds, it is still effective for light smoothening tasks with the convenience of cordless powering for easy working anywhere. In addition, it can provide optimal results for plaster walls and other less intensive surfaces.
Additionally, this sander's lightweight and compact characteristics suit confined spaces and areas with no power connection. However, it doesn't come with a battery, adding to the initial acquisition costs of buying a separate battery. Alternatively, any Ryobi tool battery can work in this sander without an adaptor.
Factors to Consider Before Buying the Best Orbital Sander
1. Sanding Pad Speed – RPM vs. OPM
The first thing to check in any random orbit sander is the sanding speed. Specifically, the smoothening pad is the one that spins, and different manufacturers use different speeds units. On the one hand, the sanding pad speed can be measured in terms of RPMs, representing the number of revolutions a pad makes in a minute. However, RPM speed measurement can be misleading because a smoothening pad oscillates and spins randomly rather than on a fixed axis.
On the other hand, OPM represents the number of orbits a pad makes per minute. Fundamentally, the use of OPM is ideal because it measures speed more accurately. Therefore, OPM speed measurement is ideal for sanders that spin randomly and operate on variable speed rather than on a fixed axis. However, fixed orbital sanders are suited by the RPM measurement due to their fixed speeds.
During purchase, it isn't easy to compare the measurements of RPM and OPM between random orbit sanders. Nevertheless, the speed should also be judged based on the power of the individual best random orbital sander. Additionally, the indicated speeds are measured when a sander is rotating freely rather than while in use. Therefore, you should expect the speed to reduce due to friction upon contact with a surface.
2. Power
An orbit sander comes with a motor AMP power rating. Most speed motor AMP power ratings range between 2.5 and 3.3 AMP to indicate the power capacity of a hand sander. In most cases, the power of a random orbit sander is usually measured against its variable speed. However, you may have an orbit sander with lower OPM rates but is more powerful than another spinning faster.
Subsequently, a powerful motor means that the sanding speed of a tool will not be reduced much due to surface friction. Therefore, a sander with a strong motor is guaranteed to run more efficiently at stable speeds, making sanding sessions easier with better outcomes.
Besides the power of a motor, you should consider the power source while looking for the best orbital sander. The two options under source are corded and wireless sanders. A corded random orbital sander works by being plugged into a power source, while a cordless sander uses voltage from a rechargeable battery. The latter sander option offers the advantage of portability but has limited run time.
For adequate powering, you can opt for one of the brands on our list and avoid a less powerful brand like Porter cable. Porter-Cable sanders may feature less power and fixed speeds.
3. Dust Collection
Another important feature that most sander users look out for is the dirt collection capability of random orbital sanders. Dust gathering closely follows the sanding performance. Orbital sanders available in the market today are built with a dust collection kit but with a wide range of dirt gathering capabilities. Some of the critical factors to consider for dust-gathering include:
Size of dust collector.
Ease of emptying and removing the dust collection system or dust bag.
Dirt collection effectiveness. The best random orbital sanders should filter the smallest dust particles of up to 1.5-micron diameter.
Regarding how dirt collection happens, a random orbit sander is built with a feature that sucks sawdust into a canister or bag that requires occasional emptying. Other high-end orbit sanders are equipped with an attachment to a shop vac. Even with an enhanced dirt-gathering system, you should ensure you wear protective eye protection and a mask to avoid injuring your respiratory system and eyes while smoothening.
Overall, the best random orbital sander should have an in-built sawdust collector. The best random orbital sander should also allow extensive smoothening without the disruptions of a filled sawdust bag.
4. Disc Size
The sander tool requires the attachment of a disc with a smoothening pad. Traditional orbit sanders are built for a square disc, while random orbital sanders are built for circular discs. Many common random sanders have a 5-inch to 6-inch sander disc diameter, with heavy-duty sanders having a diameter of 8 inches. However, you cannot swap the disc sizes, such as fitting a 6-inch disc onto a 5-inch random orbital sander.
5. Ergonomic Design
Considering that smoothening requires physical effort and takes time, you need to consider purchasing a tool with sander features that suit your comfort. Essentially, the handle placement of a sander determines the ergonomic design with either handle placement on the side or front. In addition, the placement of a sander handle ensures that you can work on large surfaces with less fatigue.
Also, ergonomic considerations for tight spaces should feature easy-to-remove handles to provide convenience whenever you encounter obstructions. Additionally, versatile handle adjustments work to ensure that you work on any angle with less hassle. Considerably, if a tool's handle is prone to more vibration, it might be strenuous while smoothening.
Frequently Asked Questions on the Best Orbital Sander
1. What are random orbital sanders best used for?
Random orbital sanders are ideal for ultra-fine smoothening. Fundamentally, this article focuses on how sanding power tools can be appropriately applied on wood and stone surfaces. Additionally, RO sanders can be used to smoothen metal surfaces. Finally, you can also use these sanders in painting jobs and restoring car headlight transparency.