It is not easy to get a good night's sleep without one of the best quiet fans for sleeping. This is whether you tend to get hot while you sleep, live in a warm region, or prefer light background noise.
Some people believe that white noise is the best for falling asleep, while others prefer the least amount of noise possible. In either case, a silent fan combines strength and tranquility. You should consider the fan's technology and customer reviews before picking one.
If you want the best quiet fan for sleeping with utmost comfort, you might want to check out the Honeywell HT-900. It is a premium quiet fan with a reasonable price for its effective air circulation thanks to its pivoting head.
Another great option is the Lasko T42951. This high-end quiet fan offers superior performance and air circulation with features such as a built-in ionizer, blue plug safety, remote control, and oscillation mode of up to 45 degrees.
Our third recommendation is the Honeywell HYF290B. This quiet fan provides a cool breeze to an entire room with great air circulation. Its outstanding features include the 8-speed modes and 5 power and sound settings, making it great for consumers looking for quiet fans with various speed and noise level options.
However, we have even more options that have the ability to produce almost zero noise while providing a cool breeze. Read on to learn more about our top picks and the two other options. But first, let's have a look at how we selected the best quiet fans for sleeping.
Our Selection Process
We selected these top fans based on the following criteria to ensure we only recommend the best.
Noise level: The most important factor in any quiet fan is its noise level. Each of our picks ranges between 25 to 50 decibels which creates a white noise, comfortable to stay on at night while you sleep.
Design: We looked for quiet fan designs that suit most needs and spaces, including clip-on, bladeless, desktop, pedestal, and tower fans. Some options, such as the bladeless fans, are safe for pets and children.
Ease of use: We looked for a quiet fan with clear instructions and extra features such as a timer, LED display, and remote control. We also considered the build quality to ensure that they are sturdy enough not to rattle while operating, and they last through many nights and days of operations.

What Is the Expected Noise Level of s Quiet Fan?
Image Credits: applianceanalyst.com
You can anticipate noise emissions ranging from 35 dB to 70 dB, depending on the type of fan you select. Fans that are louder than this are available, but we wouldn't classify them as quiet fans.
A silent bedroom fan that only makes 25dB might be found. However, these are incredibly expensive, and once you get down to around 30 or 40 dB, the difference starts to get very small. You probably don't need much less than 40dB, which is the equivalent of a quiet library.
I've combed through Amazon's customer reviews to find you the quietest fans on the market, and you can find them below.
The Best Quiet Fans For Sleeping
1. Honeywell HT-900 TurboForce Air Circulator Fan
Sale
Honeywell HT-900 TurboForce Air Circulator Fan Black,...
Small Fan for Table or Floor: The Honeywell Turbo Force Air...
Feel the Power; Honeywell's TurboForce line of fans have an...
INCREASE YOUR COMFORT: Using fans for air circulation in your...
HONEYWELL FANS: The right fan helps cool you off & improves...
HONEYWELL QUALITY: Help improve air circulation & energy savings...
Honeywell HT-900 TurboForce Air Circulator Fan tops our list of the best quiet fans for sleeping because it comes at a reasonable cost and provides effective air circulation thanks to the pivoting head's adaptability. You can place it on a wall, tabletop, desktop, or floor setting.
Image Credits: honeywellstore.com
We placed this Honeywell fan on the table and adjusted the 90-degree pivoting head for utmost comfort. It provides a cooling effect of air circulation up to 25 feet away with 3 fan speeds to choose from.
Other users have also recommended it because it is lightweight, making it a conveniently portable fan that only weighs 2.6 pounds and measures 6.3 by 10.9 by 10.9 inches. In addition, using this strong fan for personal comfort helps to lower the energy expenses associated with residential air conditioning.
2. Lasko Household Tower Fan, 42", T42951
The Lasko Wind Curve features a high-tech tower design that optimizes airflow and a built-in ionizer that cleans and freshens the air. It's great if you're sensitive to air quality and want an alternative to the Dyson Air Blade because it uses the same technology.
Image Credits: walmart.com
Fortunately, this quiet tower fan offers superior performance and air circulation while being far less expensive than an Air Blade.
It features an oscillation mode at a 45-degree angle along with 3 quiet settings that effectively work to chill an entire room. In addition, we managed several parameters, including the power, speed, oscillation, timer, and night mode, using the remote control that's perfect for use while in bed.
We also recommend this fan because it features a Blue Plug safety element that shuts it off if it detects any unexpected power problems, so you can leave the fan on without worrying. Furthermore, the automated shut-off option can be programmed for any duration between 30 minutes and 7.5 hours.
It is ideal for the bedroom because it has a unique nocturnal atmosphere. The fan speeds automatically adjust to high for 1 hour, medium for 1 hour, and low for the rest of the night when the controlled display is set to this nighttime mode.
3. Honeywell QuietSet Whole Room Tower Fan, 32", HYF290B
The Honeywell HYF290B tower fan has hundreds of customer reviews attesting that it is among the quietest fans. It has a noise output of 26-41dB. It is made to handle an entire room with great air circulation and has 8-speed modes and 5 sound and power settings that allow you to adjust the fan speed and noise level.
Image Credits: consumeroutlook.info
We plugged in this fan right out of the box because it doesn't need any assembly. In addition, it is incredibly simple to transport from one area to another, thanks to its lightweight construction.
The LED control panel is a wonderful addition that shines at night. This enhanced the visibility of the control buttons, making it easy and convenient for us to access them even in the dark. The LED control is also dimmable if you need complete darkness while you sleep. The fan is silent when turned down but still cools effectively. It is slender and easily tucks into a corner.
4. Lasko 2511 36" Oscillating 3-Speed Remote Control Tower Fan
Lasko 2511 36" Oscillating 3-Speed Remote Control...
3 Whisper Quiet Speeds: Provide smooth, consistent air flow. The...
Widespread Oscillation: Allows you to direct airflow where you...
Built-in Timer: Automatically shuts the fan off after the...
Wireless Remote Control: Make this fan well suited for the...
Simple Base Assembly: Allows you to take the fan out of the box...
Lasko 2511 36" Oscillating 3-Speed Remote Control Tower Fan has a simple base assembly. We removed the fan from the packaging, quickly connected the two base pieces, and plugged in the fan to enjoy the nice breeze.
Image Credits: whizz.co.ke
The Lasko tower fan has the quiet cooling effect you need to get through those warm nights since it provides reliable, quiet ventilation. It is the ideal quiet fan for compact bedrooms because of its space-saving design, whisper-quiet operation, and reasonable pricing.
This oscillating tower fan has 3-speed settings and an up to 7-hour built-in timer that automatically turns off the fan after the chosen amount of time. The timer's specified duration is conveniently displayed on the LED display.
It has a good build quality because it is composed of strong, long-lasting plastic. Additionally, it includes a wireless remote control with its own storage space on top of the appliance, which helps with losing it all the time! The fan's oscillation, speed, built-in timer, and on/off switches may all be managed via the remote.
5. Dreo Cruiser Pro T1 42 Inch Quiet Oscillating Bladeless Tower Fan
Sale
Dreo Cruiser Pro T1 Tower Fan, 42 Inch Quiet...
24ft/s Velocity: This tower fan is equipped with a powerful motor...
Lower Noise, More Serenity: This bladeless fan adopts a unique...
90° Oscillation Tower Fan: Compared to other 65°oscillating...
6 Speeds plus 3 Modes plus Additional Auto Mode: Customize your...
Clear LED Display: Track the room temperature, speed, mode and...
The Dreo tower fan is a nice and quiet fan perfect for households that desire a larger oscillation, wireless control, and quicker air distribution. It moves air all around the room thanks to bladeless technology and a distinctive air duct design.
Image Credits: people.com
The air-duct design has an incredibly quiet operation that lowers noise levels by 34 to 48 dB. We could tuck it away into a corner and still feel the cooling effect without being aware of it.
It offers a handy Auto Mode that can change the wind's direction and speed while maintaining the ideal temperature in the space. Alternatively, you can operate the tower fan using the provided remote.
The dedicated sleep mode of this Dreo tower fan ensures a good night's sleep. It reduces wind production and produces a calming white noise as you approach the 40-minute mark or as you get closer to sleep. This white noise is best to help babies with sleep. Additionally, after 20 seconds, the front panel's LED light will shut off automatically.
In contrast to other tower fans, this one's LED panel makes it easy to rapidly check the temperature of the room, the speed settings, and the fan mode. In addition, a greater oscillation range is provided, hastening the air distribution throughout the space.
The 12-hour time function, adjustable in one-hour increments, is useful when you want to run the tower fan during the warmest times of the day, like in the afternoon.
How to Choose a Quiet Fan
Your decision mostly depends on your budget and the size and configuration of your bedroom. For example, a compact floor or tower fan is useless if it can't provide an airflow that will rise over your bed for obvious reasons. However, you don't want to be forced to maneuver around a massive pedestal fan if the room is limited space-wise.
The best options for most bedrooms are a small pedestal fan that produces airflow above the bed or a compact fan you can put on a chest of drawers or a bedside table. In addition, certain floor fans are suitable if you can lift them on a piece of furniture.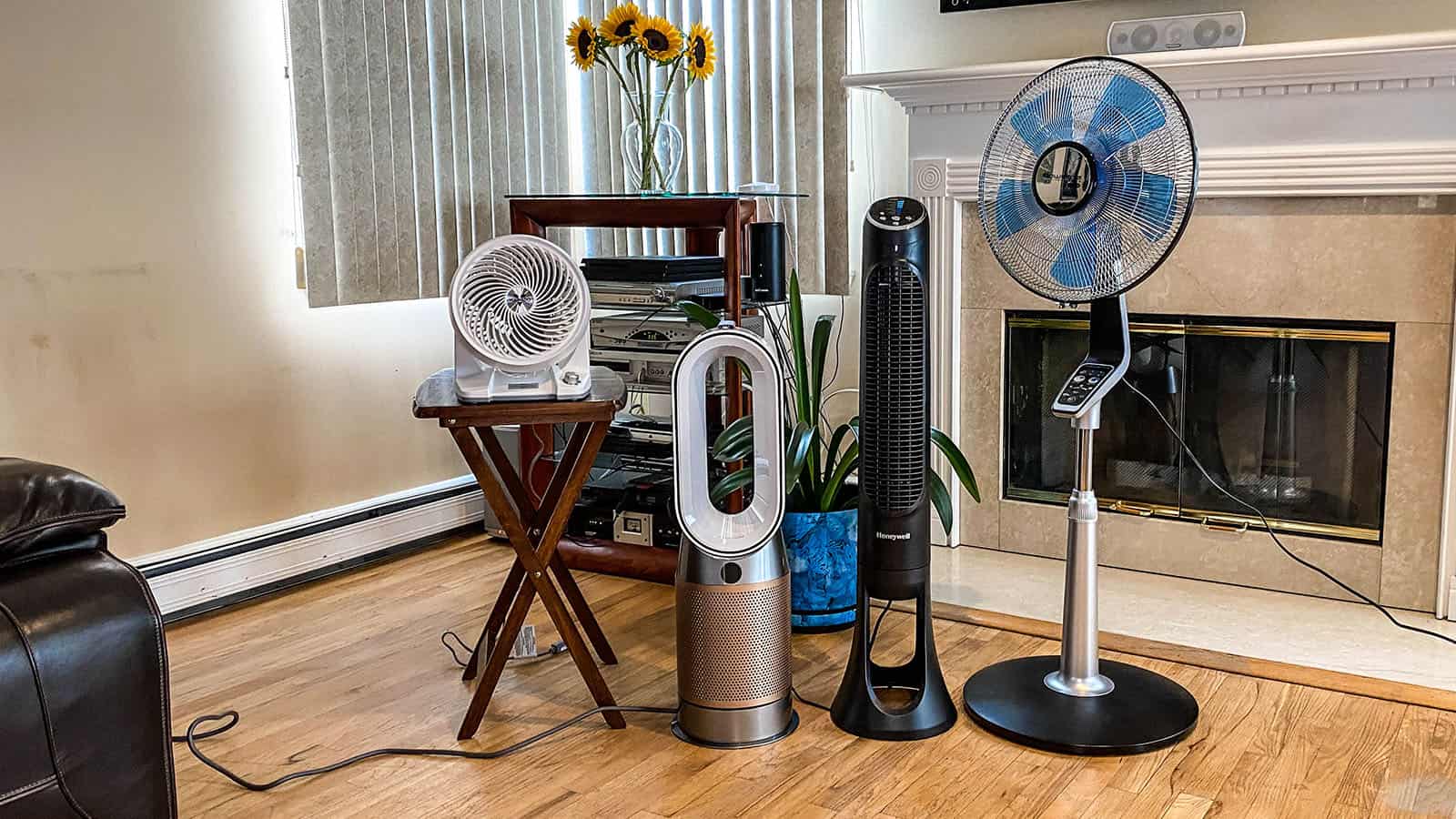 Image Credits: edition.cnn
Nearly all fans have a range of speed settings. A bedroom fan must have a generally slow and silent speed setting that provides an adequate level of cooling without being excessively loud.
Here are the best ceiling fan brands for quiet year-round operation in your home.
Any quiet, low-power setting will do; a special "night" or "sleep" mode is beneficial but unnecessary. Remote controls are perfect for bedroom fans because they prevent you from getting up to control the fans. Also, review customer reviews because noise levels are brought up frequently.
Here is a detailed buying guide to help you scour the market for the best ultra-quiet fan to circulate air in your room.
Quiet Fans for Sleeping Buying Guide
1. Type of Fan
Based on room size, configuration, and cooling needs, customers may choose from among several designs of quiet fans to promote comfy bedroom sleeping. The fan design also affects its noise level. Thanks to the evolving technology, there are several designs to choose from, including fans with brushless motors, bladeless designs, vortex technology, and efficient air channels to give the most airflow with the least noise.
Also, the fans come in various styles, including towers, bladeless, clip-on, desktop, and pedestal fans. So ensure you choose a design and style that suits your situation and preference. 
2. Power and Speed
Quiet fans feature airflow settings that control the speed at which air flows forth in the room. Ensure that you choose a unit with good speed options to enable you to choose the airflow level suitable for any given time of the day. Generally, the speed level affects the noise level. Therefore, lower speed settings produce the least noise and the gentlest breeze
Some models feature operation modes, including normal, natural, and sleep. The sleep option ensures the quietest mode to minimize noise while providing a cool sleeping breeze. Moreover, quiet fans feature airspeed settings, such as low, medium, high, and highest. Some models also boast settings with descriptive names such as white noise, power cool, and refresh.
Fans with more settings provide greater control, resulting in greater comfort levels. Also, ensure your choice is powerful enough to keep you comfortable at all speed settings.
3. Controls and Timers
Quiet fans feature controls you can use to modify the power, speed, oscillation, and timing of the airflow. The buttons at the base of most units provide manual operation. Alternatively, many quiet fans offer the added convenience of remote control. Remote operations allow you to control the fan without leaving the comfort of your bed. Quiet fans with programmable timing functions allow you to turn them off after a preset period of time automatically.
In addition, some quiet fan models feature operating cycles that ensure the ideal conditions for nighttime sleeping. The cycles reduce the power and airflow speed over time. This produces prime cooling at night and reduces the airspeed and power throughout the night.
4. Portability
Even though the bedroom is the optimal location for a quiet fan, it is also effective in home offices, living rooms, or anywhere in the home. Therefore, portability is an essential feature that shoppers should consider when looking for the best quiet fan for their needs. This enables you to move the fan around with ease.
The smaller the fan, the more portable it is. For instance, clip-on fans are optimally portable, weighing approximately 2 pounds or less. However, they offer limited directional cooling capabilities. On the other hand, pedestal fans tend to be larger and heavier, weighing approximately 15 pounds. This makes it difficult to move around.
5. Size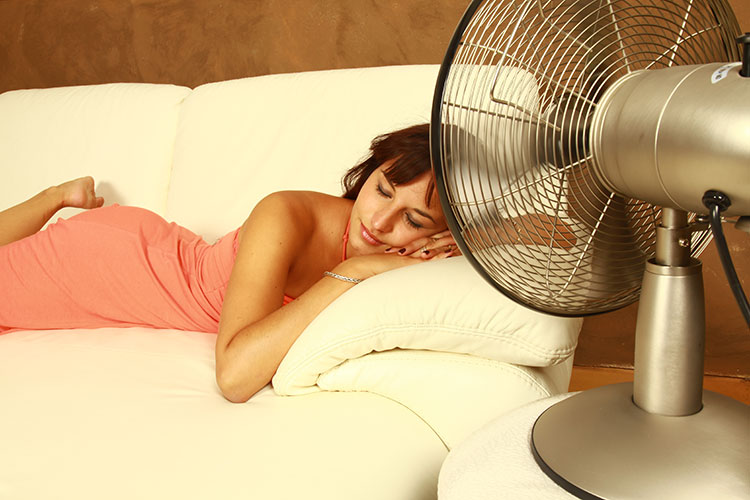 Image Credits: theblazinghome.com
The fans' dimensions vary in their footprint and their height. When choosing a quiet fan for the bedroom, you should consider the available space in addition to particular cooling needs. The fan size and where you place it can also affect the noise level. For instance, smaller fans can be less noisy compared to bigger ones. Also, placing the fan at the farthest corner away from your bed helps in reducing the noise level.
So if you have limited space, you should consider a quiet fan with a fan base that fits your space properly. Clip-on fans are the smallest and take up limited space on a table or floor. However, they do not circulate a breeze throughout the room but provide focused cooling for individual comfort. Pedestal and tower fans are the largest in size. They are designed for placement on the floor, and they oscillate to offer cooling for the whole room.
6. Noise Level
The noise level of a fan is an essential consideration when the objective is to provide a cool and quiet atmosphere that is good for comfortable sleep. The amplitude of the sound is measured in dB (decibels), and higher decibel levels produce higher noise levels.
However, many manufacturers of silent fans don't indicate their noise levels in decibels, but a noise level of about 35 decibels would probably be noticeable to users. Also, some manufacturers provide the decibels for the maximum setting or offer a range.
Generally, a quiet fan produces approximately 15 decibels of noise on its lowest settings and 40-50 decibels on high settings. It is also important to note that bladeless fans operate at a lower noise level than bladed fans.
7. Additional Features
Many quiet fan models offer additional features that enhance their effectiveness. One of the most useful additional features is oscillation. Oscillation is the ability of the fan to turn from side to side, distributing the airflow direction at a slow and regular pace. This functionality means that the cooling breeze is dispersed throughout the space.
Other helpful features include the LED display, which makes it easier for users to easily read the settings, adjustable heights and pivoting heads to allow you to modify airflow in the room, remote control, and automatic shut–off.
8. Airflow 
Fan manufacturers usually provide specifications about the airflow of their fans. This is measured in CFM (cubic feet per minute) or liters per second. CFM lets you know the volume of air that a fan can move in a minute. 
The higher the CFM, the more air the fan can move, which would also mean the fan will be noisy. Therefore when you're looking for a quiet fan for sleeping, it's important to find low CFM and low dB as well. This creates the perfect balance between comfortable airflow and a quiet environment.
9. Build Quality
It is important to ensure the fan is built with a sturdy material because you do not want any rattling of parts to make unnecessary noise. Also, a heavier base makes for a silent fan because it is less likely to rattle.
10. Warranty
Warranty is another important feature to look out for because you're going to use the fan to keep you cool throughout the night or day. Therefore, ensure your unit has at least some kind of warranty to keep you covered because it will get many usages.
11. Energy Efficiency
Choosing an energy-efficient fan is suitable for your wallet and the environment. Go for a fan with a built-in thermostat and multiple speeds to enable you to control the temperature in the room without consuming more energy than necessary.
How to Make a Room Fan Quieter
1. Place Your Fan on a Flat Surface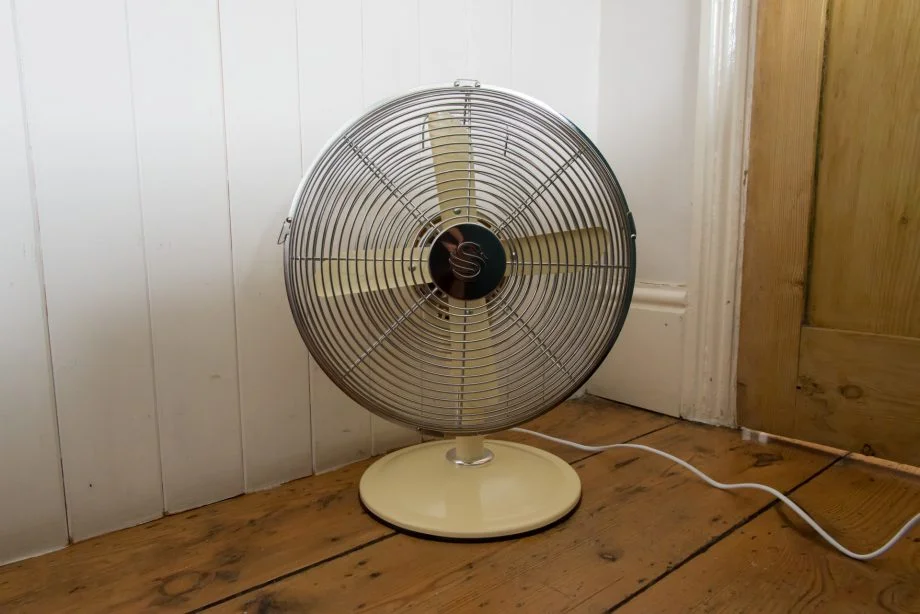 Image Credits: trusted reviews
The base of your fan may come into contact with an uneven floor and make a rattling or clicking sound. Therefore, make sure your fan is set up on a level, flat surface to prevent unequal weight distribution. Noise is produced because the fan's weight tends to fluctuate when its blades spin, rattling the entire system.
2. Place Your Fan on a Carpet or Rug
Your fan may feel unbalanced and rattle because of damage or warping at the base, even though the floor is smooth and level. The system as a whole would also shift as a result of this as the fan's blades rotated.
A temporary solution is to lay a thick sound-absorbing rug or carpet under the fan rather than replacing the complete base. This will cushion it as the fan's weight fluctuates, dampening any unpleasant noises.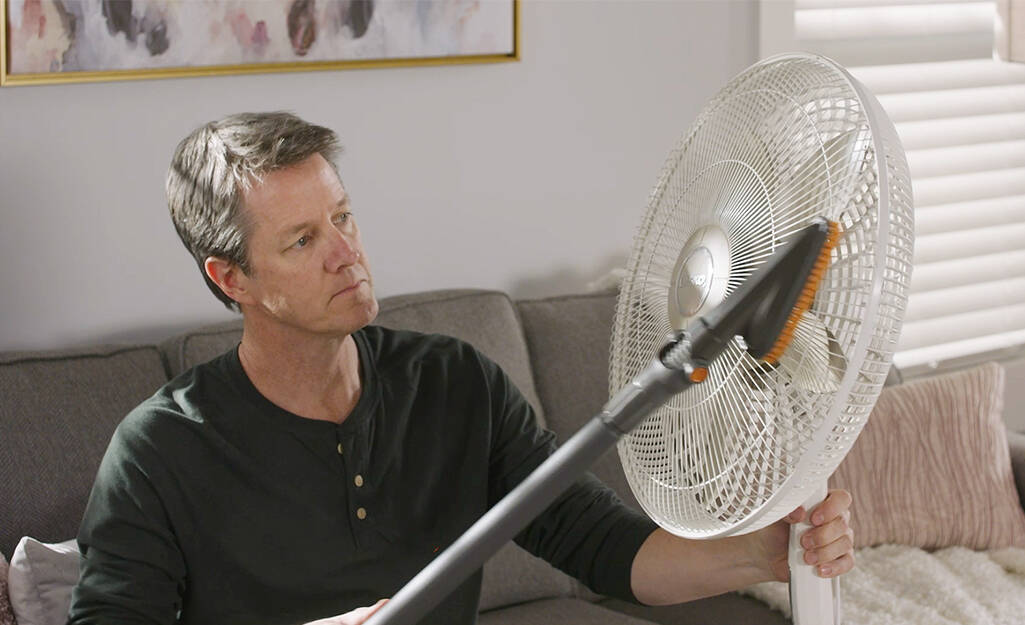 Image Credits: homedepot.com
3. Clean the Fan Regularly
At least once a month, disassemble your complete fan unit and clean it to prevent dust buildup that could obstruct the fan's operating parts, as this may bring on the noise. While doing this, make sure your fan is off and unplugged.
4. Tighten Any Loose Knobs or Screws
Check for loose screws and knobs on the outside of the motor while your fan is disassembled. Use a screwdriver or a wrench to tighten these to prevent movement or shaking while the fan is running. Never try to open or take apart the motor. Instead, check the outside part for any loose pieces.
5. Align the Fan Blades
Uneven blades might lead to imbalance which can sound like whirring when the fan is turned on. Check the blade alignment when the fan is disassembled as well.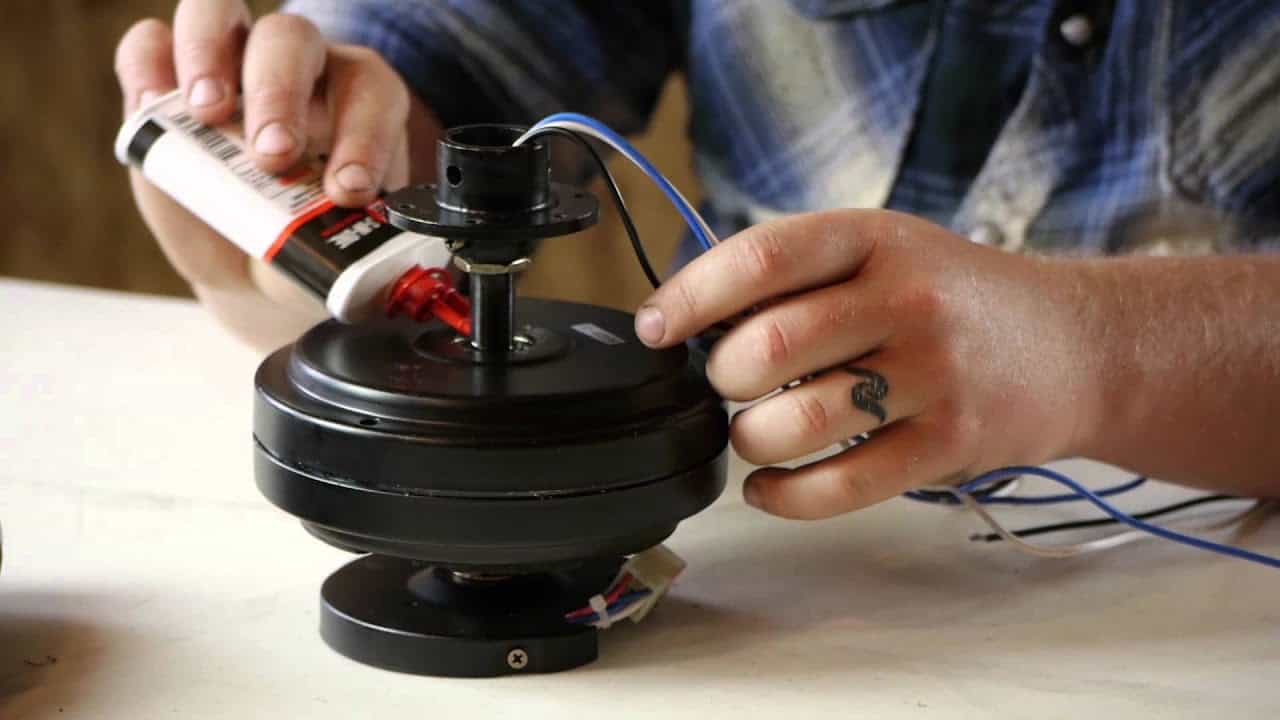 Image Credits: youtube.com
6. Lubricate the Fan Motor
You might choose to oil the motor's interior as well. This will prevent clicking or clunking noises and help the internal mechanisms move more easily against one another. But, again, use no more than two drops at a time, or you risk harming the motor.
7. Replace Damaged Cushioning
Some rotating fans have foam cushioning between the caps that sandwich the blades. These are made specifically to quieten the fan. However, if these cushions are scuffed, scraped, or worn out over time, they may become noisy.
You can choose to scrape the damaged portions off and replace the entire cushion with foam bought at a hardware shop if the damaged cushions are unrepairable.
Replace the old padding with these, attach them with rubber or glue adhesive, and thoroughly allow everything to dry before putting the fan back together.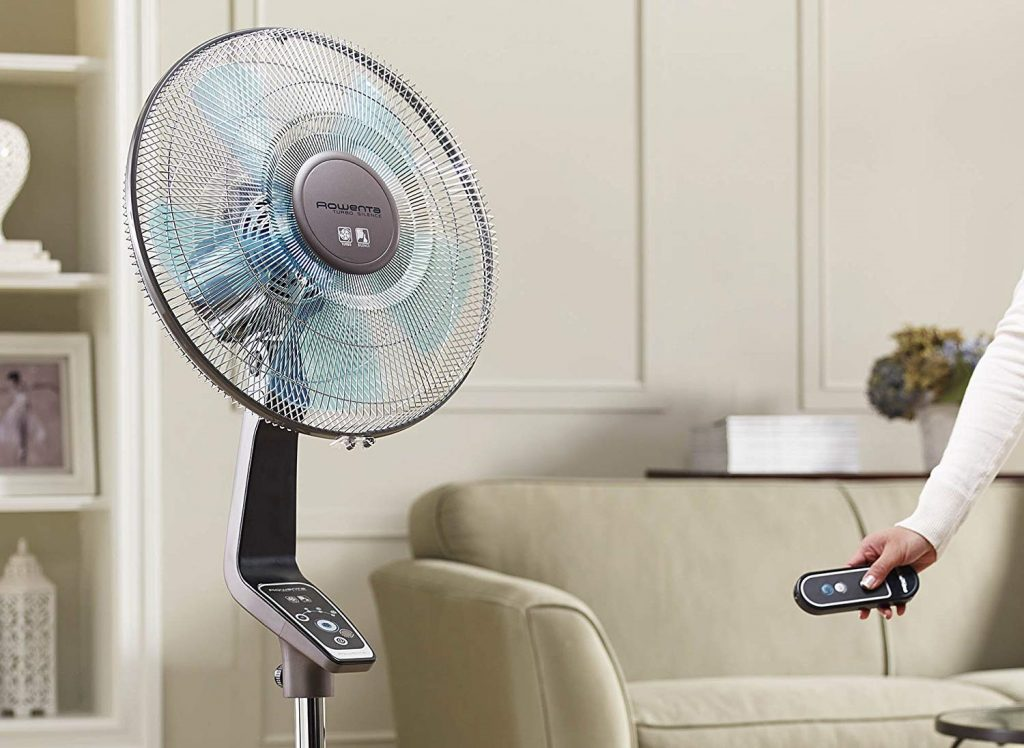 Image Credits: applianceanalysts.com
8. Maintain the Fan Cage's Condition
The cage "the blade guards" is where to look for fan noise. Typically, the clasps on the side of the enclosure are either metal or plastic. The cage can eventually crack and rattle due to the movement of the motor.
For best results, wedge a piece of thick rubber between them in a bent cage to close the gap. Please firmly close the gap. Cut the rubber piece so that when the blades begin to spin, they won't run into it. The front exterior's ornamental cap may be unsecured. Use glue or adhesive to secure it in place.
Frequently Asked Questions(FAQs)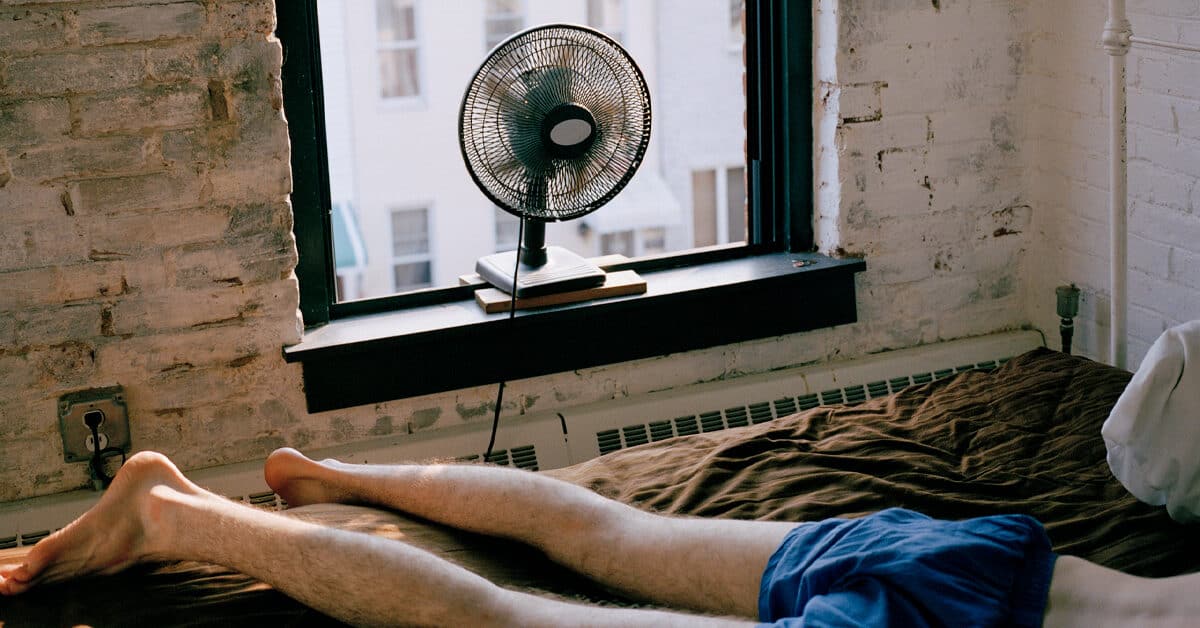 Image Credits: healthline
1. What are the benefits of sleeping with a fan?
Air circulation is a clear advantage of using a fan while sleeping. It can be quite particular in improving your ability to sleep and helping to chill the air and remove odors.
It would be best if you slept at a temperature of roughly 65 to 70 degrees to slow down your breathing and heartbeat when you sleep. In addition, fans assist in cooling your body and help moisture evaporate as the air passes over your skin.
Additionally, a fan can provide a steady white noise that helps shield you from outside noises like a dog barking or traffic. White noise machines and apps are quite common since they create a setting that can help you fall asleep.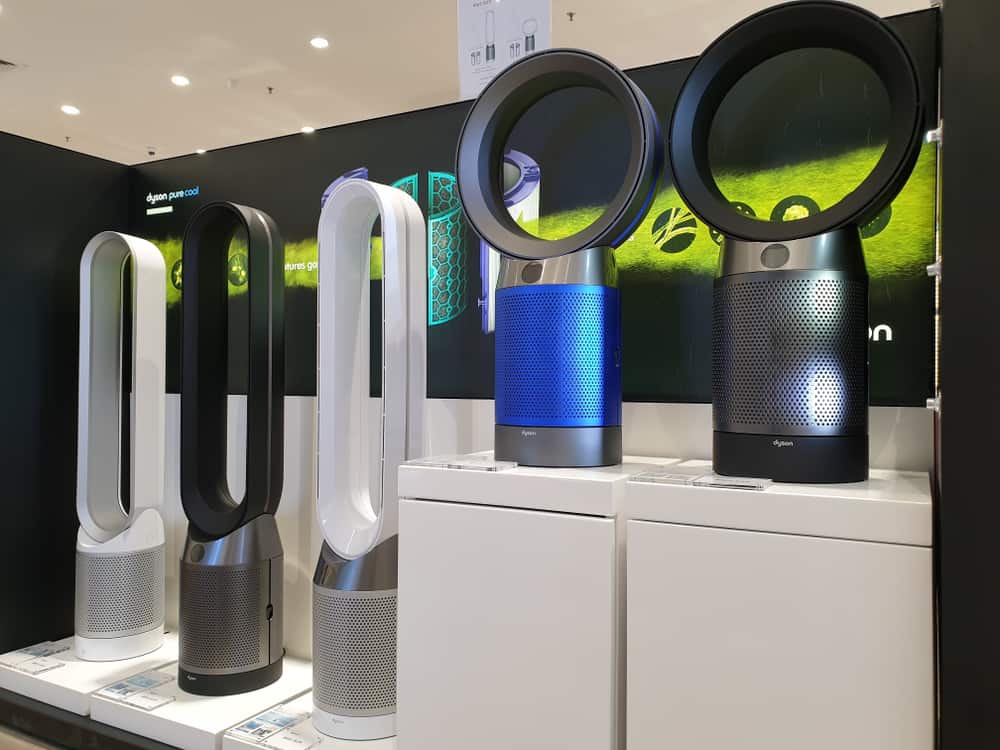 Image Credits: list 25
2. What are the benefits of bladeless fans?
Bladeless fans often make less noise compared to conventional bladed fans. They also use less energy. Several customer reviews claim that these fans are quieter than conventional blade fans. Here is how much electricity a fan uses and how much it costs.
Before using a bladeless fan, we had never even considered the benefit of smooth air flow. Therefore, because there aren't any blades to cut anything, there aren't any blades to push the air toward you. All left is a quiet airflow that doesn't seem as disruptive as a fan with traditional blades.
Furthermore, these fans are significantly simpler to clean. There are no blades to clean or cages to open to remove all the dust. All that is required is a quick wipe-down of the fan's entire surface using a moist cloth. Quick and simple!
3. Which is the best noiseless fan?
It is difficult to determine the quietest fan because a fan's noise level depends on various factors, including the fan's size, type, and speed.
Some manufacturers may advertise their products as being quiet, but it is essential to consider the context in which they are being used. We recommend the Honeywell HT-900 TurboForce, which is popular for its three-speed settings and is designed with a pivoting head adjustable to 90 degrees for utmost comfort.
4. How many decibels is a quiet fan?
The quietest fans produce approximately 15 dB on low settings and 40 to 50 dB on high settings.
5. Which fan is best for sleeping?
A quiet cooling fan provides instant comfort suitable for sleeping. Our top picks, Honeywell HT-900, Lasko T42951, and Honeywell HYF290B are among the quietest models in the market, with built features designed to provide efficient airflow with minimal noise production.
6. Is there such a thing as a quiet fan?
Yes. A quiet fan is a type of fan operating quietly and produces little noise. These fans are designed to minimize noise production while providing efficient airflow.
All the quiet fans discussed above are great for sleeping because of their little noise production. Some quiet fans use special materials or bearings to reduce their noise production. Others also rely on design techniques and advanced engineering to minimize noise.
7. Are bladeless fans quieter?
Bladeless fans are the most silent type of fan because of the lack of blades cutting through the air, resulting in a smoother airflow with minimum noise.