Are you a fan of boho designs and want to incorporate it into your home? If so, then the first décor item you need is a cozy bowl-shaped Papasan chair. Papasan chairs gained popularity after the beginning of World War II and have long been cherished for their unique design and glamour that creates a cozy retreat where you can lounge, read a book, or just relax.
Like laying in a comfortable nest, the best papasan chair offers a relaxing, restful, and cozy alternative to a traditional recliner. These chairs, mostly made of rattan or wicker frames and cushions, will add an artistic statement to your room design while providing you with a snuggly place for cuddling up and watching your favorite TV shows or reading your favorite books. Some models have a rocking swivel design adding to the tranquillity.
However, Papasan chairs come in a variety of designs, sizes, and frame materials, and with the many models flocking the market, it could be daunting to find the best option. In this article, we'll explore the top five picks for Papasan chairs that offer the ideal comfort and a comprehensive buying guide for making the best decision. Let's first have a roundup of my top choices.
Leading the list is the OSP Home Furnishings Wicker Papasan Chair, a perfect blend of comfort and convenience. Next up is the Urban Shop Faux Fur Saucer Chair, a budget-friendly option with foldable frames for easy storage. Another worthy contender is the Milliard Papasan Chair, which is crafted from durable weather-resistant materials and has a weight capacity of 265 pounds.
Stay tuned for more details about these outstanding products and the other papasan chairs that have captured my attention.
5 Best Papasan Chairs
1. OSP Home Furnishings Wicker Papasan Chair
Sale
OSP Home Furnishings Wicker Papasan Chair with...
Enjoy the boho styling of our papasan chair made with durable...
Lounge and twist and turn to your heart's content with...
Nest and relax into the generously large high quality soft...
The seat cushion is easy to remove dust and debris since it is...
Overall Size: 40" W x 36" D x 35.25" H; Seat Size: 40"...
While looking for something beautiful and comfortable for my nook for reading, I bumped into this OSP Home Furnishings Wicker Papasan Chair, and I must say it sufficed for the intended purpose. Giving major bohemian vibes, this OSP design is a classic bowl chair with a generously thick soft Dacron-filled button tufted cushion which is super comfortable. The cushion sits on a sturdy metal frame wrapped with durable resin wicker for a rustic look.
The frictionless 360-degree swivel in this statement piece will indeed become everyone's favorite because of its convenience. This also makes it an excellent option for lounging or watching TV. Moreover, this papasan chair comes in a spectrum of eight colors to complement any décor scheme.
Image Source: shopabunda.com
Thanks to the instructions provided, putting it together was easy, but I had to use two extra hands, and we were done in less than an hour. Also, the cushion is held in place using fabric straps so I can easily detach it to remove dust and debris.
2. Urban Shop Faux Fur Saucer Chair
Urban Shop Super Soft Faux Fur Saucer Chair with...
DESIGN: Settle into a seat that loves you back and is designed to...
COMFY AND COZY: Provide a convenient place for friends or family...
FAUX FUR MATERIAL: Covered in super soft faux fur to add to this...
FOLDABLE: A foldable steel frame supports up to 225 lbs and folds...
DIMENSIONS: This super soft saucer chair measures 29'' H x 32'' W...
When decorating on a budget, this Urban Shop Faux Fur Saucer Chair is a fantastic option to add a touch of fun and a splash of color to any room. This statement piece features stylish soft faux-fur fabric for warmth and coziness and a sturdy, foldable, sturdy frame that can hold up to 225 pounds.
Image Source: dealztosteal.com
The foldable frame makes storing this chair easy without occupying much space. It also enhances its portability as you can fold it and carry it wherever you need to use it, lest I forget to mention the locking mechanism on this saucer chair's leg that keeps you from falling down.
No installation is required with this saucer chair, so I just unpacked it and sunk deep into it to enjoy its soft and fluffy embrace. It is also available in numerous elegant colors that can spice up any living room, bedroom or home office.
However, this chair is not so large; my kids felt more comfortable in it than I did. And cleaning it might be pretty challenging in case of serious messes. Otherwise, you can spot-clean it for easy care.
3. Milliard Papasan Chair with 360-degree Swivel
Sale
Milliard Papasan Chair with 360-degree Swivel (Wood and...
Indoor And Outdoor Use: Sit back and relax on a warm afternoon in...
Quality: Consisting of a sturdy steel frame and polyester...
Holds Up To 265 Pounds: The extra-large chair size makes it great...
Makes A Great Gift: If you're looking for that perfect gift for...
Service And Care: When you purchase Milliard, you can relax...
If you are looking for the perfect housewarming gift for your friends, this Millard Papasan Chair is a great statement that will be appreciated over time. This classy chair is the best bet I found for my outdoor lounging, but it also makes a beautiful addition as a bedroom or living space furniture.
Image Source: walmart.com
Featuring a sturdy steel frame, woven polyester wrapped in rattan, and a water-resistant papasan chair cushion, this rattan papasan chair provides timeless design and ultimate comfort to any home. The durable and water-resistant materials make this chair a durable, weather-resistant structure that can withstand outdoor conditions for years.
Assembling this chair was easy, and it didn't take much time, thanks to the clear instructions provided. It is super sturdy and comfy, but the cushions flattened after some time of use. It is also easy to clean as you can simply spot clean with a sponge, warm water, and mild detergent.
With a holding capacity of 265 pounds, this Millard papasan chair also offers the added benefit of a 360-degree swivel for maximum comfort and convenience
4. KingCamp Moon Saucer
Sale
KingCamp Oversize Padded Moon Saucer Leisure Cooler Bag...
☃Comfortable: The moon saucer chair adopts an arm-chair...
★Durability: Plastic spray corrosion resistant iron pipe...
❤Easy to use: Quick to open and fold, easy to use, set size...
✔High quality details: This moon saucer chair is specially...
☂1 Year Warranty: We provide the best experience to all of our...
If you are looking for a papasan chair for outdoor activities, the KingCamp Moon Saucer chair perfectly combines style and outdoor usability. With a weight capacity of 300 pounds and ample sitting space, it is equally ideal for kids and adults.
Image Source: vpromall.com
Among all the Papasan chairs available, this moon chair is ideal for several outdoor activities, including camping, lawn parties, sporting events, and park parties. I bought it for my backyard lounge, and I enjoyed every bit of it. Among its exciting features is the cup holder where I place my drinks while watching the sunset. Its back pocket is also convenient for storing magazines and other small items I might need while lounging.
It is made of durable alloy steel and upholstered with long-lasting Oxford fabric, perfect for outdoor use. Its fabric and thick padding are comfortable and breathable, dodging all the body moisture to keep you fresh and comfortable. So, even under direct sunlight, you won't feel irritated because of sweat or humidity.
This papasan chair from KingCamp is also foldable and weighs only ten pounds making it portable and easy to store.
5. International Caravan Furniture Piece 42-Inch Rattan Papasan Chair
Curl up by the pool or an outdoor fire pit in this oversized stylish chair. The International Caravan Furniture Papasan Chair gives you a stylish way to relax with its 42-inch plush cushion, perfect for spreading out. While looking for a reading chair, I came across this masterpiece and was hesitant because it didn't have many online reviews. But I'm happy I took the chance because it served its purpose well.
Image Source: pinterest.com
This chair features a lightweight, sturdy natural rattan frame with a beautiful brown lacquer finish. The thick padded cushion is made from a tufted twill fabric with a polyester fill making it very comfortable to sit in. However, the cushions come in solid colors, so using a papasan cushion cover could be the best solution to protect it from stains.
The assembly is self-explanatory, and the chair's base is sturdy for stability and support. However, the 'bowl' does not stay on the wooden base causing the cushion to slide off often. Also, the cushion is fluffy enough but not thicker, so I used extra padding to avoid feeling the frame and make it comfier for my butt. You can also choose to buy a replacement cushion for your existing papasan chair, but ensure to take the correct measurements.
Factors to Consider when Choosing the Best Papasan Chair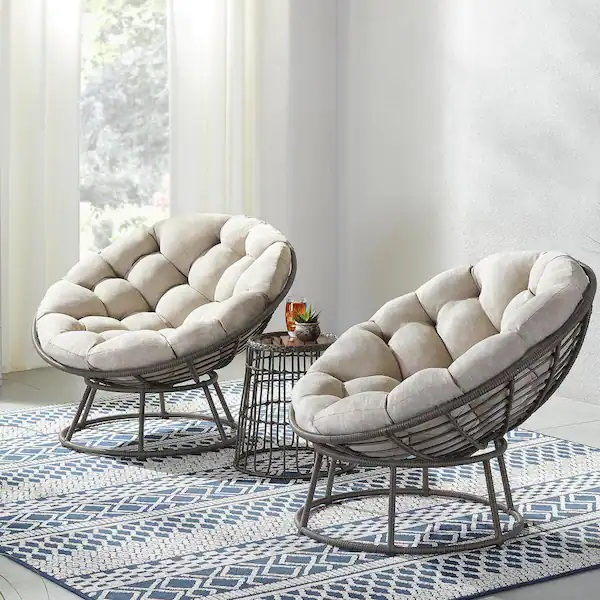 Image Source: homedepot.com
1. Materials
Papasan chairs are made from different materials for both the frames and the cushion. Rattan or wicker papasan chairs are the most common and classic type, especially if you want to add a traditional vibe to your space. Conversely, metal frames are ideal for a modern industrial look, and they are durable. So if you are looking for a papasan chair suitable for exterior seating, metal frames are your best bet because they are weather-resistant and robust. They are usually crafted from stainless steel and aluminum.
Additionally, papasan chair cushions come in various materials. For instance, Polyester cushions are ideal for papasan chairs intended for outdoor use as they can hold up well with the elements. Otherwise, you should choose a fabric that is comfortable, easy to clean and durable.
2. Assembly
Assembly is essential for any papasan chair. Most papasan chairs come pre-assembled, but there are others that do not require assembly. So check whether the chair you want to purchase is easy to assemble and if it has an assembly guide. However, the top five papasan chairs we've reviewed are easy to assemble.
3. Size
The size of your Papasan chair is all up to what you want and the space you have. However, you should measure the size of the space where you will place the Papasan chair. This will ensure you get the best chair choice that will fit comfortably without overcrowding your space. However, a papasan chair is described as an accent chair. As a result, size may not be a significant concern for family rooms. Also, most Papasan chairs are made in smaller sizes fit for kids, teens and young adults.
4. Stability
Choose a Papasan chair with a broad, sturdy base to ensure the bowl component of the chair will be well supported. The bowl should also suit its cradle well to ensure that it doesn't move, making the cushion slide off in the case of people's unexpected steps.
Design
You can choose from several types of papasan chair designs, including the double papasan chair or mamasan chair designed for two people and the papasan swivel rocker, which has added comfort and convenience. You can also choose from many design ideas, such as the moon chair design or printed papasan chair cushions, to add comfort and style to any space in your home.
5. Ease of Cleaning and Maintenance
You should consider the ease of cleaning to keep your chair looking clean. Some papasan chairs require spot cleaning, while others may have removable and washable covers. Check the care instructions to ensure they align with your maintenance preferences.
6. Cost
Set a budget for your Papasan chair and explore options within that range. Compare features, quality, and prices to find a chair that offers good value for your investment. When you consider these factors, you can get a papasan chair that adds a touch of comfort and style to your space while providing the necessary support without breaking the bank. Also, regarding papasan chairs' cost, Papasan chairs aren't expensive compared to other accent chairs.
However, Papasan chairs are made of high-quality materials, and the method used to design them makes them exclusive. Therefore, Papasan chairs tend to be expensive. Also, chairs crafted from natural rattan are more costly but more durable than artificial materials.
Frequently Asked Questions on Papasan Chairs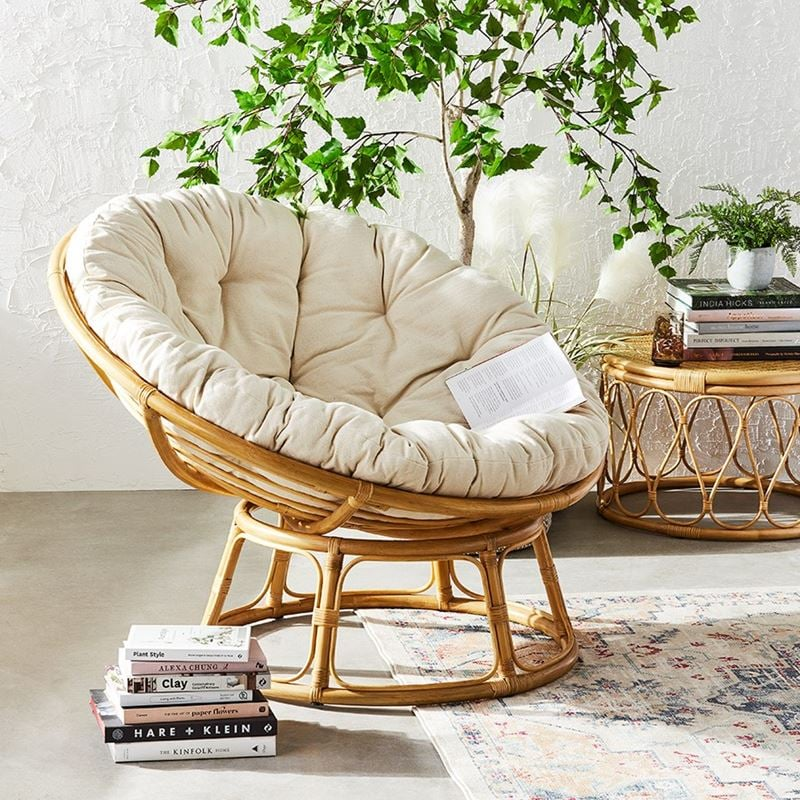 Image Source: adairs.com.au
1. Are Papasan chairs bad for your back?
Papasan chairs are comfortable and not bad for your back if you only use them to relax or read a book. Papasan chairs are not designed to help you maintain a correct posture for long. Their focus is on comfort and relaxation. Therefore, Papasan chairs can be bad for your back if you use them daily in front of a desk or a computer.
2. Can you sleep in a Papasan chair?
Papasan chairs focus on comfort and relaxation, so sleeping in a Papasan chair is possible depending on how comfortable you get. However, the bowl is built to encourage cuddling, so if you enjoy stretching out while sleeping, it may be worth considering a Mamasan chair.
3. How much weight does a Papasan chair hold?
Most Papasan chairs can support between 200 to 350 pounds, but it is best to check the chair's specifications for its weight capacity.
4. Are Papasan chairs comfortable?
Papasan chairs are designed for comfort. Hence they are one of the most comfortable seats, with deep, fluffy, cushioning and cozy designs.
5. What is the difference between a mamasan chair and a papasan chair?
A Papasan chair is bowl-shaped with a round soft cushion generally designed for one person, while a mamasan chair is wide and oval-shaped with a thick cushion that can accommodate two people. A mamasan chair is also called a papasan loveseat or a double papasan chair because it's typically an extended version of a papasan chair.
Conclusion on the Best Papasan Chairs
Papasan chairs are a great addition to your home if you want time to relax comfortably. They add fun and leisure to any space. I've curated the five best options, each offering unique, outstanding features to keep you comfortable and relaxed. There's also a detailed buying guide to help you make informed decisions. Note that the best papasan chair should provide comfort and relaxation while promoting tranquility.