A paper shredder is the most efficient machine when dealing with paper junk. Furthermore, when you fill your bins with bank statements or receipts, you risk them being stolen by identity thieves. Luckily, you can buy the best paper shredder to help you keep all your information confidential by shredding unwanted documents into tiny pieces.
Our article compiles the five best paper shredders in the market that will offer outstanding characteristics. So, if you wish to have a neat and organized office with junk-free bins, let's get started!
Our Top Picks-5 Best Paper Shredders
| | | | |
| --- | --- | --- | --- |
| | | | |
| | | | |
| | | | |
| | | | |
| | | | |
1. Amazon Basics 15-Sheet Cross-Cut Shredder
Amazon Basics 15-Sheet Cross-Cut Paper, CD Credit Card...
15 sheet crosscut paper/CD/credit card shredder
Shred size of 3/16" x 1-7/32" (4.7 x 31mm), security level P-4
20 minute continuous run time
Overheat / Overload protection
LED indicators: Standby/Overheat/Overload/Door open/Bin full
If you are looking for an affordable brand to help clear the paper clutter in less time, then go for Amazon Basics 15 -sheet paper shredder. It had a cross-cut blade design that allowed us to destroy papers, credit cards, or CDs in two different directions, turning them into small pieces.
Image Credits: amazon.com
It met P-4 standards, the ideal standard for shredding sensitive documents like banking statements.
It had a maximum of 15 sheet capacity for one pass and continually ran for 20 minutes. The shredder came with a 6- gallon pull-out waste bin which enabled it to collect a lot of waste material before emptying. If you are on a budget, we suggest you get the best paper shredders under $100 and clear your unwanted documents.
Additionally, it had an auto-reverse mode that allowed us to reduce paper jams by removing excess papers when it detected an overload or a possible jam. The only downside we experienced was that it was too loud and worked slowly when we put thicker stacks of paper.
2. Amazon Basics 6- Sheet Micro-Cut Shredder
Amazon Basics 6-Sheet High-Security Micro-Cut Paper and...
Micro-cut shredder turns paper into tiny confetti-like pieces...
Shreds up to 6 sheets of 20-pound bond paper at a time; also...
3 minutes on / 30 minutes off; if shredder runs continuously...
3-mode power switch (auto, off, reverse); auto start and overload...
Quality tested: as part of Amazon Basics quality inspections, we...
If you want a paper shredder that can shred documents without removing staples or small paper clips, you should get the Amazon Basics 6 Sheet Micro-cut shredder. We were impressed by how it shreds up to 6 sheets of paper with staples and small paper clips. We could also shred credit cards, CDs, and DVDs into medium P-4 particles.
Image Credits: amazon.com
The machine weighed 9.7 pounds and was petite enough to fit in any small office. It had an auto-start function that pulled papers into the feeder and a reverse operation to clear jams. It also had an auto-off thermal protection feature that shut down the feeder, thus preventing the motor from overheating.
The only downside we experienced was that it had a 3-minute runtime, which required a 3o minute cool-down after shredding.
3. Aurora AU820MA Micro-Cut Shredder
Aurora AU820MA High Security 8-Sheet Professional...
8 sheet micro-cut; 4.8 gallon regular wastebasket
"ShredSafe" advanced safety feature: Auto power-off upon forced...
Allows continuous shredding for up to 5 minutes. LED "Power /...
Shreds CDs/ DVDs, Credit cards; Small paper clips ; Staples
Auto start / stop. Overload / Overheat protection. Security Level...
If you are looking for a smaller shredder, the Aurora AU820MA Micro-Cut Shredder will suit you. We could empty it by removing the top shredder head that provided ample room for shreds. However, it generated more than the usual dust, making opening it a challenging chore. Still, it had a 4.8-gallon bin that gave room for more shreds.
Image Credits: amazon.com
Another downside we experienced was that the shredder was too loud and got even louder in the shredding process.
4. Fellowes Powershred 99Ms Micro-Cut
Fellowes 4609001 Powershred 99Ms 14-Sheet Micro-Cut...
Shreds 14 sheets per pass into 5/64"x 9/16" micro-cut...
Shreds for up to 20 minutes before a 40 minute cool down period...
Auto Reverse stops and reverses paper if a jam occurs. When the...
Safe Sense Technology stops shredder when hands touch the paper...
Bin Capacity 9 gallon pull-out bin holds over 80% more Micro-Cut...
If you want security and privacy while shredding documents, then the Fellowes Powershred 99Ms is the one for you. It shreds documents into small unrecognized pieces. It had a p-5 security level since it enabled us to safely dispose of sensitive documents, client records, and financial statements.
Image Credits: amazon.com
The power shred 99Ms could shred 14 pages in one pass and had a large 9- gallon pull-out basket. Additionally, it has a safe sense technology, a safety measure that enabled it to stop when it sensed a hand at the shredder opening. It also has a sleep mode that shuts the unit down after 2 minutes of inactivity.
The model has a 20-minute run time with a 40-minute cool-down period. This was not a downside, as its capabilities were more than enough.
5. GBC Shredmaster PSX10-06 Super Cross-Cut Shredder
GBC ShredMaster Home Office Shredder, PSX10-06, Super...
ShredMaster PSX10-06 Super Cross-Cut Shredder (P-4) shreds...
Shreds up to 10 sheets at a time. 6 minute run time. 6 gallon bin...
Modern interface with user friendly touch controls. Whisper Shred...
Auto reverse jam prevention function. Recessed blades prevent...
Side facing shredder is optimal for under desk placement. Also...
If you a looking for a super cross-cut shredder that will shred your paper into a size of 27mm by 4 mm, go for GBC Shredmaster PS10-06. Its shredded paper pieces are larger than the ones produced by micro-cut shredders and smaller than those produced by primary cross-cut shredders. It was the best for shredding less sensitive documents.
Image Credits: amazon.com
This shredder had its head situated on the bin, and the shredding process was quite loud. However, it did not produce a lot of dust, and the shred slid out as a single mass when we emptied the bin.
While using it, we found out that it had two unresponsive control buttons, which were rigid, like pressing on plastic. However, the shredder worked for us when we placed it in a strategic position close to the bin. We recommend you go through the manual to figure out the best place to place it to work perfectly.
Types of Paper Shredders
Paper shredders come in handy by helping you dispose of printed confidential information or unwanted printed office work. There are different types of paper shredders in the market, such as strip-cut shredders, cross-cut shredders, and micro-cut shredders. You can choose either of these depending on the output size required.
a) Strip Cut Shredders
These are the most basic paper shredders since they cut paper into vertical strips making reassembly easy. They can tackle high volumes of paper material.
Image Credits: highsecuritypapershredders.com
However, they are good at shredding sensitive material since they are quick and offer easy shredding. Also, they are affordable and require minimal maintenance, making them a good option for personal office use.
b) Cross Cut Shredders
A cross-cut shredder is popular since it offers medium-level security at a fair price. These shredders cut vertically and horizontally, making it difficult to put the papers together after the cut.
Image Credits: recycling.com
They are classified as medium security, making them the best for business and home offices where you want to conceal confidential information. Also, they are faster than micro-cut shredders but slower than strip-cut shredders. They require minimal maintenance to keep them running.
c) Micro Cut Shredders
A micro-cut shredder can shred documents into the tiniest pieces possible. It ensures the highest form of security since the paper is shredded in a way it can never be reassembled.
Image Credits: recycling.com
They are the best for slicing high-profile, sensitive content such as medical records, contracts, or government documents. Still, they take longer to shred documents and are expensive.
Factors To Consider When Choosing the Best Paper Shredders
Having some key features to look out for when you want to get value for your money or simply what will serve you best is essential. We recommend you look out for the following while buying the best paper shredders in the market.
1. Size
When buying a paper shredder, you should consider where it will be placed and the frequent movements that will be made, such as how it will be used and emptied. The bin strip of a paper shredder is likely to fill quickly since the paper bends and folds. However, shredders that cut paper into tiny pieces may require smaller bins for the same paper size.
Image credits: cnet.com
Go for a compact shredder since they usually have small bins that fit under most desks. However, if you go for a smaller paper shredder, you must empty it frequently. You should go for large paper shredders if you have a larger space to put them. They have a large bin capacity and allow you to shred many documents simultaneously before emptying them.
2. Page Capacity
Go for a paper shredder that allows many papers to pass simultaneously. If you force a lot of documents into a shredder that enables fewer papers, it may jam. Different paper shredders have various capacities ranging from 1 to 100.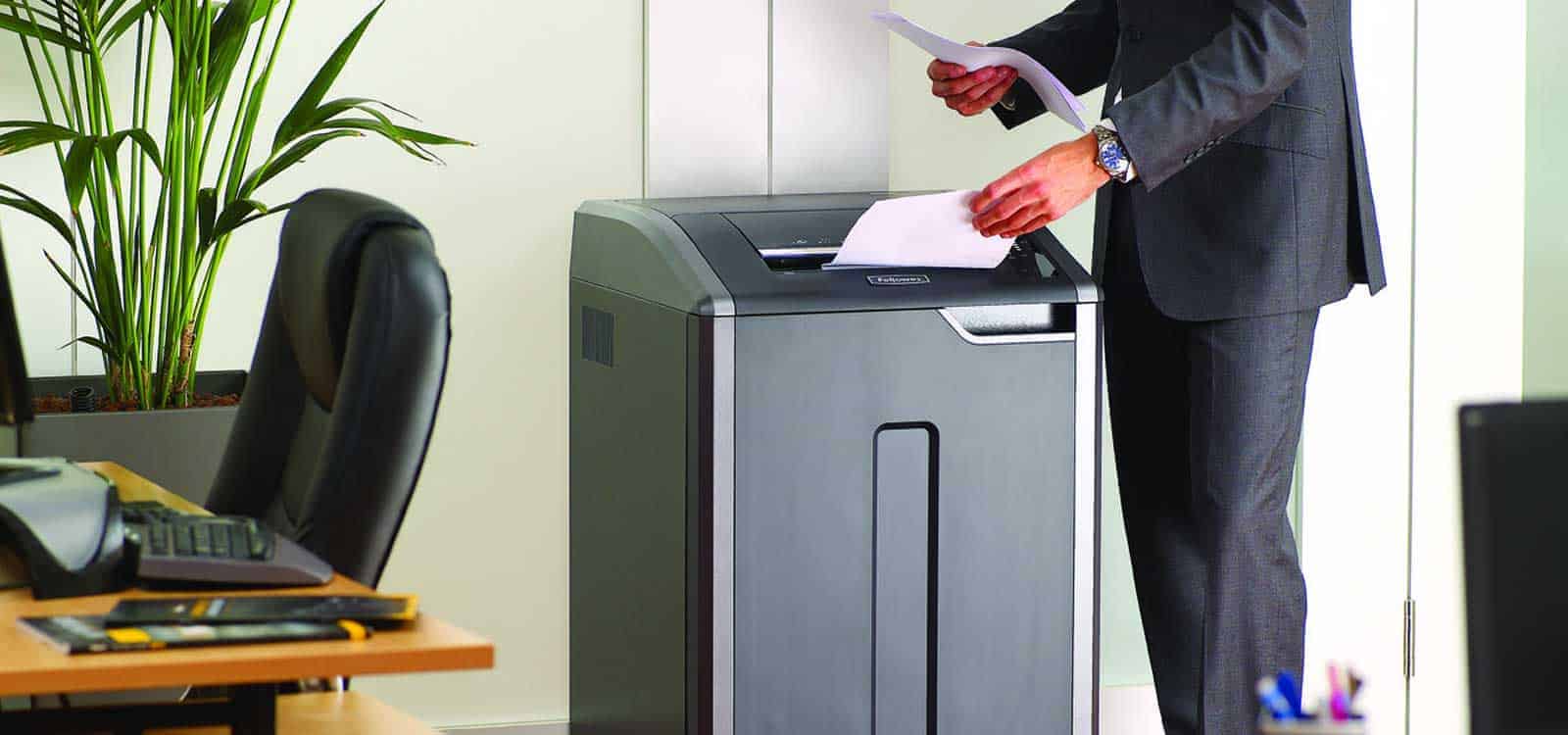 Image credit: recycling.com
The more pages a paper shredder pulls, the better it will serve you. Paper shredders that can remove ten pages or more are always automatic as they let papers pass through their blades until they shred all of them. That feature allows multitasking, as you can leave your documents to shred as you handle other tasks.
To make your work easier, get the best paper cutters to cut your thick papers before you shred them. Alternatively, you can use the best guillotine paper cutter.
3. Runtime
All paper shredders have a runtime that enables them to function before overheating. Go for a shredder with a high run time. A shredder with a low run time will be less effective for high-volume use.
The most suitable paper shredder for a home office is the one with a 5-minute runtime.
You can go for heavy-duty paper shredders, which run for an hour or more but take a long time to cool down before you can resume using them again.
4. Security Level
The security level of a paper shredder can be determined by the size of the particles it cuts into. There are three types of paper shredders with different levels of security: the strip cut, which is a little bit secure; the cross-cut, which offers a medium level of protection; and the micro-cut, which is the most secure.
Image credit: yahoo.com
Security levels depend on what you want to hide, so you can choose the one with the cuts that suit your needs. If you accidentally shred important documents, you can go through articles that explain how to reassemble shredded documents.
5. Safety Features
Paper shredders can be simple machines to operate since most of them are automatic. However, there is a reason why manufacturers include paper shredder safety features such as jam protection or automatic shutoff to keep the users safe.
The automatic shutoff function of a paper shredder powers off the device when a hand touches the feeder slot or if it starts to overheat. The shredder then remains off until the motor has cooled or when it doesn't sense a hand near the feeder slot.
Since paper shredders shred a specific number of papers at a time, the feed can jam when you put thick paper or more than the recommended amount. It can also clog when you include small staples and other materials left in the documents.
The jam protection feature limits the intake of more or unwanted materials and reverses the paper's direction.
6. Extra Features
Finding paper shredders with extra features can be a hassle, but you can get some that come with waste bins, wheels, safety locks, or letter openers.
Image credit: desertcart.co.ke
If you are using the shredder from one office to another, you may want one that is easily portable or has wheels. You may also need one with a pull-out waste bin or a carrying handle. On the other hand, if you have a busy home with kids and pet playing around, you may need one with safety features like automatic shutoff.
Frequently Asked Questions on the Best Paper Shredders
1. Can paper shredders shred paper clips and staples?
Not all paper shredders can handle paper clips and staples, so it is essential to go through the manufacturer's specifications before putting them inside.
2. Are there any rules to follow when using paper shredders?
Most manufacturers include how to use paper shredders in their instruction manual, but here are the guidelines for using any paper shredder.
Always clean the paper shredder blades regularly using paper shredder oil to prevent them from jamming, overheating, or breaking down.

Avoid overloading the shredder since each product has its page capacity. When you exceed it, you overwork the motor, and the machine overheats.

Do not force the paper into the shredders faster than it can handle, as the motor will overheat and cause premature wear and tear to the machine, thus shortening its working life.
Featured Image Credits: creativebloq.com