When it's time to vacuum your pool, you don't want it to take all day or wear you out so much that you only want to collapse on the couch. That defeats the purpose of having a pool. Instead, you want to enjoy your pool, so using the best pool vacuum head is the only solution to clean your swimming pool effortlessly.
The challenge is that there are lots of manufacturers trying to take advantage of your desire for a quick and easy vacuuming experience by pumping out all kinds of pool vacuum heads. Therefore, we have highlighted the best pool vacuum heads for effortless and effective in-ground and above-ground pool cleaning to ease your search. Delve in!
Best Pool Vacuum Heads
1. U.S. Pool Supply 19" Heavy Duty Swimming Pool Vacuum Head
U.S. Pool Supply 19" Heavy Duty Weighted Flexible...
Professional commercial grade heavy duty flexible 19" wide...
An easy to maneuver pool vacuum head with non-slip wheels and a...
Heavily weighted vacuum head body with 6 weights for ensuring...
Contains a metal swivel pole handle with EZ clips, so you can...
One Year - 100% Satisfaction Guarantee: Buy with confidence, if...
For a pool owner who wants to quickly cover a lot of ground and walls, U.S. Supply offers a much wider vacuum head that can quickly sweep up algae, debris, and other contaminants in your swimming pool. Despite registering a staggering 19 inches of width, this vacuum head is easy to maneuver, making it ideal for inground swimming pools and commercial use.
U.S Supply vacuum head is supplied with a metal swivel pole handle with EZ clips which we used to safely and easily connect our standard pool pole. It is also heavily weighted; hence it stays in complete contact with the pool's concrete surfaces, making it easier to haul across the bottom and sides while cleaning.
2. Milliard Deluxe Pool Vacuum Head
Milliard See-Thru Pool Vacuum Head/Triangular, Weighted...
Handle has spring-loaded locking clips for attaching standard...
Triangular plastic body is see-thru for maneuverable and accurate...
Weights keep the vacuum head at the bottom of the pool where it...
Nylon bristles at the bottom are gentle on pool floors and...
Vacuum head is molded from ABS plastic to be durable, long...
With our vacuum hose and telescopic pool pole ready, it took us only a few minutes to set up this vacuum head. The pole securely attaches to the head using the head's spring-loaded clips, while a standard hose connects to the vacuum port in the middle without requiring any adaptors.
Image Source: bestviesreviews.com
This Milliard pool vacuum head is weighted. This ensures it hugs the pool surfaces tightly for maximum suction. So you won't struggle against water buoyancy to keep it submerged and in contact with the pool's ground.
Its triangular shape makes vacuuming along the walls and in corners a breeze. Another exciting feature of this vacuum head is the see-through ABS plastic body, making it easier to navigate the vacuum. We could see exactly where we were cleaning and whether the vacuum had picked up the debris.
This vacuum head doesn't just suck up debris floating in the water. It also whisks dirt stuck on the pool walls and floor using nylon bristles at the bottom. The nylon bristles are specially angled to funnel dirt toward the suction port rather than pushing it around.
Millard Deluxe Pool Vacuum Head is completely safe for vinyl-lined pools. The rubber bumpers at the sides ensure the vacuum head doesn't scrap or scratch the vinyl pool liner. In addition, the bristles are gentle on the pool liner and prevent the vacuum port from sucking up the liner.
The only issue we had with this Milliard vacuum head was the suction power. It takes a couple or more passes to pick up all debris from the pool. But with some patience, this pool vacuum head will still leave your pool sparkling clean. For better results, use it with the variable speed pool pumps.
3. Swimline HydroTools Weighted Half Moon Pool Vacuum Head
Sale
HydroTools Pool Vacuum head is an excellent choice for smaller pools and owners looking to vacuum their pools cheaply and reliably. It was the cheapest of our picks, but it is by no means the worst. This vacuum head also fits 1.25 and 1.5-inch vacuum hoses without an adaptor.
Image Source: desertcart.sc
Considering we tried it in a kidney pool, its curved shape made gliding and cleaning the curved surfaces easier. It also has brushes to agitate stuck dirt on the pool floor and sides, which it then sucks up through the vacuum hose.
Though this vacuum head is weighted, it is not heavy enough to stay at the bottom of the pool. So we had to add extra effort to keep it at the bottom and push it along the surfaces since it doesn't have wheels. Also, the suction power is not the best, so you'll need to make a couple of passes to pick up all the debris. But considering the price, a few extra minutes cleaning the pool is a small sacrifice.
4. Milliard Pool and Spa Vacuum Head
Milliard Pool and Spa Vacuum Head / 13" Wide/Safe for...
Easy Cleaning – Milliard's pool vacuum head is weighted so it...
Soft Brushes – the brushes that run along the entire edge of...
Universal Fit – the vacuum port fits standard 1.25" and...
Premier Construction – vacuum head is molded from ABS plastic...
Real Service – when you purchase Milliard, you can relax...
Millard Pool and Spa Vacuum Head is another heavy-duty moon-shaped vacuum from the Millard models. This vacuum head is easy to use. For instance, it is weighted, so it sunk right to the bottom of the pool and stayed there the entire cleaning process.
Image Source: joom.com
We also noticed excellent suction power thanks to the air-relief valve. Air-relief valve releases excess suction and reduces pulling efforts on the pool lining, giving optimal cleaning performance throughout the pool floor and walls.
This 13-inch wide vacuum head also features soft brushes running along its entire edge. The brushes are made from firm and soft polypropylene bristles, giving you the perfect balance to clean all pool surface types.
This vacuum head has a durable construction thanks to ABS plastic and metal materials. Even after several uses, we noticed the ABS plastic isn't affected by the pool chemicals. Lest we forget to mention, it is comfortably lightweight too.
The vacuum port is designed to fit the standard 1.25 and 1.5-inch hoses. The handles also feature spring-loaded clips, making it easy for you to attach them safely to the pole. Since we tried it in both pools and spas, we noticed it didn't give satisfying results in deeper pools, but it is among the ideal choices for shallow pools and spas.
5. Swimline Weighted Flex Vacuum Head
Sale
Setting up this vacuum head was the first challenge we encountered. It comes with the handle detached, and there are no instructions describing how and where to install which part. But after perusing a few YouTube videos, we finally figured it out. However, you'll need a pair of pliers to wrestle the spring into place.
Image Source: mattblatt.com.au
This vacuum head is designed specifically for concrete pools. Unlike other pool vacuum heads with brushes, it lacks brushes but has a stronger suction power. So we had to brush the pool first before vacuuming it.
The port is closer to the pool surface, making it easy to suck debris with more force. It also features wheels and a flexible plastic body, making it easy to glide around different pool parts. Its rectangular shape allows you to reach into the pool corners and clean along the walls if you have a rectangular pool. Thanks to the high suction power, we could get all the debris without repeated passes.
The Swimline Flex Vacuum Head is heavy-weighted and has no trouble staying at the bottom of the pool. It perfectly fits 1.5" and 1.25" vacuum hoses, and the handle also attaches easily to most standard telescopic poles.
While trying it on a vinyl floored pool, we noticed the wheels scratching the liner and could end up tearing it. The vacuum port, too, being close to the surface, can suck up and damage the pool surface liner, so we don't recommend using it on vinyl pools. Also, it's difficult to reach some areas when using it in the kidney or round pools.
Best Pool Vacuum Head Buyer's Guide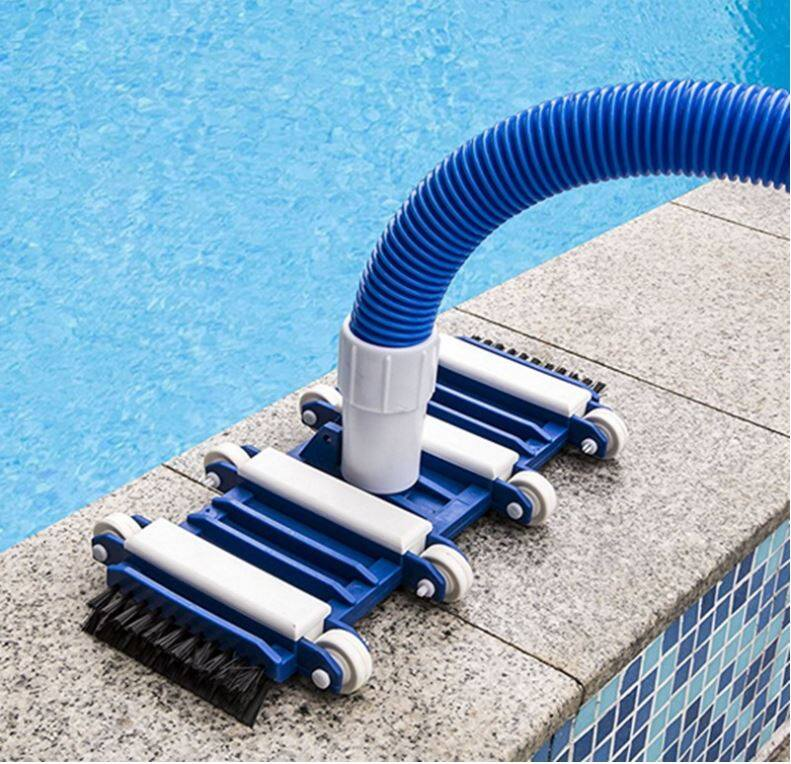 Image Source: lazda.com
i) Pool Type
Before purchasing a vacuum head, check whether it is designed for concrete/plaster, vinyl, or fiberglass pools. Vinyl pools are delicate, and if you use a vacuum head designed for a concrete pool, your pool liner could get scratched or torn.
Concrete pool vacuum heads usually have wheels, very low vacuum ports, and no brushes. On the other hand, most vinyl pool vacuum heads feature brushes, don't have wheels, and the vacuum ports are a bit higher to avoid sucking in the liner.
ii) Width
As with any pool cleaning product, the wider it is, the fewer strokes it will take to clean the area. For example, pool vacuum heads start around 11″ in width, with the widest being 14″. So the larger the pool, the wider you'll want the vacuum head to be.
iii) Shape
Pool vacuum heads come in various shapes and styles. Triangle-shaped vacuum heads are one of the popular designs. They effortlessly clean along the wall edges and have no trouble getting into corners. A rectangular pool vacuum head is also suitable for edge and wall cleaning.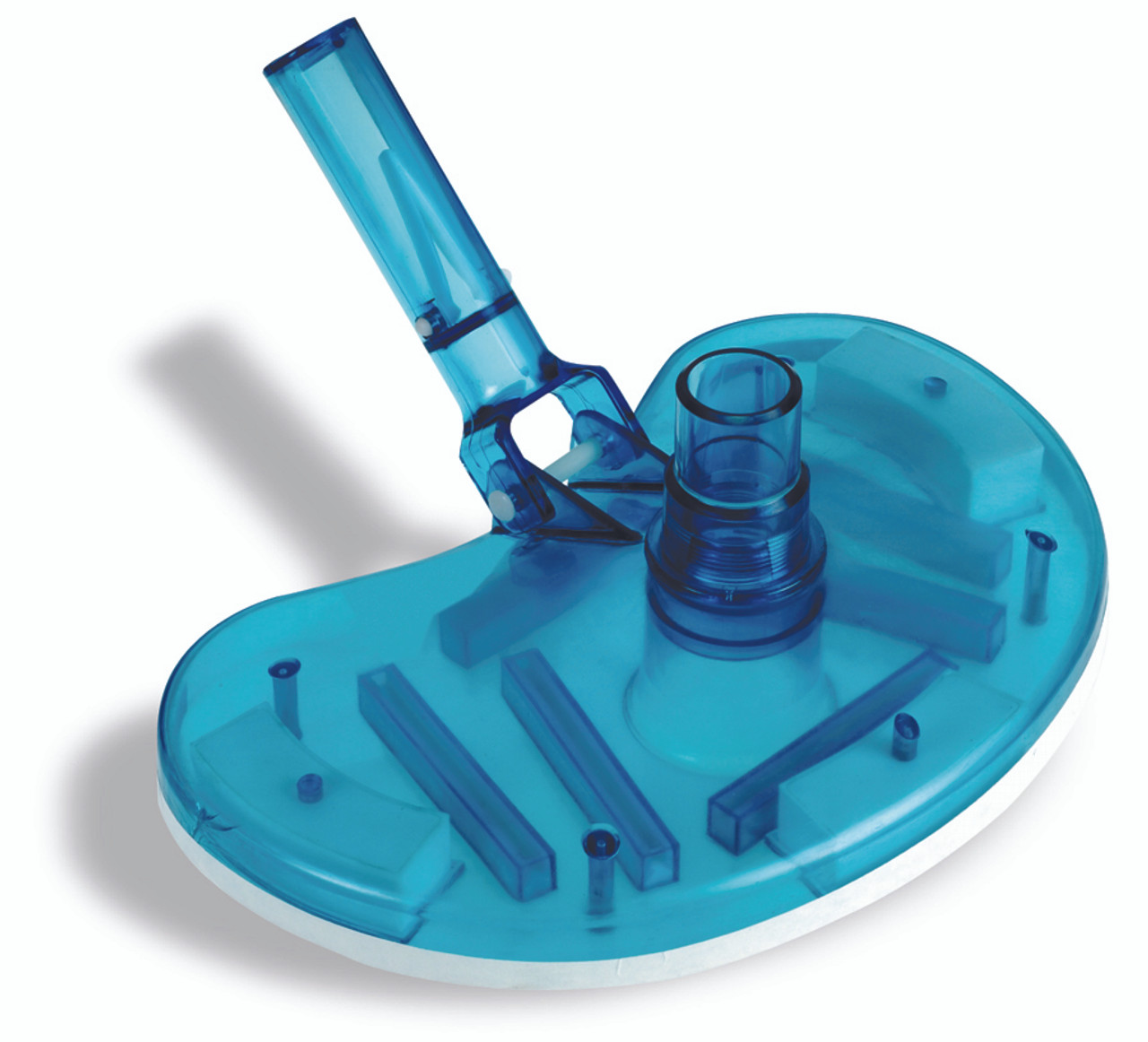 Image Source: nationaldiscountpoolsupplies.com
But if you have a rounded or kidney-shaped pool, get a half-moon vacuum head. It works great at cleaning curved pools.
iv) Design
Some design features to look for include:
A see-through body that makes it easier to maneuver the vacuum head and spot dirt.

A flexible head that can bend to contour uneven pool surfaces.

Wheels to make it easier to push the head around in the pool surfaces. Note that most wheeled vacuum heads are designed for concrete or fiberglass pools.
v) Brushes
A vacuum head with bristles agitates the dirt and vacuums the pool simultaneously. This saves you the trouble of first brushing the pool before vacuuming it.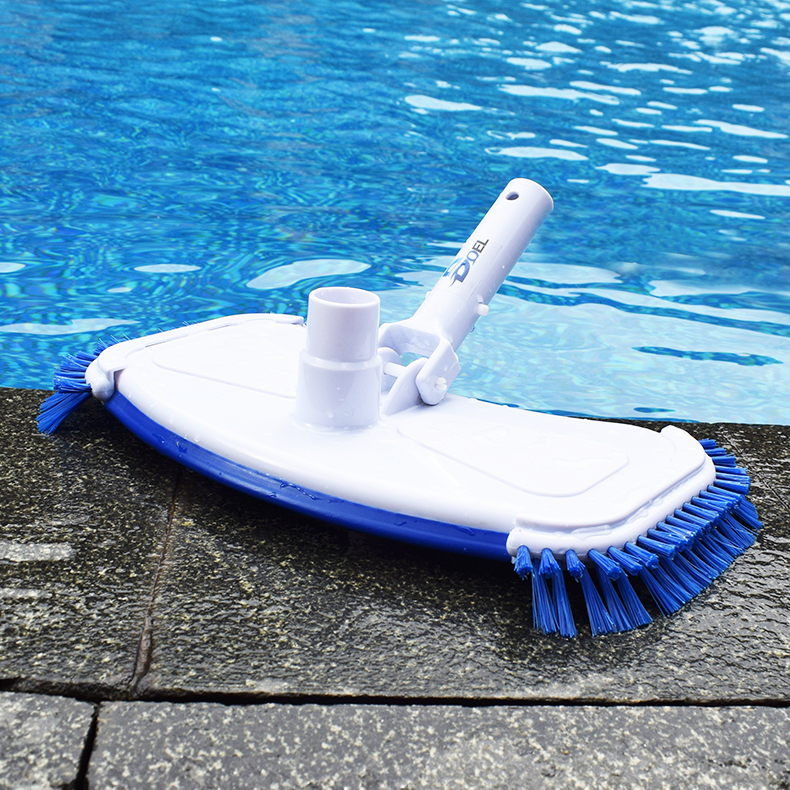 Image Source: alibaba.com
However, brushes can reduce suction power. So you have to decide whether the suction power trade-off is worth having the brushes. Also, ensure the bristles are of good quality and don't shed too easily.
vi) Compatibility
Because you are looking for the best vacuum head, you must ensure it fits the hose. Some products are fine to attach to any standard hose, while others are compatible with the brand's products.
Check what hose size the vacuum head accepts. You'll need to buy an adapter if it's incompatible with your hose. It also needs to fit the pole. The standard sizes tend to be 1.25 to 1.5 inches.
vii) Suction
Suction power is one of the major aspects of any vacuum, and the pool vacuum head is not exceptional. So, suction should be up to the task because of the amount of debris that they often need to collect. Besides the brands' promises in this area, also look to customer reviews to be sure the product will leave your pool clean in no time.
viii) Material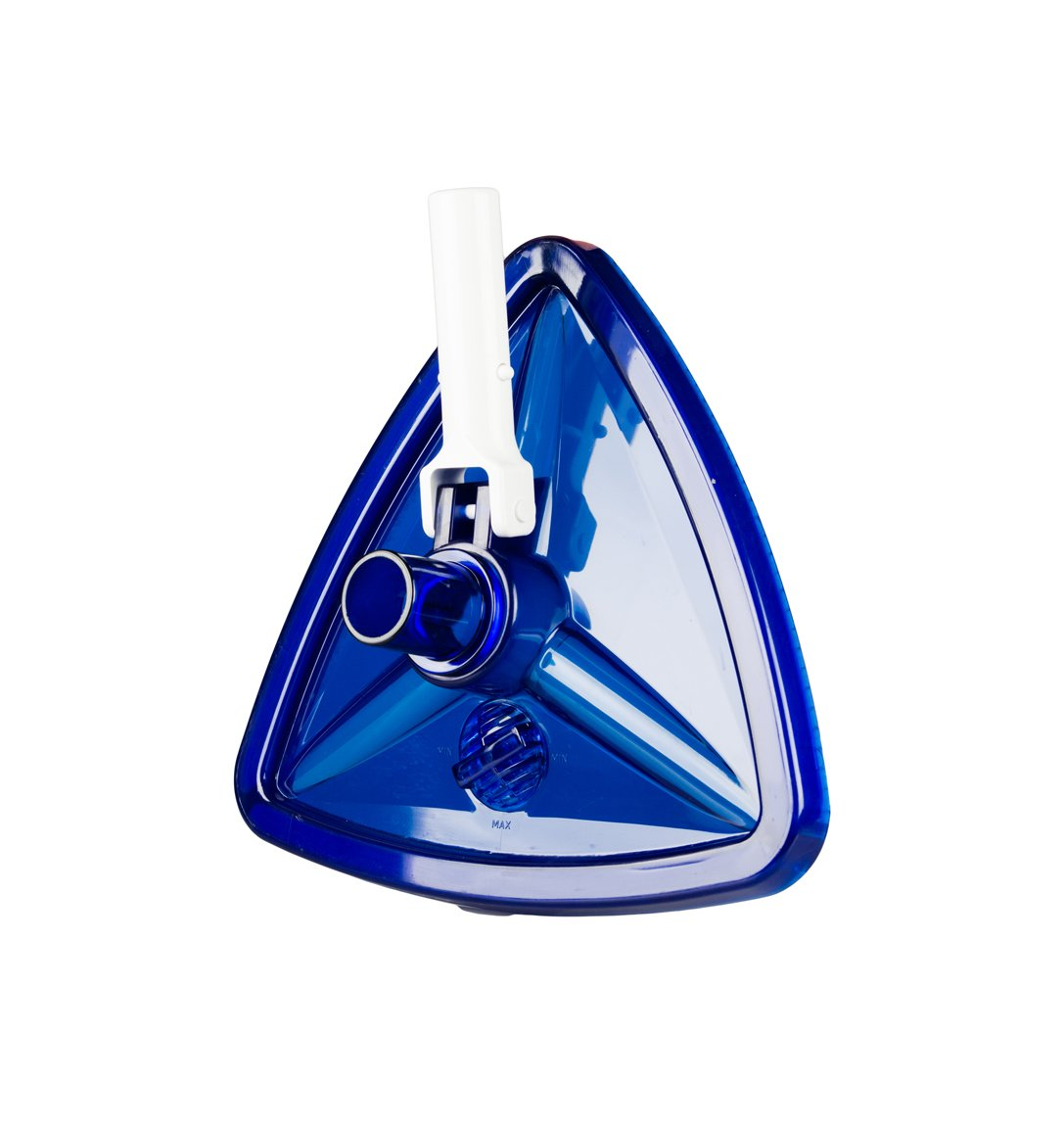 Image Source: poolshopuk.co
 ABS materials are the most common in the construction of pool vacuum heads. Vacuum heads for vinyl pools are made of plastic, while those designed for concrete pools are made from heavy-duty plastic or a combination of plastic and metal. An all-plastic vacuum head is the best if you have a saltwater pool to avoid rusting
Frequently Asked Questions
a) What Else Can the Pool Vacuum Head be Used for?
Pool vacuum heads are specifically designed for water facilities, especially pools and spas. However, there are no rules restricting you from using them for other uses at home. For example, you can use automatic vacuum heads to capture pet hairs and trap insects around your home or pool facility.
b) How Much Does a Pool Vacuum Head Cost?
The price varies depending on the brand and size, but you can choose a budget product for around $80. However, if you need a higher-spec product with quality bristles, high suction power, and a wider head made from durable materials, you should consider products over $100.
c) Does the Vacuum Head Come with a Hose?
Most pool vacuum heads do not come with a hose. So if you don't have one already, you'll have to buy it separately. You'll also need a telescopic pole.
d) How Do Pool Vacuum Heads Work?
You should first attach the head to the hose line. Then, attach the head to a telescopic pole to give you a longer reach. After this, connect the other end of the hose to the pool skimmer. This will push water through the pole, creating suction power that picks up debris. If you see air bubbles, don't fret, this is a sign that the vacuum head works fine.
Some vacuum heads have brushes to agitate dirt stuck on the pool floor and wall, but if yours doesn't have, you have to brush the pool first before vacuuming it. This makes it easier for the debris to be sucked up through the port, leaving your pool sparkling clean.
Featured Image Source: lowes.com