Technical drawings require precision tools. A set square is handy for architects, mason workers, and engineers who need to draw accurate angles and straight lines. Additionally, having the best quality set of squares in your tool belt is a solid alternative to other squares that won't last long. Below, we have picked the best set of squares for every professional who needs them.
To kickstart this list, the top square is the Irwin square, which, aside from its zinc body, is versatile, durable, and accurate. Second on the list is the WorkPro square, made of durable aluminum and very user-friendly, making it excellent for beginners. The third is the Swanson tool, which has etched markings for accuracy.
Best Set Squares
1) Best Overall: IRWIN Combination Square, 12", 45-90 Degree Marking
The Irwin combination square is a must-have in any toolbox. The durable cast zinc body ensures it will last long and through all your projects. Additionally, the black precision mark lines ensure you get the right angle every time and are easy to read. The accuracy in the angles and lines for most of my DIY projects has greatly improved with this tool.
Image Source: wirecutter.com
Not to mention, it has a rust-proof stainless steel blade to prevent any degradation and endure the duties that come with any job site. Additionally, it fits anywhere where a 12-inch square won't fit, so it's adequate for smaller-sized projects, and it helps to regulate the precision of cutting machines. Since it's a multi-use measuring tool, I also use it for measuring depth and material thickness. Lastly, it also has a built-in bubble level for when you need to check your level at a glance.
As one of the most versatile tools, this square set is heavy and reliable. Additionally, it doesn't bend awkwardly like other combination squares, giving you very accurate readings. It is a little heavier than expected, and the blade is a little flimsy, but it does the job. I have no regrets about buying this combination square.
2) Best Value: WORKPRO Rafter Square and Combination Square Tool Set
Sale
WORKPRO Rafter Square and Combination Square Tool Set,...
Durable Material - The rafter square is die-cast from heavy-gauge...
Clearly Identifiable Scale - The rafter square finishing features...
Multiple Graduation - 7-inch rafter square has many kinds of...
User-Friendly - Lipped fence allows you to easily brace the...
Wide Versatility - Easy-to-read level vial and a metal scriber on...
This is one of the top combination squares for any activity that might require a set square. The WORKPRO Square is suitable for both professional carpenters and woodworking enthusiasts. Its user-friendly nature and accurate measurements make it ideal for a wide range of woodworking applications, including cabinetry, furniture making, framing, and more.
Image Source: electronicshub.com
If you're looking to try a set square, this is the perfect one to start with. Additionally, it is made of durable aluminum and powder-coated to ensure the markings don't rub off. The aluminum handle also provides a comfortable grip for better overall control during use. Furthermore, this try square provides everything I need for professional carpentry use and precise woodworking tasks.
The graduation on the set square is easy to read, and its accuracy is further improved by a semi-circle gap through which you can hang a plumb line. Whether you need to mark and measure 90-degree angles, check the squareness of joints, or ensure a straight line or precise cuts and layouts, I would recommend trying square markings for accurate results.
3) Best Choice: Swanson Tool Co TC130 6-inch Combo Square
Sale
Swanson Tool Co TC130 6 inch Combo Square with...
6 in stainless steel blade features precision-etched black...
Multi-tool: square, depth gauge, height gauge, plumb level,...
Impact-resistant acrylic vial in handle
Spring-loaded bolt holds blade in place for firm, accurate...
Durable die-cast zinc body for durability
This is one of the best combination squares for any job you might want to tackle. I was blown away by its etched markings and accurate metric measurements. It is more accurate compared to some other combination squares I have had over the years. Additionally, no adjustment was required since it's accurate right out of the box.
Image Source: ebay.com
The graduations on the combination square are clear and readable. Additionally, the blade lock bolt works smoothly and effectively, while the brass locking thumb nut is easy to grip and loosen as many times as you would like. Its stainless steel blade cuts fence to blade without a problem. Furthermore, this 6-inch combination square set is smaller than what I would normally get, but it gets the job done.
All the rough edges might need to be softened, but it is a nifty little combo square set that will not disappoint. It also has a very snug fit, so there's no chance of a misalignment that could throw off your entire project. Additionally, your woodworking projects will be more enjoyable with one of the best combination squares in the market.
4) Best Budget: Mr. Pen Metal 7 Inches Rafter Square
Sale
Anyone who does construction knows that a set square is the basic essential of any project. Therefore, it goes without saying that it's an important addition to your tool apron. These squares are of quality and durable construction. Not to mention, they are very easy to read, and I found their readings to be very accurate for 90-degree angles.
Image Source: walmart.com
Aside from that, this square has everything you might need to measure the length or miter, level tri-squaring, scribe right angles, and height and depth gauge. In addition, the center head with a straight edge makes it easy to determine the center point of circular objects when working. Furthermore, the measurements on each side of the square increase its user-friendliness as a straightforward measuring tool.
5) Best Upgrade Pick: Beslands Aluminum 12-inch & 7-inch Rafter Square
Beslands Aluminum 12-inch & 7-inch Rafter Square...
[Size]:12-inch:12x12x17 inches(310x310x430mm); 7-inch: 7x7x10...
[Features]: It has the characteristics of frame angle, triangle,...
[Made of high-grade aluminum alloy]: It is rust-resistant,...
[Accurate and convenient] Checking the angle of the triangle...
[Scope of use] Suitable for timber projects and Woodworking, but...
This well-constructed metal square ruler is a dependable little tool for all types of construction work. If you find yourself dropping tools, then you don't have to worry about dropping this one since the points don't dent easily. As far as inexpensive combo squares go, this gives you the best value. I prefer to use a 12-inch combination square to determine the center of the square and round objects for accurate construction.
Image Source: thehomedepot.com
Larger projects like patio refurbishing require larger squares. Additionally, the painted markings on the gradation are clear and easy to read, so you don't have any inaccurate readings. You can also read the metric scale from any direction, making it adjustable to various angles. Furthermore, the conversion table on it makes it easier to convert inches to feet.
While it's not of stainless steel construction, it's made of aluminum, which is also durable and flexible. This makes it easier to lay out when measuring length and angles on a flat surface to minimize measurement errors.
What to Consider When Choosing the Best Set or Combination Square
1) Size of the Blade
There are multiple sizes of blades. Most popularly, standard sizes include 4, 6, 12,16, and 24-inches. Each has its features that make it suitable for different types of projects. For starters, 12-inch rulers are the best for a majority of the projects you might have in mind since they can extend a square line over 10.5 inches, which is common for most pieces of wood.
Image Source: sport-u.com
16 and 24-inch squares are usually cumbersome to deal with since they are large and unmanageable. You might need an extra person just to position it better. On the other hand, a 6-inch square might be small for most projects. However, they are an excellent addition to your tool belt for DIY projects around your home. The 12-inch might be the industry standard, but the 6-inch is a helpful and nifty little tool for around-the-home projects.
2) Readability and Markings
Etched or carved markings are the best for set or combination squares. Additionally, drawn-on markings fade over time with constant use. If you don't use the square head regularly, one with painted markings will do just fine, as long as they are easy to read and depict accurate results. Accuracy is the most important aspect of using a square.
Image Source: ubuy.com
On the other hand, carved markings last longer than their drawn-on counterparts. Engraved gradations are excellent for workpieces and projects that require precision and accuracy, like complex wooden pieces and engineering applications. A small difference might cause a problem in either application and throw your whole project out of focus.
3) Accuracy
Accuracy is compulsory when it comes to woodworking or technical drawing projects. A high-quality square should measure accurately to within 0.001 to 0.005 per inch. If you want to ensure the accuracy of your new square, place it firmly with the blade locked in place before taking a measurement. You might need to adjust it to get the most accuracy.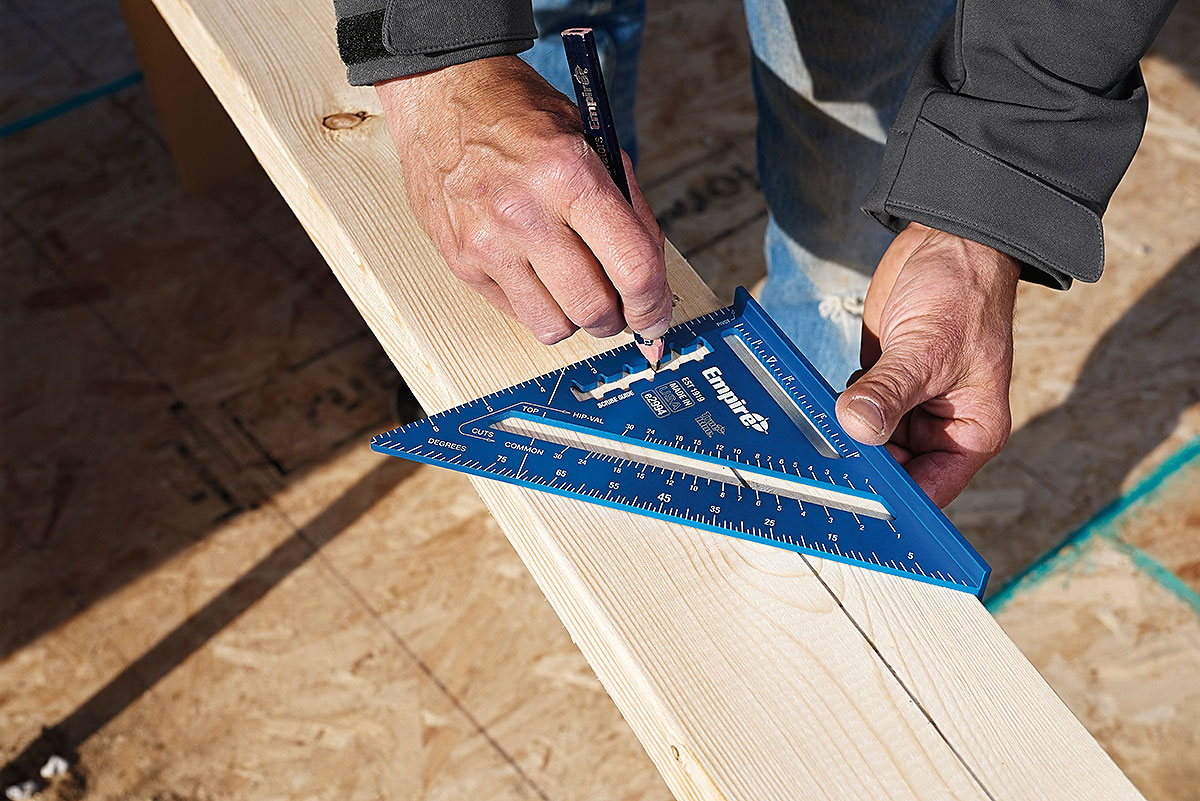 Image Source: empirelevel.com
Calibrating your best combination square is important when you first receive it. It's a fairly simple test where you first:
Adjust the ruler such that it's slightly inset from the anvil, and tighten the knob
Next, hold the square in the corner of a box to ensure the 90-degree angles are aligned.
Your square is inaccurate if the 90-degree angle isn't aligned perfectly. You might want to buy another one or use it as it is and make up for the discrepancies by adding or subtracting.
4) Build Material
Most set and combination squares are made of steel. However, a stainless steel ruler is a guarantee if you are looking for a set or combination square that will last you a lifetime. Remember, a steel blade will rust and corrode to the point the markings won't be visible if the chip-resistant coating wears off. This also applies to hardened steel. Both materials are a little excessive for home use but excellent for worksites and other tools like miter saws. Of course, other materials like cast iron, aluminum, and zinc alloys also exist.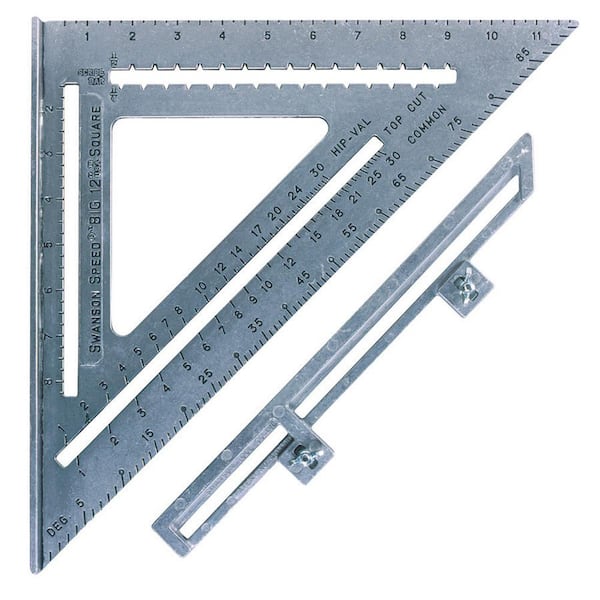 Image Source: thehomedepot.com
Keep in mind that a zinc alloy is one of the best squares you can use. Not only are they reliable and easy to calibrate, but they are also very flexible. Even if they bend, they aren't expensive to replace. By the time they are damaged enough to replace, you will have gotten many years of use. Furthermore, when properly calibrated, they are very accurate for general use.
Frequently Asked Questions About the Best Set Squares
1) What is the best set and combination square?
The best overall set square is the Irwin combination square, which is versatile and reliable for the best and most accurate readings. It is made of stainless steel and is very durable.
2) What is the best size for a combination square?
The best size for a combination or set square is a 12-inch square. It is the industry standard for most woodworking, masonry, or construction jobs.
3) Which tool is best suited for square 45 and 90-degree angles?
A set or combination square is one of the best suited for drawing 45 and 90-degree angles accurately. These squares are also great for any project and might be used with any precision tool.
The Bottom Line
A set square is one of the most versatile tools in any toolbox. Additionally, they last long and are made with durable materials. Some of the most common jobs they can help you accomplish are checking for square, striking 90-degree and 45-degree lines, scribing lines for rip cuts and joinery, measuring material thickness, adjusting tool heights, and setting saw blades at 90-degree angles.