The best small dehumidifier offers quite a number of benefits. Dehumidifiers help lower the level of humidity, and as a result, they reduce the chances of mold, mildew, and odors. They are also often recommended to those with allergies as they circulate the air and filter bacteria. They also prevent dust from dispersing through the air. This, in turn, can reduce the symptoms of your allergies. A small dehumidifier is ideal for small rooms and areas but tends to be much more affordable, lighter, and quieter than regular dehumidifiers.
What makes them quieter is that they use a technology known as Peltier, which is thermoelectric. It absorbs heat on one side and evaporates it on the other; while one side heats up, the other stays cool, creating dehumidification.
The downside of mini dehumidifiers is that they tend not to function as well in colder temperatures. Additionally, because of their size, they have a limited capacity, as most reservoirs can only hold anything under 20 ounces depending on the dehumidifier.
The best small dehumidifier that we reviewed is the Pro Breeze Electric Mini Dehumidifier. It is lightweight, compact, and portable. It also automatically shuts off, and the LED light turns on to signify the water tank needs draining. Our second best choice is Eva Dry Wireless Mini Dehumidifier (E - 333), which only came second because it doesn't have an LED indicator. However, it is spill and mess-free. The third small dehumidifier we selected is the Eva-Dry Edv-1100 which has unparalleled technology at a very affordable price making it our budget pick.
Review of the Best Small Dehumidifiers
Here's a detailed review of the best small dehumidifiers to buy.
| | | | |
| --- | --- | --- | --- |
| | | | |
| | | | |
| | | | |
| | | | |
| | | | |
1. Pro Breeze Electric Mini Dehumidifier
Pro Breeze Electric Dehumidifier 1200 Cubic Feet (215...
Large Coverage 1200-2200 Cubic Feet: The Pro Breeze Dehumidifier...
Auto Shut-Off: When full the dehumidifier will automatically shut...
Lightweight, Compact and Portable: Capable of removing up to 9...
Ultra-Quiet & Energy Efficient: Whisper quiet operation in...
Lowers Humidity: Perfect for high humidity in your home, kitchen,...
For many reasons, the Pro Breeze PB is our top choice for the best dehumidifier, measuring 8.6" H x 6" W x 5" D with a weight of 3.2 pounds. Firstly, it is the best bathroom dehumidifier for homeowners, especially those who want to reduce electricity consumption. It is also suitable for bedrooms. The water tank capacity listed is 18 ounces.
What I loved about this dehumidifier is that it comes with an auto shut-off and notification light for the bucket. As with most mini dehumidifiers, it is equipped with the Peltier system; hence the machine is quiet, with a decibel level of only 33 dB. Though it doesn't have an air filter, I found this small dehumidifier very easy to clean and maintain.
Image Credits: Walmart.com
Since most of my rooms are around 1200 cubic meters or 150 sq meters, I realized this dehumidifier works well in them. The best part about the Pro Breeze dehumidifier is the auto shut-off feature. When the water tank is full, the water unit will automatically shut off, and an LED indicator will tell you that it is time to drain the tank and put it back.
The Pro Breeze is super easy to empty. All you need to do is slide it out when it becomes full and slide it right back into place when empty.
2. Eva Dry Wireless Mini Dehumidifier (E - 333)
Sale
Eva-Dry Wireless Mini Dehumidifier, White (E-333)
EASY TO USE: This mini dehumidifier is spill and mess free. Just...
MINI DEHUMIDIFIER GOES A LONG WAY: Super dry dehumidifier unit...
SMALL, SLEEK DESIGN: This portable small design lets you hang or...
100% CORDLESS DEHUMIDIFIER: Moisture out: Cords out! No cables or...
SATISFACTION GUARANTEED: SUPER DRY ODOR-FREE LIFE! Our...
This is the smallest dehumidifier on our list. At a size 5.5" wide and 2.5" thick, it is small enough to fit anywhere. It can be mounted or hung on a hook.
I found this dehumidifier amazing due to its affordable price. Its price point might lead you to believe it is disposable; however, the Eva Dry has a small window on the front that changes color when the beads inside have soaked up as much air moisture as they can.
The length depends on the conditions of the area; however, for most people, it tends to be every couple of months. Additionally, you only need to have it plugged in for 12 to 14 hours daily.
Image Credits: Eva-dry.com
Another great feature I discovered about this product is that the silica gel beads in the system can last up to 10 years. The Eva Dry E-333 is an ideal choice if you have a space that is under 500 cubic feet and experiences excess moisture. Eva Dry also offers a 5-year guarantee, which is great considering their product's affordability.
Another pretty great feature that I found out about this mini dehumidifier is that it is completely cordless, so all you'll need to do is charge your device. You don't need any cables and batteries as the mini dehumidifier can last for about 20-30 days before its next recharge. It also doesn't have a water tank that needs to be emptied.
It's ideal for confined spaces and storage units where you might want to leave a dehumidifier for an extended period of time. It can also be used in spaces such as a closet, bedroom, or car.
I liked its technology of using a renewable silica gel which allows the mini dehumidifier not to heat up the air. The moisture in the air is absorbed and contained within the gel and can be left for up to a month before the gel needs renewal though this is highly dependent on where you live and the relative humidity levels in your environment. When the dehumidifier reaches the maximum 4-6 ounce capacity, the silica gel crystals change color from orange to red.
The Eva Dry has a window at the front, which allows you to check and see the color of the crystals easily. When they turn green, you only need to plug the Eva Dry into an electric outlet and leave it for about 8 to 10 hours. A small, low-energy heat pad dries and revitalizes the crystals hence allowing the dehumidifier to be ready to work. It can do this for about 10 years.
It can also be used around children or pets, as the Eva-Dry won't leak or spill, even at full capacity.
3. Eva-Dry Edv-1100 Electric Petite
Sale
Eva-dry Edv-1100 Electric Petite Dehumidifier, White
LESS NOISE OUTPUT - The average noise output for all of the...
MAXIMUM PORTABILITY - The EDV-1100 couldn't be any more...
LOW POWER CONSUMPTION - The Eva-Dry EDV-1100 has a manufacturer...
SUPERIOR QUALITY – It is made from high quality and superior...
PLUG AND PLAY SETUP - This couldn't be easier to use. Simply...
As I was looking for a small dehumidifier that could fit into small rooms, I came across the Eva-Dry Petite unit. It is an ideal choice for small spaces such as a closet, a laundry room, a bathroom, and other spaces that are roughly less than 150 sq ft. This portable dehumidifier is compact and can also be placed on a workbench or desk. The moisture is extracted from the air and stored in a reservoir that is spill-proof.
Image Credits: Eva-dry.com
It contains something known as whisper technology, which ensures that the machine runs quietly. The noise output is at an average of 50.9 dB. The dehumidifier can hold up to 16 ounces of water, so you don't constantly need to dump the container.
Another great feature that I discovered in this dehumidifier is its auto shut-off feature which allows you to know when the humidity levels have sufficiently lowered; hence the device will shut itself off and conserve its energy. The Eva Dry Electric Petite Dehumidifier is an ideal choice that can emit up to 8 ounces of moisture from the air each day.
4. Donatello Dehumidifiers
Donatello Dehumidifiers, Ultra Quiet Small Room...
【High Efficient Dehumidifiers for Home】Still nervous about...
【Auto Defrost Protection】 The traditional dehumidifier may...
【Ultra-Quiet & Colorful Atmosphere Lights】 The house...
【Safe Auto Shut Off Protection】 When the water is full, the...
【12 Months Warranty】This reusable dehumidifiers Including 1*...
My nervousness about the humid weather led me to discover the Donatello dehumidifier. I was looking for something that could keep my room dry and odorless while consuming the least energy. This compact mini dehumidifier offers powerful dehumidification and consumes less than 0.5 kWh per day. It comes equipped with an 1153 ml water tank that extracts up to 532 ml of moisture daily in a relative humidity of 86°F and 80% RH.
Image Credits: Alibaba.com
It effectively lowers indoor humidity levels and improves air quality creating a healthy living environment. It is designed with auto defrosting protection, which automatically turns on when the temperatures are low. This allows it to continuously drain the water using a drain hose without stopping to defrost. This saves a lot of energy and makes the unit last longer. Its working temperature is 46-104 degrees Fahrenheit.
The Donatello humidifier uses Peltier technology and ultra-quiet operation to create a comfortable and peaceful environment. It reduces odors from your environment to make you comfortable. This makes it ideal for bedrooms and offices as it will not interfere with your work, sleep, or study. It has 7 built-in mood lights that create a sweet and romantic sleeping atmosphere.
Image Credits: Ubuy.co.it
Its safe auto shut-off protection detects when the water is full and shuts off. The LED light turns on to indicate when the tank needs draining. The defrost is automatically detected with an orange light. Due to its lightweight and portability, this dehumidifier can fit in any small space from 50 to 300 square feet, like bathrooms, bedrooms, bookcases, wardrobe closets, basements, garages, offices, cellars, kitchens, etc.
Donatello is a reusable dehumidifier that comes with one AC adapter, 1.59 inch US plug power cord, and one user's manual. In addition, it has a warranty of 12 months.
5. MAKAYLA Dehumidifier
Dehumidifiers,MAKAYLA Dehumidifiers 56oz(1650ml) 5500...
🍁Efficient for Large Space🍁: MAKAYLA dehumidifier is...
🍁Two Working Modes Design🍁: The dehumidifier has Day Mode...
🍁7 Colors LED Light🍁: MAKAYLA Dehumidifier is designed with...
🍁Auto Shut-off🍁: The dehumidifier and LED light will...
🍁Portable Design🍁: Our Dehumidifiers have less than 4lb...
I needed a humidifier that would improve air quality around my space, and this was the best choice. Its 360-degree airflow makes the air fresher. Also, it is made with advanced semiconductor dehumidification technology; the Makayla dehumidifier pulls 600ml to 650 ml of water from the air at 86°F and 80% RH. This is suitable for 100 to 550 square feet of space. Its large capacity water tank of 1650 ml dehumidifies the room continuously for 24 hours.
Image Credits: Image Credits: Walmart.com
I liked its design of two working modes: day and sleep mode. During the day mode, it runs high-speed dehumidification reducing humidity quite rapidly with a less noise level of 39 dB. It is one of the best dehumidifiers on the market. During the sleep mode, it works in low speed and muted mode, which is very quiet to ensure that you enjoy a sound sleep. The noise level for the sleep mode is less than 30 dB.
Image Credits: Amazon.com
The Makayla dehumidifier is designed with 7 colors of LED light that give you a romantic, especially in your bedroom. You can let the colors keep on changing or lock in your favorite color. The automatic shut-off feature gives me peace of mind knowing that I don't have to worry about the tank overflowing. The red light also flashes to warn you when the tank is full, so you can empty it instead of waiting for the shut-off.
These humidifiers are very lightweight and portable, weighing less than 4lb and a small size of 6.9*6.9*12.6 inches. It is very easy to move it to any corner of the house without worrying about space. It is the best dehumidifier for basements, bathrooms, bedrooms, offices, garages, closets, etc.
If you are looking for a dehumidifier that is energy efficient, this one is the best choice as it only consumes 60W/hour. This translates to 1.15kW of electricity after 17 hours of operation. Therefore it is both environmentally friendly and cheaper. It will also keep your room within the desired humidity level.
Dehumidifier Vs. Air Purifier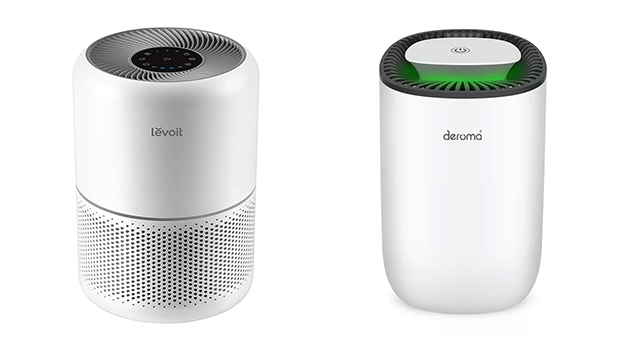 Image Credits: Levelupbreath.com
Air purifiers are designed to minimize allergens and pollutants in a room and are quite helpful to those suffering from allergies and respiratory conditions.
The differences come in how they are used. Dehumidifiers are designed to remove excess moisture levels in the air. This, in turn, helps prevent mold, dust mites, and other allergenic organisms. An air purifier circulates air through HEPA (High-Efficiency Particulate Air) filters with the aim of removing up to at least 99.97% of common pollutants like dust, pollen, mold, pollen, odors, etc. Though most common filters can only remove large airborne particles, air purifiers can eliminate smaller ones, too. Air purifiers have no effect on reducing the humidity level in the air.
What Should You Look for When Buying a Small Dehumidifier
When you live or work in a humid area, you might begin to notice that your house or office smells musty and damp. This can result in the growth of mold and mildew and is the perfect environment for common allergy triggers. If you live in wet spaces, an air conditioner-dehumidifier combo may not be effective in removing moisture.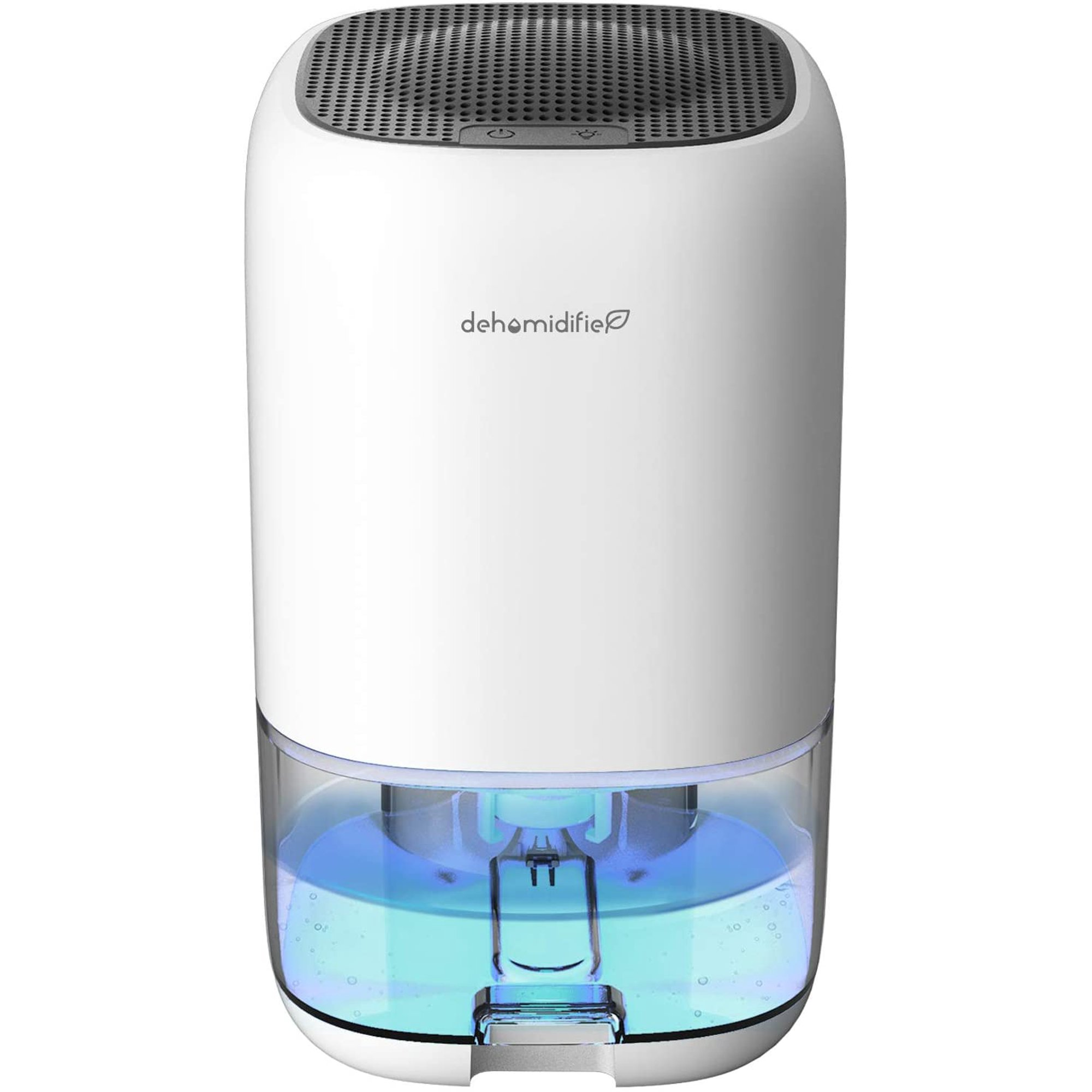 Image Credits: Walmart.ca
This is where a dehumidifier comes in, and a small dehumidifier at that, especially if you're looking for something that is portable, light, and compact. So what are some of the things you need to keep an eye out for when searching for one? We created a buyer's guide that we believe will help point you in the right direction.
1. Size
Small dehumidifiers come in different sizes and styles. Some are designed such that they can be placed on a bedside table, while others can be in the corner of a room or in a bathroom or hang on a hook.
Before choosing the best dehumidifier, you should first consider where you'd like to use it and place it. Portable dehumidifiers that are compact and lightweight are an ideal choice for offices and RVs, also known as mobile homes. A slightly larger unit will be ideal for bedrooms, laundry rooms, nurseries, and bathrooms. This largely depends on how much moisture is in your house.
The size of the dehumidifier should also match the need the moisture removal. Large-capacity units can emit more than 40 pints of water per day, medium-capacity units can emit from 30 to 35 pints per day, while small-capacity units can remove between 20 and 25 pints of per day.
2. Room Coverage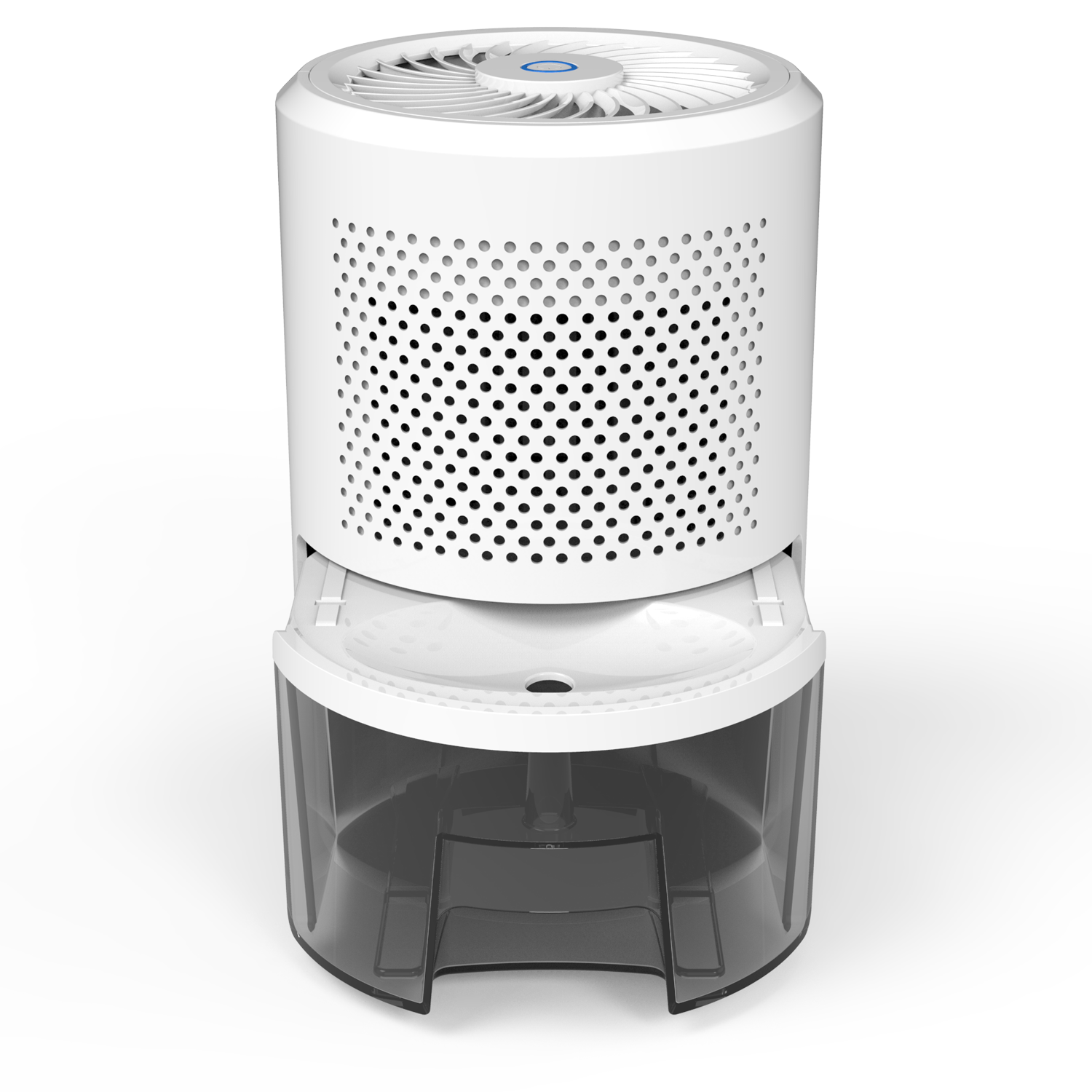 Image Credits: Aromabox.co.ke
When thinking of purchasing a small dehumidifier, room coverage is key. It is important to know and understand that most small dehumidifiers will not be able to cover larger or open rooms. Small dehumidifiers tend to cover up to 150 square feet, while the larger ones will cover a little over 200 square feet. Other larger units can even cover up to 4,000 square feet.
3. Reservoir Capacity
Reservoir capacity is an important feature to consider, as this is where all the water vapor is collected. Since the dehumidifier is small in size, the tanks are smaller in size; hence when choosing a unit, it is important to consider if you have a damp environment or just humid. A small reservoir will need to be emptied often if used in a high-humidity area; hence it would be more practical to go for a dehumidifier with a larger reservoir.
4. Eco-Friendliness
Choosing an eco-friendly product is not only good for the climate but also for your wallet. When selecting a small dehumidifier, choose one with high energy efficiency, as this means that it does need to run on electricity 24/7. Therefore, your electric bill is minimal.
5. Cleaning
Dehumidifiers are created with filters that allow the air to pass through, and these filters eventually get dirty in time. When selecting a unit, you want one that has a notification that will alert you when it's time to clean the filter. These filters are simply washed in warm soapy water and left to dry.
6. The Style of the Dehumidifier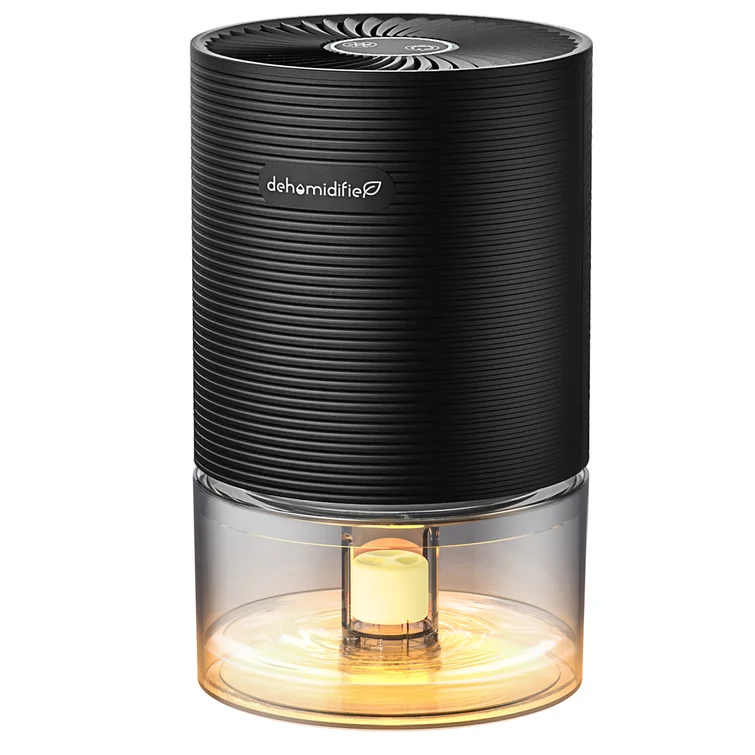 Image Credits: Wayfair.com
There are different types of dehumidifiers. The most popular style is the one that uses refrigerant and has a compressor. As warm indoor air passes across a surface cooled by a refrigerant, moisture is pulled from the air and collected in the machine.
There's the Peltier or thermo-electric dehumidifier, which is quieter than systems with a compressor. It uses a current, a heat sink, and a fan to draw moisture from the room. They tend to be more affordable than refrigerant-based dehumidifiers and come in smaller sizes.
Lastly, there are desiccant dehumidifiers. It collects water like a sponge, and it is quieter than a dehumidifier with a compressor and puts off more heat but is limited when it comes to capacity. A refrigerant would be ideal if you live in a warmer area or need a large dehumidifier with a pump. If size, relative humidity level, and capacity are not a problem, then a Peltier or desiccant dehumidifier would be an excellent choice.
FAQ About the Best Small Dehumidifier
1. What is the best small dehumidifier to buy?
The best small dehumidifier should be lightweight and portable so you can move it from one room to another or place it in small spaces. It should also remove as much moisture as possible. A good example is the Pro Breeze Electric Mini Dehumidifier. It is compact and capable of removing up to 18 ounces of water per day. It automatically shuts off when full, and the LED light turns on to indicate that the water tank needs draining of the collected moisture.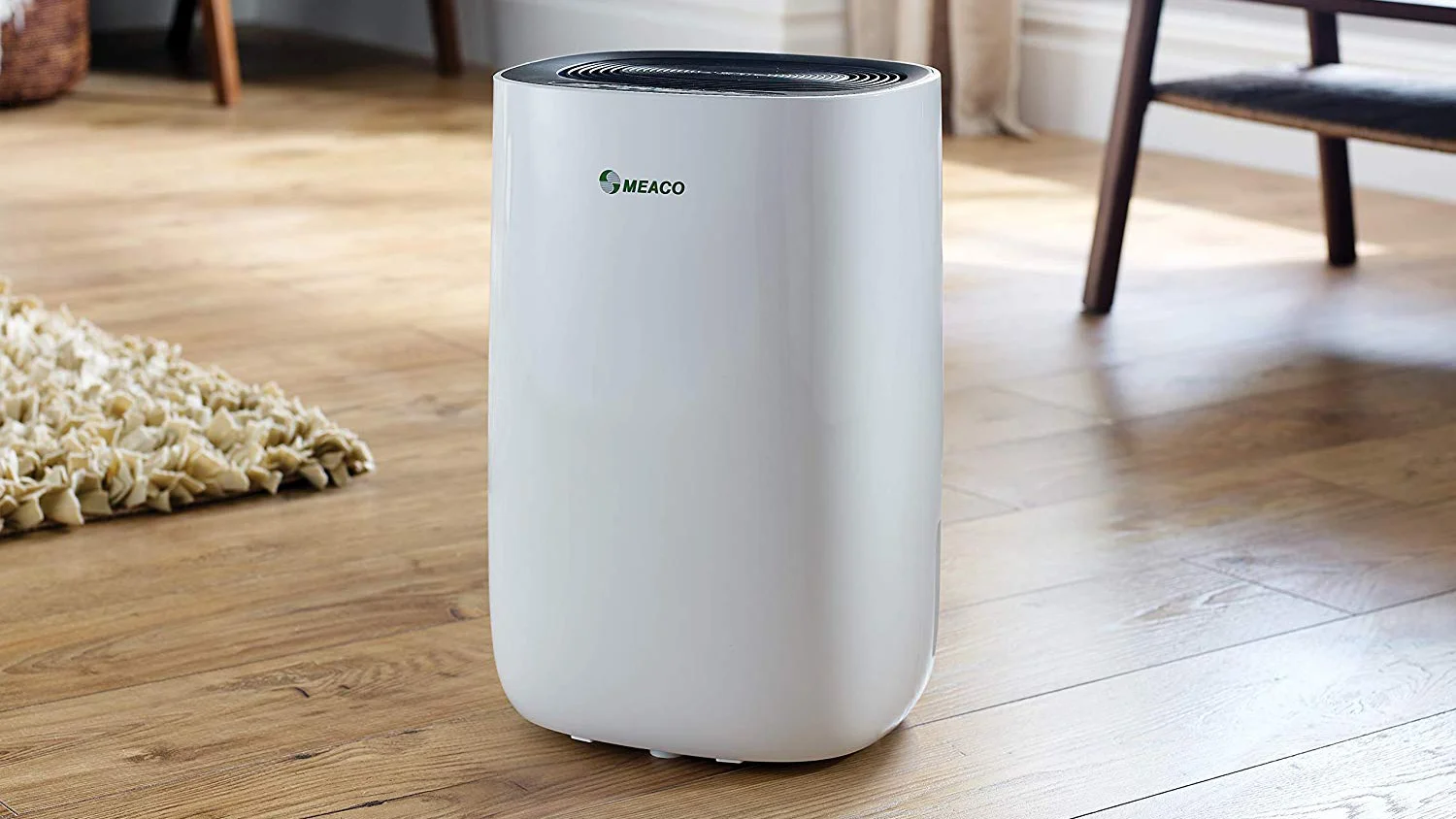 Image Credits: Expertreviews.co.uk
The dehumidifier uses Thermo-Electric Cooling Technology (Peltier) which makes it operate quietly. It is therefore ideal for bedrooms and offices. It is also energy efficient, with a running cost of only $0.12 per day. It lowers humidity in the kitchen, bedroom, bathroom, caravan, garage, and closet.
2. Are small dehumidifiers worth it?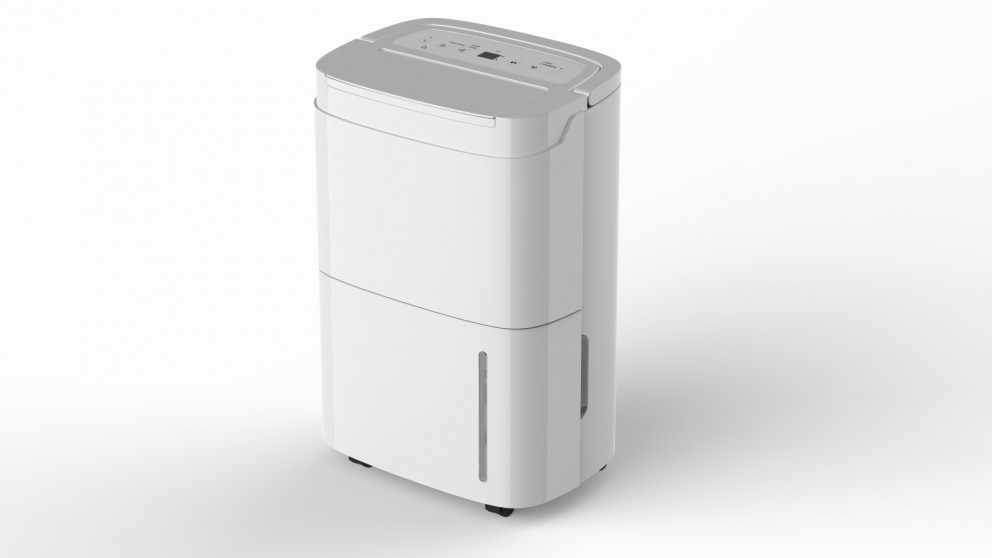 Image Credits: Harveynorman.com.au
Small dehumidifiers are great for people who want to remove moisture from a particular place and are not looking for complex or fancy units. Small dehumidifiers are portable and mostly battery-operated, which means you can use them anywhere, including gym bags, cars, closets, etc.
3. Where is the best place to put a small dehumidifier?
The best place to put your small dehumidifier is a place where there is good airflow to enable your unit to work properly. You should not place it directly against a wall or piece of furniture as this might prevent it from working well. Avoid placing it in a corner or against curtains.
Instead, place it about 6 inches away from any surfaces. Ensure that air circulation is unobstructed around the unit. Your dehumidifier will work best if placed close to the source of moisture or the place in your home where the moisture is likely to be coming from. If it's in the bathroom due to long showers, place the dehumidifier near the bathroom and not inside.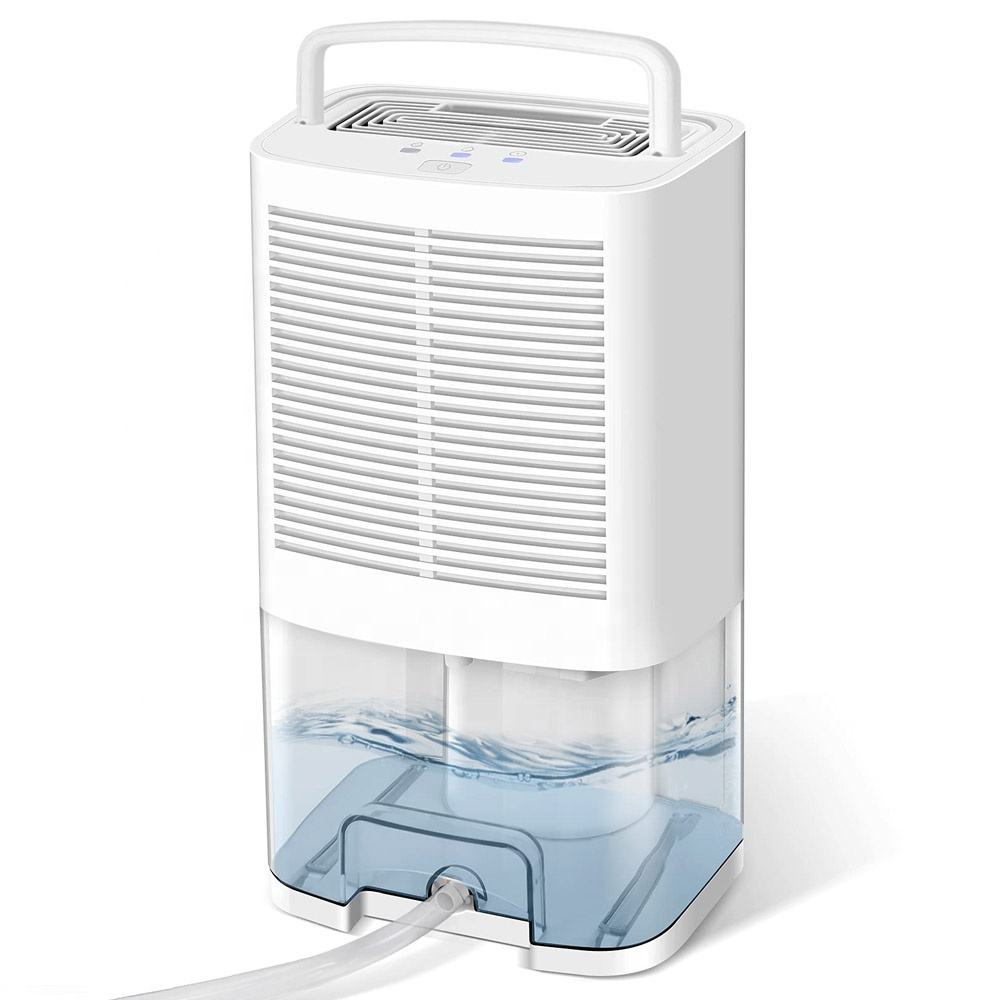 Image Credits: Alibaba.com
There are refrigerant dehumidifiers and desiccant dehumidifiers. A Refrigerant dehumidifier is preferred and is more common, and works best in warm environments. Desiccant dehumidifiers work best in cooler environments such as conservatories and unheated garages. You can place your dehumidifier anywhere in the house to lower the overall humidity, but consider the source of the moisture for effective dehumidification.
5. How long do small dehumidifiers last?
If well taken care of, small dehumidifiers can last from 5 to 10 years. The care you give to your humidifier will determine its lifespan. Change the air filters regularly, and empty and clean the water bucket, coils, and exhaust grilles.
If your dehumidifier runs all day, it will experience more tear and wear and may last less than 10 years. Setting it up correctly and doing routine maintenance will give it a longer lifeline. Clean the condensate tank regularly to avoid mildew and slime buildup. This dirt may spread to the dehumidifier's evaporator.