In August 2016, the Xbox One S was one of the first gaming consoles capable of 4K streaming, but not 4K gaming. In November of the same year, the PlayStation 4 Pro launched with 4K gaming and streaming features, and I had to switch. With all these changes happening, I had to look for the right gaming screen.
So, I set out to find the cheapest 120Hz 4K TV and came across some good options. The Samsung Q LED Q70A is my first choice because it is one of the cheapest options offered by the company. Furthermore, it offers FreeSync technology, a vital specification for a gamer like me. The LG NanoCell 85 series comes closely at second place with its NanoCell technology which had me sold.
My third choice is the Hisense U8g ULED, which is IMax enhanced and affordable for the specs it offers. I like these options because not only are they 4k, but they are affordable TVs large for perfect gaming and watching movies. Here is a more detailed look at the 120Hz TVs I tried out.
Which Is the Cheapest 120Hz 4K TV?
Image Source: cnet.com
Although the display technology has been in play for decades, it seeped into the mainstream back in 2010 when the popular video-sharing platform, YouTube, allowed users to access Ultra High Definition content. Consequently, you could use dedicated equipment to take advantage of the high resolution. Eventually, the prices of 4K TVs fell drastically as the technology matured because more manufacturers wanted to produce options for the growing market.
Budget TV options capable of 120Hz and 4K are standard. Of course, these products are higher priced than their counterparts, offering a resolution of 1080p. However, the recommendations below will help you get excellent quality without breaking the bank.
5 Best and Cheapest 120Hz 4K TVs
1) Samsung QLED Q70A Series 55-Inch 4K Smart TV QN55Q70AAFXZA-2021
SAMSUNG 55-Inch Class QLED Q70A Series - 4K UHD Quantum...
QUANTUM PROCESSOR 4K: Elevate your picture to 4K with machine...
MOTION XCELERATOR TURBO plus: Exceptional motion enhancements up...
DUAL LED Backlight: Dedicated warm and cool LED backlights...
100% COLOR VOLUME WITH QUANTUM DOT: A billion stay-true shades of...
QUANTUM HDR: Go beyond HDTV with an expanded range of color.
I know the Samsung brand for its quality products, and the QLED Q70A is no exception. Also, this model is one of the cheapest 120Hz 4K TVs in the company's line. Despite its budget target, the Q70A offers excellent picture quality and other features that set it apart.
Some crucial gaming technologies in this excellent TV include FreeSync Premium Pro with a variable refresh rate, ultra-low input lag, and Auto Low Latency Mode. Since it is a 55-inch model, I have plenty of display real estate to use. Also, I can take advantage of the Game Bar and the ultra-wide aspect ratio capability for my next-gen gaming. Furthermore, I can hook up your console and smartphone simultaneously with the multi-view feature that lets me split the screen and sound, depending on the connected devices.
Image Source: Big Screen
Although this model gives me deep blacks because of the impressive contrast ratio, I must avoid bright rooms or placing the TV where the sun directly hits the screen to get the best experience. In addition, there are no local dimming zones on the Q70A.
Key Specifications
Ports: two HDMI 2.0 ports with one HDMI 2.1 port, Ethernet, two USB 2.0 ports, RF connection, and digital audio output.
Display Technology: LCD panel with quantum dots and an LED backlight: QLED.
Peak Brightness: 600 nits.
2) LG NanoCell 85 Series 50-Inch 4K Smart TV 55NANO85UNA
LG 49NANO85UNA Alexa Built-In NanoCell 85 Series 48.5...
REAL 4K NANOCELL DISPLAY: Over 8.3 million active pixels of 4K...
LOCAL DIMMING: Lighting you'll love in your movies, sports, and...
WEBOS AND MAGIC REMOTE: LG's fan-favorite webOS platform makes it...
α7 GEN 3 PROCESSOR 4K: Your picture is made better, clearer, and...
DOLBY VISION IQ AND DOLBY ATMOS: Dolby ups the action, driving...
I was in the market for a large PC monitor or a gaming TV and found that only a few options can beat the LG 55NANO85UNA. The NanoCell technology utilizes a patented filtering layer above the LCD to make the image quality vivid with deeper colors. The picture will look natural whether the TV is for watching movies, sports, or playing games.
The impressive design of the LG 55NANO85UNA combines a slim profile, super-narrow bezels, and a futuristic stand. These aesthetic choices complement the excellent contrast ratio, accurate colors, and wider viewing angles. Additionally, I can connect my gaming PC and take advantage of the low input lag to keep me in the competition, VRR to smoothen the experience, and HGiG profile to give me HDR game mode.
Image Source: rtings
As for the downsides, local dimming on the LG 55NANO85UNA is weak. Consequently, black uniformity suffers, making it difficult for the panel to balance the backlight and dark areas. Thus, watching movies in dark rooms differs from this TV's strong suit.
Key Specifications
Ports: four HDMI ports (two 2.0 and two 2.1 options), Ethernet, RF input, 3 USB 2.0 ports, and digital audio output.
Display Technology: IPS LCD panel with edge-lit LED backlight with a NanoCell layer.
Peak brightness: 560 nits.
3) Hisense U8G ULED 55-Inch 4K TV 55U8G-2021
Sale
Hisense ULED Premium 55-Inch Class U8G Quantum Series...
4K ULED: Like 4K great, but better. The 55U8G has our exclusive...
Quantum Dot Wide Color Gamut: See over one billion shades....
Ultra Motion and 120Hz Native refresh rate: Ultra Motion removes...
Dolby Vision Dolby Atmos: Dolby Vision HDR picture and Dolby...
IMAX Enhanced: IMAX Enhanced brings the cinema experience home....
The 55U8G-2021 is one of the best and cheapest 120Hz 4K TVs. The Hisense ULED proprietary tech promises and delivers improved contrast, motion, color reproduction, and brightness. In combination with the Quantum Dot technology in the Hisense U8G, the picture jumps to life in accuracy and brilliance.
Moreover, this model features a native refresh rate of 120Hz with Ultra Motion for one of the smoothest viewing experiences. Plus, Dolby Vision HDR, IMAX Enhanced, and Dolby Atmos ensure your eyes and ears are satiated by whatever you are watching. So whether you want to delve into your favorite movies or watch sports, you will need help to detect any motion blur on this smart TV.
Image Source: androidguys
This model features gaming features like Auto Low Latency Mode, low input lag, Game Mode Pro, and two HDMI 2.1 ports. However, there is a performance gap when I connect next-gen game consoles like PS5 or Xbox Series X. Unfortunately, the TV fails to take advantage of the 120Hz refresh rate with Variable Refresh Rate since HDR does not work under these circumstances. Consequently, it gets blurry with much ghosting when gaming or hooking it up to my PC like a monitor.
Key Specifications
Ports: 1 digital audio output, one earphone output, RCA video and audio input, 1 RF antenna, 1 USB 2.0 and 1 USB 3.0, 2 HDMI 2.0, and 2 HDMI 2.1 ports.
Display Technology: LCD panel with ULED proprietary technology.
Peak Brightness: 1500 nits.
4) TCL 6 Series QLED 55-Inch 4K TV 55R635
Sale
TCL 55-inch 6-Series 4K UHD Dolby Vision HDR QLED Roku...
Superior 4K Ultra HD: Picture clarity combined with the contrast,...
Mini-LED Technology: Uncompromised contrast, brightness, and...
Product Size (WxHxD) with Stand: 48.3" x 31.1" x 13.7"; Product...
QLED: Quantum dot technology delivers better brightness and wider...
Contrast Control Zones: Contrast is individually optimized across...
The TCL 6 Series 55R635 has plenty of features that make customers rave about its impressive picture quality at a bargain. This panel combines a mini LED backlight and Quantum Dot technology to create a blend that ensures a minimal halo effect when bright objects interact with the inky black background. In addition, the independently controlled zones provide a high contrast ratio close to what OLED TVs offer.
Whether I want to put my TV on a wall with a standard VESA mount of 300mm x300mm or let it sit on a stand, it will look futuristic. The legs help me with cable management, although I will need thin wires to use all the ports simultaneously. Plus, the shiny finish on the chassis looks sleek with slim bezels that pull my attention to the smart TV.
Image Source: TCL
Admittedly, this TV does not feature any HDMI 2.1 ports since attaining the 4k resolution limits you to a 60Hz refresh rate while 120 Hz gives you 1440p. Consequently, it may be better for PC gaming or next-gen consoles rated for the refresh rate and resolution. Nevertheless, it features the THX-certified game mode making it excellent for gaming.
Key Specifications
Ports: 1 USB port, 3.5 mm jack, AV input, TOSLINK connection, an Ethernet jack, and 4 HDMI ports.
Display Technology: a QLED panel with mini LED backlights.
Peak Brightness: About 1000 nits in HDR and 700 for SDR.
5) Sony X85J 43-Inch 4K TV KD43X85J- 2021
Sony X85J 43 Inch TV: 4K Ultra HD LED Smart Google TV...
4K HDR PROCESSOR X1 – Powerful TV processing that delivers a...
MOTIONFLOW XR WITH NATIVE 120HZ REFRESH RATE– On-screen motion...
TRILUMINOS PRO – Reproduces more colors than a conventional TV...
GOOGLE TV – Seamlessly browse 700,000+ movies and TV episodes...
4K X-REALITY PRO – Our unique 4K database upscales all the HD...
Although this is the smallest TV on my list, the 43-inch screen size in the Sony X85J, the 4k UHD resolution, and the 120Hz refresh rate make it an ideal choice for sports enthusiasts, movie buffs, and gamers. Furthermore, the 4K X-Reality Pro is excellent at upscaling HD content to bring out vivid details and textures. In addition, this smart TV has Motionflow XR and Triluminos Pro technologies for smoothing motion and reproducing a wide color gamut for my viewing pleasure.
This panel's contrast is exceptional despite the lack of local dimming zones. Hence, the bright sections leak into the blacks, while the grayscale lacks proper definition between different shades. In addition, the viewing angles could be better, so I do not have free range on where to sit when enjoying media content on the smart TV.
Image Source: homemediaEnt
Key Specifications
Ports: 4HDMI inputs divided equally for 2.0 and 2.1, 2 USB slots for 3.0 and 2.0, digital and analog audio outputs, composite, IR, Ethernet, and Tuner.
Display Technology: LCD VA panel with direct-lit LED.
Peak Brightness: A little over 500 nits.
Is 4K Resolution At 120Hz For A TV Worth It?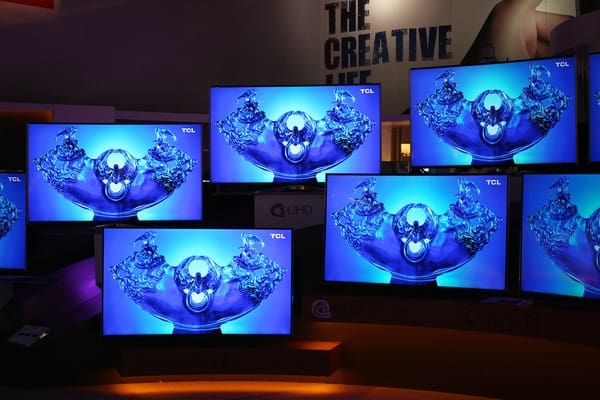 Image Source: Flickr.com
Although 120hz 4K TVs represent the current top tier in consuming media at home, there are other features to consider before buying one. In addition, whether I plan on playing games or streaming video content, my choice should fit my use and offer versatility. Plus, I need it to be bright enough for my living room or bedroom, regardless of the usual lighting conditions.
Buying 120Hz 4K TVs ensures I can consume what the future of entertainment offers. Moreover, I can take advantage of these specs through modern games and streaming services with a new TV so that I do not need an upgrade soon. But, since most modern TVs are pretty pricey, I can rely on quality budget models for futureproofing.
Display technologies are crucial to determining whether I'll get wide viewing angles, deep blacks, and sufficient brightness on my panel. OLED tech is at the echelon of picture quality, but their price tags are often prohibitive. Fortunately, many manufacturers are going around the cost issue by combining LCD panels with either mini LEDs or other technologies.
Plus, we can advise I on where to position your TV for the ultimate viewing pleasure. Hence, I can get an affordable TV that is surprisingly close to the image richness of OLEDs. After all, I should not have to move to see the images better when I am chilling in my power recliner at the side and getting a warm massage.
Finally, comb through reviews when shopping for a TV, as user feedback can help me determine my option's suitability. Whether gaming, cinema, or using the panel as a PC monitor, some choices may be better at some things and poor at others. So, unless I can stretch deep into my pocket for an OLED, take time to understand what I am in for before the purchase.
Things I looked for When Choosing the Best, Affordable 4k TV List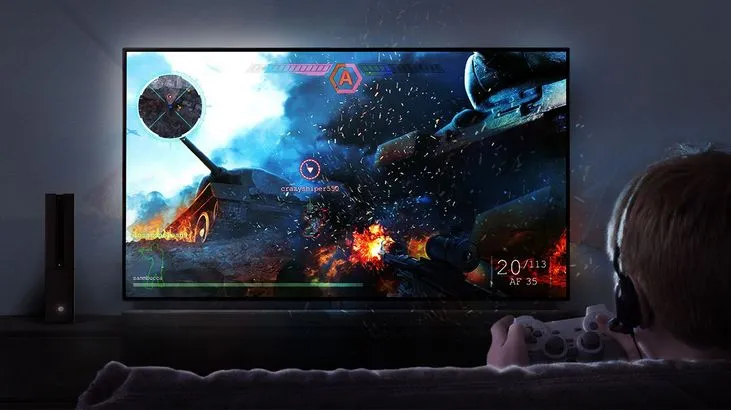 Image Source: gamengadgets.com
a) Screen Size
I chose my screen size depending on my space. Since a good gaming tv gives a better experience with a large screen, that is what I go for every time I am making an upgrade. An everyday tv may look a bit much if it is too, and this is why it is better to have a home cinema with a large screen. One of the best garage remodeling ideas is to turn it into a home cinema and gaming room.
b) Refresh Rate
The refresh rate is how often an image will refresh on the screen. Suppose the screen can support variable refresh rate technology, the better. Budget TVs can have around 60hz (where "Hz" means per second). Higher-end TVs have up to 120hz, which gives them an incredibly low input lag. Gaming TVs are better with a higher refresh rate since many motions and real-time reactions are required.
c) Resolution
the display technology on any screen is determined largely by its resolution. The TV will have more pixel rows and columns if the answer is higher. For instance, if you have seen 720p or 1920×1080 somewhere, it stands for a screen's number of pixels. The resolution technology has advanced; some screens have a resolution of up to 4k, and 8k has started getting into the market.
d) Inputs and Outputs
My TV inputs include HDMI inputs, USB, VGA, and more. Outputs on a screen can consist of the audio jack output. Some screens have up to 4 HDMI 2.1 ports, which maximizes the number of devices I can connect to the TV.
e) HDR
The high dynamic range on the screen gives you a better visual experience when using the screen. The dark scenes need to be darker, and the bright scenes bright enough. An auto HDR tone mapping will appropriately distribute bright highlights and dark tones on the screen.
A high HDR is great for competitive gaming because I can enjoy an immersive gaming experience, especially for open-world games.
f) Smart TV
A smart TV is upgradeable and easy to use because of the many apps I can download on it. The latest tv tech allows for upgrades, including audio upgrades, making the screen better for futureproofing. A system and software upgrade will enable me to include later versions of gaming consoles.
g) Price Range
Better screens are in the higher price range. However, the screens are worth it in the longer run. There are more options I can enjoy with a higher-end screen that lower-end screens can not reasonably afford me.
h) Other Accessories
My screen is compatible with accessories like wireless devices, casting devices, WiFi, TV stick, and more. It is more convenient when the screen can perform more than just showing videos and images.
i) TV Warranty and Return/Repair Policy
There are moments when I make a purchase and almost instantly have buyer's remorse. At such moments, having a product that has a good return policy makes me panic less. A good warranty gives me faith in the product I am buying as one that is original and quality. Quality of repair should guarantee me the right to repair for a given period.
Frequently Asked Questions about the Cheapest 120hz 4k TV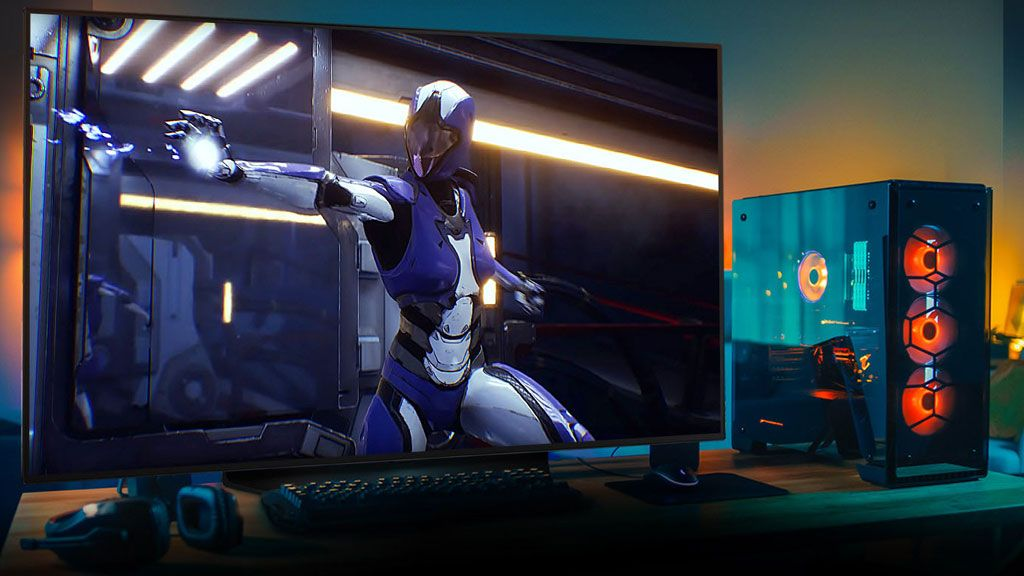 Image Source: pcgamer.com
i) Is a 4k 120Hz TV worth it?
If you are not a gamer, there is no need to get a 4k TV. Watching movies means a lot to my family and me, so I like making the best of the moments by getting the best screen. Therefore, a 4k TV is worth it for me.
ii) Are 120Hz TVs 120Hz?
Some TVs have a "fake" refresh rate, meaning the refresh rate is lower, and they only simulate the stated refresh rate. So, a TV can be 60 fps and simulates 120 fps. Buying TVs from a trusted store helps me avoid such mishaps.
iii) Is 4k 120Hz enough for gaming?
A resolution of 4k and a 120 Hz refresh rate is currently the epitome of most TV screens. I have enjoyed gaming at lower resolutions and take any chance to go higher to get incredible picture quality. Higher image quality allows you to max out all your gaming settings, and I recommend a 4k tv.
iv) Do I need 4k to run 120hz?
Any screen above 1080p should be able to run 120hz.
Final Thoughts
Gaming is getting better and more intuitive, and the best way to enjoy gaming is to get more immersed with better screens. For this reason, I go for a futureproof screen each time I upgrade, and this time, the best choice for me is a 4k, 120hz tv.