Maple is one of the most popular hardwoods in the US and it's mostly used for quality flooring, veneer sheet, furniture, and plywood. In terms of appearance, it comes in a great dark brown look that gives great results after finishing. The wood has a unique look that blends its beautiful color with the glamorous and smooth grain.
It's not rot-resistant meaning it is only suitable for indoor construction. Luckily, this maple wood can be used in most interior designs ranging from traditional to contemporary modern styles. In addition, maple wood has a significant amount of reflectivity which can be used to optimize daylight, particularly for dark and small rooms.
Image Credit: cabinetdiy.com
However, combining maple flooring with other colors is not the easiest job. This is mainly because maple wood can come in multiple tones, colors, and hues in one piece of wood. Therefore, it can be challenging to find your perfect match to complement this flooring, mainly for other large elements in a room such as walls.
So, if you have faced the challenge of finding the best colors that go with maple wood, this article will give you some color ideas that can blend well with maple wood.
What Are the Colors That Go with Maple Wood?
1. White
Since white is a popular universal option for most home improvement projects involving colors, it is the first one. White automatically brightens any room and also helps an area look larger than it is.
If you are after an interior style that leans more towards the modern or minimalist such as modern Scandinavian, mid-century modern, or contemporary, then combining white walls with maple wooden floors will create a great natural base for an amazing room.
Image Credit: home-designing.com
The subdued sleek look of maple wood flooring will perfectly blend with the crispy white wall to create an eye-catching view. When you use white countertops and walls in your room, they can also make the maple wood flooring stand out and give a smooth and glamorous look.
2. Terracotta
If you are into dark oranges and are unsure if they fit in modern kitchens, this is your answer. The terracotta color creates a strong and enduring association with ethnic motives and maple wood cabinets will look great against the terracotta background.
Image Credit: pinterest.com
To make this color palette work well, add ceramics, brass kitchen accessories, a rattan chair, or a wicker lampshade. This will attain a cohesive and balanced interior design for your kitchen.
3. Black
For a sophisticated yet daring look, you can never go wrong with black and maple kitchen cabinets. With natural maple cabinets and the right hue of black, it will qualify as one of the best colors that go with maple wood.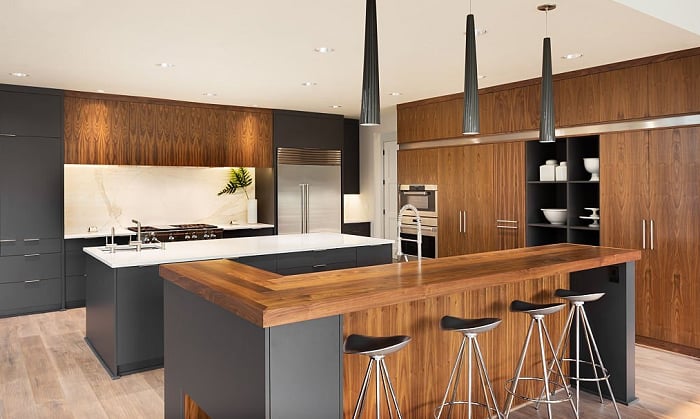 Image Credit: upgradedhome.com
Ensure you have the perfect stain on your maple cabinets, the proper finish, and the appropriate stone on your countertop to create a classical or woodsy design. If you have dark maple cabinets and want to use a black backsplash but keep in mind how dark the two would make the room look. Therefore, opt to use better lighting in your kitchen.
4. Dark Blue
Although most wall paint colors people use are lighter shades, even the darker shades would go with maple cabinets well. For instance, in this kitchen, a dark blue color scheme created a unique aristocratic yet rich contrast with warm and light maple tones of wood.
Image Credit: hackrea.com
This dark color scheme on your walls is one of the best ways to create a cozy kitchen that will still be elegant. Both the warm and cold tones can be combined perfectly in a kitchen with maple cabinets and create a modern kitchen.
5. Light Blue
The warm honey tones of maple furniture contrast beautifully with a soft, calming color like light blue for cool spring water. It perfectly highlights the laconicism and balance of modern kitchens and it's among the best colors that go with maple cabinets.
Image Credit: hackrea.com
Enjoy a natural and fashionable symphony of tones by adding white or gray accents, if you prefer minimalism or kitchenware and accessories in bronze and copper colors.
6. Light Beige Granite
With maple kitchen cabinets, light beige granite countertops can be a bit of a gamble, but they can still look good if you make sure to highlight the rosy undertones of deeper maple washes. The issue with beige is that the wrong shade can make your kitchen appear blatantly red. Right, it's strange.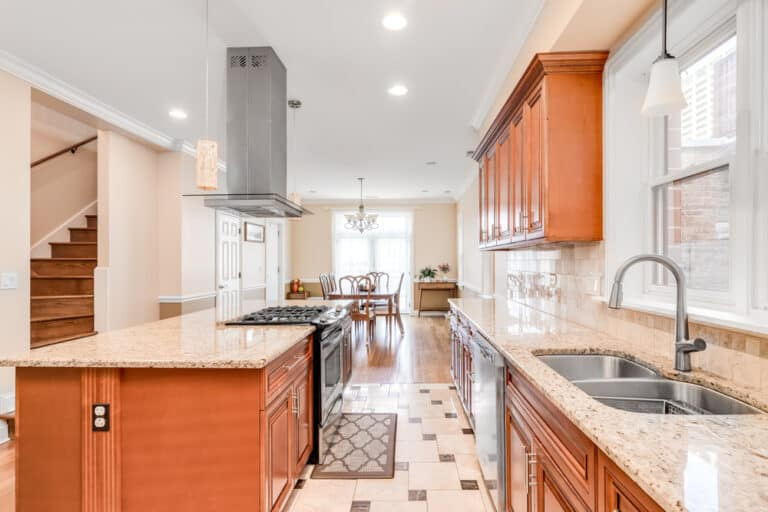 Image Credit: upgradedhome.com
Ensure that the beige you choose is a real neutral in order to achieve the best outcome. It cannot, therefore, lean too heavily toward yellow or red and it should resemble sand. Since you have more control over the color, a concrete countertop may be preferable in some instances.
7. Gray
If you want to reduce the creamy hue of maple wood and make a room feel more neutral and contemporary, gray is a fantastic color to choose. Use light gray tones to design a modern space that is spacious and airy or deeper gray tones to design a dramatic space.
With mid to dark gray cabinetry and maple wood countertops, it will give a modern farmhouse kitchen that will look stunning. Choose white marble tile backsplash and floor to contrast with the gray and uphold the modern look.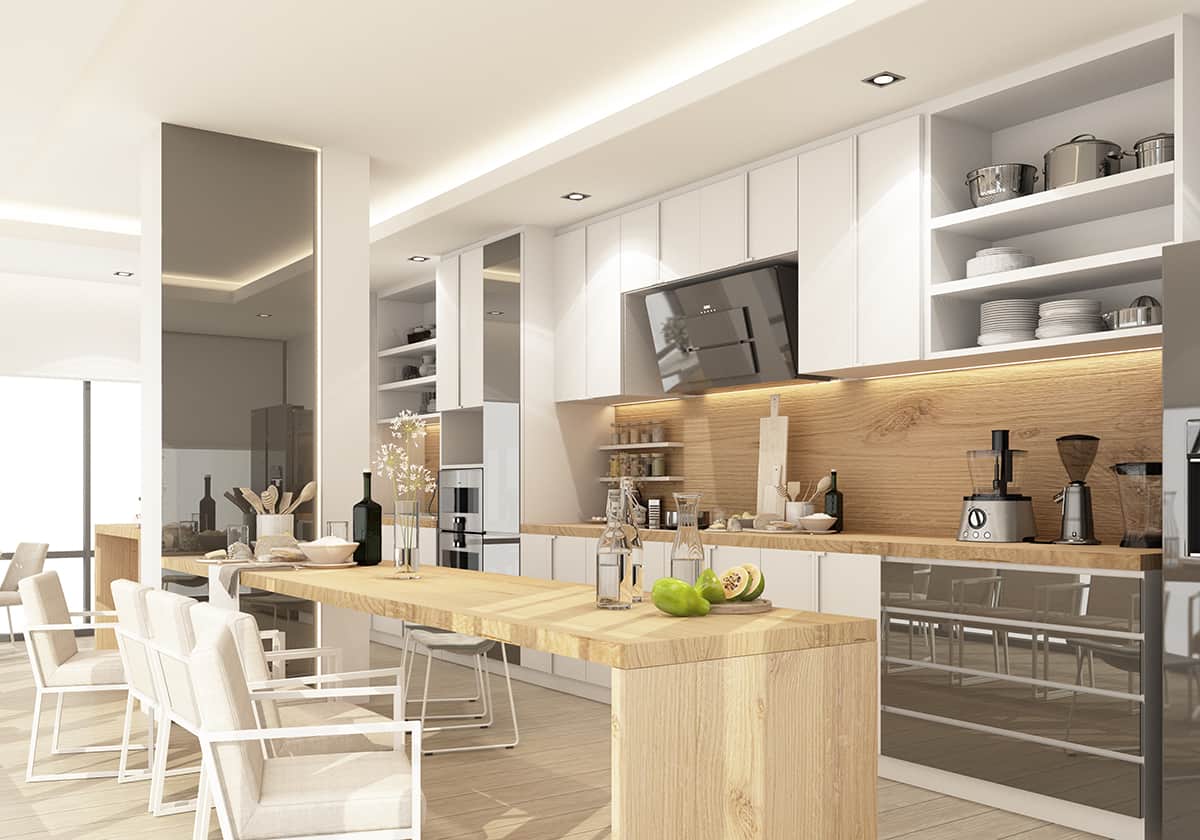 Image Credit: homenish.com
Choose pure white bed linen and paint the walls a gentle shade of mild gray in a bedroom with maple wood flooring to go along with a faux fur gray rug at the foot of the bed. Due to the warmth of the maple wood's creamy tones and the chilly feeling given off by the gray colors, this color scheme will feel both welcoming and fresh.
8. Sage Green
Sage green is a subdued shade of green that is earthy and slightly dark. The contrast will be subtle because of the muted tones in both colors, but it will be there next to maple wood which has red tones.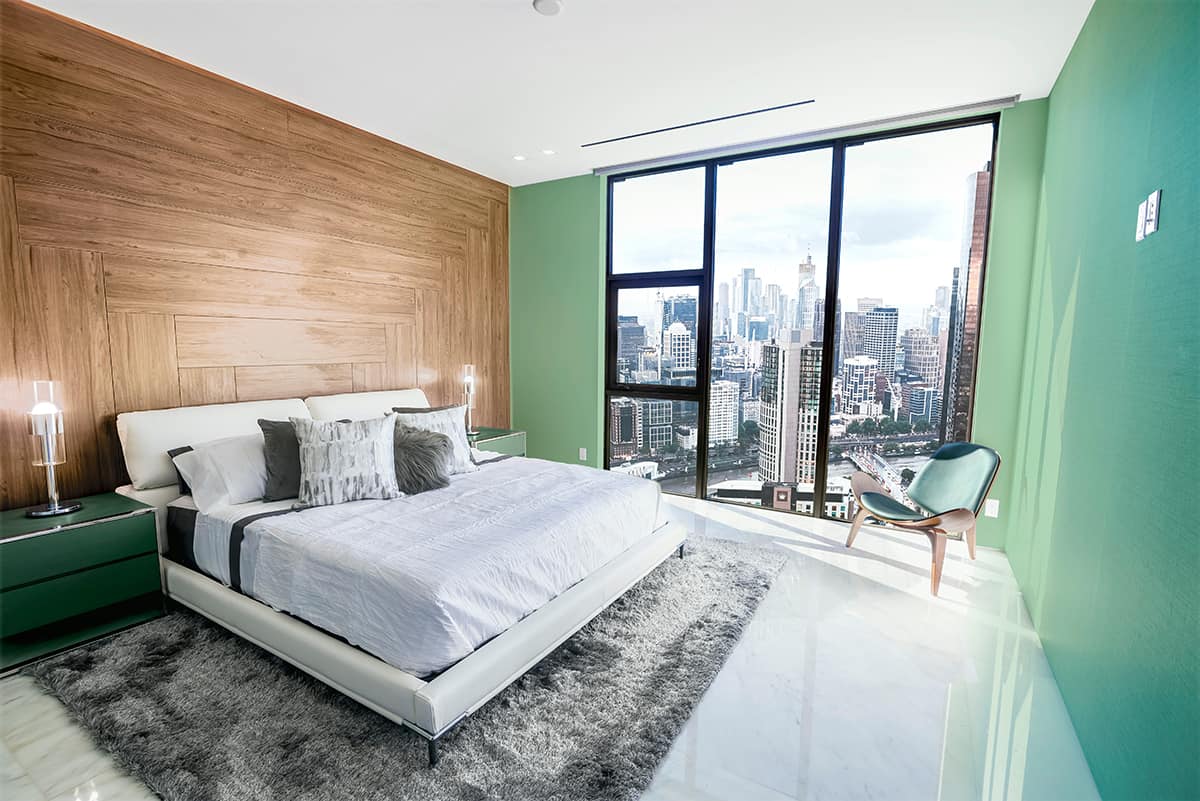 Image Credit: homenish.com
Sage green walls and a maple dining table and chair set should be included in the dining room. To create an analogous color scheme, you might use yellow curtains and accents, or you could go with blue curtains for a calming effect.
9. Pastel Pink
Since maple cabinets are a bit dark, bright colors like pastel colors will give your space a natural beauty. The space will feel even more modern thanks to the addition of a softly cold and warmly light pink that will emphasize the same reflections in the vague color of the maple wood.
Image Credit: pinterest.com
Interior designers suggest harmonizing the combining your maple furniture and the pastel pink background by going as far as they can into a cold-toned color palette.
How to Choose the Right Colors to Go With Maple Wood
Image Credit: pipsisland.com
Choosing the best interior style for your space will need you to know the best colors that will go with maple cabinets. In the past few years, modern and sleek styles have become more popular like Scandinavian, minimalism, and the midcentury style.
However, recently there has been a rise in eclectic and maximalist designs where there are elements like rich textures, bright colors, and vintage-style wallpapers.
When choosing the best colors that go with maple cabinets, there are several things you should consider. They include:
1. Check the Undertone of your Maple Wood
The overall color palette of maple wood starts from rich and dark reddish or bluish browns to brighter yellow tints or muted oranges. When you learn the wood's undertone, you can be able to best choose the color scheme that will work best with maple wood. In addition, when choosing the base color, keep in mind the dominant color in the built-ins, trim, and wood fixtures.
2. Your Personality and Style
For interior designers, color schemes are subtle ways of expressing your style and so you should match your color schemes with maple cabinets that compliment your style better. Ensure you start with a nice contrast like pairing your maple cabinets with something dark.
However, if you prefer light-colored walls, add some color to your rugs, accessories, and furnishings. Ensure all the colors, especially the stronger ones are sharp and you also get smooth lines. Notably, if you prefer a more modest style, you should consider working with neutral colors and shades.
3. Contrast
Contrast is among the critical things to consider in interior design and it gives a space great life, movement, depth, and drama. In order to create contrast, you can combine light and dark elements or employ both sharp and rounded curves.
Utilizing a combination of light and dark hues is one of the simplest ways to add contrast to your space. For instance, honey maple cabinets are light in color, so selecting a darker granite will help separate your room.
The spaces that have less contrast are usually modern like minimalism or Scandinavian while areas with more contrast will appear as more bohemian or eclectic.
4. Pattern
When it comes to wood and granite, the pattern is essential. Grain and veining are terms used to describe the natural patterns found in granite and wood, respectively.
Each variety of wood has a distinctive texture. Although the grain of maple is one of the most difficult to categorize, it is often thought of as straight and fine. The wood frequently has knots, although the grain is not particularly complex.
Conclusion on Colors That Go with Maple Wood
Image Credit: thespruce.com
When choosing wall colors that complement maple wood, there is no one-size-fits-all solution. Everything relies on the style of your space, your kitchen appliances, the mood you want to create, and most significantly, your preferences. Nevertheless, when choosing the paint colors to go with maple cabinets, remember that they are a personal choice.
Featured Image Credit: pinterest.com