Artwork is a great way to add more visual interest to your home decor. It should be positioned in such a way, inside your home, that it will become the center of attention. When you invest money into any popular artist's work, you certainly do not want to hide it in the cellar.
Yet sometimes, it can be tricky to integrate them the right way into our environment. Let's get into tips on how to display artwork at home to ensure you hang them correctly.
How to Display Artwork at Home
1. Look for the Focal Point in the Room
If you want to find a position that will make the artwork stand out; you need to look for the focal point in the room. Different elements can create it; natural light can be an important factor.
Image source: homebeautiful.com
If a wall never gets any sunshine, you need to avoid it. The position could also be at the entry door to the room. If the artwork is right in front of you, you are bound to notice it and appreciate its beauty as you walk in. Take the time to find that focal point before you position your work of art. 
2. Adapt the Colors of the Room to the Painting
If you want the room to look natural and to provide a peaceful sensation, you need to worry about the colors found in it, as well as the ones that will be found on the painting that you will place on one of its walls.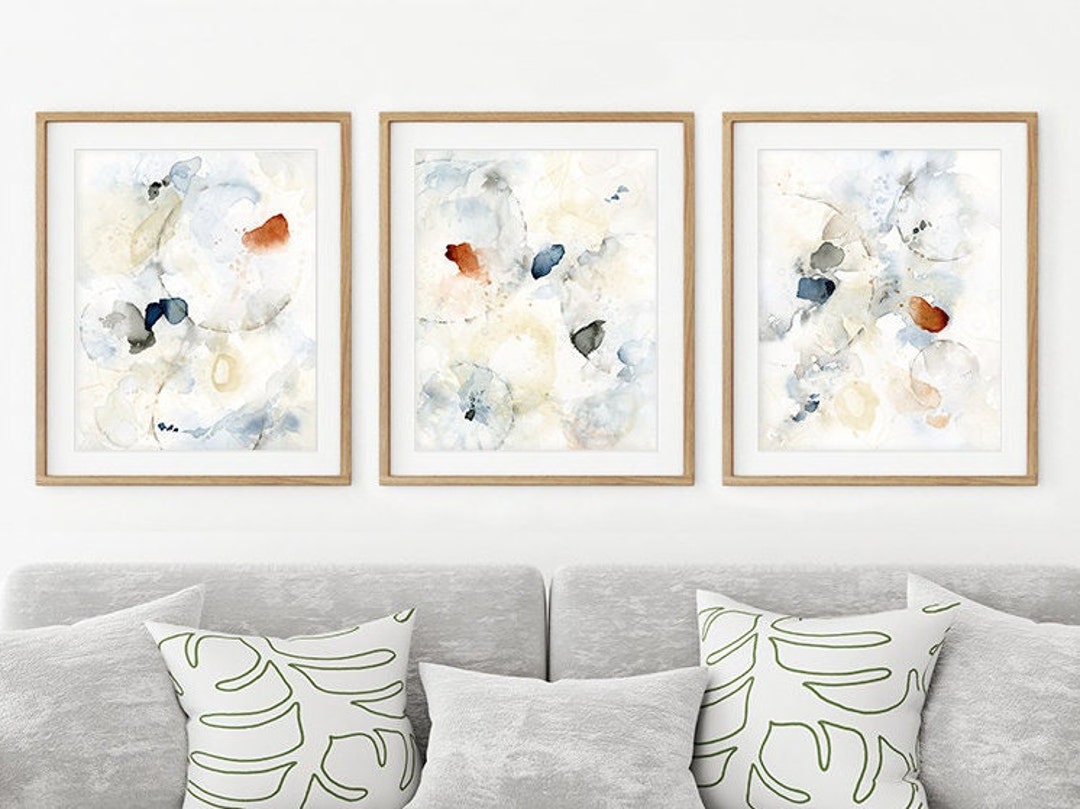 Image source: etsy.com
If you don't want to repaint and/or redecorate the room, you can discover the paintings online store that will help you find the one adapted to the environment without changing anything. A wrong mix of colors can destroy a room's aspect and remove the painting's power.
3. Creating a Grid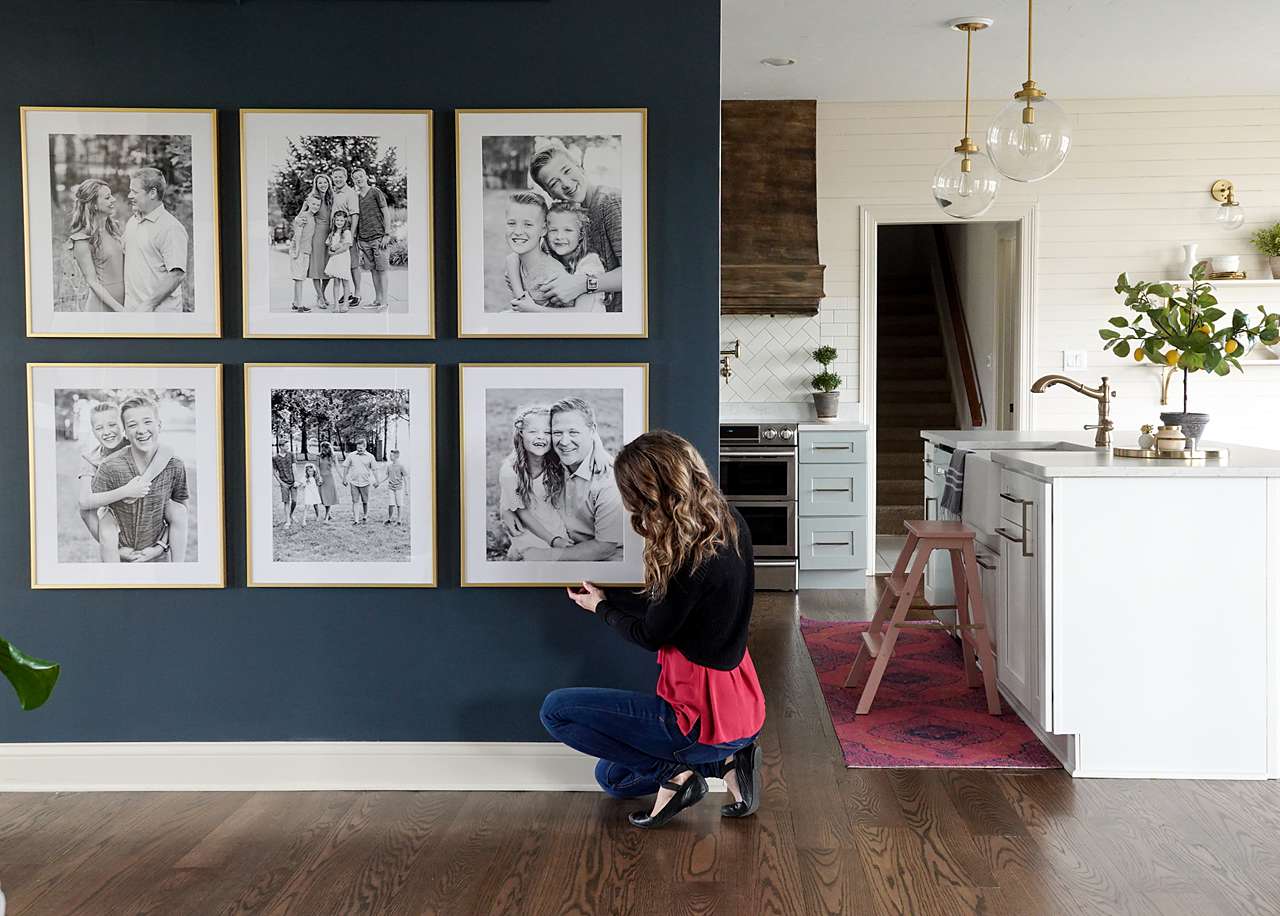 Image source: frameiteasy.com
Creating a grid with a collection of artwork creates the feeling of a single piece of art. Although you can use different pieces, if you have a large blank space, the effect can create a unique way of displaying artwork at home. You can use this style to hang pieces of art in the entryway, above the sofa, or bed frame.
4. Create a Mini Museum 
Image source: jacquelinerooney.com
One of the best ways to provide the right visibility to works of art is to buy a few pieces from one artist and display them all in one single room. It creates the sensation of walking into a small museum. This way, you are sure that people will get interested in the works and ask you questions about them and the artist that painted them. 
5. Use Odd Numbers
You can learn the rule of threes for your home decorating projects. Odd numbers appeal more to the eyes and are a good technique for hanging items.
Image source: moonshineprints.com
Arranging your prized paintings symmetrically, using an ordered approach, or even going for an asymmetrical arrangement works well with wall hangings.
6. Use Your Office for Valuable Pieces
Image source: thespruce.com
If you work from home or have an office there, you should devote the focal space to a work of art of high value. The goal is for people visiting you to correlate the importance of the work of art on your wall to the high value of the work you do. It enhances your quality and provides a sense of trust immediately to the person that will take a seat in front of you.
7. Use a Small Room for a Large Work of Art
There is nothing more impressive than walking into a small room and finding yourself in front of an artwork that takes up a large part of one of the walls.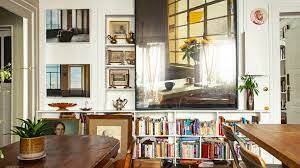 Image credits: architecturaldigest.com
It changes the space completely, making the work of art the owner of the room and anyone walking in the intruder. That is the best way to let a work of art show all the power of the sentiments inserted into it by the artist who created it.
8. A Stair Step Gallery
A stair-step gallery is a little more challenging to measure and hang. However, like entry wall decor ideas, it helps fill the stairwell space. A stair-step gallery also ensures that the arrangement does not feel too angular while keeping the space occupied.
Image credits: homestratosphere.com
9. Use Assorted Frames
Another amazing way of displaying art on your wall is using assorted frames. You can get great frames from your local salvage store and then paint them with a coordinating color scheme.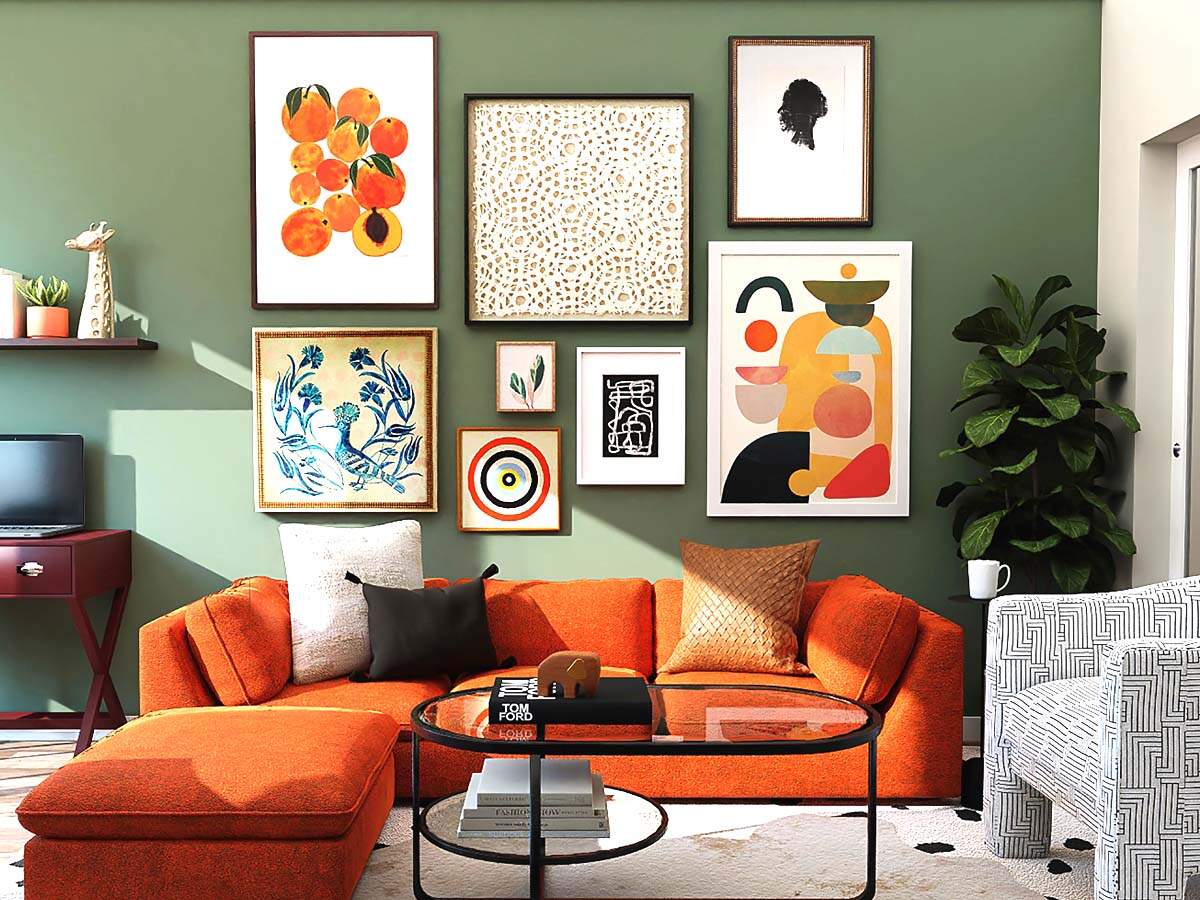 Image source: timesofindia.com
Using assorted frames gives your artwork a look that they have been gathered over time. You can keep a white background or any other neutral color to unify the colorful mix of the different prints.
10. Hang Large Original Paintings Independently
Large original paintings can always be hung alone. If you have one, or a metal print or even canvas, you can hang it by itself, which can be the room's centerpiece.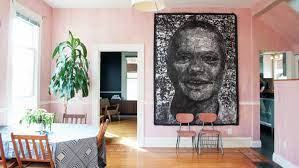 Image source: apartmentherapy.com
You will probably get one already stretched over a wood frame and wired, making them ready to hang. You can get an already framed artwork to hang on a large blank wall to make it the focus of that room.
11. Arrange in Pairs
Pairing artwork on walls also creates a simple and harmonious gallery wall. When hanging art in pairs, ensure they complement each other and share characteristics.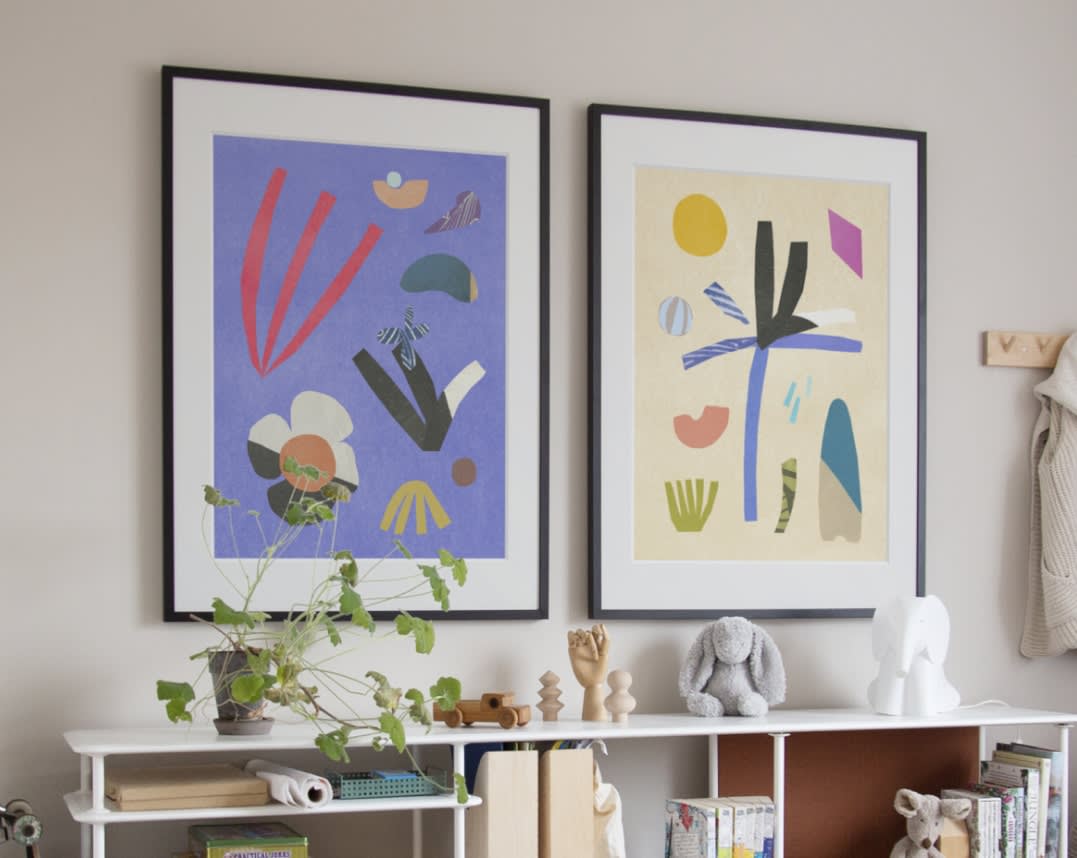 Image source: minted.com
You can display your favorites from the same artist in this manner. You can as well do it with pieces of art from different artists that complement each other. The display will look even more beautiful if you use similar frames for uniformity.
12. Hang Smaller Pics on Shelves
Hanging your pieces of art on shelves, or picture ledges, on your walls is a perfect way to display artwork with a relaxed and casual feel to it. You can accent the room with a certain drawing, colorful prints, or fine art. You can also use it as an opportunity to create a gallery wall.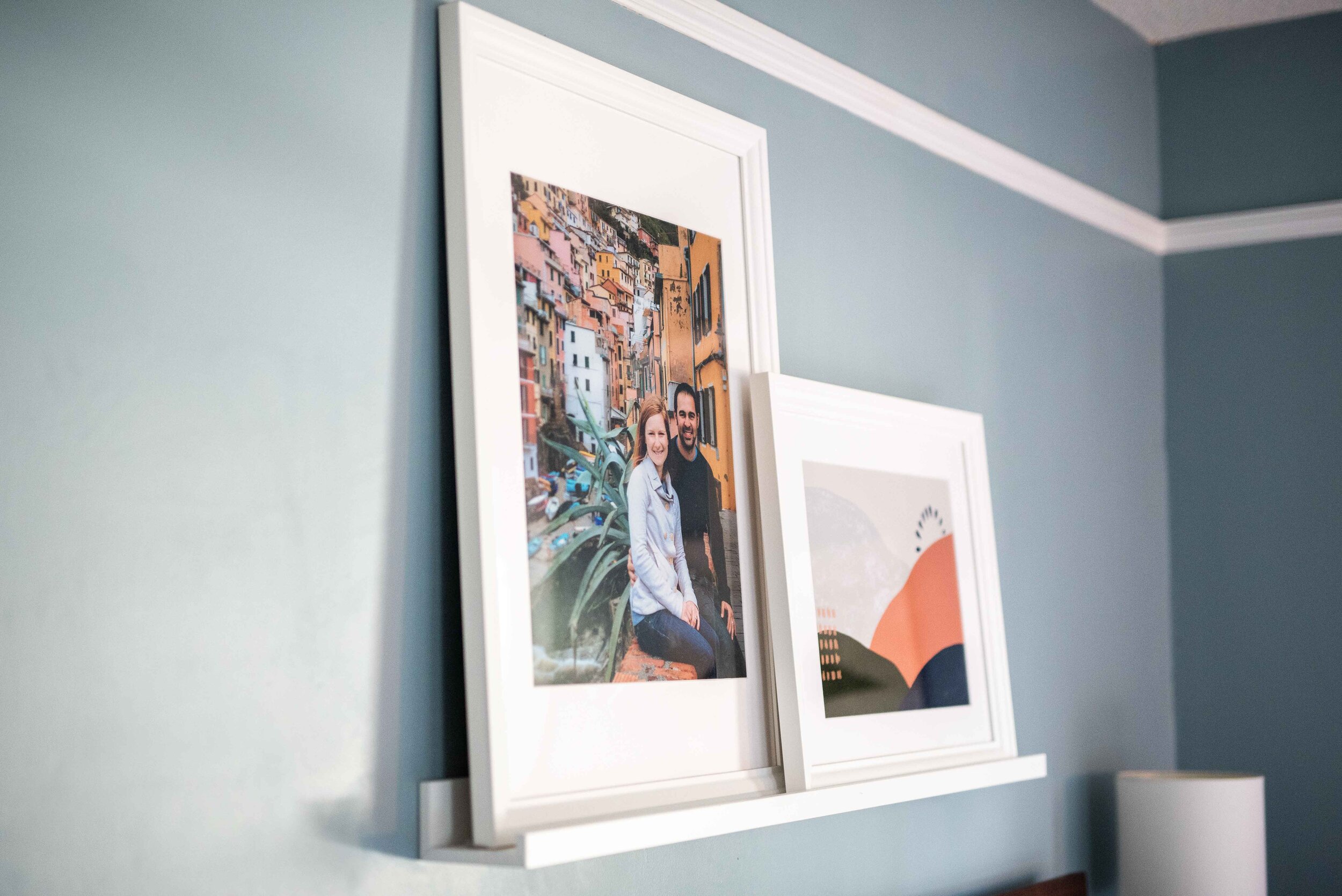 Image source: kellymcphail.com
Another style is by using a floating shelve or a floating picture ledge and using the same shelves to display other possessions like collectibles and even books. Another way is by overlapping the artwork by placing a smaller piece in front of a bigger one to create a collaged look.
13. Mix and Match
If you don't mind having a less sophisticated display of art on your walls, you could mix and match your pieces but ensure they have an underlying unity. You can arrange artworks by different artists and eras but maintain uniformity in their color scheme.
Image source: thetimes.com
If you are wondering how to go about it, you can start with the frames. You don't have to use only black frames, instead, try using frames of different shapes and colors to break monotony.
Frequently Asked Questions on How to Display Artwork at Home
1. How should artwork be displayed?
There are endless ways to display art at home. These ways include;
Placing an oversized mural in a small room

Mix and match pieces of art

Arrange artwork in pairs

Use odd-numbered pairings to hang artwork
2. How can I display my artwork without hanging it?
Did you know that you can display your artwork even without hanging it? You can display them;
On the floor, this is ideal for large and tall framed art pieces

On the shelves, if they are small and framed

On sideboards and consoles

On window sills and mantles
3. How do you display art in a small room?
One way to hang art in a small room is to work vertically or display the art above eye level, as it gives the illusion of space. This usually works well with higher and vertical places in the homes, like above the door frames and between windows.
4. What rule of thumb is used when hanging pictures?
Generally, when hanging art, the midpoint should be between 57 inches and 60 inches from the floor. Use the lower range if most of your family members are short. If your room has a ceiling higher than 8 feet, you can hang the artwork a little higher than 60 inches above the floor.
5. How can I stick paintings to the wall without causing damage?
You can use a special sticky tape applied to the wall, which would stick to the back of the frame. It is a cleaver way and avoids causing damage to the wall, like nails. If you are a homeowner who likes to rearrange things and redecorate often, tape may be your best option.
6. What are the methods of preparing artwork for display?
When preparing artwork for display, ensure you do the following;
i) Fixing
Fixing is the application of a transparent coat over the art. It is done using a substance called a fixative and is done to preserve pencil charcoal, pastel, and poster color works. Fixing gives protection to the piece of artwork and prevents smudging.
ii) Paper Stretching
Paper stretching is mainly done for paper works. It means gumming to a board. You can use colored cardboard sheets as they are affordable mounts.
iii) Framing
It involves selecting what goes in the frame and what remains out. Framing helps in directing your viewer's attention to the subject in question. In addition, it adds context to your image and helps the viewer get a better perspective of the view.
iv) Labeling
Once you're done framing, you need to label your work. Labels describe an artwork.