Most people, if not all, have unique style preferences when decorating, accessorizing, and furnishing their homes. But do you know what your interior design style is? How can you bring those preferences into a cohesive style? Taking an interior design style quiz is not only a fun distraction but can also provide insight into the interior design styles that appeal to you.
7 Interior Design Style Quiz
1. Houzz Quiz
Houzz is an excellent site for design ideas and real-life home renovations, so it's no surprise they have a good style quiz. The questions are fun, and you will enjoy answering them.
Image Source: houzz.com
You're mistaken if you think your favorite restaurant, pet, or drink doesn't have anything to do with your home design style. This Houzz quiz differs from the others in that you are asked multiple-option questions that do not appear to have much to do with home design. This gives you a new perspective on how your home design style can work.
My favorite quiz has to be about my ideal pet.
2. Decorist Style Quiz
Do you want an online professional interior designer to go over your home? Use this short quiz to find a mate. This Decorist quiz has only five simple questions and requires you to provide your email address at the end to receive your results. The questions will help you determine which style works best for you.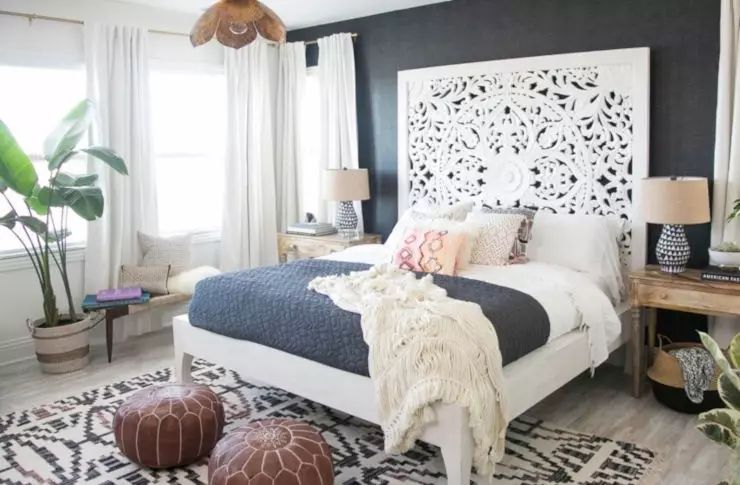 Image Source: decorist.com
After answering the five questions, the Decorist Style Quiz said I was Modern since I love an uncluttered space and the clean approach of modernist aesthetics. Surprisingly, that is true.
3. Designer Society of America Quiz
The Designer Society of America has created this interior design style quiz; therefore, you can trust that these experts are on the leading edge of interior design. The quiz will show you pictures of furniture, artwork, and rooms to help determine your style.
Image Source: dsasociety.org
To complete the quiz, look at images of furniture and variously designed rooms before picking your favorites. Before determining which design is perfect, select your favorite tables, kitchen, sofa, wood floors, and area rug.
They correctly guessed my style as Coastal Chic. They also recommended design magazines and shopping locations for me.
4. Apartment Therapy
This quiz is quite easy to answer; you only need a pen and paper, then take a look at each interior image. First, choose your favorite design style (as soon as possible – no overthinking), then write down your preferences.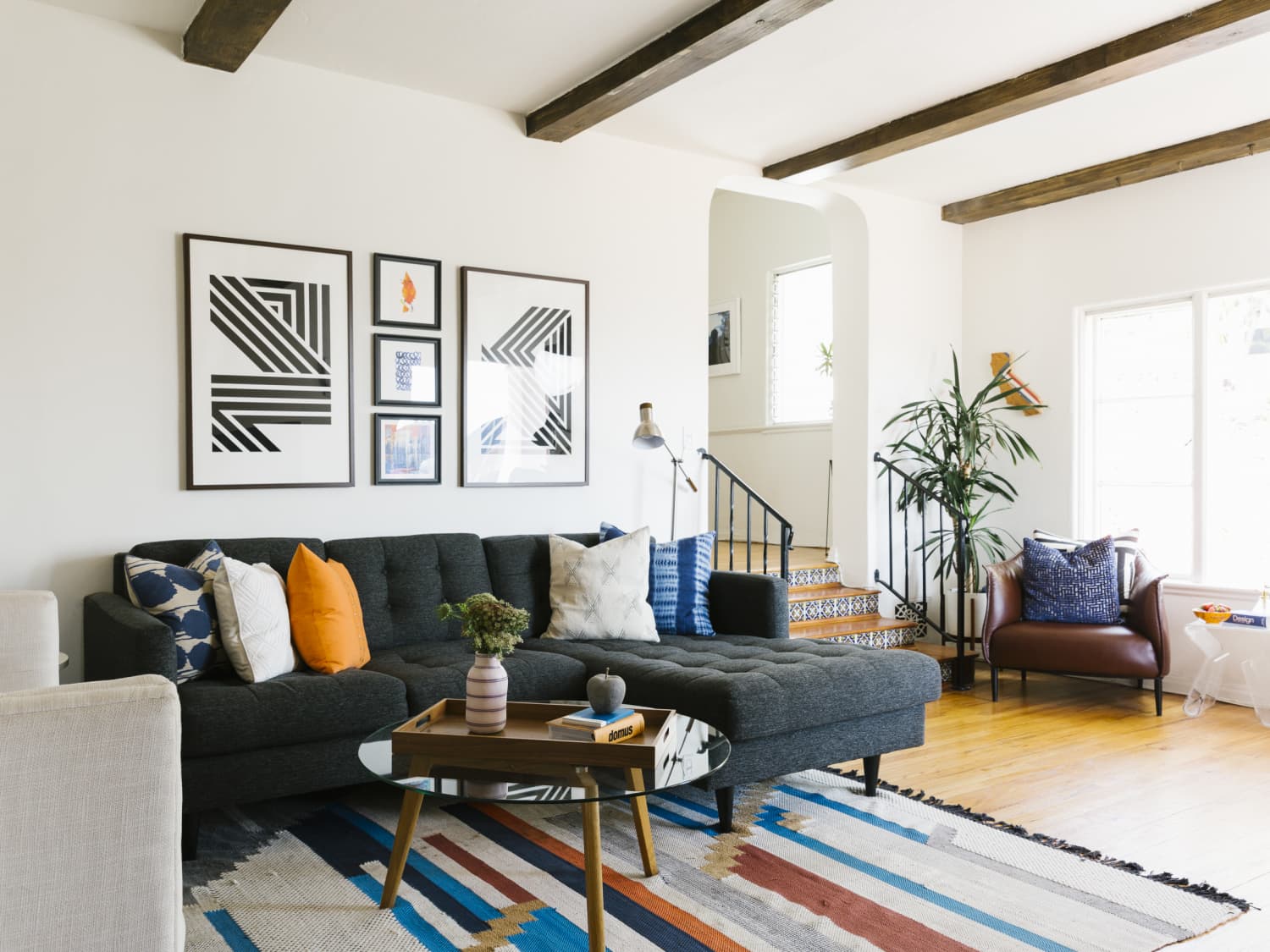 Image Source: apartmenttherapy.com
Depending on your style preferences, you will find that your style is either Warm Industrial, Happy Modern, Eclectic Collector, or Classic Glam. Besides, this Apartment Therapy quiz provides great tips on where and how to shop to achieve your favorite style.
5. Havenly Style Quiz
Havenly has a great design style quiz where you can choose the different pictures of rooms that appeal to you. When you take the quiz, you will have to give your name and email address; the good thing is you can unsubscribe if need be.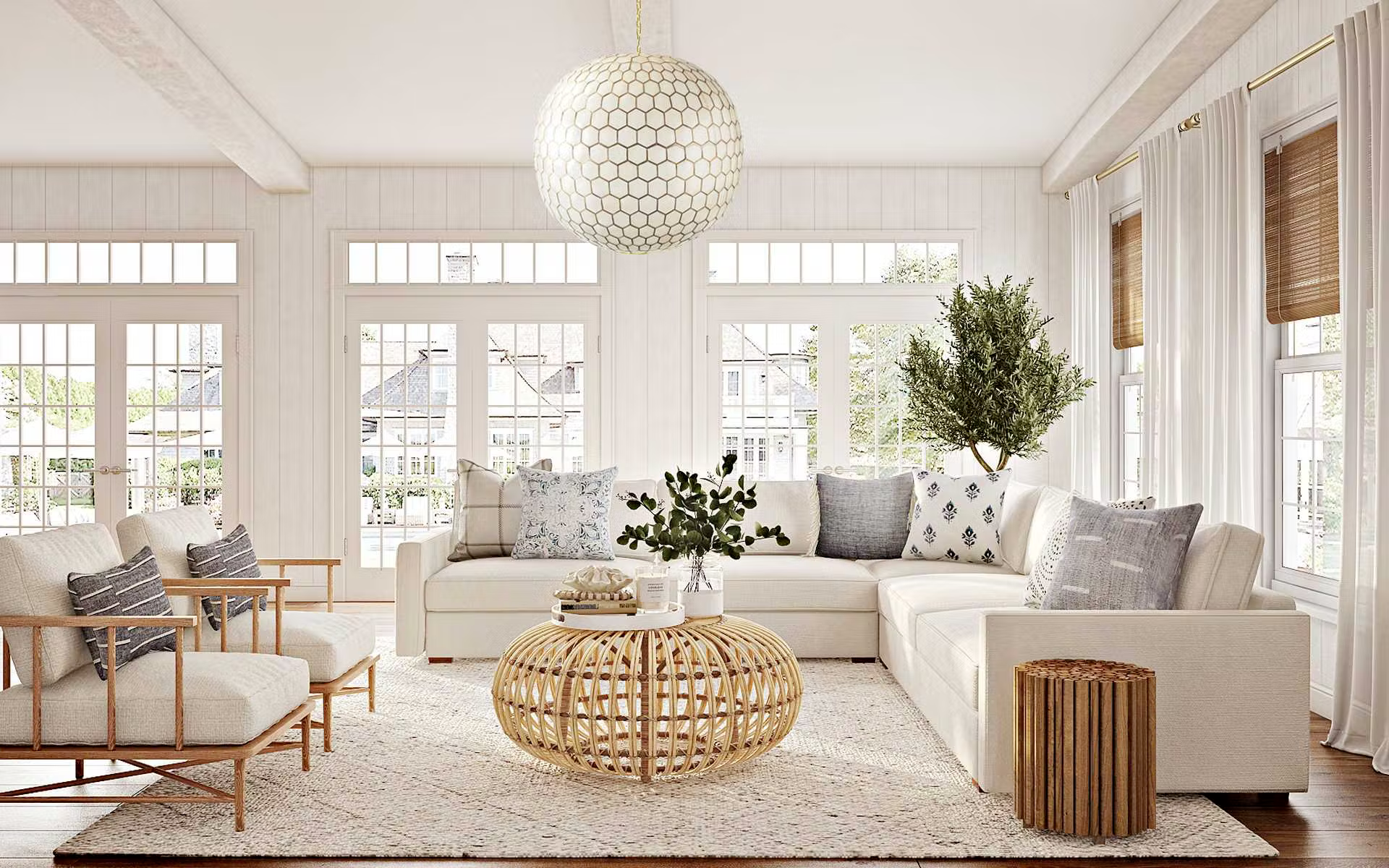 Image Source: havenly.com
I must say that their results were extremely close to my general style preferences. According to the results, I am mostly Farmhouse, with Coastal Classic and Bohemian substyles. Besides, I like that they identified my substyles because I have a few.
6. Buzzfeed Style Quiz
Buzzfeed has a visually appealing home design quiz to try. Choose your must-have things from an interior wish list to determine your interior design style.
Image Source: buzzfeed.com
Take the quiz to determine your style. The results will be either Industrial, Eclectic, Farmhouse, or Shabby Chic aesthetic. You can use Buzzfeed's convenient sharing features to email your results to a friend.
7. Lonny Style Quiz
What are your favorite interior designs? A neutral color scheme or a houseplant jungle? Clean lines or Vintage treasures? The Lonny style quiz offers diverse questions to help you determine how to decorate your dream house.
Image Source: lonny.com
I was especially taken by the all-important and very divisive topic, "What are your thoughts on wicker?"
Types of Interior Design Styles 
1. Modern Home Interior Design Style
Image Source: cgifurniture.com
Modern design style has the minimal decorating style of the early 20th century. Besides, modern design's definite lines reflect a focus on functionality and an appreciation for the craftsmanship that goes into furniture design.
2. Mid-Century Modern Home Interior Design Style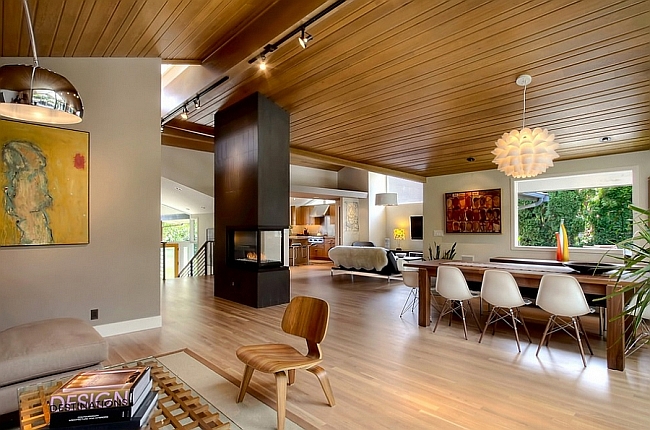 Image Source: decoist.com
Mid-century design style, like modern, adheres to clean lines and minimal decoration. However, this design has more than one style, with curved furniture and brighter fabric options. The decoration is more energetic but restrained in glass, wood, and plastic pieces.
3. Contemporary Home Interior Design Style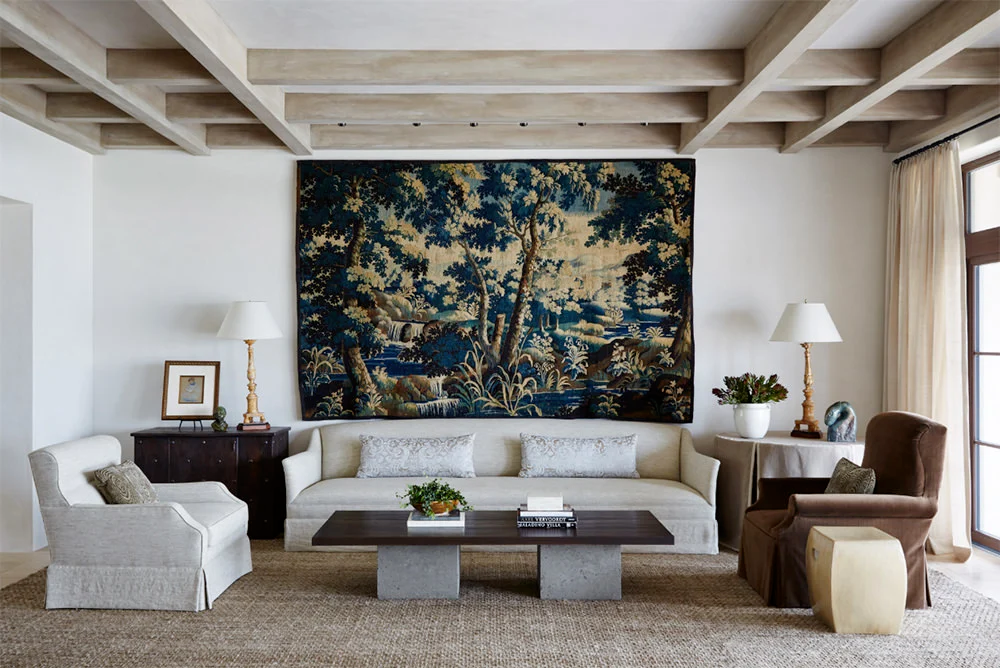 Image Source: homestratosphere.com
The contemporary design style is everything new. The contemporary aesthetic is defined by clear lines and an exploration of form and materials. Along with sculptural furniture, lighting design plays an important role in contemporary design.
4. Glamour Design Style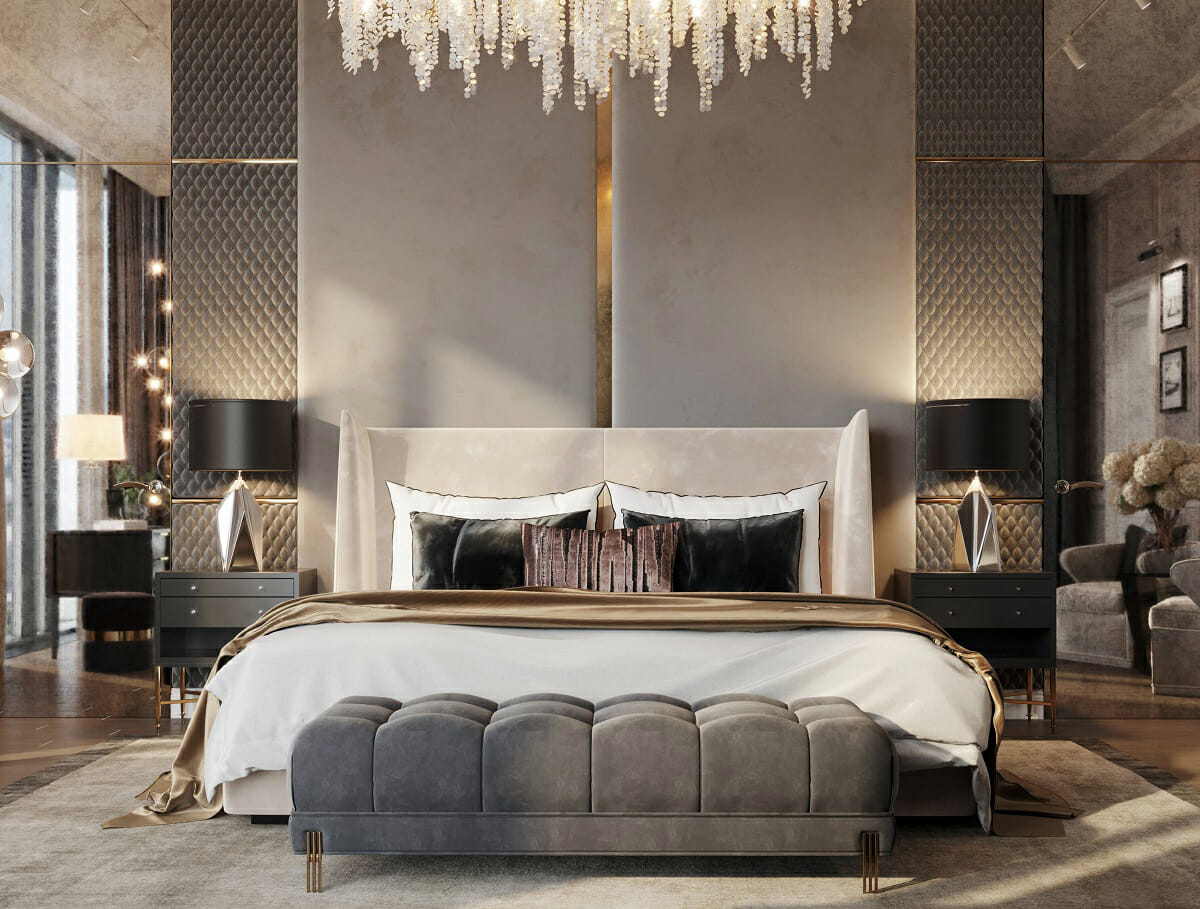 Image Source: decorilla.com
The glam home design style is for you if you prefer mirrored surfaces and all things luxurious. This decorative style is a sleek blend of metallic accents and sumptuous materials such as velvet and faux fur. Keep in mind that the most recent designer furniture styles tend to feature.
5. Traditional Home Interior Design Style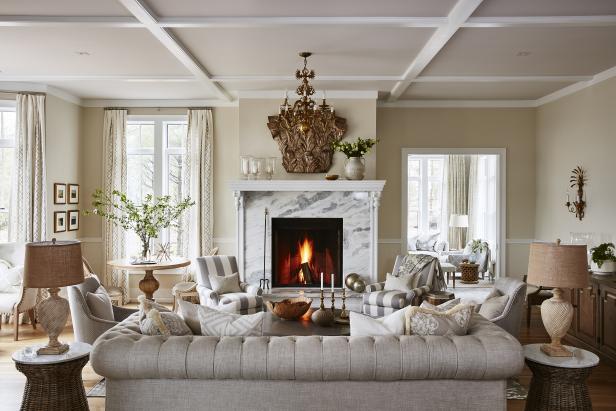 Image Source: hgtv.com
A traditional home is characterized by formality and abundant features. This design style is influenced by the lavish decoration and symmetry of the 18th and 19th centuries. Here you will find a historical design style against a neutral yet warm background.
6. Transitional Home Interior Design Style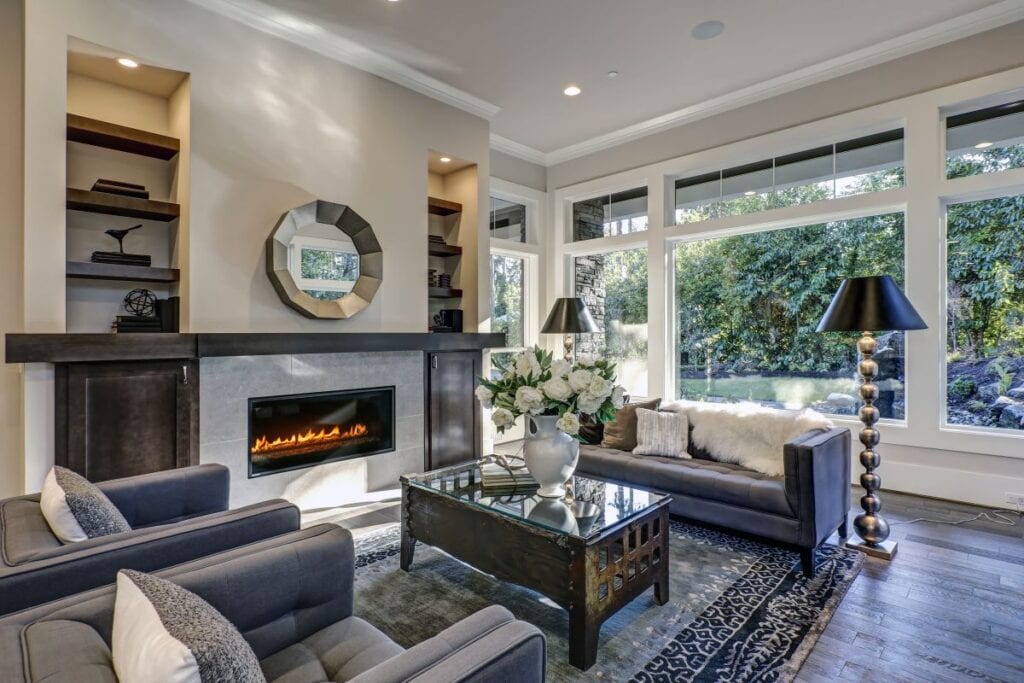 Image Source: mymove.com
The transitional design style combines traditional and modern features to get the best of both worlds. Here you will find modern and sleek forms paired with the warmth of traditional textiles.
7. Rustic Interior Design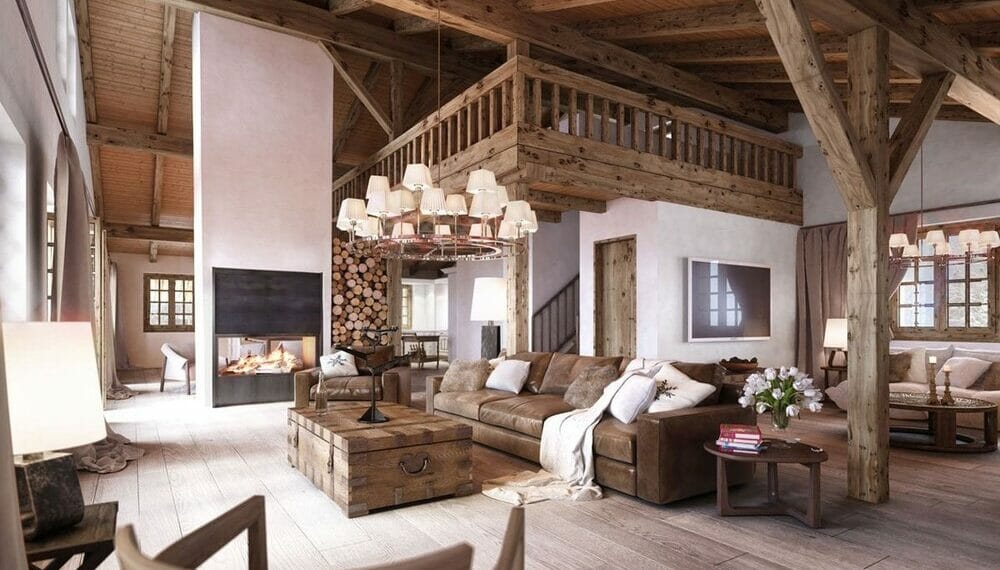 Image Source: decorilla.com
The rustic interior design style is all about keeping things natural and casual. The highlights of this no-fuss aesthetic include stone, wood, and worn leather.
8. Eclectic Home Interior Design Style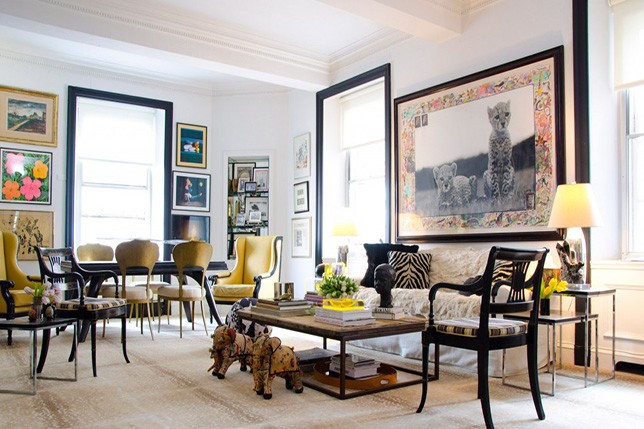 Image Source: decoraid.com
Eclectic design style offers a little bit of everything in a nicely organized package. This design borrows from other design periods to create a unique and dynamic interior full of personality.
9. Beach Home Interior Design
Image Source: oceanhomemag.com
Beach interiors are bright and cheerful, evoking images of leisurely summer vacations. The coastal design incorporates a lot of natural light and soothing tones of white and blue. Besides, furniture is often modern, focusing on natural materials such as wicker and jute.
What Are the Main Steps to Decorating Your Home?
Step 1: Understand Your Design Style
Since some home design styles are easy to mix up, how can you ensure that the design you try to replicate matches your style?
i).Start with an interior design style quiz
To get started, check out for interior design quiz. Go for those that are completely visual, intellectual, and entertaining. You could be surprised that the decorating style you wind up with that actually suits you may be slightly different from what you had in mind all along.
The interior design style quizzes will also provide you with the necessary design vocabulary to help narrow your search. For example, when looking for home décor ideas online, use phrases like "coastal," "boho," or "industrial" to help you find the right fit for your space.
ii). Get to Understand your space
Once you have decided on the interior design style, the next step is assessing your space. Do you require a few things to complement your style? Which areas of your house are working for you and which are not? Is it crucial for your home to have a lot of natural light? Or is artificial light enough?
Image Source: patrickediger.com
Whatever style you choose, remember that there is no right or wrong situation; stay flexible. Besides, you need to feel at ease in your space. Also, you want your guests to be impressed by your decorating style rather than turned off by forced perfection or an over-designed, crowded space.
iii). Get inspired
Binge-watch, some of the best home design shows on television, collect home decor magazines and immerse yourself in Pinterest. Also, when you visit your friends or travel, do you come across something you like?
Pay attention to what inspires you by creating a physical mood board with images of what you enjoy, filling up a scrapbook, or going virtual with your own Pinterest board.
Step 2: Choose, consider, and curate.
Firstly, choose unique style components and accessories you envision yourself using and enjoying in the long run. As much as you want your space to reflect your personality, practicality and functionality are also important in creating a livable, comfortable space.
Secondly, consider lighting, dimensions, and so on. It's quite easy to find anything and everything that reflects your personal style. However, not all of those items were designed to fit in your home. Therefore, consider how much light the space receives throughout the day, and go for paint colors and lights that might brighten it up. Also, take measurements of the space to ensure that you choose furniture that fits.
Finally, curate your home's new decor by bringing in things that make you happy. Take it easy on the accessories to create a genuinely unique space. Note that using anything just because it's accessible and matches your theme is unnecessary.
Step 3: Stick to your budget.
Some homeowners' hopes of achieving their dream home design usually fade once a budget is mentioned. On the other hand, working within your budget should not fill you with fear or hinder your creative potential. Here's how to work within your budget while still getting your dream home decor:
i). Focus on mixing instead of matching.
Image Source: tendomag.com
Buying big-ticket items, such as a furniture set, might be a convenient way to get what you need all at once. However, it may drain your cash faster and limit your capacity to customize your home decor completely. To design like a pro, don't be hesitant to mix and match your elements, particularly your furniture. Also, maintain one focus point and add complementary accessories.
ii). Try making your home decor
For instance, interior design trends such as Shabby Chic and Industrial come with lived-in elements that are easy to duplicate with little effort. DIY allows you to express your ideas and create design pieces that are unique to you.
iii). Reuse items that you have already
You might already have all the items you need. Sort your items to see if they still serve their purpose and match the home decorating style you are looking for. Do you have any items that look completely different from the one you are looking for? Organize a garage sale to raise cash.
iv). Get into a garage sale, estate sale, or thrift store.
Someone else's unwanted items might be your treasure. You can find almost any design style, both old and new. Often, most decorating items are piled in one box for sale to go faster; therefore, consider looking at "box lots" at an estate sale.
What Are the Best Quizzes to Find Your Design Style?
1. What atmosphere do you want to achieve in your home?
Some design styles are cozy and inviting, whereas others are formal and chic. So, it's important to consider the atmosphere you want to create in your own home.
2. How many colors do you prefer in your rooms?
Color plays a role in style. For example, if you want colorful interior decor, it will exclude some styles, such as Modern and Coastal design. Conversely, some styles, such as Eclectic design, work well with colors.
3. What type of furniture appeals to you?
For example, a mid-century modern Barcelona chair would seem completely out of place in a rustic setting. Consequently, understanding your furniture preferences and dislikes might point you in the right direction.
4. What materials interest you?
Since each style has its qualities, they will need different materials than others. For instance, if you prefer natural materials, a traditional or glam interior is not the best option for you. However, country and rustic design might be a better fit.
Featured Image Source: jlboston.org