A bathroom remodel can make a statement, and there are a wide variety of ways to go about it. Your bathroom remodeling project will probably fall into one of three categories: a one-day bathroom remodel, a bathroom update, or a fully custom bathroom renovation, depending on your budget and goals for the new bath.
A one-day bathroom remodel might be the answer if you've been putting off your project because you can't bear to close this important space for several weeks. These renovations can give your home a fresh new look without requiring you to sacrifice too much of your time or energy.
Read on if you're curious about the one-day bath remodel. From our detailed breakdown, you will learn all there is to know about one-day bathroom remodels
What Is a One-Day Bathroom Remodel?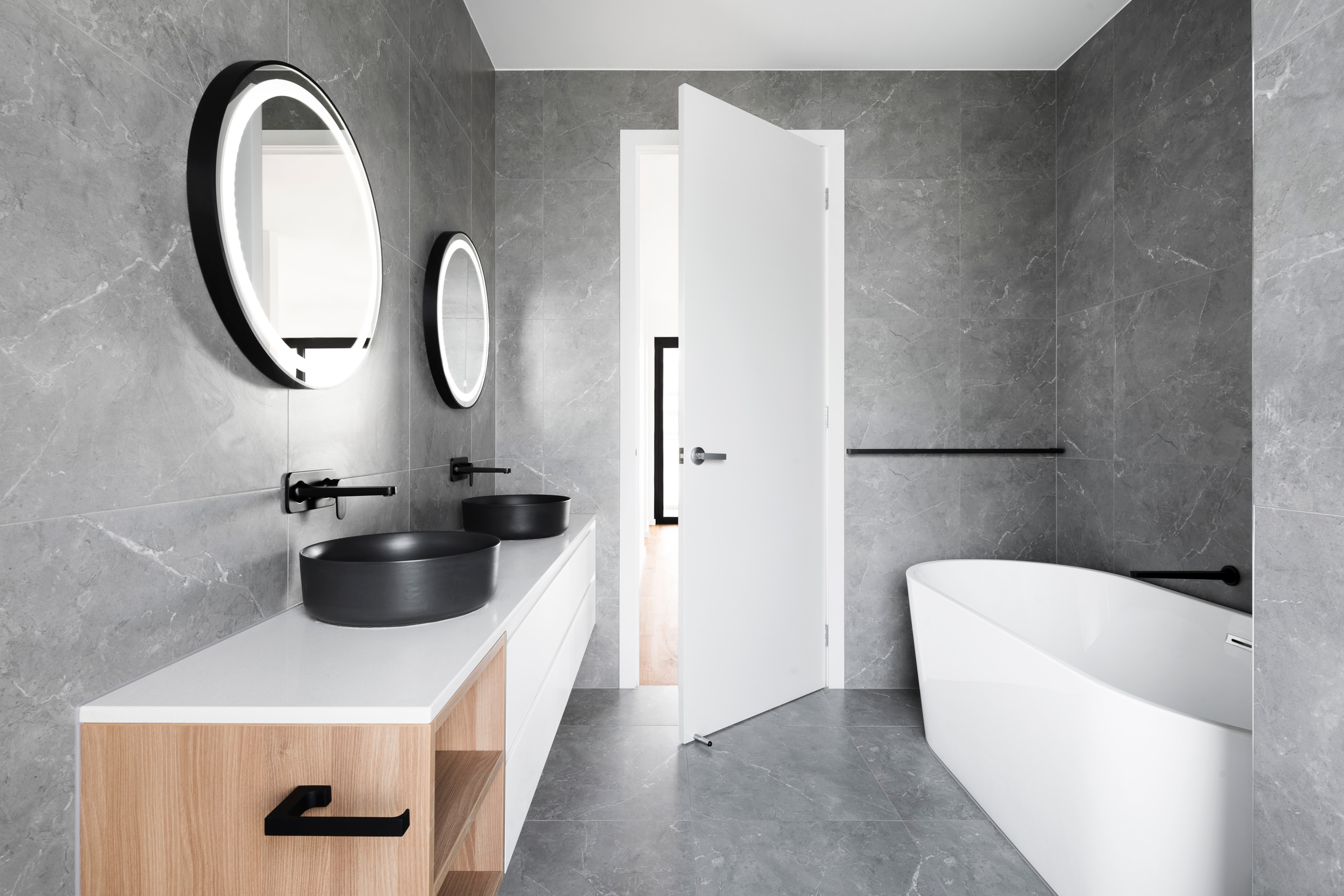 The inconvenience of remodeling a bathroom causes many individuals to put it off. Since 60% of Americans have only 2 bathrooms in their home, remodeling a bathroom isn't the most practical home improvement project.
While you can eat out while remodeling your kitchen and sleep on the couch while remodeling your bedroom, many of your daily routines depend on your bathroom. Fortunately, numerous companies provide one-day bathroom remodels.
A one-day bathroom remodel is simple because your existing fixtures and fittings are reused while being given a "new skin." This involves installing a brand-new coating of sturdy acrylic over your existing tub and shower without replacing the structural elements below.
The best aspect is that you can determine how much or how little you want to accomplish in a day. There is no set amount you must spend to receive the one-day benefit, and there is no restriction on what you can renovate.
One-Day Bathroom Remodel Options
When it comes to remodeling your existing bath in a day, you have a few options.
1. Cover Up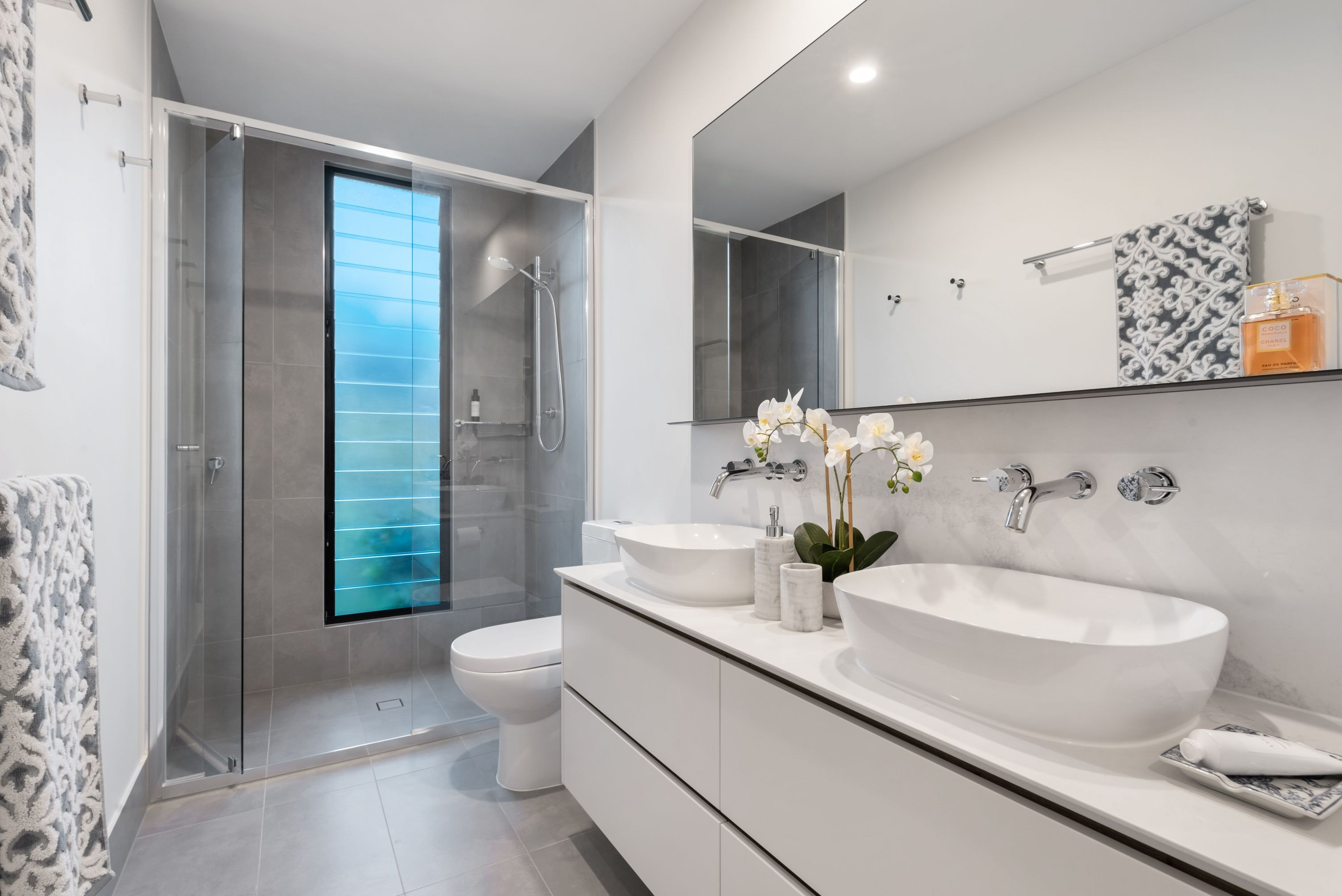 This is a remodel in which no changes are made to your bathroom. The bathtub is still there, and the plumbing is stationary. So, practically nothing changes.
Instead, a bathroom remodeling business will install a new bathtub cover. It is an insert that sits on top of your existing tub, compared to a slipcover for outdated furniture.
Your old tub is placed underneath, and it is set in place. However, it can appear more attractive than a worn-out tub coated in mold.
However, the old bathtub is still hidden behind the new fixture. This is more than simply a band-aid solution; it's deeply unsettling to realize that your original issues persist invisibly.
2. Replacement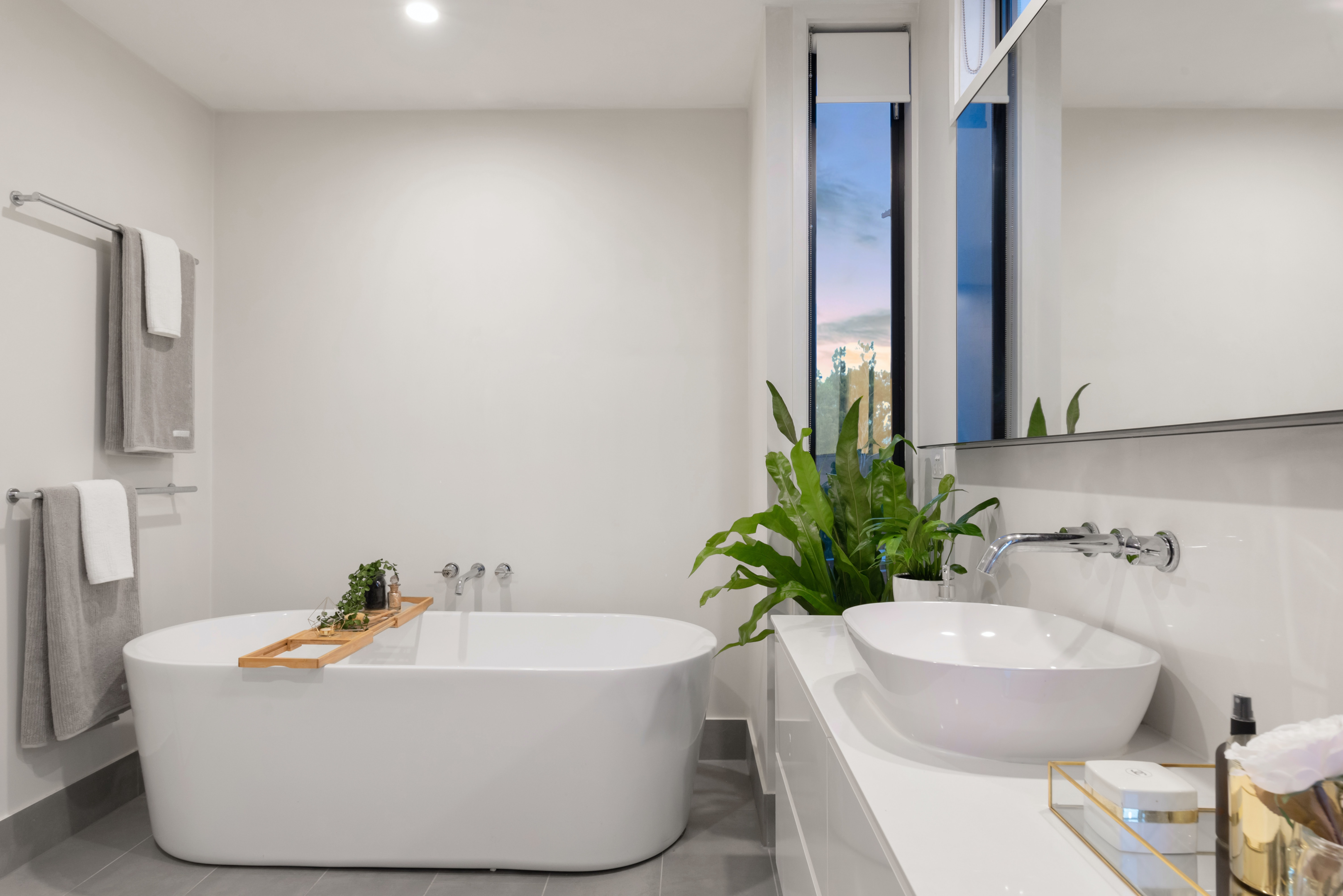 The second possibility involves having a professional remodeler measure your bathroom, construct a new tub or shower to fit the area, and then install it in its place. Your old bathtub or shower is removed on the day the new tub is installed.
The plumbing will all need to line up or only require minor changes to complete in a single day. In addition, it's not a straightforward tile-by-tile installation because the shower has to be constructed elsewhere.
However, it does allow you to drastically alter your bathroom's appearance and functionality with little to no downtime.
One-Day Bathroom Remodel Tips and Considerations
Depending on where you live, remodeling a bathroom might result in a roughly 200 percent return on investment. In addition, a brand-new bathroom can greatly improve the appearance of your house, even if you don't have any immediate plans to sell.
1. Have a Clear Vision of Your Goals Before You Start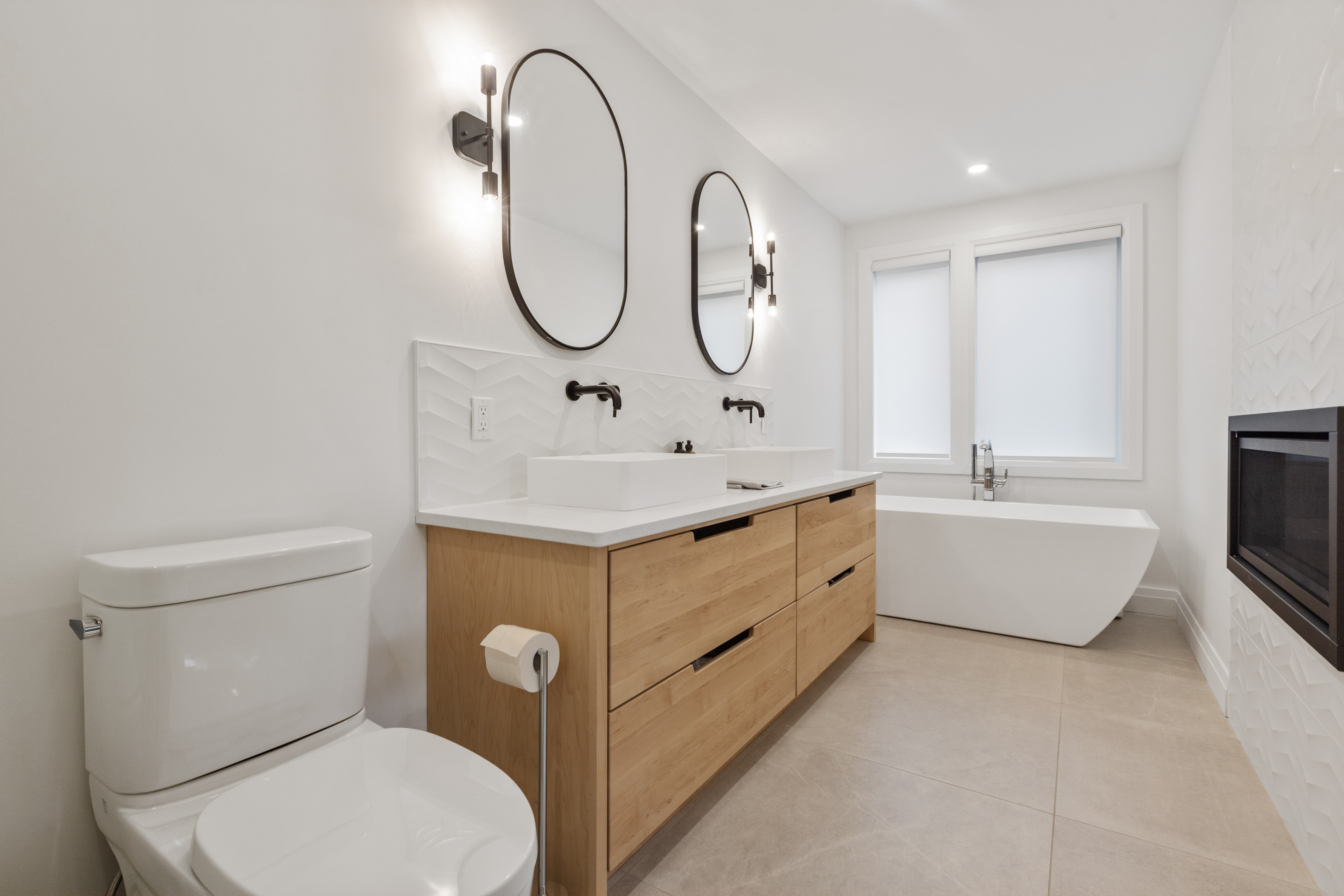 It's crucial to understand what you like and dislike about your space, whether a design team manages the project or not, because this information will help create a thorough floor plan that incorporates all the required adjustments.
From there, you can consider aesthetics, including the color scheme and the fittings you want to use.
2. Conduct Research
Designers often find that their most well-informed clients end up being their best. Grab as many pictures as possible from Pinterest and Instagram of rooms you like to use as examples.
Your ability to make good choices in the future will improve as your eye grows more attuned to what you value. As an added bonus, you'll have a reliable resource to use as a reference while making your final decision.
3. Understand Your Budget
A flexible budget enables you to make last-minute design choices that increase costs and dramatically improve the space.
The fittings and finishes are ultimately what you will see every day, and things crop up during building, so always leave yourself some more money for them.
4. Be Selective While Hiring
It's crucial to start with a good staff you can trust, who understands your budget and how to manage your finances, so they shine. This will help you produce stunning outcomes.
5. Pay Attention to Details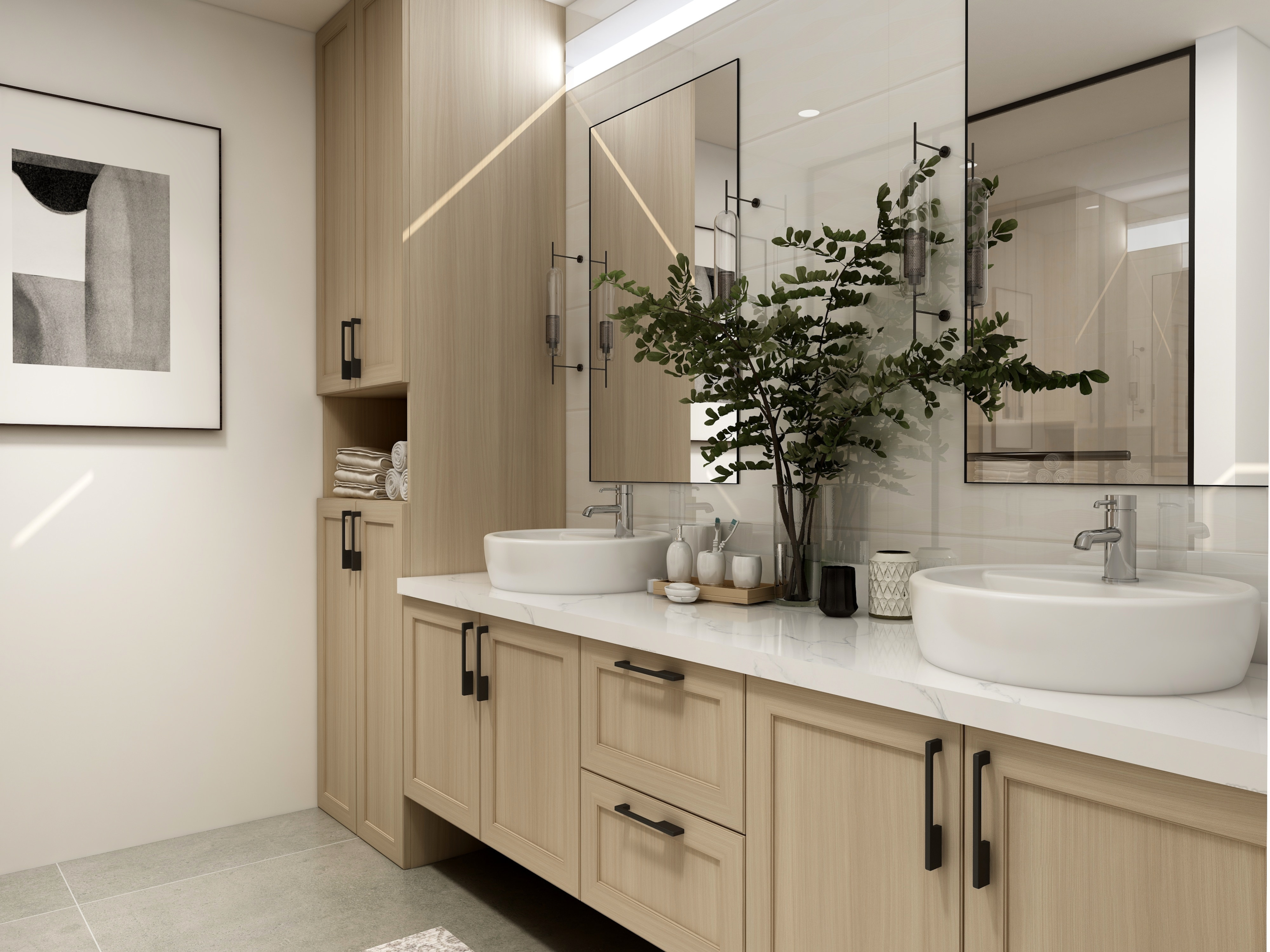 When working with white marble, you cannot underscore the necessity of dry runs with the material. Remember that the person laying the small bathroom shower tiles may have a different vision of what constitutes a perfectly aligned marble vein along the floor, so it's important to practice this first.
Additionally, open all of your tile boxes before using them to sort the material; colors will vary, and sorting will give you greater control over what goes where and what pieces to throw away.
For this reason, and because of the common occurrence of cracking and breaking during shipping and handling, most individuals advise ordering at least 15 percent more material than is required.
6. Refinish Your Wooden Floor with Paint
Wooden bathroom floors can be easily covered with tile, sheet vinyl, or luxury vinyl plank to make them more water-resistant. Alternatively, you might keep your wooden floor and simply paint it with a protective lacquer to save time, energy, and money.
However, solid hardwood shouldn't be your go-to for a bathroom because of the humidity and moisture. But if you have wooden flooring already, this is a cheap way to preserve the floors for as long as possible.
7. Consider Refinishing Your Tub Rather Than Replacing It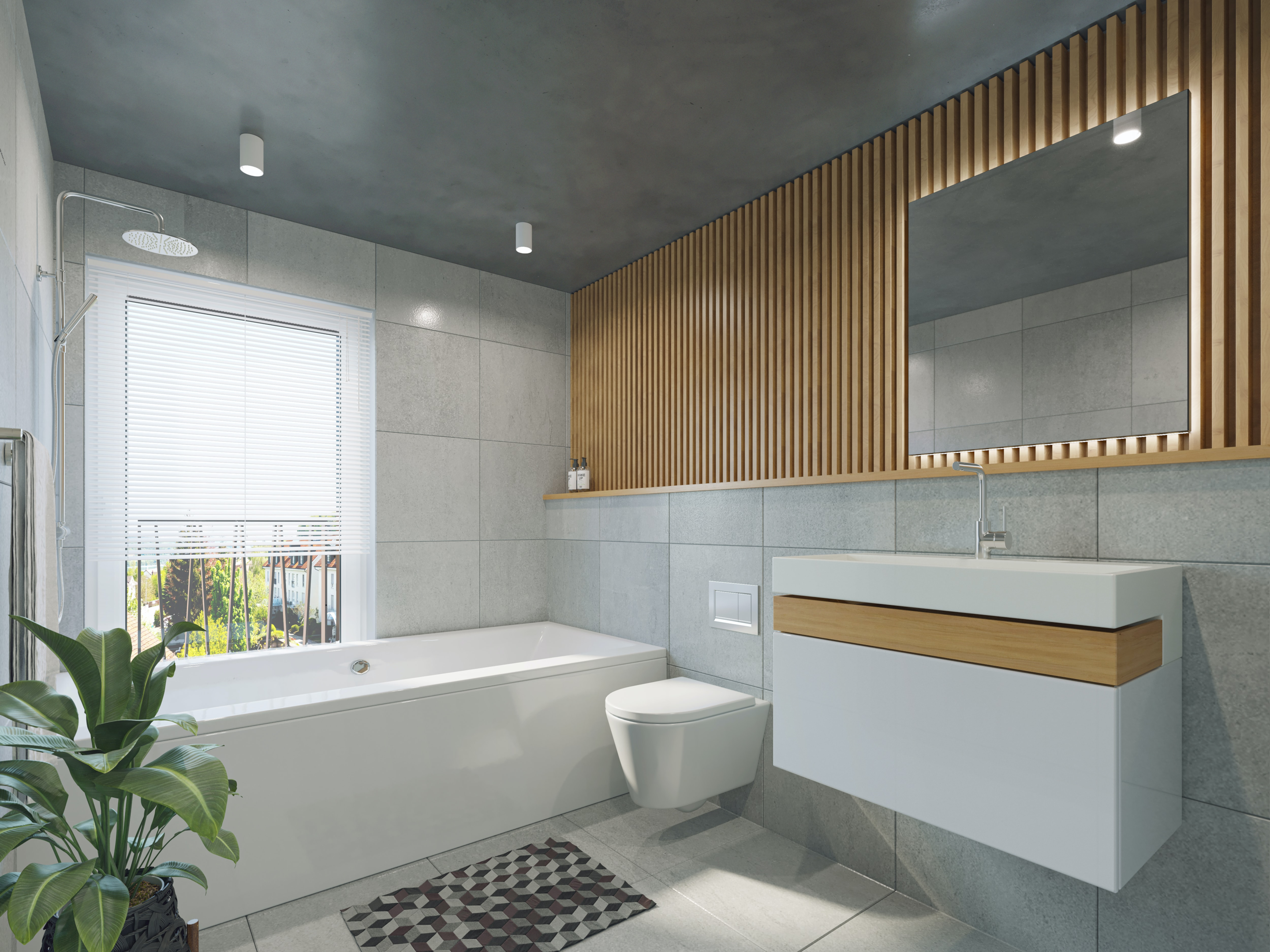 If you're trying to save money, replacing your bathtub entirely should be your final resort. A better option would be to refine or refinish the space.
Refinishing your shower or the best bathtub tray is an option if the damage is minor and affects the aesthetics, such as when the surface has yellowed, or there are little fractures and nicks.
On the other hand, shower and bathtub liners are never a permanent solution and can cost more than a new fixture. A shower liner may need professional installation and will last you a few years. Instead, bathtub refinishing is more affordable and frequently looks nicer.
8. Install New Hardware to Refresh the Cabinets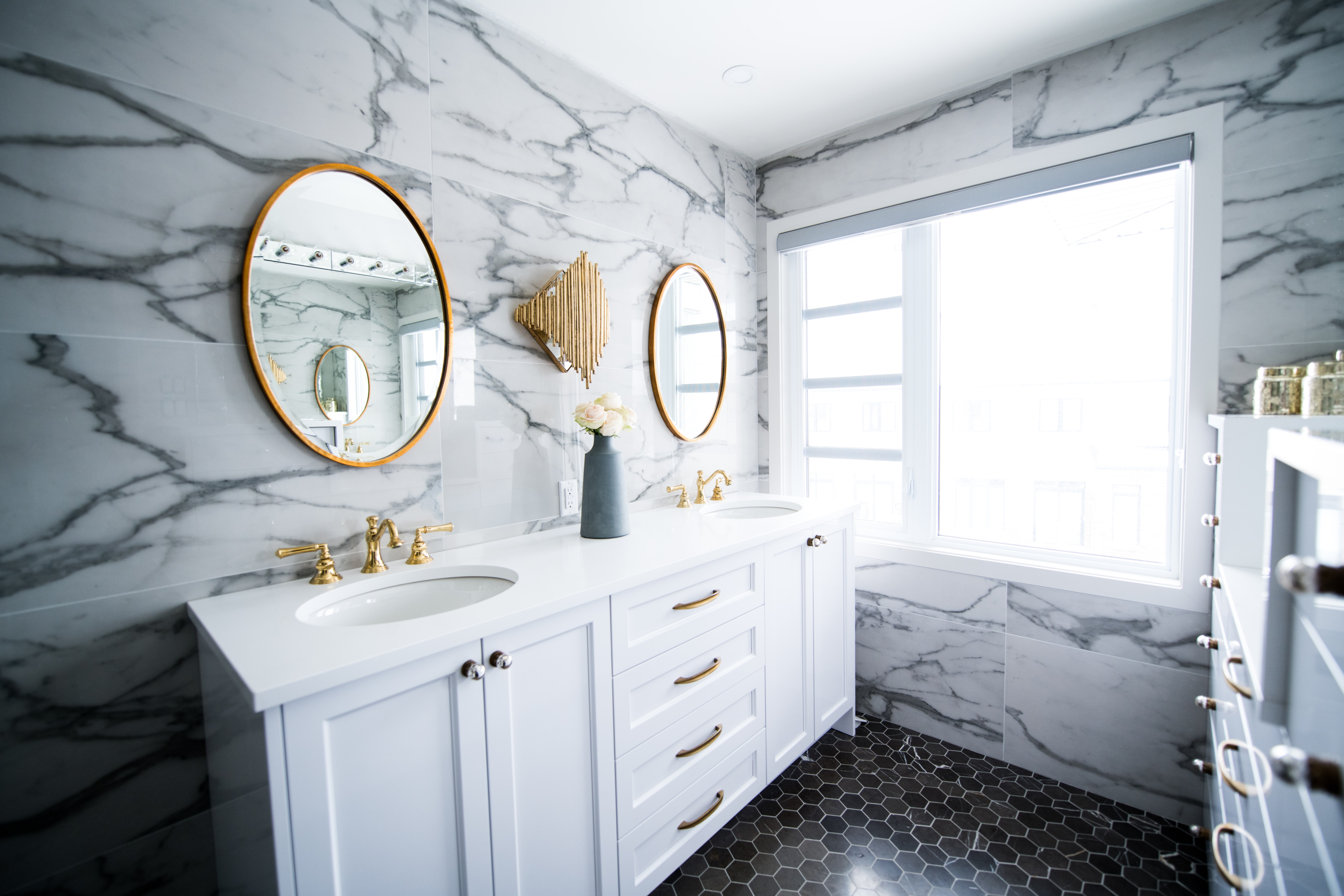 Replacement bathroom cabinetry, including labor and materials, can be rather costly. However, taking off the old hardware and replacing it with interesting new hardware is a much less time-consuming and costly approach to giving new life to your old cabinets.
Before you go out and buy the new hardware, check to see if the screw alignment is compatible with the holes in your current cabinets. Therefore, no additional holes will have to be drilled.
9. Never Attempt to Do Major Plumbing
Keep the restrooms and showers where they are to save money and time. The plumbing doesn't need to be moved if its current location meets your demands. Any remodeling project's cost increases quickly when the water supply or drainage is moved.
If you dread having to hire a plumber for your makeover, take a moment to assess whether or not the job is something you could handle on your own. Plastic PEX plumbing pipes and push-in fittings have enabled even the most inexperienced do-it-yourself plumber to complete simple plumbing jobs.
Consider this approach carefully if your idea of plumbing work is stuck in the days of soldering copper pipes over an open flame or dealing with galvanized pipes. A little research could reveal that PEX with push-in fittings is your ideal solution.
10. Replace the Sink Faucet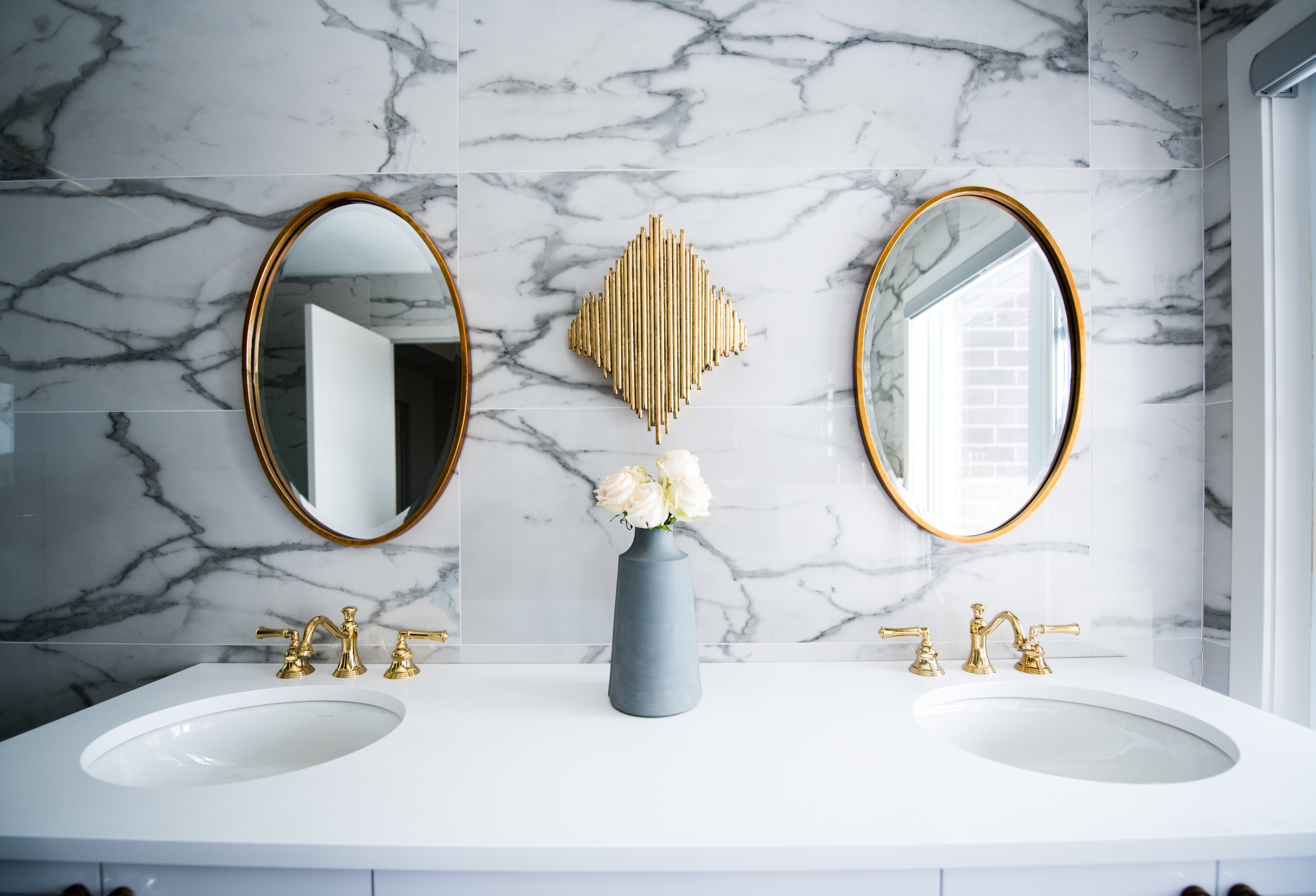 Designers and do-it-yourselfers alike know that a sink can be made to look new without replacing the top or vanity by simply installing new hardware on the cabinets and getting a new faucet.
Sink faucets are simple, quick, and straightforward to install on your own, which is helpful. There is no need for you to hire a plumber. This not only speeds up the timeline but also reduces labor costs. It's that simple; simply pick up the sink faucet in the morning and have it running before noon.
One-Day Bathroom Remodel Ideas
Even though a one-day bathroom remodels is amazing, having to make all these decisions at once may be very stressful. So here are some fantastic bathroom makeover ideas to get your creative juices going if you need help with a remodel.
1. Bathroom Lacking Personality Remodeled Classic and Beautiful Bathroom
Before: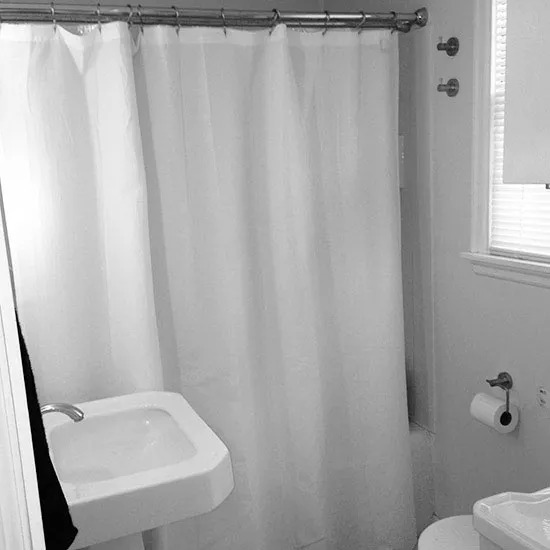 Image Source: bhg.com
The lack of color, design, and style has always been a problem in this bathroom. The changes were subtle, but they had a major impact. This previously dull bathroom was given a total makeover thanks to adding some color accents.
After: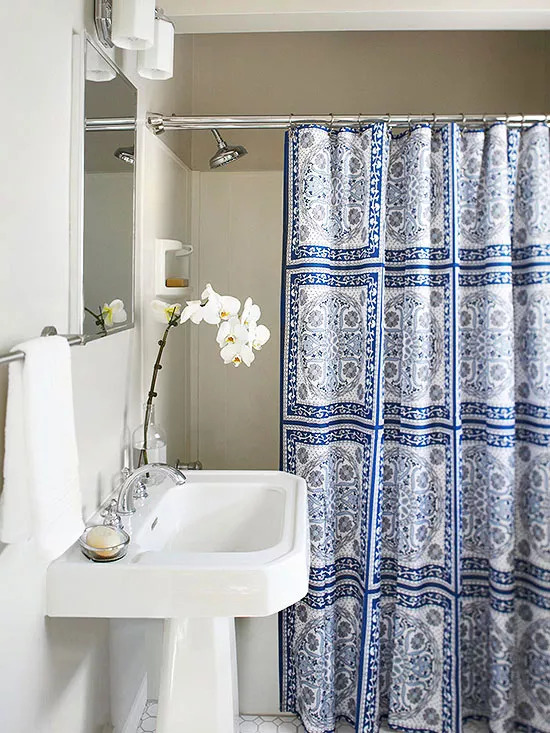 Image Source: bhg.com
After a few minor renovations, the once-boring room now serves as a relaxing retreat. The room's new flooring and furnishings were conceptualized around the angular form of the preexisting pedestal sink.
The shower curtain, with its bright blue print resembling the form, is another example. The shower curtain rod adds a modern touch to the bathroom's decor but can be readily removed should you want to update the space's aesthetic.
2. Old and Outdated Remodeled on a Budget
Before: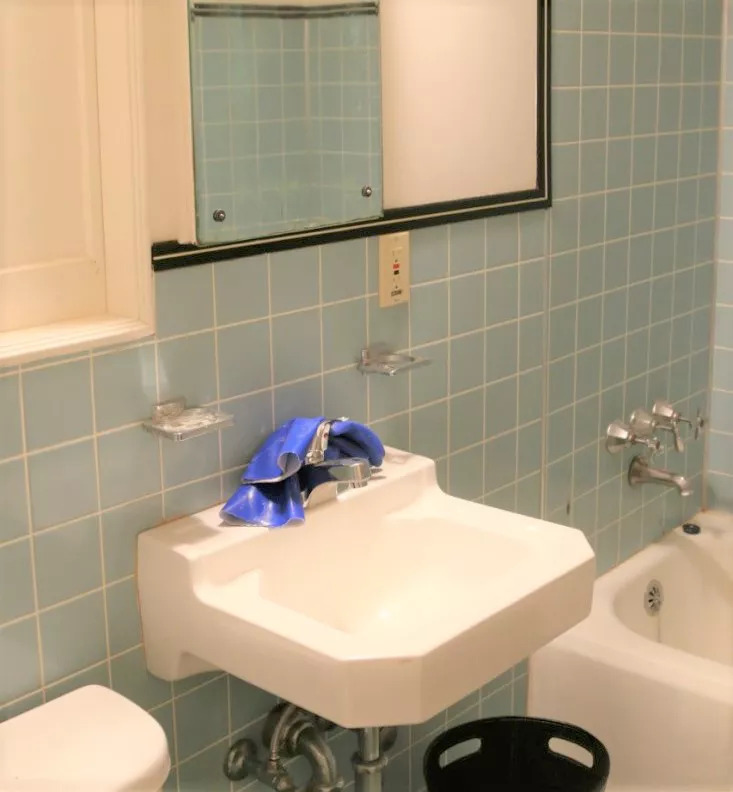 Image Source: remodelista.com
Here we see the "before" version of a bathroom in a San Francisco two-story row house from the 1930s, with tiles in an unnatural green color. A budget-friendly renovation of this bathroom was desperately required.
After: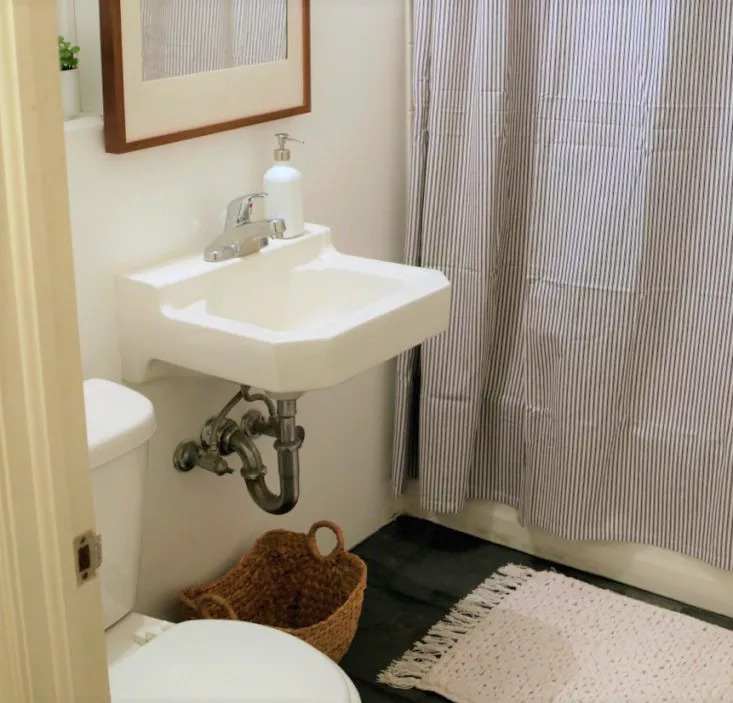 Image Source: remodelista.com
The price of this renovation was significantly lower than $5,000. Investing in fashionable yet reasonably priced construction materials is one approach to reducing bathroom renovation costs. For example, the white 3″ x 6″ Daltile Rittenhouse Square tile shown here is from Home Depot.
3. Awkward Use of Space Converted to a Glamorous Retreat
Before: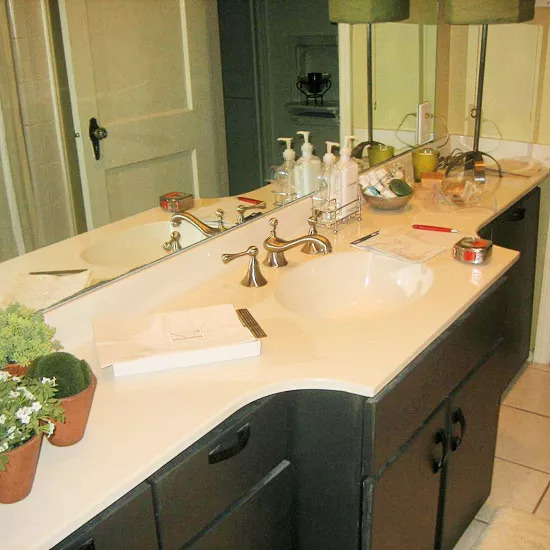 Image Source: bhg.com
There was an aesthetic problem with the large, black vanity in this bathroom. There wasn't much room for the vanity because of the layout.
While upgrading to new cabinets might have improved the room's aesthetic, it wouldn't have solved the problem of the bathroom feeling too small. The cost of altering the floor layout to accommodate a larger unit would have been very high.
After: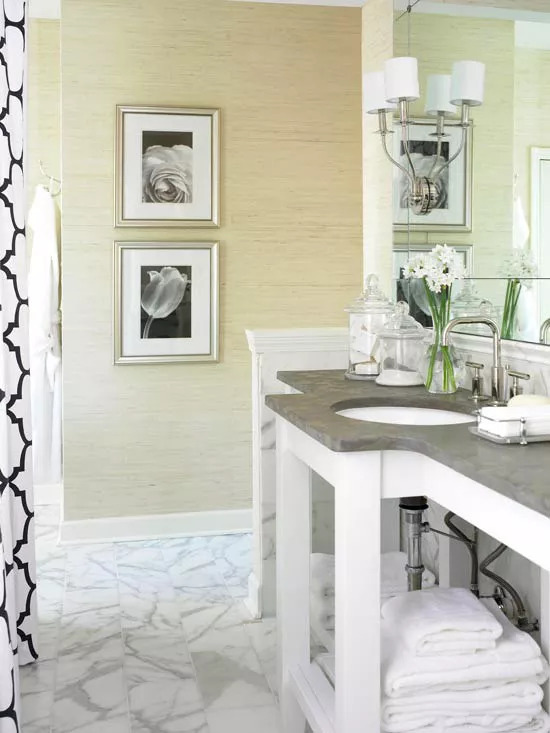 Image Source: bhg.com
The transformation began with the installation of chic grasscloth wallpaper, which immediately increased the brightness of the space. The rest of the space did likewise. Installing an available unit as a workaround for the vanity problem maintains the room's airy vibe.
The luxurious appearance of the newly renovated bathroom is thanks to the great investment in Calacatta gold marble. In addition, the floor and half of the wall behind the vanity are covered in black-vein stone for a uniform appearance.
4. Beleaguered Bath Remodel to a Clean and Serene Bath
Before: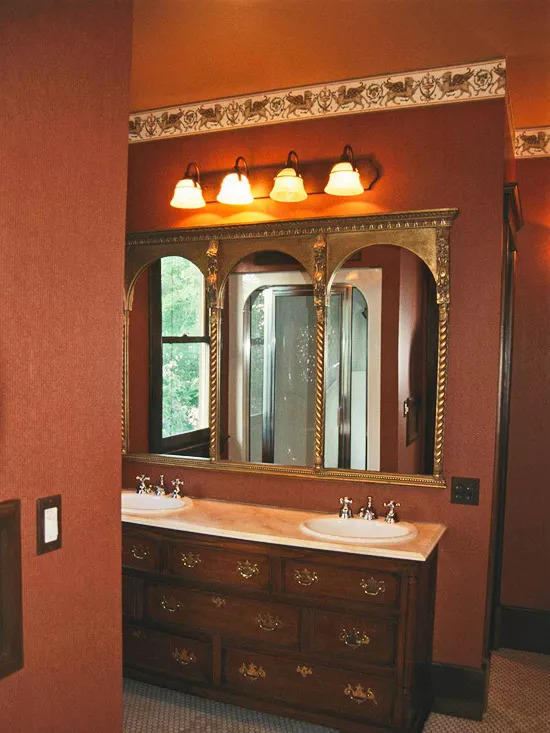 Image Source: bhg.com
This bathroom addition had several issues, including dark and outdated paint colors on the walls, ceiling, vanity, and trim, as well as inadequate lighting, which gave the area a claustrophobic appearance. A door did not sufficiently separate the bedroom/bathroom combination. Thus, the room did not have a relaxing spa vibe.
After: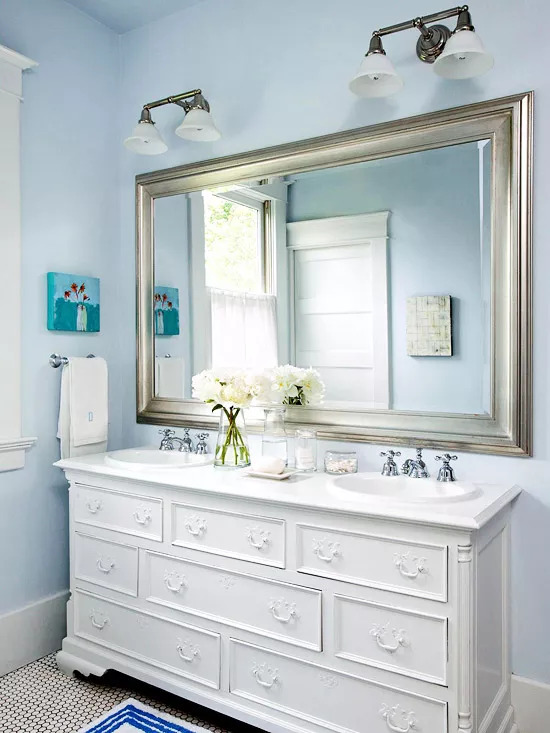 Image Source: bhg.com
The homeowners saved money by keeping the Chippendale-style vanity and giving it a new life and look with a fresh coat of white paint. In addition, numerous coatings of high-gloss enamel paint were applied to protect the wood countertop from moisture.
The homeowners chose a soothing blue color for the walls and ceiling, while the original white trim work helped to reflect light across the space.
An upgraded vintage look is achieved by adding a silver-framed mirror and modern wall sconces. The new toilet, installed in the space formerly occupied by the shower, is hidden behind a mirror-facing pocket door.
5. Cramped and Creaky Bathroom Renovation into a Relaxing Spa Oasis
Before: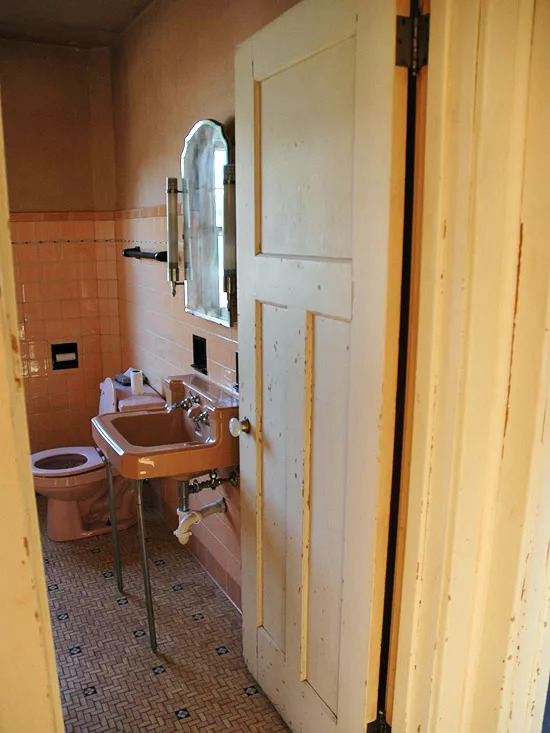 Image Source: bhg.com
It wasn't just the salmon-colored ceramic tile and paired sink and toilet that was a problem in this bathroom. There wasn't enough space for cleaning supplies or toiletries around the wall-mounted sink.
After: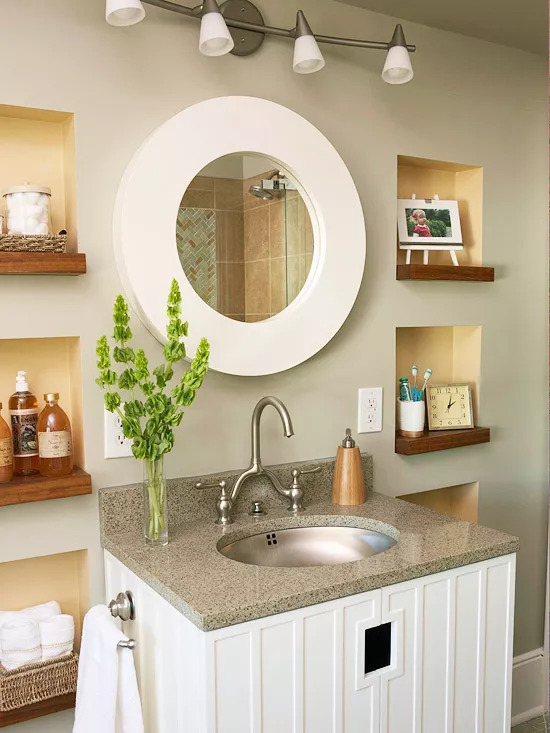 Image Source: bhg.com
After the problematic pieces were eliminated, the vanity area was given a spa-inspired makeover employing both hard-edged and fluid designs.
Storage and exhibition space are provided by square recesses cut out between wall studs, and a stylish round mirror breaks up the grid of squares. The vanity's clean millwork features and curved faucet complement the area's organic appearance.
6. Old and Outdated One-Day Bath Remodel Turned into a Young and Fun Bathroom
Before: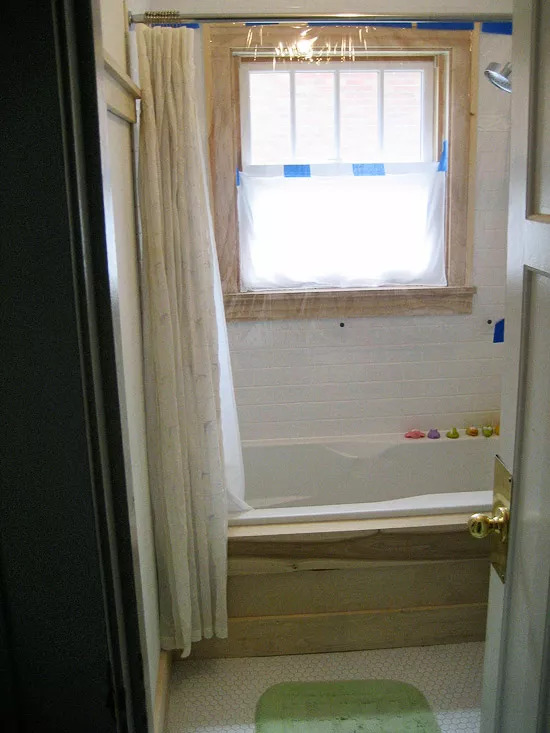 Image Source: bhg.com
A renovation was badly needed in this tiny bathroom that measured only 5 by 8 feet. The house was completed in 1928, and many of the fixtures and fittings are vintage as well, such as the cast-iron tub and tile flooring.
There was hardly any storage in the sparse room, which had a porcelain finish that was old and gray, a faux frosted-glass window that was peeling, and no other extras.
After: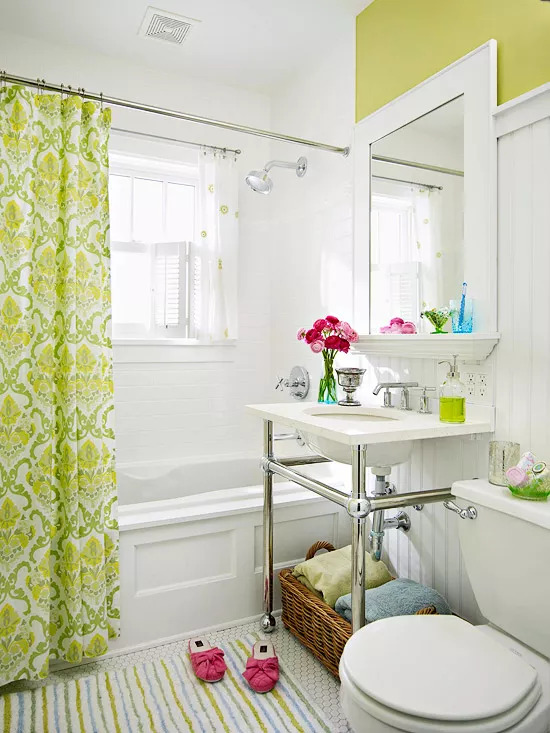 Image Source: bhg.com
The homeowners put the white beaded board, and traditional remodel all the way to the ceiling to create a lighter bathroom. The new vanity is the showpiece of the bathroom; it is constructed from the pipe the homeowners found on the internet, a block of limestone, and a drop-in sink.
Thanks to the bright paint, new furnishings, and modern fixtures, the room has a youthful feel. Mini shutters and cafe curtains provide some personality to a modern double-hung window.
7. Bathroom Troubled with Tiles Converted to a Vintage Charm
Before: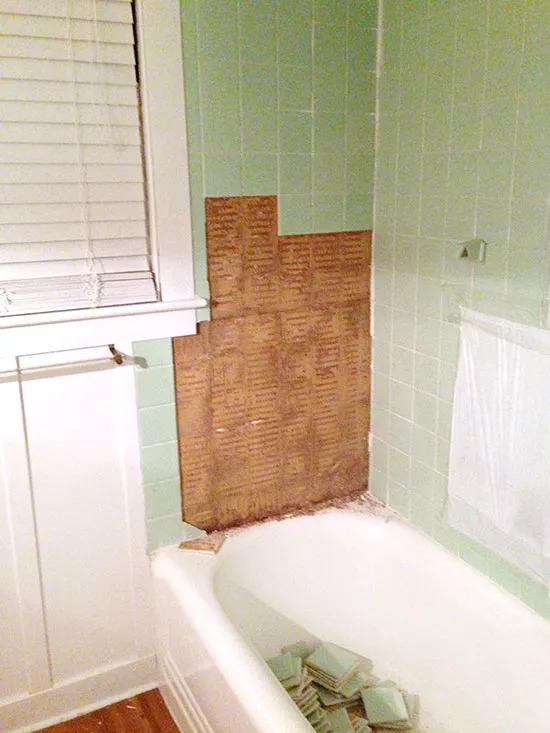 Image Source: bhg.com
There was a rescue operation in this bathroom. The bathroom was given a gorgeous makeover without wasting anything by removing, sorting, and then reinstalling half of the green tiles that were in good condition.
After: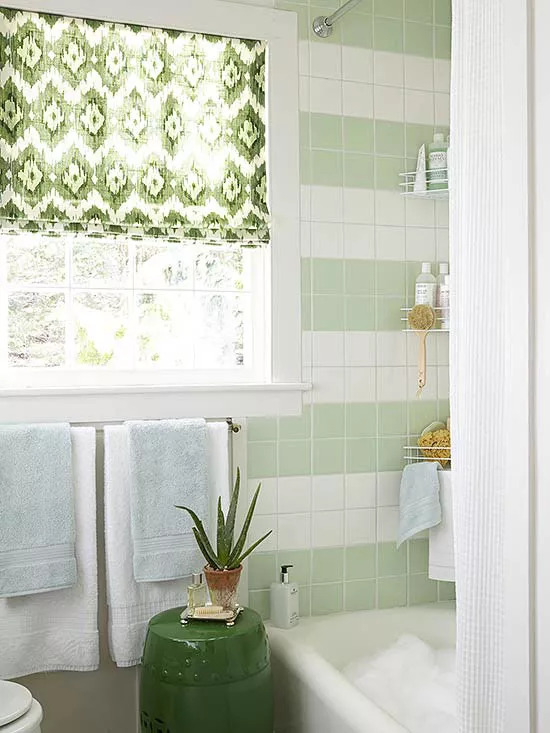 Image Source: bhg.com
Around the two-in-one tub and new shower, a contemporary striped pattern was created using reclaimed green and brand-new white tiles.
The space has a peaceful and timeless color scheme created by the widespread use of white and green accessories. The bathroom benefits from a unique window covering that subtly filter light while maintaining seclusion, thanks to the design.
8. A Lackluster Bathroom Remodel into One Brimming With Style
Before: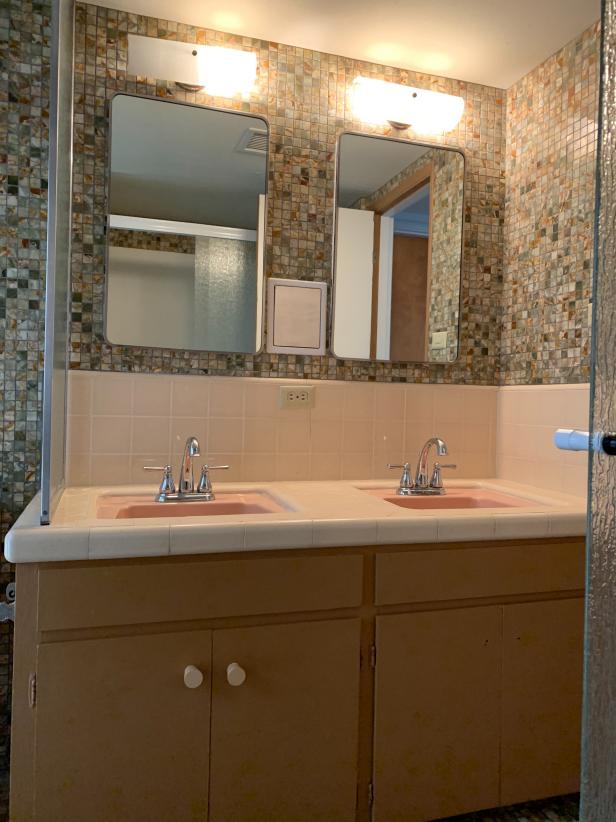 Image Source: hgtv.com
This bathroom previously had old tile and insufficient lighting to properly brighten the space.
After: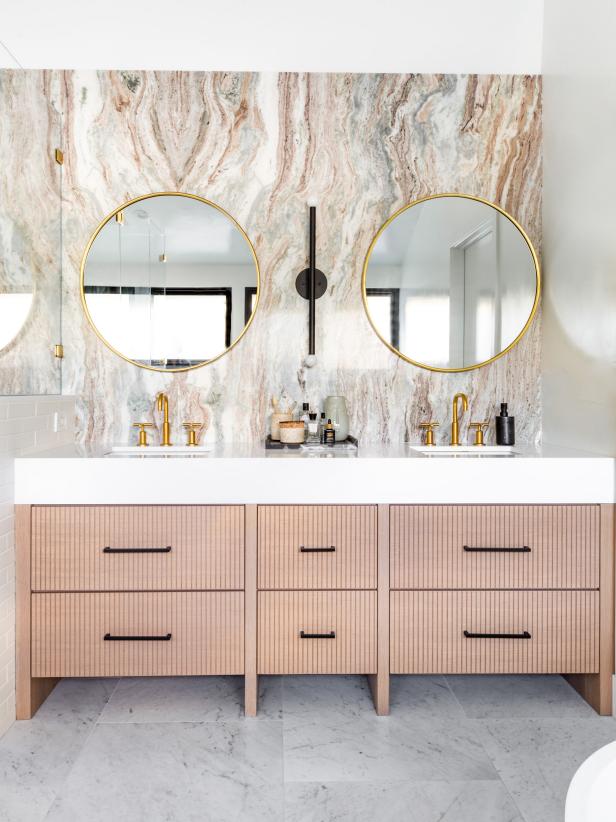 Image Source: hgtv.com
The wall behind the double wood vanity has an inviting design element thanks to a marble backsplash.
Above the white countertop are a pair of identical circular mirrors, which, along with the gold sink fixtures, create a harmonious aesthetic. The airy room is anchored by black hardware and a sleek, modern black light bulb.
9. Minty Kids' Bathroom Remodeled to an Ageless, Elegant, and Dream Bathroom
Before: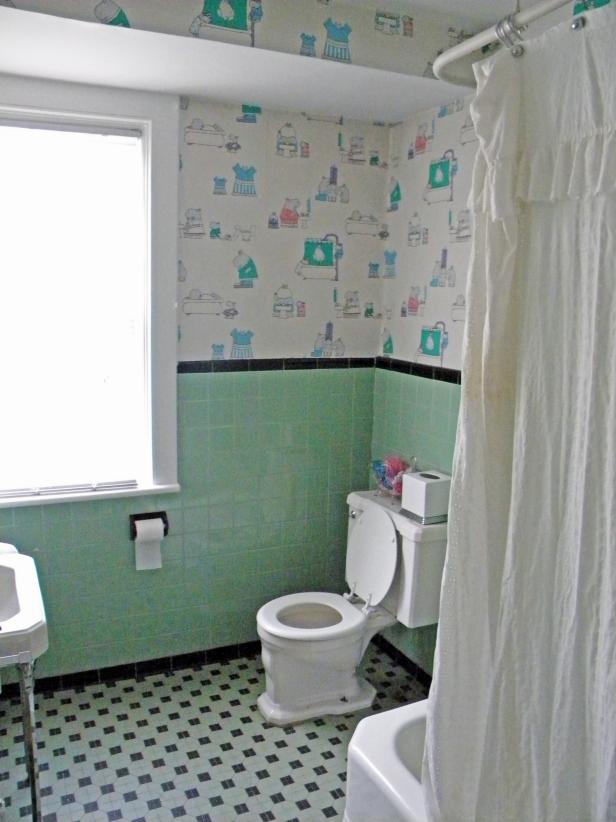 Image Source: hgtv.com
Tiles in an outrageous shade of mint are coupled with wallpaper featuring whimsical drawn animals in a throwback design for a kid's bathroom. The bold wall tiling was too much for the room and didn't allow the new homeowners to express their sense of style.
After: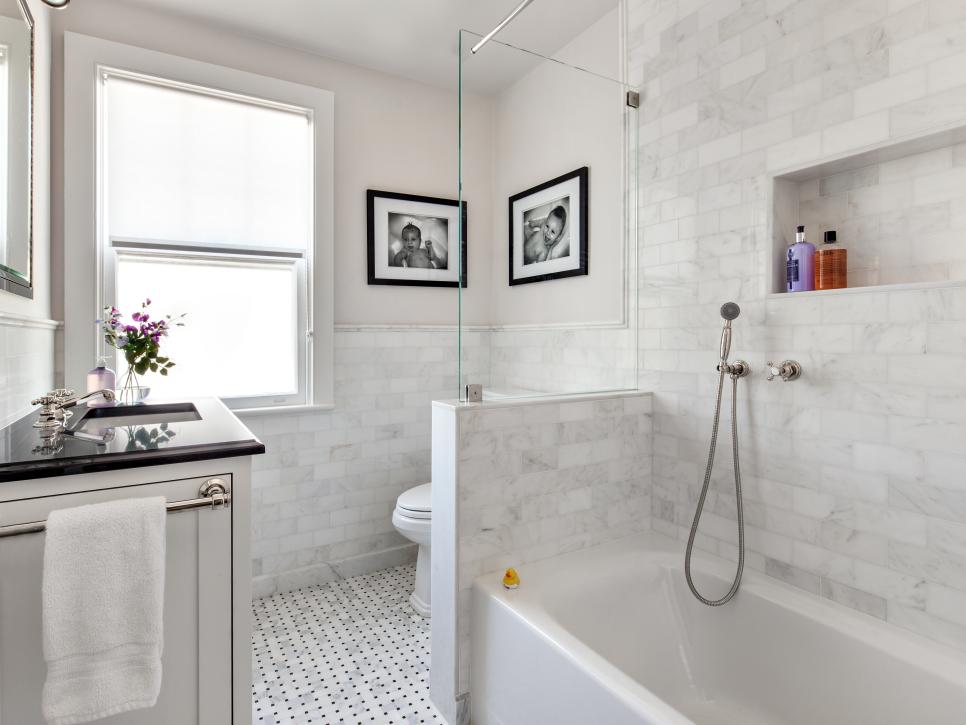 Image Source: hgtv.com
The green tiles and illustrated wallpaper are replaced with crisp white paint and timeless marble subway tiles, giving the bathroom a brand-new appearance.
The new tub is enclosed with frameless glass doors for a clean, contemporary aesthetic, and the antique wall-mounted sink was swapped out for a useful storage vanity.
10. A Dated Bathroom Design Renovation to an Enhanced Classic Design
Before: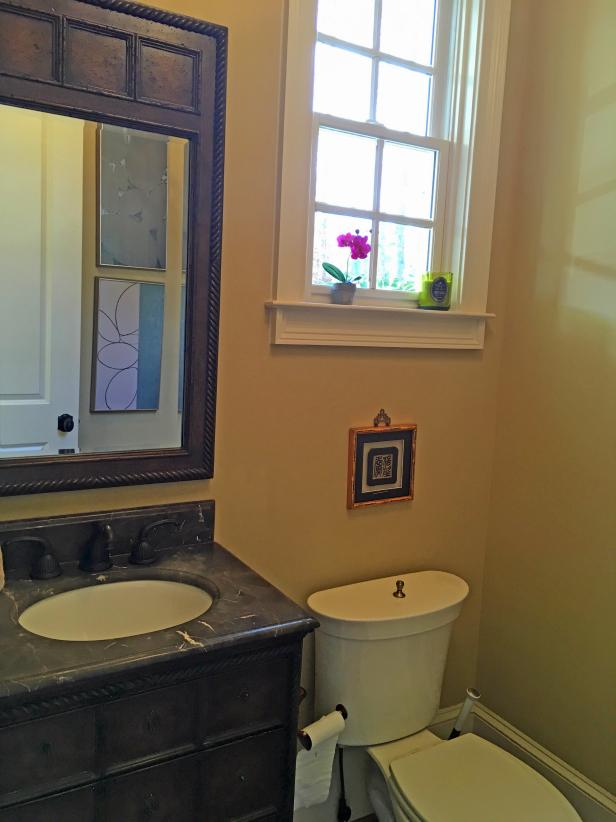 Image Source: hgtv.com
If you can overlook the bathroom's archaic decor, you'll realize that it's quite charming and full of character for its size. The massive window trim and baseboard begged to be noticed among the outdated finishes.
After: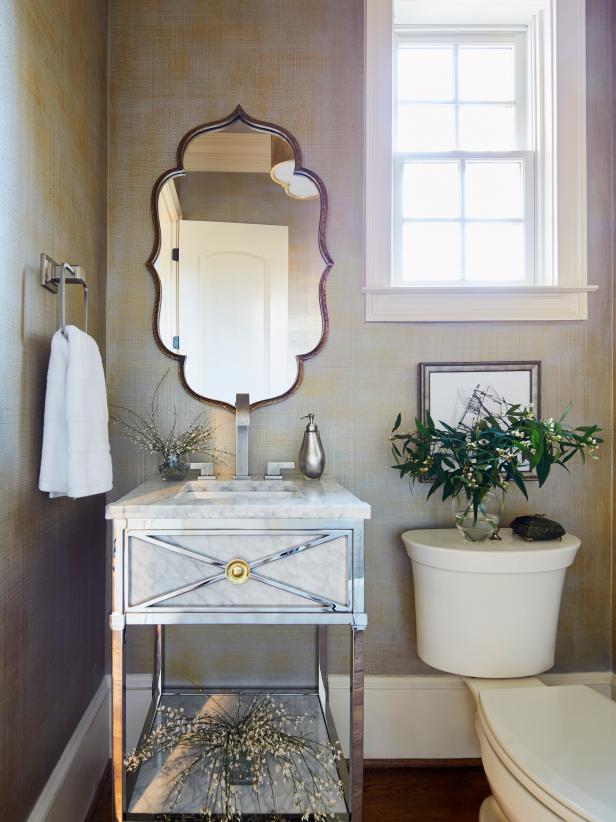 Image Source: hgtv.com
With a small marble-top vanity, textured wallpaper in a neutral color, and a quatrefoil-shaped mirror, interior designer Minhnuyet Hardy completely altered the bathroom. The original millwork now glows in the room a d adds to the classic feel of the design after receiving a fresh coat of white paint.
Cost for a One-Day Bathroom Makeover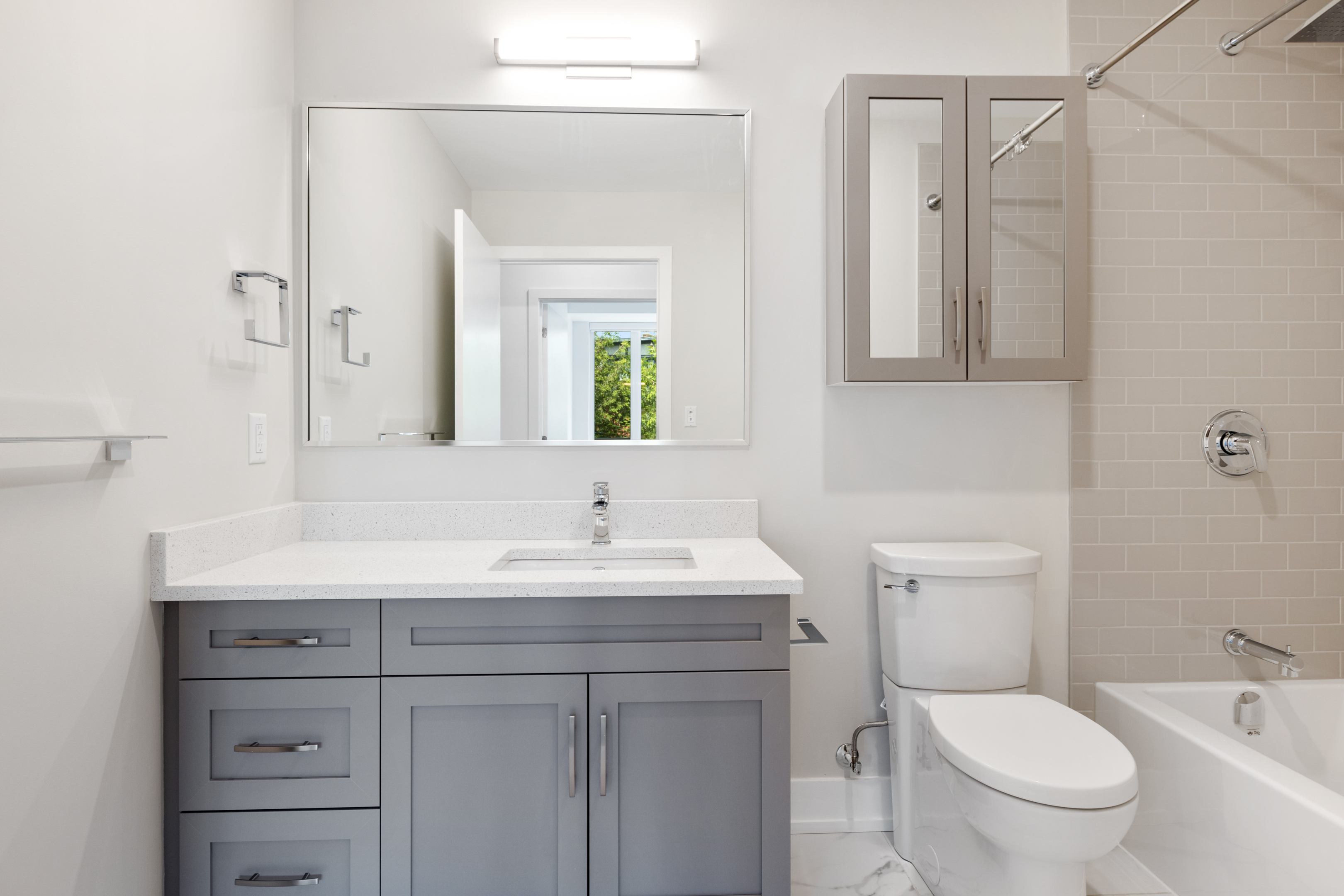 How much would it cost you to remodel your bathroom in one day? The size of the bathtub or shower you want to remodel and where you reside will determine the outcome.
HomeGuide estimates that the average cost of a bathroom remodel in 2020 will be between $8,000 and $15,000. However, the cost of a bathroom remodel can vary widely depending on factors such as the property's location, the size of the existing bath, the bathroom remodeling firm chosen, and the scope of the work to be done.
The price per square foot ranges from $150 to $375 on average. This will depend on the region in which you reside and the remodeling company you pick.
Remodeling small bathrooms often cost between $8,000 and $10,000. (shower areas). The average 5 feet by 7 feet bathroom will cost between $8,200 and $11,600 to rebuild the shower area if you hire a professional.
It's safe to assume that the price of a one-day bathroom remodel will be lower than the national average bathroom remodeling price.
Your old appliances will still be used, so you can save money on a bathtub or shower that looks brand new. Showers with acrylic surrounds can save you a ton of money compared to those with tile walls.
These one-off services have different prices from business to business. Before committing to a one-day renovation, getting a quote is a good idea. It's vital to keep in mind that the "one-day" makeover may take two or three days due to California's permit procedures.
Conclusion
You have learned the fundamentals of a bathroom renovation that can be completed in a single day. First, it's important to have a plan in place for the bathroom that reflects your taste and style. The next step is to call a remodeling service and arrange for your one-day bathroom renovation.