The patio is where I spend the best moments with my friends and family. And what's better, I can chill while watching the kids playing. Once I realized how important my patio was, I decided it was time I remodeled it. I came across many patios remodel ideas and learned a lot of lessons that I will share with you.
The first question anyone wanting a patio renovation asks is how much it will cost. It cost me $9,000 but only because my landscaping was already good enough. It will cost you anything between$5,000 and $15,000, depending on the ideas you want to implement and the cost factors you might face.
In this article, I will discuss the cost considerations, show you some cool ideas, and give you some tips I learned when renovating my patio.
Patio Remodel Ideas
1) Fire Pit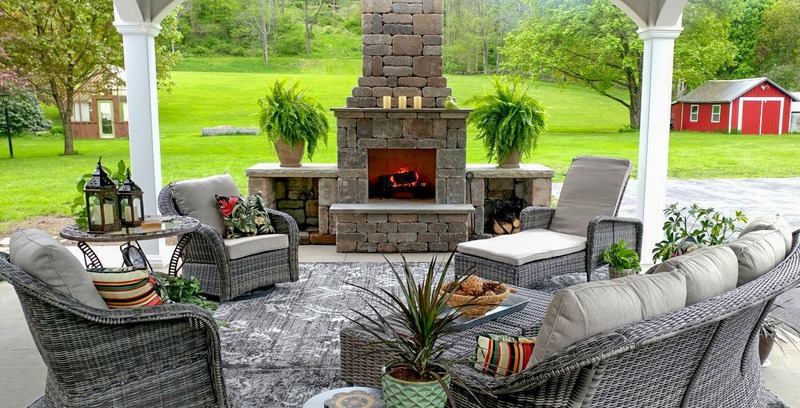 Image Source: romanstone.com
Fire pits are the last thing people think about until when they need them. I realized the stories between my friends and I go into the night, and we have to retreat because it is cold. This is a thing of the past because we installed a nice fire pit. So I can spend some quiet time with my wife at night while the kids are asleep.
Instead of a fire pit, you can go for a fireplace along the wall. Other patio fire pit ideas include;
a) Fire Bowl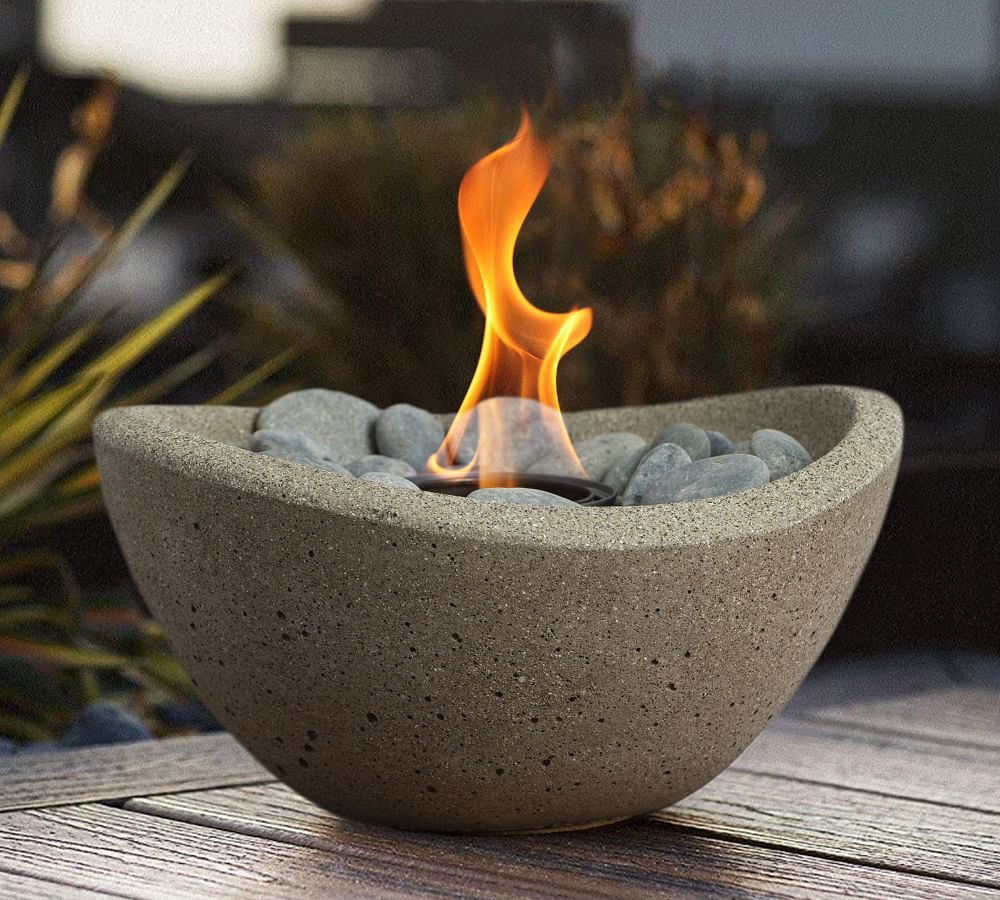 Image Source: potterybarn.com
Firebowls are convenient fireplaces because they are portable. Having a fire bowl in my backyard gives me the luxury of not having to destroy anything or dig a hole in my patio. In addition, I can change the fireplace position without much effort anything if I change my patio's layout.
b) Pizza Oven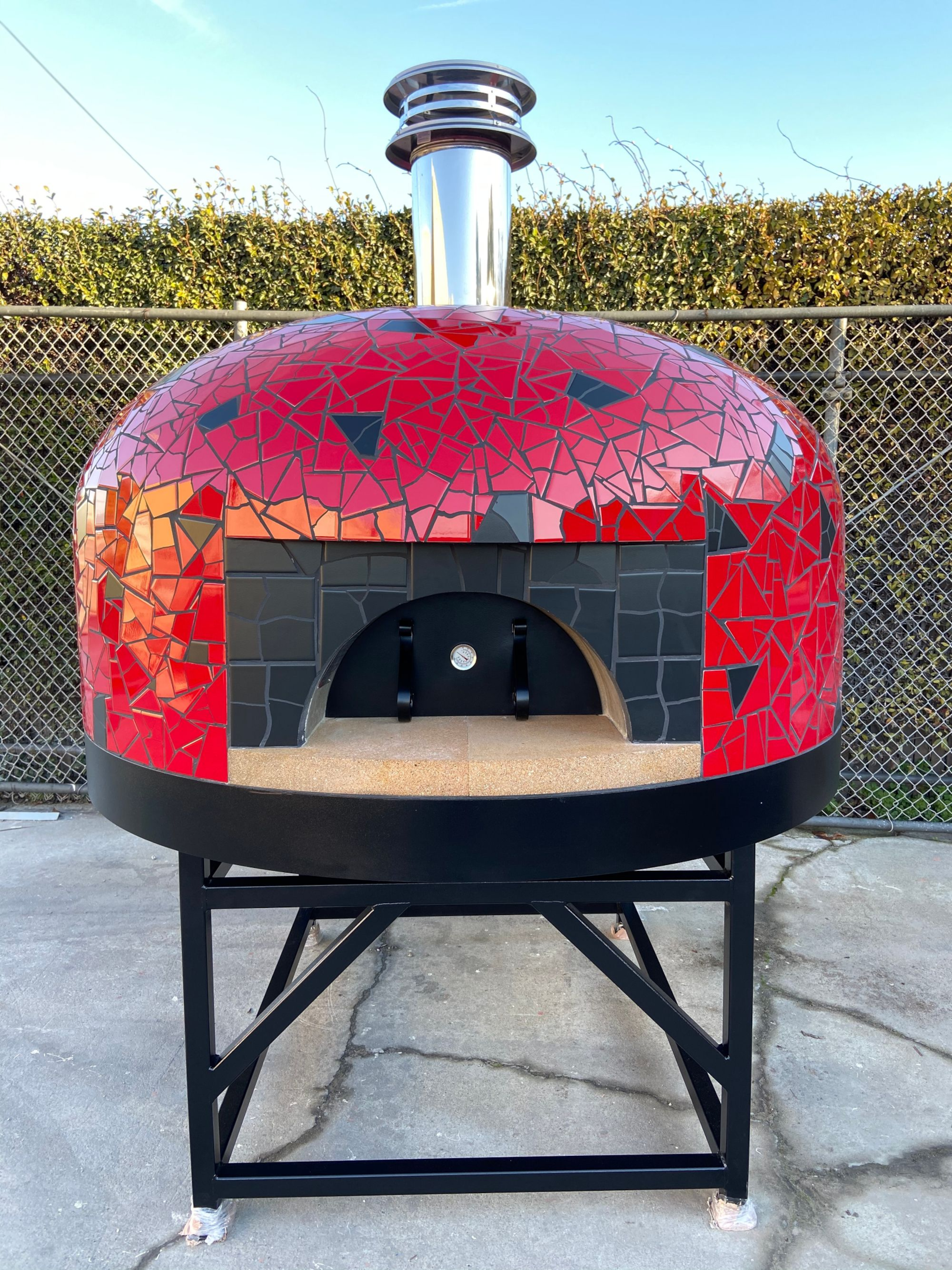 Image Source: pinterest.com
A pizza oven is a multifunctional fireplace. You can make pizza or use it as a fireplace. You can use it for both making pizza and generating warmth.
c) Brick Fireplace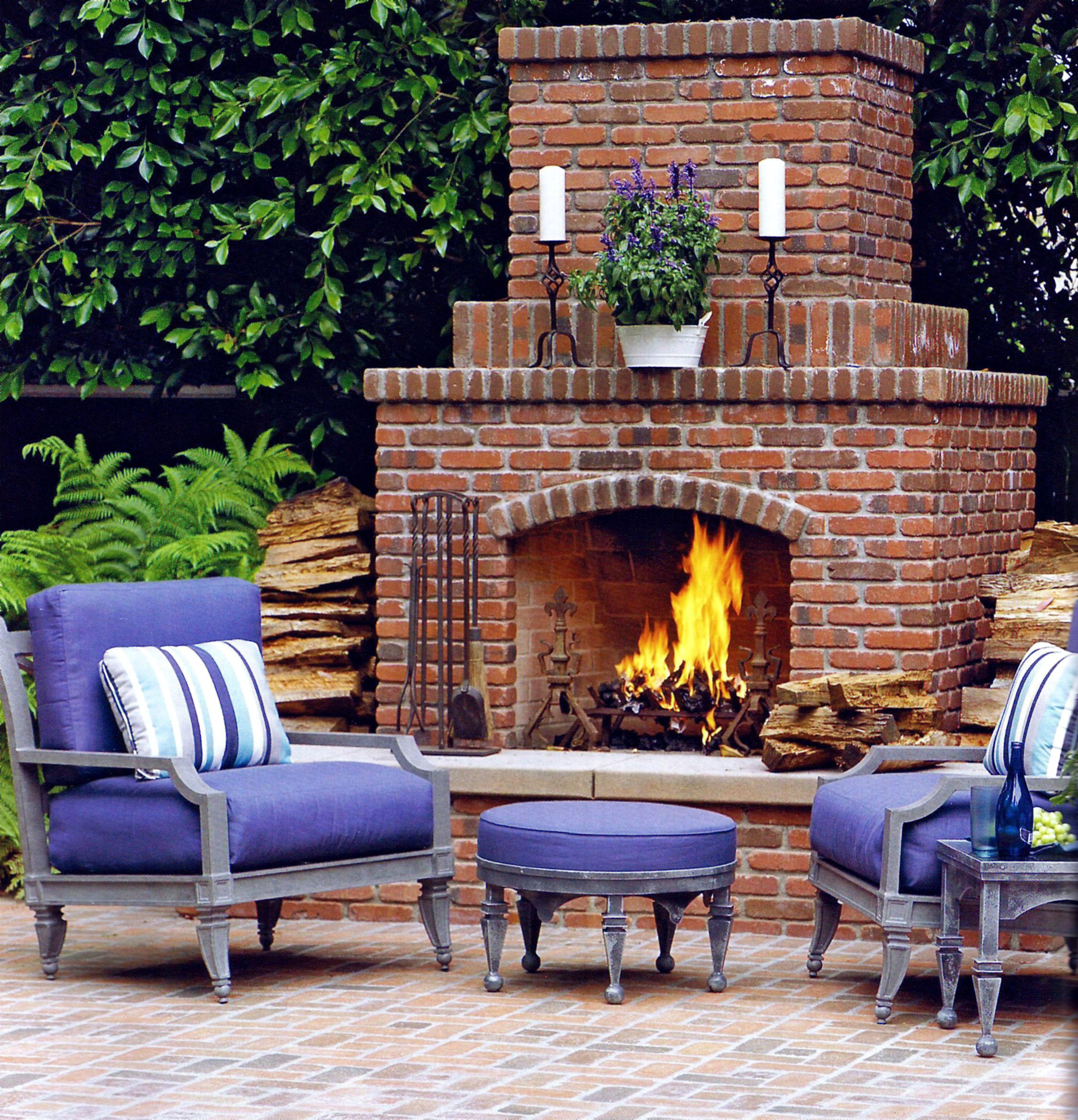 Image Source: pinterest.com
A brick fireplace is one of the best outdoor landscaping ideas. A brick fireplace can be in the form of a fire pit or a huge outdoor fireplace with a chimney. Brickworks perfectly in an outdoor living space, especially when coupled with plants.
d) Fire Pit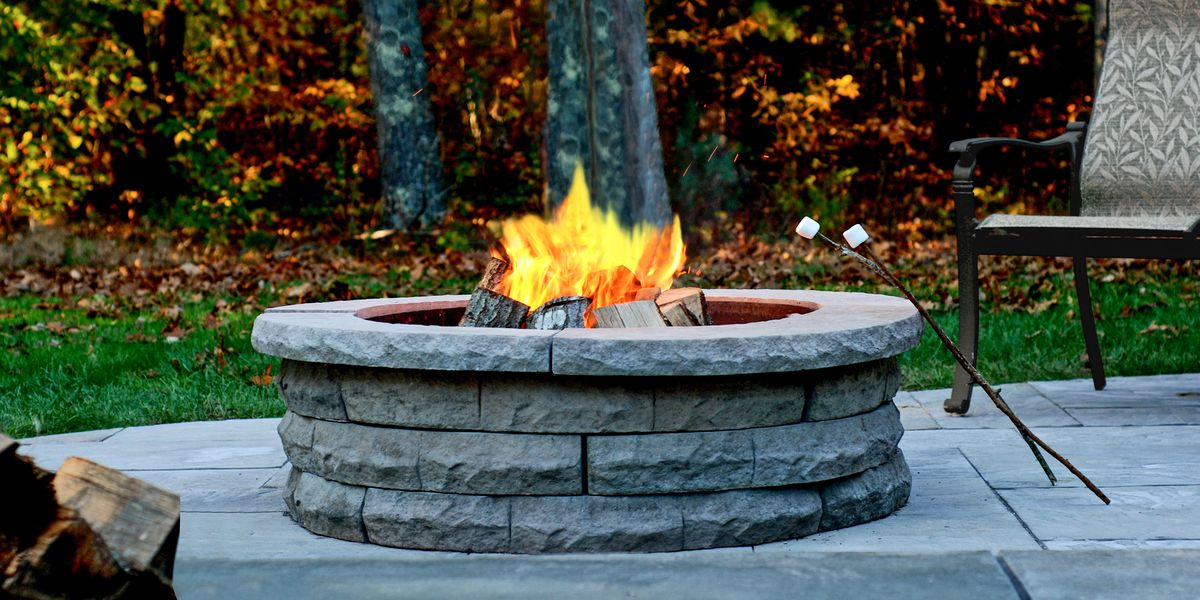 Image Source: thisoldhouse.com
Fire pits are effective because they lose heat slower than raised outdoor fireplaces. In addition, pits warm up the legs nicely from radiation and the rest of the body and environment through convection.
2) Outdoor Kitchen
Outdoor living space can not be complete without a kitchen. An outdoor kitchen makes for a good time and is the easiest way of hanging out with friends while letting the rest of the family have enough private time inside the house.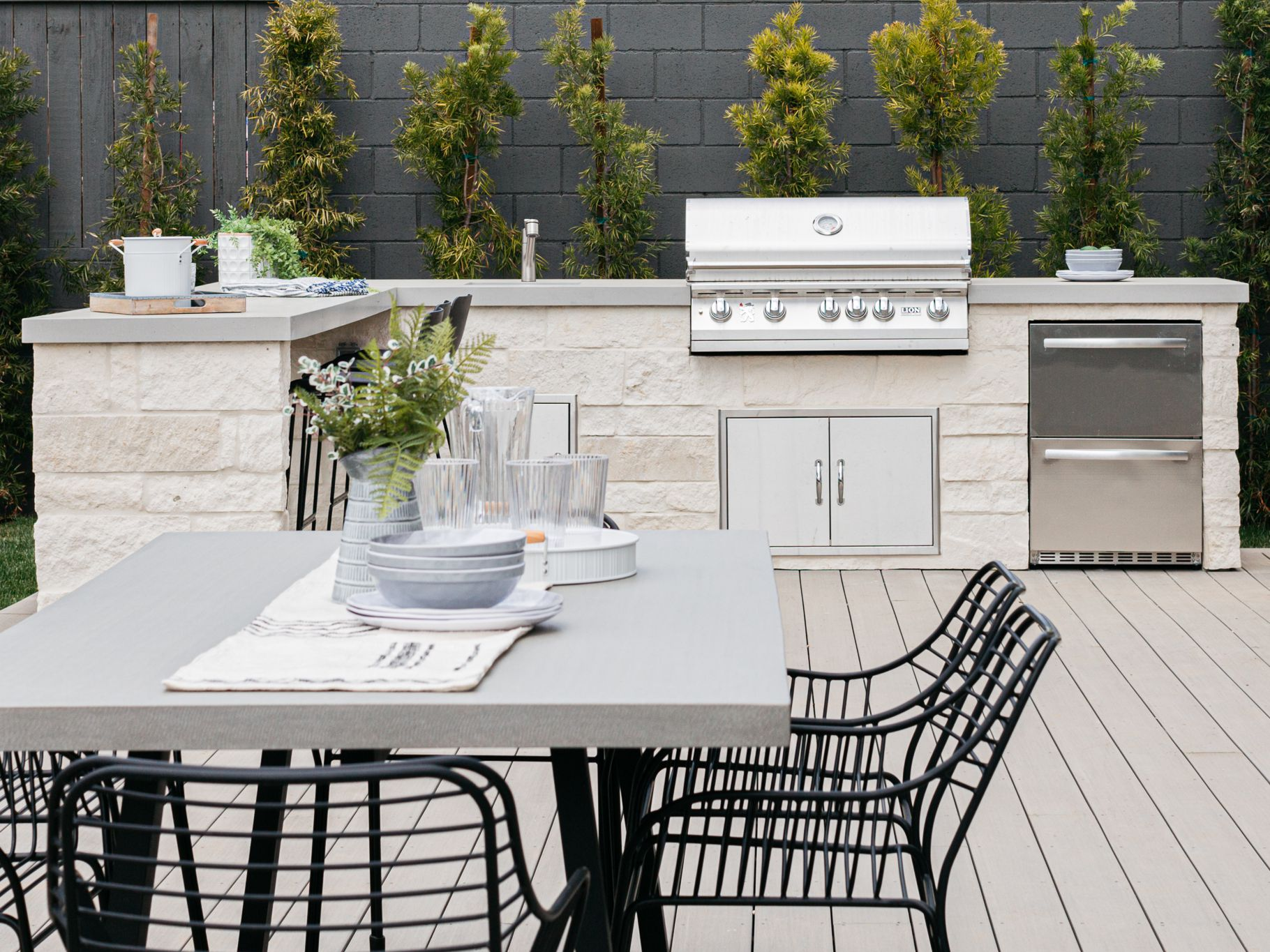 Image Source: thespruce.com
Whenever I am outdoors grilling, a neighbor or two stop by to say hello (or it could be my irresistible recipe).
3) Wooden Patio Furniture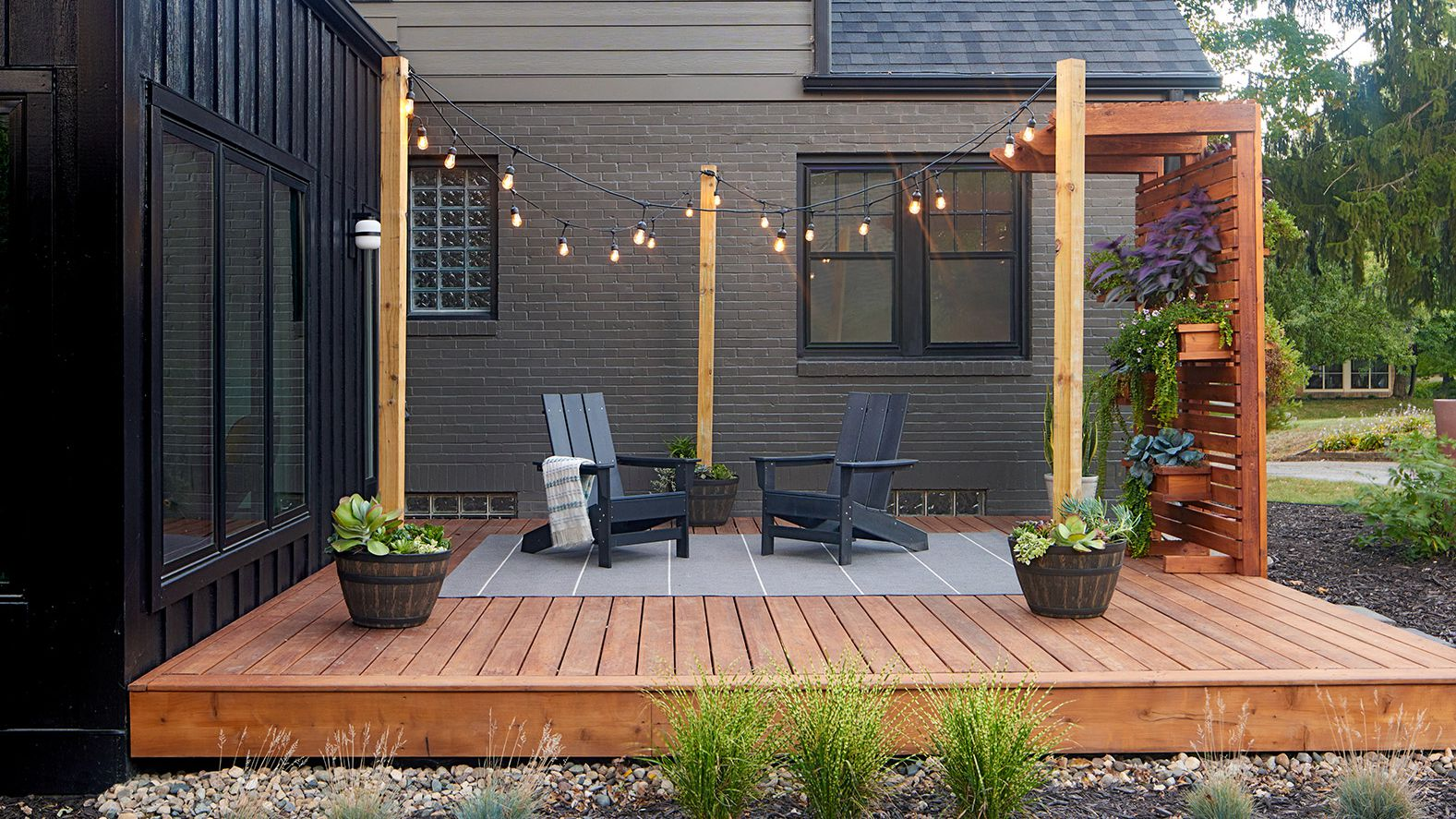 Image Source: bhg.com
The patio is not complete without simple and stylish seats and tables. There is a lot of character that patio furniture brings to the outdoor space. Patio furniture is where I had the most control when remodeling my patio because it is not a structural choice that has to be made by a professional.
4) Hot Tub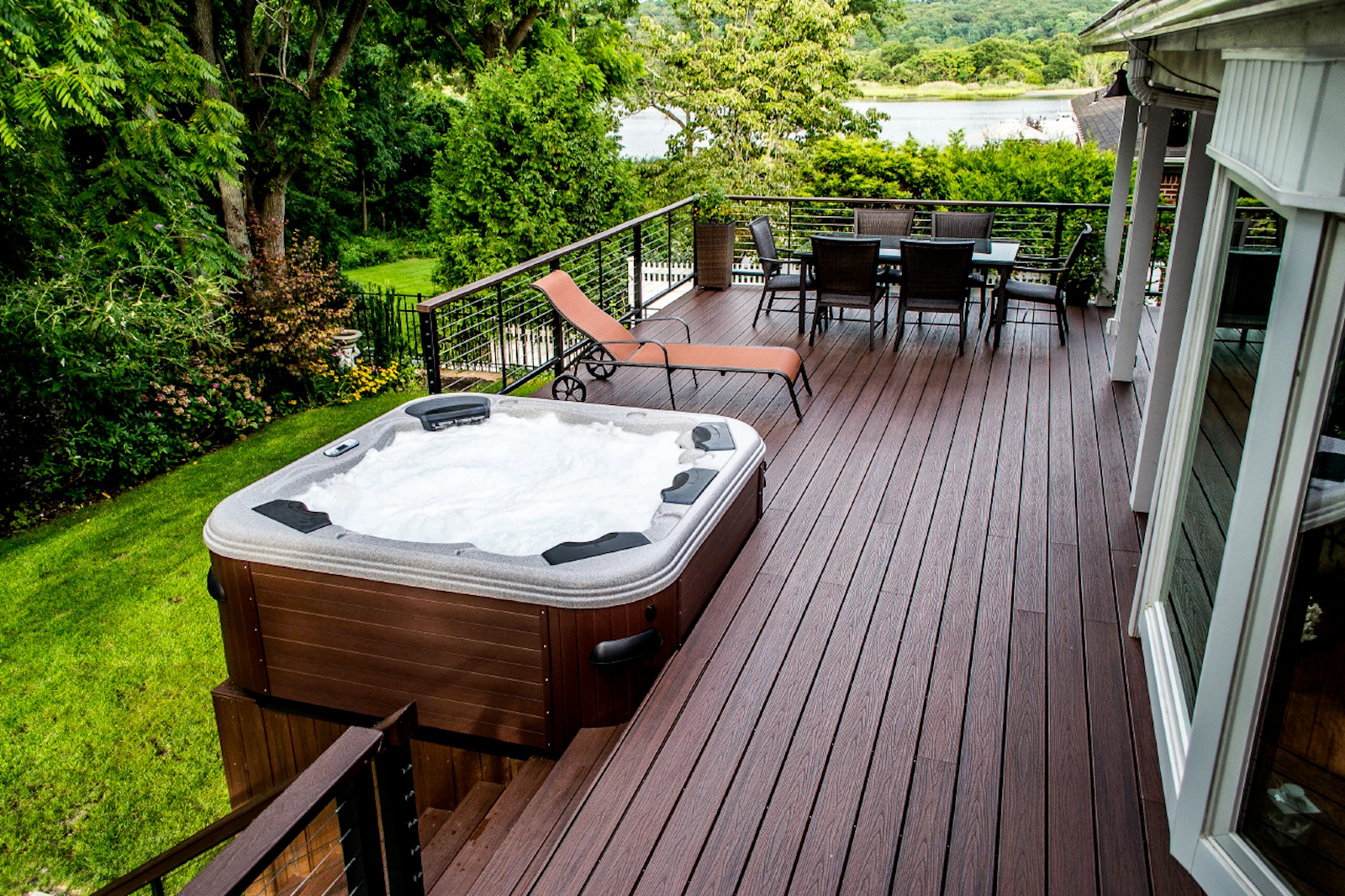 Image Source: houselogic.com
My primary purpose for having a patio is to have a good and relaxing time. Nothing beats the hot tub in giving peace of mind and escaping the harsh world. The hot tub is a great alternative if your outdoor space is not large enough to have a swimming pool.
The hot tub allows me to enjoy the outdoor space during the colder seasons of the year.
5) Patio Lighting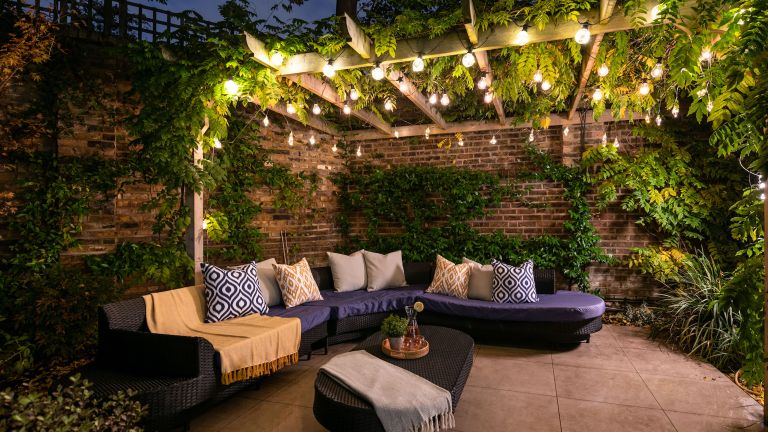 Image Source: southernachnola.com
Great lighting will always enhance any space, whether outdoors or indoors. There are a lot of outdoor lighting ideas. Here are some patio lighting ideas that I found to be interesting.
a) String Lighting
String lights are probably the most popular outdoor space lighting idea. This is because string lights are so easy to use because of the multiple ideas you can apply using a string light, from running the string lighting along a fence to running the lighting across the roof or top part of the patio.
Image Source: tristate.coop
String lights are affordable and weather-proof, making them the ideal kinds of lighting to have. In addition, string lighting fits all seasons, making them work well as permanent fixtures.
b) Plant Lighting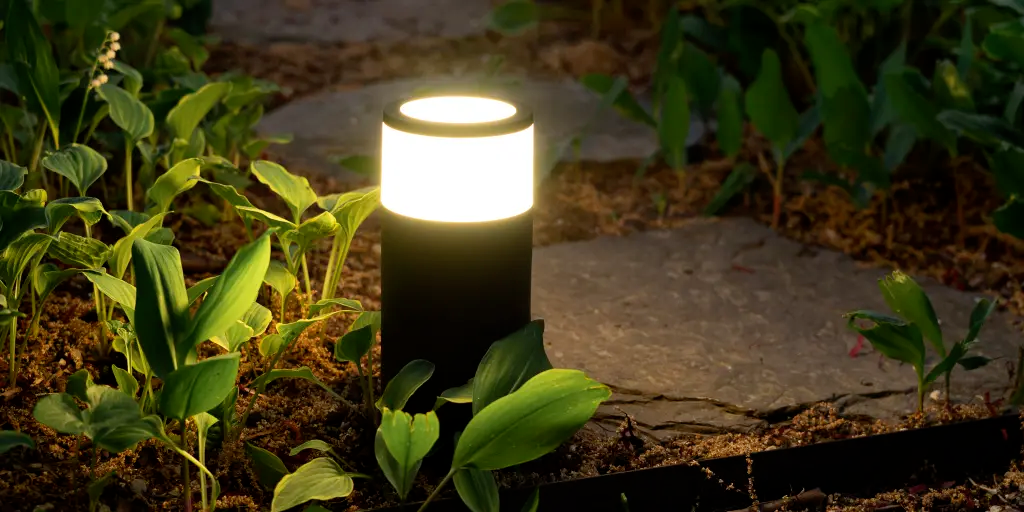 Image Source: nytimes.com
Running lights along the plants on the patio is one of the best ways to keep the lively vibe going. If the plants look good during the day, then there is a chance they will look just as good at night if properly lit.
c) Patio Lanterns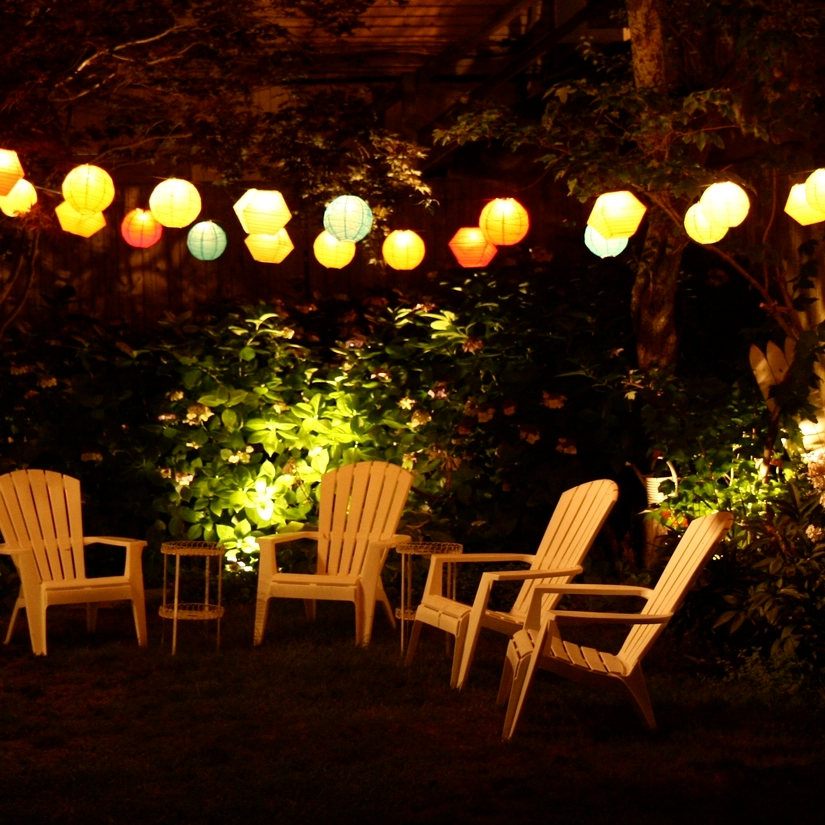 Image Source: 8tracks.com
Lanterns are beautiful and cut across different cultures. The other beautiful thing about lanterns is the multiple ways they can be used. For example, my patio has lanterns all over the place. I have some hung on the patio while others are on the ground to create a beautiful enclosure around the patio area.
Lanterns enhance the patio decor because they come in different colors, shapes, and sizes.
d) Path Lighting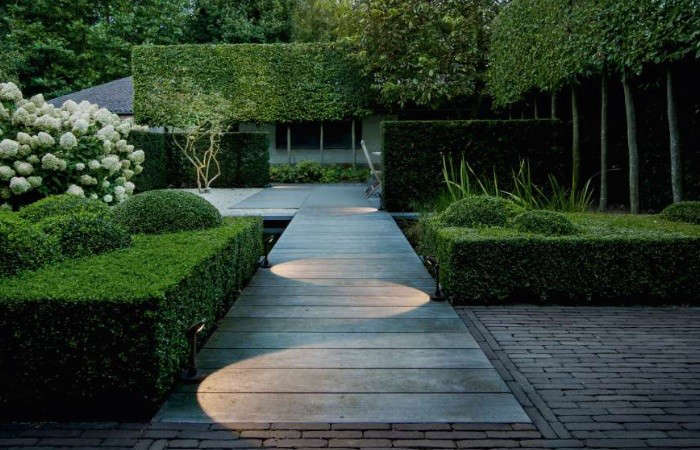 Image Source: gardenista.com
The pathway to the patio is one of the most fun places to have lighting. You will see this type of lighting in high-end properties because they look great.
e) Canopy Lighting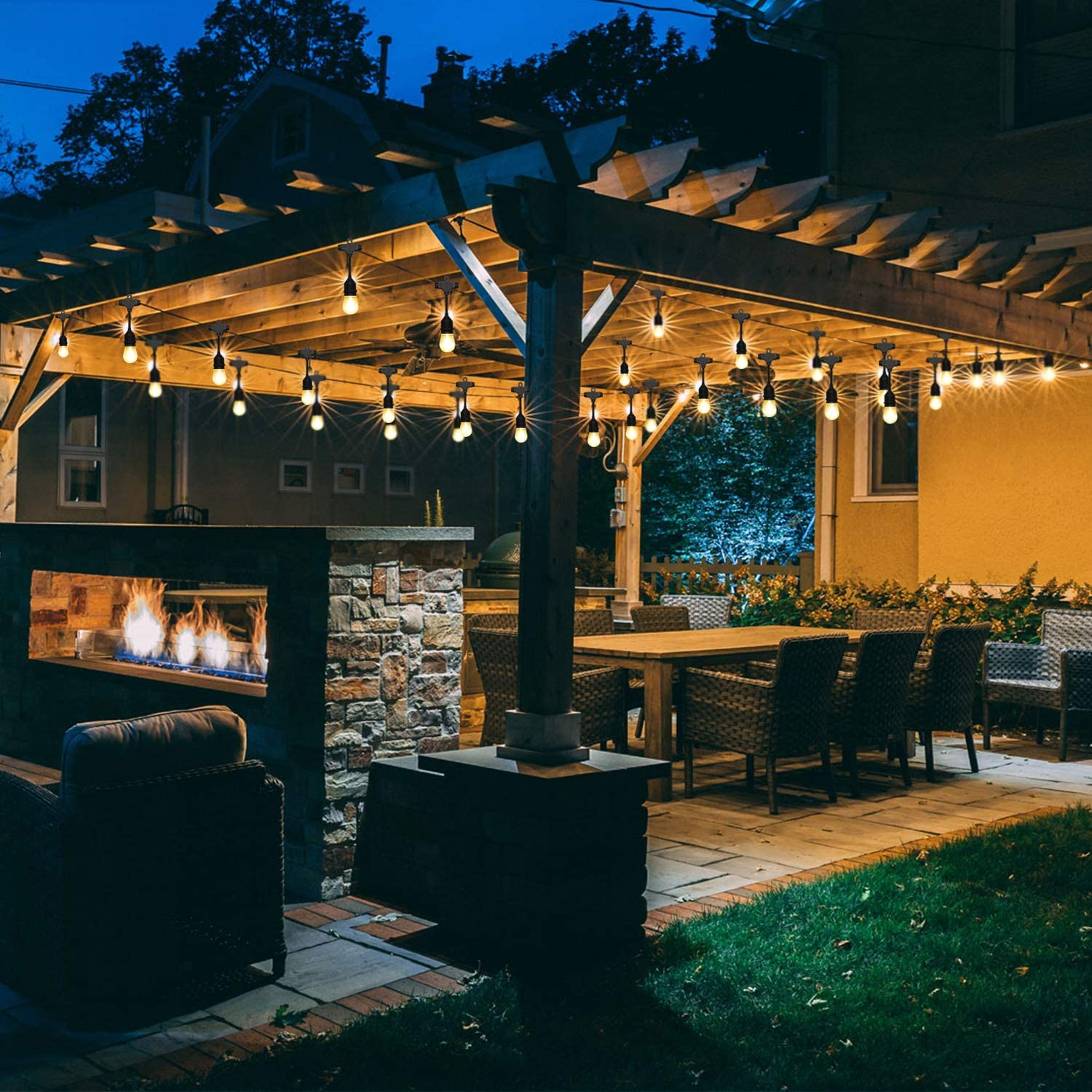 Image Source: vieiraimoveisrp.br
One of the few reasons I look forward to Christmas is canopy lighting. Look so magical.
f) Candle Lighting
This form of lighting has been around for thousands of years. However, if I install any lighting around my hot tub on the patio, it must be candles. Candles have a huge potential to create one of the best outdoor space lightings you can find.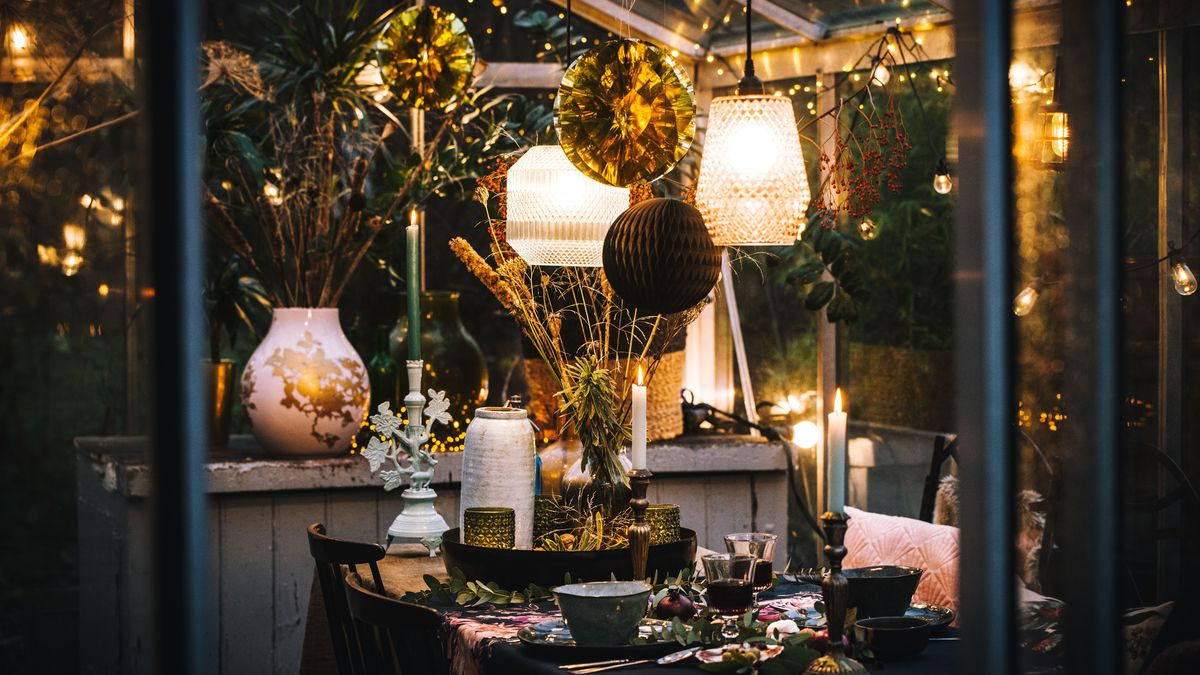 Image Source: food52.com
The other advantage of candles is that I can bring them to other rooms in the house or use them outdoors. Other lighting ideas could match your theme and make it stand out at night.
6) Patio Plants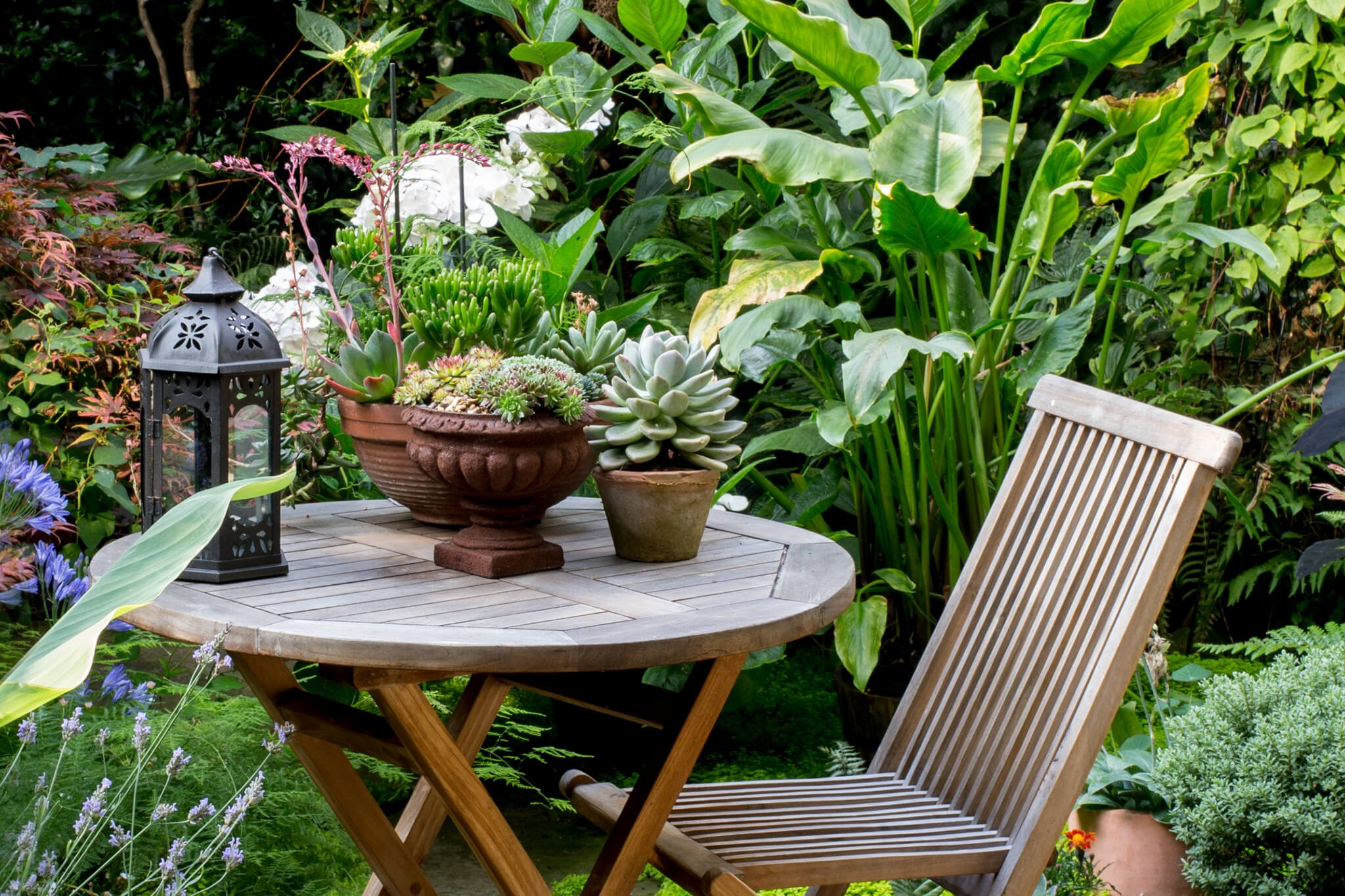 Image Source: gardenersworld.com
Having plants outdoors is one of the best landscaping ideas one can try out. First, adding new plants will give your home a refreshing feel. Plants give off good and relaxing vibes. Then, plants grow, making them more dynamic to your setup.
7) Fence upgrade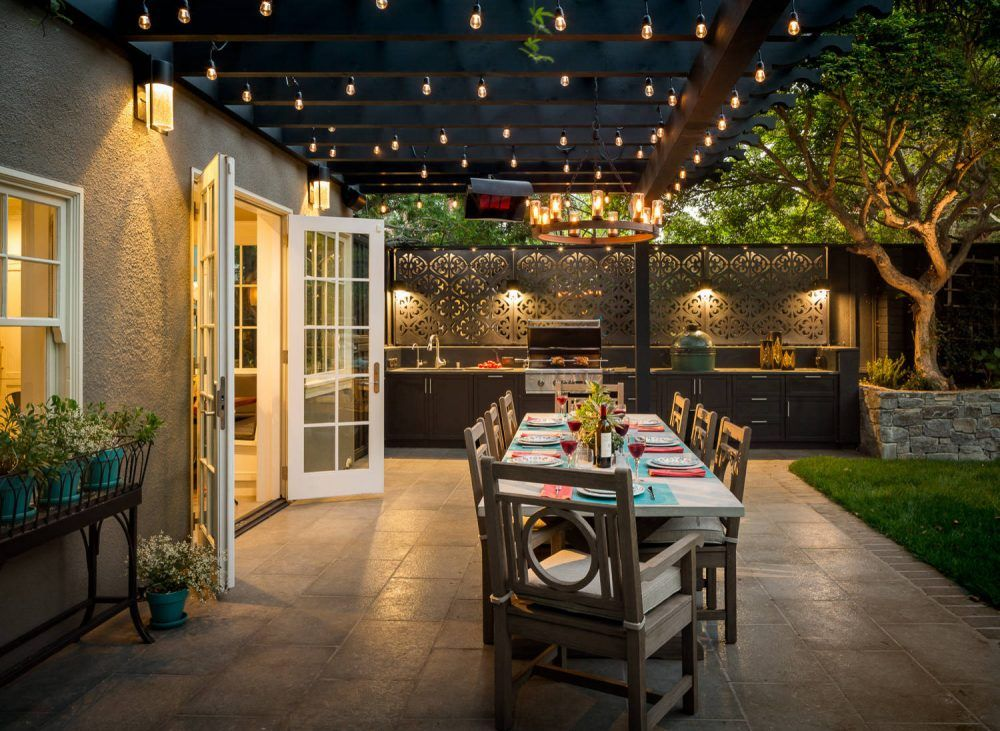 Image Source: pinterest.com
The patio does not exist in isolation in the backyard. Having a fence upgrade will immediately increase the aesthetic value of the patio. There are a lot of great privacy fence ideas to improve your patio appearance instantly.
8) Lawn-Grass Upgrade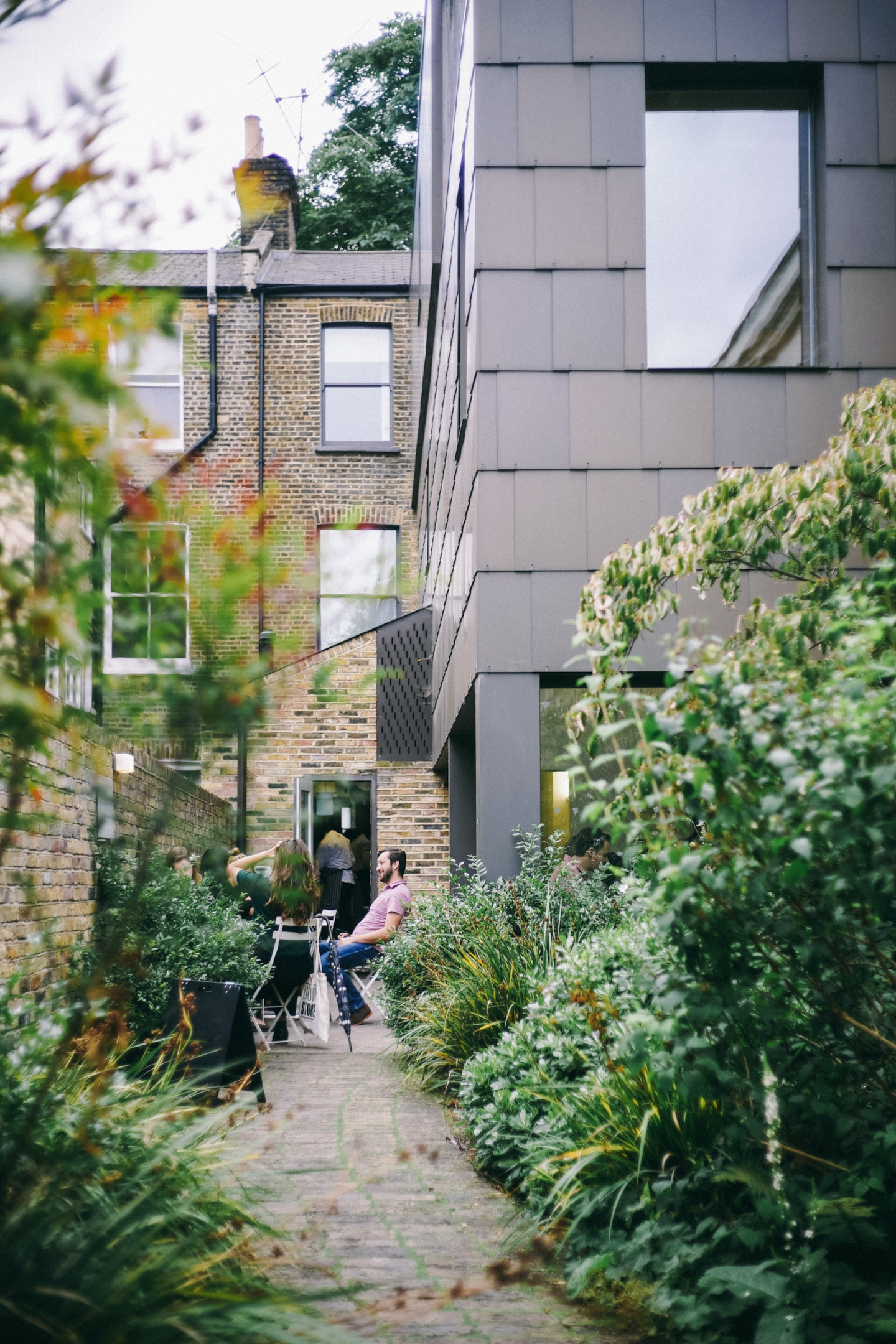 Image Source: JoshWilburne unsplash.com
You may have the best patio, but if you have scrawny grass, the beauty of the patio will be reduced by a huge margin. I had to change the grass in my backyard to have a different breed that can survive most seasons. Many homeowners will agree that good grass is one of the major statements one can make when landscaping.
9) Concrete Patio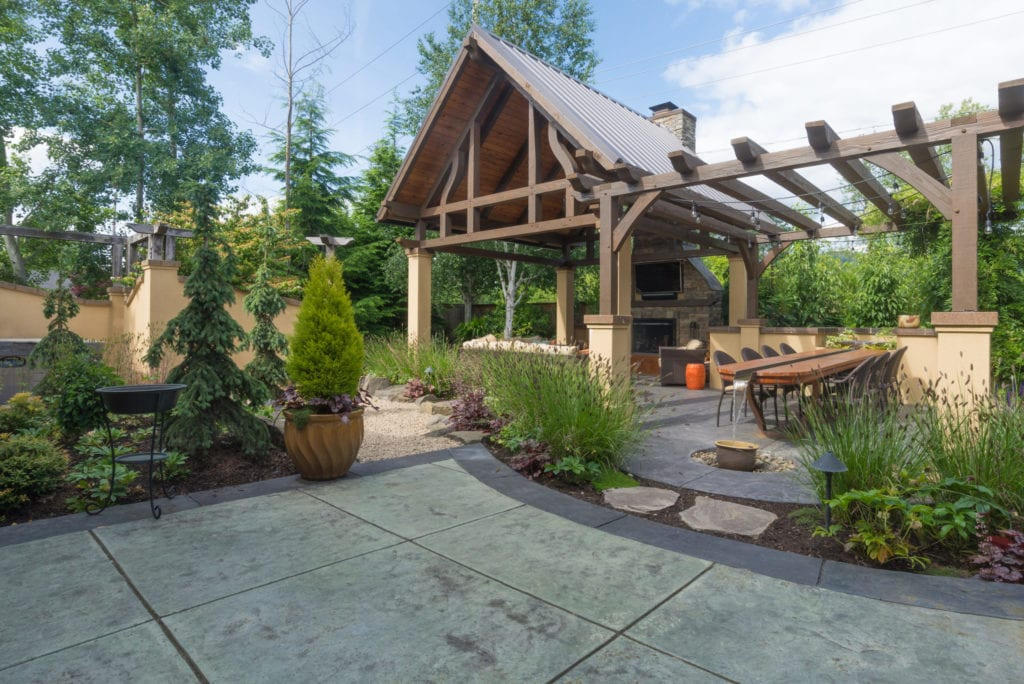 Image Source: mymove.com
Concrete is one of the most convenient building materials to use because it is easy to maintain once you have it. As opposed to grass, there is no constant watering involved. Additionally, concrete is easy to clean, and you can have plants on plant pots on the patio to achieve the much-needed greenery.
10) Flowers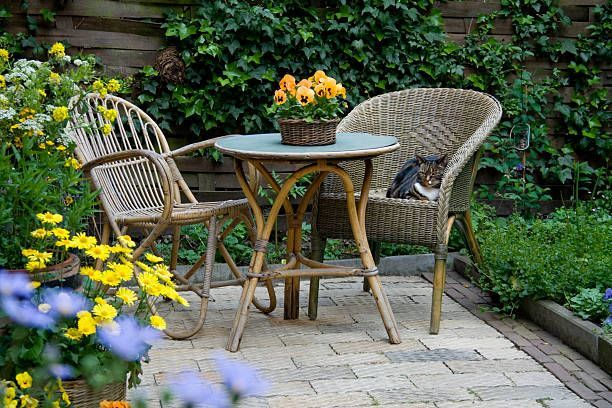 Image Source: countryliving.com
Having flower bushes is a huge addition to the beauty of the patio. Flowers can never go wrong because the numerous options available make you likely to find the ideal one. You can find flowers that are brightly colored to minimal flowers. Personally, the flowers I have on my patio will not be the first things you will see because they are not the brightest things there, but they do add a strong character.
11) Patio Pond
Image Source: blackshirts.info
This is class. A pond on the patio is an upgrade I dream of having on my patio. This idea will work as long as I can pull it off.
12) Patio Sun-Roof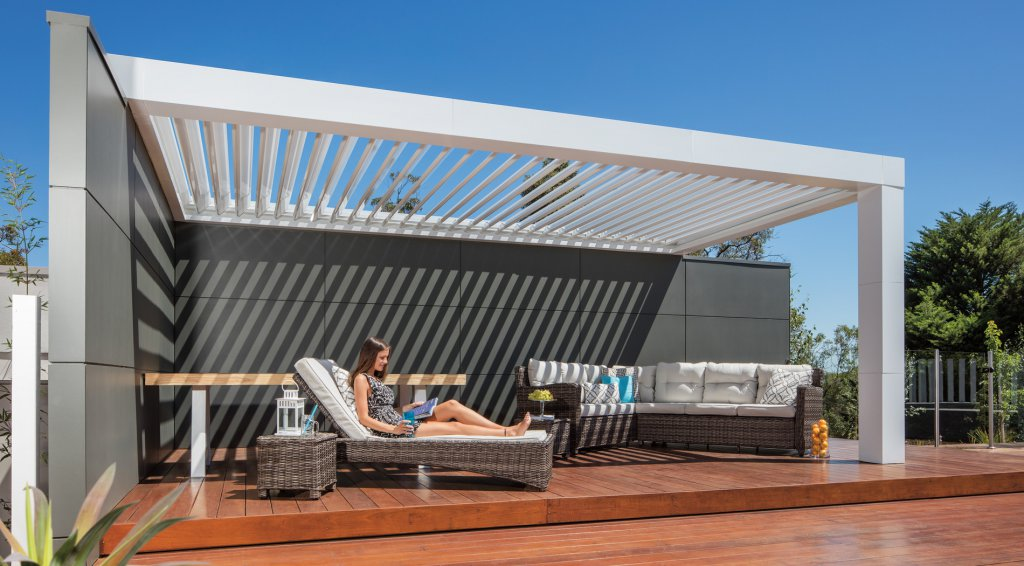 Image Source: pkhomes.com.au
The sunroof tends to work for a lot of structures. Outdoor structures like the patio can benefit from the sunroof because the space stays bright enough without exposing the skin to excessive sunlight. The sunroof is one of the most aesthetically pleasing upgrades I saw in my quest for patio remodel ideas.
13) Gravel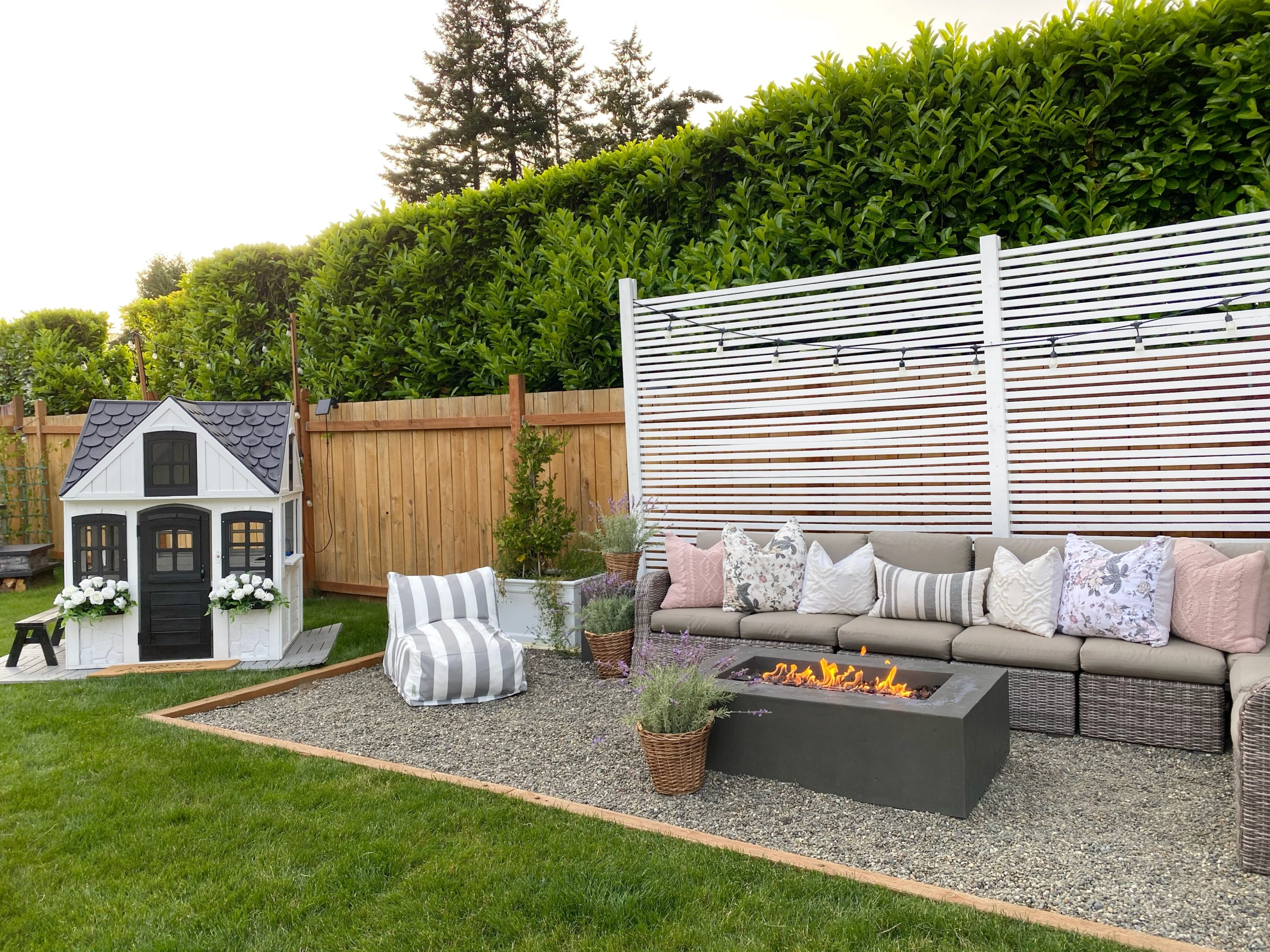 Image Source: dreamingofhomemaking.com
Gravel blends in nicely with numerous outdoor designs. Plants will look more natural when placed on gravel. In addition, gravel creates a beautiful contrast with everything else in the backyard.
14) Swing Seat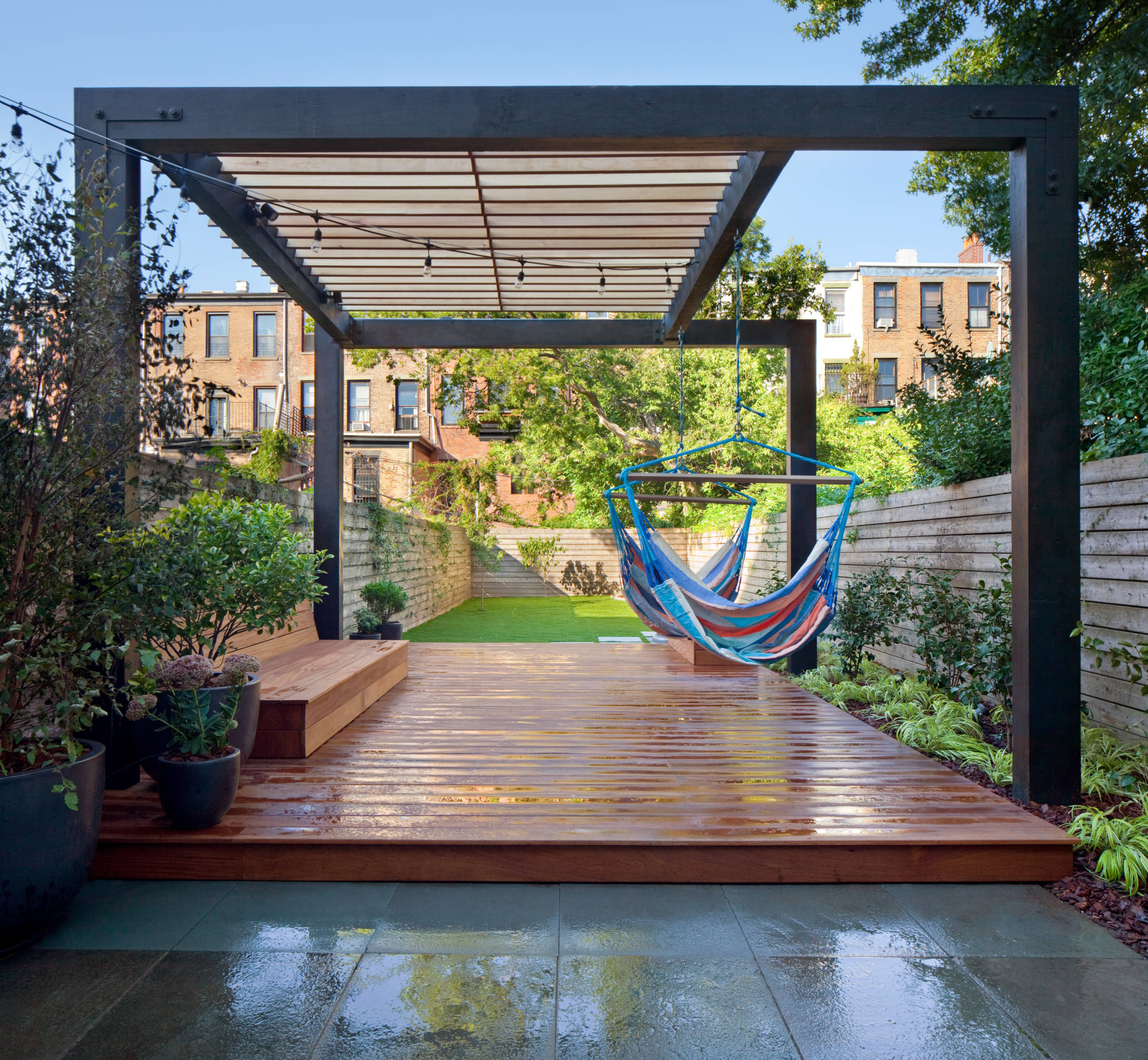 Image Source: houzz.com
The patio is made for relaxation. If the patio structure is strong enough, seats can be suspended on the patio to create a fun spot to hang out. Swing seats work well for everyone, from grown-ups to kids.
15) Sunken Patio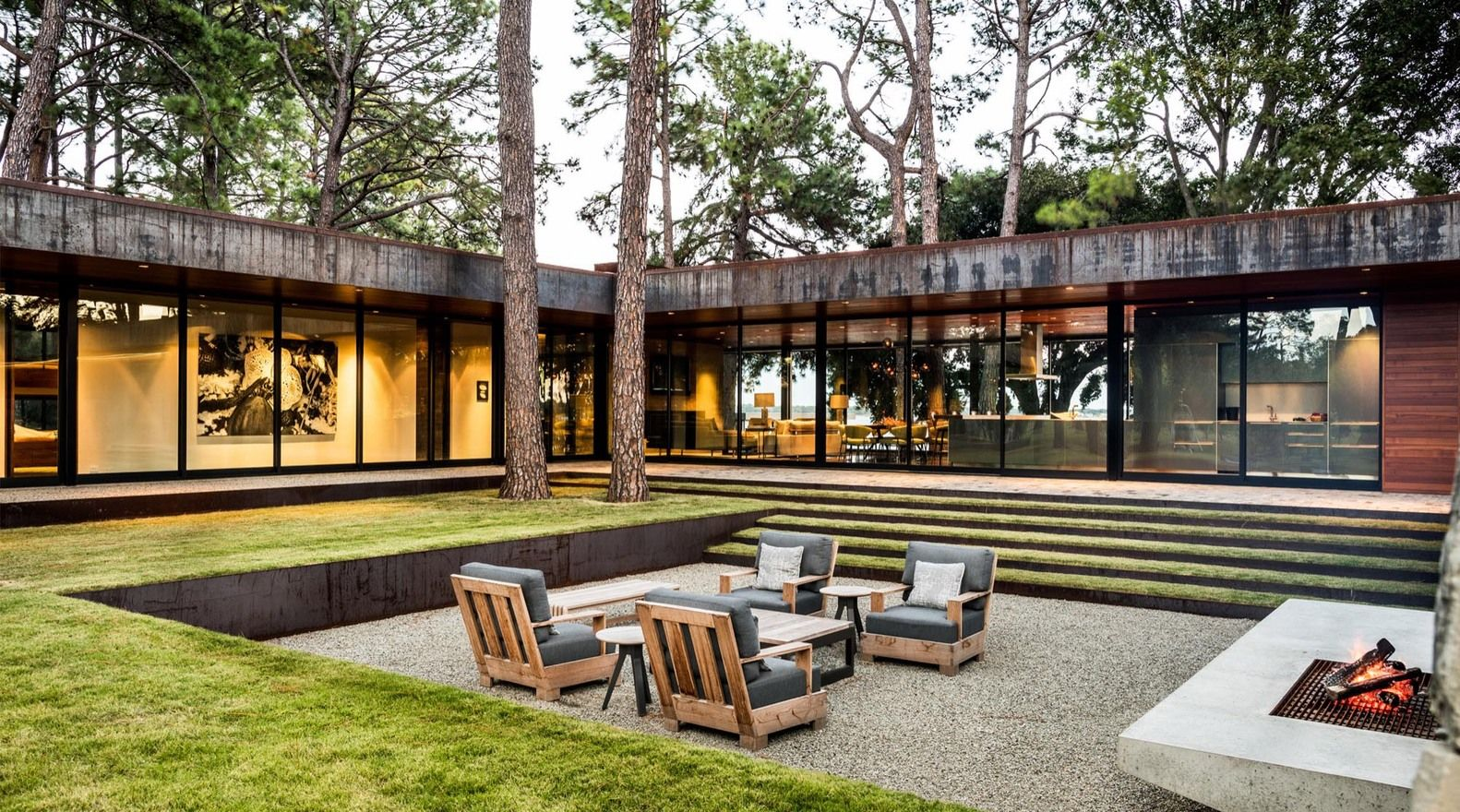 Image Source: homedit.com
A sunken patio is a cool place to hang out with friends or family, especially at night. The design is unique and stands out to the eyes immediately.
16) Living Roof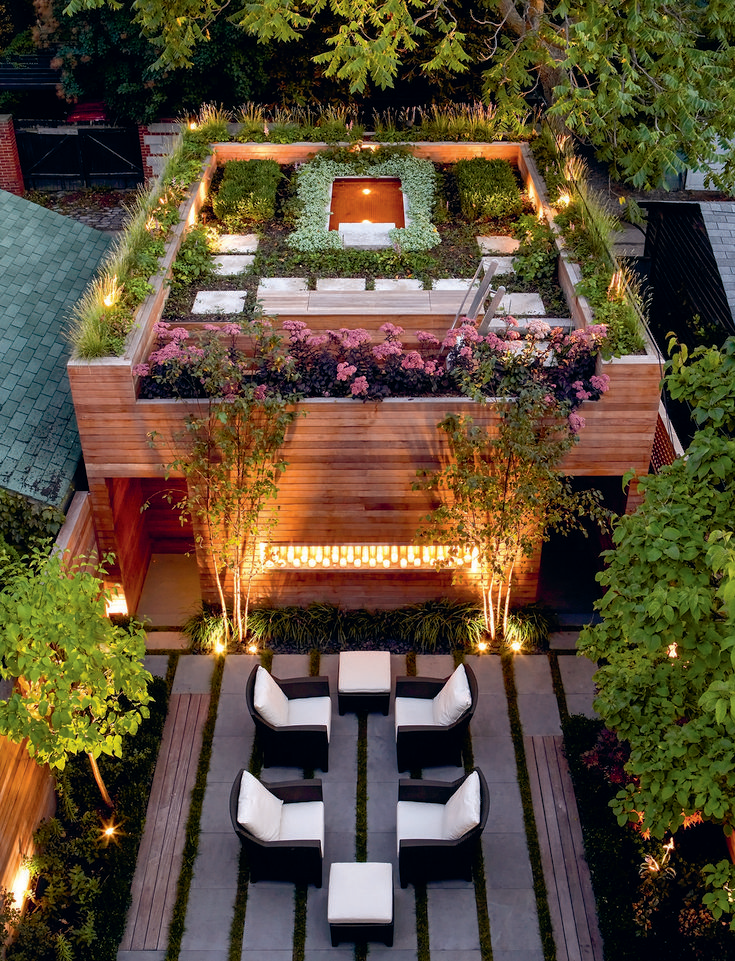 Image Source: pinterest.com
The living roof is hard to achieve but has the most satisfying results. The roof is high maintenance, but the aesthetic appeal makes it worthwhile.
17) Umbrella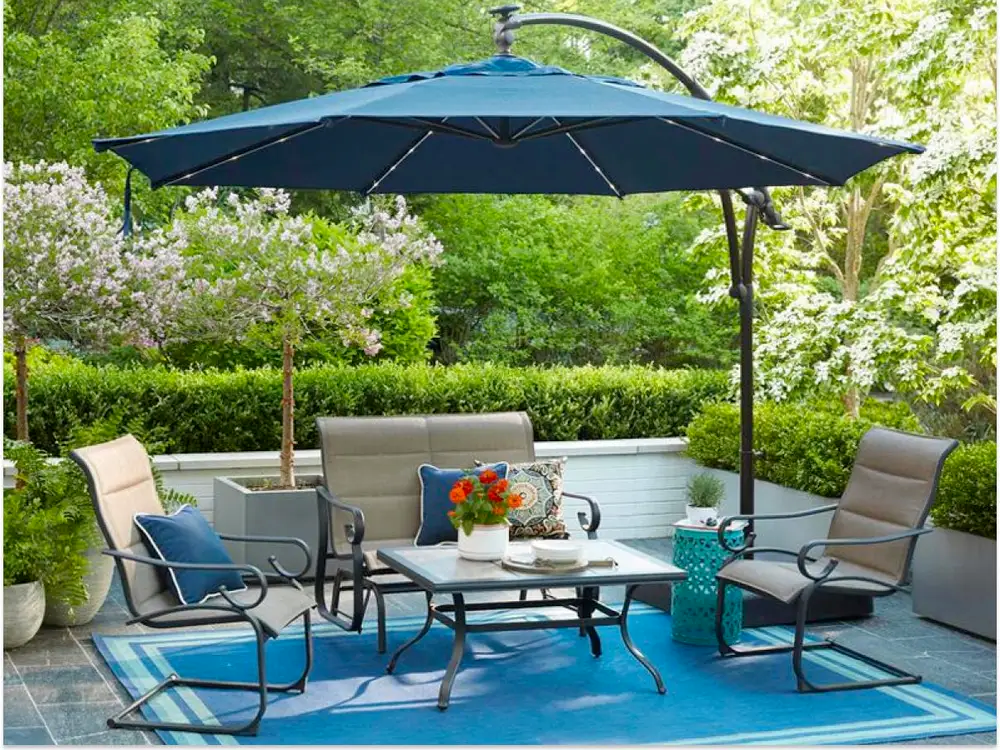 Image Source: insider.com
An umbrella is one of the cheaper ways of getting shade to the patio, especially if you are within a tight budget for your project. However, while umbrellas are budget-friendly, it is only for the short term. In the long run, more permanent solutions work better.
18) Solar Lights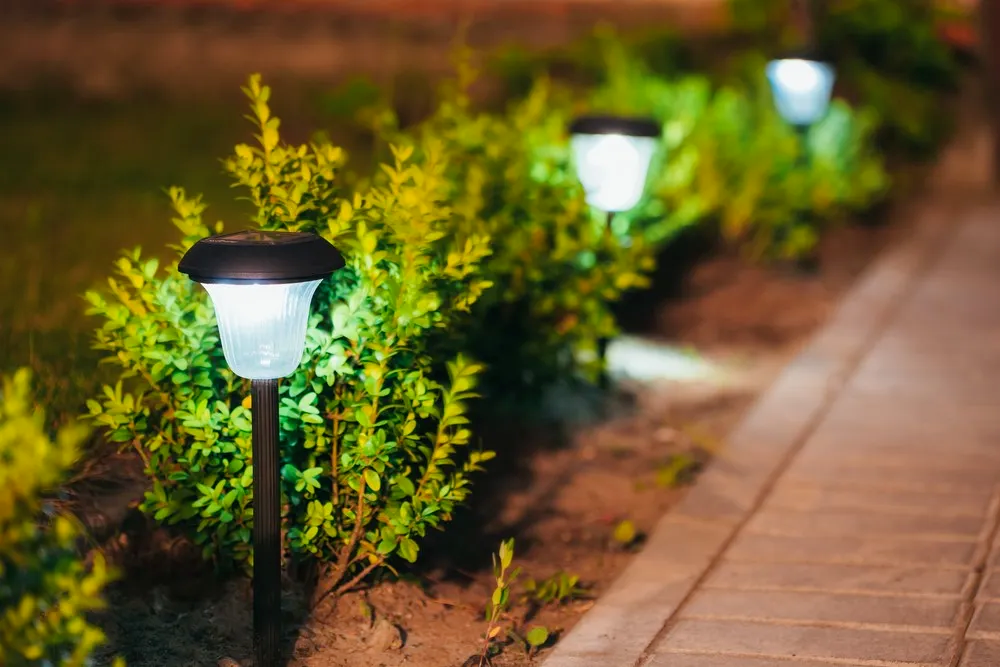 Image Source: biofriendlyplanet.com
Since the patio is outdoors, there is no need to have the lights powered from the house when the sun can do the job. Therefore, having solar lights is one of the most eco-friendly ways of going about a patio remodel.
19) Garden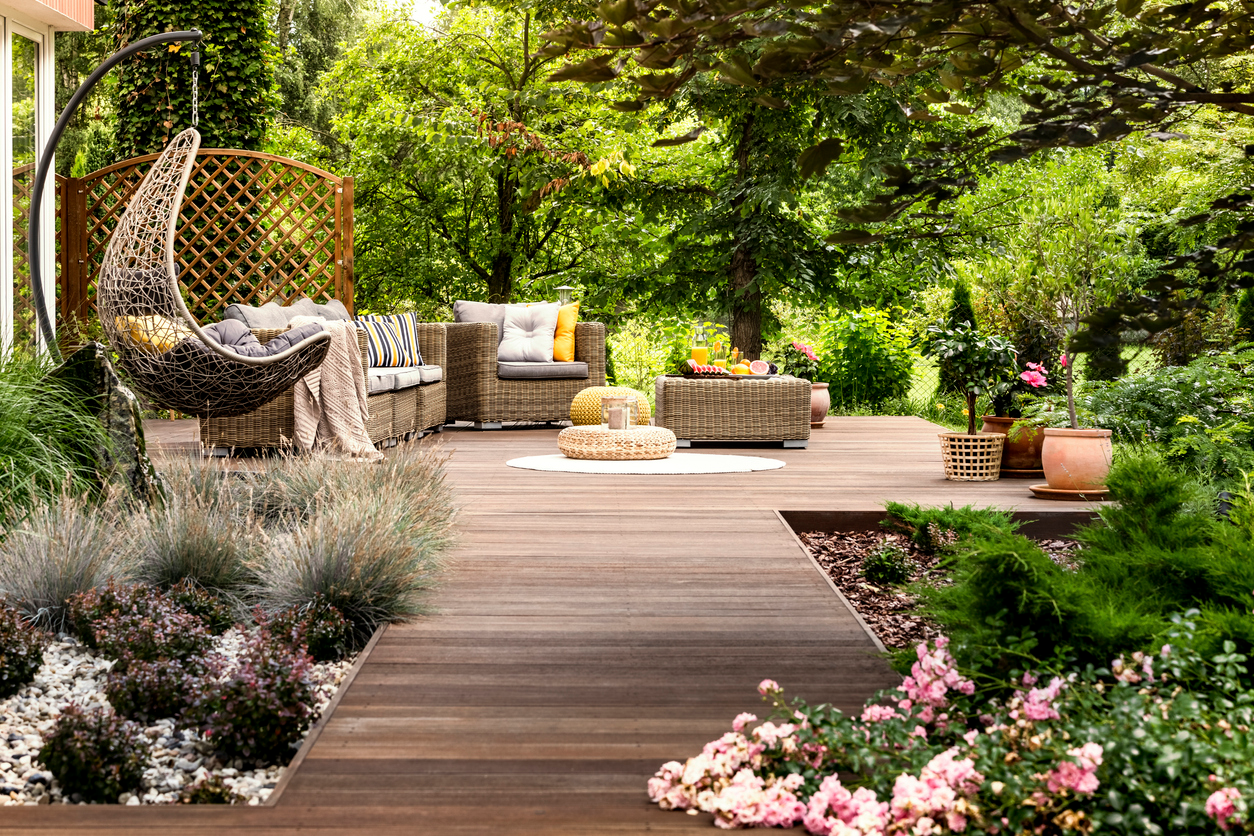 Image Source: gardeningknowh0w.com
A garden near the patio is one of the most refreshing things. While my backyard patio does not allow for this, I would happily incorporate a garden if possible.
Before and After Gallery
1)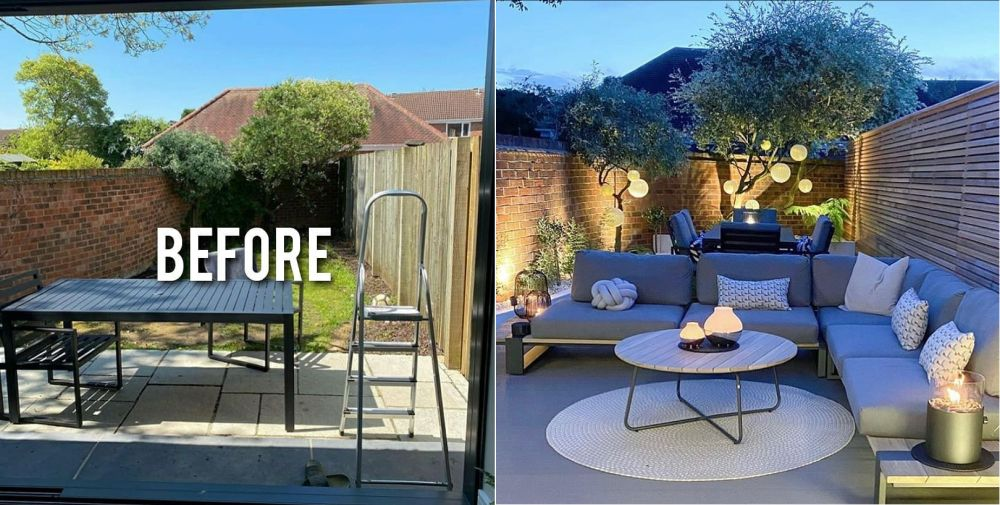 Image Source: homedit.com
2)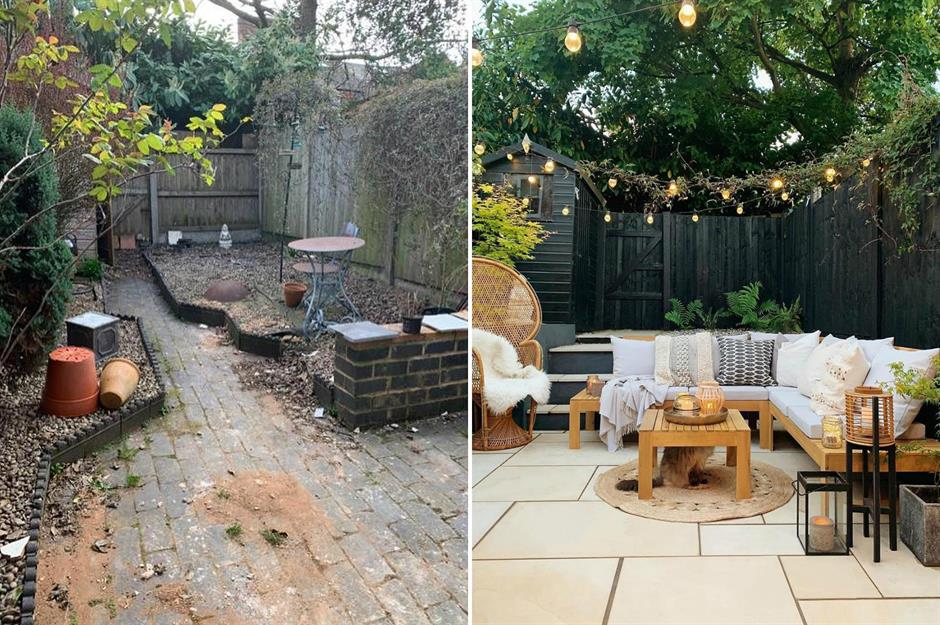 Image Source: homedit.com
3)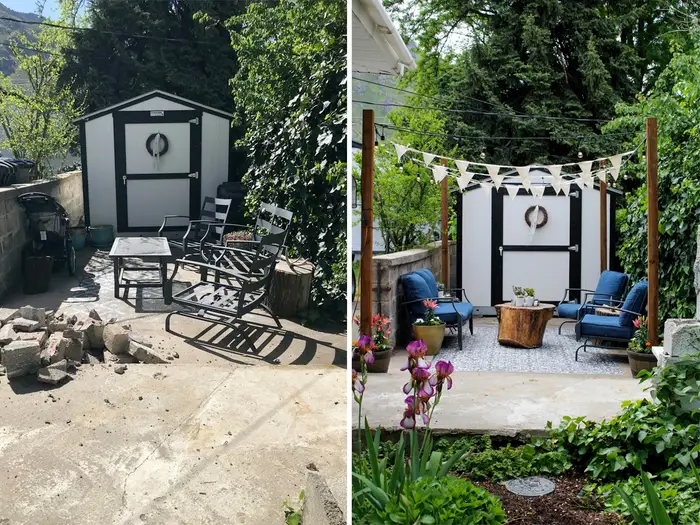 Image Source: homedit.com
4)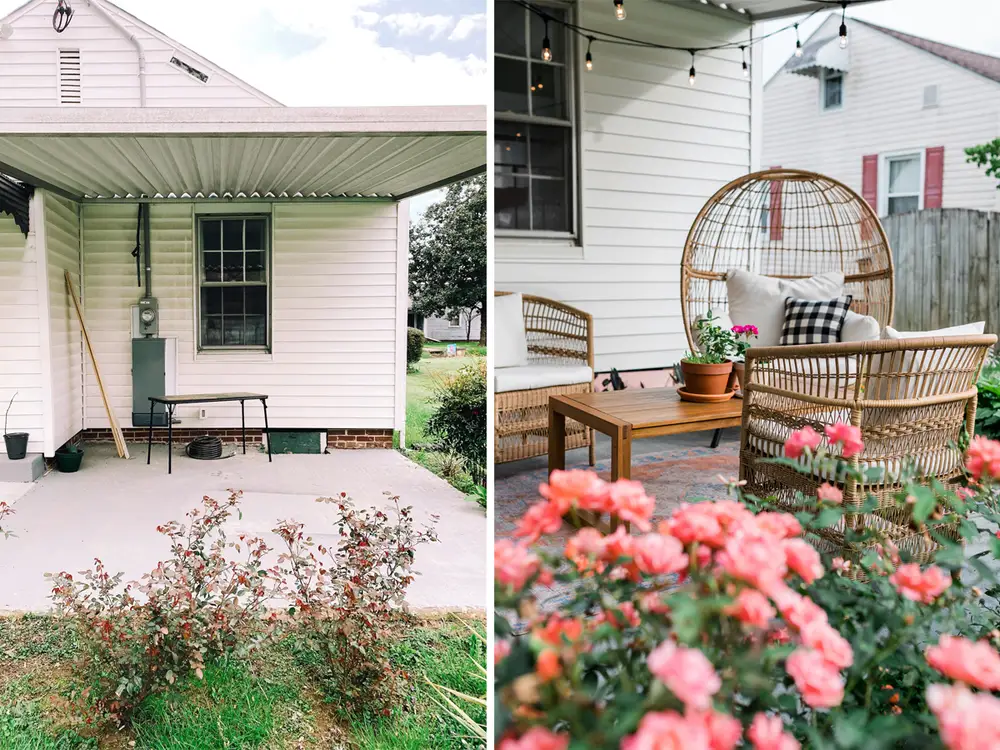 Image Source: homedit.com
Patio Remodel Tips
While renovating the patio, it is wise to be strategic. Here are a few things I had to remember when remodeling my patio.
a) Weather-Proofing
There is no point in getting the best patio that will not stand the test of weather. I know the weather patterns in my area, and I use that information to make certain choices. Unfortunately, it rains a lot and with strong winds. This means that there was no way I was going to use an umbrella and a sunken patio.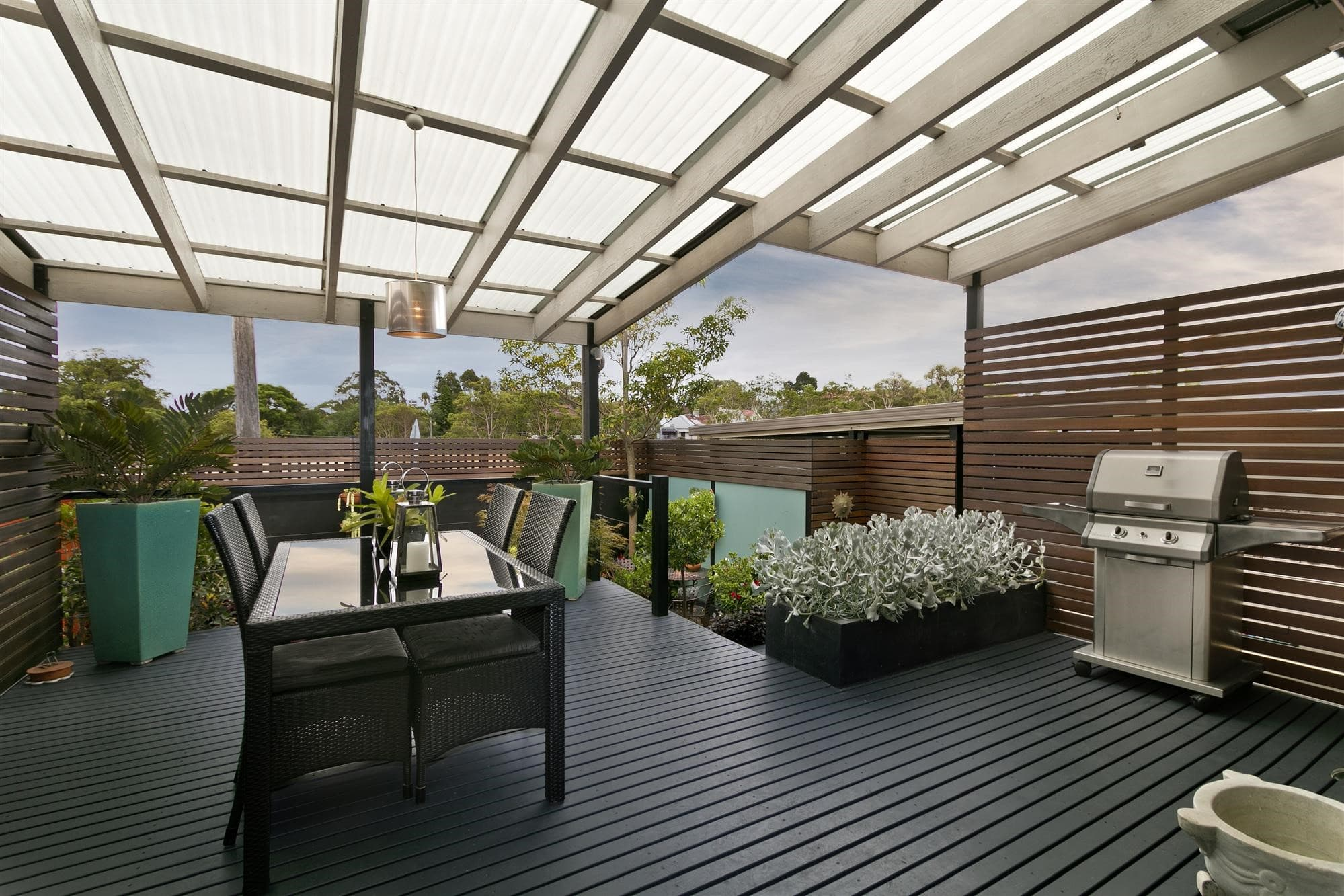 Image Source: enclosureguy.com
If the sun is too hot in your region, do you need grass, or are there better alternatives to grass? You certainly do not want unhealthy grass in your backyard.
b) Location
Is it better to have a patio in the backyard or the front yard? I chose to have my patio in the backyard to create an element of surprise for my guests. The advantage of a patio is that it can fit even a small backyard.
I have never liked having a patio close to the living room. This is because the patio and the living room are high-activity areas in the house that should not be juxtaposed at all costs. In addition, having the patio away from the living room makes it possible for me to have my friends over without interfering with the rest of my family.
c) The Sun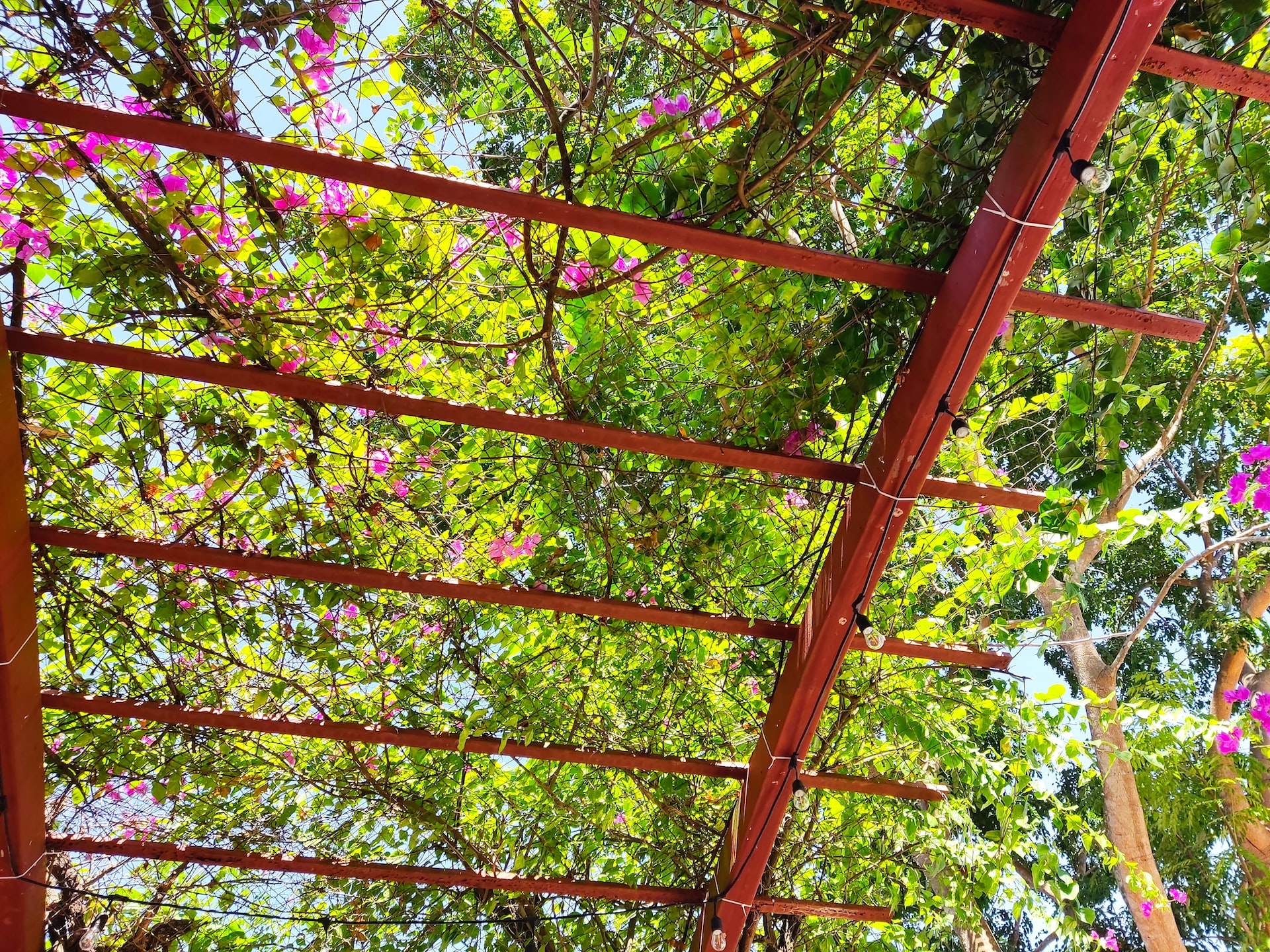 Image Source: Shin1 unsplash.com
How does the sun move in your backyard? If most of the patio interior will be exposed to the sun for most of the time, then there is no need to have it up in the first place. I would look for natural barriers like trees, the main house, the neighbor's house, or the fence. If the budget allows for installing a screen or a solid roof, that can solve the sun problem.
d) Throw Pillows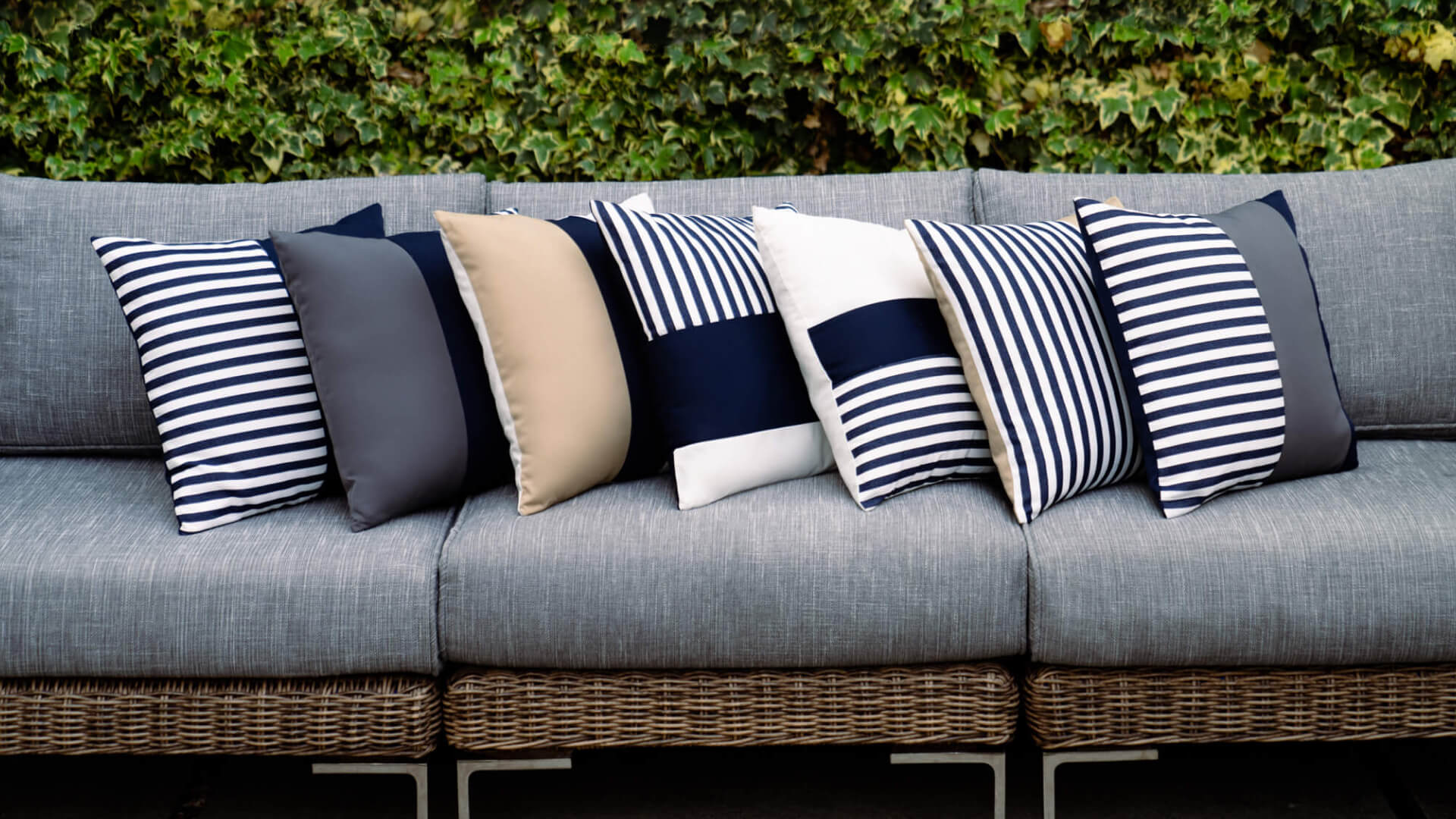 Image Source: liveouter.com
Throw pillows create the chance to have multiple designs that can be experimental. Since furniture outdoors does not include pillows or cushions, throw pillows will be the perfect choice to use on the patio. The advantage of throw pillows is that you can use them almost anywhere.
e) When to Remodel
I chose a good time of the year to remodel my patio. The project would have been harder if I had done it in the rainy season or winter. However, summer always presents a good opportunity to undertake such projects.
f) Compare Multiple Patio Designs
The patio design you want to go for can be subject to change, but only before the project starts. There is no need to change the design midway as this might be a costly mistake. Instead, the best thing to do is check out multiple designs and settle on one before commencing the project.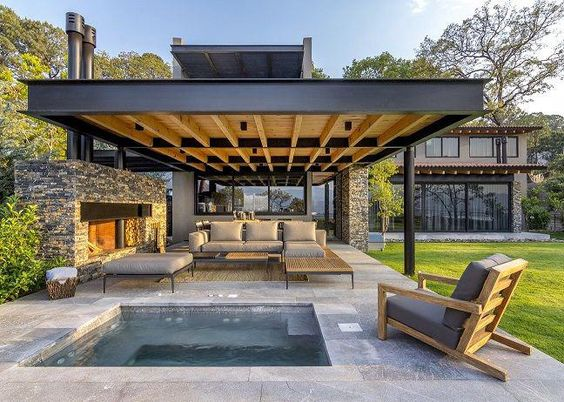 Image Source: decortrendy.com
Remodeling projects can be taxing, especially if you have settled on a complex design.
g) Be Practical
If you have a small yard, there is no need to insist on a huge patio that should accommodate all the above ideas. The rule I follow when it comes to remodeling projects is that less is more.
If you have a small garden, go for minimalist patio designs.
h) Buy Durable Patio Materials
While you may want to save on costs when undertaking a patio remodel project, I strongly suggest you buy durable materials. This will save you any future costs. In addition, future repair costs can be more expensive than the initial patio remodel cost.
i) Undertake a Complete Remodeling Project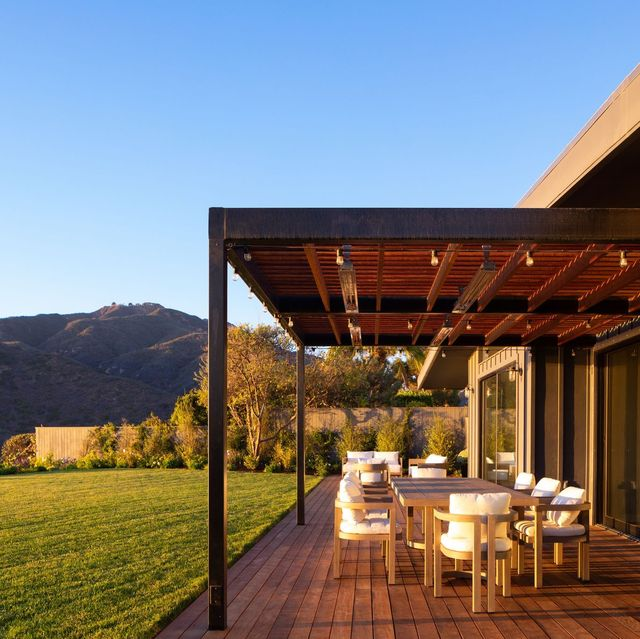 Image Source: housebeautiful.com
While doing the project in stages sounds like a great idea, especially when working with a limited budget, it is better and cheaper to undertake the project once and for all.
j) Wind
It might not be such a good idea to have the patio in a direct path of strong gusts as this will be very disruptive to anyone on the patio. In addition, direct wind makes it harder to have a fireplace because the fuel will run out fast. Direct wind into the patio also means that there will be more water getting into the patio whenever it rains.
k) Match the Patio with the Main House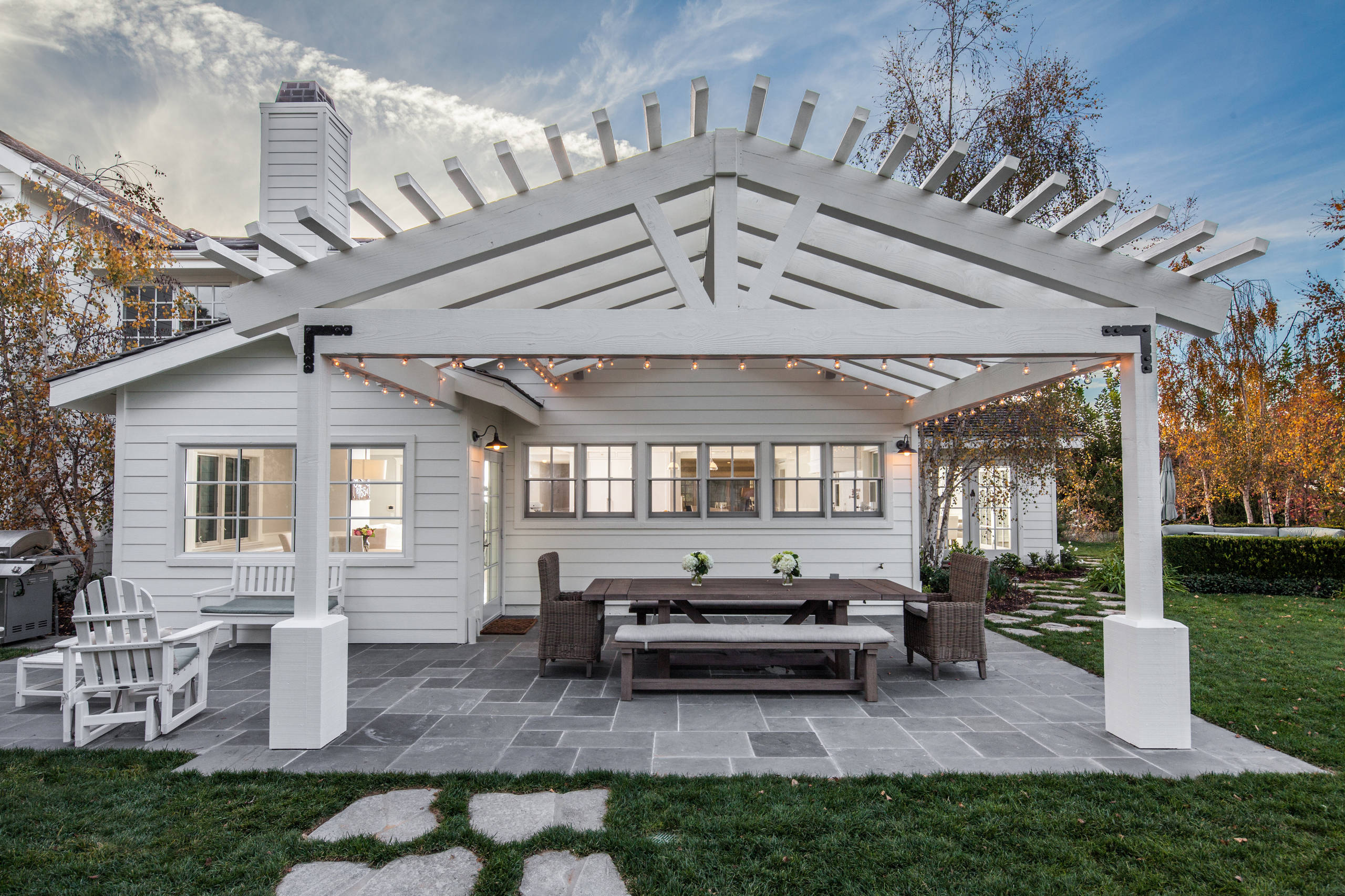 Image Source: houzz.com
I used the same material and paint as the one on the main house. There is something beautiful about a harmonious home. Matching the patio and the main house is one way of making the patio look great without taking attention from the house and vice-versa.
l) Consider the Number of Seats
While you may be just yourself and your partner at the moment, there are times when you might have friends or family around. Is the patio enough to accommodate many guests? Once I realized that there would be moments when I would have more people over, I went for a design that could accommodate more guests.
m) Outdoor Furniture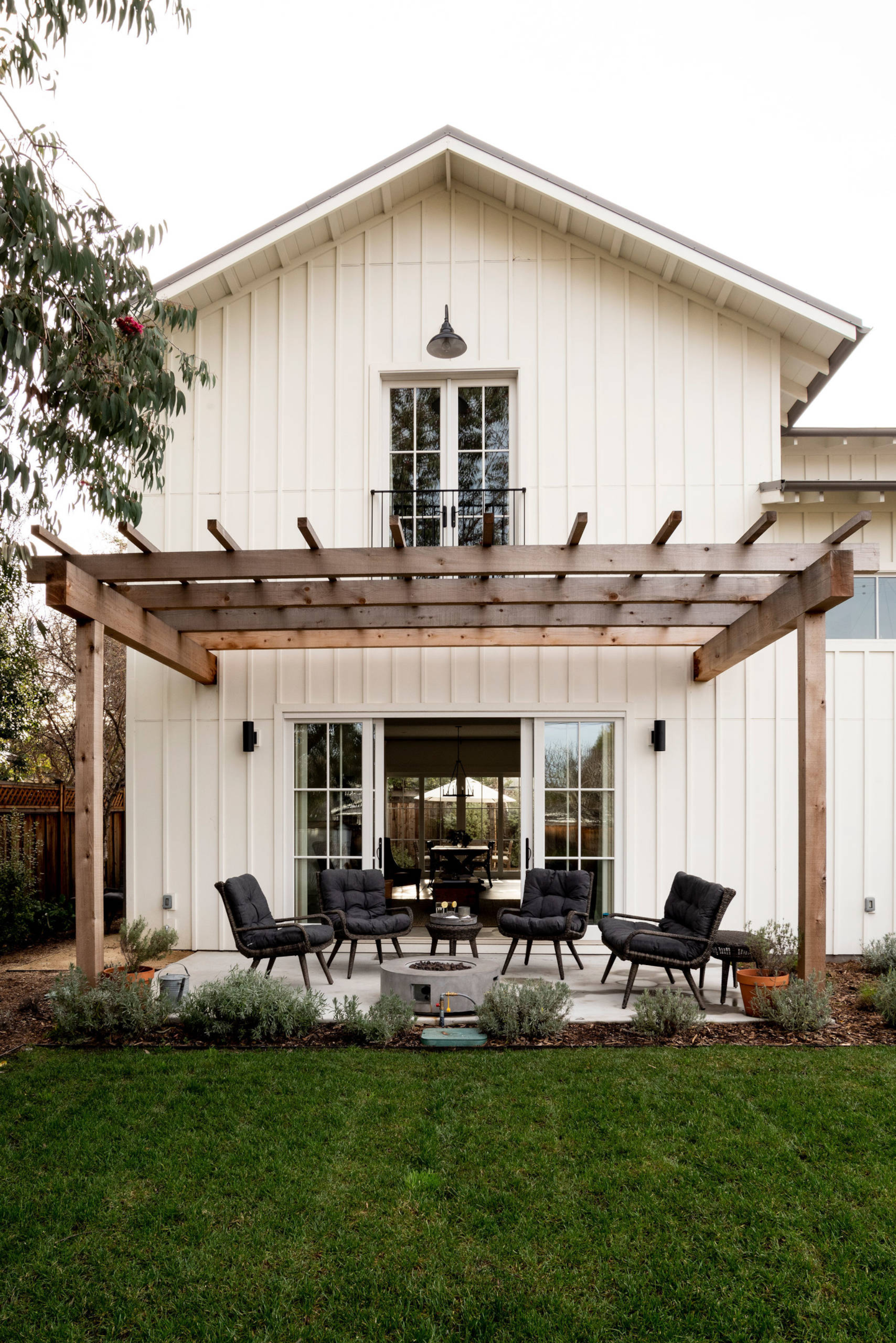 Image Source: houzz.com
I opted to go for outdoor furniture because they reduce the pressure of needing to have a patio cover. While a covered patio is a great idea, it can be costly.
Patio Renovation Cost Factors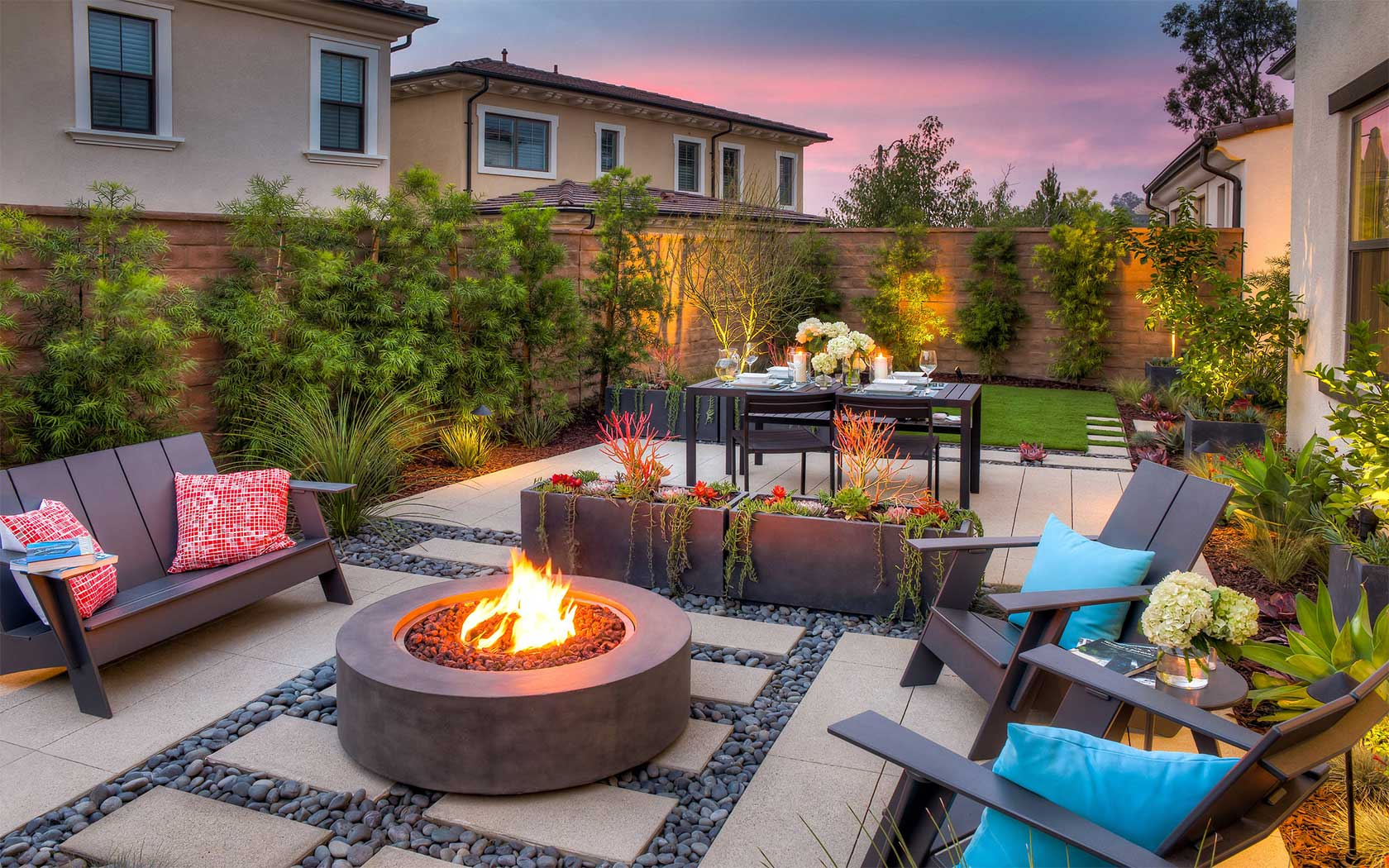 Image Source: mydecorative.com
The patio is a great investment for any home. However, where did I spend my money when I remodeled my patio?
i) Materials
When undertaking any remodeling projects, the materials are my primary expenditure. From my experience, getting the material in bulk is the best way to go. If I get the materials one by one, the cost will be inflated compared to buying in bulk.
I avoid the mistake of buying materials for the sake of it. Instead, I engage the project manager to know exactly how much materials I need.
ii) Project Scope
How large do I want my patio to be? Some materials are sold in bundles, and you can not buy them piece by piece. Therefore, it is vital to be keen when dealing with such materials. Otherwise, you might end up with a lot of leftover materials.
iii) Labor Costs
Labor costs are inevitable. I have a go-to construction company that has given me a good rate card each time I have a project. Labor can be charged by the square foot or according to the number of hours the construction will happen.
iv) Permits
The first thing I look for before buying materials is the permit. Every locality has its building codes that need to be adhered to. You might risk a lawsuit and a lot of trouble without a permit.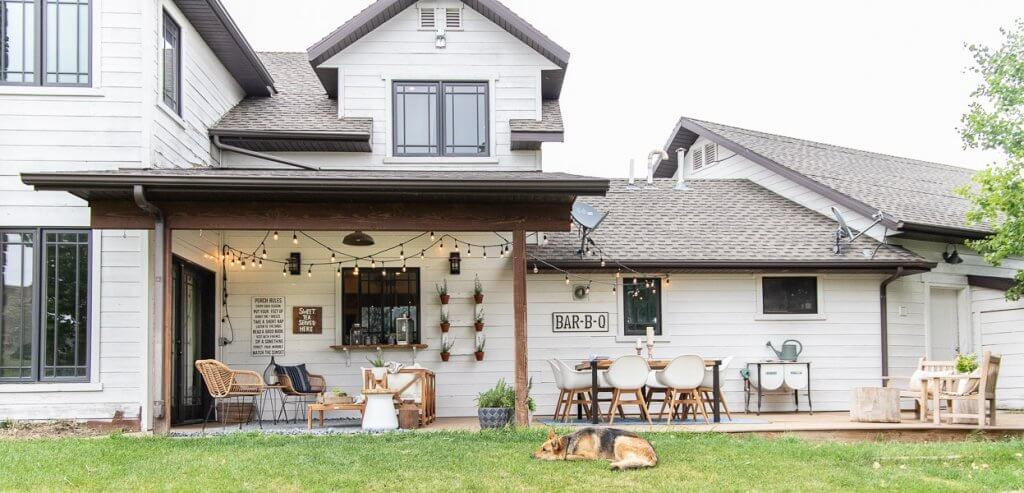 Image Source: twelveonmain.com
Remember, while you might have a permit to build, you have no right to cause disturbance to your neighbors. You must consider the comfort of those around you when undertaking a project like remodeling a patio.
v) Transportation
Transportation is a factor that most people forget when undertaking projects. Once you have assembled the different materials, you will need to move them. Whether working on a small or massive patio, you will have things to move.
Apart from the construction materials, the debris from the construction will need to be moved out. This is a cost factor to keep in mind.
vi) Food
Some companies have a very strict policy of not providing meals to the workers because they have that taken care of. Other companies do not have that policy, and workers must bring food from their homes. This is more of a social issue. However, if you want your project to be done on time, you do not want starving workers.
This factor is totally up to you.
vii) Furniture and Finishing
I have realized that furnishing and renovating can sometimes be two different categories. Therefore, I try to separate the renovation and accessorize the space I am renovating.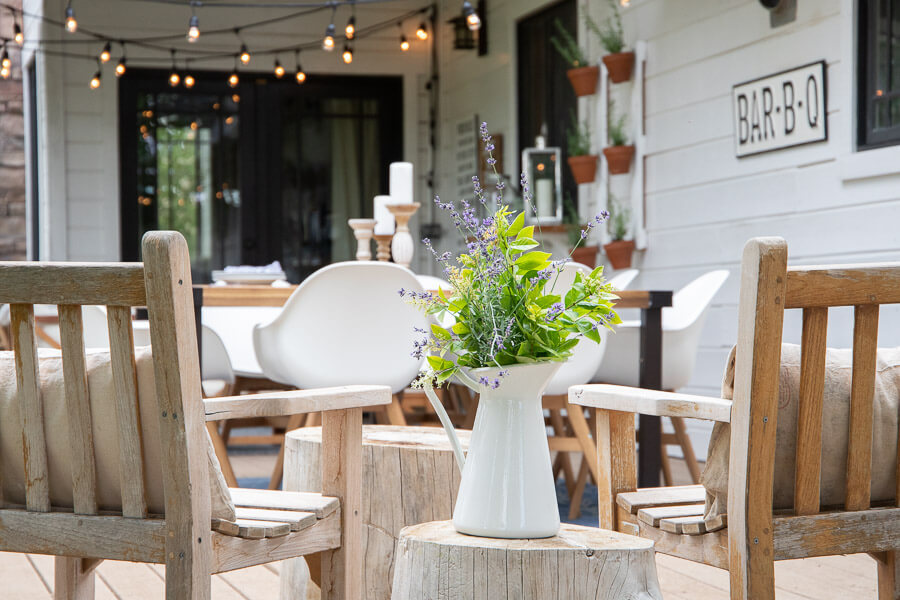 Image Source: twelveonmain.com
I avoid buying any chairs/furniture or design accessories because once the project is done, I might have a better judgment on what to get and what not to get—avoiding making some purchases prematurely gives me wiggle room to change my mind on some designs, especially in the tail end of the project.
I strongly suggest sticking to the first plan if you want your project to have a good shape once constructed.
Final Thoughts
A patio remodels is one of the best ways to revamp the home. But, when it comes down to it, undertaking the project correctly is all you need to do. There are many patios remodel ideas to choose from, but all that matters is getting started.
Featured Image Source: article.com