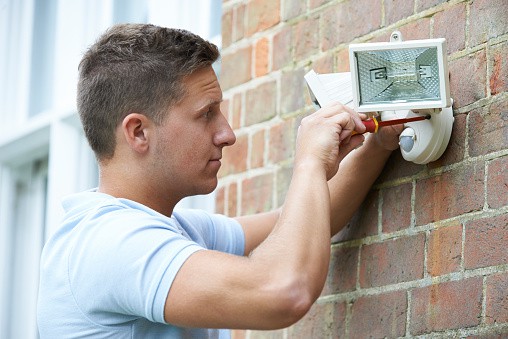 Best Outdoor Motion Sensor Lights For Your Home Security
People are always on the look for the best way to enhance the safety and security of their property at night to prevent thieves from stealing. Outdoor lights are a great option, although leaving them on for the whole night can be a bit costly.
This is the reason why motion sensor lights are essential. A motion sensor light is an outdoor security light that only turns on when they detect the movement of either a person or an animal.
Installing outdoor security lights with motion sensors will help scare a thief away before they even get in your house. Furthermore, they will help illuminate your outdoor space when you're out at night to prevent injuries.
With the significant number of benefits these outdoor motion sensor motion lights have, you will definitely want to try them out. If you're in search of motion-sensing lights for outdoor illumination, you might feel overwhelmed with the massive number of options.
To help you make the right decision on which one to buy, we have a list of the five best outdoor motion sensor lights and things to consider before purchasing an outdoor sensor light.
5 Best Outdoor Motion Sensor Lights
1. Aootek 182 Led Solar Outdoor Motion Sensor Lights- Best Overall
Aootek Solar lights outdoor 182 Leds 2500Lm Solar...
1.Three Optional Modes 1.security mode(Motion sensor turns the...
2.Sensitive PIR Motion Inductor: With upgraded Motion Sensor...
3.Ultra Bright Lights: High-efficient LED lights with wide-angle...
4.High Efficient Solar Panel Our solar Panel is more energy...
5.Waterproof IP65 and Heatproof Great outdoor security night...
If you're having concerns about the safety of your home or yard, then you should consider getting this LED security light to enhance your home security. The AOOTEK motion detector light is the best motion sensor security light that features three optional modes: security mode, permanent on all night, and smart brightness control mode.
This outdoor lighting also comes with an upgraded motion sensor detector and a more incredible PIR sensor, which easily detects motion up to 26 feet. It uses a 2200 mAh rechargeable battery which offers excellent usage and efficiency.
The solar lights use high-quality LED lights and a wide-angle for illumination. The energy efficiency of this light fixture is unmatched and comes with a PET lamination that makes it durable and long-lasting. It is also waterproof and heatproof, so you don't have to worry about climate changes.
2. Mr. Beams MB392, Weatherproof Wireless Battery Power-Best Battery Powered:
Mr. Beams wireless spotlight boasts decent illumination abilities and great features that make it one of the best outdoor motion sensor lights in the market today. The lights are battery-powered, and each of them generates about 400 lumens of light intensity.
They automatically turn on and off and gives a bright light when they detect movement. They are available in brown and white color options. Each light has a compact sizing that helps illuminate up to 400 square feet of coverage.
Installation is straightforward as they are wireless, and there is no need to hire an electrician. Made with weather-resistant and durable materials that can withstand any climate change.
Since these Mr. Beams lights need batteries and they are not included in the package, you might need to purchase batteries. If you need to adjust the light path, the bottom of the lights can be swiveled for adjustments.
3. BAXIA TECHNOLOGY BX-SL-101 Solar Outdoor- Best Solar Powered
BAXIA TECHNOLOGY BX-SL-101 Solar Lights Outdoor 28 LED...
[PIR Motion Lights and No Dim Mode]- Designed with No dim mode to...
[28 LED Ultra-Bright Solar Powered Lights]-There are 28 powerful...
[High Efficiency and Eco-Friendly]- By exposure to sunlight for...
[Waterproof IP65 and Durable]- The solar outdoor lights is water...
Baxia's Technology outdoor light is a perfect light for paths because they come in a pack of four. You can set them high up on the wall to allow you to light a path at regular intervals for full light coverage.
For the reason that they are solar-powered, they may need around 8 hours of exposure to sunlight in the day for the solar panel to work as a motion detector at night. These lights use Integrated Passive Infrared (PIR) sensor spots heat sources like a warm body to detect movement so they won't be triggered by falling leaves.
There are 28 powerful LEDs with a motion angle of 120 degrees to ensure excellent illumination and motion detection. It has a durable construction with a lampshade covering the LEDs to ensure it stays effective for longer.
No fussy wiring is required making it easy to install the security lighting. These lights are also water-resistant and can weatherproof such that they can withstand any climate changes.
4. LEPOWER 35W LED Motion Sensor Light Outdoor- Best Electric Powered
Sale
Amazon Basics Executive Office Desk Chair with...
Comfortable executive chair upholstered in black polyurethane...
Padded seat, back and armrests for all day comfort and support;...
Pneumatic Seat Height adjustment and tilt lock; 360 degree...
BIFMA Certified; Supports up to 275 pounds
Chair Dimensions: 29.1 x 26.2 x 41.7-45.5 inches (LxWxH);...
The LEPOWER LED motion sensor security light comes in 3 security light heads and a motion sensor head to adjust to a different angle as per your requirements. It has a power rating of 35-watts.
It features a motion-activated sensor that gives you a 180 degrees angle and 72 feet away in the depth of sensing and detecting range. They boast a 1,600 lumens luminosity and a 5,500K of excellent brightness that can go as high as 6,600K.
As one of the best motion sensor lights, this light gives you up to about 50,000 hours of service, which is about six years of service. It features durable construction and high-quality LED light from Samsung Company.
When not in use, the dimming modes will help dim the motion sensor light. These outdoor security lights are made of high-quality waterproof material, and the internal parts are made from high-grade aluminum, so you're assured of the durability of this motion sensor lighting.
The light fixture comes with a 20 feet long cable to ensure a good distancing from the power source to the outdoor light. The best part is they have a 60 days money-back guarantee and also a 1-year warranty.
5. URPOWER Solar Lights Outdoor Security Flood Lights-Budget Option
URPOWER Solar Lights Outdoor, Motion Sensor Security...
UNIQUE DESIGN: We designed the internal circuit diagram of the...
SUPER BRIGHT&LONG WORKING TIME: Compared with other common 4 or...
WEATHER RESISTANCE: IP64 waterproof and heatproof, solar powered...
AUTOMATED SWITCH: Turn on at night when motion sensor detected ,...
Energy Saving: The solar panel absorbs sunlight during the day to...
The URPOWER motion-sensor lights is a solar-powered floodlight used for safety purposes. It is not only an affordable motion-activated outdoor light but also environmentally friendly. It comes in a pack of four floodlights that allows you to improve the safety of your home.
The installation of these LED lights is quite simple and can be done in minutes without the need for an electrician. It requires a direct sunlight charge of about four to six hours for effective performance from dusk to dawn.
Once charged, their internal batteries act as a power source to illuminate the yard for about 30 seconds after it detects motion within a distance of ten feet away. The angle range of this outdoor light is 120°.
Features to Consider Before Buying an Outdoor Motion Sensor Light
1. Type of Light
Most of the outdoor motion sensor lights use LED lights, but there are a few that use fluorescent, incandescent, or halogen bulbs. LED light bulbs are great because they produce brilliant, precise illumination that remains cool and uses less energy than other bulbs.
LED lights come with an incredible amount of luminosity, and this will give you an idea of how much surface the lights can cover. The brightness is vital since it helps you light up the area under coverage.
Electric LED lights have more than 1200 lumens of intensity and 5K brightness, while battery LED lights have up to 1000 lumens brightness. The brighter the light is, the wider area it covers.
2. Illumination period
Different sensor lights have different illumination periods. The illumination period means for how long the light will be on before it automatically goes off. Most of these lights come with a set period of time, for example, 30 seconds, while others can easily be adjusted depending on what you want.
3. Power options
A motion sensor light can either be an electric-powered, battery, and solar-powered. While the electric-powered lights tend to give the brightest light, especially where there is a continuous supply of electricity, the battery, and solar-powered ones are easier to install.
4. Mounting and Design Types
While deciding on what motion sensor light to buy, you should probably consider where you are going to install it. Different designs might mean different installations. Here are some of the mounting types that are there in the market today;
i. Battery-powered lights
These lights are best suited for places that lack electrical wiring. They have different decorative styles which can be mounted anywhere but should not be too high since you may need to reach them to change the batteries.
ii. Wall-mounted outdoor lights
They are designed to function like standard porch lights such that when they are triggered, they will illuminate the same area as a standard porch light.
iii. Under-eave mounting
This involves hanging the security light under the roof's overhang. This helps provide a more attractive look that won't interfere with the rest of your home's decor items.
iv. Solar sensor lights
These ones can be placed in different locations, but you should ensure they are placed where they receive direct sunlight throughout the day. This is because they have photocell charging panels stores energy that allows them to work all night long.
5. Motion Detection Range
The range of detection varies from one motion sensor outdoor light to another, and these details can be found in the product description sections. It refers to the distance up to which a motion sensor can pick up movement.
Most motion detectors can sense movement from around 20 feet to 100 feet away. Furthermore, the detection angle also matters because it lets you know the range of the detection area.
6. Light Intensity
Lumens measures the intensity of light. Different bulbs tend to have different light intensities. For example, a 60-watt bulb will produce about 800 lumens, while a 100-watt bulb will produce up to 1600 lumens. Most of the motion sensors have listed the available amount of lumens in the product. Be sure to check that out.
7. Additional Features
You might find some motion sensor lights with additions, which are not a must but can be nice to have. These features include;
i. Adjustable light duration
With this feature, you can easily adjust the length of time that the light should be on. It is most common in battery and solar-powered security lights because when the power stays on for a more extended period of time, it might quickly drain the battery or solar cell.
ii. Adjustable coverage
Some of these lights come in adjustable heads that allow you to adjust the light to a broad coverage or a narrow beam. The multiple motion-sensing lights can easily be adjusted to cover more than one area.
iii. Auto-reset
Power surges can cause the wired motion sensor lights to misbehave, but with the auto-reset feature, the light will automatically reset itself after a power. For lights lacking this option, the alternative would be to power off for a few minutes and turn it back on to reset the lights.
iv. Adjustable sensitivity
Some lights can be very sensitive and may turn on, for example, when the leaves are blowing. This shouldn't be the case, and this is why some motion sensor lights come with adjustable sensitivity. This helps you tweak the sensitivity of the light so that only the strong and stable motions will be detected.
Frequently Asked Questions(FAQs) on Outdoor Motion Sensor Lights
1. What are the best outdoor motion sensor lights?
The best outdoor motion sensor lights are Aootek 182 Led Solar Outdoor Motion Sensor Lights. This is because this LED security light features three optional modes and also comes with an upgraded motion sensor detector and a greater PIR sensor to detect motion easily.
2. How do I choose outdoor motion sensor lights?
There are several factors you need to consider when choosing an outdoor motion sensor light. They include light intensity, type of light, motion detector range, mounting types, illumination period, availability, prices, and power options.
3. Are motion sensor lights worth it?
Yes, these sensor lights are an effective way to improve your home security and safety without having to spend a lot of money on an extensive security system.