Who is Will Smith?
Willard Smith II is an American actor, producer, and rapper also referred to by his stage name, The Fresh Prince. He was born on September 25, 1968, in Philadelphia, Pennsylvania, U.S., and began his career on the NBC comedy The Fresh Prince of Bel-Air as a fictionalized version of himself.
Image Source: npr.org
Smith has garnered several honors for his cinema, television, and music efforts, including four Grammy Awards and an Academy Award. In addition, his films have made over $9.3 billion worldwide as of 2022, making him one of Hollywood's most bankable actors.
Now that you know a bit about this Hollywood star, you may also want to know where the famous Actor John Travolta lives?
Where Does Will Smith Live?
Will Smith is one of the world's highest-paid actors, and it's no surprise that there's a lot to see in terms of mansions owned by his family. Moreover, besides Will Smith accomplishing a lot in his long-running career, from acting, rapping, and singing to producing, he deeply believes in the importance of real estate investment.
Will and his wife, Jada Pinkett Smith, have a combined net worth of $320 million. In addition, the couple has invested in a large portfolio of magnificent properties worldwide for their family. From their Calabasas luxury property, which supposedly has its zip code, to their two Hidden Hills properties to the unique residence – a two-story RV dubbed 'The Heat,' which resembles a house on wheels.
Here is a list of Will and Jada Smith's real estate investments.
1. The Calabasas Estate: Current Residence
Will and his wife, Jada Pinkett Smith, spend much of their time at their Calabasas estate. It's their current place of residence. The estate is located in the exclusive Los Angeles County neighborhood of Calabasas. The architect Stephan Samuelson designed the home, which took seven years to build, from 2003 to 2010.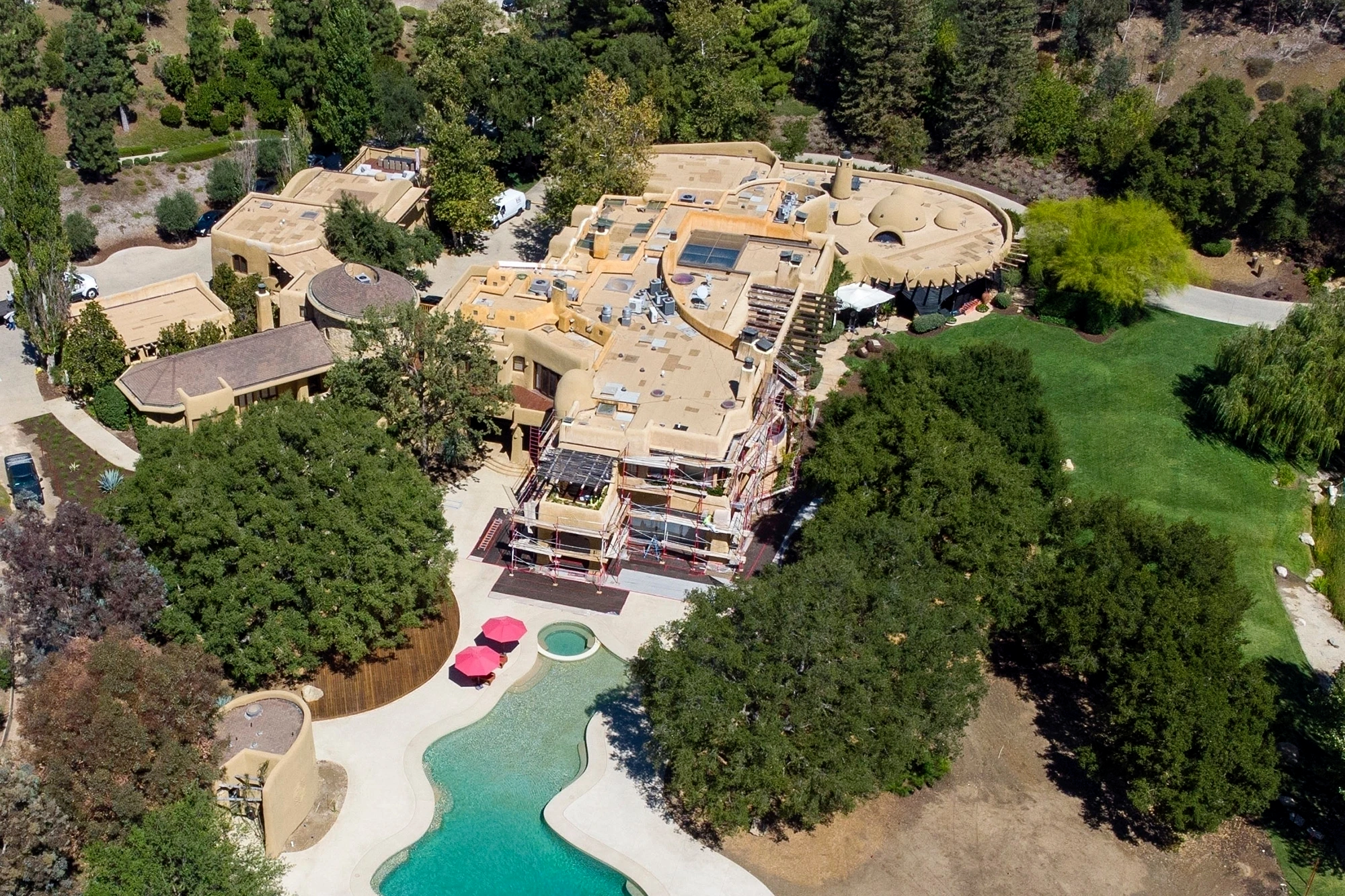 Image Source: nypost.com
The total cost of the project was $42 million. The vast sprawling complex boasts nine bedrooms, a huge eight-car garage, a movie theater, and a private recording studio, where the couple's daughter, Willow, recorded her hit song in 2010, "Whip My Hair." Moreover, the estate is so huge (150 acres) that it has its ZIP code.
This Smith's house includes a massive entrance door salvaged from a fort in northern India, a dining room used for special events with vintage-looking reclaimed ceiling beams, a double-height living room with a retractable skylight, and a state-of-the-art gourmet kitchen with cabinets built of 19th century Nuristani wood panels.
The home is built in the natural adobe architectural design. Several pieces with rustic features and skilled craftsmanship usually highlight this. Besides, the house acquires a distinct aesthetic because of the exposed beams, massive oak doors, canopy beds, and carved animal sculptures.
Outside, there's a built-in trampoline, a basketball, tennis, and volleyball court, and an outdoor pool, so the kids and guests will never be bored. The property has its lake, complete with a gazebo in the center. According to Architectural Digest, Smith said that the tranquil lake gazebo is his favorite area in the entire home.
2. House in Bryn Mawr, Pennsylvania
Will Smith was born in West Philadelphia and spent much of his time on a playground. As his first real estate venture, Will purchased a dream home in Bryn Mawr, Pennsylvania, for $937,500 when he was financially able to do so.
Image Source: nimvo.com
Will Smith bought the house the same year he married Jada Pinkett Smith. This huge estate, although incredibly luxurious with a floor area of 8000 square feet, is still little compared to the mansions that would follow.
3. Another House in Philadelphia, Pennsylvania
Image Source: nimvo.com
Will and Jada bought a 2,165-square-foot property (for $700,000) north of Philadelphia in 1998, a year after acquiring their Bryn Mawr house. There isn't much else known about this property, but the Smiths most likely bought both of these Pennsylvania homes to be near Will's family.
4. Smith Kawai's Mansion in Hawaii
For years, the Smith family of five vacationed in their lux Hawaii house. The tropical mansion is located on Kawai's North Shore shoreline. The beachfront mansion has 7 bedrooms, 7 full bathrooms, and 2 half baths.
Image Source: mansionglobal.com
According to Love Property, Smith and Jada Pinkett purchased the oceanfront mansion in 2009. They later sold it to Russian socialite Ekaterina Rybolovleva in 2011 for $20 million (a $6.5 million profit for the Smiths).
5. A Beach House in Kilauea, Kauai, Hawaiian island
In 2015, Will and Jada Smith returned to the Hawaii real estate market. According to Mansion Global, the couple acquired a seven-acre mansion in Kilauea, a small town on Kauai's northeastern shore.
Image Source: ofuxico.com.br
The oceanfront property has three bedrooms in the main house, a two-bedroom guest house, a one-bedroom carriage house, as well as a multi-purpose studio. NBA star Kareem Abdul-Jabbar once owned the two-story beach house. It also has high ceilings and doorways, two wood-burning fireplaces, a tennis court, an outdoor 5-foot swimming pool and spa, fruit trees, and a private ocean-access trail to one of the island's most secluded beaches (commonly known as Secret Beach). 
6. A House in Hidden Hills, California
The luxurious neighborhood of Hidden hills in California is home to most Hollywood stars, one of them being Jaden Smith, son of Will and Jada. Jaden moved into a $4 million mega-mansion in the neighborhood, which was bought by the couple.
Image Source: realtordavid.com
The Smiths bought the gated property, which includes 5 bedrooms and 6 bathrooms, in 2003. The family previously lived in the property while their Calabasas mansion was being built, but Jaden now has the 6,000 sq ft home.
It's difficult to tell the house's appearance because photos are few.
7. Another Mansion in Hidden Hills, California
The Smiths' most recent property purchase further cements their reputation as real estate mavens. They purchased another brand new estate in Hidden Hills for $11.3 million in the fall of 2021, a new build that had been finished the previous year.
Image Source: meridithbaer.com
The 10,417-square-foot mansion has six bedrooms, six full bathrooms, and nine half bathrooms, making it a real entertainer's paradise. Also, on the ground floor, there's a soundproof video room and a billiards room with a wet bar tha serves the backyard. In addition, the farmhouse-inspired home has an infinity-edge swimming pool, a full sports court, perfect for a nostalgic pickup game of basketball, and covered patios with built-in space heaters.
8. A Modest House in Woodland Hills, LA
This house has been rumored to have been purchased for family or employees. It was purchased by The Smith family trust in 2010 for $910,000. This property, however small in comparison to their other properties, has five bedrooms, 5.5 bathrooms, three fireplaces, a swimming pool, and a spa.
According to Variety, the Mediterranean-style home is 4,146 square feet stretched across two stories. The Smiths mostly stay at their Calabasas estate, so it's unclear whether they ever lived there.
9. Will Smith's RV
Besides his mansions, Will Smith also owns a mega motorhome RV. The RV itself costs about $2.5 million, the reasons being: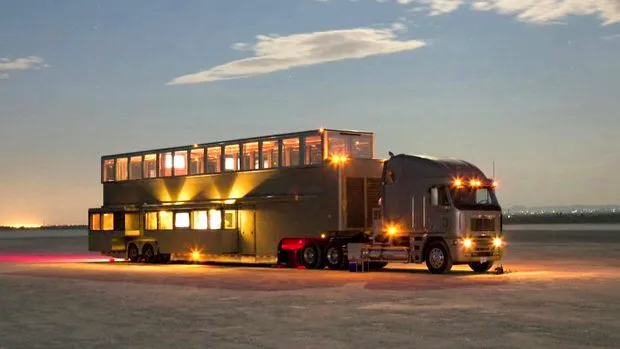 Image Source: driventowrite.com
It has 22 wheels, electronics valued between $100,000 and $125,000 as well as $30,000 worth of leather inside. Smith generally uses the RV while filming new movies or residing on set. For instance, he used it during the making of Men in Black 3, The Pursuit of Happiness, and Ali.
With the push of a button, the trailer transforms from a single-decker trailer to a double-decker mansion on wheels. It has the main living space where Will Smith spends time with his family and co-stars. Besides, it has a full kitchen with granite countertops costing $100,000 to $200,000. Additionally, the upstairs floor is mostly used for watching the dailies and conducting business and features a 30-person screening room with a 100-inch screen and other cutting-edge technology.
Image Source: utv4fun.com
The RV was featured on the television show Celebrity Motor Homes, where viewers were given a tour of this two-story, 1,200-square-foot RV. The RV has a secret wardrobe, a large bathroom that spans the whole vehicle width, and a steam shower with a glass front that can be opaque. The changing shower glass, the screening room curtains (upstairs), and the extending roof are all technology controlled.
Frequently Asked Questions on Where Does Will Smith Live?
1. Does Will Smith Own a House?
His successful career has provided him with a luxurious life, including an amazing real estate portfolio. The Hollywood star and his wife, Jada Pinkett-Smith, have mansions worth $42 million.
2. How Many Bedrooms Are There in Will Smith's Main House?
The 25,000-square-foot main house has nine bedrooms, a private movie theater, and a recording studio. The couple collaborated with architect Stephen Samuelson to design a cozy, earthy structure with plenty of quiet spaces, including Jada's meditation room.
3. Do Will and Jada Pinkett Smith Live in the Same House?
Will and Jada Smith usually spend much of their time at their Calabasas mansion. The luxury property is located in the Santa Monica Mountains in Calabasas and features an artificial lake with views of Saddle Peak.
4. What Neighborhood Did Smith Grow Up in?
Smith was born in West Philadelphia. He's the son of a Philadelphia school board administrator, Caroline (Bright), and a refrigeration engineer, Willard Carroll Smith, Sr. He grew up as a Baptist in West Philadelphia's Wynnefield neighborhood.
Featured Image Source: nypost.com