The name Drew Brees is synonymous with American football. He is one of the most decorated quarterbacks who played professionally for 20 years. During this time, he earned around $247 million from on-field pay and more in sponsorship deals. With such a net worth, he can afford to live anywhere he wants. So, where does Drew Brees live?
Drew may be retired like other greats, including Shaquille Rashaun O'Neal, Peyton Manning, Tom Brady, and Eli Manning, but he remains a favorite to many. So, if you want to know where he resides, the former quarterback currently lives in New Orleans with his family. Besides New Orleans, he has also owned other homes in Hawaii, Kauai, and San Diego. Want to find out more about these homes? Strap in as we tell you everything!
Who Is Drew Brees?
Image Credits: people.com
Drew Christopher Brees is a former professional American football quarterback. He was born in Austin, Texas, on January 15, 1979, to Eugene Wilson "Chip" Brees II and Mina Ruth (née Akins) Brees. Drew Brees attended Westlake High School in Austin, Texas, where he was a star quarterback on the school's football team. After graduating high school, he attended Purdue University, where he played college football for the Purdue Boilermakers.
He is a 20-year veteran of the National Football League (NFL) who played for the New Orleans Saints for 15 seasons (2006-2020) and the San Diego Chargers for five seasons (2001-2005). Drew is among the most accomplished quarterbacks in the history of the NFL and is considered among the greatest to have ever played the position.
During his career, Brees set multiple NFL records, including the record for most passing touchdowns in a single season and most career touchdown passes by a quarterback. He is also the NFL's all-time leader in completion percentage and is the only player to have passed for over 5,000 yards in a season more than once.
Brees was elected to the Pro Bowl 13 times and was selected as the NFL Offensive Player of the Year twice. He led the New Orleans Saints to their first Super Bowl victory in the 2009 season. After retiring as a professional player, he became one of the NFL analysts in TV media. He is also the Brees Dream Foundation's co-founder, which helps children fight cancer.
Drew Breese currently lives in New Orleans with his wife and four children. Here are more details about all Dre Brees houses.
1. Drew Brees House in New Orleans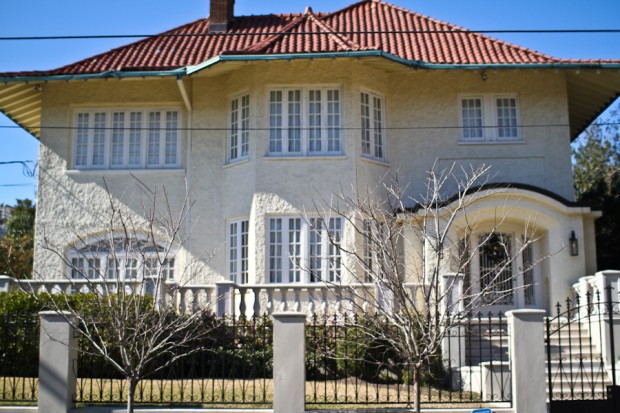 Image Credits: successstory.com
Drew Brees signed for the New Orleans Saints in 2006 and bought a magnificent home in Uptown New Orleans for $1.6 million. It is a home set on 10,800 square feet that he shares with his wife and children.
The New Orleans home has four bedrooms, three bathrooms, and two half bathrooms. In the master suite, the house features his and hers walk-in closets, so Brees and his wife, Brittany, never have to argue for clothing space. In addition, there is a jacuzzi tub in the master suite, which is just perfect for a player of his caliber.
This stunning home has ample natural lighting, as huge windows are evident from the exterior. Inside, the house is laced with hardwood floors, while a spiral staircase decorated with a crystal chandelier leads to the upper floors. The main door leads to a stunning foyer leading to a solarium.
The living room and dining room are spacious and offer beautiful views of the house exterior. Talking of views, the den provides the best panoramic views of the swimming pool and beyond. The house also features a top-class gourmet kitchen with a granite-top island, beautiful cherry wood cabinets, and slate floors. In addition, the house's huge basement features a classy wine cellar.
Image Credits: velvetropes.com
A look around the home's exterior reveals a luxurious swimming pool plus a courtyard with lots of shade. The lush lawns are well-manicured, and the Brees family is guaranteed privacy by a tall brick wall that surrounds the house.
2. Drew Brees Condo In Four Seasons
Image Credits: 973thedawg.com
Drew Breeze is a big fan of real estate, an industry he has invested in, including through his charity works. He is sure to scoop up all the good deals when it comes to personal preference, and his Four Seasons home is the latest indication of that. He recently bought a condominium in Four Seasons Hotel and Private Residences New Orleans on Canal Street.
Four Seasons is believed to be one of the most lavish and expensive real estate projects in downtown New Orleans. Still, it is thought that Dree's condo might have the best features, making it the most expensive unit. For starters, he has access to the bar and lounge, and his room has a golf simulator room.
Drew and his family can enjoy extra perks like swimming in the establishment's 75-foot outdoor pool and enjoying the best views of the French Quarter and Mississippi River from the condo.
3. Drew Brees House in San Diego
Image Credits: latimes.com
As you know, Brees played for the San Diego Chargers for quite a while. During this time, he lived in a beautiful home that he and his wife purchased in 2003 for $2.2 million. The 6000-square-foot home is located in Fairbanks Highlands in Carmel Valley and has all the features you'd expect to find in a top athlete's home.
Starting with the interiors, the home comprises five bedrooms and five bathrooms. The house has a spacious master suite with a luxurious bathroom with a jacuzzi. In the bedroom, the beautiful fireplace is the focal point, and the room's beauty is well accentuated by natural lighting from the windows.

Image Credits: velvetropes.com
The house also features a wet bar with ample sitting space. Next to it is a billiards room with lots of natural lighting, not to mention the elegant views of the house's exterior. The entire home has a beige theme, which is also evident in the kitchen, which features beige countertops. However, custom wood floors and cabinets are the real attractions in the kitchen.
Outside is a large swimming pool that lays magnificently as you'd find in a resort. It is a saltwater pool that also features a miniature waterfall. Elsewhere, the exterior features a 6-hole putting green, an outdoor dining area, and an outdoor fireplace. The green exterior sits nicely against the slightly Mediterranean architecture, giving the home such a rich vibe.
While Drew Bees owned this house while playing for the Chargers, it is believed he sold it in 2012, years after moving to San Diego.
4. Drew Brees' Condo Hawaii
When you are a top athlete, it makes sense to own beautiful homes on the country's most beautiful islands. That is precisely what Drew did, as he owned two houses in Hawaii.
The first was a condo that he bought in 2007 but is believed to have been listed for sale in 2022. The apartment has all the makings of a beautiful getaway home. It features three bedrooms, three and a half bathrooms, a dining room and spacious kitchen, a spa, a covered patio, three swimming pools, and barbeque areas.
To top it off, the condo has the most beautiful views of the greenery of Hawaii, plus those of amenities and features near the home, including state-of-the-art golf courses and the beautiful ocean.
5. Drew Brees' Townhouse in Hawaii
Image Credits: amlu.com
Drew's second former Hawaii home is located in Kauai, within Pu'u Poa Condos. It is a beautiful getaway home with two bedrooms and two bathrooms. With 1,752 square feet of living space, the house is well-lit, with floor-to-ceiling windows and sliding glass doors letting in ample natural light.
The house also features an open-facing porch, adding an extra 400 square feet to the home. The lanai faces the ocean, which is also visible from most areas of the home. The main attraction of this house is the beautiful view of Kauai's Hanalei Bay.
Drew Brees is believed to have listed and sold this house in 2015. He had bought it for $1.761 million in 2006.
Conclusion
Drew Brees is a decorated former quarterback who enjoyed a career spanning twenty seasons. While Brees retired from professional football, he still commands a huge following, so it makes sense fans will want to know where he lives.
If you had no idea, Drews lives in New Orleans with his family, and they also own a condo in the Four Seasons real estate project. We have also shared details about his other homes in the country, including one in San Diego and two in Hawaii that you can look out for in the market.