Picture waking up to a Boeing 707 airliner parked up in your front yard, with your very own airport and runway, every single day— well, that's the John Travolta house for you. Agreeably, celebrity houses can be quite something, but John and his late wife, Kelly Preston, took things a notch higher. However, John Travolta revealed that he would be selling this home after his late wife, sadly, passed on. So, where does John Travolta live?
Join us as we step into John Travolta's house.
Who Is John Travolta?
John Travolta is most famously known for his interesting dance moves in the movie 'Saturday Night Fever,' which he also danced to with Princess Diana for 15 blissful minutes.
He is an award-winning American actor who's also now a fully licensed 737 pilot. His acclaimed and passionate love for aviation has had him work as an ambassador for an Australian aircraft company, Qantas Airways, since 2002.
The breakout roles in 'Grease,' 'Saturday Night Fever' and 'Pulp Fiction' have had John Travolta's net worth ramp up to $250 million.
This Hollywood legend was born in Englewood, New Jersey, on February 18, 1954. John Travolta and his beloved wife, Kelly Preston, were married for 29 years. They have had three kids: Jett Travolta, Ella Bleu Travolta and Benjamin Travolta. Sadly, Jett, their eldest son, passed on in 2009.
John Travolta's Florida Midcentury Style Airport Mansion
John Travolta owns a private-use airport mansion, on Jumbolair Aviation Estates, in Anthony, which is just north of Ocala, Florida. Travolta and his late beloved wife, Kelly Preston, lived there together with their children.
Jumbolair Aviation estate sits on a 550-acre land and is situated within the Greystone Airport. This airport community allows homeowners to purchase land in an area with fly-in and fly-out access.
John Travolta and Kelly Preston were the first people to purchase land on this residential airpark in the Jumbolair Aviation estates.
Arthur Jones and his wife bought the Vanderbilt estate, including Vanderbilt's 7,600-square foot home, in the 1980s. When Arthur Jones and his wife separated, his wife decided to make it a fly-in community for private and corporate jet owners. This decision attracted John Travolta and his late wife's attention.
He paid $4.9 million for the land and listed it up for sale for $10.5 million.
John Travolta and his late wife, Kelly Preston, had the Southern California-based Michael James Design team design it. Sherri James headed it. Additionally, the architect Dana Smith designed the front drive of the house.
The construction of the John Travolta house took almost two years, which meant that the couple had to move into the guest quarters so that they could also supervise the construction.
The Exterior of John Travolta's House
Travolta's mansion sits on a 9.5-acre land that includes its own 7,500-foot airport strip and two runways.
Image Credit: aerotime.aero
The property also includes a parking pavilion that can accommodate two planes, a swimming pool, a 16-car garage, and a private control center. John Travolta, who's now a certified private pilot, owns seven aircraft, which he parks on his front door.
John Travolta's 7,600 square feet house comprises five bedrooms, seven bathrooms, an indoor cabana, and a bar. The Grease star says the Florida mansion always came in handy since he could operate and travel anywhere for business and personal reasons and still come home to his family.
The property originally came equipped with the 7,500-foot runway; however, Travolta extended it all the way to the plane pavilion and house. Among the multiple airplanes he has owned, a few notable ones include a USAir Boeing 707, Boeing 707-138, and a Bombardier Challenger 601,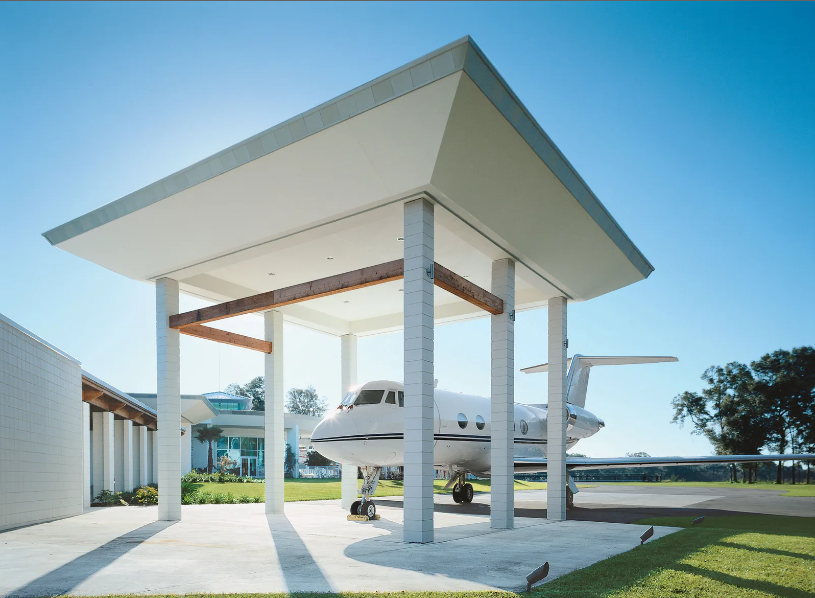 Image Credit: aerotime.aero
The outdoor swimming pool area is close by. The pool is a tropical paradise designed by John Adams, who's part of the Land Design Group. He introduced different kinds of tropical plants by the pool.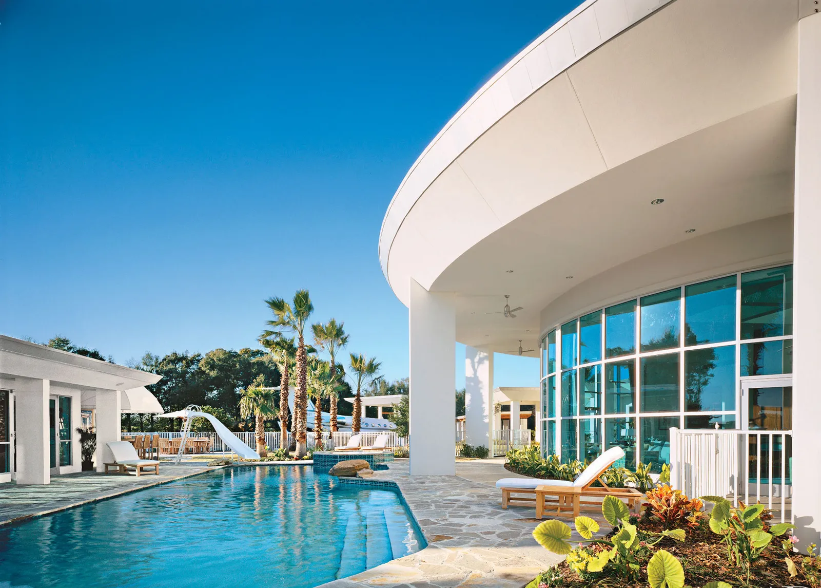 Image Credit: pinterest.com
John Travolta and his wife also wanted a pool cabana, the 'grown-up playroom,' for dancing. It has stone flooring with a large open space to do just that.
The compound also accommodates a 6,500-square foot 16-car garage for his huge collection of cars. The garage is complete with eight efficiency apartments created using three distinct architectural designs.
The first design includes dark woods and clean lines by Frank Lloyd Wright. Travolta's main edifice design is by Morris Lapidus, the architect that did Miami's Fontainebleau Hilton Resort. The third design is by the designer of the Dulles and TWA terminals, Eero Saarinen.
The property also has a private control center with a large guest house as a bed and breakfast quarter. The bed and breakfast quarter is where the pilots and other guests can stay for a few nights.
Image Credit: aerotime.aero
The front drive of Travolta's house was designed by architect Dana Smith.
The Grease star went for a front exterior that exudes a retro but corporate appearance. This dominantly white home structure comprises extra-thick concrete walls with Grecian columns and floor-to-ceiling glass windows.
Let's now take a tour inside the John Travolta house.
The Interior of the John Travolta House
The interior of the midcentury house reintroduces the 'Pan Am' era of the 1960s, oozing both class and sophistication. In addition, the early 1960s introduced the Jet set and Space age in architectural designs, with homes that looked ready to take flight.
Like these home structure designs, Travolta's home was designed to be simple in a way that also appears timeless at the same time. The furniture and cabinetry reintroduce the richness of wood, much like the custom hardwood floors in every room. In addition, the rooms are bright and well-lit, complimenting every room's interior facets and elements.
The glass walls maintain strong but simple geometric shapes that open the space to a lovely view outside of the parked planes from any room.
What's interesting is the fact that John Travolta designed the floor motif in the entrance hall himself.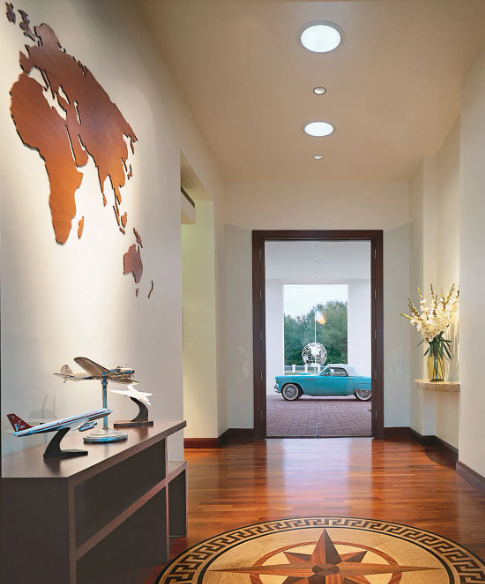 Image Credit: pinterest.com
Much like the home's interior, Travolta's home artwork majorly encapsulates aeronautics. For instance, there's a 1989 painting of Travolta's Learjet.
The main hall has multiple shelves displaying different airplane models, family photographs, and books.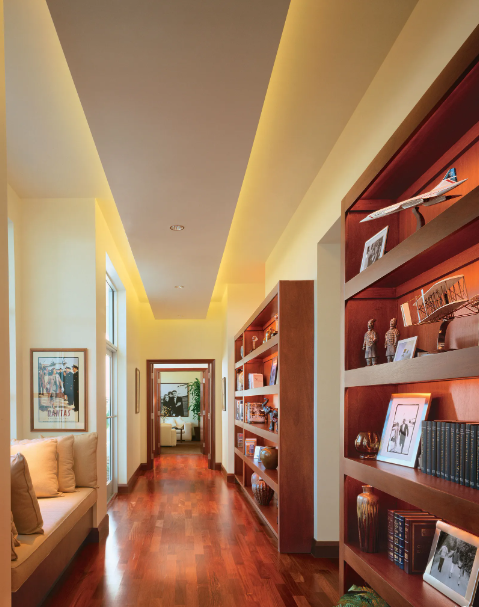 The main living area, also known as the 'great room,' gives you the feeling like you stepped into a vintage travel lounge, with tall curved walls and ceiling-to-floor windows for panoramic views. The large windows connect to two double doors that lead to the front yard, where Travolta's legendary Boeing 707 is usually parked.
Artfully floating in the cozy room are low-slung Italian chairs and contemporary furniture draped with patterned, eccentric fabrics by Duralee, Schumacher, and Greeff.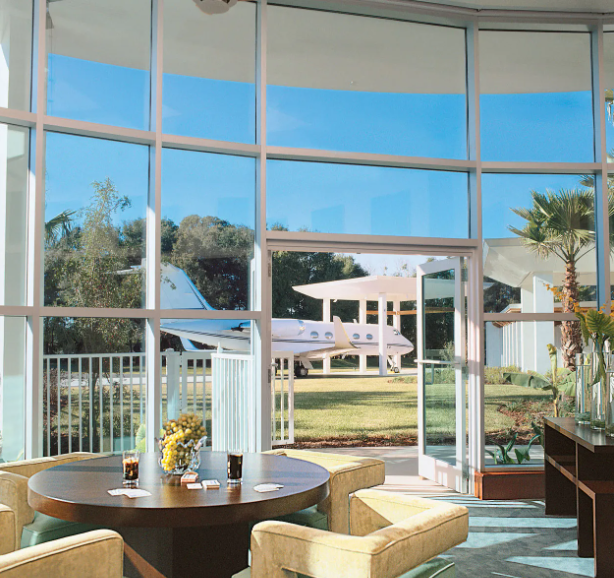 Image Credit: pinterest.com
The Schumacher fabric is used on the pillows in the foreground and on the sofas at the rear. The patterned fabric on some of the pieces is by Duralee. The chair arms are draped using Greeff fabric.
Besides the sophisticated furniture, the great room also has a games table. This is a great way to keep things fun with interesting indoor games.
There's a black marble fireplace mantel with a 1967 artwork by Alexander Calder, framed right above it.
Image Credit: pinterest.com
Here's a fun fact: the couple started with the kitchen during construction. Kelly Preston said she knew that the surest way to people's hearts would always be through the stomach, not the cockpit. So they built two kitchens, one dedicated to serious cooking and the other for lighter cooking.
One of the main kitchens has an open-plan floor concept with floating wood shelves, gray countertops, and handless cabinetry. The white walls are connected to a lovely yellow divider wall. Both kitchens are connected to three separate dining areas.
The couple beautifully indulged in the '30s and '50s for their art déco in the dining room. There is a stunning and gigantic 15-by-17-foot mural of a family dressed and waiting for their flight. Travolta, a collector of old magazines, culled this from a 1937 Fortune advertisement. It was then copied onto the mural by Sandra Hilliard.
The house has many adjoining bedrooms and bathrooms with crisp and clean designs. Travolta's house has five bedrooms and seven bathrooms spread out over the 7,600 square feet of residential space. Each of the bedrooms is connected to several balconies visible from the backside of the home.
The main bedroom is designed to create a homey serene escape with rich brown wood cabinetry, elegant crème-colored drapery by Pindler and Pindler, and rose gold-colored carpeting.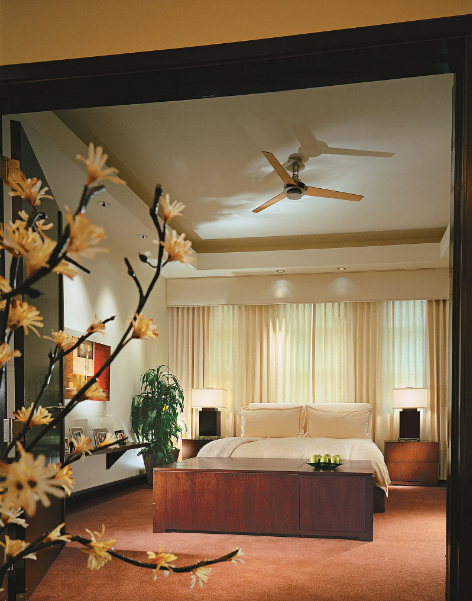 Image Credit: pinterest.com
The main bathroom connected to the master bedroom is modern, with marble flooring, a floating double sink, and translucent shower tiles. There's a framed "Pulp Fiction" poster on the wall, as well.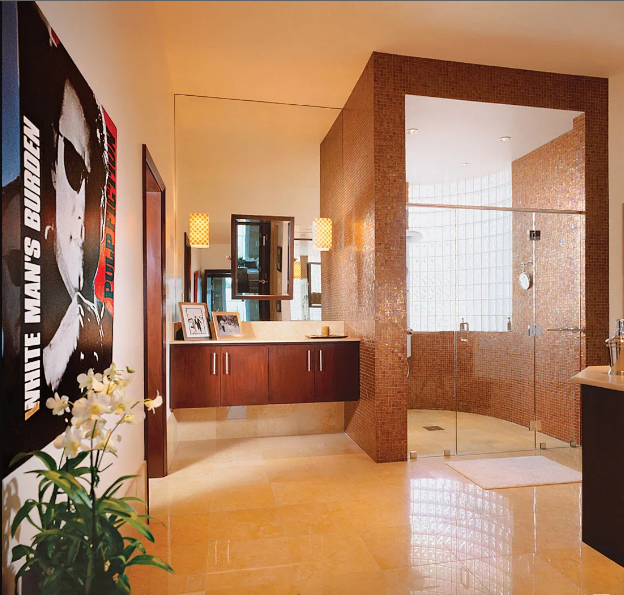 Image Credit: pinterest.com
Like many celebrities, the Travoltas have maintained a highly private life which would explain why there aren't as many pictures of their home, even as it goes on listing for sale.
Even without all the details, we could dig up quite a substantial amount of information to help you picture just how John Travolta likes his space. So if you love a retro vibe with aeronautical elements, this is a celebrity home from which you can draw plenty of inspiration. Good luck!