Most renters don't invest heavily in holiday home decor for a few reasons. For instance, renters typically don't have much storage space for seasonal items, and most are prohibited from making significant decorative changes that could alter their landlord's property.
So, when you've finally scraped together enough money for a down payment and moved into your first home, you probably don't have the decorations to make your new space feel festive for the holiday season. The good thing is you can start small. Over time, you'll acquire holiday decorations with new pieces to incorporate into your seasonal aesthetic.
If you want to plan early for the perfect winter wonderland look in your home, stick to the most imperative decorative essentials. Here is our lowdown on where to start!
1. A Tree And Tree Accouterments
Image Credits: johnlewis.com
As the most recognizable symbol of the season, the Christmas tree is the most critical component of your holiday décor. You need a tree as the centerpiece of the holidays in your home, where you will place presents, sing carols, and gather to appreciate the meaning behind the holidays.
Of course, the tree is not a standalone decoration. You'll need a lot of holiday decor to make your tree look and feel festive. If you invest in a real tree, you'll need a tree stand and skirt to hold the trunk, provide water and nutrients and catch dead needles. All trees need some form of topper, lights, and ornaments. Fortunately, these components of Christmas decorating are easy to change every year to your preference.
But what if you don't have enough space for a tree? In this case, you can look for alternative holiday season decorations. For instance, you can get a tree substitute that fits your space and aesthetic better. Consider hanging ornaments from a large potted plant that already sits in your living room, or create an abstract tree out of lights, wood, or fabric that you hang on your wall. The goal is for the space to evoke the holiday spirit.
2. A Decoration For Your Front Door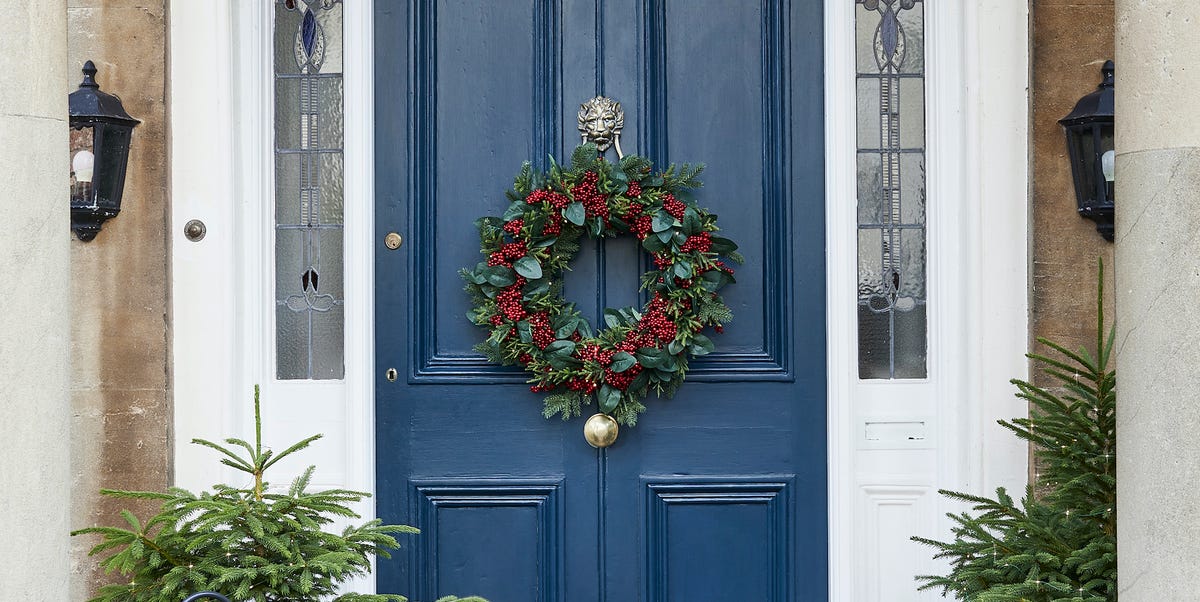 Image Credits: housebeautiful.com
You'll want to decorate your front door as it is the boundary between the outside world and your home. Your visitors will encounter your front door before they step into your home, so you need your door to be inviting and welcoming— and you need it to set your guests' expectations for the rest of your holiday decorating aesthetic.
The most classic door decoration is a holiday wreath, which you can find in different styles to match your decorating preferences. Consider oversized ornaments, signs with seasons' greetings, or even wrapping paper if you prefer a whimsical look!
3. A Seasonal Table Centerpiece
Image Credits: jessica-elizabeth.net
Your dining table is a gathering place in your home, especially during the winter holidays. Many of your events will involve food and feasting, and people will congregate around your dining table. Thus, you'll need decorations that give your dining table the Christmas spirit but do not take up too much of the space required for serving and eating. For the best aesthetics, think of fun decorative items such as pinecones, cranberries, or evergreen branches.
Holiday centerpieces can be as large and elaborate— or as simple and small— as needed. If your table is long and thin, you can make multiple centerpieces to ensure everyone keeps Christmas in their sightlines. But a single, large centerpiece will do if you have a round or square table.
You can invest in a table runner to use every year, but you can cycle through different centerpieces, like single statement pieces or collections of decor, to freshen up your table through the season. Moreover, there are many DIY centerpiece ideas to keep your holiday decorating costs low.
4. Christmas Textiles
Image Credits: linlydesigns.com
Christmas textiles are an essential element that can help transform your home into a cozy and festive wonderland. From throw blankets to decorative pillows, holiday-themed textiles can add a touch of warmth and whimsy to any room in your home.
One of the best things about Christmas textiles is their versatility. You can easily incorporate them into your existing decor, whether your style is modern and minimalist or cozy and traditional. Mix and match different textures and colors to create a unique, personalized look reflecting your holiday spirit. Focus on the most important spaces, such as your living room and bedroom, for a powerfully festive feeling in your home.
Adding a few holiday-themed throw blankets and pillows to your sofa or bed can instantly transform the space into a cozy and inviting holiday space. You can choose textiles with classic holiday images and scenes, such as Santa Claus, reindeer, or snowflakes, or opt for more modern and abstract designs that still capture the spirit of the season.
And don't forget to experiment with texture and materials. Faux fur and velvet are perfect for creating a luxurious and cozy atmosphere, while knitted or crocheted textiles can add a touch of charm and nostalgia. You can even introduce holiday-themed rugs or tapestries to cover large surfaces, such as the floor or walls, and create a truly immersive Christmas experience.
5. Candles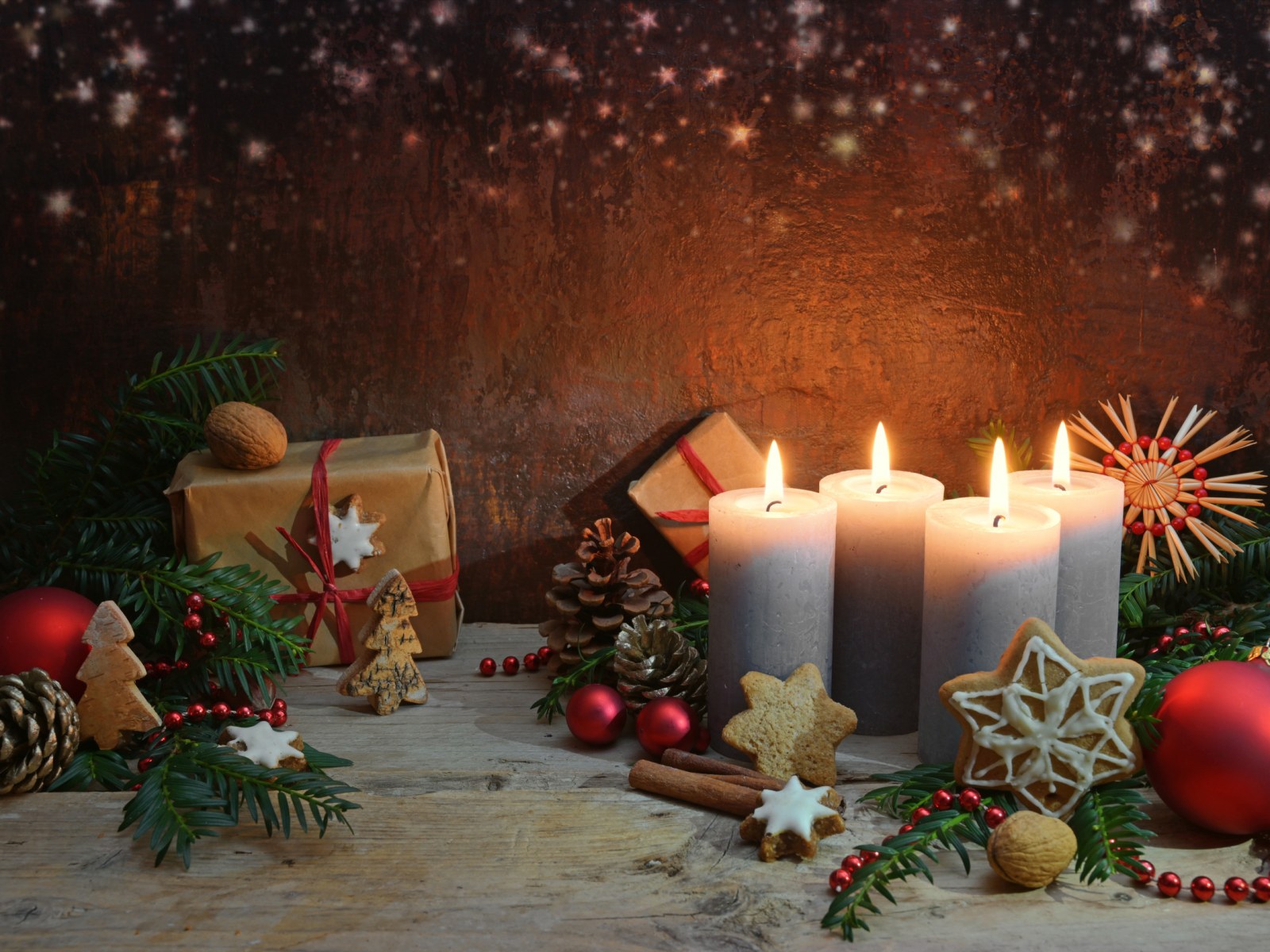 Image Credits: newsweek.com
Candles are a versatile and essential home decor item, especially during the holiday season. The candles add warmth and coziness to your home and create a relaxing and peaceful atmosphere in your holiday home, whether for Christmas, Thanksgiving or even Valentine's Day.
During Christmas, use candles to create a festive and welcoming environment. You can choose scented candles with fragrances like peppermint, gingerbread, or cinnamon to enhance the holiday mood. Candles also create a warm and inviting ambiance during Thanksgiving, and you'll want to choose warm, autumnal colors, such as brown, orange, and red, to complement your decor.
Overall, the flickering flames of candles will add elegance to your dinner table and make your guests feel welcome.
6. String Lights
Image Credits: bhg.com
String lights are a fun and versatile way to create a festive touch to your holiday home decor. These twinkling lights create a cozy, magical ambiance that transforms your home into a festive haven.
When using string lights for your holiday decor, the possibilities are endless. You can wrap them around your Christmas tree to create a dazzling display that will light up the room. You can hang them on your walls or ceilings to create a whimsical atmosphere that will make you feel like you're walking in a winter wonderland. Alternatively, you can use them to spell out positive messages, such as "Merry Christmas" or "Happy Holidays," to spread holiday cheer.
One of the best things about string lights is that they come in various colors and styles. You can choose traditional warm white lights to create a cozy and romantic atmosphere or choose colorful lights to add a playful touch to your decor. You can find string lights with fun shapes, such as snowflakes, stars, or even reindeer, to make your holiday decor unique.
Another great thing about string lights is they're versatile and can be used for different holidays and occasions. For example, you can use red, white, and blue string lights to create a patriotic display for the 4th of July. You can use pink or red string lights to create a romantic ambiance for Valentine's Day. You can even use string lights to create a spooky atmosphere for Halloween by hanging them in a web-like pattern.
Conclusion on Holiday Home Decor
Your first Christmas holiday in your new home is a special occasion you'll remember for years. And while you may be eager to deck the halls with every holiday decoration you can find, it's essential to prioritize and make smart choices that will set the tone for many Christmases. By focusing on the most important decor elements, you'll create a festive foundation that will be the perfect backdrop for your holiday celebrations.
Still, remember the true magic of any holiday season is not only in the decorations themselves but in the memories you create with your loved ones. So don't stress too much about having the perfect decor – focus on spending time with your family and friends, making new traditions, and enjoying the holiday spirit. Ultimately, whether you have a small or large holiday budget, the love and joy you share with others will make your first Christmas in your home truly memorable.
Frequently Asked Questions About Holiday Home Decor
I. What Is Trending in Holiday Decor?
There are always new trends emerging each year for holiday decor. Currently, popular trends include natural and organic materials, such as wood and greenery, and bold and vibrant color palettes, like jewel tones and metallics. Traditional holiday elements, such as plaid patterns and classic Christmas motifs, are always in style.
Ultimately, the most crucial thing is to choose decor that reflects your personal style and holiday spirit!
II. What Is the Most Popular Holiday Decoration?
While many popular holiday decorations exist, the Christmas tree is perhaps the most iconic and beloved. A symbol of the season, the Christmas tree has been a beloved tradition for centuries, with many families making it the centerpiece of their holiday decor.
Whether you prefer a real or artificial tree, or a classic or modern design, decorating the tree will be a treasured holiday tradition for your family. From twinkling lights and colorful ornaments to tinsel and garlands, there are endless ways to make your tree unique and festive.
III. How to Decorate for Holidays But Not Christmas?
When you want to celebrate holidays other than Christmas, there are plenty of festive options for decor. For example, for Thanksgiving, you can decorate with autumnal colors like orange, brown, and yellow and incorporate fall-themed elements like pumpkins, leaves, and cornucopias.
For the 4th of July, you can use a patriotic color scheme of red, white, and blue and include American flags, banners, and other patriotic decor items. Other holidays like Halloween, Easter, Hanukkah, and Valentine's Day also have their own unique themes and decorations that you can incorporate into your home.
You want to choose decorations that reflect the spirit of the holiday you're celebrating while still complementing your style and existing decor.
IV. How Do I Decorate My Room for Holidays?
When decorating your room for the holidays, there are plenty of creative ways to add a festive touch. But start by choosing a color scheme that reflects the holiday you are celebrating. For example, choose red and green for Christmas or orange and black for Halloween.
From there, add holiday-themed decor elements, such as string lights, garlands, and ornaments. You can also incorporate seasonal textiles like cozy blankets and pillows with holiday motifs. Remember to add a touch of fragrance with scented candles or diffusers that evoke the spirit of the season.
Finally, consider adding a few personal touches, such as family photos or handmade ornaments, to make your holiday decor feel truly unique and special.
V. How Can I Decorate for the Holiday With Little Money?
Decorating for the holidays doesn't have to break the bank. If you're on a budget, consider repurposing items you already have, such as using a festive scarf as a table runner or arranging ornaments in a bowl as a centerpiece.
You can also get creative with DIY projects, such as making paper snowflakes or creating a garland using pinecones or dried orange slices. Shopping at discount stores or thrift shops can also be a great way to find affordable holiday décor items.