Are you an architect who has yet to own an architectural visualization studio, or are you yet to adopt and start offering 3D rendering services? Then this article is for you. It reveals how 3D architectural rendering services can simplify your work as an architect. You will be convinced that adopting 3D rendering and visualization is best for you.
10 Best Architectural 3d Rendering Services Online
Unlike photography, 3D rendering helps you to generate photorealistic effects. High-quality renderings transform 3D modeling into detailed, realistic, and lifelike images of architectural design. 3D rendering companies offer their services, so you don't have to go through a long and grueling process. Here are the top rendering companies.
1) RealSpace 3D
Having been in business for over 15 years, RealSpace 3D is one of the best companies for most project requirements. The company boasts an excellent track record of producing high-quality renders, animation, and virtual reality tours. They also have competitive prices for any services you might need, simplifying any architect's work.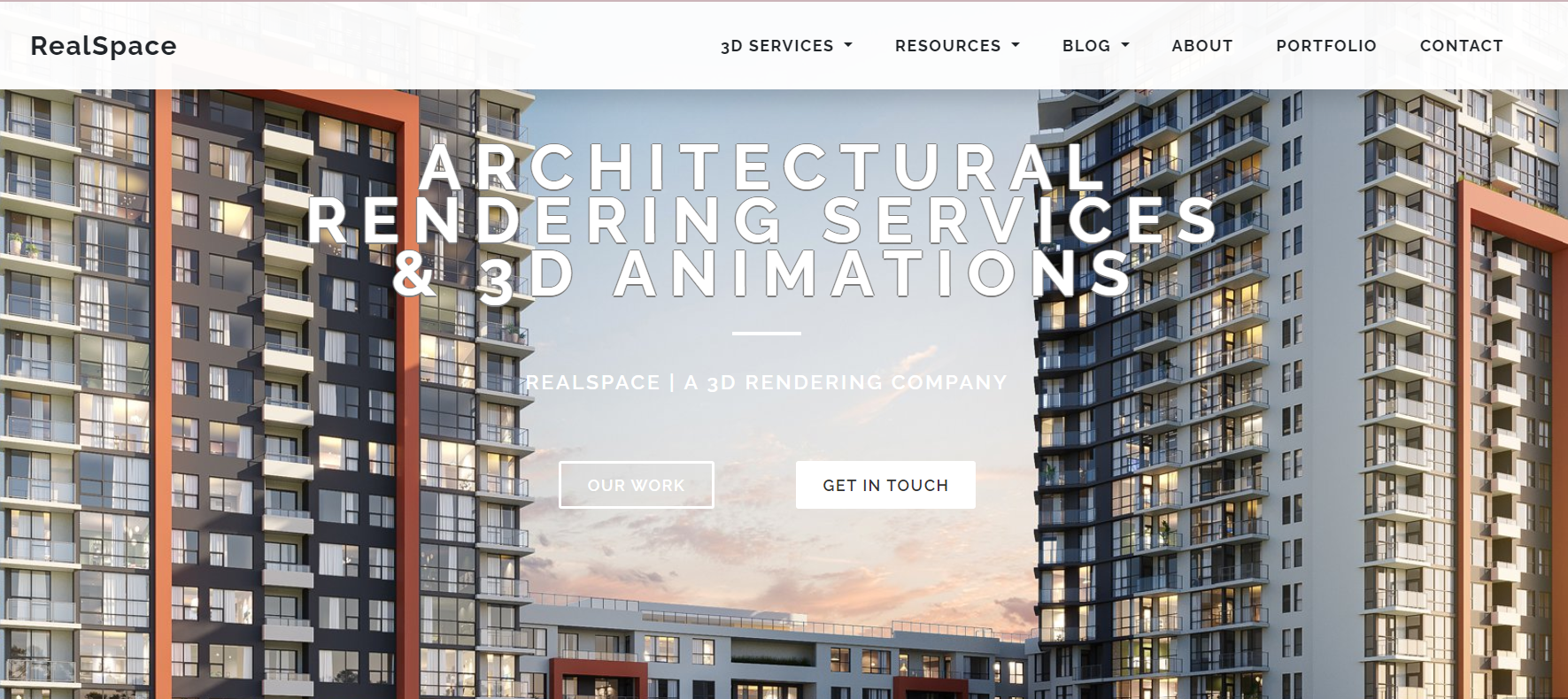 Image Source: realspace3d.com
As one of the best architectural 3d rendering services, RealSpace 3D maintains a professional relationship with all its clients regardless if you are a fortune 500 company or a homeowner. The company is comprised of a small team of 3D rendering artists dedicated to undertaking any architectural project.
2) Easy Render
Easy Render is a company that connects architects and designers with 3D rendering services. They have access to the best 3D renderers and work to connect them to customers who require interior visualization, realistic, and architectural animation services. After you post the job and receive offers from artists, you can select the best and pay into an escrow.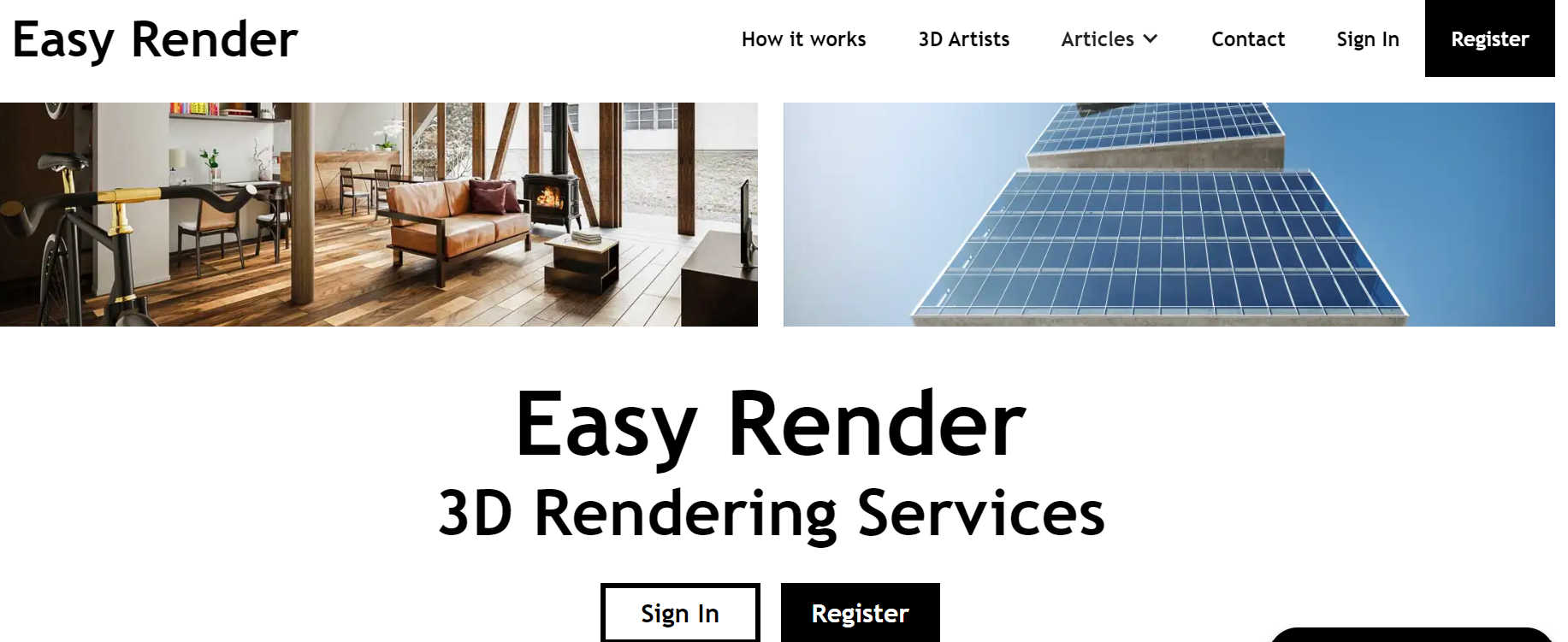 Image Source: easyrender.com
Furthermore, the artists won't be paid until the job is complete and you are satisfied. This is to give potential customers peace of mind when they choose the service.
3) CyberFox
From idea to integration, CyberFox is one of the best online companies for architectural animations, virtual tours, and other 3D visualization renders. It is a modern solution that is equally easy to use for customers. One of its advantages is that you get quality work even if you don't have detailed specifications.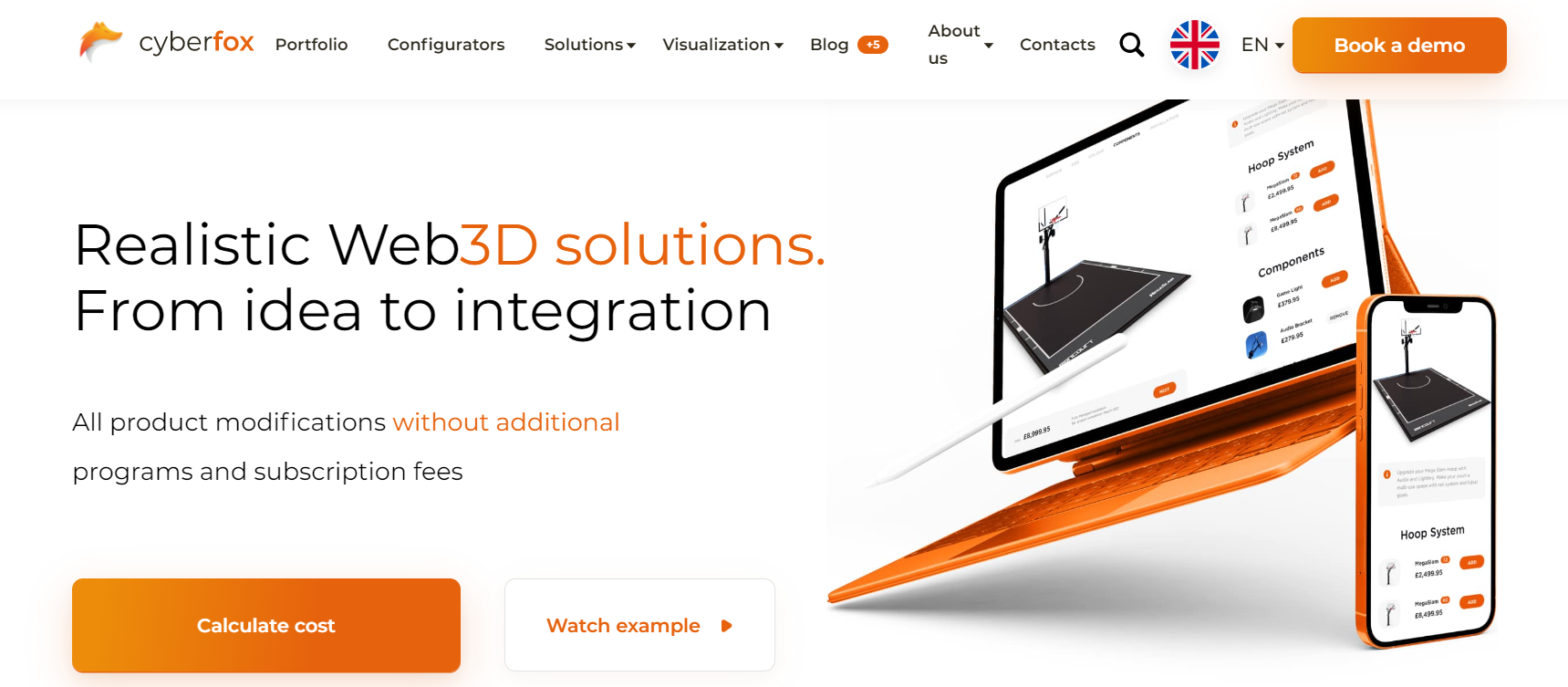 Image Source: cyberfox.net
Additionally, you won't have to look for any other specialists since the work starts and ends with CyberFox. Furthermore, you can receive an estimated cost, and the time it would take to complete the project in 3 days.
4) 7CGI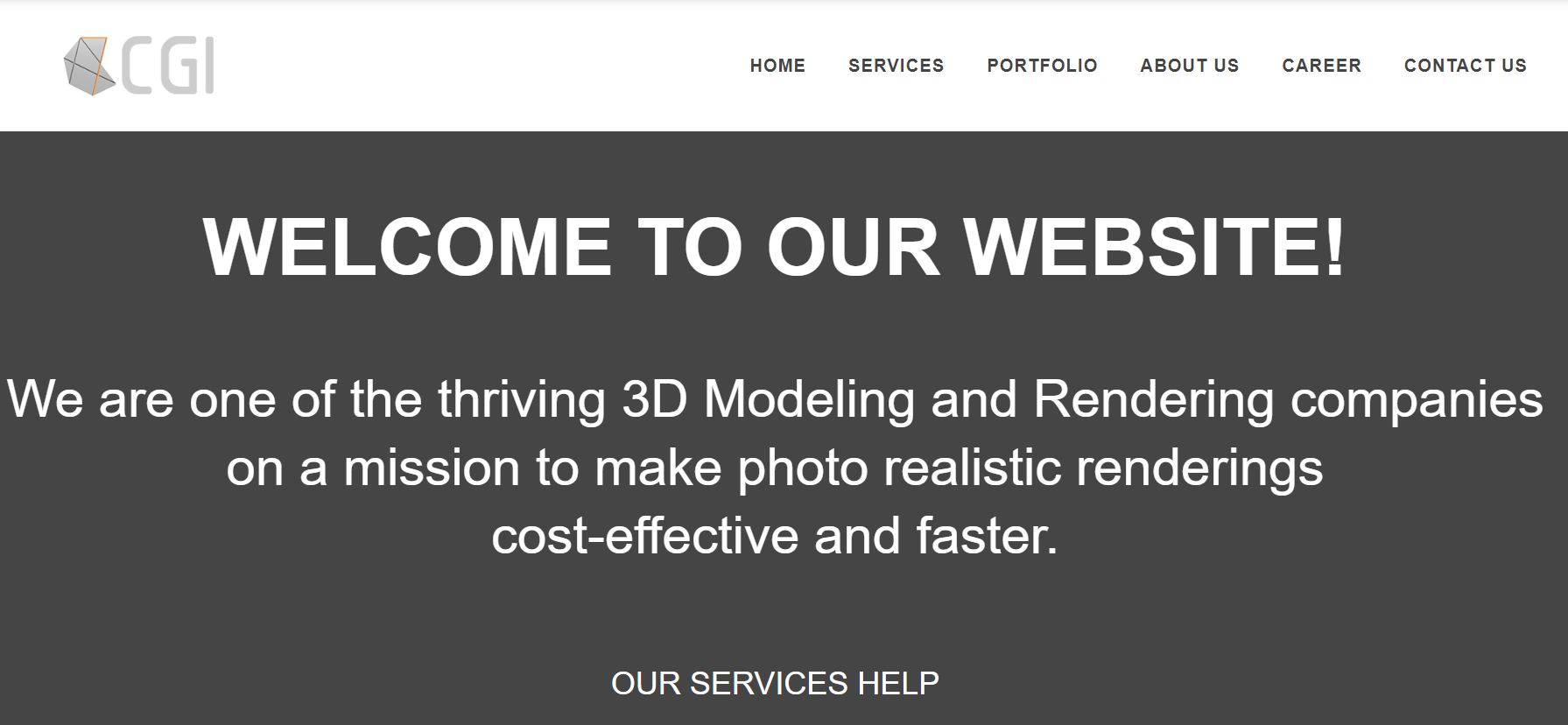 Image Source: 7cgi.com
With 24/7 availability, and high-quality photorealistic rendering services, 7CGI is committed to creating renders for:
Homeowners
Architects
Real estate developers
Interior designers
The company also offers a range of resources, including real-time, and floor plan rendering services. The visualization process is swift, as the company has a medium-to-large working force to complete projects seamlessly.
5) Studio57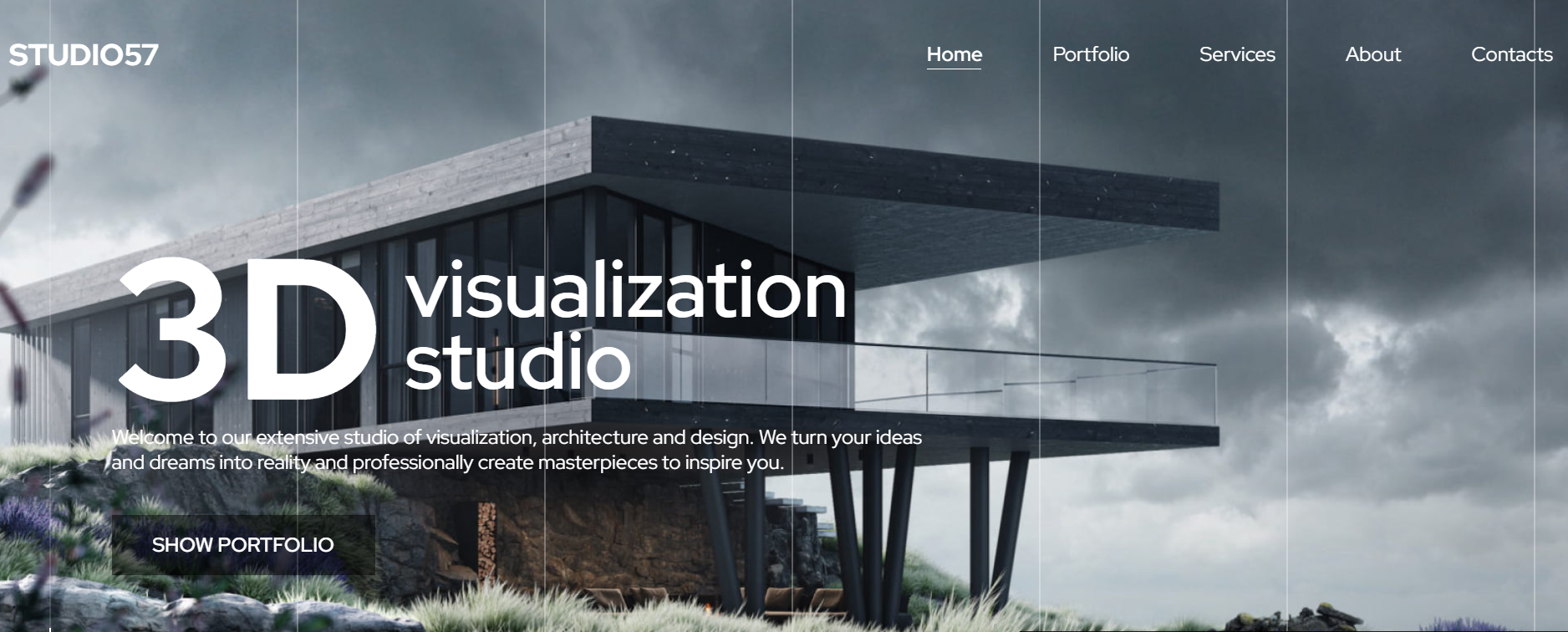 Image Source:studio57.com
Studio57 is a large 3D rendering company that has over 170 completed projects under its belt. Their employees are experienced in the visualization industry and are professionals in their fields. Additionally, the company offers an extensive range of services, including VR rendering and 360 panorama services.
Working with professionals in the industry will ensure you are happy with the final result. Furthermore, their prices are competitive, and you can tailor payment plans to fit your projects.
6) VRender 3D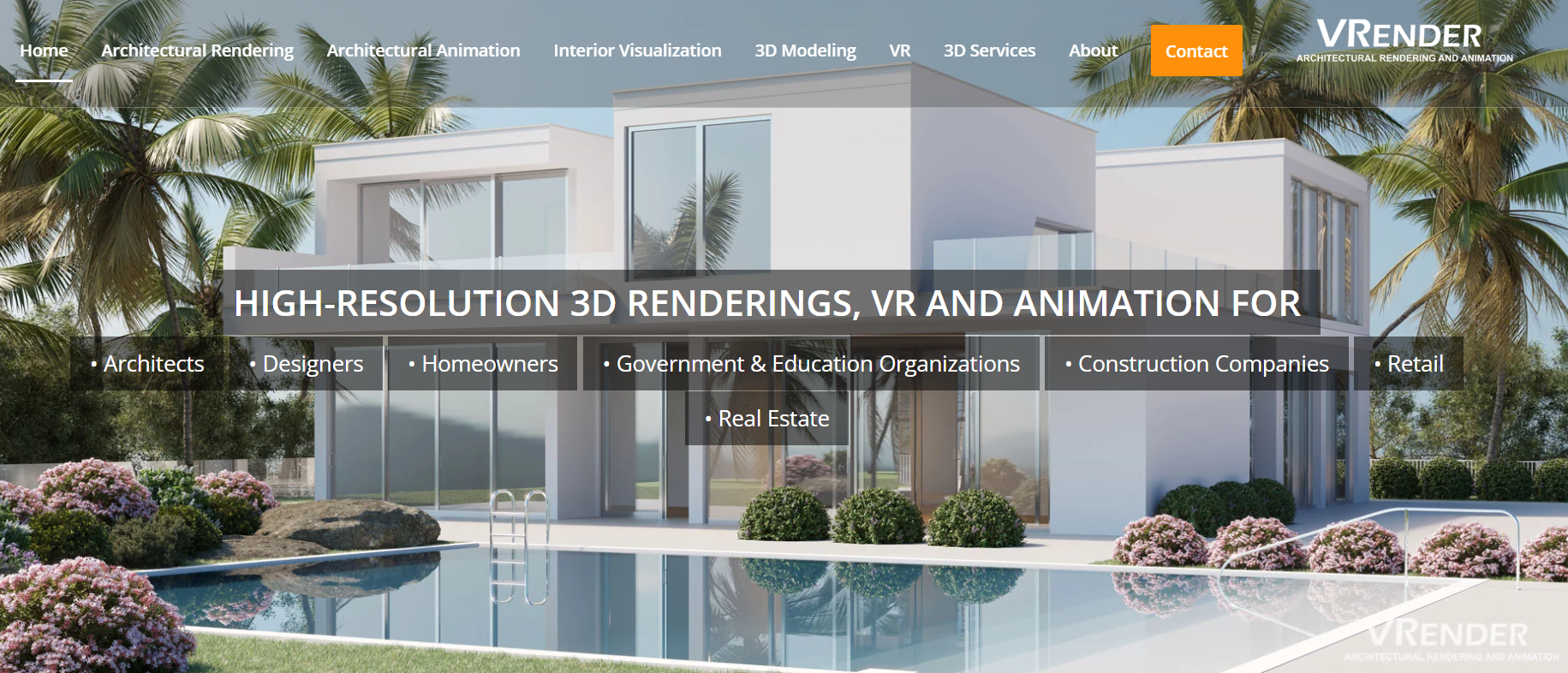 Image Source: vrender.com
VRender has more than 17 years of experience dealing with 3D rendering jobs from multiple customers. They have quality work and a robust architecture portfolio with experienced professionals who will make your job easier with their virtual reality skills. Additionally, the 3D walkthrough option offers you realistic representations of your idea from multiple angles.
The 3D simulations are helpful even in presentations where you need to illustrate modifications or changes in the material.
7) Brick Visual

Image Source: brickvisual.com
Brick Visual creates impactful visuals even for the most complicated architectural animation projects. You don't have to look further than this company to execute your ideas. Additionally, this rendering company produces everything with excellent quality, including 3D production for architectural projects, software solutions, and architectural visualization services.
As one of the best 3D rendering services, you won't go wrong with any project. Not to mention, they work with your budget to give life to your vision. Their service is top-notch.
8) Applet3D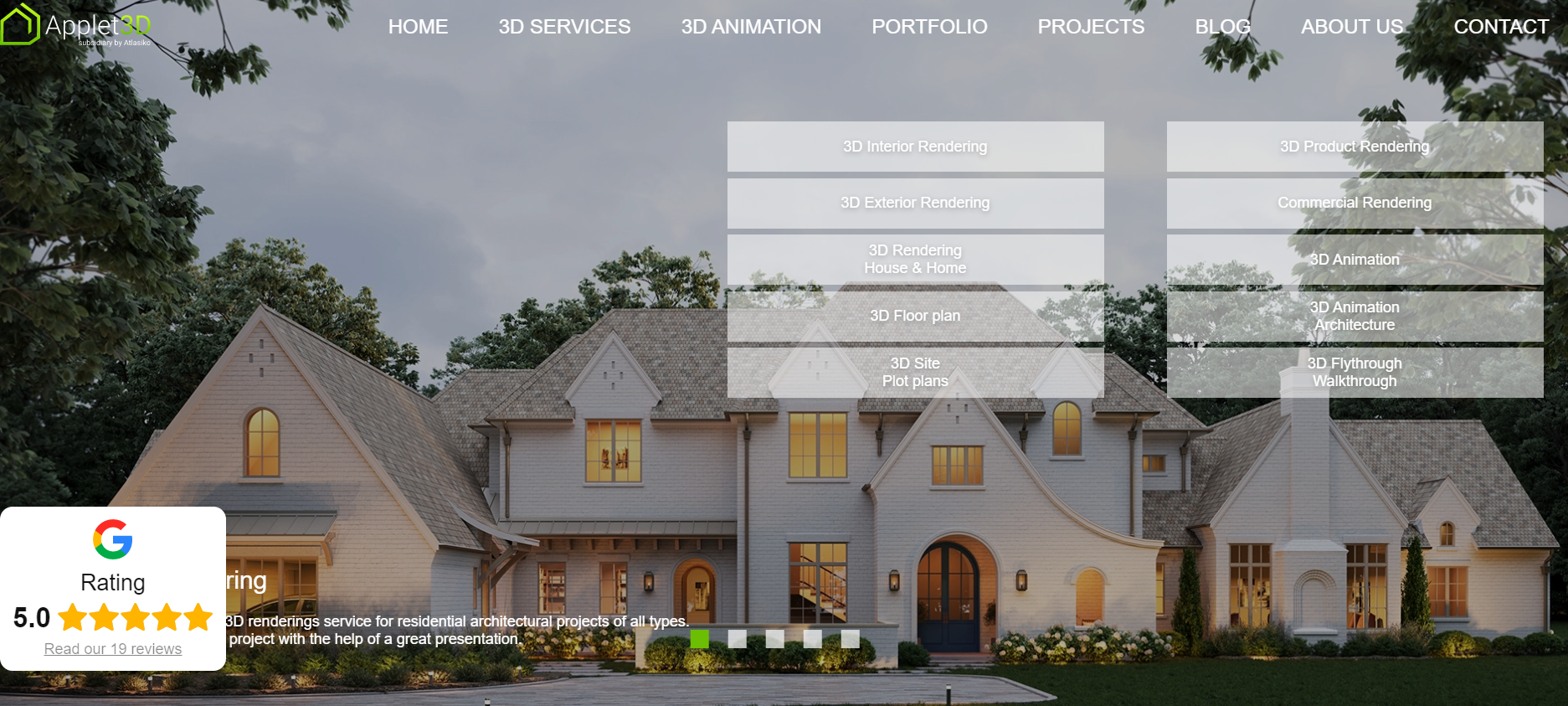 Image Source: applet3D.com
Applet3D offers the best services for exterior and interior visualization processes. They can visualize, render and deliver any plans from a simple idea. The company prides itself in achieving a balance between a practical approach and appealing aesthetics. In addition, with their realistic animation, any project can be completed ahead of deadlines.
Applelet3D is the personal project manager you never knew you needed, and it can tackle projects even in major real estate and complex architecture.
9) ArchiCGI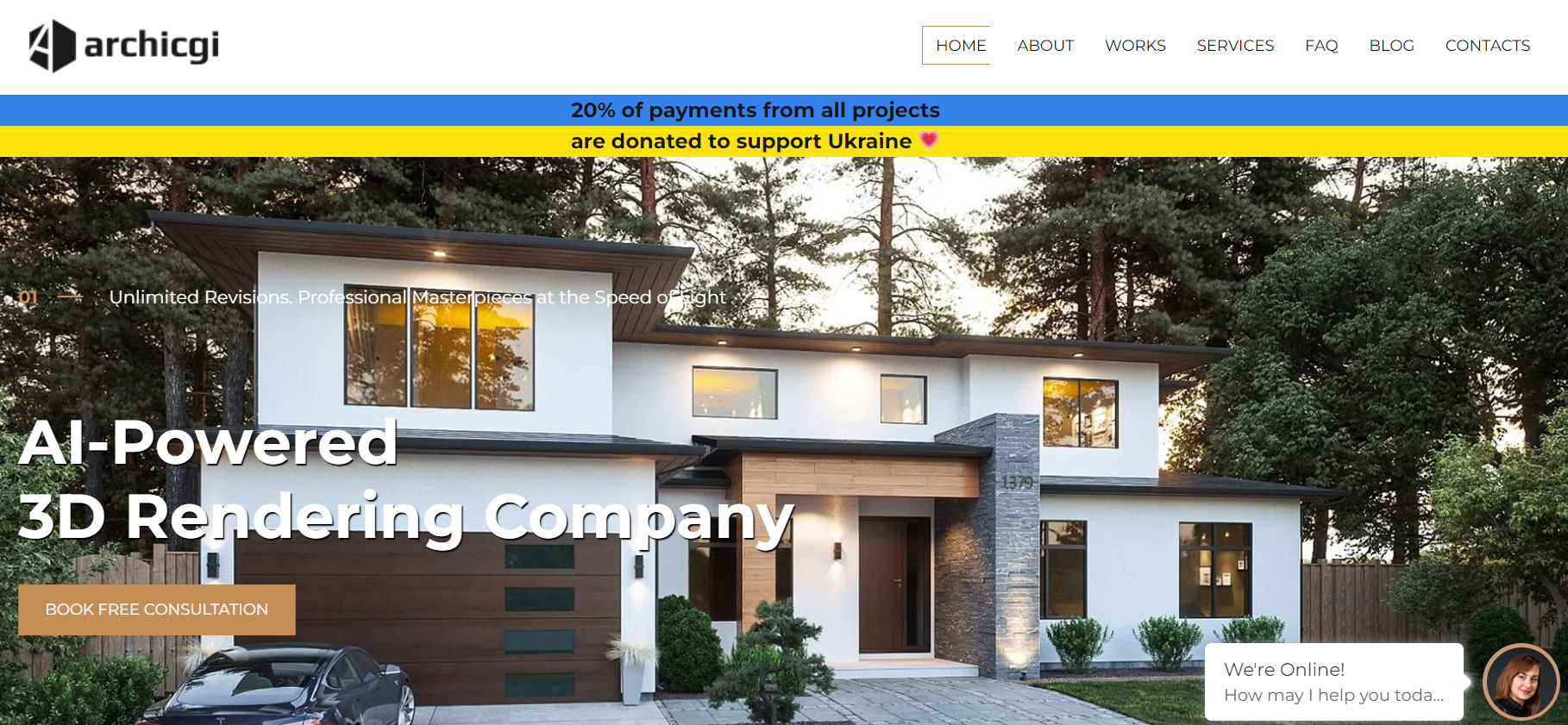 Image Source: archicgi.com
This 3D rendering company is one of the best places to develop architectural visualization services for any project on hand. Furthermore, their services are fast, efficient, and timely, so you don't have to wait in line for completion. You can also follow your project's progress since everything is stored on a CRM system.
10) ZoDev Design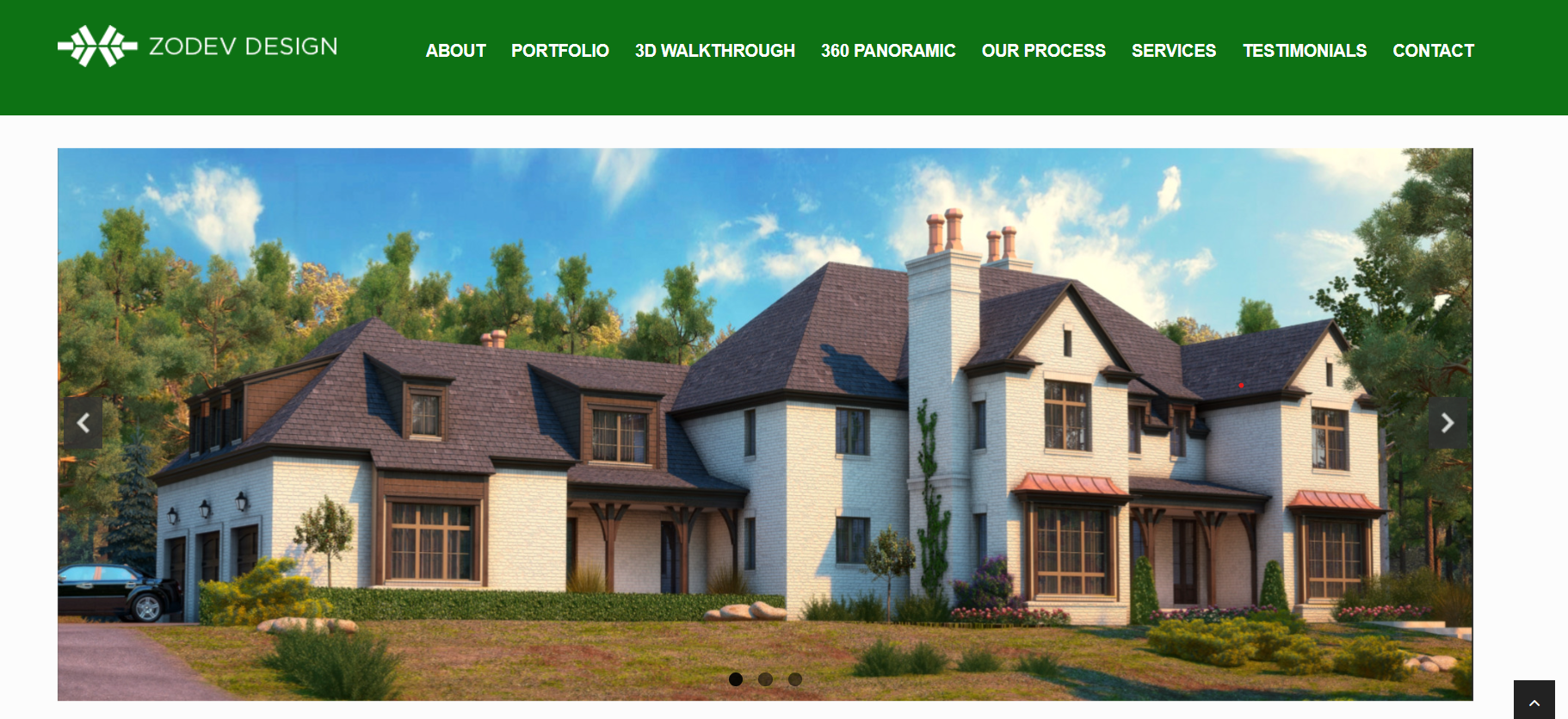 Image Source: zodevdesign.com
ZoDev is a 3D rendering company that offers excellent services to make your job easier and more efficient. A good architectural project requires 3D rendering so that architects can visualize the interior and exterior aspects of the construction. As your project is coming along, you can make adjustments and revisions as you please.
How 3D Architectural Rendering Services Can Simplify the Work of Architects
3D rendering services have revolutionized how architects approach their work in the architecture, engineering, and construction (AEC) industry. Besides, many architects now rely on 3D architectural visualization services because they make their work more straightforward from conception to design and construction. 
For instance, architects can showcase a proposed project or property through 3D walkthrough animations to give viewers a more immersive experience and imagine themselves standing inside the property.
Furthermore, a sales team that works with a 3D architectural rendering company can better explain a project's features to their customers or clients through high-quality 3D renderings and walkthrough videos. Check out other benefits below.
a) Ease Of Communication 
Communication is vital for every architect, especially with clients and design and construction team members. For instance, a client's ideas for a project can be vague or complex, and an architect needs to listen to these ideas and conceptualize and interpret them in the form of designs.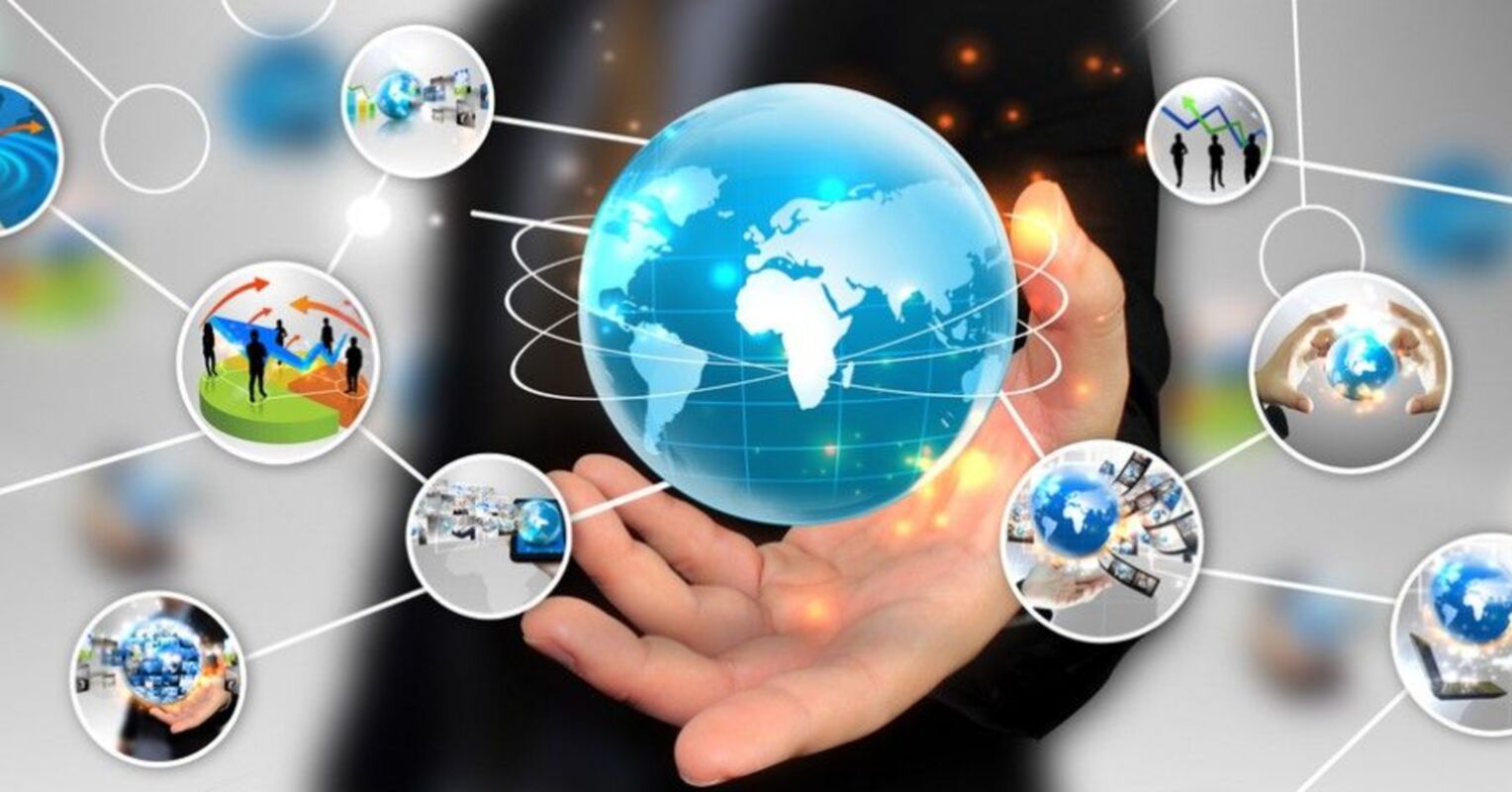 Image source: importanceoftechnology.com
Thus, an excellent way to develop client ideas and showcase the ideas to them is through 3D rendering and visualization. So you can invite your clients over to your 3D architectural visualization studio to have a look. Similarly, you can adopt the same method to communicate your designs to your design or construction team colleagues to execute the project. 
b) Project Troubleshooting
Do you know that a structure can have errors after construction despite looking flawless on paper before construction? The design and construction of a project can be a dicey endeavor because of design or construction mistakes.
Whenever issues arise, the architect often bears losses, especially on building projects, and the relationship between the architect and the client can be marred. 
Image source: manufacturingexecutionsystems.com
However, with 3D rendering services, an architect can easily spot and correct design errors before construction begins. Thus, it makes troubleshooting projects in their early stages possible and easier. 
It is essential to note that overseen errors during construction might cost construction companies and investors millions of dollars. 3D renderings might eliminate these issues. 
c) Marketing Materials and Campaigns
If you are an architect who works with the sales team of a real estate company, then your 3D architectural visualization services are of great use for marketing purposes.
The real estate company will be interested in combining 3D walkthrough animations with personalized and customer-centric adverts to create eye-catching effects and impress even the most imaginative potential clients. 
Image Source: fishbat.com
Furthermore, you will be required to produce architectural visualizations and walkthrough animations of completed projects, even before construction works begin, to attract clients and close deals. Thus, your 3D architectural rendering and visualization skills will get the job done for you and help you keep your job. 
d) Effective Online Presentations
You can only adopt 3D rendering services for effective online presentations and meetings if you have clients in faraway cities or countries. For instance, it can be very challenging to pass your ideas to your clients virtually, and they can feel lost, especially when they need an architectural background.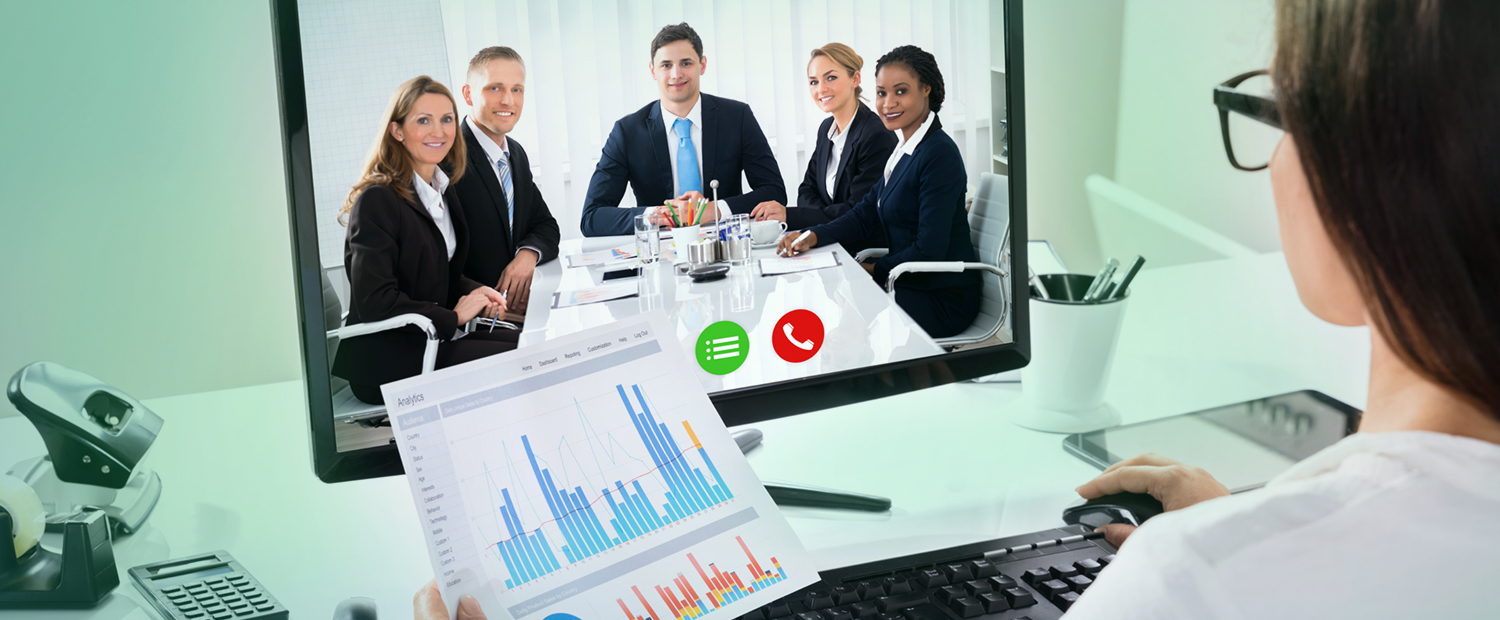 Image Source: manycam.com
However, photorealistic 3D architectural renderings and visualizations make it easy to explain and illustrate design ideas online or virtually compared to 2D sketches and mockups. Therefore, with 3D rendering and visualization skills, you can nail your online presentations and meetings.
e) Speed Up Project Timelines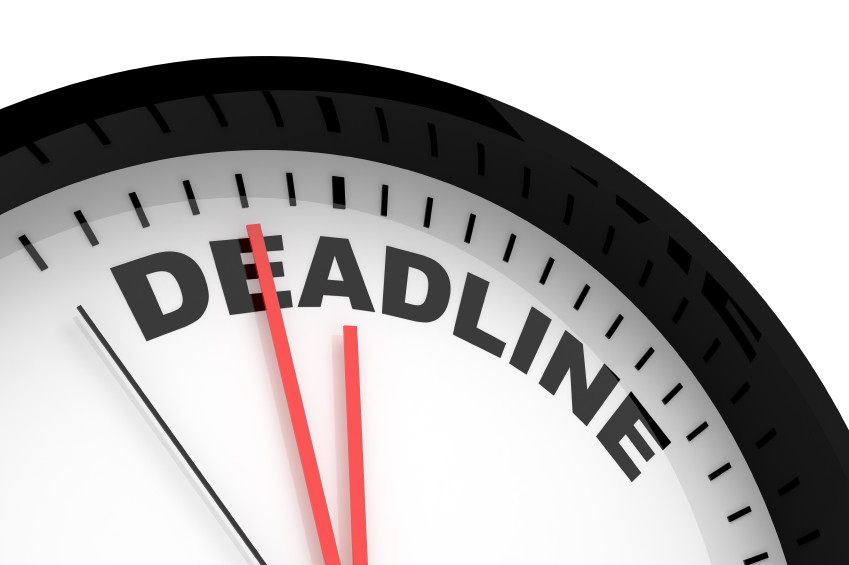 Image Source: linkedin.com
Clients like to kick start and complete their projects as fast as possible to save money and reduce the occurrence of errors. As a result, architects without 3D rendering and visualization skills now need more time to develop designs and put them forward for construction. Hence, clients now prefer to work with a 3D architectural rendering company to communicate their ideas, identify errors early on and shorten project completion time.
Frequently Asked Questions About Architectural 3D Rendering Services
i) How much do architectural 3D rendering services cost?
Generally, 3D rendering services cost between $50-$500, and sometimes more. It all depends on the size of your project and how complex you want the rendering to be. Some projects can cost up to $5000 for an advanced design.
ii) Is 3D rendering worth it?
It is the perfect tool for creating visualization and presenting designs to potential customers. They offer an advanced, realistic experience of what the project will look like once it's physically complete.
iii) Why is 3D modeling expensive?
While some prices are very competitive, other costs aren't budget-friendly. Usually, complex and advanced projects cost more since the artists need to use expensive software, and it takes a lot of time to complete these projects.
iv) What is the difference between 3D rendering and 3D modeling?
3D modeling is creating a 3D object, while 3D rendering is creating realistic 2D images from the 3D model.
v) How long does it take to 3D render a house?
Rendering services are tricky, given that every project has its timelines. However, a good ballpark would be between 2-3 weeks. Your specs and scope will also determine how long the project will take.
vi) Which software is the best for 3D rendering?
There are more than 10 excellent 3D rendering software. Some of them include Unity, Blender, Maya, 3ds Max Design, and Keyshot.
vii) Is 3D rendering hard?
Yes, it is. It is one of the most complex and time-consuming parts of 3D rendering. Remember, 3D artists must consider everything the eye sees and replicate it in their modeling.
viii) What are the advantages of using 3D rendering services?
You will save more time when you give your project to a 3D rendering service. Additionally, it will give you more time to visualize changes in the project as you continue working on it. Lastly, you get to work with a professional and get accurate and precise measurements.
ix) How much should a freelance 3D artist charge?
They can charge anything they wish; however, a good starting point would be to charge between $17-$30 an hour.
x) How can I know that my 3D render is good?
It's all in the details. If you are working with a good artist, there should be attention to shadows, textures, and light. The little details matter to ensure realism, so your render doesn't look like a computer-generated visual.
xi) What is the importance of 3D rendering to architects?
The best part about 3D rendering services is that they make the project real to clients. Remember, not everyone can read flat technical drawings. Therefore, a 3D rendering is best. After all, it is a tool that gets the client and architect on the same page.
xii) What information do I need to give to a 3D rendering artist?
Any information about your project will be helpful. A 3D model, floor plan, or site plan, all make a great first step. However, even with a sketch or technical drawing, 3D artists can work with the least and create the most.
xiii) Can I change my designs in the middle of 3D rendering?
Yes, you can. Most professionals acknowledge that plans can change in the middle of the project, and they can accommodate your changes. However, asking whether they can accommodate changes is always good practice before signing your project over to them.
xiv) Do large 3D rendering companies only work with larger clients?
Most companies value clients equally. However, if you are uncomfortable with larger companies, multiple small-medium companies are still excellent. Furthermore, whichever way you decide to go, you should ensure your needs are adequately met.
Conclusion
3D architectural rendering services are essential for every 3D rendering company and architect that wants to remain competitive in the industry. Thus, if you still rely on pencil and paper to complete your work, now is the best time to switch to 3D architectural visualization services. You will be amazed at how easy and simple your work will become and how much you can do with 3D rendering and visualization technology.