The great outdoors is always refreshing to the mind and the lovers of the great greens. This special feature of backyard landscaping ideas would blow your backyard away! In no particular order, with a little bias on our side, these are the chosen few from backyards worldwide.
How Do You Design Your Backyard Landscape?
Designing a backyard might seem daunting, especially if you are dealing with a large surface area. Fortunately, if you have a solid plan, it is more than manageable. Though it is common to design a backyard in phases, knowing how each part will eventually integrate into the whole is crucial. Besides, having an overall plan for your backyard space offers you something to strive toward while also ensuring you're using your time effectively. That said, here are awesome backyard ideas to try out.
1. Fire Pits
Warm up chilly sun-downers with the best fire pits fueled by gas or wood. You can use this with fire media like lava rock, fire glass, or ceramic log sets. These can create a literal fire-breathing dragon that adds warmth and ambiance to an outdoor space. Creatively speaking, there is no limit when it comes to the design of the actual fire pits.
2. Mazeras Stone
Whether matte or polished, mazeras stone tiles form a splendid form of hard landscaping for a backyard; use it to restrict paths or just as a decoration in an open space. Furthermore, natural stone tiles create a cool environment, feel sensational to walk barefoot, and glisten beautifully, especially when water is sprinkled on the surface.
Image Source: mazeras.co.ke
3. Fish Pond
Bragging rights: a pond in the backyard. Some people are likely to jump in, while most prefer to stare at it from the edge. Whichever preference, a unique water feature is always an addition to green backyard space. Remember, the rhythmic melody of water falling down the rocks is soothing.
Image Source: bajbusowo.pl
4. Dual And Triple Function Elements
Design can create elements with multiple purposes suitable for small backyards. It is intriguing to see how basic ingredients of landscaping blend in to serve different functions. The image below is a concrete garden planter that harvests water and extends into a tabletop with a fire pit.
5. Floating Pottery
One particular planter technology, possibly from the year 3018, uses a powerful magnet pushing against an electromagnetic base—to suspend plants in mid-air! How cool is that! It also rotates! Due to the limited weight that could be magnetically supported, this is possible for small tabletop planters only. However, this is still an exciting way to surprise guests at the next outdoor cocktail. Wizardry!
6. Reflective Mirrors
Mirrors are commonly used indoors to create the illusion of space and light. Manuel Ocaña used circular mirrors in a Madrid, Spain, backyard to revamp an otherwise dull, blank boundary wall. They are cylindrical and adjustable to make them both glare and heat-proof. They are fixed onto a framework that also acts as an anchor for climbing plants. The residents enjoy a spectacular show of light during the day and night. Their reflective mirrors are available to buy on Amazon.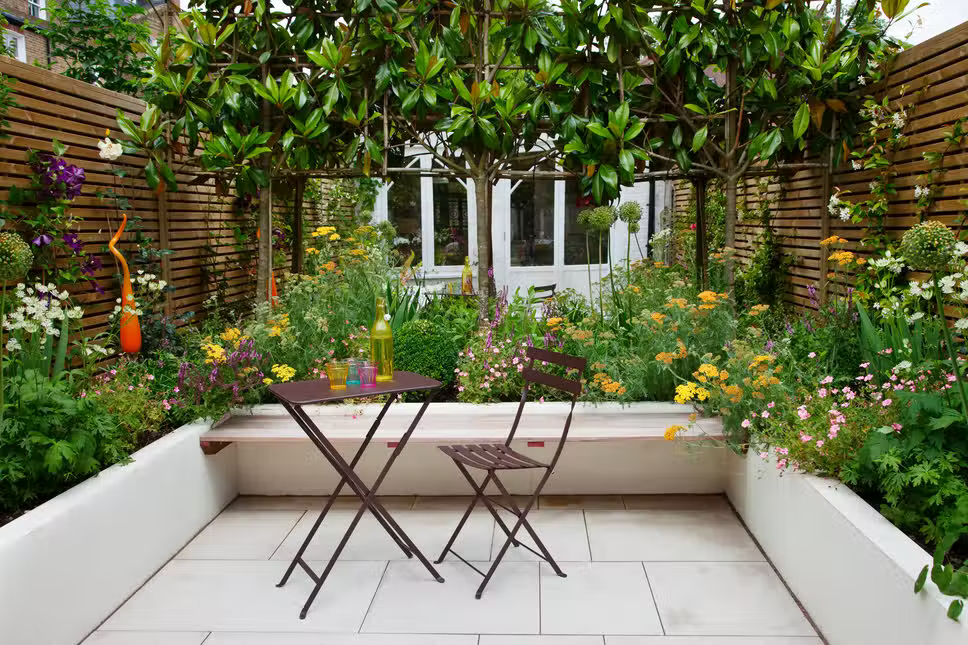 Image Source: standard.co.uk
7. Birdhouses
Other beings also live in our backyards. Create convenient, beautiful environments that meet the needs of animal neighbors too. This idea will attract more birds to your backyard, and their presence brings along their sweet chimes, especially in the morning. Feel free to step it up to classic designs for today's modern bird or get our favorite birdhouse right away.
Image Source: dollartree.com
8. Bird Feeders
Take your love for the birds a notch higher by getting them a bird feeder. A bird feeder somewhere in your backyard or patio is sure to attract the chirping of birds as they stop by for a meal every so often. If you are wondering how to hang one or support it, don't worry about it anymore because you can get one with full support and three in-built feeders directly from Amazon.
Image Source: thespruce.com
9. Playhouses
Create a whimsical getaway for children with playhouses that stir up the imagination. Modern playhouses need not be ordinary toy playpens. Instead, they can be an elaborate expression of architecture, befitting modern kids. Create a mini version of Neverland Ranch, minus the assault charges! You could make a DIY playhouse with your kids or order one online like the rest of us millennials.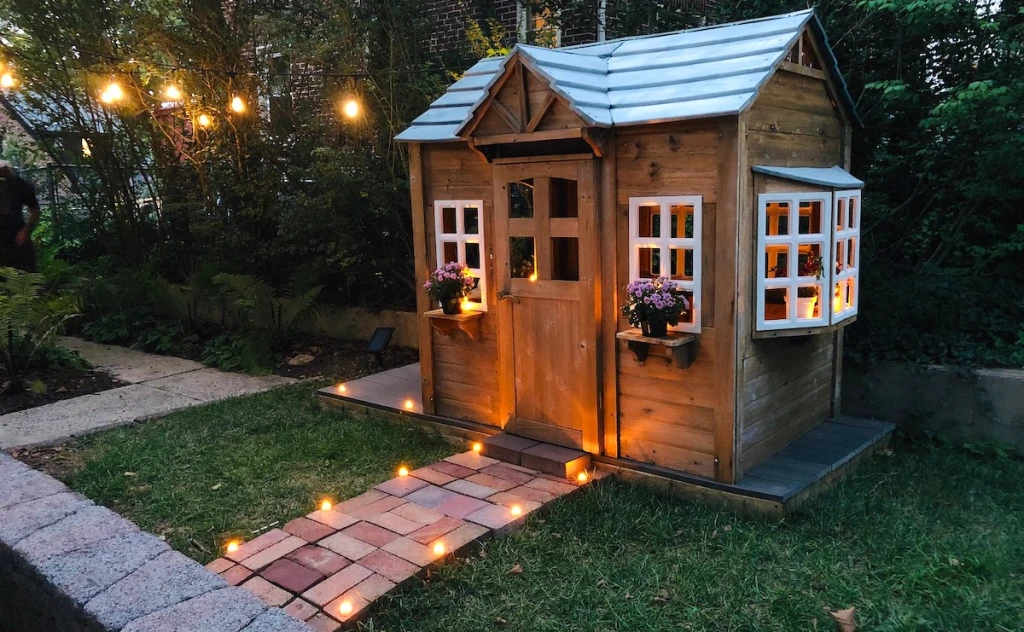 Image Source: hip2save.com
10. Bridges
These mini flyovers are instrumental in guiding stray guests to a specific part of the backyard. Even if the bridge goes over nothing, from nowhere to nowhere, it can be quite aesthetic. Place a random bridge and see how guests react!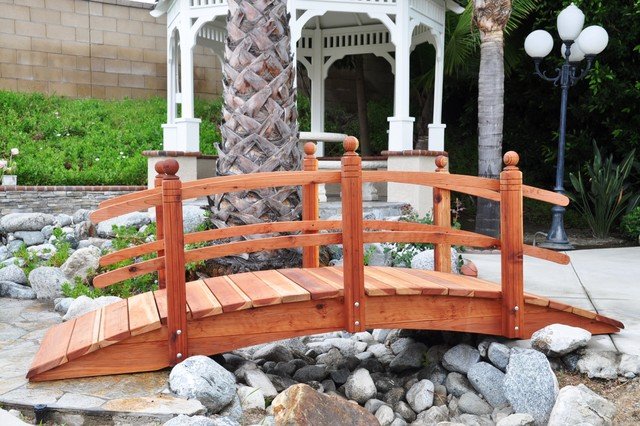 Image Source: fordhamram.com
11. Colorful Foliage
The inclusion of color creates an alive, exciting, and interesting backyard. When planting new flowers, trees, or shrubs in the backyard, consider jacaranda, poinsettias, or other brightly colored plants. Their bold, tropical foliage looks terrific; by extension, your backyard will look so too. As a plus, beautiful flowers attract birds and butterflies to the yard.
Image Source: turfmagazine.com
12. Light
Appropriate lighting is important for proper design, be it indoors or outdoors. Light fixtures for backyards are designed to be water resistant, meaning they can complement water features, as shown below. They create colorful illusions while brightening up your backyard.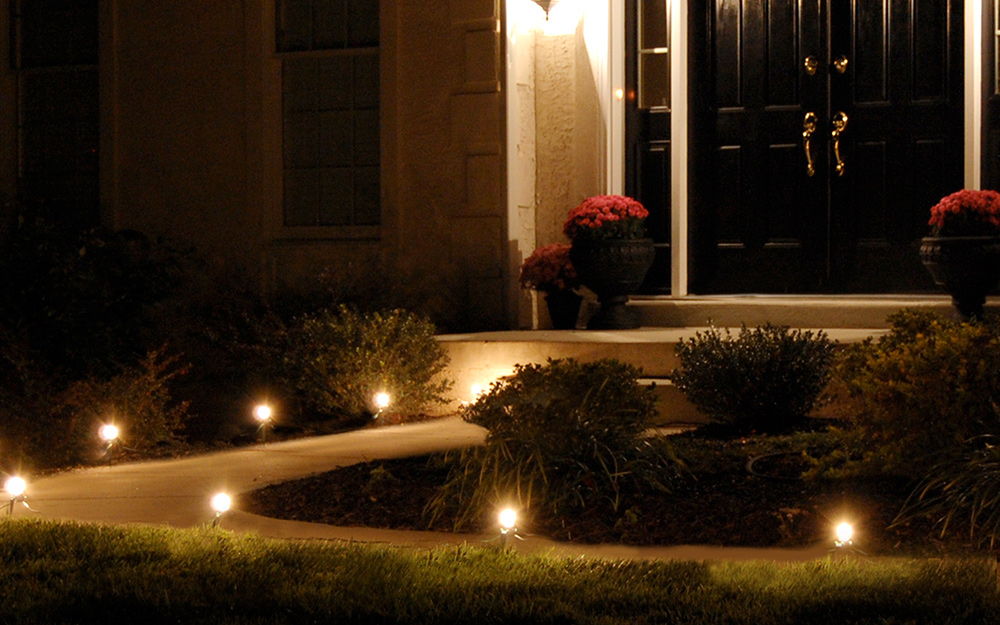 Image Source: homedepot.com
13. Water Fountains
A stunning water fountain in your backyard will bring a sense of serenity and tranquility. A series of fountains creates a natural rhythm that is zen-inspired. This idea is perfect for a backyard retreat. And how about a sphere water fountain that will leave your guests mesmerized? We found some very interesting outdoor water fountains on Amazon.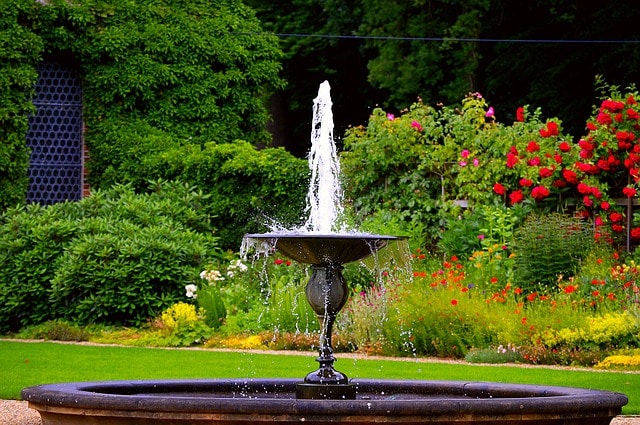 Image Source: gardenofluma.com
14. Water Fall
When one hears the word waterfall, one imagines rocks and nature. With infinite imagination, the water can fall from any higher platform, including through furniture, as shown below! So captivating! You can buy waterfalls for your patio if you want to have one.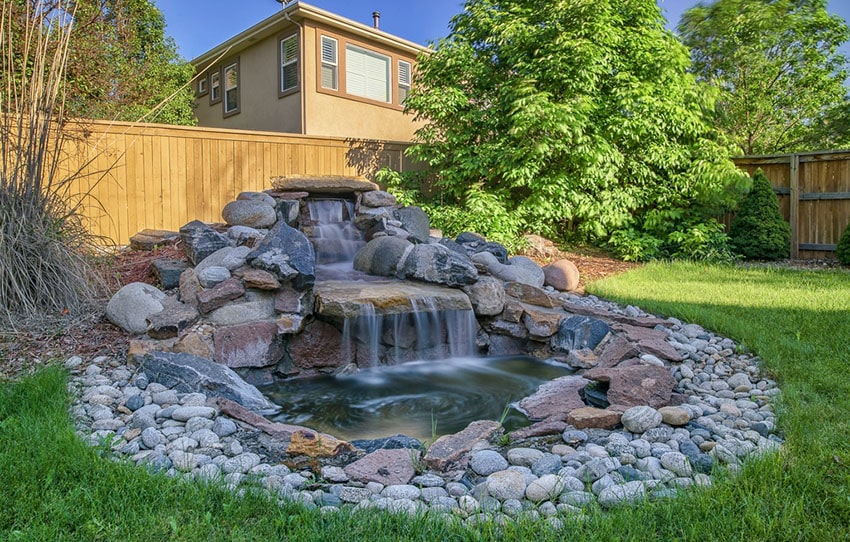 Image Source: designingidea.com
15. Pergola
Wooden pergolas cast perfect shadows during hot summer days. This idea offers fantastic features that you can use over lounge chairs or outdoor picnic tables. Enjoy the shade in the great outdoors without the feeling of being enclosed in a room. You can bring your lovely and well-trained dog to sit in a pergola like the one below!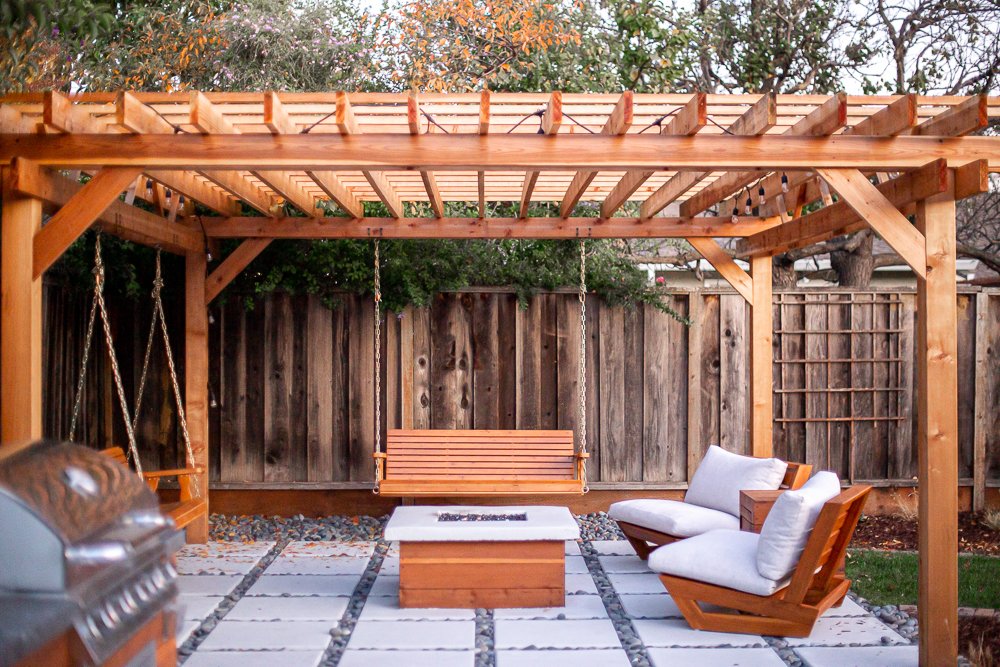 Image Source: yardzen.com
16. Gazebo
How about the good old gazebo idea? This backyard landscaping idea adds to the charm of your garden by providing a covered relaxing space. Want to read a book under a nice well, planned shade? This is the place. The gazebo is a perfect spot for an outdoor meal or catching up on work while enjoying magnificent views of the beautiful greenery. Check out some nice gazebos for your patio on Amazon to save you the hustle of making one from scratch.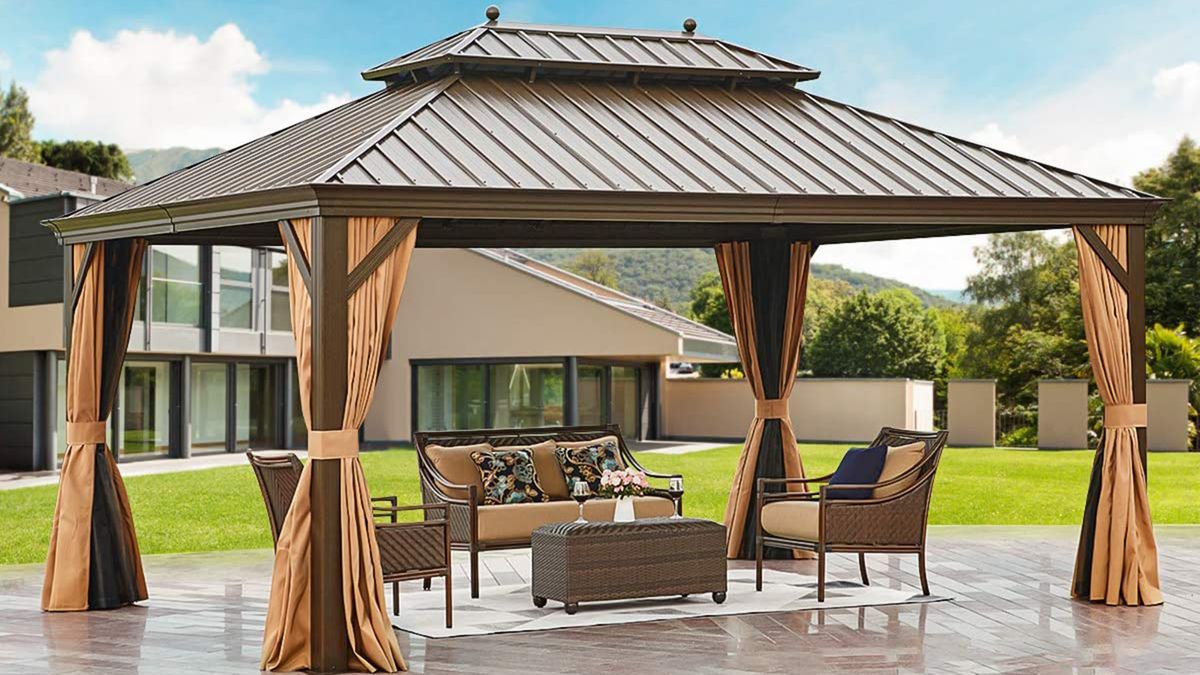 Image Source: realhomes.com
17. Tent
Tents are great for adding some covering on your patio for those sunny days. They can be adapted for use on either the terrace or your green backyard garden. Besides, they are quite affordable, including one of our favorites. The best thing about them is that the design can be varied thanks to the tensile fabric and steel flexibility. It is among the most flexible backyard shading ideas.
18. Antiques
Take your time to throw away old stuff! Preserve and reuse antiques uniquely to add a special timeless spice to the backyard. Consider creatively reusing old bicycles, kitchen pots, metallic cans, and any other household item that may serve you better than if you threw it away.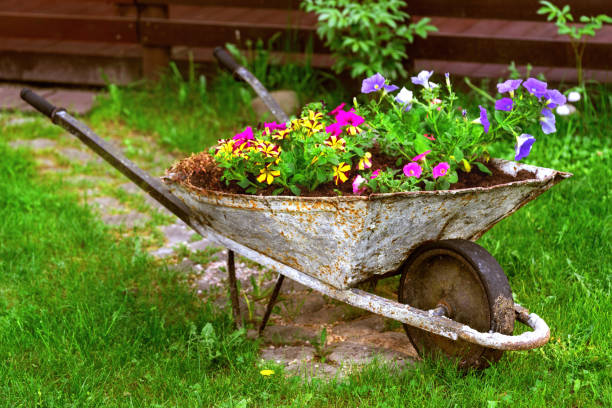 Image Source: istockphoto.com
19. Wine Bottle Torch
If you want to add backyard lighting, forget about the store's ready-made lamps and torches on sale. Get some nice wine bottles and create your torches that light your patio or backyard without much effort. The guys at Design Sponge have the step-by-step guide you need to make this come out awesome. *For safety reasons, this is one of those outdoor-use-only backyard landscaping ideas.
Image Source: georgiapellegrini.com
20. Vertical Garden
Create a vertical garden to spruce up your patio. There are numerous ways to arrange planters to fit your taste. These are designed out of cans that are supported or hanging from above. Create a backdrop of a timber wall for them, or let them turn and merge into the surrounding. Then you wouldn't need a weed eater, as Homegearexpert mentioned.
Image Source: thespruce.com
21. Whimsical Curtains
Outdoor curtains can create privacy and shield from the glaring hot sun during the summer. You can hang them over a lounge area with a pergola. These light, gauzy curtains gently float in the wind, creating a dreamy theme like a distant, exotic retreat. And there are hundreds of designs you could choose from to get your preferred taste.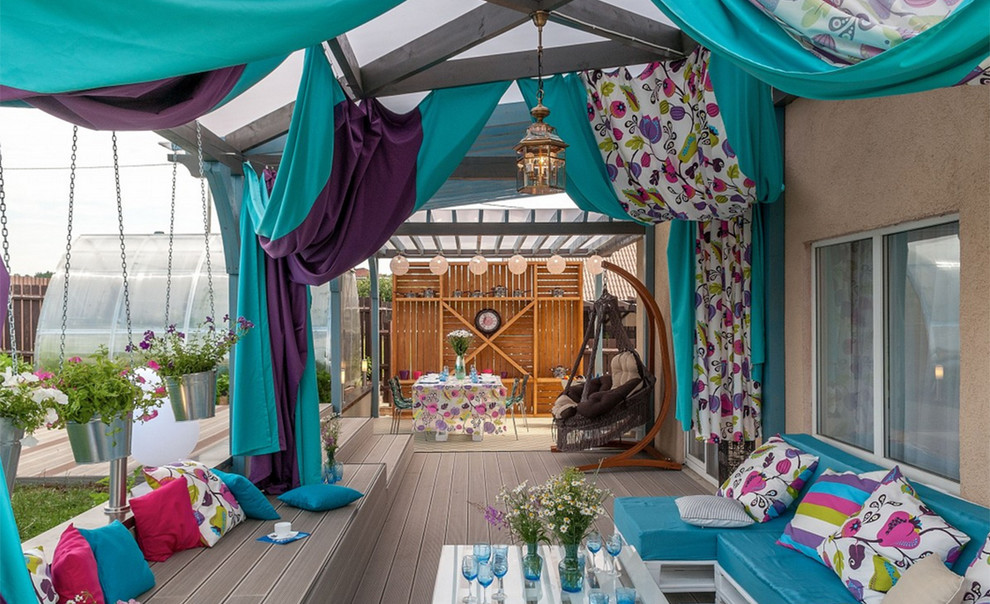 Image Source: houzz.com.au
22. Faux Grass
Add a little bit of green to the backyard. Faux grass will ensure that the grass is always greener on your side. Does it even have to be green in color? No! It can take any shape or pattern to create astonishing illusions.
Image Source: lazylawn.co.uk
23. Recycled Cans
Are you looking for a craft idea for cans you have stacked somewhere? Get yourself busy making this accessory for your plain walls. Paint the cans in various colors to achieve some playfulness and variety. If metallic cans are unavailable, you can implement this idea on plastic ice cream containers.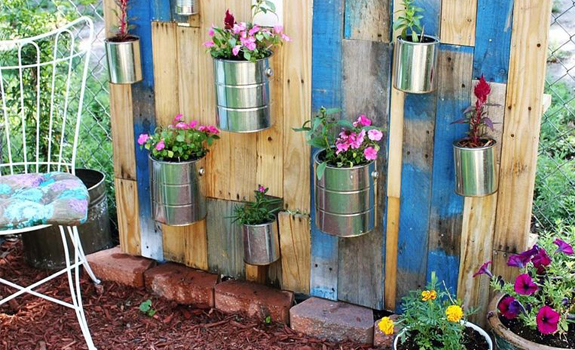 Image Source: adorable-home.com
24. Hammock
Hammocks come in such exciting designs nowadays. However, a simple hammock can greatly add to your patio or garden. All you need are the support elements which could be two trees close to each other enough, or columns. Some come inbuilt with their support as well. You can grab one, just like in the photo below from Amazon.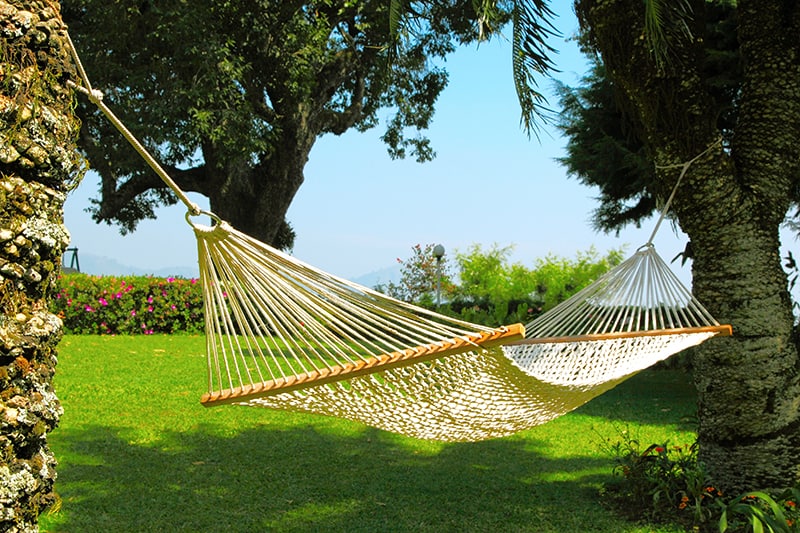 Image Source: trees.com
25. String Lights
Not to be confused with Christmas lights! Use these mesmerizing, enchanting, fairy-tale-like lights around your lounge area, or hide them in the trees. The shiny twinkles add to a good romantic evening with your family or partner. Get them as soon as today from Amazon.
Image Source: nytimes.com
26. Picnic Table
This idea can become the ultimate outdoor dining table if done right. The table and chair set are excellent locations for brunch under the warm morning sun. The outdoor scene is welcoming, and the whole idea of fresh air and comfort is welcoming. Just watch out for flies during dinner. Get yourself this exact patio picnic set.
Image Source: shedsri.com
27. Giant Swing
This giant swing of awesomeness is comfortable and serene and blends well with the outdoors. So long as it is sturdy and stable, it is a perfect spot for those days when you'd rather relax in a 'bed.' And the plus side, enjoy the back-and-forth rocking of the swing, a feature your bed can't offer you.
Image Source: homestratosphere.com
28. Vortex Fountain
A giant waterfall or fountain as a centerpiece for your garden is quite classy. A vortex fountain is a fantastic display of physics and water interplaying phenomenally. Its center, an ever-changing vortex, pulses behind a shimmering wave of water. Its case is a clear glass cylinder that almost becomes invisible, giving the illusion of a wall of water.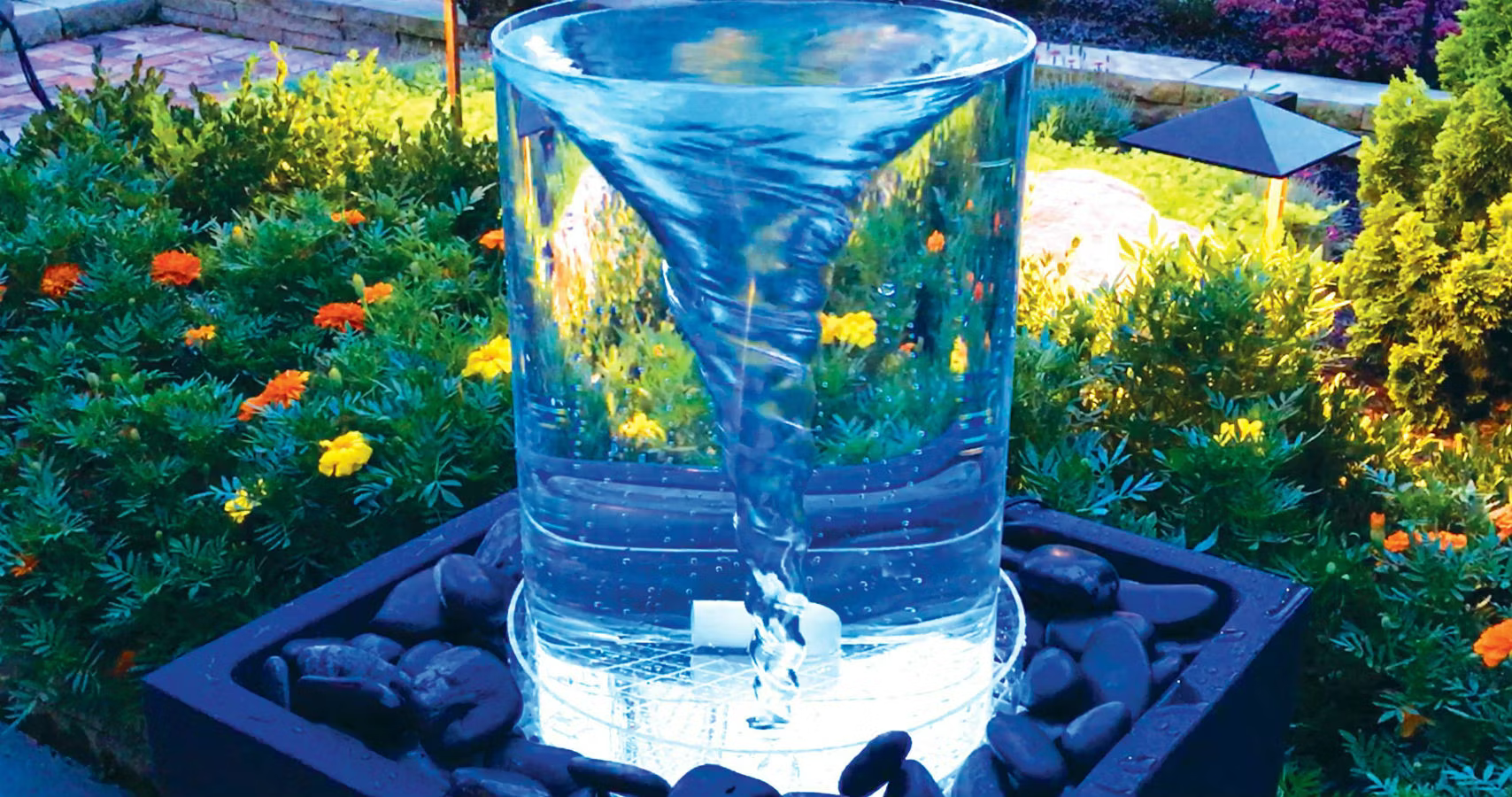 Image Source: therichest.com
29. Wall Fountain
If the sound of water falling on rocks warms your heart and gives you some sense of serenity, a wall fountain will intrigue you in your backyard. You can transform an otherwise plain wall with extra plumbing and creativity. Not only is a water feature visually exciting, but also satisfying to hear.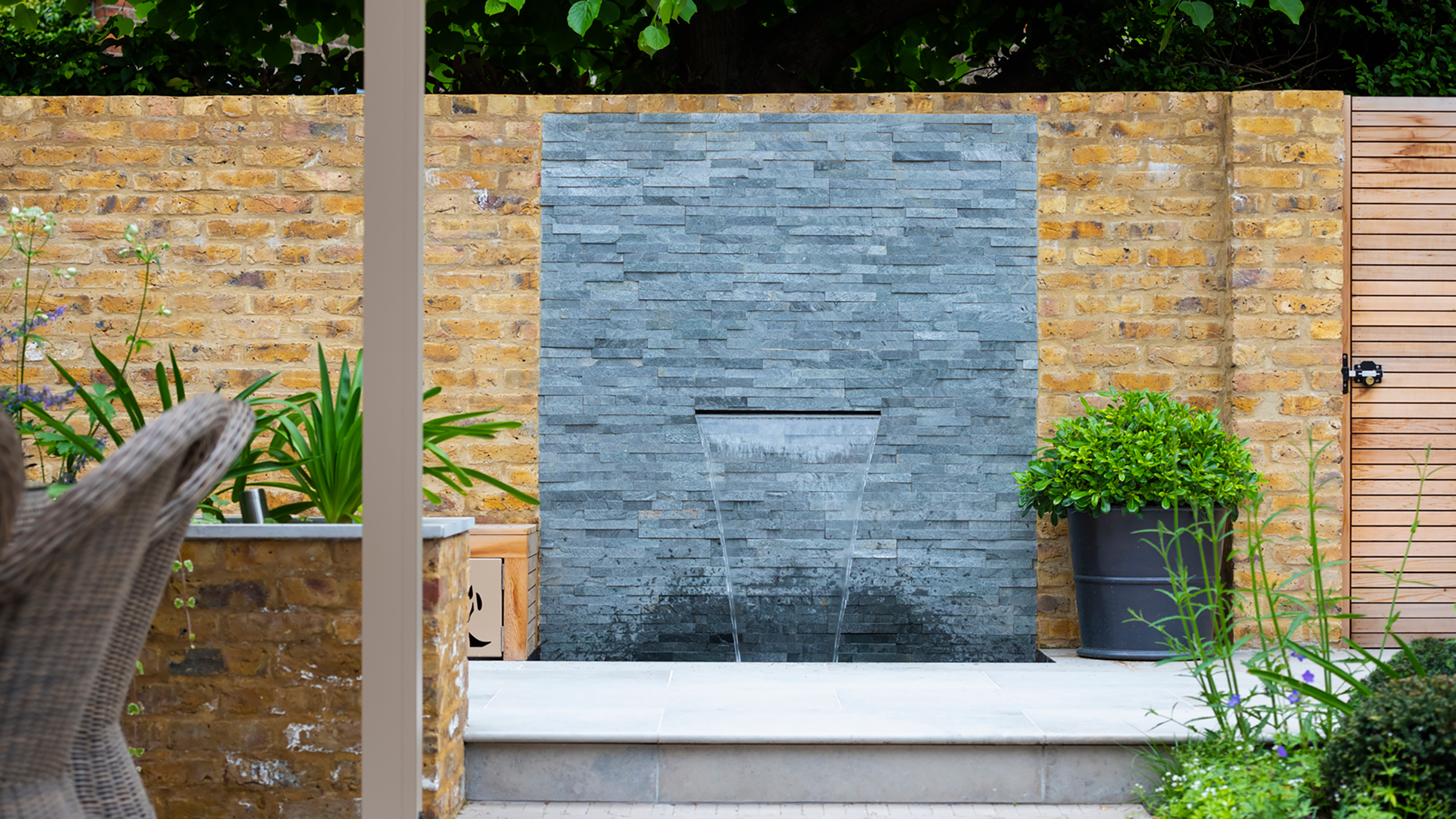 Image Source: gardeningetc.com
30. Grass Bed
Use good old timber and nice sleeping grass to create an amazing chill spot for those lazy weekends. The mix between the wood and the green grass adds to one of the most ingenious backyard landscaping ideas.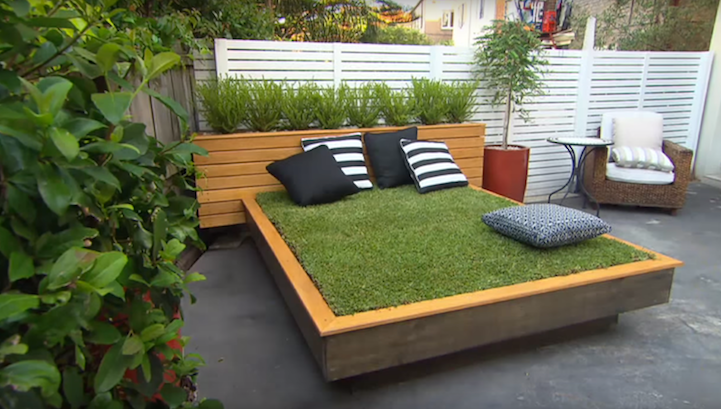 Image Source: mymodernmet.com
31. Jacuzzi
Wouldn't you love a whirlpool or hot tub gracing your patio? It is a small spa within your little garden. It doesn't have to be that big or expensive. You can find a portable hot tub to grace your patio whenever possible. Enjoy energizing, relaxing baths right in your backyard.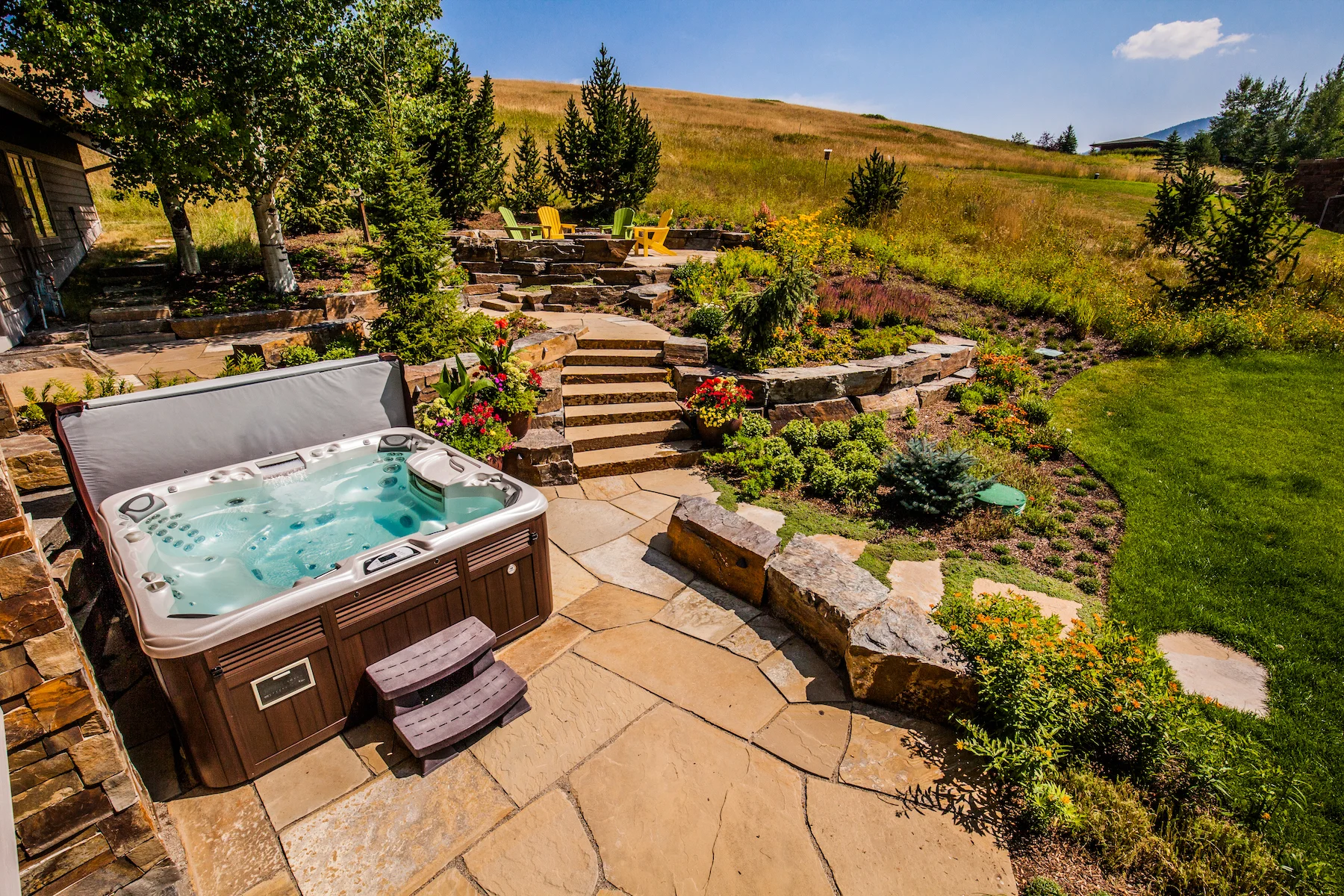 Image Source: blanchfordlandscape.com
32. Television
Movie night just got better. Netflix n' chill has now relocated to a new venue. The good news is that outdoor televisions are designed to withstand the rigors of extreme temperatures, humidity, animals/insects, rain, dirt/dust, salt, air, snow, and even ice. If this is too costly, consider a screen and projector instead.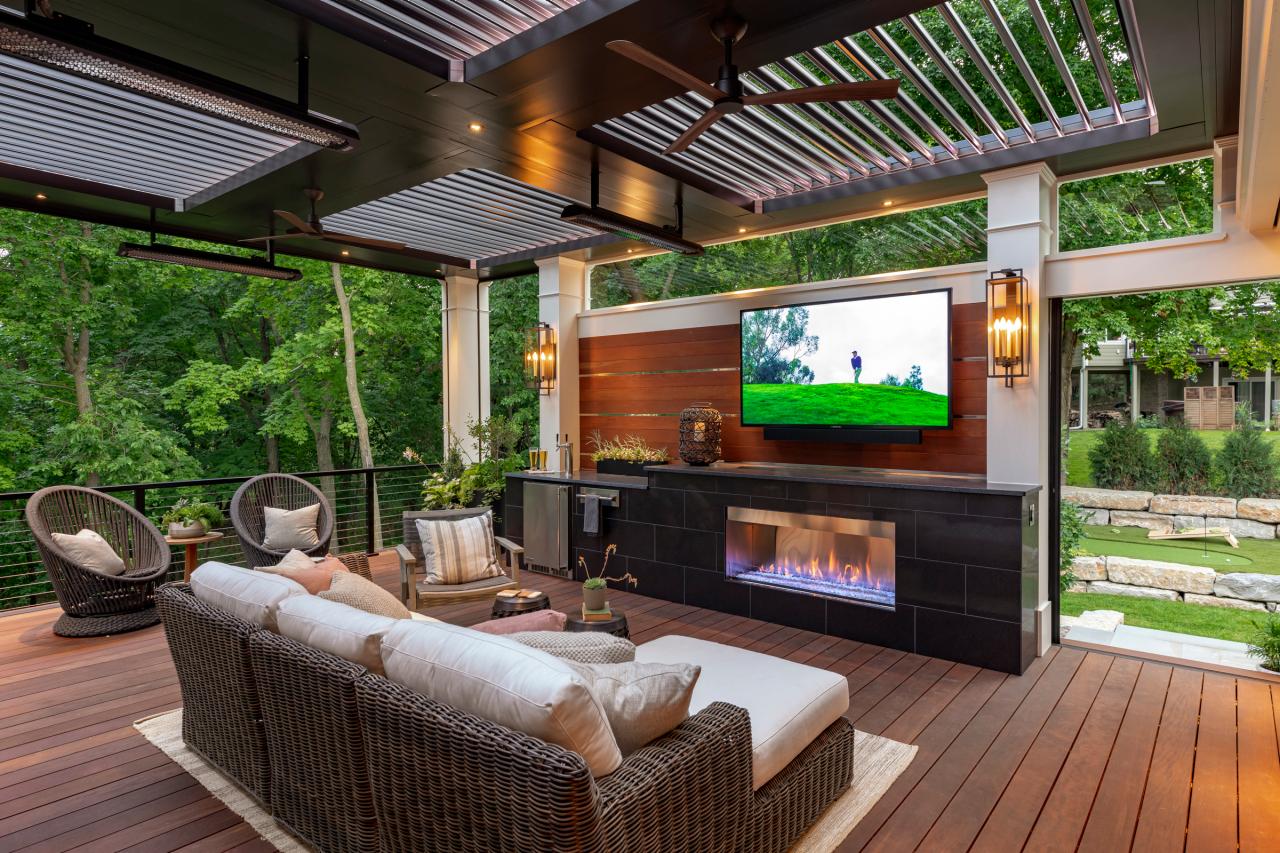 Image Source: hgtv.com
33. Furniture Geometry
Think out of the rectangular box and consider other shapes of boxes when it comes to outdoor furniture. Maybe this could be the one shot a simple backyard needs to look incredible. Match the daring geometry with popping colors that express your creativity.
Image Source: frameweb.com
34. Tyre Planters
Forget about flower pots or garden planters; see those old tires in your garage? Yes, they can be really useful if you want them to be. Get them painted, fill them with soil and use them as makeshift flower pots. The result is a warm, colorful backyard.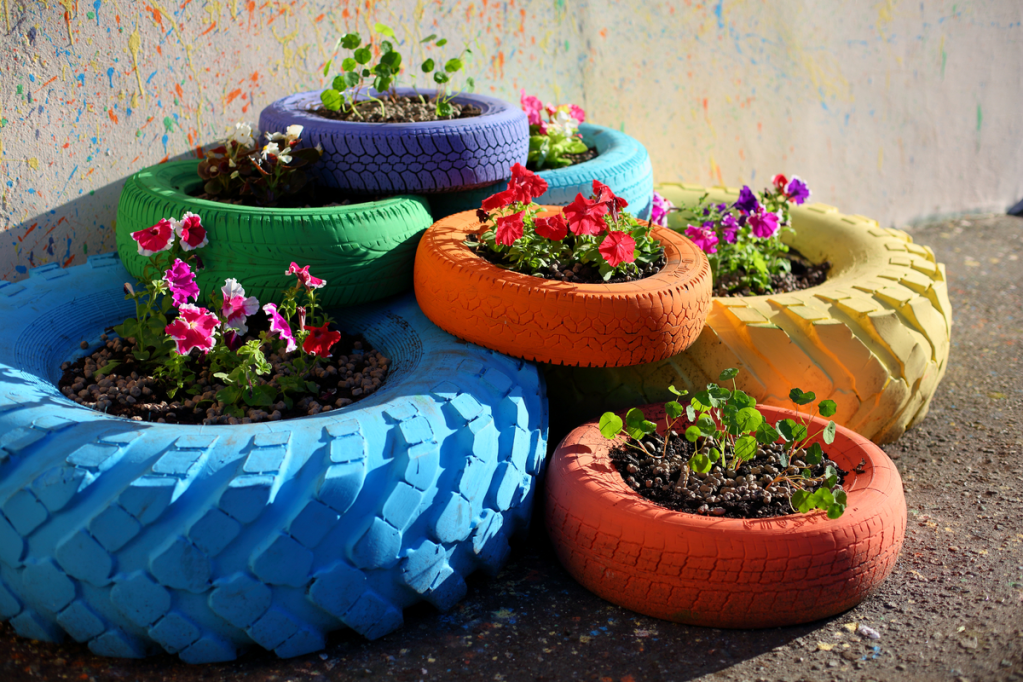 Image Source: happysprout.com
35. Painted Concrete Slabs
It is amazing what kind of backyard landscaping ideas we have run into. If you want to add color to the floor of your patio or the garden path, paint some of the paving tiles in alternating colors. The alternating colors will add some oomph to the rather plain grey hue of the concrete.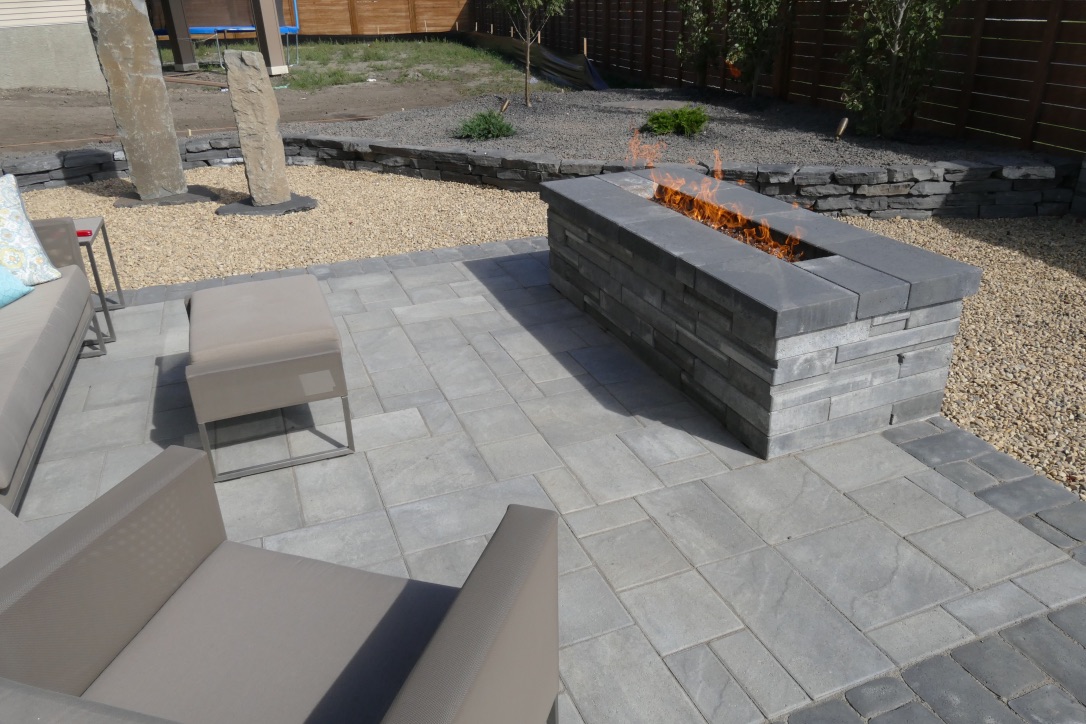 Image Source: landscapingcalgary.org
36. Mini Deck
Creating an outdoor oasis is something critical to a rather large backyard. Convert a portion of it into a raised deck as some area of concentration. The change in levels adds variety to your backyard, especially if it is a flat landscape. From there, add the features on this article to attract people to the deck, like the jacuzzi below.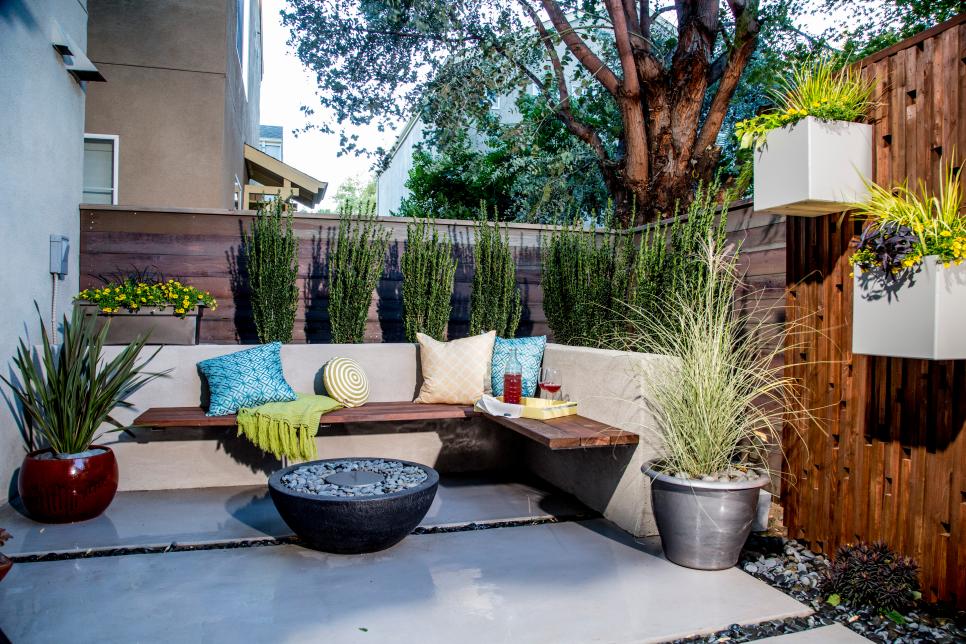 Image Source: hgtv.com
37. Pebbles
Xeriscaping is growing in popularity, especially in dry climates. Japanese backyards consider this an important element in zen gardens. Using pebbles and stones of varying sizes and colors helps to diversify the composition. At least you will not have to worry about watering any lawn or your grass turning brown during the summer.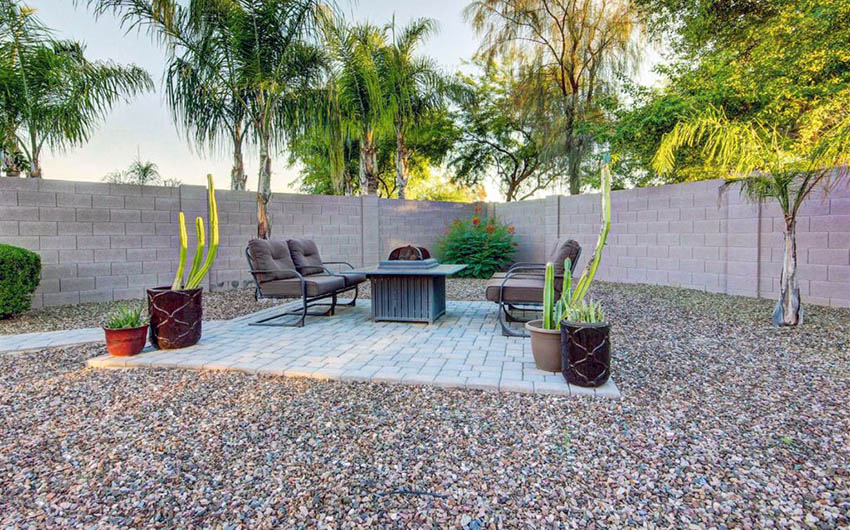 Image Source: designingidea.com
38. Camouflaged Speakers
Create high-quality entertainment right in your backyard with hidden speakers. One can place rock speakers at certain points in the yard to produce ambient surround sound. The fact that they blend into the natural context makes them mysterious and completely amazing. Furthermore, they are cordless and water-proof woofers, befitting modern outdoor music lovers. Just watch out for those neighbors always reporting you for noise disturbance; otherwise, I doubt there are more right backyard landscaping ideas related to music.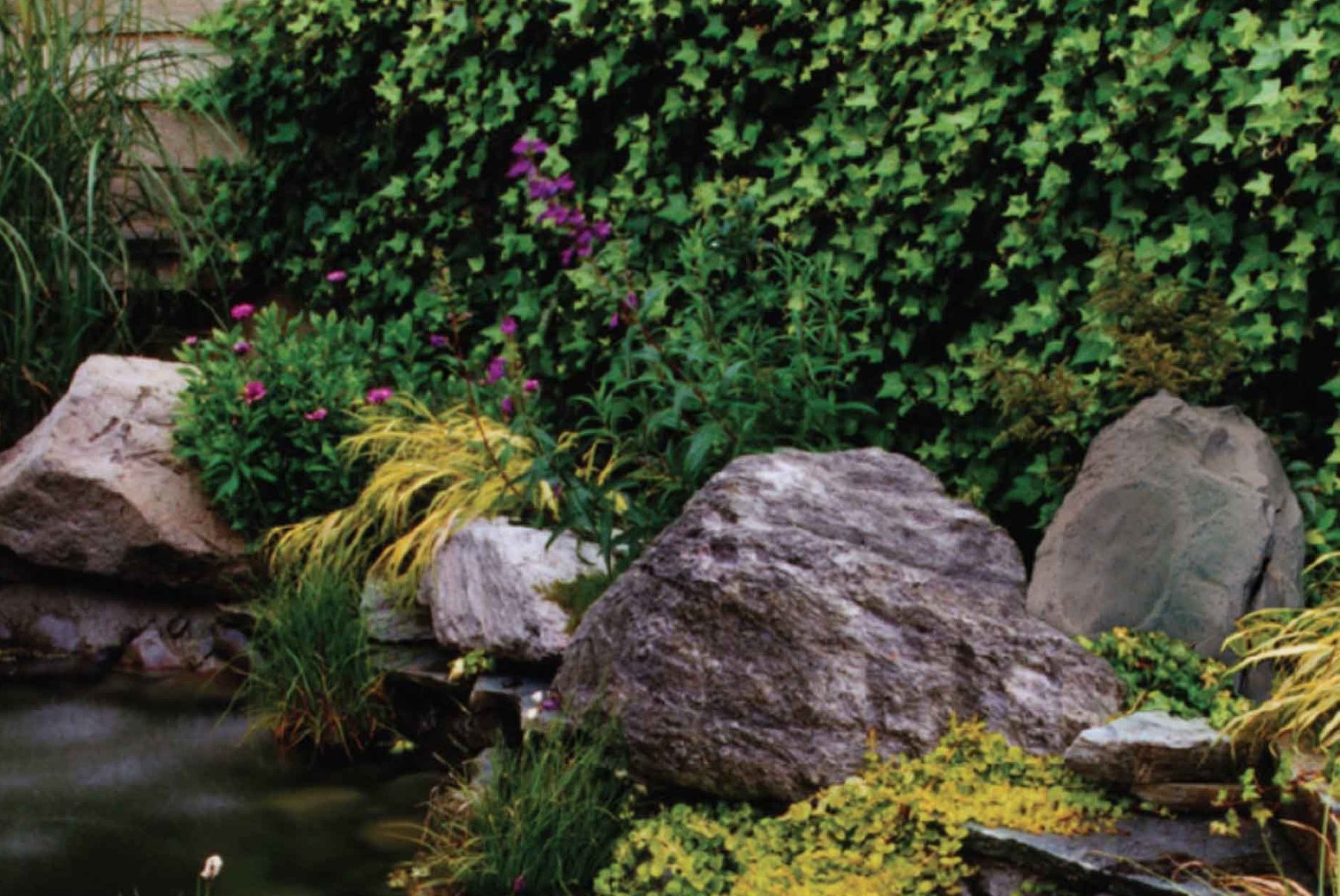 Image Source: waaratechnologies.com
39. Wind Chimes
Create simple melodies in your backyard, with the help of wind, of course. Wind chimes are not just metallic rods anymore. They can be made of beads, porcelain, bones, bottle tops, or recycled glass, all of which produce varying sounds. Chimes made of bamboo have a gentler, more soothing tone than metal chimes, making them ideal for tranquil backyard spaces. Ironically, your petty neighbors might still report you for noise disturbance. Check out some ideas for wind chimes.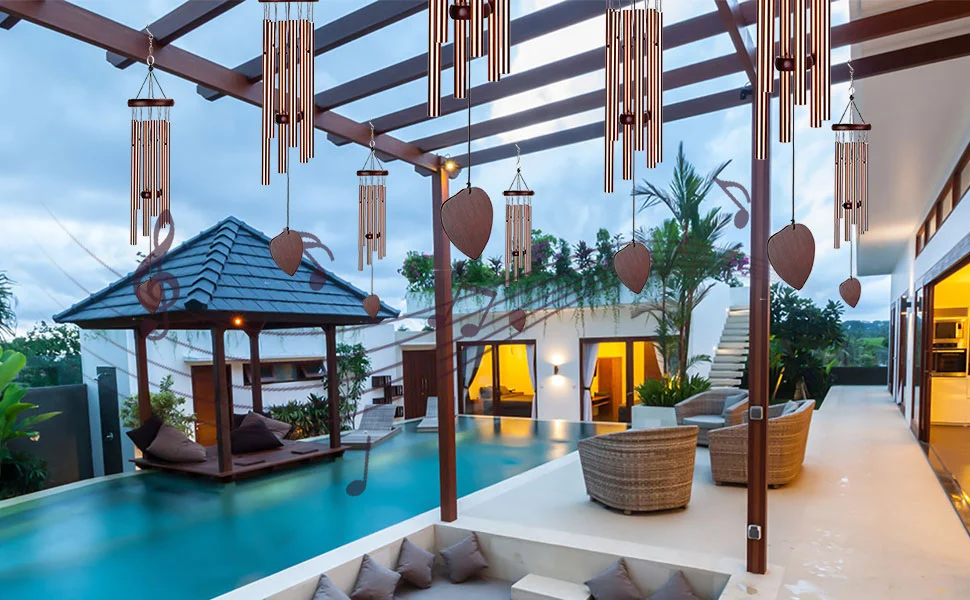 Image Source: rollingstone.com
40. Lanterns
Lovely lanterns are also a beautiful and trendy way to illuminate your backyard. Not only do they enhance your outdoor lighting, but they also add some antiquity to your backyard. They can illuminate walkways, outdoor dining areas, or generally as security lights. Take care not to place this fire hazard near combustible items. You can also choose to have hanging lanterns which are quite affordable on Amazon.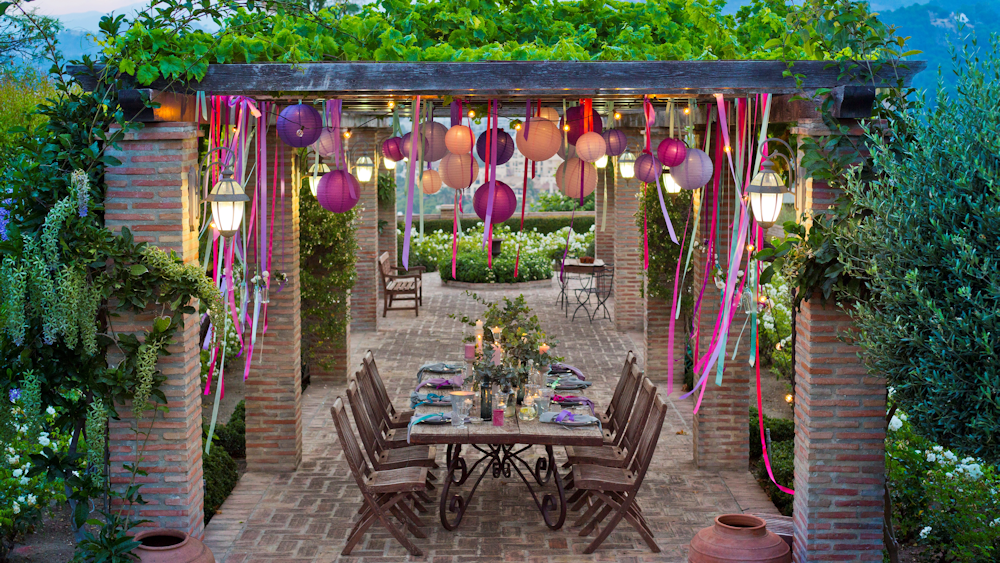 Image Source: hanginglanterns.co.uk
41. Candles
Candles are essential for creating an ambiance of intimacy and romance. These are perfect for an at-home dinner date with a loved one. In addition, if you decide to use scented candles, they will fill your backyard sanctuary with an enticing aroma. Again, it would be best if you were careful in the placement and use of this fire hazard. Please don't burn up your backyard while trying to keep up with us. Get you some nice affordable candles now.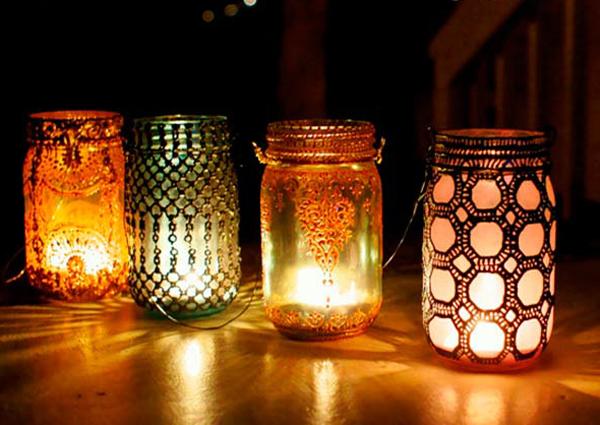 Image Source: lushome.com
42. Gardening Station
Step up your gardening with this creative, useful storage idea. All the hardware tools you use for making your backyard landscaping ideas come to life take up storage space in your house. Instead of constantly complaining about this, create a nice outdoor gardening station for storage and stacking. It is aesthetically fitting, too, adding practicality to your backyard. The gardening station can also be an outdoor exhibition to show off your new flower pots.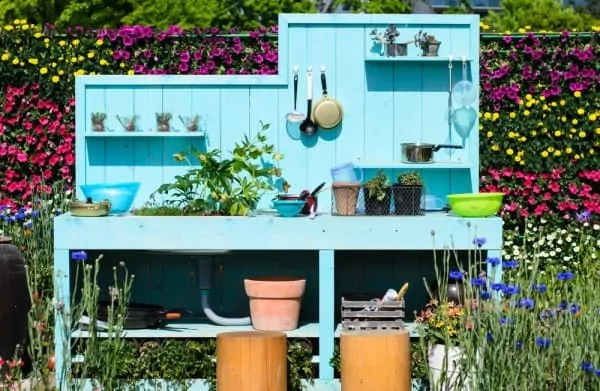 Image Source: thisoldhouse.com
43. Fireplace
Forget a fire pit. Add an outdoor fireplace to your backyard lounge instead. It is a fantastic idea for a centerpiece or focal point in the backyard. Consider fireplace inserts in self-contained units that burn wood, gas, or pellets. Check out the best electric fireplace inserts with reviews & buying guides. Not only will this simple backyard landscaping idea keep you warm and cozy on those chilly nights, but it will also fill your backyard with a warm glow plus produce the soothing sound of the crackling fire.
44. Beanbag Chairs
Beanbag chairs are immensely underrated. These fluffy ambiguous shapes can change the whole outlook of your backyard. Coupled with other modern backyard furniture like sofas and weather-resistant chairs, this creates a lovely patio or backyard worth living in. We found a thrilling beanbag chair that will add color to your home, indoors or outdoors. Check it out and get one for your home.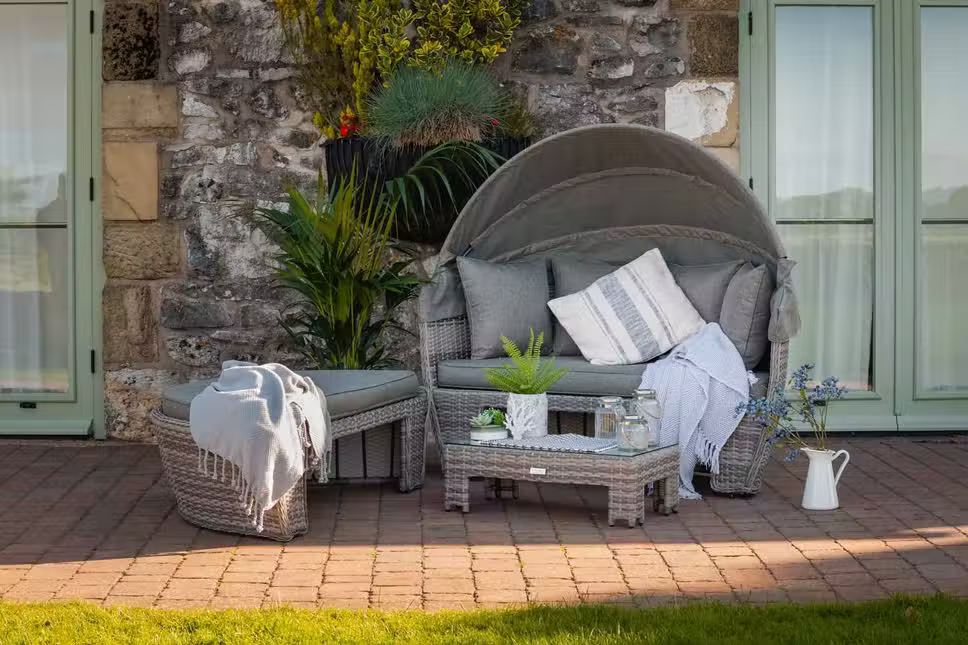 Image Source: standard.co.uk
45. Stepped Backyard
If you are endowed with a steep landscape as a backyard, take advantage of this. A stepped landscape can incorporate hard and soft landscaping intermittently. It creates an exciting experience as one steps from one level to another without feeling tired from the climb. Imagine the feeling of walking your dog or playing with your cat on a landscape like this one – interesting stuff! The only concern may be navigation by wheelchairs or physically challenged persons, but this can be solved using ramps instead.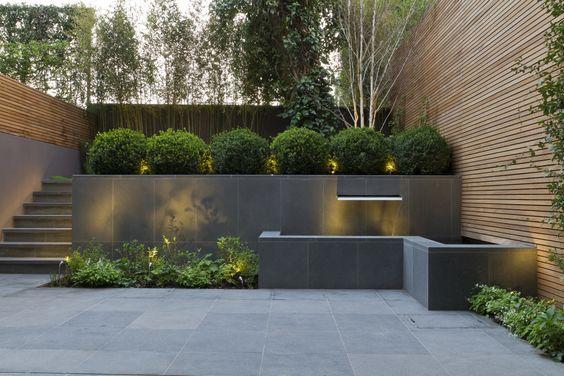 Image Source: billyoh.com
46. Rugged Concrete Paving Tiles
What is a perfect shape anyway? Add some irregular concrete paving tiles to create walking pathways. They not only provide direction but create an interplay with the natural environment. Visually, this is an interesting graphic element on a rather plain landscape -one of those perfect backyard landscaping ideas.
47. Swimming Pool
This is the most obvious backyard feature that should have topped this list. Half of the ideas listed have some form of pool in the background. Water is a refreshing accessory to the backyard, especially a swimming pool large enough to dive right in for a quick splash.
Image Source: tricitypropertysearches.com
48. Planter Lamps
If you have some planters as part of your backyard landscaping ideas, go the extra mile and include some planter lamps at the base. They are fantastic for twinkling evenings. Furthermore, they add to the aesthetics and even act as path lights. This is certainly a befitting position if you were looking for where to place these ground lamps that you can easily grab from Amazon.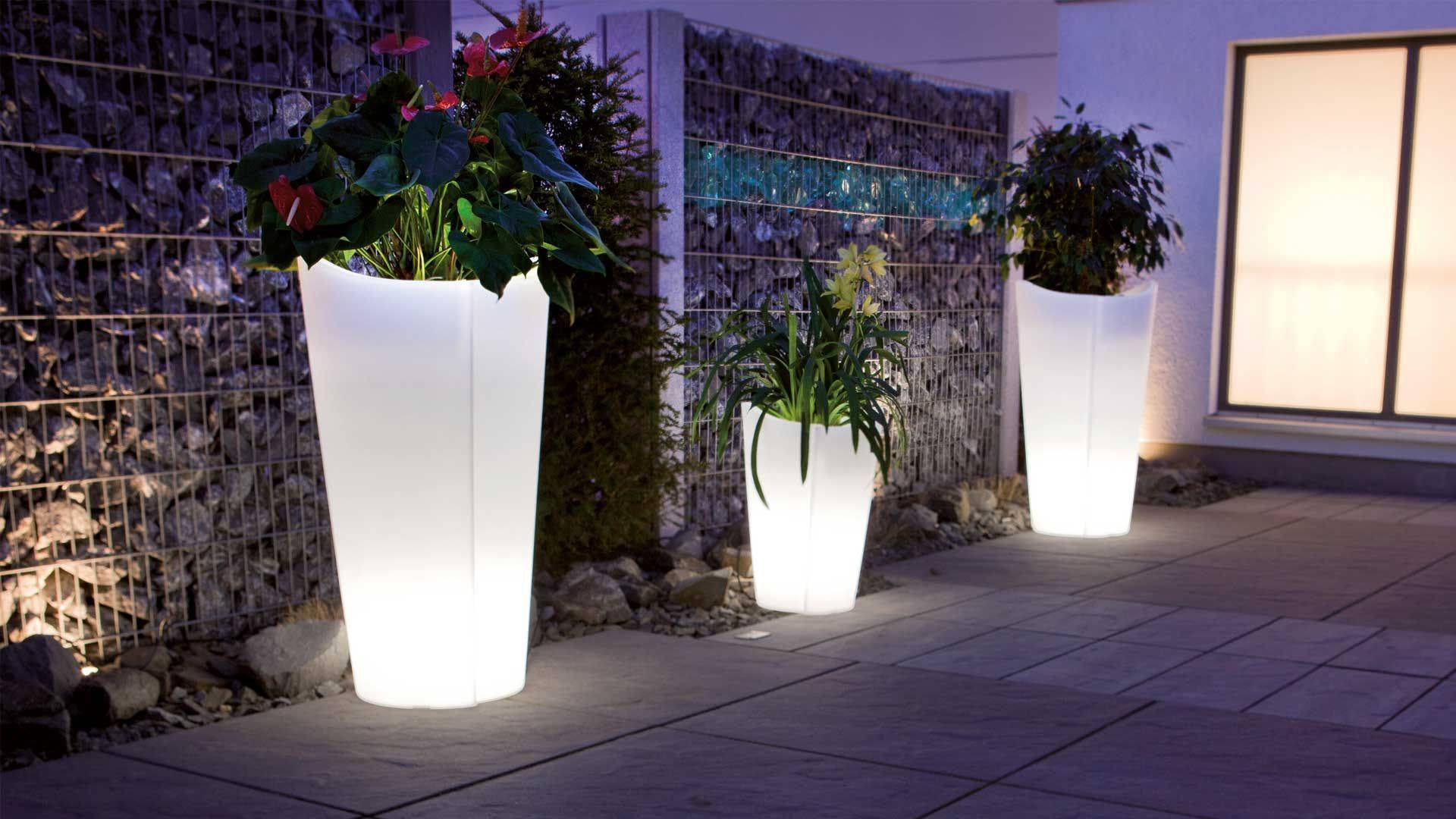 Image Source: decoist.com
49. Plunge Pool
Do you have space for a large pool in your backyard? Well, plunge pools are the perfect backyard landscaping ideas for you. The plunge pool is for the occasional cooling off when you want just a splash of water on a hot afternoon. This idea can complement an indoor space. A good example is a lounge overlooking a pool, without necessarily building a whole swimming pool.
Image Source: barrierreefpools.com
50. Minimalist Backyard
After all is said and designed, most amazing backyard landscaping ideas might be behind the mantra 'less is more.' The minimal design needs a careful decision and is deliberate. Open spaces are a calming display of zen, giving the homeowners space to breathe and unwind.
Image Source: mylandscapes.co.uk
51. Flower Beds Backyard
Flower-filled gardens give a great vibe, while flower beds and pots provide a special touch to your backyard landscaping. Elevated flower beds are easier to maintain since they need less bending to trim, plant, and take care of.
Image Source: istockphoto.com
You can place the flower beds in areas where they will receive the right sunlight, resulting in more productive flower gardens. An empty or neglected flower bed usually attracts attention for all the wrong reasons; therefore, we recommend maintaining your flowers' perky and thriving by choosing outdoor plants appropriate for your climate.
52. Outdoor Kitchen
It is always a good idea to host an outdoor dinner until the kitchen is far from the outdoor dining table. When you create an outdoor kitchen, outdoor dining becomes quite easier.
Image Source: houzz.com
Your outdoor kitchen on the backyard landscape can include a barbeque grill with cooking components, an outdoor fridge, a blender, a pizza oven, or an outdoor sink. Almost everything you keep in your standard kitchen can be brought to your outdoor kitchen—ensure there are power outlets nearby.
53. Stepping Stones
A set of flat stepping stones provide secure footing for your family and friends as they walk across the terrain in your backyard garden. This backyard landscaping idea beautifies the outdoor space and provides a safe way to step across the grass, over a rock bed, through parks, or even across a shallow water feature.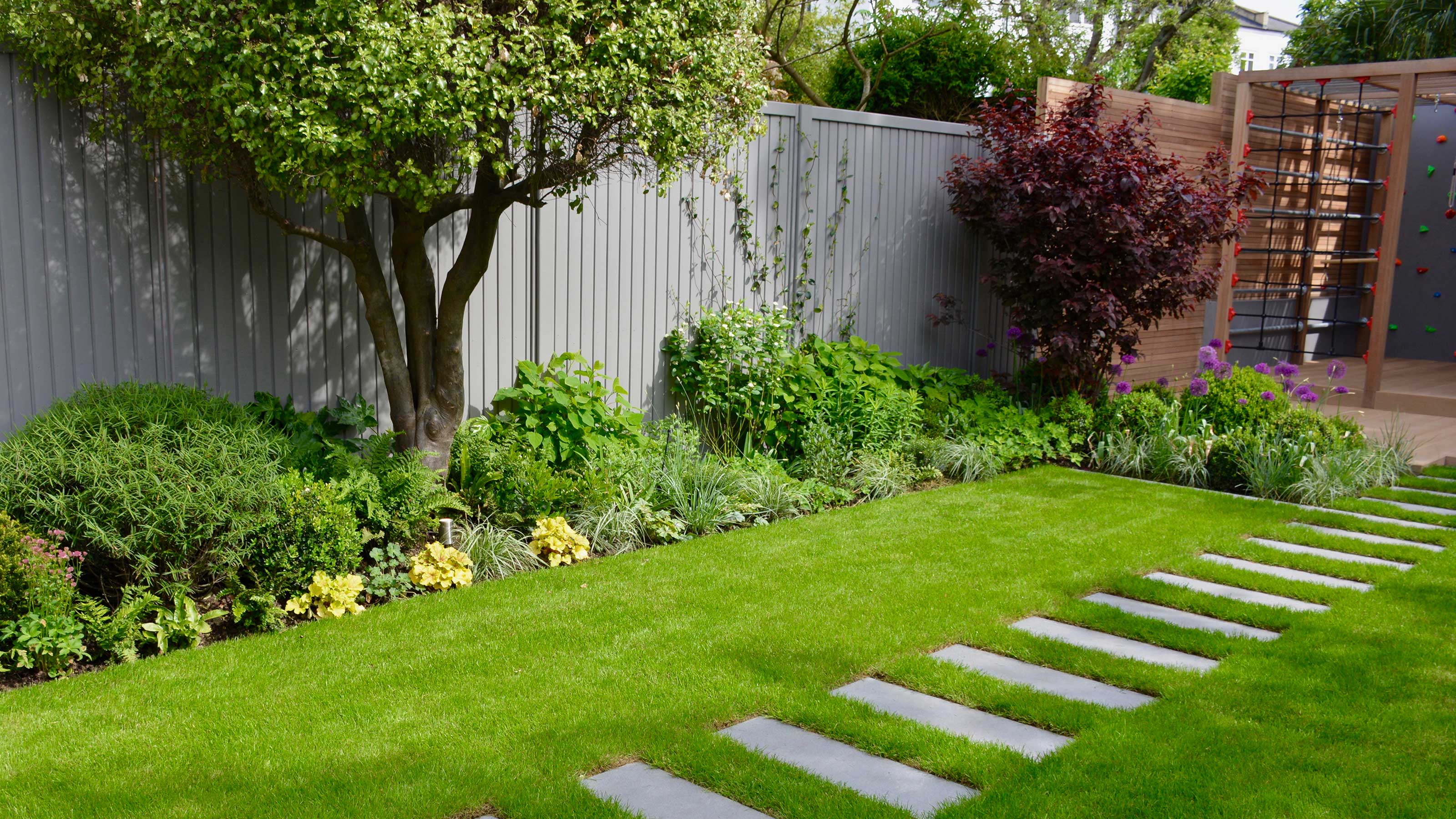 Image Source: gardeningetc.com
Provide stepping stones where you want your guests to walk to guide them safely around your outdoor space. You can make stepping stones or buy ones that look good in your lush greenery.
54. Outdoor Living Room
Patio furniture is increasingly becoming diversified as people spend more time outside when the weather is favorable. Outdoor space provides all the comfort and conveniences you need to spend the day outside, from recliners to weather-resistant outdoor sofas, outdoor televisions, and side tables placed under a covered patio.
Image Source: forbes.com
55. Container Gardens
One of the most creative landscaping ideas for backyard space is to add accents in containers if you want to add bursts of color without disrupting the existing landscape. 
Image Source: bbg.org
Container gardening is a method of growing plants, vegetables, and flowers in containers rather than in the ground. This style is popular among City dwellers who may only have a small backyard or patio for landscaping. Container gardens usually look great distributed throughout a large yard with in-ground gardens.
56. Hide Away in a Private Sanctuary
This landscaping concept is simple and significantly influences your peace of mind. If you don't want your neighbors to see what's happening in your backyard, make privacy hedges and screens out of plants and trees. For instance, you can use arborvitae, hemlock, vines, yew, and Leyland cypress to make your backyard more private.
Image Source: houzz.co.uk
Besides, you can also use vertical gardens, metal fencing, wood fence panels, bamboo, or a trellis for enhanced privacy. Build a water fountain or a small pool, and add a patio for dining and relaxing to make your little sanctuary even calmer.
57. English Country Garden
The classic English country garden usually exudes a certain charm. You can plant flowers alongside tomato plants, and it works. Besides, building layers into your greenery create a relaxing vibe that allows you to get more out of your backyard space and makes it appear larger. Start by planting huge, bushy perennials such as hydrangeas and roses, then include lavender and rosemary herbs throughout the design. Also, try having a few boxwood hedges to give your backyard some overall shape.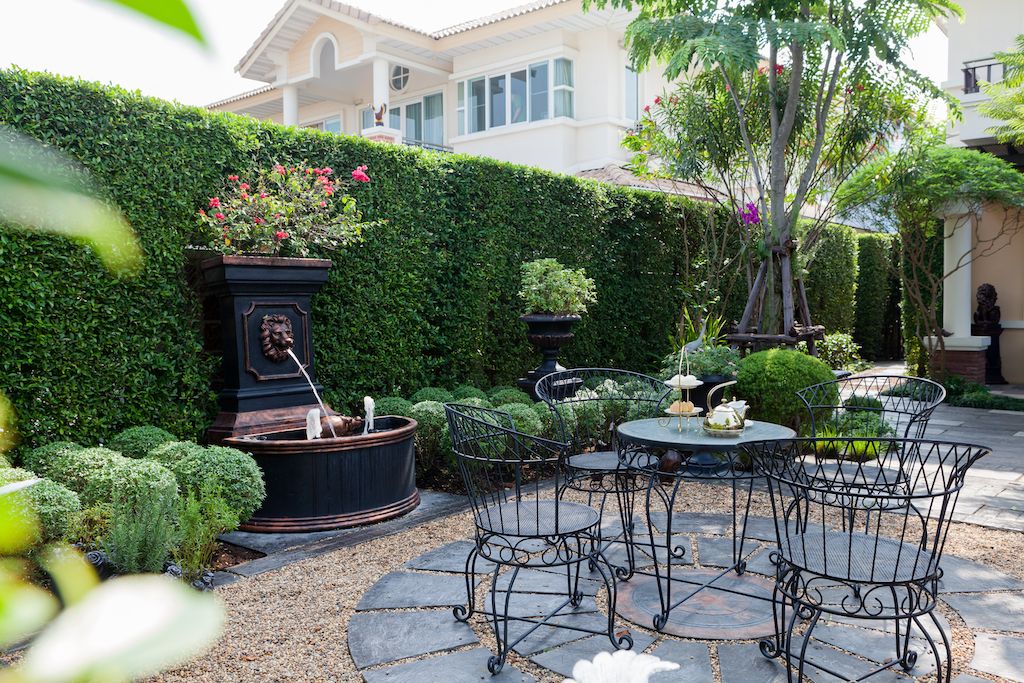 Image Source: thumbtack.com
Additionally, you can include a few hardscape features in your elegant landscape. For instance, install a metal gate and fence, build a wooden bench beneath an arbor or create a garden path out of brick, cobblestone, or gravel. Complete the idea with a fountain or backyard pond and some vintage steel chairs and tables for tea time.
58. Water-Wise Xeriscape Garden
A backyard landscape with rocks, especially desert-style gardens, looks quite great. Xeriscapes, sometimes known as "zero-scapes," use gravel, stone, and rocks as the foundation for low-maintenance, water-wise landscaping. Whether your climate favors desert or Mediterranean plants, xeriscapes provide year-round color, texture, and beauty without the burden of mowing or watering a lawn.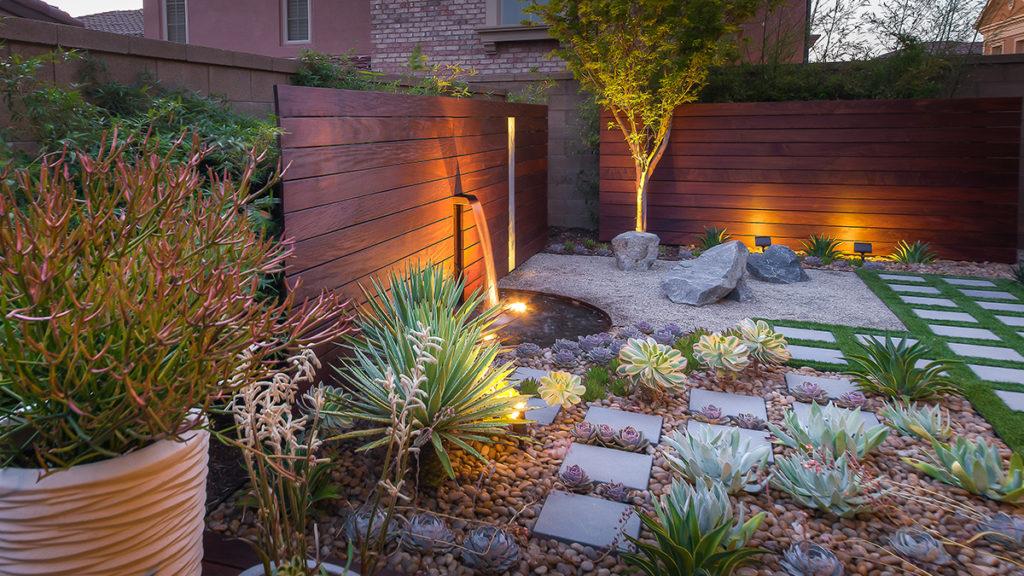 Image Source: monrovia.com
You can start small by removing only a portion of your yard or a single flower bed and replacing it with xeric plants and materials. Plants that work well in these types of gardening include citrus trees, prickly-pear cacti, palms, succulents, yucca, and rosemary.
59. Retaining Walls
A retaining wall is a practical and stylish sloping backyard landscape design. This wall reduces soil erosion and potential damage to your backyard by holding back soil. Before going for a retaining wall, ensure that you thoroughly understand the property line, underground utilities, and above-ground. Know that the ground will sustain the wall and has enough drainage.
Image Source: landscapingnetwork.com
Note that there are several styles available that will blend in beautifully with the atmosphere you are creating with your own backyard landscape.
60. Multipurpose Backyard
Backyard landscaping ideas need to cater to the requirements and needs of the entire family. You might require space for children to play in a single yard, you might want a vertical garden, you might need to plant trees to offer shade, you might want to plant flowers that attract hummingbirds and bees, and so on.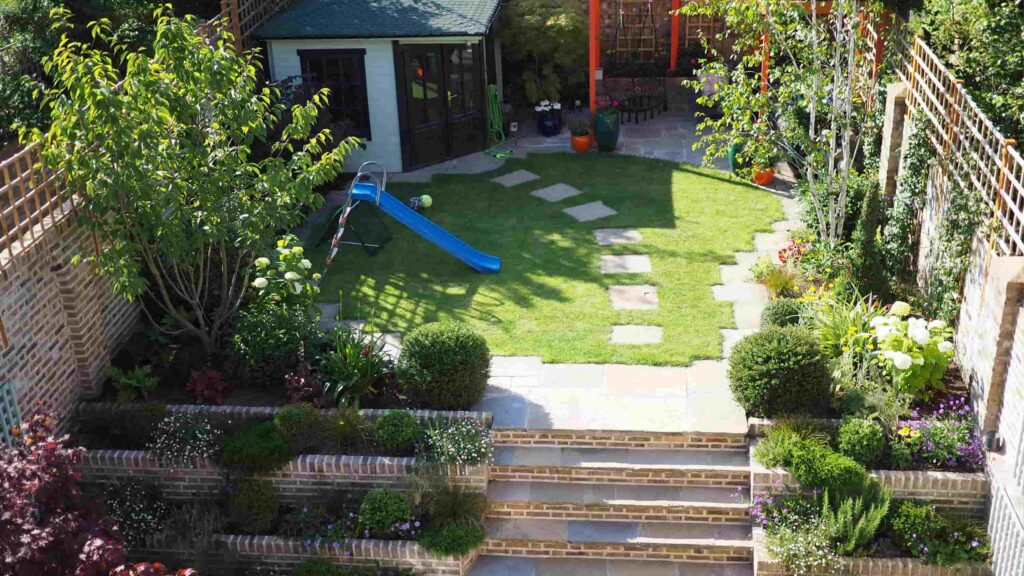 Image Source: thearchitecturedesigns.com
Consider everything you want to use in your backyard before making a major change that limits its use, and ensure that your landscaping ideas align with your lifestyle.
Tips for Backyard Landscaping Ideas on a Budget
If you are working on a tight budget, there are ways to cut your landscaping costs which include;
1. Use of Low-Cost Materials
Consider using concrete and gravel instead of pricey natural stones and wood to design your hardscapes.
2. Use the Materials You Have to Create Accent Pieces
For instance, take old furniture, or even something as simple as a bathtub or wheelbarrow, and fill it with soil and flowers to make a great item for your backyard.
3. For Edging, Use Repurposed Materials
Using repurposed materials to make flower bed edging and garden edging is one of the ways to improve your backyard's environmental sustainability while saving money. You can use bricks from an old garden or stone from a flower bed to make the edging you want.
4. Go for Low-Maintenance Options
Choose plants that require less hands-on maintenance to save money on water and lawn care services. Besides, consult a local nursery for advice on suitable low-maintenance native plants to plant in your backyard.
5. Mix and Match Your Materials
If you love flagstone but cannot afford to use it everywhere, you can use less expensive materials such as concrete.
Frequently Asked Questions on the Backyard Landscaping Ideas
1. What Are the Seven Principles of Landscape Ideas?
Landscape design ideas include the elements of scale, simplicity, sequence, unity, balance, emphasis, and variety as they apply to texture, color, form, and line.
2. What is the Most Cost-Effective Approach to Landscape a Backyard?
Consider using perennial ground covers instead of mulch or sod to fill bare areas. Besides, go for young plants instead of mature specimens. In addition, instead of buying new items, look for lawn furniture and other things that may be refinished or repurposed at garage sales and flea markets.
3. What is the Most Crucial Aspect of Landscaping?
Sunlight is a crucial feature of every landscape. The amount and quality of sunlight usually influence which plants are suitable for your yard. Some plants require full sun (six hours or more of direct sunshine daily), while others require moderate sunlight.
4. What Are Some Landscaping Ideas for a Private Backyard?
To soften the appearance of a privacy fence, we recommend training vines to grow on it—plant tall bamboo, which grows fast and can create a lush privacy hedge. Besides, install a pergola over your seating area to provide privacy and shelter.
5. What Are Some Small Backyard Landscaping Ideas?
Grow a garden on a wall or fence to take advantage of vertical space. Instead of heavy patio furniture, use floating benches for built-in sitting. Furthermore, to save space, choose dwarf plant varieties and those with a narrow growth habit.