Backyards are gathering places of many American homes. Whether you want a place to host your family and friends or create a relaxing oasis, a backyard renovation is your ticket to paradise. Additionally, these outdoor spaces have a lot of potential, and a renovation may also add value to your home, depending on your project.
Suppose you are tired of how your outdoor living space looks or have seen some great backyard renovations and are looking to freshen up your look. In that case, this backyard renovation guide with a planning checklist, step-by-step process, and defined renovation costs will come in handy. Dive in!
Backyard Renovation Process
Although backyard renovations can be stressful, they are much easier with a step-by-step guide. We have listed the steps needed to start your backyard transformation. They include
1. Work with a Clean Slate
The first step in renovating your backyard is to have a clean slate. So if you are fully renovating your backyard, it's crucial to tear down your old fence and current deck and clean the area.
Image Credit: barnorama.com
Of course, you can skip this step if you are touching up your deck or fence and retaining walls or stone in your small yard.
In addition, ensure your landscape is tidy by removing any weeds and flattening any clumps in your lawn after tearing down your old deck and fence.
2. Design Your Backyard's Layout
Image Credit: pinterest.com
Once you have a clean slate of the working space, you should design the layout you want. Take images of the space in your backyard and decide on the patio's size, the deck's length, and the fence's position.
It can be difficult to work on a project without a vision making this step quite important. The landscaping can be planned once you have decided on the layout.
3. Choose Your Products
Once you design your background layout, it's time to choose the best products for your renovation. For example, some products work better in certain projects in an outdoor area or environment.
Image Credit: architectureartdesigns.com
When choosing a product, selecting the best color palette for your outdoor room is among the main things to consider. Once you choose the colors, you can choose products based on the scale and texture and make your orders.
Once your building materials are delivered, go through them and check that all the materials delivered are the correct ones.
4. Use Your Materials to Build and Install
Once your design is ready for action, you can start planning any necessary demolition and installations. In this step, you can work with your contractor to schedule each sub-project correctly.
Image Credit: remodelingafrica.com
Ensure the contractor you are working with is aware of your design layout. For some projects, for instance, it could be more efficient to demolish after the new installation is finished. However, this process demands a lot of coordination, so having a contractor who can serve as the project manager could be beneficial.
5. Shop for Backyard Furniture and Accessories
Shopping for furniture for your small garden or backyard can be a good breather from the logistics part and could help build up more excitement for a project.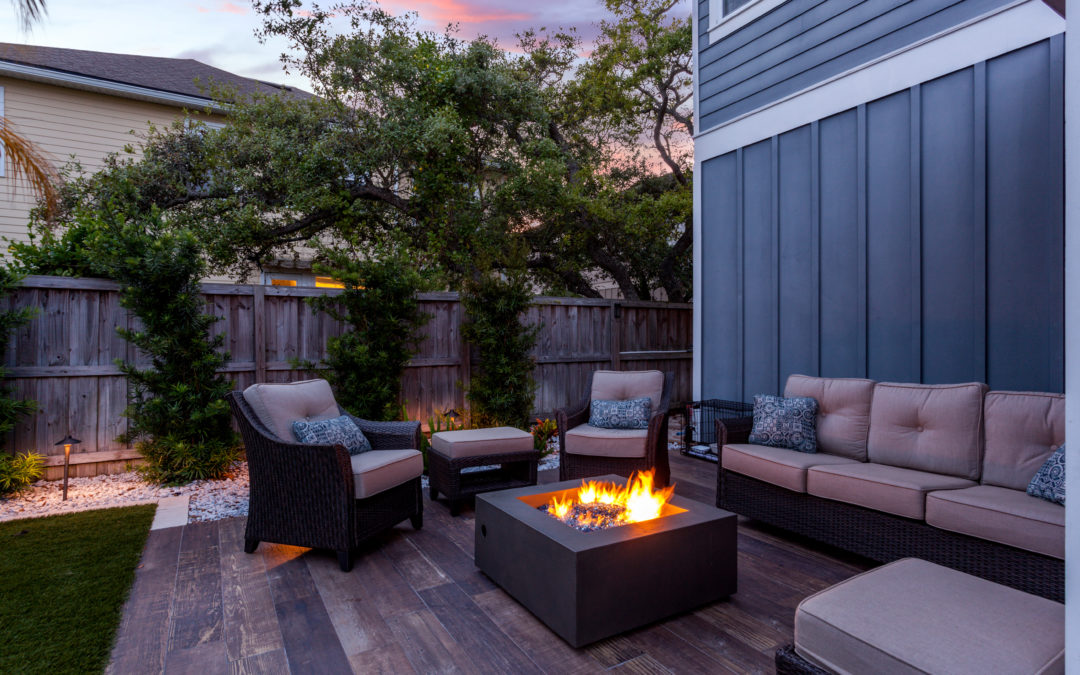 Image Credit: vistatree.ca
The good thing about shopping for furniture is a plan already in place for your backyard. This makes it easy to know what exactly to shop for, including the best fire pits, dining tables, pool loungers, sofa lounges, and many more.
6. Decorate Your Backyard
Once the installation and building are complete, it's time to decorate your backyard space to enhance the overall look. Whether it will take weeks or months, your new outdoor space will be worth it.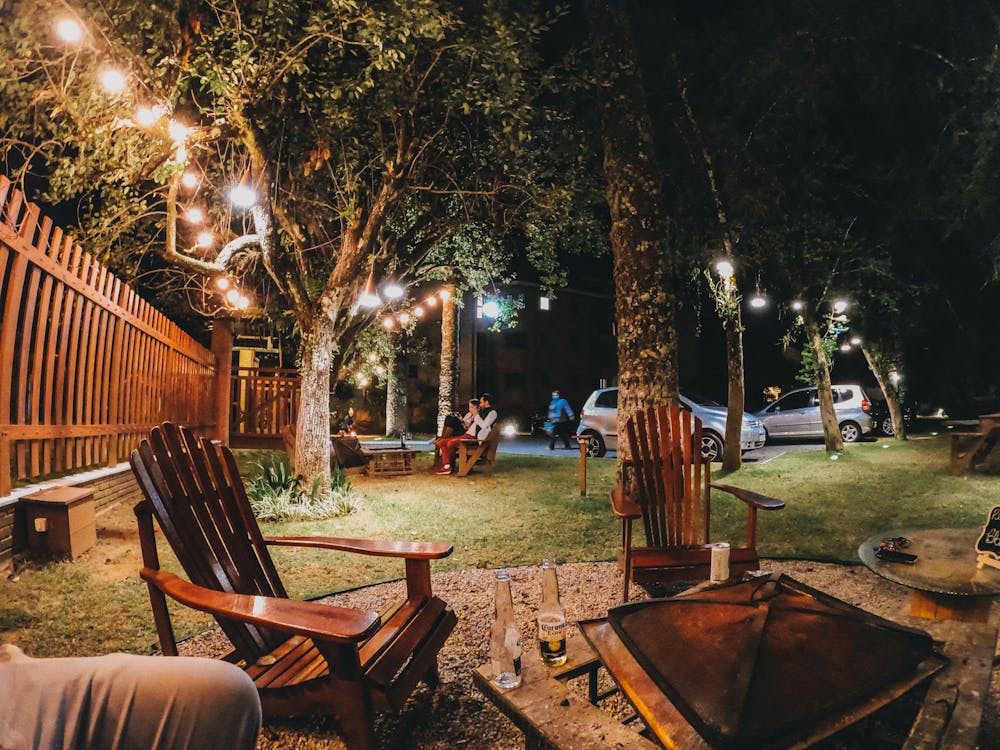 You should start with the seating, whether working with a small patio or a large backyard since the main use of the backyard is entertaining. The seating can be a couch, a lounge chair, or built-in seating.
Choose a seating that best fits your needs, and once you have your seating chosen, you can decorate with seating cushions, table settings, patio umbrellas, or a pergola.
Of course, you may add decorations, such as metal wall decor, seats or planter boxes, or perhaps some outdoor lighting. Ensure your space is updated and created to your taste and style because your backyard is where memories will be made with family and friends.
7. Work on the Fence
You can now work on your fence after your deck has been constructed and decorated. Nowadays, fencing decoration is not very common. After your fence is installed, you typically don't do anything extra to it.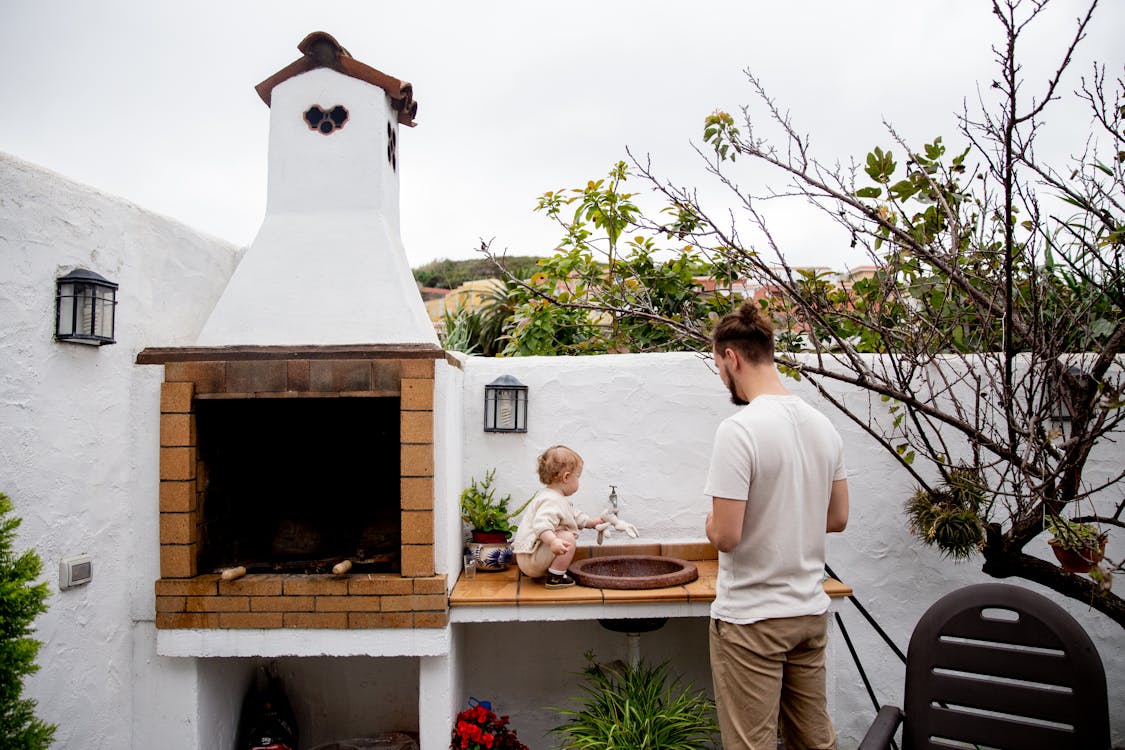 You might paint patterns and designs on your fence if you desire to stand out and be unique, or you could use something as straightforward as lights or some plants to add some design.
8. Landscape Your Backyard Space
Image Credit: pinterest.com
Backyard landscaping is the next step in finalizing renovations on large or small backyards. If you need backyard landscaping projects done, discuss a layout with your landscape architect and select what elements, such as shrubs, trees, greenery, flowers, mulch, or rocks, you want to add to your yard.
Once your landscaper understands what you want, you can sit back and let them handle it.
9. Enjoy Your Renovated Backyard
Image Credit: mmbuildersgroup.com
Your backyard renovation is complete, and you can kick up your feet to enjoy your drinks and snacks with family and friends. In addition, to keep your outdoor space looking brand new and modern during the seasons, incorporate frequency cleaning and maintenance.
Backyard Renovation Planning Checklist
Image Credit: buzzfeed.com
When working on any renovation project, it's important to have a planning checklist to stick to the plan and budget to best achieve your vision. We have listed a checklist of the things to look out for before you start your backyard renovation.
1. Budget
You should establish a budget for any home improvements before you get started. Then, you can plan the renovation in stages to fit your budget and set your budget as high or low as you'd like. For example, consider installing the new patio for one summer and the pool for the next two.
Alternatively, you can choose to landscape and use new furnishings later. Whatever you decide to do, be sure to start with a well-defined budget in mind. So do you have a budget before you start your renovation?
2. Space
Flexibility should be a key component of any backyard design, especially if money and space are limited. Your backyard renovation should try to make the most of your space, regardless of how big or little it is.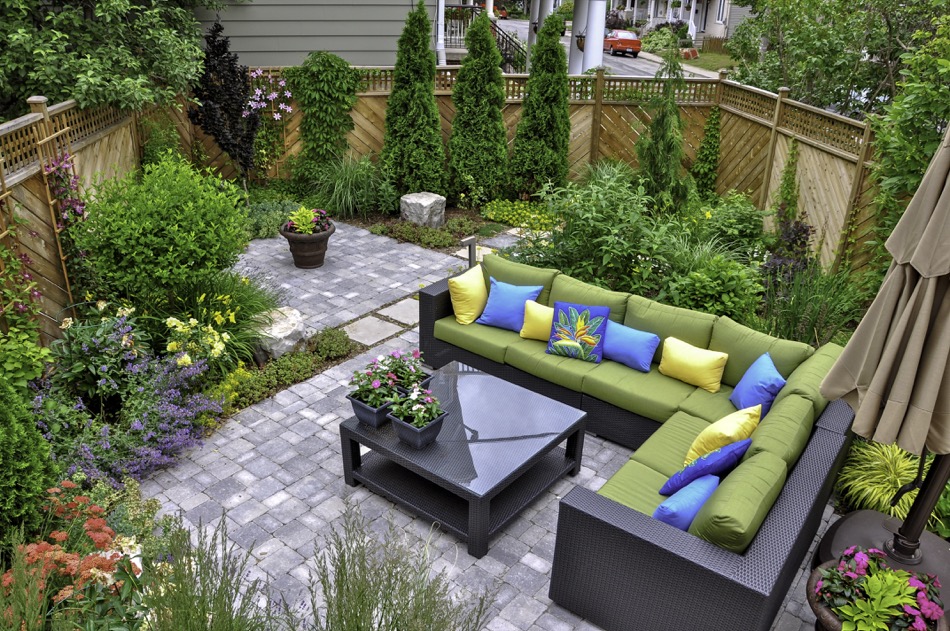 Image Credit: lahomes.com
Consider the total outdoor space, including any side yards or confined spaces. Having a professional landscaper create a design for you might be beneficial in ensuring that you have the available space to fulfill your needs.
Ensure your renovation project is maximizing the space available in your backyard.
3. Design
The backyard design should maximize sustainability, so you need to check if your renovation will improve your home value both aesthetically and sustainably.
Image Credit: azbigmedia.com
Many backyard design options also improve your home's sustainability, including:
Native plants to minimize water use
Planting fruit trees and herb gardens for food production
Water feature systems to water your garden
Large trees and shrubs for creating shade and create natural privacy screens in your outdoor area
Creating a compost bin
Incorporating a passive design in your renovation can help you to save energy costs making it worthy of your design. Ensure you have considered it in your project plan and consider maintenance and weather in your design.
4. Color Scheme
As your outdoor entertaining will flow more smoothly into your indoor area with a similar color theme, it is crucial to consider your home's existing color scheme.
Any new additions can be modified to mix in with the existing house and match the patio's design to the original house's color scheme.
5. Garden
Image Credit: daisylinden.com
Consider your location and the types of plants that thrive there when selecting the ones to add to your new garden or flower beds. For example, you might want to look at plants that can withstand a lot of wind if you live near the beach.
However, if you live in a location with black sand, it will be ideal for native Australian vegetation. These are also fantastic choices if you avoid frequent fertilizing and irrigation. 
6. Flooring
Flooring plays a major role in how your outdoor space looks and feels, but it also varies in price, durability, and maintenance. Some of the mainly used outdoor flooring options include:
Image Credit: irisfmg.com
Concrete flooring- Suitable option for low maintenance and durability
Paving- The brick paving offers a lot of variety in terms of style and color options
Tile flooring- There is a huge variety whether you opt for natural stone, porcelain, or ceramic tiles
Decking- Wood or composite decking is very aesthetically appealing, but you should consider the maintenance needed when budgeting for decking
8. Rules and Regulations
You might need a permit, depending on your location and the type of renovation you're performing. For example, fence installation, roofline changes, dumpster parking on the street, plumbing work, and backyard landscaping are all tasks that almost certainly need permits.
Ensure you follow all the rules and regulations in your project to avoid issues with the local government.
Backyard Renovation Cost
When homeowners are thinking of updating their outdoor space, one of the first things that come to mind is how much a backyard renovation costs. Of course, renovations usually cost money upfront, but it's worth it since you are upgrading your living space for long-term benefit.
According to research, the backyard renovation cost, including the labor, ranges between $500 to $2,000 for simple DIY improvements such as building pea gravel, fixing lawn, or planting shrubs. However, homeowners looking to do a complete renovation should expect to spend $7,500 to $10,000 and sometimes more.
Factors That Affect the Backyard Renovation Costs
Image Credit: gm-parasempre.blogspot.com
Some factors can influence your backyard costs no matter the project type, and some of them include:
1. Current Backyard Condition
Is the backyard you have now in bad condition? If so, restoring it to good condition might require extra work. Before the project starts, it is important to address any issues with the soil's drainage, steep slopes, or trees that need to be cut down.
2. Size of Your Backyard
Prices for backyard projects can sometimes be calculated by the square foot. If you have more space to fill up with landscape design, outdoor furniture, and amenities, your final bill may be higher than someone with less room to work with.
Image Credit: hunker.com
3. Quality of Materials
The material costs will depend on their quality. It will cost you more money upfront if you want to invest in higher-end materials for your outdoor living space. However, you will get a backyard oasis that will entertain your friends and family for decades and not only for a few years.
4. DIY vs. Contractors
Expect to spend more money than you would for a do-it-yourself project if you need to employ a contractor to finish the project. In renovation projects, the cost of labor is crucial.
Although the price might be higher, your home might also acquire more value.
Advice for Planning a Successful Backyard Renovation
Image Credit: poolandlandscape.com
Are you tired of looking out your back window at a plot of land with patches of grass, aged trees, and weeds for miles? Would you prefer to turn it into a play area for your children, an entertainment space, or a relaxing oasis you can retreat to for peace and tranquility? Whatever your visions are for your backyard, you must first create an effective plan to bring them to fruition.
1. Decide on a Budget
Whether you plan to do the work yourself or hire a landscaper, this renovation will cost money. So before you start, decide how much you can reasonably afford to spend on your yard.
Don't worry if you don't have a large budget to work with, as you can create many backyard design ideas without breaking the bank.
2. Gather Your Ideas
Now that you have a budget for your backyard renovation, you can begin thinking about your vision. Take a look at your yard and start drawing or writing down ideas you have for the space. Maybe you'd like a small vegetable garden at the back fence with a little seating area for you to sip wine or tea and enjoy the view.
Perhaps you're interested in an enclosed deck that can be used year-round with an outdoor kitchen to match. But, of course, if you can't come up with any on your own, you can always look to blogs and social media platforms for inspiration.
3. Hire a Landscaper
You know what you can afford and have a list of ideas you'd like to incorporate into your backyard design. Unless you plan on doing most of the work, now would be a good time to look for a landscaper with experience in landscaping design.
As you review potential candidates, review their portfolios and talk with previous customers to get a real feel for your experience if you hire them. Also, interview at least three landscapers to make sure you're getting the best services for your money.
4. Get More Specific with Details
After reviewing your backyard, budget, and list of ideas, a landscaper can help you get more specific and realistic about your vision. They can ensure that they get all or most of what you'd like to capture within a budget you can afford without jeopardizing your health or safety.
Once you've come up with a blueprint, you can begin getting even more specific by choosing materials, colors, plants, flowers, and features.
5. Prepare for the Renovation
You want your home to be prepared for renovation. First, you should clear all lawn furniture and equipment from the yard so that it doesn't get damaged or discarded during demolition. Next, you may want to do some of the demos to cut down on the cost of a renovation. For example, knocking down old piles of bricks, collecting branches and logs, breaking up old concrete, and other steps to reduce the time landscapers and their crew has to spend on the yard.
If you decide to do your demo, be careful not to damage any pipes or wires you may see while digging. This could cause a serious issue and incur a high cost for you. If you're not sure it should be removed, your best bet is to leave it to the professionals.
6. Don't Forget Pest Control
Here's one thing homeowners forget to prepare for regarding renovations – pests. The reality is that the landscapers are working outside where insects and other pests reside. So when their house is destroyed or disrupted, they'll immediately begin scattering, looking for somewhere else to go; you'll even have to think of getting rid of roaches.
Chances are, this will be your home. To avoid having uninvited guests in the home, visit sites like MoxieServices.com to look for pest control services near you. An exterminator can come out after the landscaping job is completed to spray the perimeter of your property to deter pests from entering. And if you're based in Singapore, here's who we recommend for pest control in Singapore.  
Image Credit: youtube.com
Your backyard is a home extension that can be used for anything from family fun to rest. So if you're tired of looking at the same old boring space, contact a landscaper and give your yard a makeover of a lifetime. You see, the results will make you happy that you did.
After reviewing your backyard, budget, and list of ideas, a landscaper can help you get more specific and realistic about your vision. They can ensure that they get all or most of what you'd like to capture within a budget you can afford without jeopardizing your health or safety. Once you've come up with a blueprint, you can begin getting even more specific by choosing materials, colors, plants, flowers, and features. Cheryl at Lamour et fleurs says that flowers have a variety of colors ranging from purple, yellow, red, or even blue, which lets you pick the right color to match your landscape.
Conclusion
Image Credit: pinterest.de
Backyard renovations are not difficult to crack, especially if you already have the right blueprint. Unfortunately, these renovations are often confused with backyard remodel projects, yet they are not the same as renovation; the structural features don't change.
To successfully do your backyard renovation project, establish a budget after being clear about the features you want in your yard. Ensure that your patio's size supports your ideal backyard; if not, consider making it bigger.
To give your yard color, add a variety of potted plants and if you find maintaining a grass too much for you, consider low-maintenance grasses like fake tufts. We hope this guide has been enlightening and you are now ready to jump into your backyard renovation project.
Featured Image Credit: shadefxcanopies.com