Your barndominium interior is the stamp on your designer home, meaning it should reflect who you are, so you need to get it right. Knowing how you want your barndominium interior to look before you start building will save you time, resources, and money.
Many people use a barndominium as a second home. However, in recent years and with the growth of small-scale living and tiny homes, barndominium life has attracted both the young and older generations. So, if you fancy the barn-style modern exteriors and aesthetics, the barndominium interior designs might be your style.
What is a Barndominium Interior?
A barndominium, also known as barndo, is a barn converted into a living space. The word barndominium is a blend of the words condominium and barn. So, a barndominium interior is the inside of a barndominium, and this can be the features of the space, the layout, or the decor contributing to the overall design.
A barndo might be what you need if you want some extra space to enjoy your hobby or work. Barndominium interiors can be different styles depending on your preference, where they can be one design or a combination of several.
So, are you a city dweller wondering how you can work on your barndominium interior? You can get inspirational ideas in many places, but we have sampled the best. Regardless of your design style, we have rounded up some of the best barndominium interiors:
1. Salvaged Wood
Image Credit: pinterest.com
For barndominium interiors, using salvaged wood for beam supports is suitable. It works for most design styles but is ideal for those with a rustic nature, which is what the barndominium entails. You can add salvaged wood to your barndominium kit, but if you can, you should fake your look with bleached wood or something that will distress the wood.
2. Minimalist Aesthetic
Image Credit: barndominium.org
Minimalism in barndominium interiors has a rustic charm that sparks the renovated barn, and a clean white aesthetic will give any room elegance. The modern minimalistic look will be stylish and trendy, bringing peace and relaxation to your barndominium interiors.
This style embraces less, and you will not find as many decorations or furnishings on the walls, and there will be many open spaces with neutral walls and windows that allow natural light in.
3. Vaulted Ceilings
Image Credit: barndominiumlife.com
Although vaulted ceilings are common in barndominiums, high ceilings are a certainty. Not only are vaulted ceilings high ceilings, but they are self-supporting ceilings that don't require load-bearing walls or beams.
A vaulted ceiling will make your main living space airier, and most barndominiums built with them don't need any extra support.
4. Lodge Design Aesthetic
Barndominium decoration ideas use a traditional lodge design concept to create a warm and welcoming house. The barn is kept spacious using various wooden tones, creating depth.
The floors, ceilings, beams, railings, and cupboards of a barndominium are mostly wood. Also, you can stain the wood with various stains or use several wood species to avoid having a design that is too busy.
5. Bright, Eclectic Style
Renovating a traditional country barn and transforming it into a modern structure is one of the many modern Barndominium design concepts. You can keep the room light and airy with white curtains and shiplap walls.
The design breaks from the cozily neutral tones typically present in barn interiors. Instead, wooden barn doors can evoke a delightfully simple flavor
6. White and Wood Tones
Image Credit: barndominiumlife.com
White and wood tones dominate a straightforward color design in an open floor plan and interior walls. The open interior's lofty ceiling provides unbelievable open space. A classy contrast is created between the white walls and the wood window frames, railings, and beams.
White and wood are great focal points of a farmhouse barndominium color design, giving your room a clean and tranquil atmosphere. In addition, the wooden natural materials will add a luxurious texture that always feels comfortable.
7. Fireplace Or Cookstove
Image Credit: pinterest.com
Wood cookstoves and fireplaces are ideal for any barndominium interior, and it fits the decor style but also work well with open spaces and high ceilings. In addition, high ceilings and open spaces will not be a fire hazard.
The best fireplace will add more character and warmth to your space, contributing to the rustic charm of the barndominium. In addition, bright wall colors and windows allow natural light into your room. Notably, you should have the minimum interior decor in your space to be able to highlight other elements of your room.
8. Repurposed Furniture
Repurposed furniture works well for any barndominium interior, like with any house type but mostly for this interior design style thanks to the natural farmhouse feel.
9. Unique Barn Loft
Image Credit: housedesigns2021.blogspot.com
Use the design and structure to create an utterly faultless room while preserving the charm of the traditional barndominium. In addition, the vaulted ceilings helped make the wooden structure's interior appear less cramped and dark.
Barn lofts are perfect for introducing focal points, and metal railings give a rustic element to classic wooden aesthetics.
10. Warm Barn Ambience
Image Credit: realtor.com
Warm, rich colors are orange, red, yellow, or a combination of all the colors, which will help to breathe sunshine, positivity, and energy into your home. It's perfect for farmhouse style and industrial barndominium interiors since it matches with rustic accents.
To achieve your dream barndominium interior, you won't have to splurge since you can create an accent wall, repurpose a fireplace or add warm-colored furniture.
11. Chandelier
Although chandeliers may seem too fancy for a barndominium, you can buy or build one to fit your design style. For example, use a chandelier to add glam to your barn-style interior, as this decor piece matches almost all design styles. On the other hand, if your barndo interior has embraced more of the rustic look, choose chandeliers made of faded wood or antlers.
12. Barndominium Kitchen Interior
A barndominium home needs to include a sizable kitchen. Add bar stools and butcher block counters to support the idea that your kitchen is a rustic communal area. Plus, your bar stools can get a splash of color.
The rich wooden tones displayed on the beams throughout the rustic home are reflected in the counters. Your vaulted ceiling might be able to accommodate a barn loft that gives your kitchen additional personality and vintage appeal.
13. Rustic Modern Furnishings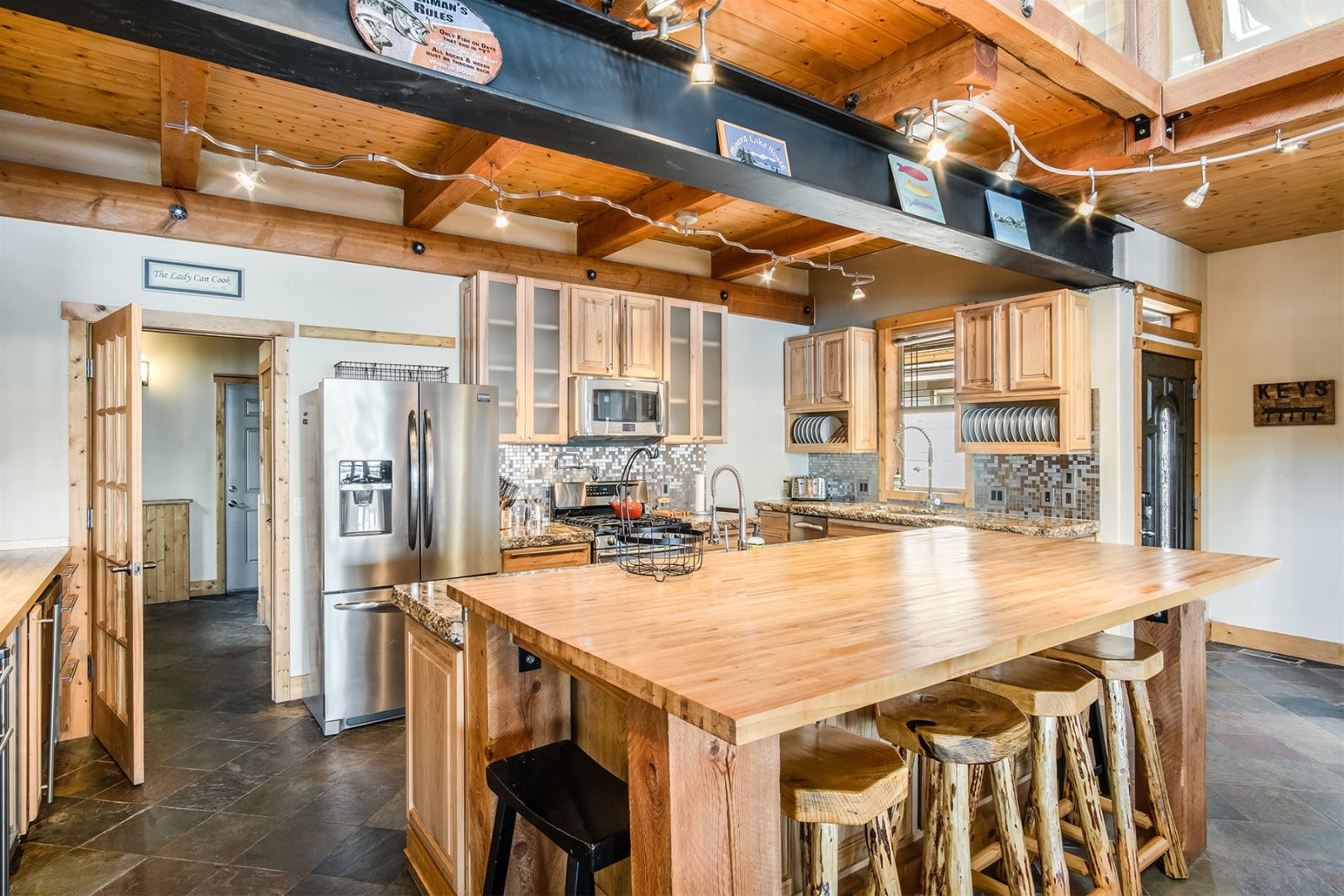 This interior design type embraces rustic charm and warmth with modern amenities. You can use this interior design in the open concept floor plan, which has preserved and exposed natural architectural elements and modern furnishing.
14. Wooden Bathroom Floor
This interior design style creates a charming bathroom made not only of wood but also of a barn door. Wooden floors in the bathroom are a perfect idea as long as they are waterproof. So, if water is spilled on the floor and it's easy to clean. In addition, this setup uses wood to make window frames.
15. Built-in Organization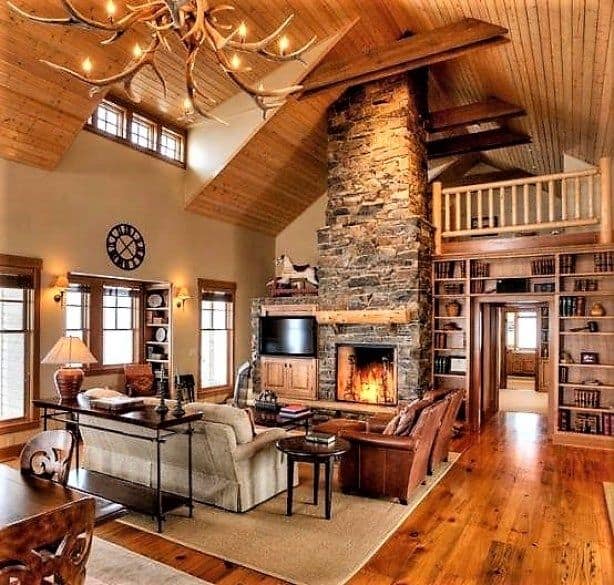 As we mentioned above, not all barndominiums are created as living spaces like in a normal home, and sometimes people want a barndo construction for play and work. One way to incorporate the style is to implement a built-in storage space under your stairs.
16. Illuminate with Pendant Lights
Reflect the lengthy lines of your house with the help of the cathedral-style beams. The vaulted ceilings of the traditional barndominium are highlighted by these beams. By hanging ceiling lights from the ceiling, you can warmly, pleasantly, and charmingly illuminate your residence.
You might also use a sliding kitchen door to modernize an otherwise vintage-style house. Add wide windows to the room to make it feel more open, airy, and fresh. To add more wooden features, surround your living space with rustic furniture.
17. Serene Color Splash
A classic barndominium interior doesn't have to be boring, and you can still have colorful walls. Although wood panel walls are a fundamental component, you can change them somewhat to provide a contemporary air of calm and peace.
Given that the beams are lower than the ceiling, the living area will probably seem a little crowded. To create a rich, light, and spacious environment, you might paint the ceiling and beams white.
What are the Main Features Of a Barndominium Interior?
1. Barndominium Interior Open-Concept Floor Plans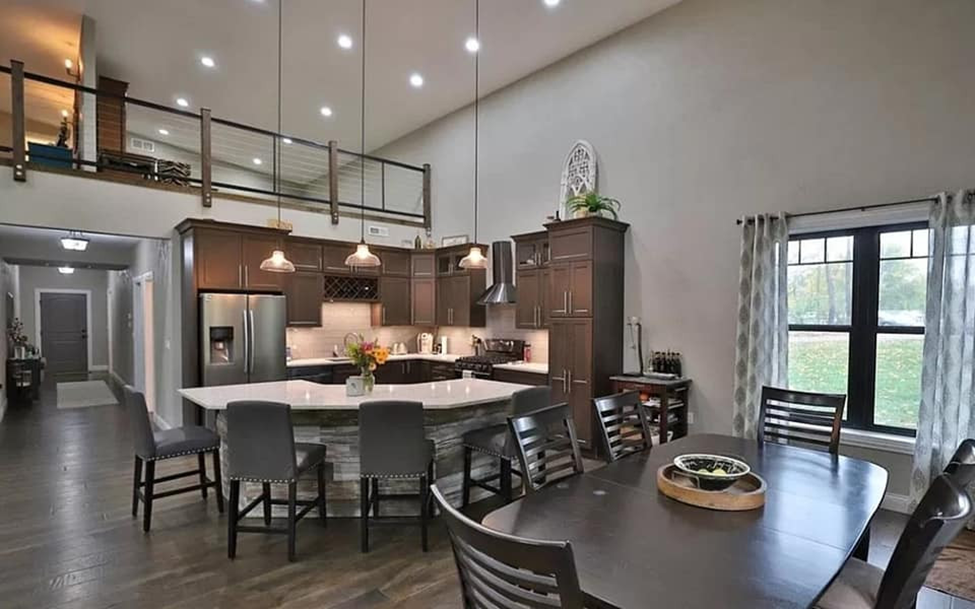 The interior of your barndominium is empty when you purchase it. Since you'll be doing everything yourself, there won't be any walls! This can be intimidating for a city resident who has spent their entire life in various rooms with four walls, but it can also be a breath of fresh air.
You have complete creative freedom to decorate your barndominium interior however you choose. New homeowners favor open-concept floor layouts because they offer a modern, more open perspective on dwellings.
2. Gambrel Roof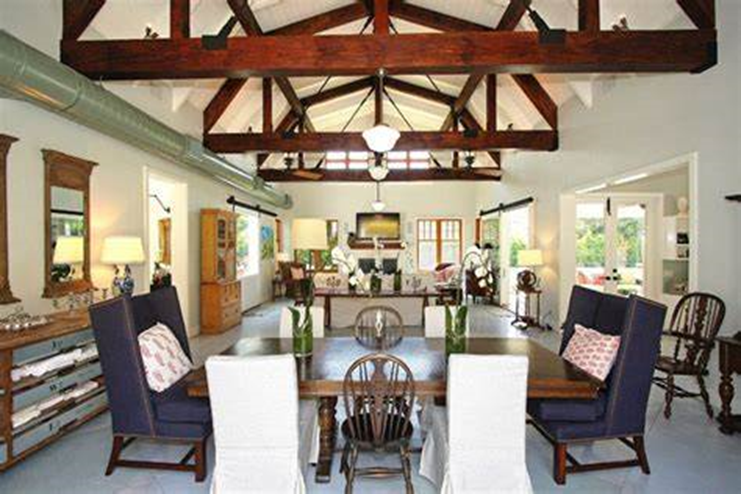 Image Credit: pinterest.com
Unlike the typical two-sided roof, a gambrel roof has four sides. Although a gambrel roof is the most common roof found in most barndominiums, having one is unnecessary.
If you decide to add a loft, a gambrel roof gives you additional room on your ceiling so that two sloped slopes don't constrain you. It also portrays the traditional sense of a barn, which might enhance your farmhouse theme.
3. Concrete Floors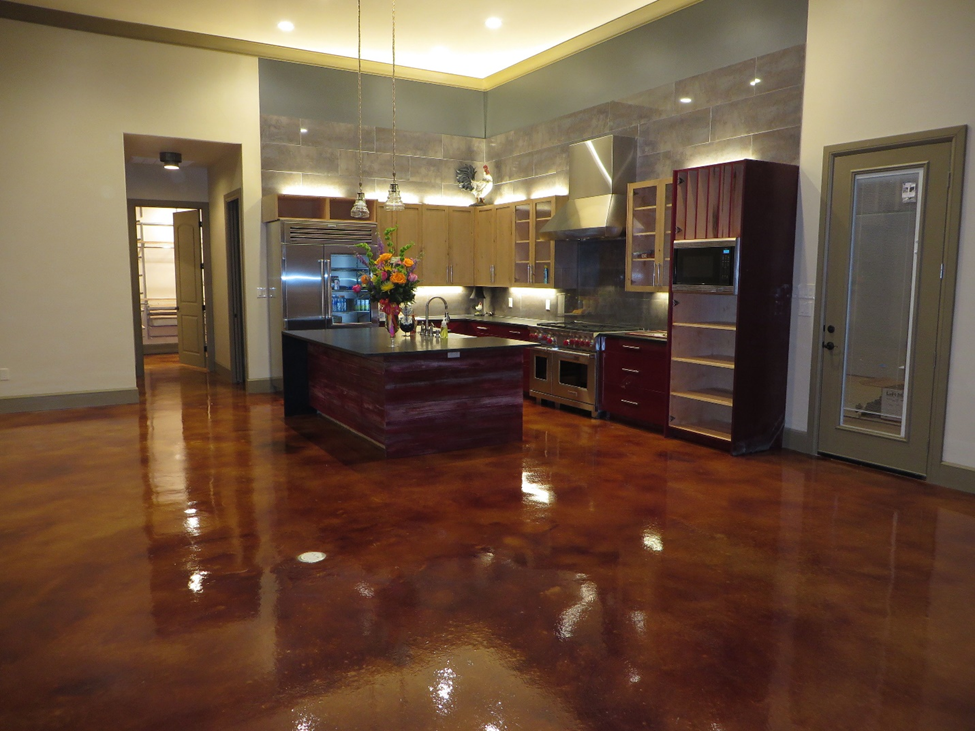 Image Credit: pinterest.com
The greatest option for completing the interior of your barndominium is concrete flooring. They complement many styles and are highly adaptable. Even the concrete that was used to build your barndo can be used! You can keep it natural, stain, paint, or seal it.
4. Metal Siding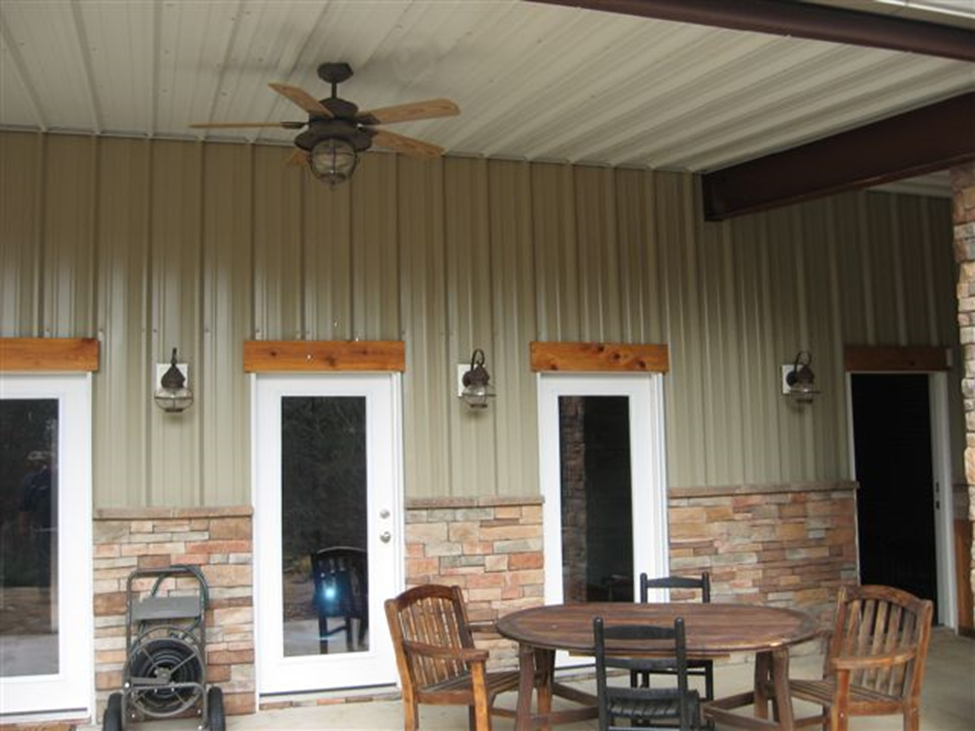 Image Credit: steelcobuildings.com
Most barns and warehouses have a structure with metal siding. The exterior is similar to that of most barndominiums. However, it's not necessary to have one, just as a gambrel roof, but it's one of the fundamental components of a barndominium.
So solid and long-lasting are metal sidings. Despite the possibility of rust, coatings are now readily accessible to prevent it, ensuring the longevity of your siding construction.
5. Plumbing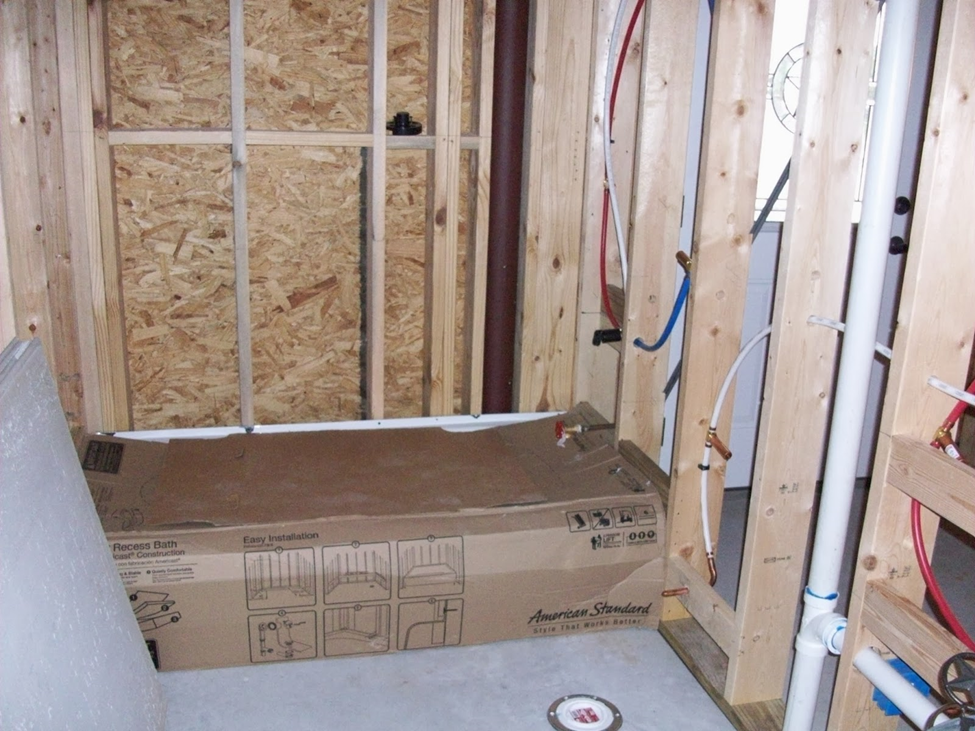 Image Credit: blogspot.com
The open-concept floor plan calls into question some of a home's most important features. For example, before installing the plumbing and required wiring, you must select where you want the kitchen and bathroom.
A functional home must have working plumbing. Therefore, deciding on the location of your sinks first when designing the interior of your barndominium is helpful.
What are Barndominium Kits?
Maybe you don't want to build your barndominium from scratch, and you want to get into the barndominium life. The market has ready-made barndominium kits with primary and secondary framing, stamped building plans, and exterior walling.
A barndominium kit is a perfect way to start your barndominium since you can save effort and time. This is because everything is partially built, and the construction is quick.
In addition, these kits are cost-effective and will help you save up to 50% of your money. They are better than building one from scratch to implement your barndominium interior ideas.
Conclusion
While others transform them into commercial spaces like restaurants, bars, or shops, many individuals opt to live in barndominiums. A barndominium is a flexible alternative, so it can be used for a variety of purposes, like finding a nice place to live with your family or a place to grow your business. These internal barndominium homes have another amazing feature: you can change the interior to be rustic, modern or anything else you choose