Tina is the Queen of Rock n' Roll and, by all means, one artist who shaped the youth of most Gen Xers. From a career spanning about 5 decades, Tina Turner enjoys the best music accolades and a net worth of around $250 Million. Now, we reckon that's being rich enough to afford a good mansion anywhere she wants, and that's exactly what Tina got. So, where does Tina Turner live?
When we say the richest celebrities can live wherever they want, none has done it better than Tina Turner. Often, most famous personalities like Beyonce Knowles, Tiger Woods, Steve Harvey,  Drake, and even Elon Musk own homes in the US, but not Tina. She has lived in Europe for decades after settling in Switzerland. However, before moving to Switzerland, Tina also owned a gorgeous holiday getaway in France.
Want to learn more about where exactly the Proud Mary and What's Love Got To Do songstress lives? Read on as we share all the details below. But first;
Who Is Tina Turner?
Image Credits: rollingstone.com
She is a 12-times Grammy award winner, a Grammy Lifetime Achievement Award winner, a Grammy Hall of Fame inductee, a Hollywood Walk of Fame honoree, a Rock and Roll Hall of Fame inductee, and a Kennedy Center honoree. Get the gist yet?
Tina Turner still is the Queen of Rock n' Roll two decades after she retired. She has won most awards a Rock and roll singer and performer could receive, even previously holding the Guinness World Record for having the largest paying audience at a solo performance. 
She was born Anna Mae Bullock in November 1939 as the youngest daughter of Floyd Richard Bullock and Zelma Priscilla. Though born in Brownsville, Tennessee, Tina grew up in Nutbush, a place we figure she loves thanks to her single Nutbush City Limits.
Her father was an overseer of sharecroppers when Tina was a small child before relocating to Knoxville during World War II. After the war, her family moved back to Nutbush, where Tina Turner would sing in the church choir. As a teenager, she also joined a cheerleading squad where she mastered all the dance moves.
A few years later, she would become the vocalist for Ike & Tina Turner, and since, launched a colorful music career. Apart from her sultry, powerful singing voice, Tina also gained fame for her insured legs and energetic choreography.
Image Credits: pagesix.com
Tina Turner was once married to Ike Turner before she remarried again and today lives with her husband Erwin Bach in Switzerland. Despite being born in the United States, Tina Turner had to renounce her American citizenship so she could own property in Switzerland.
Talking of property, here is her real estate portfolio.
1. Tina Turner's Mansion in Kuesnacht, Switzerland
Image Credits: handelszeitung.ch
As you can imagine growing up in a sharecropping family, Tina Turner did not grow up with loads of wealth. But, armed with her talent, she made enough money and even moved to Switzerland. Here, she rents a beautiful home in Chateau Algonquin.
While not much is public about the estate, we learned a bit from Amanda Hess, a New York Times journalist whom Tina Turner welcomed to her castle-like home. According to Amanda, the home has a cartoon-like energy and features climbing ivy on the walls. Outside were gardeners manicuring the massive lawns, while the interiors had the most sophistication.
Image Credits: pathe-thuis.nl
A two-legged horse sculpture hangs from the domed ceiling. In addition, Louis XIV-style sofas decorate the sitting room that also has the musician depicted as an Egyptian goddess. 
Tina Turner has lived in this property on Lake Zurich since 1994, when she and Erwin Bach, her then-boyfriend, moved from the US.
Since she and her German-born husband could not buy the property then, it is believed they rent it, and it is their main home. But Tina is known to have always wanted to own property. So the couple renounced their native nationalities after marriage for Swiss nationality. As a result, they can now buy property and own Swiss land, which is exactly what they did in 2021.
2. Tina Turner's Estate In Staefa, Switzerland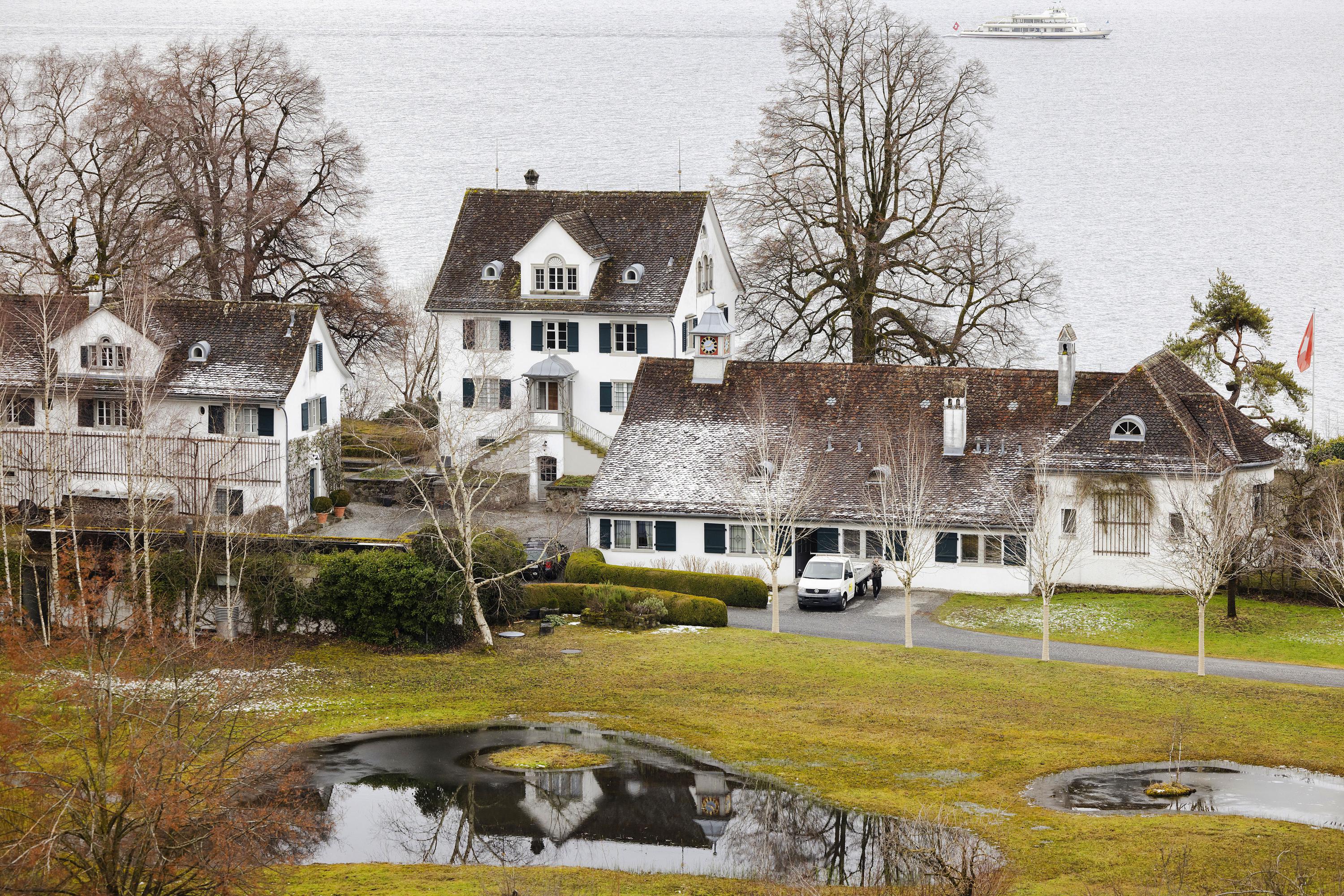 Image Credits: apnews.com
Having lived in Switzerland for nearly three decades, the couple must have settled in pretty well, and they may not want to move out soon. We know this because they recently bought a massive estate in Staefa, which is not very far from their primary home.
The estate is believed to have cost the couple a whopping $76 million, and according to Erwin Bach, they bought it as a weekend retreat in the immediate vicinity. Interestingly, it is believed they edged out tennis star Roger Federer, who also wanted to buy the property.
Now, when a property attracts the fancy of famous personalities, you better believe it is extraordinary.
Image Credits: tagesanzeiger.ch
To start, the estate has 10 buildings. It is a century-old 260,000-square-foot estate that overlooks Lake Zurich. It has its own stream, swimming pool, private pond, and jetty on the shore of the lake, so the couple can dock a boat.
The estate is surrounded by well-manicured lawns, tall trees, and shrubs that offer the best privacy. It is also a home that best suits the music icon who once stated her favorite place is being surrounded by nature.
3. Tina Turner's Former Home in France
Before Tina Turner and her husband moved to Switzerland, she also used to own a luxurious Mediterranean-style villa on the French Riviera. She welcomed the world to her home through Architectural Digest in 2001, but it is believed she sold the property years ago to settle in her new home country.
Still, the home tour showed how the Private Dancer singer lives. In the video, viewers could see impressive decor, starting with luxurious furniture. The seats are believed to once belonged to a king, while Tina hinted she redesigned the closets and cabinets to suit her style.
From another angle, she reveals her shrine where she meditated twice daily, in the morning and evening. The beautiful villa also featured a study where Tina mentioned she would spend her time writing. Finally, she also shared a glimpse of the outdoors, where she planned to design a karaoke place.
Frequently Asked Questions About Tina Turner's Homes and Career
a) How Many Homes Does Tina Turner Own?
Currently, Tina Turner owns one luxurious estate on Lake Zurich. It is a massive 10-building estate surrounded by lots of greenery and features a swimming pool and jetty along the shore of the lake.
Tina Turner and her husband, Erwin Bach, bought this home for around $76 million in 2021. Bach termed the home a weekend getaway near their primary residence, and it is a place they could spend weekends even during the Coronavirus pandemic.
b) Where Does Tina Turner Live?
Tina Turner lives in a rented mansion in Kuesnacht, Switzerland. She has lived there with Erwin Bach since the late 1990s when she moved from the US.
c) How Many Countries Has Tina Turner Lived In?
Tina Turner has lived on two continents, North America and Europe. She was born in the US but later relocated to Europe after Erwin Bach had to move to Switzerland for work.
It is believed Tina has lived in several countries in Europe. She lived in the United Kingdom and France before finally settling in Switzerland.
d) Does Tina Turner Still Sing?
Tina Turner retired from her musical career in 2000, although she made a comeback in 2008 before retiring again. In 2021, right before she bought her newest mansion in Switzerland, Tina sold her extensive music catalog and rights to BMG and Warner Music.
e) Did Tina Turner Renounce Her American Citizenship?
Yes. In 2013, Tina and her then-long-term boyfriend, Bach, tied the knot in Switzerland. But unfortunately, despite living for more than a decade in the country, they could still not buy property or own land since the country prohibits foreign nationals from doing so.
So, in the same year, Tina renounced her American citizenship for Swiss nationality, a move that has since enabled her to buy her latest estate in Staefa along Lake Zurich.
f) What Does Tina Turner Do Today?
Despite being one of the most decorated rock and roll artists of our time, it has been a long time since Tina took to the stage or released new music. As such, very little is known about what she is currently working on in Switzerland, but we did enjoy her narrating her musical career and life story in Tina: The Tina Turner Musical in 2018.