TVs are generally expensive, especially considering the size and innovative features. However, manufacturers have made this luxury affordable today by producing premium-feeling TV sets boasting high-end features at budget-friendly rates.
During my search, I came across the best 65-inch TV under $1000 with some impressive features. My first pick is the Samsung UHD TU 800 series. This screen has a minimalist design with a UHD display that makes it hard to beat.
The TCL would have been my top pick if it wasn't for the fact that it lacks Dolby Vision. Its other features like the 4K Ultra HD display and Roku software support. The TCL 5-series is my favorite third because of its built in Dolby Digital Plus speakers and Dolby vision. The screen is also affordable considering its specifications.
What more can you get with $ 1000 when looking for a 65-inch smart TV?
Which Is The Best Smart TV Under 1000?
Image Source: techradar.com
The best smart or android TV has a good balance of picture quality, features, and value for money. At $1000, it's easy to find mid-range TV sets with similar characteristics to high-end alternatives. In addition, these features include built-in streaming, premium UHD image processing, and the latest HDR support.
In your hunt for the best 65-inch TVs under $1,000, it's unsurprising that some are from previous, say, last year's range. Manufacturers discount the "old" models once the latest ranges are out.
Below are the best TVs under 1000 with a 65-inch display.
| | | | |
| --- | --- | --- | --- |
| | | | |
| | | | |
| | | | |
| | | | |
| | | | |
1) SAMSUNG 65-Inch Class Crystal UHD TU-8000 Series
SAMSUNG 65-inch Class Crystal UHD TU-8000 Series - 4K...
Crystal processor 4K: This ultra-fast processor transforms...
Multi voice: Smart TV with Alexa and Bixby.
Smart TV powered by Tizen: Go beyond Smart TV with next-gen apps,...
HDR: Unveils shades of color you can't find on HDTV.
Crystal display: Experience crystal clear colors that are...
Over the years, Samsung has made a name for itself worldwide thanks to its quality, reliable, and durable product line. The Samsung TU-8000 series 65-inch TV is no exception.
The design of the Samsung TU-8000 TV is simple and minimalist. It has a crystal UHD display that enhances the crisp and vivid quality. The stunning 4K resolution is also worth raving about to ensure you enjoy watching movies and shows.
This Samsung 2020 model has HDR support necessary for enjoying different colors when watching. In addition, thanks to smart features like Alexa and Bixby multi-voice, I found the TV to be user-friendly and easy to navigate.
Image source: samsung.com
This TV has two USB ports and three HDMI ports to support connectivity to other devices. There's also an antenna input, ethernet port, Bluetooth, Wi-Fi, and an optical digital input to ensure you get the most out of your TV.
I can stream my favorite shows on Amazon Prime Video, Netflix, HBO, and other built-in apps on this smart TV . In addition, I can use Tizen to set up and manage different TV settings straight from your Samsung devices.
2) TCL 65-Inch Class 4-Series
Sale
TCL 65-inch Class 4-Series 4K UHD HDR Smart Roku TV –...
Dimensions (WxHxD) with Stand: 57.4" x 35.3" x 12.6" | Without...
Stunning 4K Ultra HD: 4K resolution delivers stunning detail and...
High Dynamic Range: HDR delivers bright and accurate colors for a...
Thousands of Streaming Channels: Enjoy the over 500,000 movies...
Simple, personalized home screen: Your favorite broadcast TV,...
Watching fun shows on a big screen with 4k ultra HD resolution is ultimately my goal when buying a 65-inch TV. The TCL class 4-series TV ensures every moment is an experience by offering remarkable visuals and high dynamic range colors.
This TV utilizes the Roku software to have a great smart TV experience with various apps, such as Google TV, Netflix, and others. Although it lacks Dolby Vision, the HDR10 support is enough for color accuracy.
Image source: tcl.com
I can pair this new TV with Google Assistant or Amazon Alexa to control it using my voice. The Roku mobile app also comes in handy to ensure navigation is seamless.
The TCL class 4-series TV has a low input lag, making it a great TV for gaming. However, the TV lacks local dimming, which affects the overall HDR performance.
3) TCL 65-Inch 5-Series
TCL 65-inch 5-Series 4K UHD Dolby Vision HDR QLED Roku...
Superior 4K Ultra HD: Picture clarity combined with the contrast,...
QLED: Quantum dot technology delivers better brightness and wider...
Product Size (WxHxD) with Stand: 56.9" x 11.6" x 34.9"; Product...
Easy Voice Control: Works with Amazon Alexa or Google Assistant...
Roku Smart TV Platform: Roku Smart TV platform provides access to...
This 2021 model TCL 65-inch 5-series android TV has many features for just under 1000. The TV has high-quality picture detail, color, and contrast. This is mainly because of the Dolby Vision HDR and the HLG formats.
The 13.1 milliseconds of low input lag is one of the reasons making this TCL 5-series one of the best TVs for gaming. I loved that TCL incorporated the Quantum dot technology to enhance brightness and color volume.
The Roku TV operating system is also one of the major selling points of this TV. This OS has access to streaming and gaming platforms I couldn't find on other TVs, like Apple TV.
Image Source: tcl.com
Like the 4-series, this QLED TV is compatible with Alexa, making navigation and control easy. In addition, I can connect it to my soundbar, gaming consoles like Xbox Series, DVD player, and other devices since it has enough ports.
4) SAMSUNG 65-Inch Class QLED Q60T Series
Sale
SAMSUNG 65-inch Class QLED Q60T Series - 4K UHD Dual...
100% COLOR VOLUME WITH QUANTUM DOT: Quantum dots produce over a...
DUAL LED: A system of dedicated warm and cool LED backlights...
QUANTUM HDR: Expands the range of color and detail beyond what's...
SMART TV POWERED BY TIZEN: Go beyond Smart TV with next-gen apps,...
QUANTUM PROCESSOR 4K LITE: This ultra-fast processor optimizes...
Like many other Samsung TVs, this QLED Q60T 65-inch model is the definition of budget meets features. In addition, this TV utilizes Quantum HDR, and I enjoy the detail and color range so much when watching content.
Unlike previous models, Samsung made a few modifications to enable Alexa compatibility. Thanks to Samsung's Tizen, which allows streaming and settings adjustments to enhance the experience, there's lots of online content to enjoy.
Image source: reviewed.usatoday.com
The QLED Q60T series TV boasts a dual-LED backlight that helps adjust the contrast. In addition, the warm and cool LED backlights change depending on what I'm watching to give off a cinematic vibe.
There are three USB and two HDMI ports to enhance connectivity between other devices andthe screen. There's an Ethernet port, digital optical output, RF coaxial, Wi-Fi, and Bluetooth connectivity.
5) TCL 65-Inch 6-Series
Sale
SAMSUNG 85-inch Class QLED Q70T Series - 4K UHD Dual...
QUANTUM PROCESSOR 4K: This powerful processor uses deep learning...
MOTION RATE 240: Minimizes motion blur on screen, so...
AMBIENT MODE+: Blends into your space by turning a blank screen...
QUANTUM HDR: Expands the range of color and detail beyond what's...
DUAL LED: A system of dedicated warm and cool LED backlights...
Fifth on my list is this TCL 65-inch android TV with all the essential features at a reasonable price. This TV features an ultra HD 4k resolution and boasts premium picture, color, and contrast quality, which I enjoy when watching movies.
This 65-inch TV uses quantum dot technology to ensure peak brightness and a vast color volume, similar to the best smart TVs. In addition, the mini LED backlighting ensures uniformity in contrast and brightness when watching.
Image source: rtings.com
Changing channels and finding new movie titles is as easy as using the voice assistant, Amazon Alexa or Google Assistant. I can also use the Roku TV mobile app or the voice-enabled remote control to control and adjust the TV settings.
The THX-certified game mode is another amazing TCL 65-inch 6-series TV feature. This makes it easy to enjoy high frame-rate gaming without worrying about input lags and response time. The advanced gaming features like auto low latency mode and variable refresh rate make this TV one of the best under $1,000.
How Did I Choose The Best 65-Inch TV Under $1000?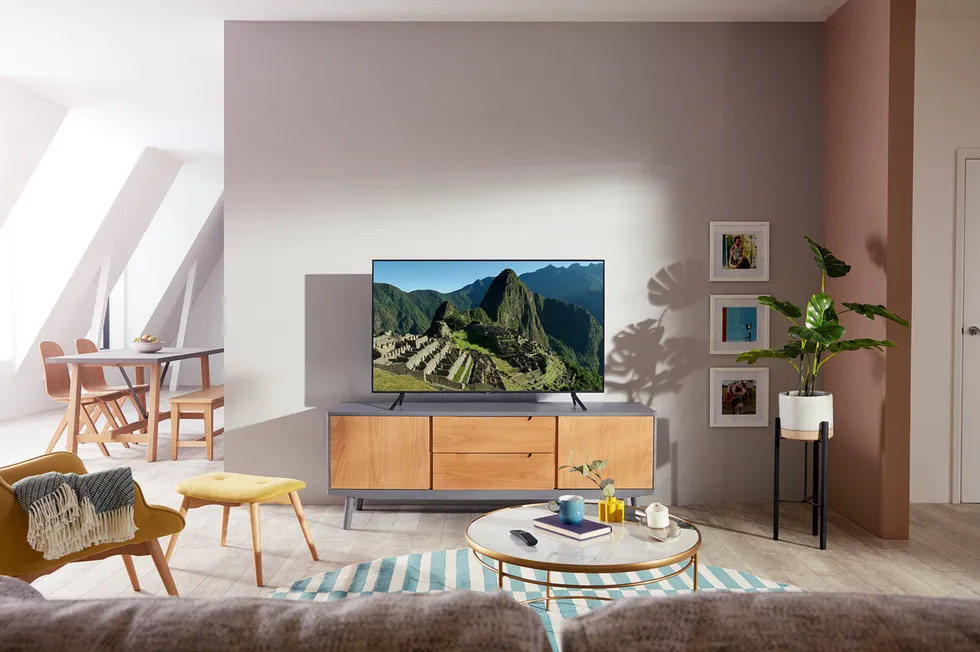 Image Source: gearbrain.com
Smart TV shopping is not easy, considering all the brands in the market offer fantastic screen designs and features. Therefore, I carried out thorough research before settling on one set.
In addition, since it's a one-time purchase that will last me about 7 to 8 years, I took time to make a lasting purchase decision. Ideally, I had to ensure that I found a smart TV set that meets my budget with the features I was looking for.
I have come up with a few factors you should consider when shopping. They include:
a) Screen Size
The screen size is one of the first considerations you must make. A 65-inch TV offers the perfect balance between family entertainment and comfort.
You want to ensure adequate space to accommodate people in your household or guests while maintaining distance between the TV and seating area. The last thing you want is a big TV in a cramped space!
b) Resolution
Screen resolution alludes to the number of pixels on a screen. This means that the more the resolution(screen pixels), the higher the picture quality you'll experience.
4K display is the ultimate screen resolution for the best 65-inch TVs under 1000. The image quality is sharp and detailed, making the content more realistic.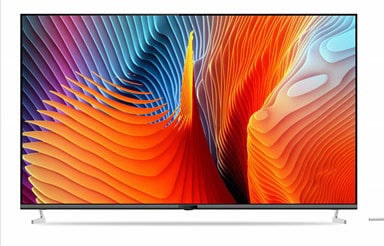 Image source: meiling-tv.en
Another reason for a 4K smart TV is that 4K is becoming the standard broadcasting format for content creation platforms. Getting a lower resolution quality would ultimately be a loss for you.
c) Smart Features
Smart TV features enhance the functions and usability of a TV. Apart from watching content from streaming apps installed on the TV, you can enjoy other smart functions straight from the screen, like smart home controls.
One thing that makes smart TVs stand out is the watching experience you get. This is all thanks to the color gamut coverage, ensuring you see rich, vibrant, and accurate colors. In addition, this feature ensures that you enjoy detailed pictures.
Built-in voice control is another smart feature you can expect to find in the best TV under 1000. Voice control assistants like Alexa and Google Assistant make navigation relatively easy. All you have to do is connect smart devices in your home to your smart TV. Then, you can control them using your voice.
Certain TV manufacturers, such as Sony and Samsung, have a dedicated mobile app that helps you manage apps downloaded on the TV, like Google TV. You'll also find that the best TVs have a user-friendly remote with specified functions to make navigation easy.
Finally, not all smart or android TVs have the same features. Therefore, ensure to buy the best TV with the features you're looking for. For example, some TVs under $1,000 have gaming features, while others don't.
d) High Dynamic Resolution(HDR)
HDR is standard for fantastic picture quality. While it's not a resolution type, HDR support provides more picture details by enhancing the color gamut. In addition, it's important to note that not all TVs have HDR.
Having HDR content on your TV guarantees an amazing entertainment experience, especially if your TV is 4k. You should also be on the lookout for standard HDR formats, such as HDR10, HDR10+, and Dolby Vision.
e) LCD Or LED
Smart TV screen displays are available in either LCD or LED. LCD TVs (Liquid Crystal Display) use fluorescent lights to display the image on the screen. Conversely, LED TVs (Light Emitting Diode) use a diode to emit light on the display.
Other differences are that LCD TVs are thicker while LED TVs are slimmer. LED TVs also have a commendable picture quality, consume less power, and last longer.
Ultimately, LED display panels are better than the LCD alternatives since they are safer and have a higher lifespan. However, they're also more expensive. Thankfully, technological advancements are yielding results like local dimming to make the TV display more enjoyable.
OLED and QLED TVs enhance your overall experience by providing even better visuals. An OLED TV (Organic Light Emitting Diode) produces light using an independent diode to save energy.
Quantum dot technology (QLED) screens offer more brightness and volume color range. They're also relatively cheaper than OLED TVs.
f) Ports
Ports are essential, especially if you connect other devices to your TV. These devices say monitors or gaming consoles, use HDMI cords to establish a connection. Therefore, consider the number of HDMI ports you'll need beforehand.
USB ports are also essential and convenient to have on your smart TV. You can use the USB input for phone or Tab charging purposes or share photos and videos to the TV without an internet connection.
Besides ports, check for other connectivity features like Bluetooth or Wi-Fi. These features make functions like pairing and streaming easy.
g) Refresh Rate
Finally, you can consider the refresh rate if you're a gamer. The refresh rate informs you of the times the screen will refresh per second. While it's not a significant factor if you're only interested in watching movies and shows, the refresh rate can be a major determinant for gamers.
A refresh rate of about 120 Hz or more is standard for gaming.
If you wish to go bigger, here are the best 75-inch TVs available on the market.
Frequently Asked Questions About 65 Inch TVs Under 1,000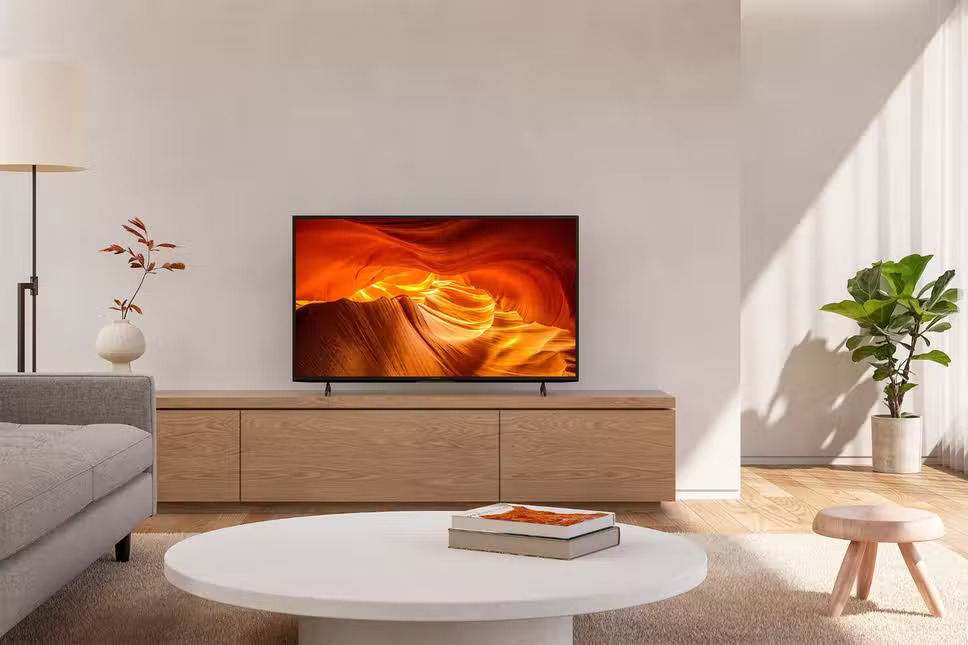 Image Source: standard.co.uk
i) What are the best TVs for under $1000?
While there are many TVs under $1,000 out in the market, finding the perfect one can be a tough task. The best way to identify a TV under 1,000 is to compare the features I have discussed above. If your TV checks most of the boxes, then you might land a good deal. The best tv brands are the ones that serve your needs. If you are buying a TV for gaming, then it needs to have gaming features. If you want a convenient tv, then it needs to have smart tv features like the Google tv interface and so on.
ii) Is it worth getting a 65-inch TV for less than $1000?
You can get a TV with impressive picture quality, streaming services, full array led backlight, HDMI 2.1 capabilities, great sound quality, and more, all under $1000. Before
iii) Can I get an OLED TV under $1000?
You can get an impressive tv with decent prices under $1000.
Conclusion on 65 Inch TVs Under 1,000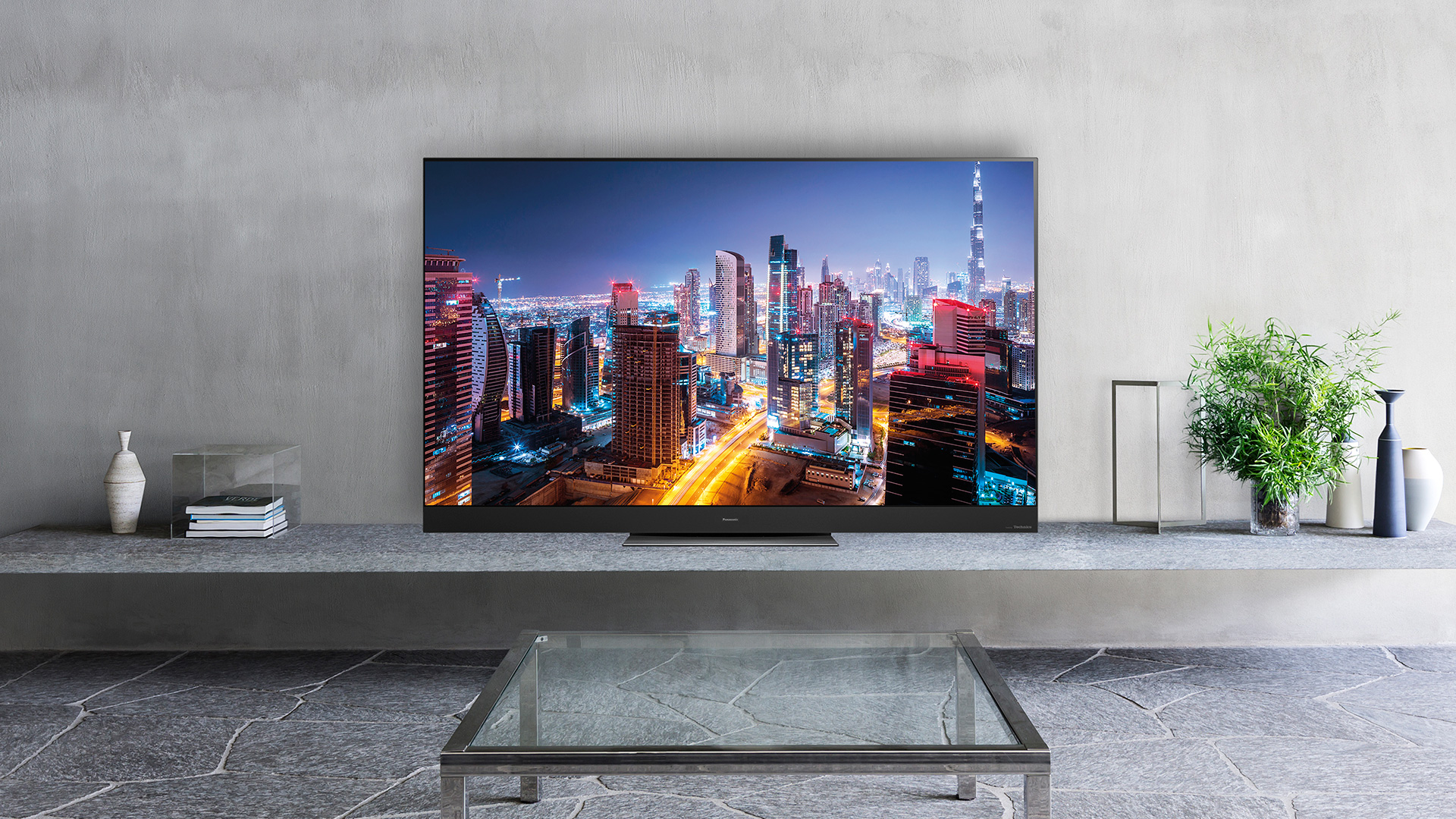 Image Source: techradar.com
Finding the best 65-inch TV under $1000 is no longer a hassle. Our top picks above provide amazing premium features in high-end TVs at an affordable price. In addition, most TVs on our list have 4K resolution and smart voice compatibility to ensure you get the best value for your money.