Wood paneling is slowly making a comeback in most homes because of how welcoming it looks. You might have wondered how to style your house around wood paneling. Well fear not, we have compiled a list of the best paint colors that go with wood paneling to keep your home stylish.
Here are Some Pros of Wood Paneling
Of course, there are always benefits of wood paneling. Depending on if you just had them installed, or bought a house with wood paneling, here is how it is an excellent choice.
Wood paneling looks luxurious in any house. It gives a house a rustic charm.
Wood paneling can conceal any flaws within your paint or wall.
Wood paneling offers insulation and keeps heat distributed evenly throughout a room.
Wood paneling is easy to install.
Paint Colors That Go With Wood Paneling
Of course, there is no universal color scheme for walls or wood paneling. However, choosing paint colors shouldn't be hard mostly because you can pair any color and have it look beautiful. Like knotty pine, warm, neutral colors and cool tones go with wood trim and panels. Here are some of our recommendations for color palettes that will look good in any setting.
1) Turquoise and Wood Paneling
Many traditional interior designs generally make use of turquoise. Paneling and turquoise are the primary Southwestern décor. The best part about turquoise is that it goes well with light and dark wood paneling. This ensures that if you select this color, your space will always look tied together.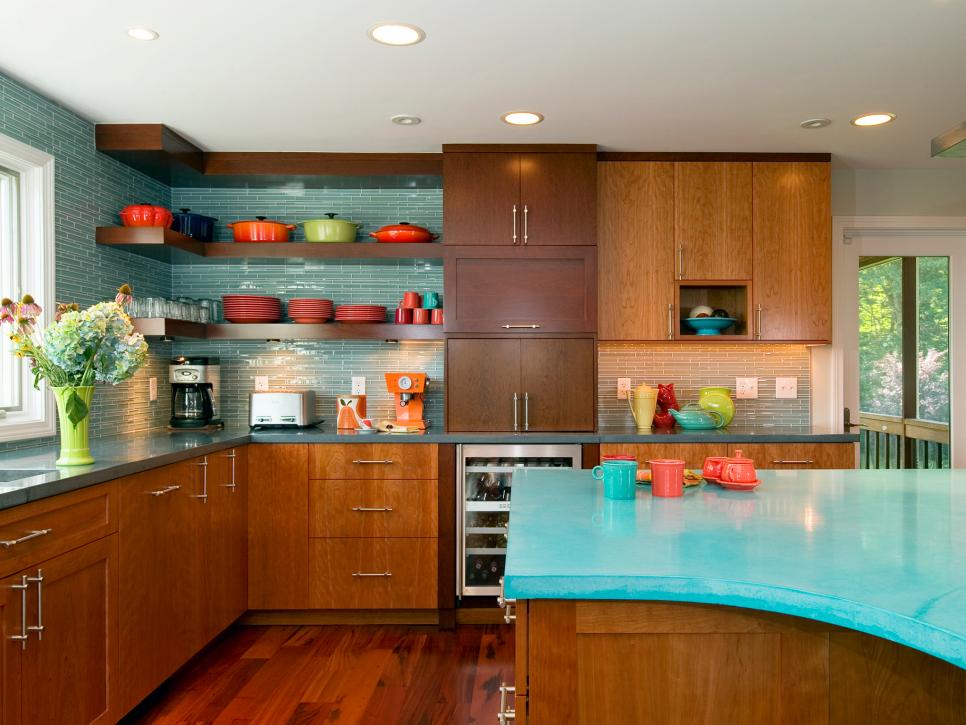 Image source: hgtv.com
A good pointer is to remember to select a color that offsets the warmth provided by the warmth and neutrality of wood wall paneling. In natural light, turquoise gives a beachy ambiance while still retaining that vintage look. If you like you can also go light blue, matte, or glossy for next-level decor. Either way, it is still very eye-catching.
2) Dark Brown and Wood Paneling
Dark brown is a classic choice to go with paneling. It is not a kitschy look and looks good with the sandy color scheme of the paneling. Of course, dark brown is a neutral color and goes with anything. However, it pairs exceptionally well with wood paneling in its natural state. We love to see the natural color of wood paneling. It makes it easier to enjoy the grain and bold color.
Image source: andorwillow.com
Light-colored wood paneling benefits most from a dark color scheme. Even as an accent wall, dark brown is an excellent all-around color that goes with anything. As you can see the dark brown makes the sandy paneling stand out and look chic but doesn't take away from it.
3) Royal blue and Wood Paneling
Any royal blue hue has always had a vibrancy about it. It is also a versatile color that pairs well with other colors. It is vibrant enough to pull the eye in, but also versatile enough to blend in with other color schemes. Additionally, it looks very sophisticated when paired with exposed wood.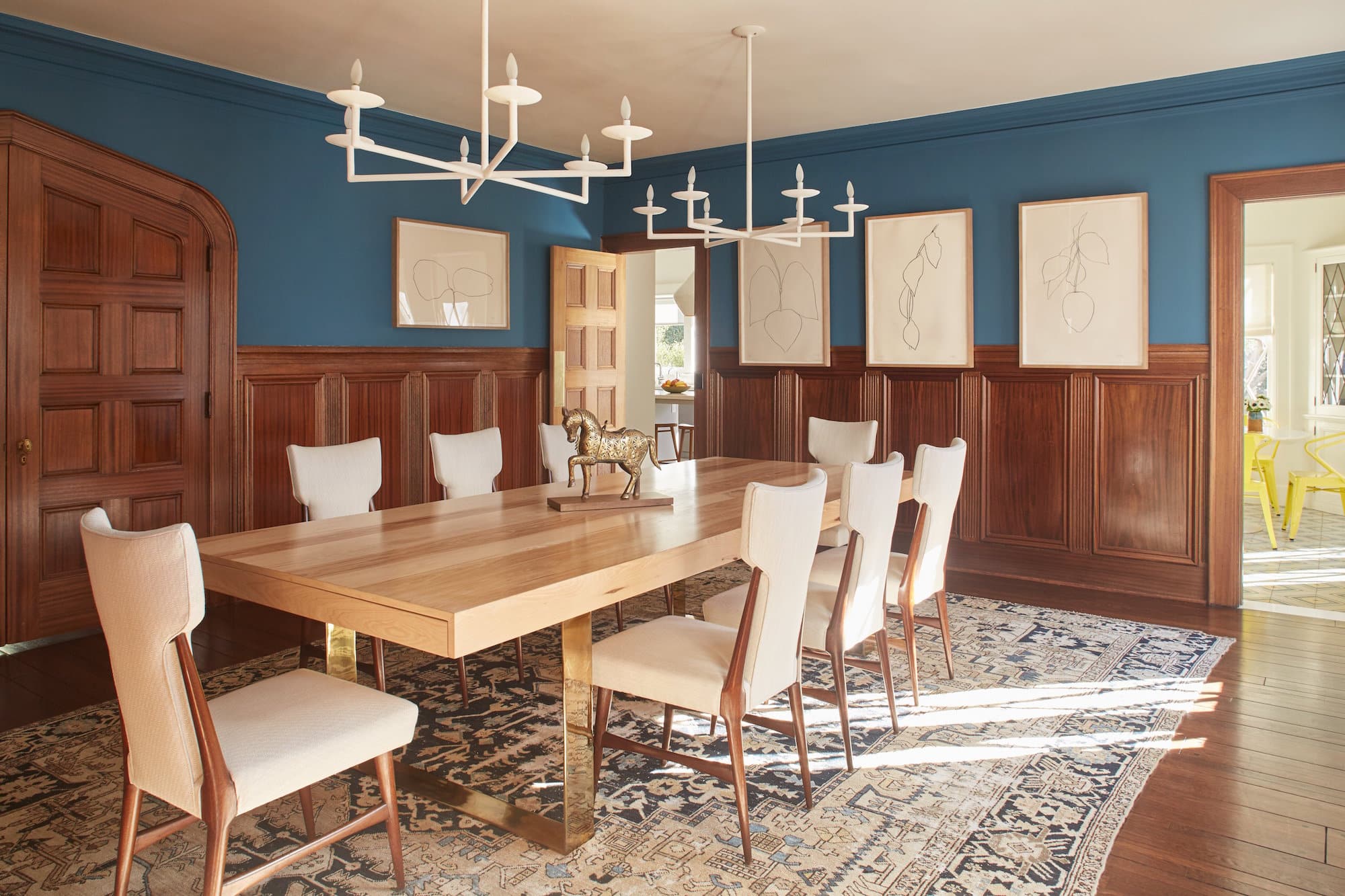 Image source: 1stdibs.com
Royal blue looks good in any modern kitchen, living room, or study room. You can always pair royal blue with coverlets, patterned cushions, and a couple of green plants or succulents. This gives the room a cozy, yet sophisticated look.
4) Yellow and Wood Paneling
Yellow is one of the best colors to pair with dark and light wood paneling. It has the same undertones as most wood types and complements wood paneling. Any muted mustard yellow shade works well with wood for a light and airy feeling. You can also use any sunny colored yellow for a bright and welcoming look.
Image source: homestratosphere.com
Any shade of yellow looks good with both dark and light wood paneling. Yellow is a beautiful and warm tone that looks good for any creative room. It is a light color that accentuates the beauty of bare wood. If you have herringbone patterned wood paneling, yellow looks magical and is bound to create a great look.
5) Shades of Gray and Wood Paneling
With wooden paneling, it is a little difficult to create a minimalist aesthetic. This is why any shade of gray will give you that option. Gray is one of the mid-points of neutral and earthy colors, and you will never go wrong with shades of gray. Gray is also perfect for painting wood paneling if that's how you want to go.
Image source: wallface.com
As an accent wall color, dark gray is perfect. In natural light, it accentuates the color of bare wood panels. If you want to go a step further, you can also use it as a wood trim color, and achieve a great look.
6) Dark Green and Wood Paneling
If you have darker wood paneling and finishes, like Mahogany or Cherry tree then dark green should be a staple in your space. Not only is dark green a color you will find in most Ivy League schools, but it also gives off a rustic vibe that's very welcoming. Dark green is also one of the best wall colors when used as an accent.
Image source: Pinterest.com
Green can be switched between vintage, contemporary, and country styles. It is one of the neutral hues that go with every color palette, scheme, and pattern including striped walls. Green is the perfect shade for homeowners looking for a rustic but not overly bright one. The effect of light and shadow makes it especially dramatic.
7) White, Gold and Wood Paneling
White walls usually pair very well with any color wood panel. Of course, a natural wood color is more desirable. However, sometimes painting wood paneling is the best option. Therefore, it should look as good as possible. With white wood panels, you can accentuate with gold or another metallic color.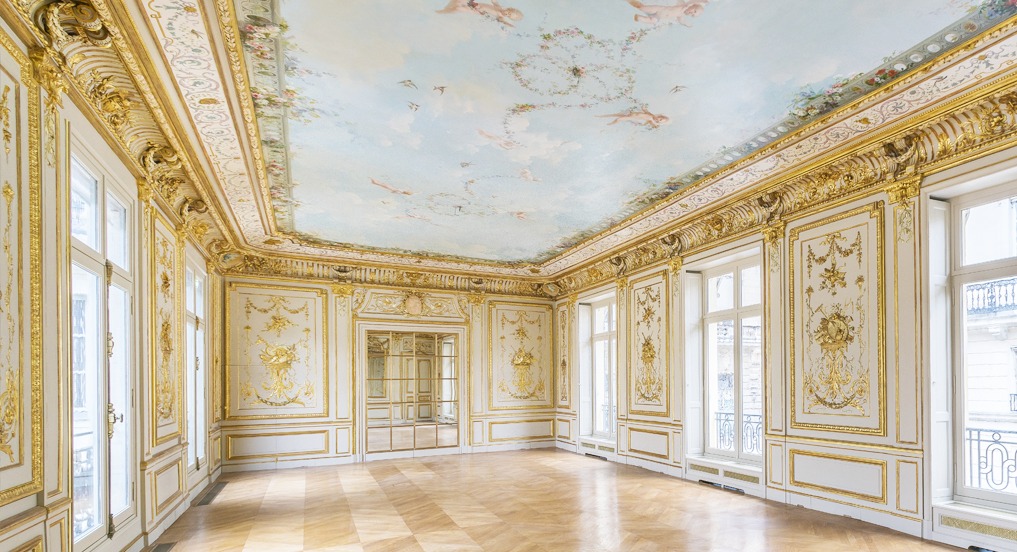 Image source: ateliersjeanbaptisterestorations.com
White is a neutral color that goes with everything. Most shades of white including white are easy to combine with any color. White is a staple in interior home decor since it's not by chance that it goes with everything. As you can see above, the gold trim on the edges accentuates the white and makes it look elegant.
8) Beige and Wood Paneling
Beige hues are perfect for wood panels (light and dark). Lighter colors like beige and light wood panels still go together despite both being warm shades. However, adding a third color is recommended. You don't have to add a third color to your walls, you can easily bring the room together using well-colored furniture.
Image source: angieslist.com
Beige can also be used as a booster color because of its neutrality. If you are unsure about settling on a color palette, your best bet would be beige since it's very easy to style around it using furniture and rugs.
9) Terracotta and Wood Paneling
Terracotta has undertones of brown, and orange. In the spirit of neutral colors, it is a rich color that makes any wood grain stand out. In addition, the color gives a rich presence to any room. This color invokes warmth and gives an earthy feel. Bare wood panels and terracotta instigates a shift away from normal grays and whites.
Image source: pinterest.com
Since clay pot couture is slowly but surely making a comeback, it is crucial to consider the color. Furthermore, it doesn't have to cover an entire room. It is one of those accent colors that look great in morning and evening light. It radiates warmth and the orange and brown undertones give a room a beautiful glow in natural light.
Factors to Consider Before Looking for Colors that Go With Wood Paneling
Granted, wood panels are awesome to have. However, before picking out a color that goes with your decor, there are a few things to consider before styling your panels.
a) Painted Paneling
Image source: ofdesign.net
You might want to paint the wood paneling with a new and fresh color. When you make this decision, it is important to ensure that the wood panels don't take over the space. Mixing it up is recommended, and selecting a two to the three-color palette is best.
b) Type of Wood Wall Paneling
Image source: homeandtimber.com
Some wood types can be painted over since they don't give much to a room in terms of their color. However, shades like bare Mahogany, Hickory, and Cherry tree look beautiful and bring more depth and character to a setting. Therefore painting paneling like this would be a disservice. Keeping them bare is the best option. Lighter and darker wood finishes to top the look off are best.
c) What do You Want to Achieve With Paneling?
Image source: katebackdrop.com
It is important to note that if you want a small room to appear larger, then dark wood panels are your best bet. Paint stripes also look better in a small room. Darker colors give depth and character to a room. In contrast, light wood wall paneling would do well in larger rooms.
The Bottom Line
There is a thin line between having wood paneling and knowing how to create a visually appealing space that includes wood panels. You have to find a balance between finding a color palette that complements the wood panels but doesn't overshadow the beauty of the wood.