Floor-planning technology is constantly evolving to meet the changing demands of the interior design sector. Much architectural design software has become a staple tool for creating concept images for planning home designs. Architects, construction builders, interior designers, and home improvement enthusiasts use it to craft and present ideas to beautify indoor and outdoor spaces. So, what is the best floor plan software for creating floor plans?
With so many great options, the burden of choice can become enormous if you don't know what criteria to look for in such software. Each software program comes with its features, purposes, and limitations. You'll need to know the key components of floor planning software by asking yourself questions to determine which could be perfect for your needs.
The top-best floor plan software we reviewed is SketchUp. The software is ideal for beginners and experts and provides a fully customizable workspace that starts from scratch. Our second best option is Floorplanner which only came second because it has limited design options in the free floor plan version.
The third best floor plan software we selected is Sweet Home 3D. It is open-source free floor plan software, meaning you can access and modify the source code to suit your needs. Whether you're an architect or room stager working professionally or an individual looking to design your home's interior, there's software made for any purpose.
With that said, here's a guide to assist you in deciding which floor plan software is best for you.
What is Floor Plan Software?
To choose the best floor plan software, you need to know what it is. In simple words, floor plan software is a computer program designed for users to sketch and illustrate a space to plan how rooms will be arranged and decorated.
Image Source: topsnap.com
Many floor plan software programs allow for image creation in 2D and 3D and synthesizing to produce images that are a photo-realistic depiction of your design, known as rendering. As the name suggests, the 3D imaging processor creates a room with three-dimensional motion graphics. 2D, on the other hand, could generate more hand-drawn and animated-style images that include blueprints and construction details.
These tools are crucial when decorating and planning a house according to the owner's or a prospective buyer's lifestyle. You can expect to find tools that let you add in light fixtures, furnishings, wall art, paint and décor, flooring materials, and finishes. The end-product concept will be a tool to market a property to real estate companies or individual buyers.
Best Floor Plan Software
1. SketchUp
SketchUp is worth considering if you're a beginner or an expert looking for powerful 2D and 3D modeling software with plenty of features. This software allows me to create detailed floor plans as a beginner easily. Besides, it provides a fully customizable workspace that starts from scratch. Furthermore, whenever I get stuck, the software offers live instructors who are available for support.
Image Source: sketchup.com
The software program is available in a tiered pricing plan that includes a free browser-based option as well as annual fees of $119, $299, and $699, depending on the level of features you need. The good thing is that each subscription allows me to access the software on my iPad for even more creative flexibility, which is a great bonus.
All subscriptions come with unlimited cloud storage, which is also a huge plus since I don't have to worry about running out of space for my projects. Moreover, users can test the software program for a 30-day trial period.
2. Floorplanner
I have been using Floorplanner for a while now, and it is an excellent tool for cost-effective floor planning. The software program has a user-friendly interface and is popular among interior designers, architects, and real estate agents. The drag-and-drop interface allows users to add and manipulate objects in their floor plans easily. Moreover, the software program comes with over 150,000 3D premade objects I use in my projects, including fixtures, appliances, and furniture. I also upload my objects to the software.
Image Source: floorplanner.com
The software is compatible with all web browsers, making it highly accessible. I use it on different platforms, allowing me to work on my designs from anywhere. Besides, it is reasonably priced, ranging from $5 to $29 monthly for individual users. A free version is available for those who want to test it before committing. However, it comes with limited features and advanced tools.
3. Sweet Home 3D
If you are looking for the best free floor plan software, count on Sweet Home 3D. The software program is quite customizable, allowing the user to modify the color and texture of floors and ceilings, the size and thickness of walls, and even the location and orientation of furniture. Besides, it has a user-friendly interface that makes designing 3D models and floor plans easy, even for beginners.
Image Source: sweethome3d.com
Furthermore, Sweet Home 3D is open-source software. You can access and modify the source code to suit your needs. And the fact that it's free interior design software for both personal and commercial use is a huge plus. With more than 1,200 items to choose from, ranging from tables and sofas to plants and light fixtures, I can easily customize my space to my preference.
The software program also comes with pre-designed templates to help you get started, especially for those new to home design software. It supports importing and exporting files in different formats, making it easy for me to collaborate with architects and work with existing floor plans. It's also worth mentioning that it runs seamlessly on Windows, Linux, Solaris, and Mac devices. Its online version works smoothly on any browser.
4. Foyr Neo
I recently used Foyr Neo, and I must say, it's a game-changer for designers and architects. One of the things I liked most about this software program is that you can upload existing designs or draw the floor plan from scratch and work on them.
Image Source: foyr.com
What makes Foyr Neo different from other design software is that you can use it to undertake the end-to-end design workflow independently. With many objects to choose from, this software allows you to create and showcase brilliant designs effortlessly, which is a huge advantage for beginners and professionals alike.
Foyr Neo allows you to plan a call with an instructor using Google Calendar, a great feature. Pricing usually starts at $49 per month per user and goes up to $349 monthly. If you still need to decide if this software program is right for you, you can use the 14-day free trial to test all of the features before subscribing.
5. AutoCAD Architecture
I have used AutoCAD Architecture from Autodesk as a professional architect on numerous projects. It's a great floor plan design software designed to meet the specific needs of architects.
Image Source: autodesk.com
One of AutoCAD Architecture's distinguishing features is its 8,000 architecture, construction, and engineering objects, allowing users to create complex floor plans easily. The software program includes advanced tools and features designed for architects, including detailed floor plans, customizable room schedules, and specialized door and wall design tools.
Additionally, AutoCAD Architecture is quite customizable, allowing users to tailor it to their specific requirements and work processes. Besides, the program integrates easily with other Autodesk products, like Revit, making it perfect for designers and architects who work with several design software tools.
AutoCAD Architecture offers subscriptions for $245 paid monthly and $1,955 paid annually. The program also offers a student-free version for three years.
What to Consider When Choosing the Best Floor Plan Software
1. Skill Level
This is an essential consideration when choosing the appropriate software for your projects. You need to select a program according to your skill level, or you may be purchasing a product you cannot operate. Floor plan software has various complex and user-friendly options for experts, beginners, and aspiring interior designers. So, one should fit you and what you can do.
Image Source: blog.ipleaders.in
You should take a learning course to get more complex software with multiple functions requiring more skilled users. Many software systems come with training courses or free online tools you can use to learn how to manage them. In this case, you also have to think about time as a factor because some courses may take a few days or weeks to learn.
Subsequently, signing up for free trials is the best way to know if you can use a specific floor plan software. Doing so will allow you to test the software and give you an idea of what you can do. To make the most of the trial, be sure to use as many of the available features as possible. Additionally, do not hesitate to contact their customer support if you have questions while testing the software. Most floor planning software companies have 24/7 online support to assist customers with concerns regarding their products. So, you should be okay.
2. System Requirements and Availability of the Mobile App
Most floor plan software options use high-speed rendering to bring their designs to life. As a result, users must ensure that their computing hardware can handle the project. This means storage requirements, processor speed, and RAM, even if the software is browser-based.
The good thing is that some of the best floor plan software provides mobile apps that allow users to make designs directly from their phones or tablets. The tablet floor plan design is quite popular due to the user-friendly touch-screen controls.
3. Device Compatibility 
One of the first steps in choosing the best floor plan software should be to decide what hardware you will use and check what that device can support. Desktops and laptops, mechanical pencils, and drawing tablets each have software compatible with their systems. You want to first look over the specs of the software and see what operating system is capable of running the program.
Image Source: elevatusarchitecture.com
Concerning compatibility, you also need to decide how you plan on working. It can be fully online, storing your output in the cloud. You can also choose a program that doesn't need constant internet connectivity and save your work once you've finished it. It is a way to ensure you get the best quality imaging during the 3D rendering process.
Furthermore, some computers might not have the necessary storage space requirements and could be slowed down by specific programs because they take up a lot of processing power. In this instance, your other option is to upgrade your computer hardware or get a more advanced device to run heavy programs like floor planning software.
There's also software that may not be optimal in producing the standard you're looking for if you don't operate it live, for instance. This type of software is often connected to an external server online and run by the SaaS provider and needs to be continuously linked with it. Suppose your device can't withstand a long duration of internet connectivity. In that case, choosing software that allows you to work offline is better.
4. Collaboration Possibilities
Designing should be collaborative, so consider collaboration possibilities for floor planning software. Even DIY builders and designers should be able to bounce ideas off each other when working on a project together. Besides, professional builders, designers, and engineers should be able to solve problems and determine layouts using the same software file.
Most of the best floor-planning software allows users to create several logins and offer access to others. Conversely, other floor plan software programs may allow users to invite or share drawings they have created with multiple people through messaging or email. Besides, some programs will keep notes and allow participants to mark up drafts to highlight certain features or changes, allowing everyone to see real-time comments or concerns.
5. Your Goals and Purpose for Your Projects
Your project goals and purpose are crucial when choosing the most suitable floor plan. Some are better for interior decorators and home stagers. Other software is ideal for engineers and graphic designers working with 3D rendering, blueprints, and mapping whole property projects, including roofing, gardens, and fireplace placements.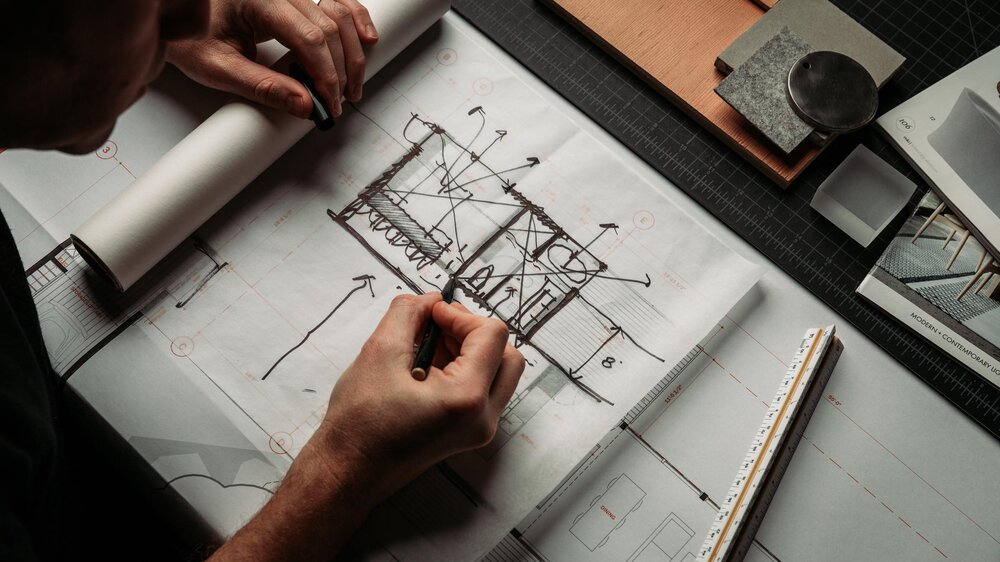 Image Source: thirtybyforty.com
If you're aiming for more DIY floor planning, choosing a simplified program to customize, place, and move furniture will work for you. Software with only the basic features you need to arrange your room will also allow you to focus on displaying your creative ideas without getting lost and distracted in the technology trying to figure out how it works.
Another aspect to consider is your organization and whether you require collaborative tools. Suppose you work with a team or partners such as chief architects or room planners. In that case, you'll need to ensure that your chosen software has sharing functions where participants can access your design ideas. This type of software often has online features where you can work on a project with someone else in a live, real-time setting.
6. Visualizing Options
A top-down view of a floor plan is usually handy when designing layouts. However, without advanced visualization options like 3D renderings, it is hard to understand the appearance and feel of the floor plan properly.
Turning a floor plan into a 3D visualization allows designers and clients to undertake a virtual walk-through. They can understand key features like functional walking spaces, door and window placement, and color schemes. Also, if something needs to be fixed, they can find and repair it early in the design process rather than after the structure is finished.
7. Budget
The cost of floor plan software comes in at varying prices and subscription plans, which you will need to assess. Each program offers different features, which determine the price range. Specific software that allows you to perform more complicated tasks will cost more than those with basic floor planning features. Their prices also reflect the situational usage of the software because some are made for businesses. In contrast, others are more suitable for singular or individual use.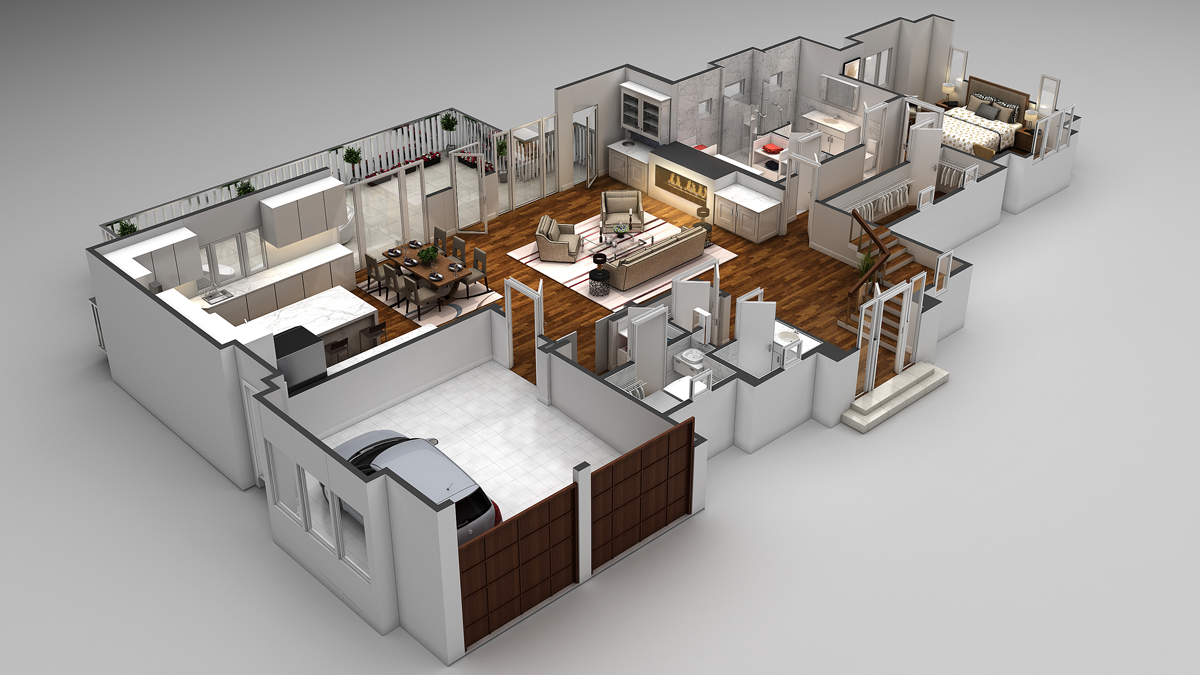 Image Source: archoplan.com
A practical tip here is to list the pros and cons of each program and determine how to capitalize on each. Find an application that can accomplish the task that you need to do. Which one will give you more bang for your buck?
Some programs offer an annual payment option, while others offer a monthly subscription plan or let you buy the software once. In this case, you must draft your budget to decide which price plan you will settle for. A vital tip is to weigh each floor plan software package against each other based on their features, what you want from them, and what you can afford.
Calculating how much a monthly subscription will cost and comparing it to the annual plan is also good. But you have to consider how long you will be using the software. If you will use it for a long-term project, then availing of an annual plan is a reasonable choice. But for a short-term project, a monthly subscription where you can opt out before your next billing date for a few months of work will benefit your finances better than a once-per-year payment.
Conclusion on the Best Floor Plan Software
Selecting the correct floor plan software for yourself or your company can be approached in several steps. You can familiarize yourself with what products are out there on the market. Ensure you know what floor plan technology is and consists of before moving forward. It will aid you in making a more informed choice so you know what you're up for.
Next, you can go over a set of questions to help you weigh each of the programs against each other. Look at the pros and cons of each one by examining your budget, usage needs, skill level, and device capabilities.
One of the best methods is to test out the floor plan software that comes with trials and training manuals so you can play around with the features. Whether this is your first time buying floor planning software or not, all of these elements together should put you on the right path to choosing the best floor plan software.
Frequently Asked Questions on the Best Floor Plan Software
1. Is Visio Good for Floor Plans?
Yes, Visio can be handy for creating floor designs. It's a versatile diagramming software containing various shapes and tools for creating floor plans, including windows, doors, walls, and furniture. Visio also comes with features that allow easy editing and adjusting of your floor plan as required, such as adding labels and dimensions, resizing and rotating shapes, and even creating 3D diagrams.
However, keep in mind that Visio is not primarily designed for floor plan design and may lack some of the advanced features that some dedicated floor plan software options may offer.
2. Which Version of AutoCAD is Best for Floor Plans?
AutoCAD Architecture is the best AutoCAD version for designing floor plans. It is a specialized version of AutoCAD that incorporates tools and features designed specifically for architectural and building design. Besides, it includes several tools to help you quickly and accurately create floor plans.
AutoCAD Architecture can create 3D models of your designs, making it ideal for creating floor plans. This helps you to visualize your plans more realistically and identify any possible issues before construction begins.
3. Which Software is Used for a 3D Floor Plan?
There are various software options for creating 3D floor plans, but here are some of the most popular ones:
SketchUp is a popular 3D modeling software for interior design and architectural projects. It is a great option for creating 3D floor plans since it's easy to use and intuitive.
AutoCAD is powerful design software that comes with 3D modeling features. It is commonly used in the construction and architecture industries, making it a well-known option for creating 3D floor plans.
Sweet Home 3D is free, open-source software for architecture and interior design projects. It features several tools for creating 3D floor plans and can be an excellent option for beginners.
4. What Software Is Best for Making Floor Plans?
SketchUp is the best floor plan software on our list. It's perfect for beginners and experts. It also provides a fully customizable workspace that starts from scratch. Besides, whenever you are stuck with your project, the software offers live instructors who are available for support.