Searching for the best outdoor HDTV antenna wasn't strange a few decades back. But, as the popularity of subscription TV and smart TVs took precedence, cable TV became a thing of the past. However, the rise in the "cut-the-cord" movement has recently seen cable make a full-fledged comeback. On-demand streaming services are losing popularity since the pennies they charge easily add up. Besides, why pay for TV when you can easily access your favorite shows for free?
Did you know that VHF and UHF signals are so easily accessible that over 89% of US residents can get five or more local stations, and 99% can get at least one local channel? That's a lot of free TV available to you! To help you access top-quality free TV, we've done a little digging and compiled a list of the top 5 best outdoor TV antennas.
We were particularly impressed by the RCA Yagi Satellite HD Antenna for its affordability and rave reviews. The MATIS Digital Amplified HD TV Antenna is our second-best choice thanks to its impressive 150-mile-long coverage, while we chose our third option, the Channel Master EXTREMEtenna, because of its brand reputation and easy installation.
But we have even more options: keep reading to learn more about our favorite picks and the two other options you can get today. But first, here is how we picked the selected your best outdoor tv antenna:
Our Selection Process
As we compiled this list, we followed a rigorous selection process to ensure we only recommended the best. Here are the key factors we considered:
Signal Strength. The most important factor in any TV antenna is its signal strength. After all, the whole point of an antenna is to pick up signals and deliver clear, high-quality TV to your home. We tested each antenna in multiple locations and under varying weather conditions to ensure they consistently delivered strong and reliable signals.
Range. We looked for long-range antennas to pick up signals from as far away as possible. We also considered the antenna's ability to pick up both VHF and UHF signals, as some channels may only be available on one or the other.
Ease of Installation. We looked for antennas with clear instructions and all the necessary hardware in the box. We also considered the antenna's durability and weather resistance to ensure it would last through weather conditions.
With this selection process, we narrowed our list to the five best outdoor HDTV antennas available. So, whether you're a sports fan, news junkie, or simply looking to cut the cord and access free TV, these antennas will surely deliver the quality and performance you need.
Here are our best recommendations!
1. RCA Yagi Satellite HD Antenna
Sale
RCA Compact Outdoor or Attic Yagi TV Antenna – HD...
Enjoy top-rated HDTV network programming on channels like CBS,...
Receives TV broadcasts including 4K, 8K and 1080 HDTV for...
Withstands tough outdoor conditions with durable construction and...
Easy installation with pre-assembled design, easy-lock fold-out...
The free RCA Signal Finder app is your digital compass that...
We tested the Yagi outdoor TV antenna from RCA and were impressed with its performance. It's no wonder it's America's number-one-selling antenna!
What stood out was how easy it was to install and how discreet it looked once set up. The compact design doesn't take up much space, yet it delivers a strong signal reception that integrates perfectly with your home system.
Image Credits: rcaantennas.net
Installing the antenna is a breeze thanks to the pre-assembled easy lock, fold-out UHF reflector, mast, locking mast clamp, 75-ohm matching transformer, and mounting hardware that come with it. The RCA digital app guides you through finding many high-definition digital channels to make the process smoother.
Another characteristic that stood out to us was its construction, using high-quality materials that withstand extreme weather conditions. Plus, the outdoor antenna receives more local VHF and UHF channels than satellite and cable TV, and it can also pair with Roku and Apple TV. With a range of over 70 miles, it can receive 1080, 4K, and 8k broadcasts and popular channels like ABC, CBS, NBC, and FOX.
Finally, we always love an antenna that complies with homeowner's association rules, making it HOA-friendly. In short, this Yagi antenna is suitable for both rural and urban settings.
2. MATIS Digital Amplified HD TV Antenna
MATIS Digital Outdoor Amplified HD TV Antenna 150 Miles...
Outdoor antenna is an ideal solution for any rural or suburban...
150 Miles Long Range receive digital broadcast high definition TV...
outdoor hd tv antenna is equipped with an easy to use user manual...
Built in Super Low Noise Amplifier,360 degree Rotation, includes...
What's in the package,Outdoor tv antenna with wireless remote,...
We highly recommend the Matis HDTV antenna, especially if you live in rural or suburban areas. With a 150-mile range and a 360-degree rotation, this antenna delivered full HDTV, 4k, 1080p, and 1080i viewing quality that rivaled our favorite digital channels.
Image Credits: ebay.com
One of the standout features of this antenna is the inbuilt low noise amplifier that boosts the signal, eliminates weak signals, and reduces interruptions while watching your favorite shows. W though it's impressive how the Matis HDTV antenna raises the signal above the noise floor and uses it for additional processing, resulting in crystal-clear reception.
We also appreciated how user-friendly this antenna is, especially as it comes with an easy-to-use manual to make installation a breeze. We did not need professional help when installing; we only needed to connect the coaxial cable to the TV, perform a channel scan, and start watching HD TV.
3. Channel Master EXTREMEtenna Long Range Multi-Directional Outdoor TV Antenna
Channel Master EXTREMEtenna Long Range...
Enjoy the Most Popular HDTV Channels and Your Favorite TV Shows...
Supports Uncompressed 1080i HDTV Broadcasts for the Highest...
Multi-Directional (180 Degree Reception Span) with 80+ Mile Range
Compact Size Allows for Easy Installation on Roof, Chimney, Eave,...
Comes Preassembled with Mounting Hardware and an Installation...
At first glance, you know that Channel Master has a wealth of experience in HDTV antennas. So, we fancied testing their CM 4228HD antenna. The antenna boasts a 180-degree reception span capable of picking up signals from 80+ miles away!
Image Credits: channelmaster.com
Not to forget, we were impressed by the uncompressed 1080i and full HD support, which surpassed that of most cable and satellite subscriptions.
What we found even more amazing is how compact the antenna is, making it easy to install on your wall, attic, chimney, roof, balcony, or anywhere you'd like. While the mast and coaxial cables were not included, the pre-assembled mounting hardware made installation a breeze. We plugged it in, performed a channel scan, and watched high-quality TV in no time.
4. 1By One 720° Omnidirectional Outdoor HD TV Antenna
Outdoor TV Antenna, 1byone VHF/UHF 720°...
No More Direction Adjustment - 720° complete signal coverge. No...
Exclusive Amplify Technology Patented - Technology- SMARTPASS...
Professional 3G/4G Filter - Build in interference shileds, 3G and...
Premium Materias & Weather Resistance - Enjoy life time free...
What You Get - If you have any issues with reception, we will...
We tested the 1By One HD TV Antenna and were impressed by its compact and convenient design. We could easily install it on our rooftop, balcony, or exterior wall without any difficulty.
The UFO design of the antenna makes it weatherproof, so we didn't have to worry about the antenna being damaged by severe weather conditions. Its crystal-clear filter technology gave us a clear and high-quality picture with 1080p and 4k signal reception. The antenna could also pick signals from multiple directions, making it easier to receive UHF signals.
Image Credits: 1byone.com
In addition, the 4G LTE technology in the antenna filters out FM signals, resulting in a clearer picture with low noise and enhanced gain and frequency rotation. The 32ft RG6U coaxial cable and mounting hardware instructions made it easy for us to place the antenna in high reception areas and receive signals from up to a 150-mile long-range.
Even though the HDTV antenna came with a signal amplifier, we found that it worked just fine without one in areas with a solid TV signal. It could also pick up multiple channels, even in areas surrounded by trees and mountains.
5. Winegard HD8200U Platinum VHF/UHF HDTV Antenna
Winegard HD8200U Platinum VHF/UHF HDTV Antenna (65...
Long Range Outdoor TV Antenna - The Winegard HD8200U outdoor HD...
65+ Mile Range - VHF and UHF directional TV antenna delivers 65+...
Free TV Programming - Free ota programming has more options and...
Ultra HD and ATSC 3 0 Ready - Digital antenna capable of...
Vertical height 33"
The Winegard long-range outdoor TV antenna supports low VHF, UHF, and High VHF digital signals. It has a relatively large size of about 11 by 8 feet, but the HD quality viewing experience compensates for its size.
Image Credits: winegard.com
Using this antenna, we enjoyed watching free over-the-air programming, including live sports, news, and other shows. Additionally, we could connect the antenna to a router for streaming TV to access even more shows.
The amplified HDTV antenna has a range of over 65 miles. For the best results, we installed it outside to increase its range, signal clarity, and reliability. However, if you live close to broadcast towers, you can install it as an indoor antenna, and the signal won't be a problem.
Factors To Consider When Buying The Best Outdoor HDTV Antennas
Image Credits: dontwasteyourmoney.com
When buying the best TV antennas for your home, there is more than meets the eye. Read on for the most important factors to consider when buying an outdoor TV antenna for your home.
I. Range
The range is the distance the antenna can cover. You may think that the longer length, the better, but the antenna might lose signal quality due to obstacles along the line of view.
Settling for an outdoor antenna covering small distances may not be a bad idea. Still, if buildings and terrain surround your home, consider buying an antenna that will cover long distances. This way, you receive a strong signal.
II. Directional Or Multi-directional Antenna Picks?
Image Credits: netxl.com
Directional antennas receive signals from one direction, while multi or omni-directional ones receive a broadcast signal from multiple orders.
An outdoor directional antenna covers a greater distance and resists distractions like noise, giving you a strong tv signal. On the other hand, multi-directional antennas usually have low-quality signals due to noise interference from different directions.
The TV's fool site will tell your area's transmission range to determine your outdoor antenna choice. If the transmitter can only cover a 20-degree range in the direction of your home, a directional antenna will be exemplary. However, if the transmitters are located more than 20 degrees apart, a multi-directional or rotational antenna would be the best choice.
III. VHF Vs. UHF Signal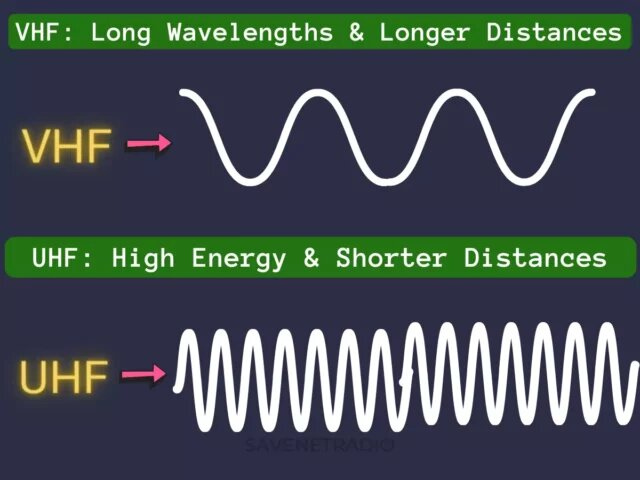 Image Credits: savenetradio.org
Digital TV signals can broadcast either over ultra-high frequency (UHF) or very high frequency (VHF). Channels from 2-6 are considered low VHF, while channels from 7-13 are considered high VHF. On the other hand, channels from 14-51 are viewed as UHF.
Some outdoor TV antennas support both UHF and VHF signal reception, while others support individual signal reception. Before you decide which one, know the digital signal number of your favorite channels and check the manufacturer's label so you pick an antenna that matches your needs.
IV. Amplified Vs. Non-Amplified
Image Credits: antennajunkies.com
Amplified outdoor antennas have an amplifier that improves TV reception and increases signal strength by overcoming size and height. But they also amplify noise and can be overpowered by strong signals. Unless you live in areas with poor signal reception, non-amplified TV antennas will do just fine.
V. Installation
thefreetvproject.org
Usually, you will install an outdoor TV antenna on your own because most come pre-assembled and with mounting hardware instructions. Antennas requiring professional installation may come at an extra cost. We prefer antennas with DIY instructions because they are simple to install and work just fine.
On that note, some TV antennas come with a mast and cable as part of the purchase, while others require you to purchase these items separately. In some cases, understand the cable may be of low quality. So, go with an antenna you can install easily, but buy a cable that suits your needs if your budget allows it.
Conclusion The Best Outdoor HDTV Antennas
An outdoor antenna is gaining popularity among the rising number of cord-cutters. They allow you to watch free on-air channels without worrying about high cable and satellite bills. When choosing the best antennas, follow our buying guide for the best solution for your entertainment needs.
Frequently Asked Questions About Outdoor HDTV Antennas
a) What Type of Outdoor Antenna Is Best?
The best Outdoor antenna depends on your location and the channels you want to receive. However, a directional antenna with a high gain and a long-range is the best option for most people.
This antenna lets you pick up distant channels and eliminate interference from other directions. It's also important to consider the antenna's construction, durability, and compatibility with your TV and other devices.
b) What Is the Best Antenna for A Smart TV Without Cable?
A high-quality outdoor HDTV antenna that can pick up over-the-air signals is best for cable-less smart TVs. Look for antennas with long-range, strong signal reception, and compatibility with your specific TV model.
Consider location, terrain, and the number of channels you want to access when selecting an antenna.
c) What Is The Longest Range Outdoor HDTV Antenna?
The most extended range an outdoor HDTV antenna can cover is 150 miles, and 60 miles for indoor antennas. Some outdoor HDTV receivers can cover a 70-mile range, while others can cover 75 miles. The longest-range outdoor antenna is the MATIS amplified antenna, which has a 150-mile range and 360 degrees of rotation.
d) How Do I Get The Best Outdoor Antennae Reception?
If you have already placed your antenna in the right direction and are still receiving a poor-quality signal or a low number of TV stations, consider doing the following to get the best antenna reception;
Install a signal booster or amplifier on your antenna to improve your TVS audio and video quality. Modern signal boosters can easily plug on the USB ports on your TV to get a better range. You'll be good to go with the correct line of sight.

Change location. You could be experiencing poor signal reception due to the wrong antenna location. Most come with a wireless remote signal finder that will help point your antenna in a strong signal direction. If your antenna is low-lying, consider moving it to higher ground to increase the chances of better signal reception.

Consider avoiding wireless antennas because they interfere with signal quality. Also, avoid wireless devices such as WIFI routers and FM radio. Finally, avoid mounting your antenna in an area with overcrowded antennas.

Replace worn-out coaxial cables that may interfere with your antenna's signal reception by allowing moisture infiltration. You may also be using older versions with no form of shielding. Consider replacing the cables with newer RG6 wires with a shield against electromagnetic wave interference.
e) Do Outdoor Antennas Really Work?
Outdoor antennas work to increase signal reception in areas with weak signal strength. They allow you to receive free on-air HD channels and avoid bills by making a one-time investment of your time and money.
Besides, you get to receive quality and clear pictures, something you won't get with cables and satellites.
f) Can I Install An Outdoor Antenna?
Yes. Whether you are dealing with an amplified HDTV antenna or a non-amplified one, it will usually come as a pre-assembled package you can install on your own without needing a technician. All you need is to follow the instructions provided in the manual.