If you are in the market for a sofa, you know finding the right one is no walk in the park. Sofas aren't cheap and are basically the centerpiece of any living space. Therefore, finding one that fits your style and meets your standards for quality, comfort, price, and size can be difficult, especially with the endless options to choose from.
We have scoured the market and compiled a list of the 22 best sofa brands for consumers across the board. Whether you're looking for a highly customized sofa, something upscale or affordable, mid-century, modern, or traditional farmhouse style, you'll find a sofa brand that meets your needs.
Delve into the list for your dream sofa to elevate the elegance of your living space.
Best Sofa Brands
1. BenchMade Modern
This is one of the ultimate luxurious, high-quality sofa brands. BenchMade Modern boasts high-quality sofas customized to meet your configuration and style preferences. Each sofa is handcrafted in the United States with great attention to detail. BenchMade Modern is an online retailer with no showrooms to visit in person, but you can have fun scrolling through the endless selection of choices, from different fabrics to the style of legs.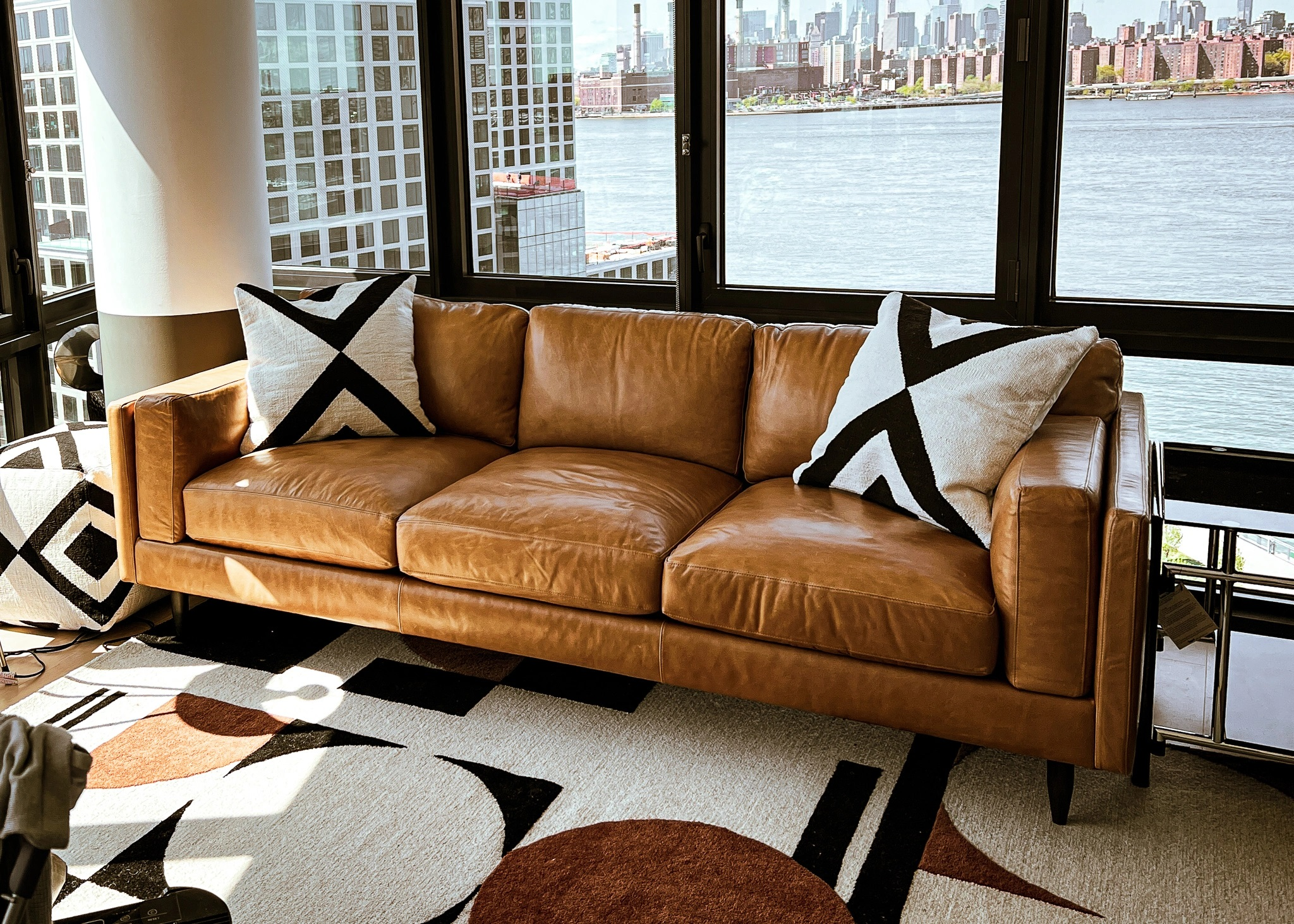 Image Source: spy.com
With 15 different collections, there are plenty of designs to choose from. For instance, SkinnyFat features a minimalist and modern collection of sofas, armchairs, and sectionals. Their delivery is also in less time than you'd think, with ready-to-ship pieces going for just a couple of days or six to seven weeks if you opt for the customized pieces. Plus, the brand offers a 100-day return policy and a lifetime warranty.
2. Allform
For sleek, comfortable couches, you should consider Allform. 
Allform is a family-owned business that is relatively new on the scene. It was launched in 2020 as a sustainable and affordable furniture company. The company is obsessed with designing high-quality modular sofas. Everything from five-seat sectionals to love seats is made from heavy-duty scratch and stain-resistant fabrics without sacrificing the comfortable feel.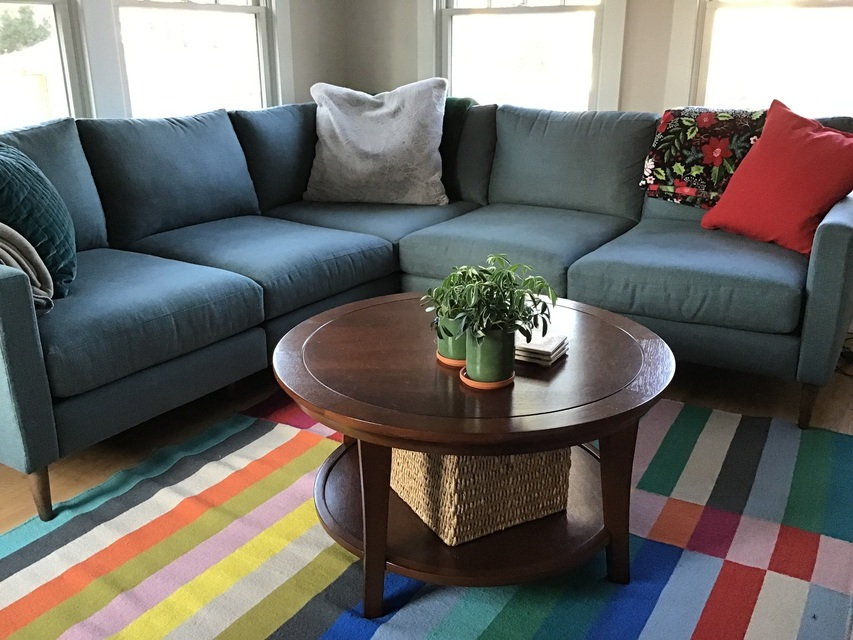 Image Source: allform.com
Allform products are also customizable, meaning you can pick the best material and color to fit your space. For additional convenience, the in-house assembly requires no tools, making it easy to join the detachable pieces.
Also, the sofas are US-made, and shipping can be done within 1 to 3 business weeks. In addition to being free, the shipping experience is also a breeze. Sofas are delivered as flat packs directly to your home and have a 100-day free trial.
3. AllModern
As the name suggests, AllModern sells furniture and decor focused on modern design trends. The products are designed and intended to evolve with the ever-changing life needs. This sister brand of Wayfair believes that excellent home décor and furnishings must not come at a high price point.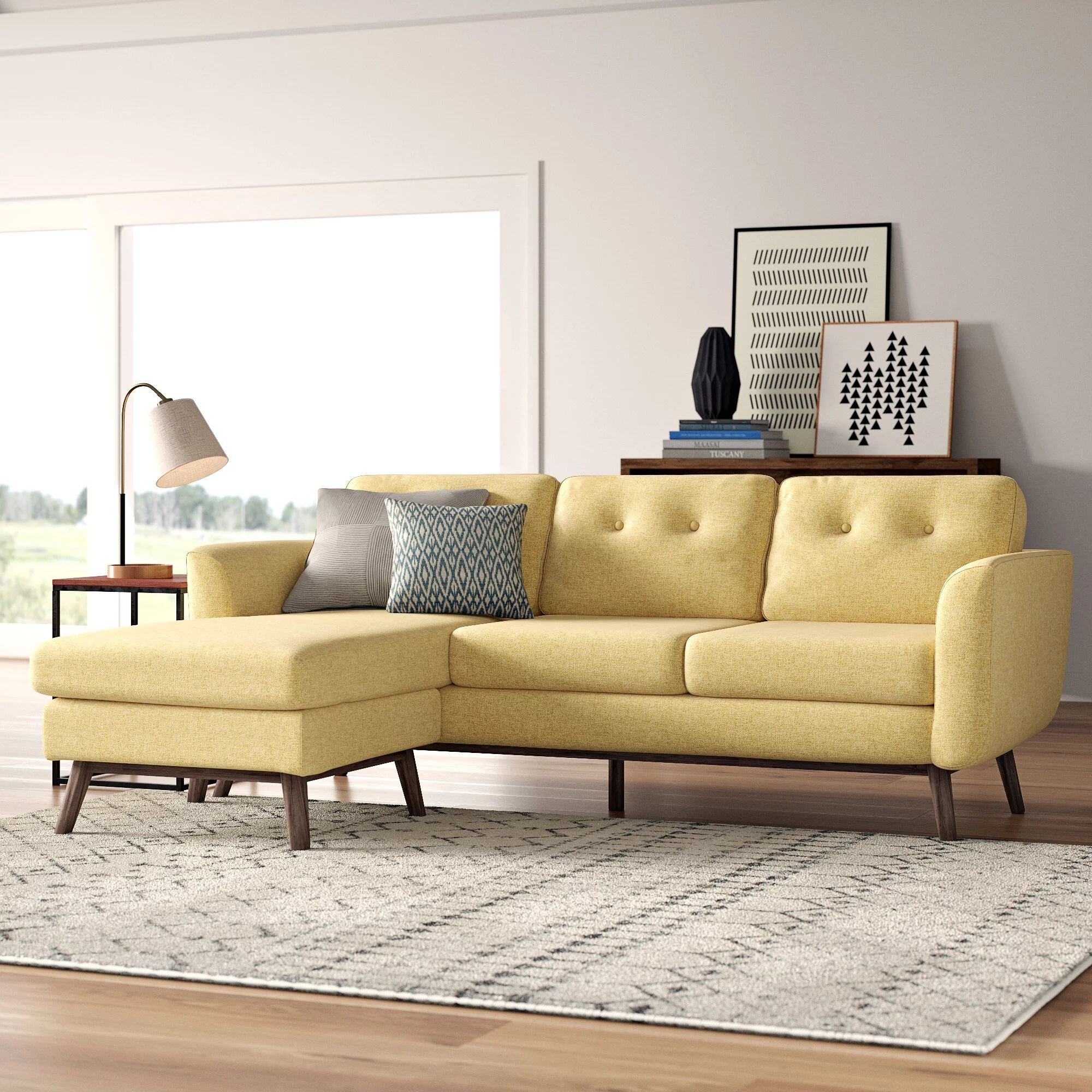 Image Source: popsugar.com
Given their lower price points, AllModern sofas aren't built to last for long. Nonetheless, the brand offers a wide range of styles, sizes, colors, and fabrics. This allows you to customize the look of each item to coordinate with your space. Also, free shipping is offered, and most deliveries take one to two weeks.
With genuine leather sofas, AllModern can be considered among the best leather sofa brands. It also offers various durable stain and scratch-resistant couch fabrics for your canine friends.
4. Article
If you have a smaller budget and are looking for a variety of fabrics and styles, from sleek, mid-century modern designs to classic leather coaches, Article is the brand for you. This company offers a variety of sofa types, including sectionals, loveseats, and sleeper sofas. The company's seats are comfortable and well-constructed with high-quality materials.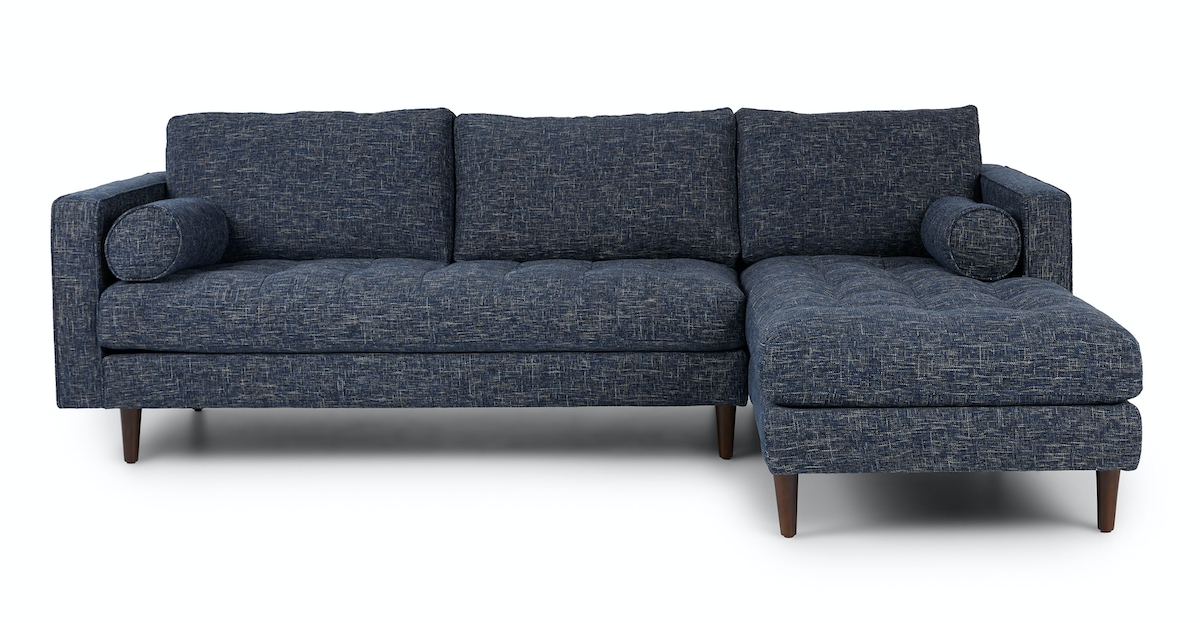 Image Source: article.com
Article understands that customers don't want to wait months for new sofas to arrive; therefore, their shipping is typically fast, always aiming to get your orders to your door in less than two weeks. Like other online brands, Article doesn't manufacture its own furniture but has a direct relationship with the manufacturers, ensuring you get unique, high-quality products at reasonable prices.
5. Burrow
If you're looking for a compact, low-maintenance sofa with a tailored look and reasonable pricing, Burrow is a great option. All Burrow sofas, including the Field, Range, and Nomad, have exposed legs and clean lines, giving them a mid-century modern look. The company products also feature built-in USB chargers.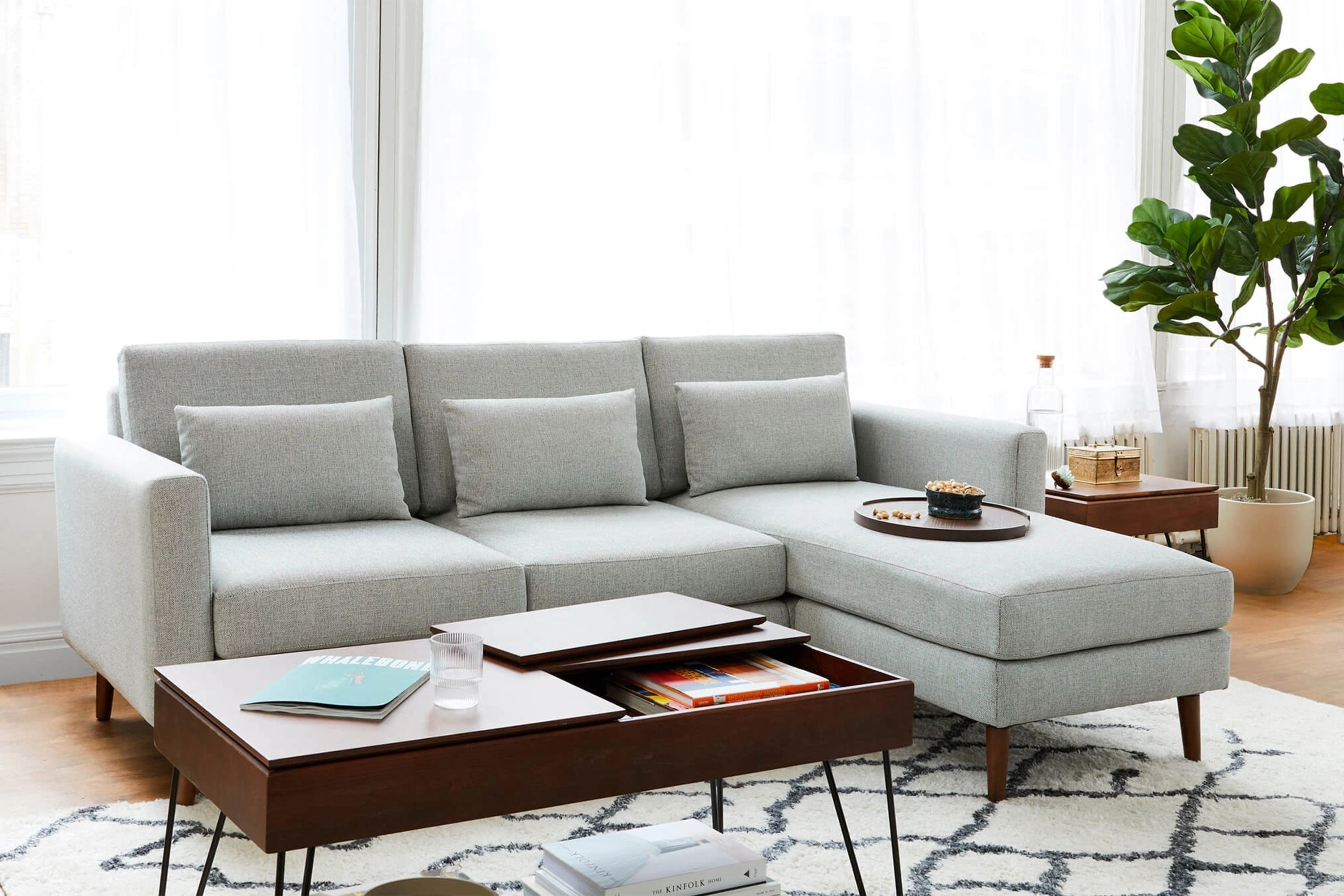 Image Source: gearpatrol.com
Burrow is famous for its ergonomic designs. Stephen Kuhl, the co-founder, herniated two discs while in college. This has motivated him to prioritize designs that promote long-term back health and comfort. The other co-founder, Kabeer Chopra, helps inject style into designs, resulting in extraordinarily comfortable, durable, and modern sofas. 
The brand also uses durable, scratch and stain-resistant materials and offers a wide range of customization opportunities varying from fabrics to colors to leg styles and arm heights. Options from six-leg finishes add to the customization; customers can choose from wood and metal options.
6. Floyd
The Floyd company keeps it simple with two sofa products; the sectional and a sofa. Its direct-to-consumer business model keeps the product's prices low without compromising design or quality. This Detroit-based furniture company has dedicated itself to becoming a more sustainable brand. For instance, it has opened a secondhand marketplace to sell its used pieces.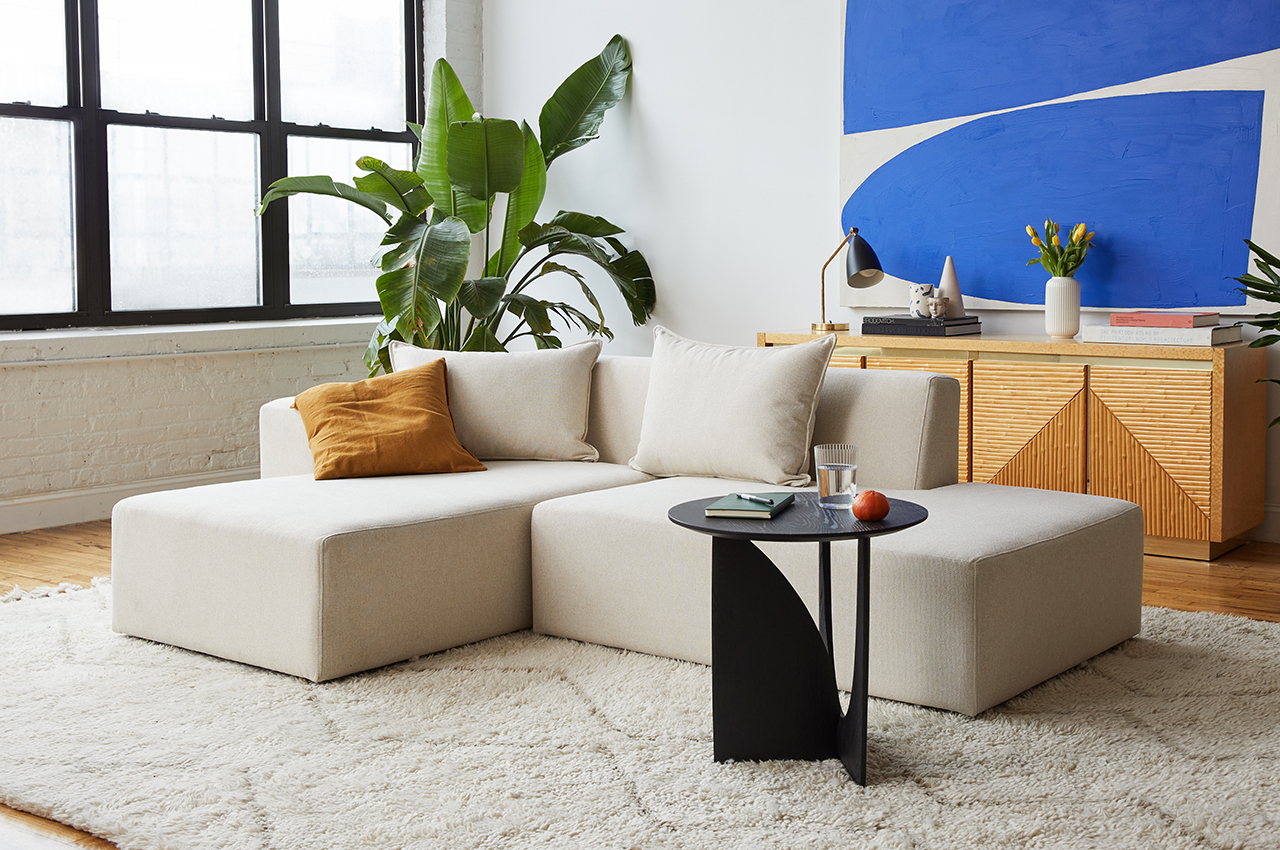 Image Source: design-milk.com
Floyd sofas are simple designs with optional chaises featuring clean lines and easy assembly. The sofas contain different modular pieces you can put together in various ways to suit your living space activities. The furniture is also available in several colorful-stain-resistant fabrics, which you can test by requesting free swatches.
7. Herman Miller
Herman Miller is considered one of the great places to shop for a sofa. It offers both mid-century modern designs and ergonomic office chairs. Its products are durable, but they don't come cheap. Although it's mostly known as the home of trendy designs, it is no stranger to post-modern designs either.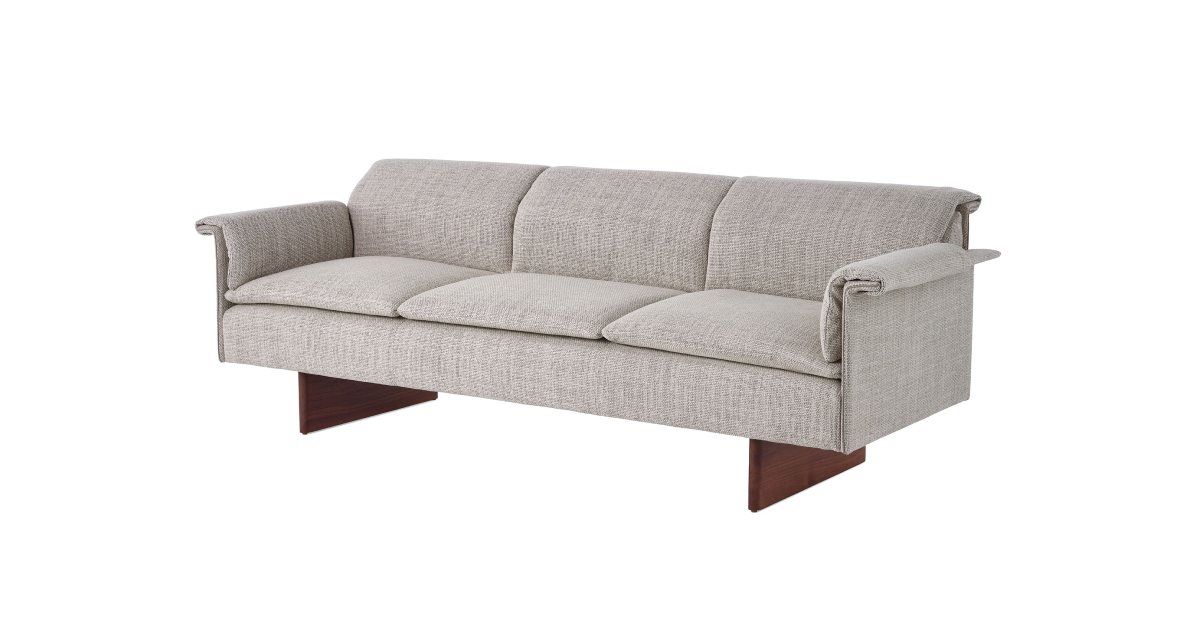 Image Source: hermanmiler.com
Herman Miller manufactures its furniture in its own factories in Michigan and China, and their typical standard shipping usually takes one to three weeks.
8. IKEA
IKEA is your best option if you're looking for a stylish, low-cost couch. The brand offers numerous styles; the fun part is putting them together yourself. The company has pioneered home design trends worldwide, promoting Scandinavian styling and making minimalism and functionality the dual necessities for sofa buyers.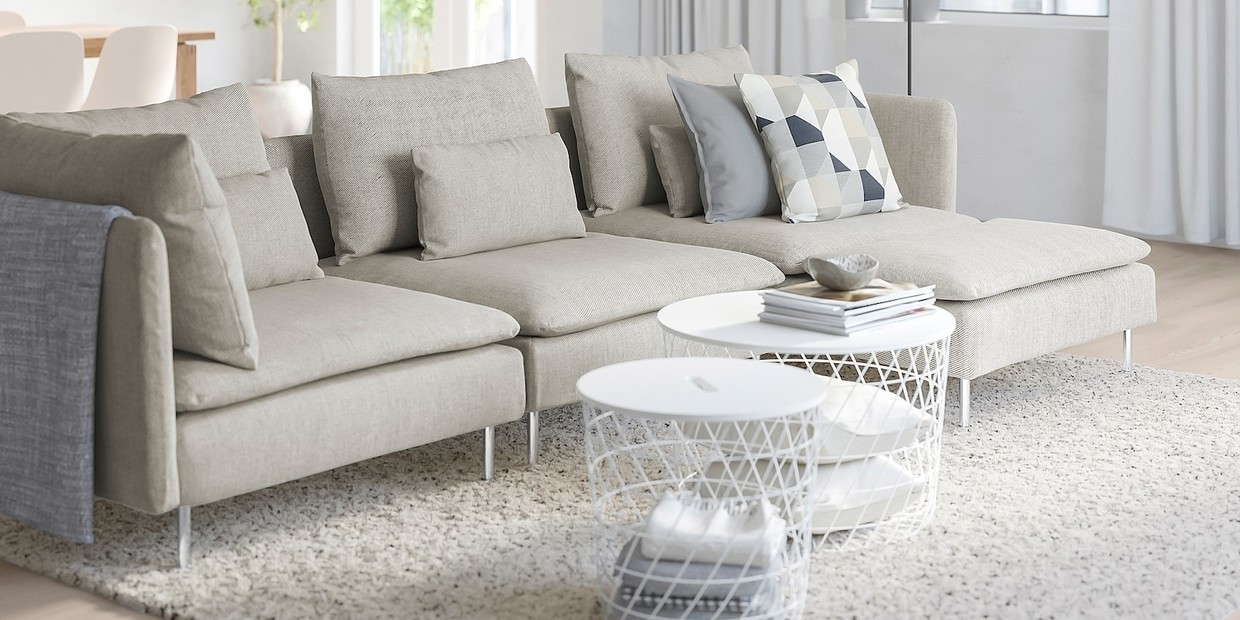 Image Source: lonny.com
While some customers consider IKEA lower on the quality spectrum, the company offers some well-designed, high-quality products without a high price tag. Delivery may depend on your order, but you can choose to pick up your items from the IKEA store near you.
So, for a no-nonsense modern-style sofa with great affordability and availability, you can't go wrong with IKEA, the best budget sofa brand.
9. Inside Weather
Inside Weather specializes in highly customizable sofas. They make every piece from scratch, making the shopper feel like a part of the design process. The build quality is solid, with materials suitable for the price. With over 100 fabrics to choose from and customization applicable to most pieces, there's access to more designs.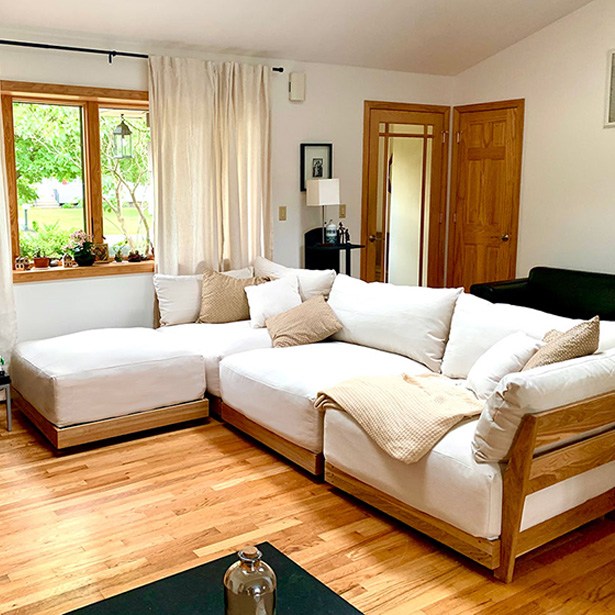 Image Source: insideweather.com
Inside Weather supplies a variety of sectionals, sofas, and ottomans. Also, shipping is faster; you can expect your custom furniture to arrive at your door in less than two months. The brand sustainably makes its sofas in California and offers a year-round trial to determine if you have made the right choice.
10. Joybird
As a brand, Joybird is acutely devoted to sustainability. It uses only sustainably sourced materials for its products. Also, Joybird's furniture is handcrafted and designed to last a lifetime. This helps in reducing furniture waste.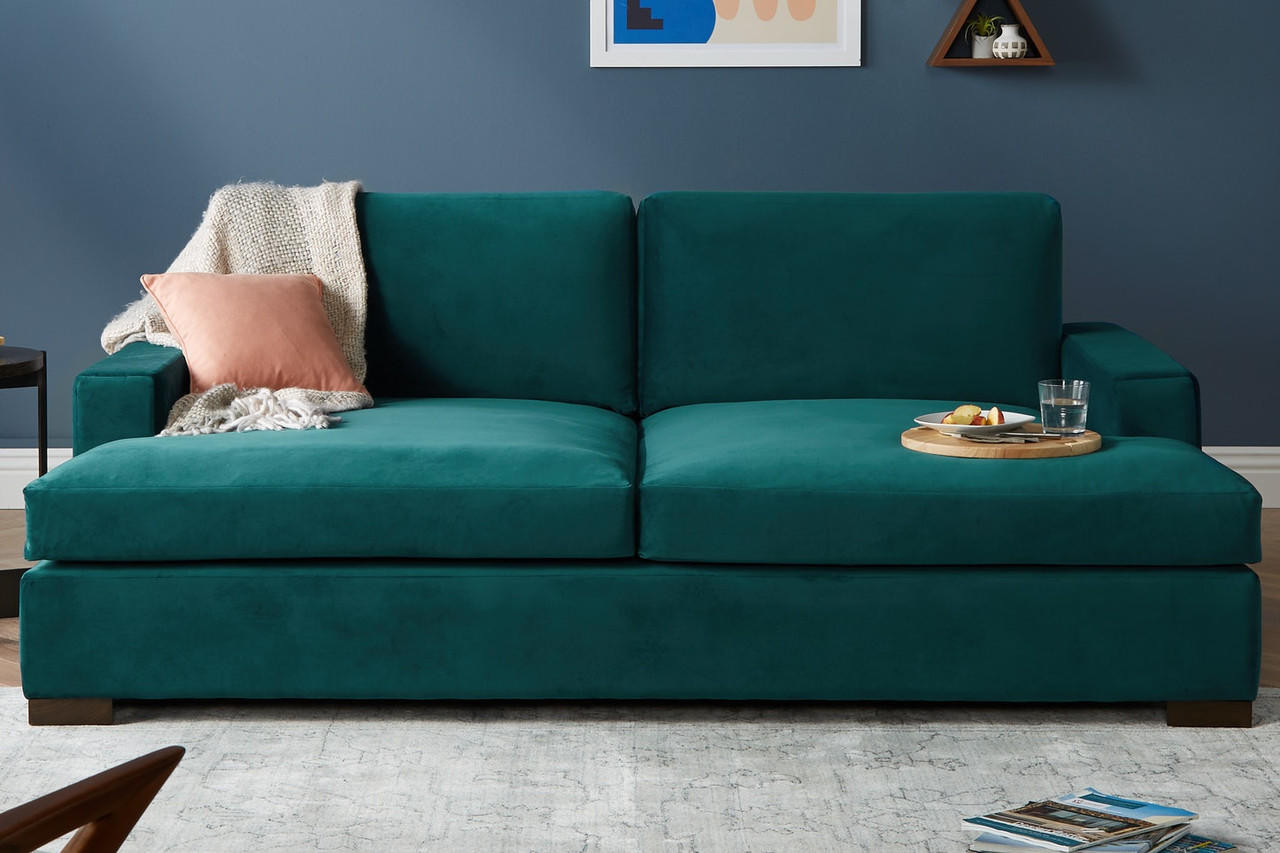 Image Source: floorfound.store 
Inspired by mid-century modern designs, Joybird sofa designs are stylish and offer bold choices intended to modify any living room. The company believes that quality is more important than quantity when it comes to furniture. All its products are made from durable products.
Joybird offers a wide variety of sectionals, sofas, love seats, daybeds, modular sofas, and sleeper sofas. The contemporary designs feature clean, sleek lines, and the several options for fabric coverings include a collection of both vibrant and neutral colors.
11. Maiden Home
Maiden Home is a 21st-century brand committed to producing high-quality furniture at reasonable prices. The brand's sofas and other furniture pieces are designed in New York City and handcrafted in North Carolina according to customers' specifications. It's an online brand without any showroom; therefore, it takes customers' orders online and ships directly from the artisans' workshops to their homes at a fee.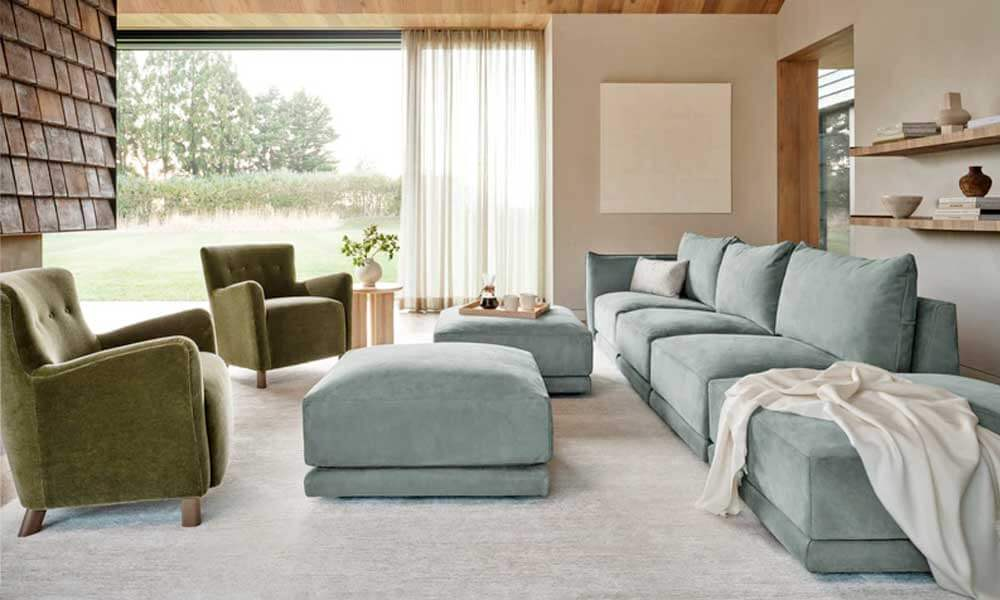 Image Source: livingcozy.com
Maiden Home utilizes only high-quality materials that are luxurious and comfortable, the kind of stuff you'd want to pass down to generations. The company also offers a variety of customizable products ranging from modular sofas, sectional sofas, and traditional sofa designs. Each model comprises a wide selection of fabric or leather coverings and numerous options for wood finishes. Plus, they offer a lifetime guarantee.
12. Rejuvenation
Even though Rejuvenation is best known for its stellar lighting collection, the Portland-based company also has an impressive furniture collection, with the sofa catalog being exclusively remarkable. The sofas feature stellar build quality with kiln-dried hardwood frames made from sustainably sourced wood.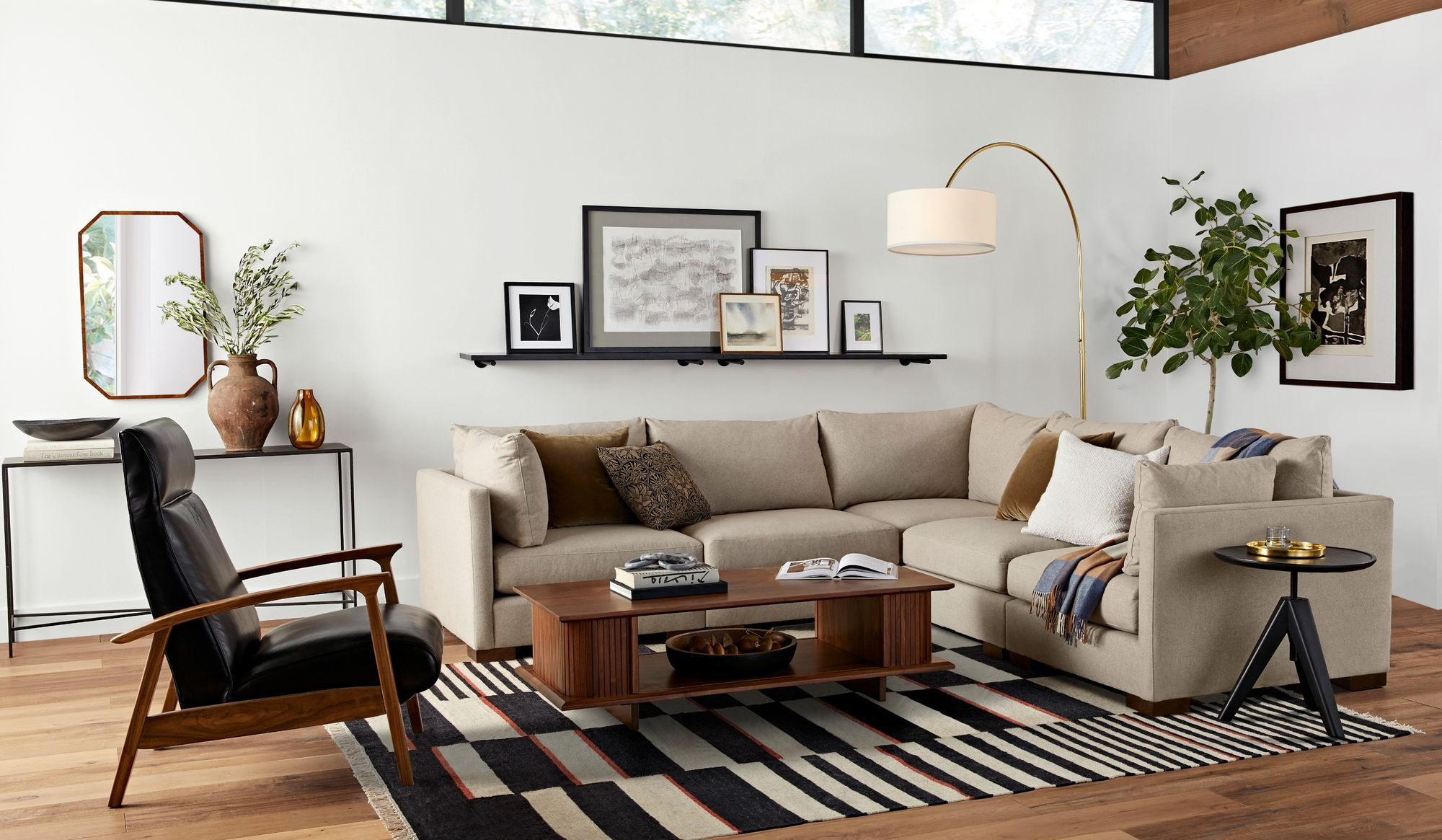 Image Source: ideas.rejuvenation.com
The brand also offers free fabric swatches to aid your selection, and flat-rate shipping takes 4 to 6 weeks for in-stock items. Plus, it assembles and upholsters its sofas in the USA from imported parts.
13. Wayfair
Wayfair is the best sofa brand if you're looking for massive varieties to choose from. It is one of the world's greatest global e-commerce brands specializing in furniture and home items. With a wide selection of furniture to choose from at every price point, Wayfair offers a variety of sofa styles, including sectionals, loveseats, and sleepers.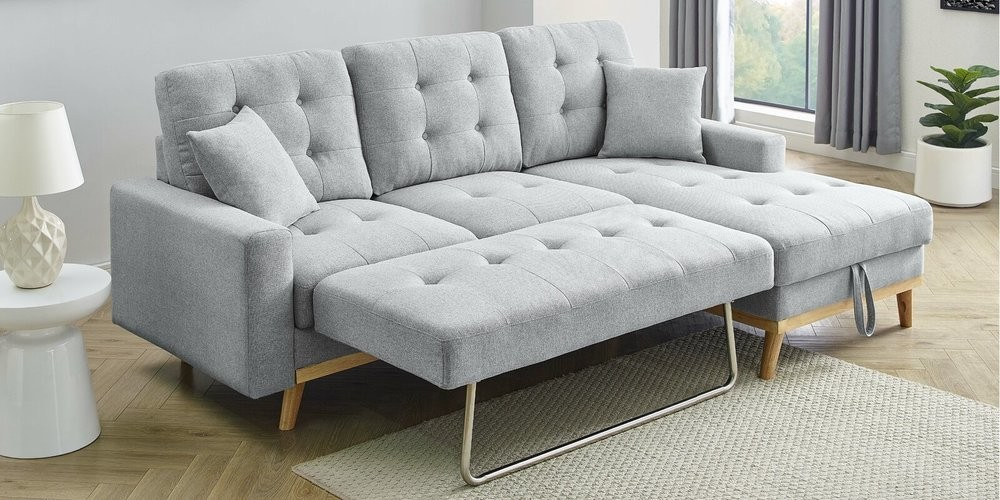 Image Source: lonny.com
Their sofas, especially the famous sleeper sofa, are comfortable and available in a variety of fabrics and leather coverings at affordable prices. Each piece is handmade by artisans in North Carolina according to the customer's specifications. Like sister company, AllModern, Wayfair offers free fabric samples, fast, free shipping, and a good dose of mystery regarding its overseas manufacturers.
Also, the advantage of being a mega online retailer is that most items have many customer reviews and user-taken photos. So you can counter-check each item in greater depth.
14. West Elm
Like its parent company Williams Sonoma, West Elm sells sofas and décor pieces with a high-end look. Its aesthetic inspiration is a slightly edgier, modern design suitable for customers looking for chic, affordable sofas.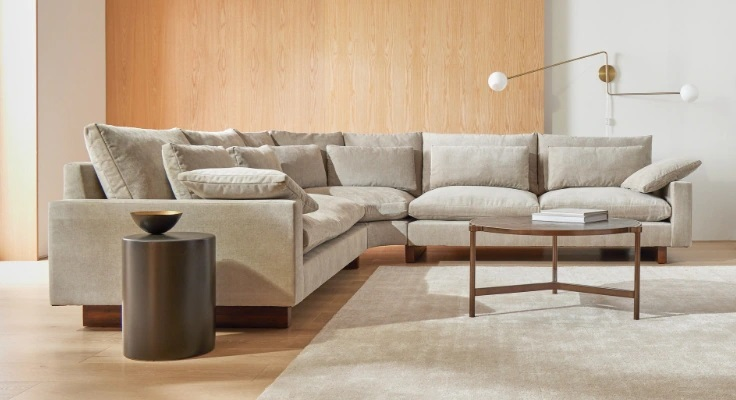 Image Source: westelm.com
The brand sofas feature seat cushions stuffed with a blend of synthetic material and down feathers to provide luxurious softness. You can customize sofas by selecting from a wide range of fabrics, colors, and finishes on wooden frames and legs.
Many of West Elm's sofas are sophisticated, with great lines and versatile, modern colors. Its collection of sofas is sourced from far and wide. Therefore, most of its items are crafted by artisans from far-flung communities. Also, besides the online shops, it has physical showrooms that allow you to test out pieces in person and make your orders, including custom orders and deliveries.
15. Pottery Barn
This is the go-to sofa brand for the classic touch. A sofa from Pottery Barn is virtually guaranteed never to go out of style. However, we cannot predict what's next in the sofa industry. But Pottery Barn has remained a staple for décor-minded folks and interior designers.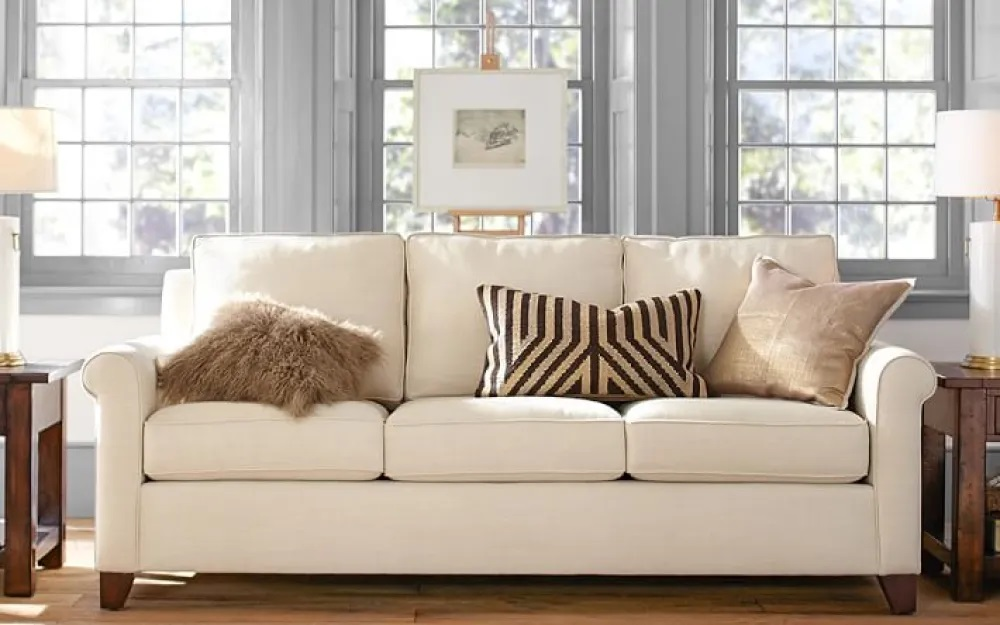 Image Source: blog.potterybarn.com
We rank Pottery Barn among the best sofa brands for its lounging prowess and wide range of designs. It has become more diversified and eclectic over the years while still showcasing its classic lines. 
If you're considering Pottery Barn sofas, check out some of the company's more popular sofas. The Cameron, York, and Pearce are some collections that will leave your living space sophisticated.
16. Interior Define
Interior Define is one of the best furniture brands to consider if you want a customizable sofa. The company allows you to be the designer to make a piece that is uniquely yours. Most customizable options include choosing from colors, 100s of fabrics, over 20 leg configurations, various finish choices, sizes, and cushioning.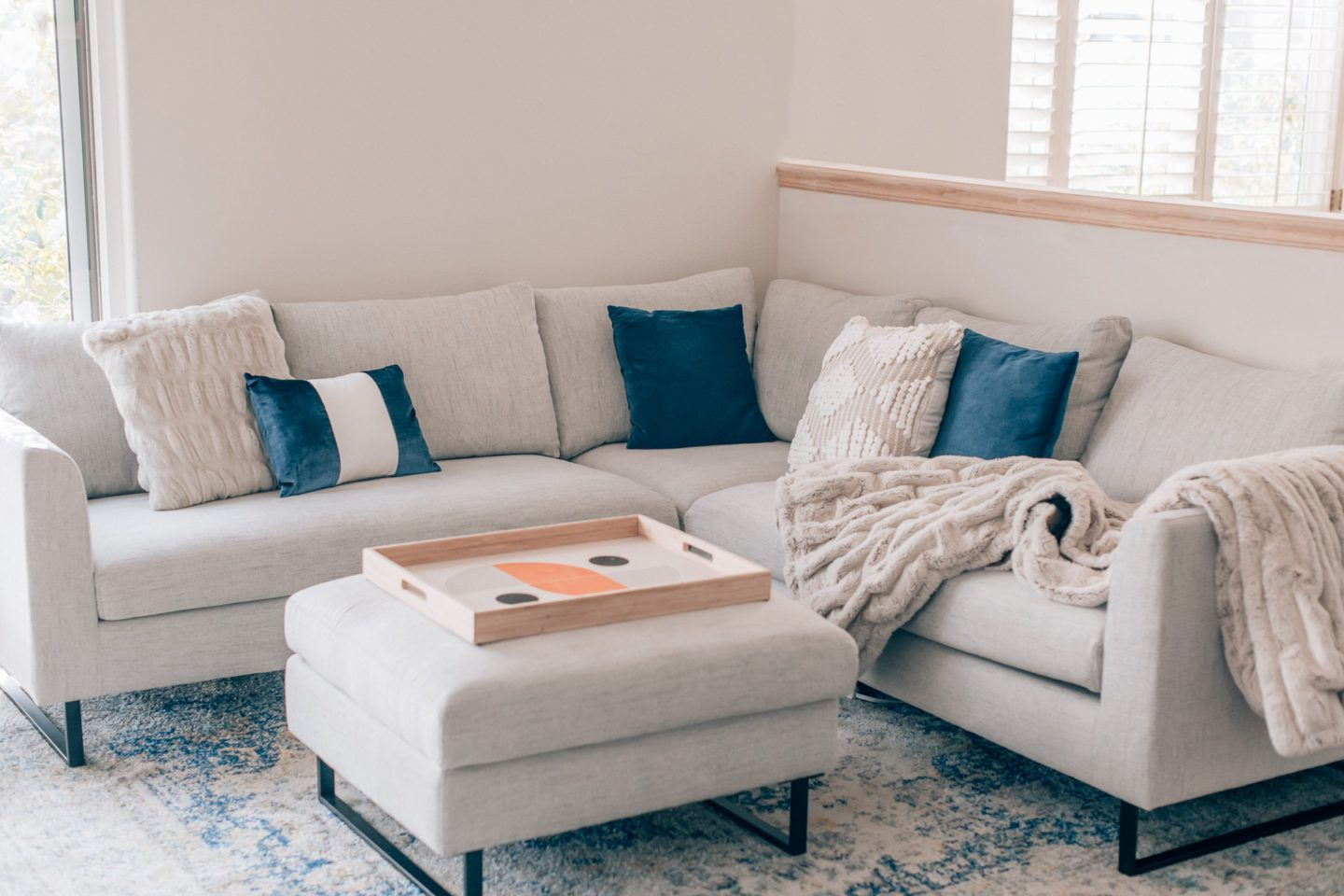 Image Source: whattehefab.com
Interior Define has more than 15 collections of loveseats, sofas, modular sofas, sleeper sofas, and daybeds. Each piece of the brand's furniture is made to order by artisans in Vietnam and China.
17. Anthropologie
Anthropologie is famous for its unique style that blends Bohemian, modern, and rustic styles. Anthropologie's trendy products come at a bit of a premium, but many customers will often pay extra, given the strong design features and quality of its sofas.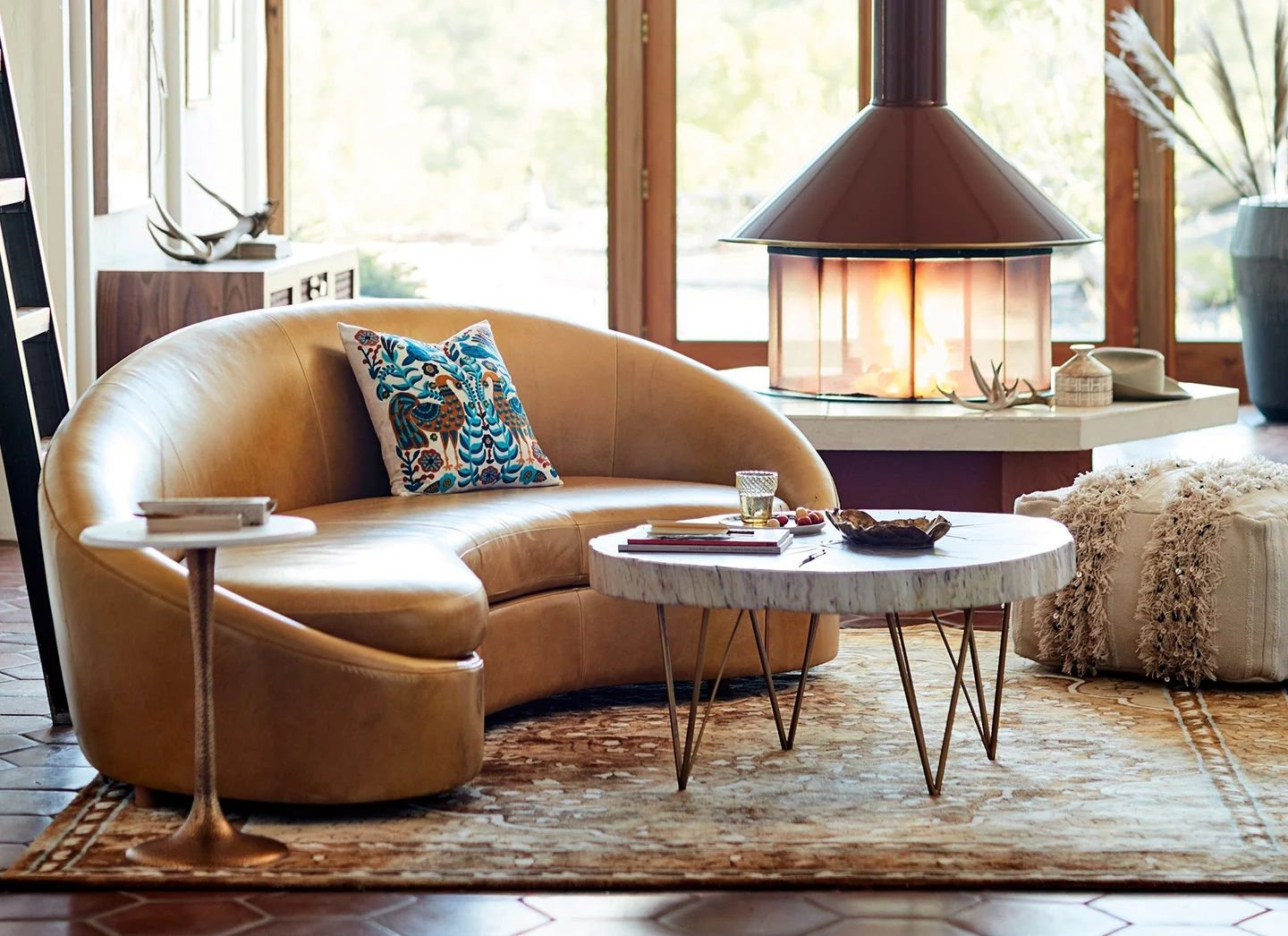 Image Source: midcentury.org
The sofas, like the other Anthropologie items, are undoubtedly quite different from what you'll find from most retailers. Some sofas feature a mix of different materials or fabrics, non-standard shapes, or other distinct features that will make them a focal point in your living space.
Currently, there are more than 200 Anthropologie stores worldwide, but most of the company's exclusive pieces are only available by ordering through the website or shopping in the storefront locations.
18. Blu Dot
Blu Dot is a Minneapolis-based sofa brand focused on modern designs and well-crafted furniture. Its sofas could be considered averagely priced, with great build quality that often includes covered high-resiliency foam cushions and upscale kiln-dried hardwood frames.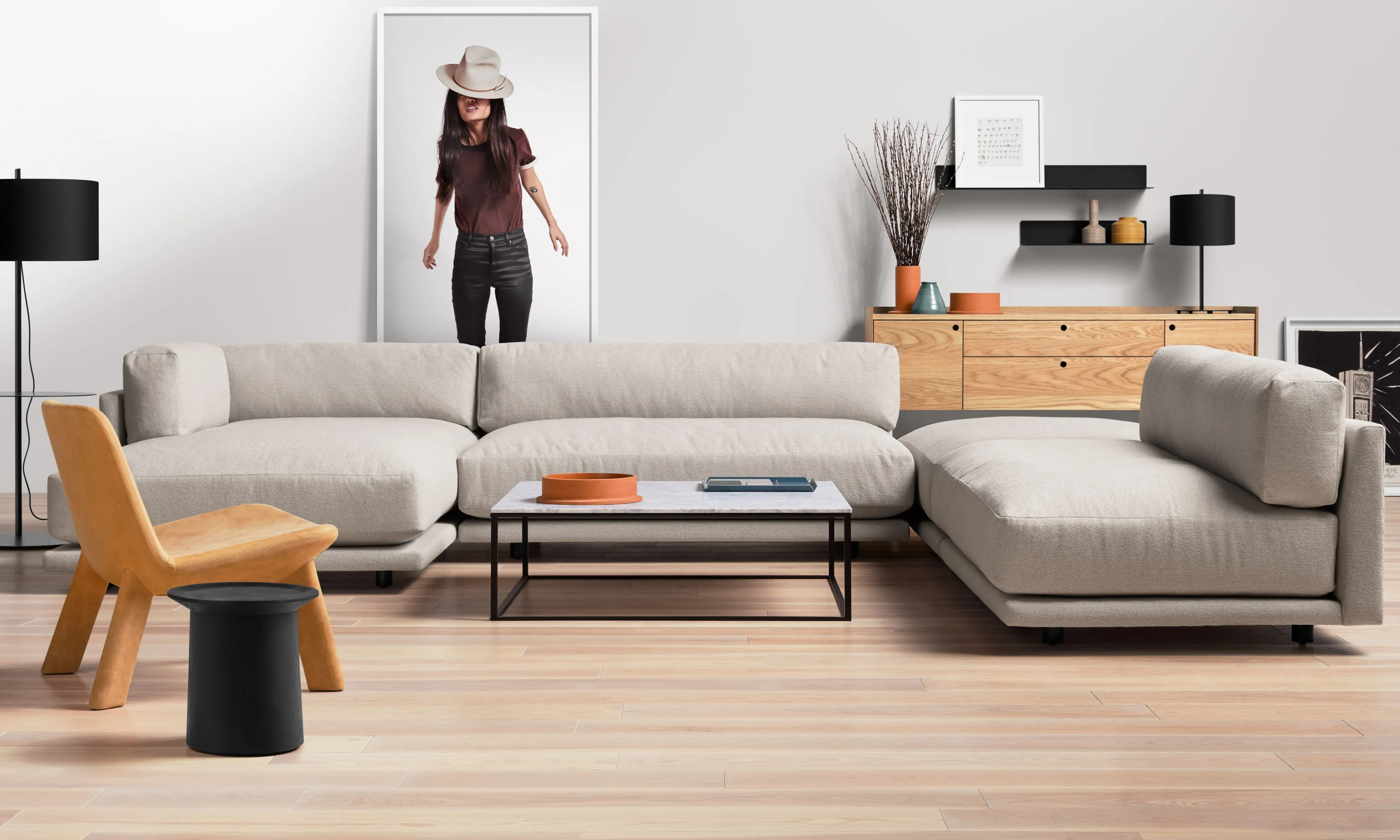 Image Source: bludot.com
Blu Dot items are designed in-house and crafted to have personality and purpose, and the shipping time depends on stock. The company offers a variety of mid-century and modern-inspired pieces ranging from sofas and sectionals.
19. Lovesac
Lovesac makes the world's most customizable sofas. The modular pieces of furniture from the brand are adaptable to fit into several arrangements with other pieces.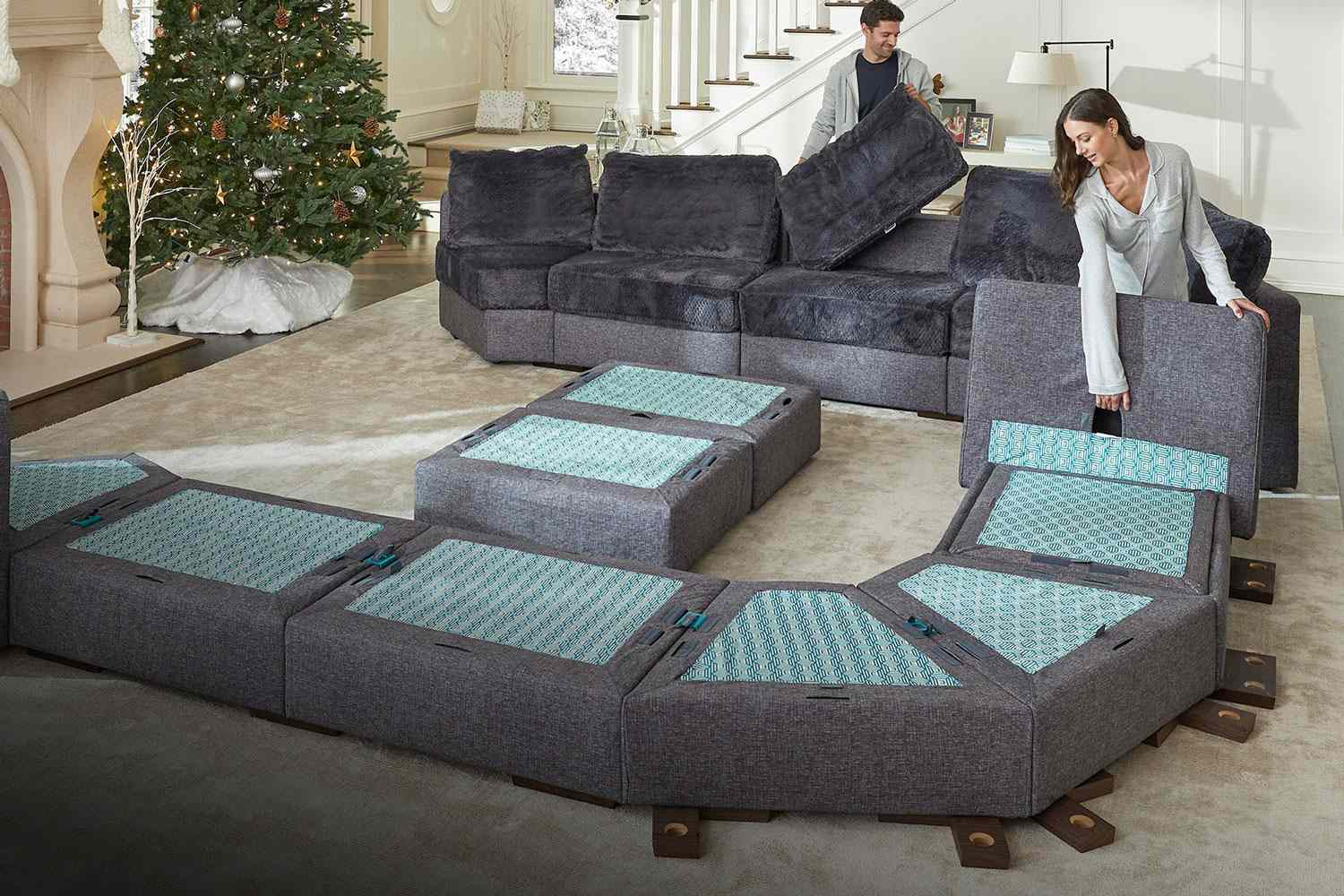 Image Source: bhg.com
The brand's sofas are manufactured with Durafoam fill for comfortability and durability. The washable fabric coverings are made from recycled plastics to withstand spills and messes.
Based on Lovesac's modular designs and durable materials, its sofas may be ideal for family homes with pets and children. However, if you're seeking a formal or elegant look, Lovesac may not be your optimal choice.
20. Sundays
At Sundays, the sofa shopping experience is designed to be as relaxed and hassle-free as a Sunday morning. The brand was founded by four friends who were passionate about beautifully functional furniture. It offers a curated collection of items that will inspire your home and elevate its aesthetic.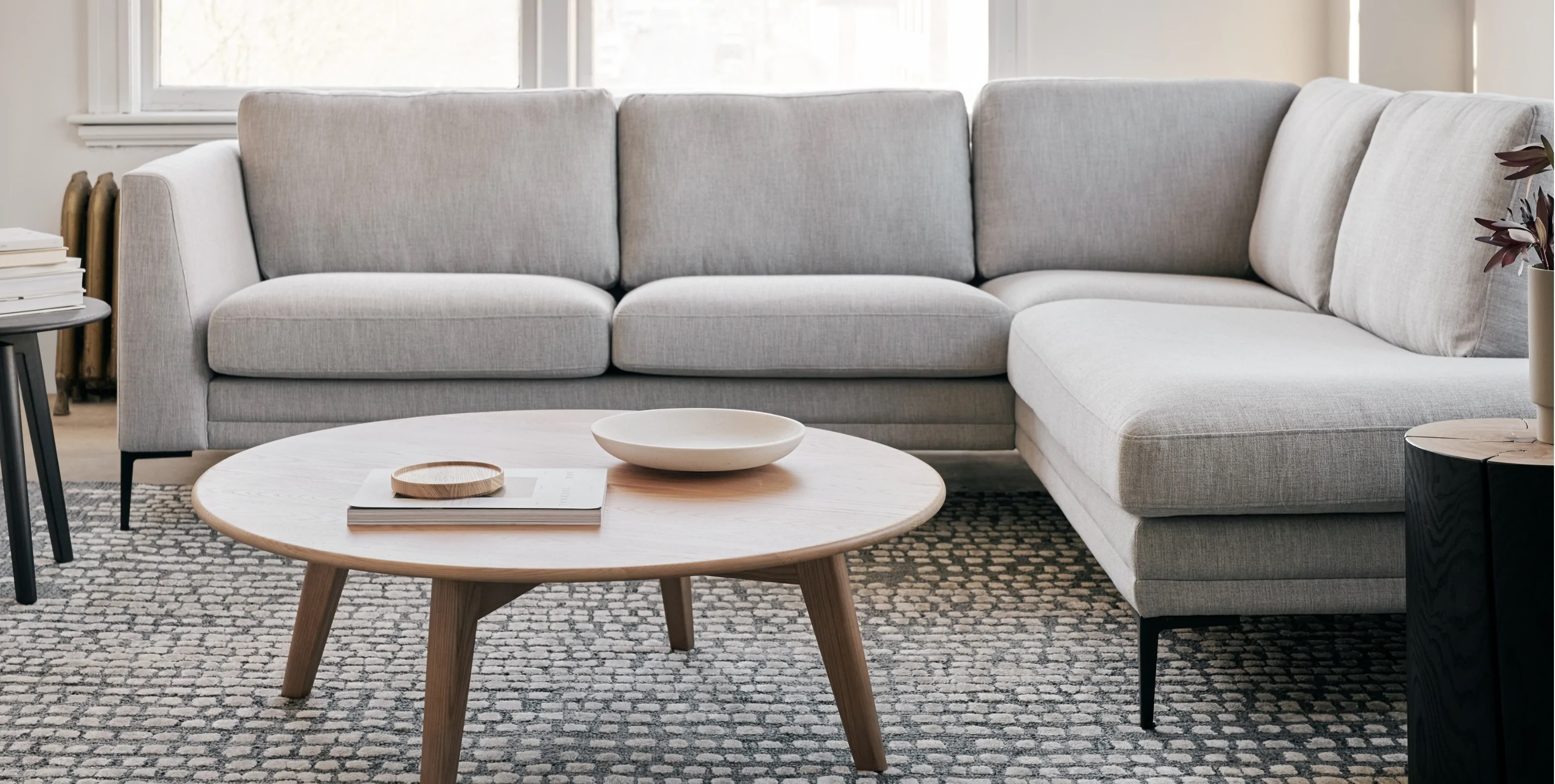 Image Source: sundays-company.com
This online company eliminates traditional markups, allowing you to get quality products at an affordable price. Every Sunday collection item is chosen with relaxation and comfort in mind.
21. Coddle
Coddle is another direct-to-consumer furniture brand that enables you to furnish your space effortlessly without leaving your home. The company started with the Toggle line, which includes chairs, couches, and ottomans, and it has increased its collections to a wide variety of styles, including a wide range of classy convertible sofas.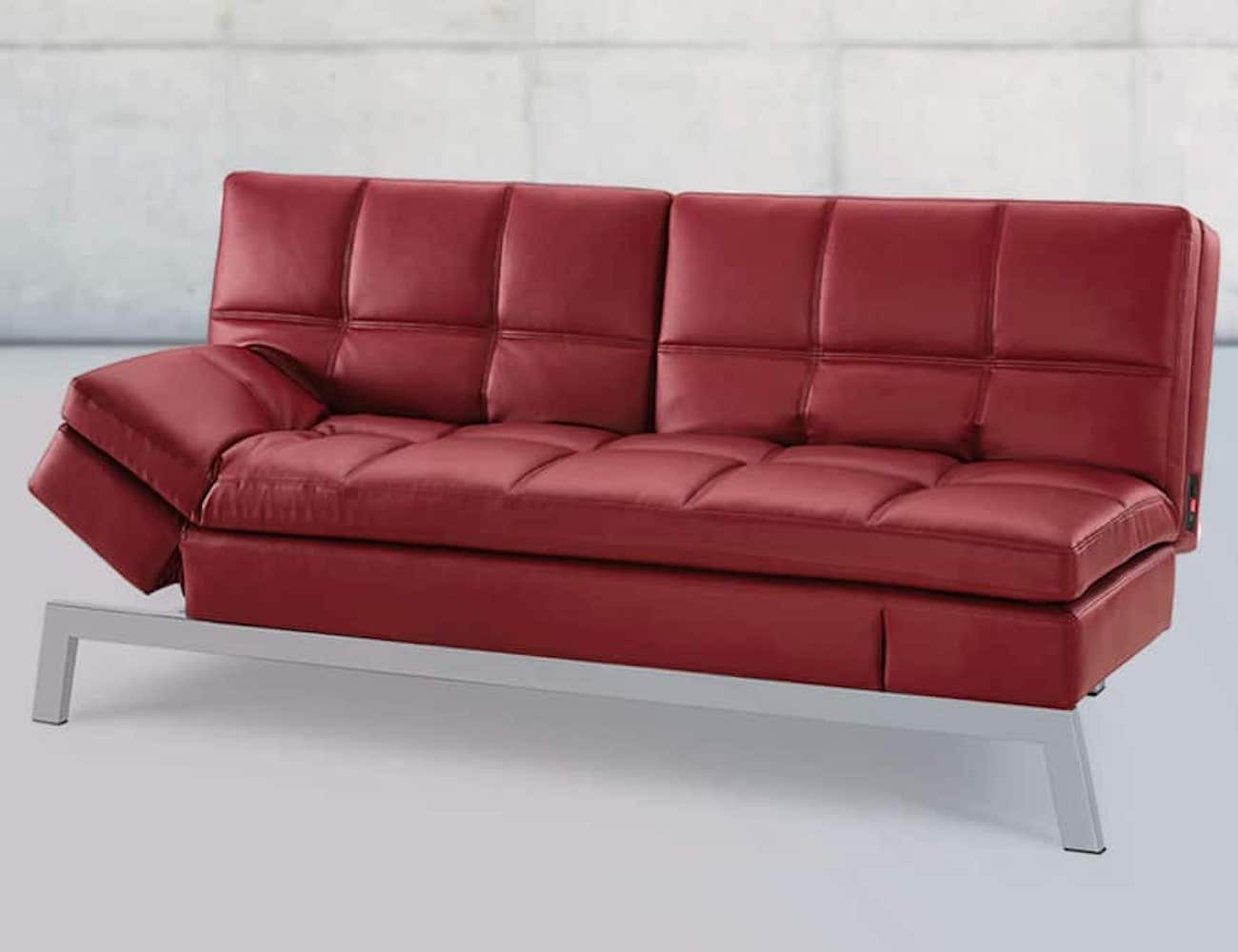 Image Source: thegadgetflow.com
Even though the brand products lack the build quality of a premium standalone sofa, its range of dual-duty furniture is worth the cost, especially with the included extras such as the USB ports. Your ordered items can be delivered in one to two weeks, but they don't offer sampling upholstery swatches beforehand.
22. La-Z-Boy
As the founder of the original recliner, La-Z-Boy is famous for creating some of the most comfortable sofas on the market. The company makes both sleeper and reclining sofas, with back cushions ranking among the coziest.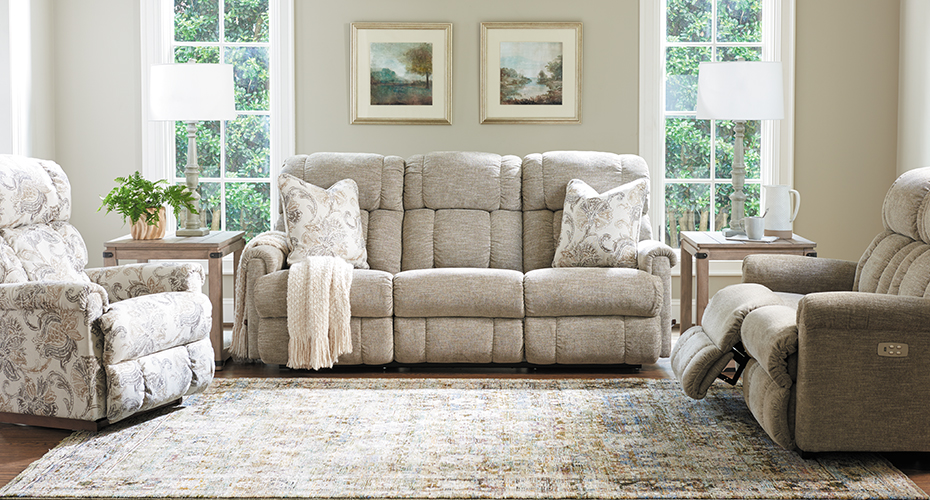 Image Source: furnitureacademy.com
La-Z-Boy sofas have a few sleek modern designs, but they major on recliners. They prioritize comfort, so if comfort is your main concern, this is the brand for you.
 On the downside, La-Z-Boy doesn't allow returns (only a three-day exchange) and can take longer to deliver your sofa. But they have several showrooms for you to visit and test before making a purchase. This will help you in avoiding to make a sofa return.
Fina Take
Buying a new sofa signifies a major investment in style and comfort for the living room. A sofa should be attractive and complementary to the decor, a place of solace, and durable in service terms. Best sofa brands offer high-quality construction with heavy-duty performance fabrics and opportunities for customizing designs, fabrics, colors, and sizes. Besides the budget and designs, ensure you choose a great quality sofa brand.
Featured Image Source: bobvila.com