Have you recently installed your Intex pool and are wondering how to clear the debris that settles at the bottom? Maintaining the cleanliness of your Intex above-ground pool can be challenging when you don't have the right tools. However, your work can be much easier if you have the best vacuum for Intex above-ground pool.
Our article highlights the 5 best above-ground pool vacuums to help you clean your pool. We have reviewed each vacuum in detail so that you can make the right decisions according to what you like. So, let's get into the article.
Our Top Picks-the Best Vacuum for Intex Above Ground Pool
| | | | |
| --- | --- | --- | --- |
| | | | |
| | | | |
| | | | |
| | | | |
| | | | |
1. Dolphin E10 Automatic Robotic Pool Cleaner
Sale
Dolphin E10 Robotic Pool Vacuum Cleaner — Powerful...
The Dolphin E10 robotic pool vacuum cleaner does the work so you...
Get your pool exceptionally clean with the easy-access, top load...
Cleaning your pool has never been easier. With the Dolphin's...
With the Dolphin's Smart Navigation Technology, your robot...
Dolphin pool cleaners have been effortlessly cleaning the...
Robotic pool cleaners are hands- free meaning they work on their own. They do not hook up to your pool return or suction line since they have an onboard filter and brushes and use electricity for suction and mobility. You should choose the best robotic vacuum cleaner for the best pool cleaning results. Our pick is the Dolphin E1o.
There are many robotic cleaners for Intex above-ground pools in the market. Still, we were impressed with Dolphin E10 since it had extra features. It was smaller than other Dolphin models but with advanced features such as smart navigation that offered efficient cleaning and vigorous brushing. In addition, it removed stubborn dirt, algae, and all the biofilm from the pool's bottom.
The Dolphin E10 moved on tracks, thus providing better traction than wheels. It had an active brush that loosened dirt on the pool floor while the suction sucked debris to the top loading filter basket. We were impressed with how we could remove and clean the filter basket. Its only downside was that it did not capture fine debris like sand and salt.
However, it did a great job catching leaves, acorns, and bugs. We recommend you buy a separate ultra-fine filter if you clean your pool daily. We also loved how it was light and easy to handle.
Features
Suction rating of 4000 GPH.
Smart navigation.
Contains two motors.
Covers up to 30 feet.
Suitable for fiberglass, vinyl, and plaster pools.
2. Pentair K50600 Kreepy Krawley Vacuum Pool Cleaner
Pentair K50600 Kreepy Krauly E-Z Vac Suction-Side Above...
Superior hydraulic design for optimum vacuuming power
Only one operational moving part (the flapper) for long,...
Free skimming valve automatically regulates water flow to assure...
True random pattern coverage makes sure every inch of pool floors...
If you are looking for the best suction-side pool cleaner, then Pentair K50600 Kreepy Krauley is a must-have. We were impressed with how it had immersive suctioning power. Its superior hydraulic design enabled it to utilize hydraulic pressure to produce optimum cleaning capabilities. Plus, the vacuum had a flapper that served as the only moving part.
Image Credits: Amazon.com
We also liked that it lacked wheels and gears for service repairs, making it easy to maintain. Since we had an automated water flow, it was easy to maintain its cleaning speed. In addition, we were able to skim off surface debris very fast.
Features
It requires less maintenance, cleaning, and servicing.
It doesn't require gears, wheels, or moving parts since it has flappers.
It ensures automatic water flow, thus regulating your cleaning speed
It has a top-grade hydraulic suction design that gives you maximum vacuum power in a compact size.
3. Zodiac Ranger Suction Side Vacuum Cleaner
Sale
Zodiac Ranger Suction Side Automatic Above-Ground Pool...
Effectively cleans above-ground swimming pools (not recommended...
One moving part technology, eliminates annoying hammer or flapper...
Unique Deflector Wheel helps prevent it from getting caught on...
Comes pre-assembled for easy installation and includes 32 feet of...
AG Disc allows the Ranger to glide effortlessly along the bottom...
If you are looking for a high-performing pool vacuum cleaner with long-lasting plastic parts, then Zodiac Ranger Suction Side Vacuum Cleaner is the one. It leaves your pool clean using its powerful cleaning suction.
Image Credits: Amazon.com
Zodiac Ranger pool cleaner had only one moving part, which we liked since it eliminated hammer noise and cleaned quietly throughout. The vacuum cleaner had a strong deflector wheel that ensured it was not caught on corners or ladders while cleaning the Intex pool. It was also fitted with an AG disc that enabled it to glide smoothly around the steps and the bottom of the Intex pool.
We were impressed with its instant skim valve that was self-adjusting, thus regulating the water flow rate automatically and maintaining the machine's optimum performance.
We appreciated that it came pre-assembled, making our installation process easier since we only attached the feed hose to set it up. It was also compatible with our sand filter pumps.
Features
It has a 32 feet feed hose.
It has a unique deflector wheel.
It has a flow keeper valve that maintains a consistent water flow rate.
It has a moving part design.
It has an instant skim that has a self-adjusting valve.
4. Intex Auto Pool Cleaner
Intex Recreation Corp 28001E Intex Auto Pool Cleaner, 1...
AUTO CLEANER: The Intex above ground auto pool cleaner is...
CLEANING FEATURES: Intex automatic pool cleaner has a small brush...
REQUIREMENTS: The cordless vacuum requires a filter pump with a...
FEATURES: The pool cleaner is perfect for pools 24-feet in...
PRODUCT INFO: The product weighs 18.2 pounds and is made for...
If you want a budget-friendly pool vacuum cleaner to pair with your Intex pool, you should go for the Intex automatic pool cleaner. We recommend the Intex automatic pool cleaner for people with Intex pools. It was easy to assemble as it took less time. In addition, we were impressed by how it cleaned above the pool using its automatic reversible technique. It reversed on its own and vacuumed the entire floor of the pool.
Image Credits: Amazon.com
As its manufacturer claims, we were impressed with its durability- it gave us hassle-free usage.
Features
It lets you clean above the pool automatically.
Features a 24ft 7 inch (7.50m) hose, which you can fasten to the pool inlet.
Automatically reversible direction for cleaning the pool floor.
Functions with a flow rate of 1,600-3,500 gal (6,056-13,248L) per hour.
5. Hayward 900 WANDA Pool Cleaner
Hayward 900 Wanda the Whale Suction Above-Ground Pool...
USE IN ABOVE-GROUND POOLS: The Wanda the Whale Suction Pool...
GENTLE YET EFFECTIVE: A unique turbine system helps Hayward...
SIMPLY SUPERIOR RESULTS: Equipped with patented SmartDrive...
QUICK & EASY INSTALLATION: 32 ft. hose connects directly to your...
TRUSTED BRAND: With over 80-years of experience, Hayward is an...
If you are looking for an Intex vacuum cleaner with an automatic suction side that is kid-friendly, then the Hayward 900 Wanda Pool Cleaner is the one. It has a whale-themed design and comes in three options:
Whale
Aqua Bug
Diver Dave
We recommend it since it is affordable and can work with your existing pool pump. We connected it with the skimmer basket, and it reduced the street on the pump filter.
Image Credits: Amazon.com
We were impressed with its patented smart drive system that ensured the pool was thoroughly cleaned regardless of its shape or size. Wanda 900 was also the best at boosting water circulation as it drew water from the bottom of the pool.
Its only downside was that it was quite expensive compared to other cleaners. We would also not recommend it to people with pools with a wavy or dish-shaped floor as it can stick and rip the floor material.
Features
It does not require any additional booster pump for crystal-clear water.
It has a smart location feature that suits all shapes and sizes of Intex pools.
It has a protection ring that protects it against uneven pool surfaces.
Its hose has a direct skimmer connection and doesn't need any tools for connection.
Factors to Consider When Buying the Best Vacuum for Intex Above-ground Pools
Most people need help choosing the best above-ground pool vacuum cleaner for their Intex pool. Luckily, we have compiled some key features you need to look for to determine whether a vacuum cleaner is good.
To begin with, you should look for a vacuum cleaner that can suck in large amounts of debris at once. The vacuum cleaner should suck the debris without stirring dirt from below and making the water dirty.
Moreover, the pool vacuum should also be good for sucking small items such as pebbles or sand. Also, remember the price; always go for something within your budget.
a) Types of Pool Vacuums
The size of your Intex pool determines the type of vacuum cleaner you choose. If you know the size of your pool, you can choose the ideal type of vacuum. The most popular types of pool vacuums include:
1. Robotic Pool Vacuums
Image Credits: thespruce.com
The main advantage of buying the best robotic pool vacuums is that you will enjoy the ease of use. They do not require any complicated setup. You plug them into the power unit and start cleaning your Intex pool. Robotic pool vacuums are known for their outstanding performance in cleaning pools. If you are wondering why you should choose robotic pool vacuums, here's why:
They are easy to use.
They have a self-contained design- they don't have hoses or booster pumps to connect them, thus making them more convenient.
They offer long-term reliability since they offer a smart way of cleaning your pool.
2. Suction Side Pool Cleaners
The best suction-side pool vacuum cleaners attach to the suction of your plumbing. They are fitted with pipes and fittings that direct water to the filtration system. These ground pool vacuums are attached to one of the suction hoses at the pool. The suction-driven pool cleaner is configured to vacuum the pool floor and remove submerged dirt and debris.
Image Credits: colaisteanatha.ie
You can also configure it to move on the pool's surface and skim debris and dirt before the dirt sinks at the bottom of the pool.
Advantages of using suction-side pool vacuum cleaners:
They are easy to install.
They are economical.
They are the best for small-sized pools.
3. Pressure Side Pool Cleaners
Pressure-side ground pool vacuums roll on wheels and use the water pressure from a separate booster pump or the existing pool pump to help them move around the pool floor.
Image Credits: polarispool.com
The pressure forces and keeps debris or dirt in the vacuum bag. The benefits of pressure-side pool cleaners include the following:
They are the best cleaners for picking up large debris such as leaves or pine needles.
They have a tail that helps brush debris off the pool floor.
4. Manual Pool Vacuum Cleaners
Manual pool vacuum cleaners are simple models which do not use electricity or batteries; they are completely independent of your pool system.
Image Credits: baracuda.com
They have the following benefits;
They are easy to use.
They are effective for spot-cleaning Intex pools.
They are affordable and suitable for people working on a budget.
They do not require electricity or batteries to run.
b) Pool Size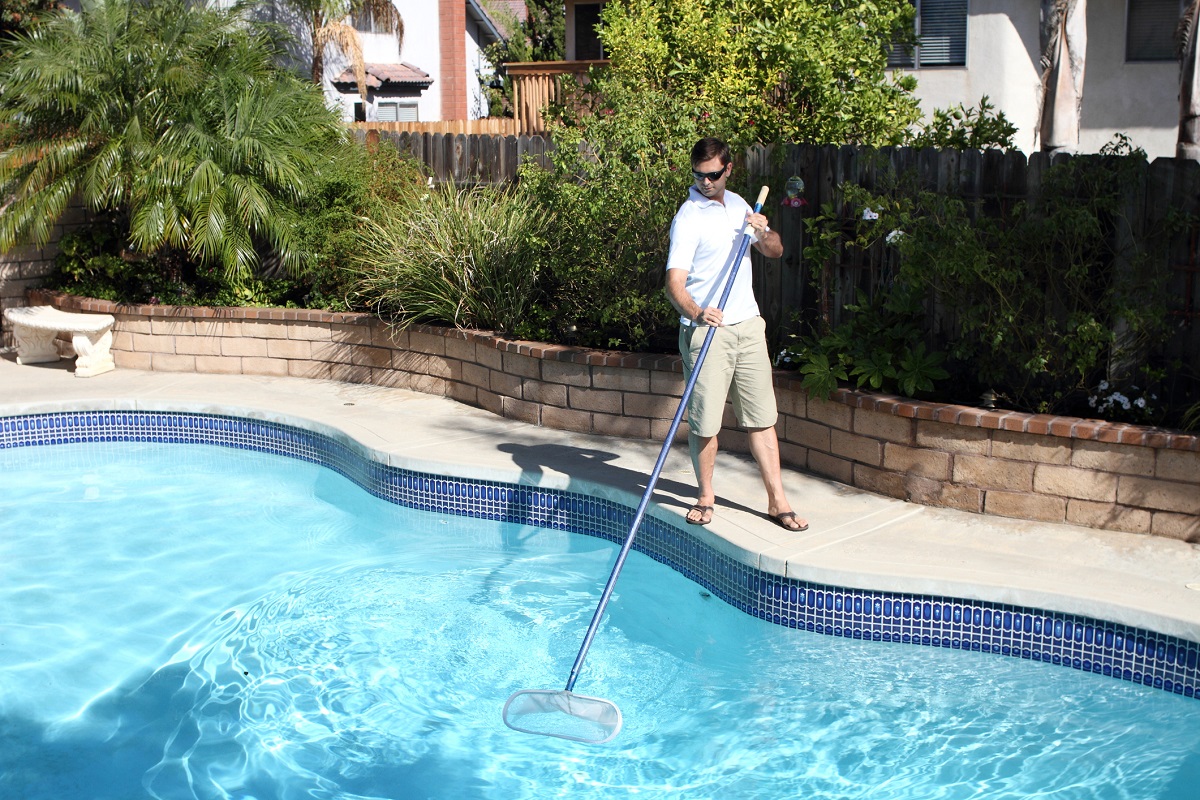 Image Credits: betterhousekeeper.com
Pool size is important when purchasing the best vacuum for an Intex above-ground pool. Knowing the pool size will help determine how long the cleaning cycle will take. We recommend you buy an automatic pool sucker if your pool is big. However, a small pool will need a manual vacuum since it will cover a small surface.
c) Cleaning Efficiency
Image Credits: woodfieldoutdoors.com
You are buying a vacuum pool cleaner to eliminate debris and dirt. Ensure the pool cleaner you pick can remove dust, leaves, and debris from your pool. If you want to be sure, go for the ones with superior suction power, vacuuming, and scrubbing capability.
d) Price
As with all products, it is important to stick to your budget. However, remember that you will only get what you paid for. Most products offer value for your money, but you can buy a worthless pool vacuum at a higher cost. So don't just pick a cheap pool vacuum that is cheap in price and quality; instead, look for affordable ones that are functional.
e) Battery Life
A clean pool is determined by how long the pool vacuum can run. In this case, go for a robotic vacuum that will give you a longer runtime and covers a large pool in less time.
f) Easy Setup
Image Credits: ubuy.com
Most pool vacuums have an easy setup, so you don't need skills to assemble them. We recommend the Dolphin E10 since it requires no installation; you plug it in and clean your pool in minutes.
g) Energy Efficient
Maintaining a pool takes a lot of money. So you want to save on the electricity bills. Get a pool cleaner that is affordable and less expensive to maintain; you can go for a vacuum cleaner that does not require you to purchase extra additions such as hoses or pumps.
h) Warranty
Pool vacuums are a long-term investment, so you must pick one with a warranty that will offer you a replacement if you break a part or it becomes non-functional.
i) Vacuuming Power
Getting the right vacuum cleaner for your Intex pool can be challenging since you can buy one that needs more power to clean your pool without leaving contaminants behind.
Choose a vacuum cleaner with powerful suctioning power. A more powerful vacuum cleaner will ensure your pool is clean in minutes.
j) Filtration System
Image Credits: polarispool.com
One of the important parts of a pool vacuum is the filtration system. If you get poor quality, you might have a poor filtration system. The filtration system affects how the vacuum will clean your pool. Go for a vacuum cleaner that has a versatile filter. It will trap contaminants such as algae, leaves, dust, dirt, and debris.
k) Attachments
Some pool vacuums have attachments that play an important role in cleaning. Therefore, a good Intex pool vacuum should have relevant attachments. For instance, robotic models come with a hyper brush that removes stuck-on debris, algae, and other tough stains on the pool floor.
Frequently Asked Questions on Best Vacuums for Intex Above-ground Pools
1. How often should I vacuum my Intex pool? How dirty your pool is will determine the frequency you use your vacuum cleaner. If your pool gets little leaves or dirt, you can vacuum it once a week. However, if your pool is located near trees or buildings, it can easily get dirty so you can vacuum it daily. If your pool is prone to getting dirty, you should have an automatic cleaner to make cleaning fast and easy.
Featured Image Credits: desertcart.com