If you are looking for an advanced and high-tech rice cooker that will ensure you get perfectly cooked rice, then the Japanese Brand Zojirushi should be your number one choice. Although you may find that purchasing the best Zojirushi rice cooker is expensive, the cost is worth it, considering that you get a highly-functional and innovative appliance.
From unique features that help keep rice warm, to a vast display of various menu settings to choose from, Zojirushi is definitely a top choice for the rice cooker. This rice cooker brand comes in distinct models, each with its own unique features and functions, so you can definitely find one that suits your preference.
In this detailed guide, we will look at the list of the best Zojirushi rice cookers we tested alongside their pros and cons. Furthermore, we will have a look at the factors to consider while purchasing these products. Let's dive in!
Why are Zojirushi rice cookers so good?
The Zojirushi Rice Cookers come at a steep price, but it also comes with much more features compared to the traditional rice cookers that only have two features (warm and cook). These high-end appliances have settings for a slew of specific rice varieties, from white and brown to jasmine and sushi rice.
Not only do these Japanese-designed cookers cook flawless and super fluffy rice, but they also have other advanced features that are super easy to use. For instance, all the cookers have an easy-to-read LCD screen and a timer allows you to set your cook time and alert you when your dish is done.
What really stands out to us about these rice cookers, is just how versatile they are. You can use them to prepare different meals. With that in mind, let's now dive in and look at the best rice cooker for Zojirushi.
1. Zojirushi NS-TSC10 Micom Rice Cooker and Warmer
Sale
Zojirushi NS-TSC10 5-1/2-Cup (Uncooked) Micom Rice...
Micro computerized fuzzy logic technology. Capacity Up to 5.5...
Automatic keep warm, extended keep warm and reheating cycle
Easy to clean clear coated stainless steel exterior, 2 delay time...
Interchangeable melody and beep signal
Built in retractable power cord
Zojirushi NS-TSC10 Micom Rice Cooker and Warmer with micro computerized Fuzzy logic technology had a dimension of 14"D x 10.13" W x 8.5"H. The 610-watt rice cooker featured white rice, brown rice menu, steam menu, and cake menu settings. Its removable inner lid allowed us to clean the cooker easily.
More to that, it had an inner cooking pot that was nonstick coated to prevent our rice from sticking and made it more convenient to clean. It not only cooked exceptional rice, but it also helped us bake cakes and steamed foods. We used the steam basket to steam foods and cook our rice simultaneously.
Moreover, it was easy to store and transport the rice cooker by retracting the built-in retractable power code. The unit had a clear-coated stainless steel exterior that was easy to clean. Its easy-to-read LCD with timer functions and clock made it easy to operate. Additionally, the cooker had a beep signal and an interchangeable melody.
2. Zijirushi, Made in Japan Neuro Fuzzy Rice Cooker
Sale
Zojirushi, Made in Japan Neuro Fuzzy Rice Cooker,...
5-1/2-cup computerized rice cooker and warmer with advanced Neuro...
Multi-menu selections; automatic keep-warm, extended keep-warm,...
Spherical, nonstick inner pan allows for uniform heating; LCD...
Menu settings include white (regular/sushi, softer or harder),...
Measures approximately 14 by 8 by 9 inches; 1-year limited...
The Zojirushi Neuro Fuzzy Rice Cooker & Warmer featured an advanced Fuzzy Logic technology, which permitted it to think for itself. The 680-watt unit was available in two sizes, including 5.5 cup cooker and 10 cup cooker. More so, the rice cooker made fine adjustments to heating time and temperature. As a result, the cooker always cooked perfect rice as expected.
Image Source: zojirushi.com
The unit had various cooking functions consisting of white (regular/sushi, harder or softer), semi-brown, mixed rice, rinse-free, semi-brown, porridge, mixed rice, and sweet and quick cooking. Plus, it used a black thick spherical pan with stay-cool side handles that offered even heating for excellent cooking. This unit also indicated the end of our cooking cycle because it came with a programmable melody or beep audio indicator.
Subsequently, the cooker had a washable and detachable inner lid making them easy to clean. Its extra large easy-to-read color LCD control panel made it easy for us read the readings on the display. Interestingly, the cooker had various accessories including 2 rice-measuring cups, a spatula holder, and a spatula that assisted us in our cooking.
3. Zojirushi NS-LGC05XB Micom Rice Cooker & Warmer
Zojirushi NS-LGC05XB Micom Rice Cooker & Warmer, 3-Cups...
Multi-menu cooking functions: Special settings for white/mixed...
Triple heater (bottom, side and lid) generate heat all around for...
Dimensions (W x D x H):9-1/8 x 11-7/8 x 7-1/2 inches. Detachable...
Easy to store retractable cord.Interchangeable melody and beep...
Removable steam vent cap allows for high-temperature cooking...
The Zojirushi NS-LGC05XB Micom Rice Cooker & Warmer was ideal for couples and small families. This 3-cup rice cooker with 450 watts and a dimension of 11.8"D x 9.1"W x 7.5"H could cook even 1/2 cup of oats or rice. Moreover, the unit featured an expanded menu with GABA brown rice, long grain rice, and steel-cut oatmeal settings for healthier options.
Image Source: zojirushi.com
The rice cooker had a washable and detachable inner lid making it easy to clean. Plus it had a fold-down handle that permitted us to transport it easily. Its in-built retractable corf made storing and moving easier and hassle-free. More so, this best Asian rice cooker had a removable steam vent cap that allowed for high-temperature cooking without annoying overflows.
4. Zojirushi NP-HCC10XH Induction Heating System Rice Cooker and Warmer
Zojirushi NP-HCC10XH Induction Heating System Rice...
Induction rice cooker and warmer. Electrical Rating : 1,230 Watts
Multi-Menu cooking functions. Dimension: 10 inch W x 14 inch D x...
Automatic keep warm & extended keep warm keeps rice at the...
Healthy cooking options: brown rice, GABA brown rice and...
Note-please ensure to measure rice in the cup that comes along...
The Zojirushi NP-HCC10XH Induction Heating System Rice Cooker and Warmer with a dimension of 10"D x 14" W x 8" H utilized high-tech Induction Heating technology or IH technology to heat the inner cooking pot. The special heating technique permitted the rice cooker to make small temperature adjustments to cook flawless rice
Image Source: zojirushi.com
The 1230 watts rice cooker came with multi-menu cooking functions, including sushi rice, jasmine white rice, GABA brown rice, sweet rice, white rice, quick cooking, mixed rice, and porridge settings. This great rice cooker exterior had clear-coated stainless steel making it easy to clean and allowing it to fit any kitchen decor. Moreover, the rice cooker had an easy-to-read LCD panel with a timer and clock.
5. Zojirushi NP-GBC05XT Induction Heating System Rice Cooker and Warmer
Sale
Zojirushi NP-GBC05XT Induction Heating System Rice...
700-watt 3-cup rice cooker and warmer with Induction Heating...
Menu settings include: white/mixed, sushi, porridge, brown, GABA...
Accessories include rice spatula, spatula holder and rice...
Capacity*: Up to 3 cups / 0.54 liter.Capacity is measured in the...
Thick, spherical inner cooking pan; carrying handle; detachable...
Ideal for small families and singles, the Zojirushi NP-GBC05XT Induction Heating System Rice Cooker and Warmer used Induction Heating technology and had a 3-cup capacity. We cooked as little as 1/2 cup of rice. More to that, this mini rice cooker occupied smaller spaces, making it appropriate for small kitchens.
Image Source: Zojirushi.com
This 700-wats rice cooker with a dimension of 9.12"D x 11.87" W x 7.5"H featured an easy-to-read LCD colored panel with clock and timer function and multi-menu settings. It came with a clear-coated stainless steel exterior, making it easy to clean and maintain. Additionally, the unit had an additional heater on the lid to generate appropriate temperatures for precise cooking. Plus, its delay timer offered us freshly cooked rice at a programmed time.
Zojirushi Rice Cooker Types
1. Convectional electric rice cooker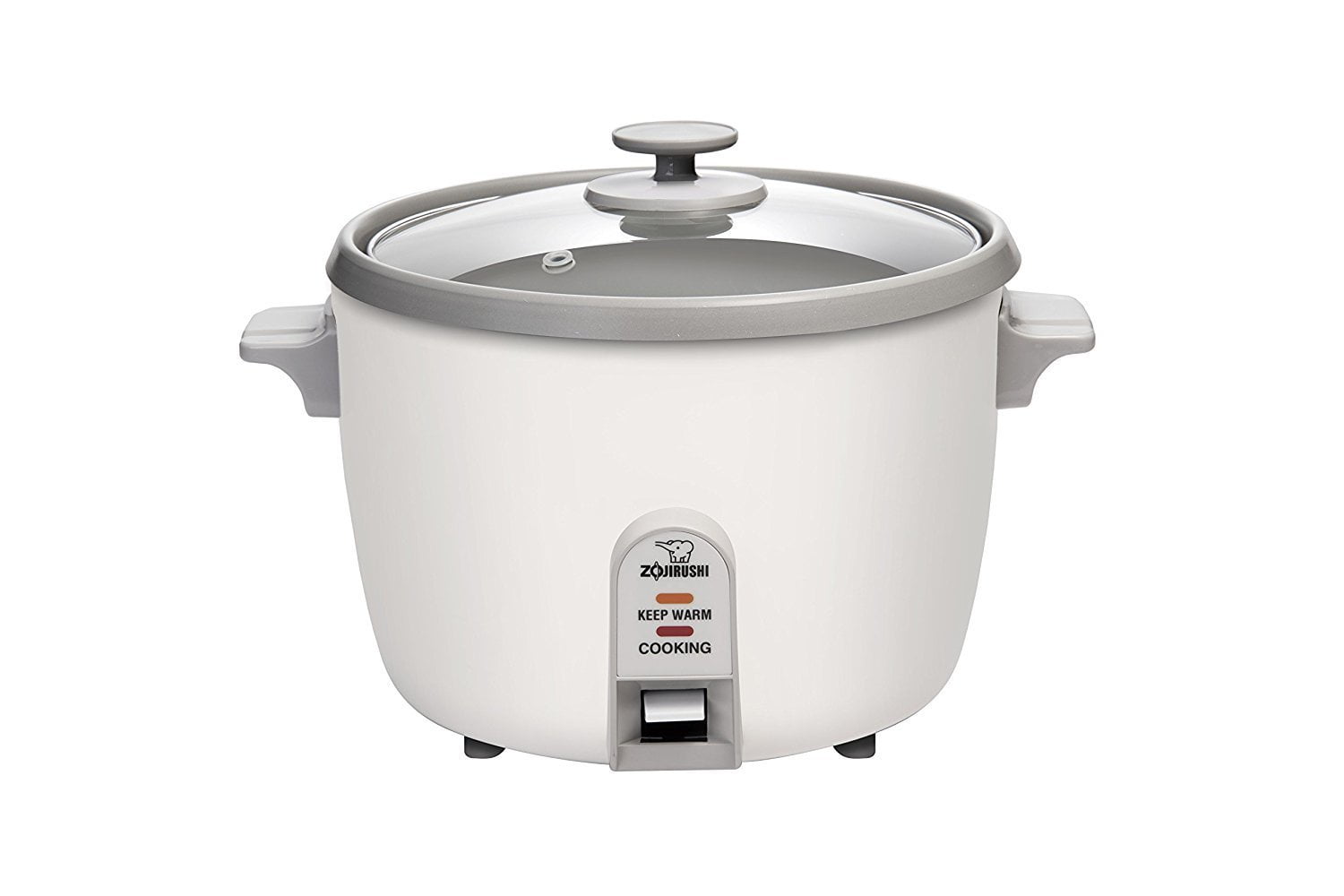 Image Source: Walmart.com
Zojirushi's conventional rice cookers are perfect options for beginners who want to make perfect rice at home. Their cookers are usually simple, reliable, and easy to use with just one switch. Most conventional models feature an automatic keep warm, and some models like the NHS-10/18 come with a handy steaming basket that allows steaming of different proteins and vegetables.
2. Micom rice cookers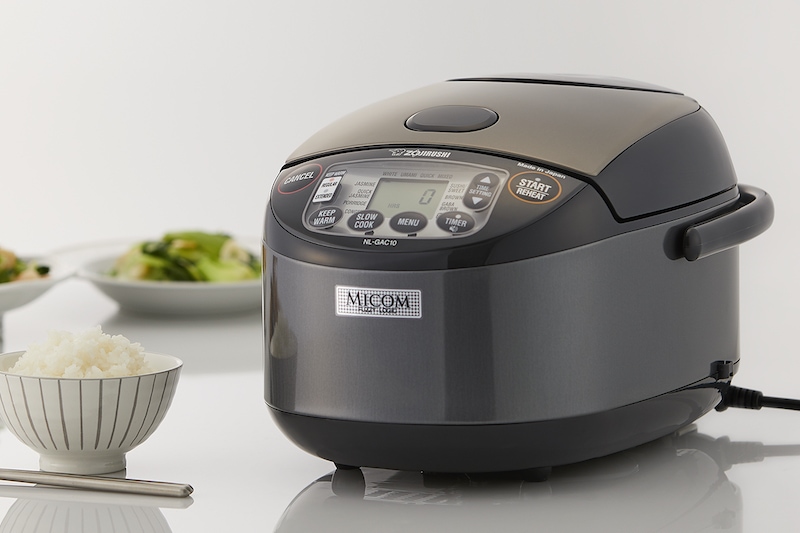 Image Source: justonecookbook.com
With a microcomputer chip, Micom rice cookers are more technologically advanced than conventional cookers. They come with menu settings for cooking different types of rice and grains. Some Micom cookers can even automatically change cooking times and temperatures according to the thermal sensor's calculations.
Unlike traditional cookers, soaking and steaming time before and after cooking your rice is automatically programmed. This means once you press the start button, it does everything automatically.
3. Induction heating (IH)+ Micom rice cooker
Image Source: reviewed-com
The IH rice cooker uses induction heating technology to cook rice that is prevalently more delicious. Basically, IH is a more responsive heating method that gets the cooking pot hot quickly and cools down faster. This makes temperature adjustments more precise while cooking your rice. Though it's necessary to have in mind that these IH models are also MICOM models, just that they have an additional heating technology feature.
4. Pressure + IH+ Micom cookers
Image Source: food52.com
The PRESSURE + IH + MICOM is the most advanced rice cooker from Zojirushi. With the power of Micom, IH, and Pressure cooking all in one, these cookers combine automatic pressure, high heat, and artificial intelligence.
The many difference between these rice cookers and other rice cookers is the application of pressure at various stages during cooking. The pressure will help divert beta starch into alpha starch, making your rice softer, more delicious, and easier to digest.
Factors to Consider Before Buying the Best Zojirushi Rice Cookers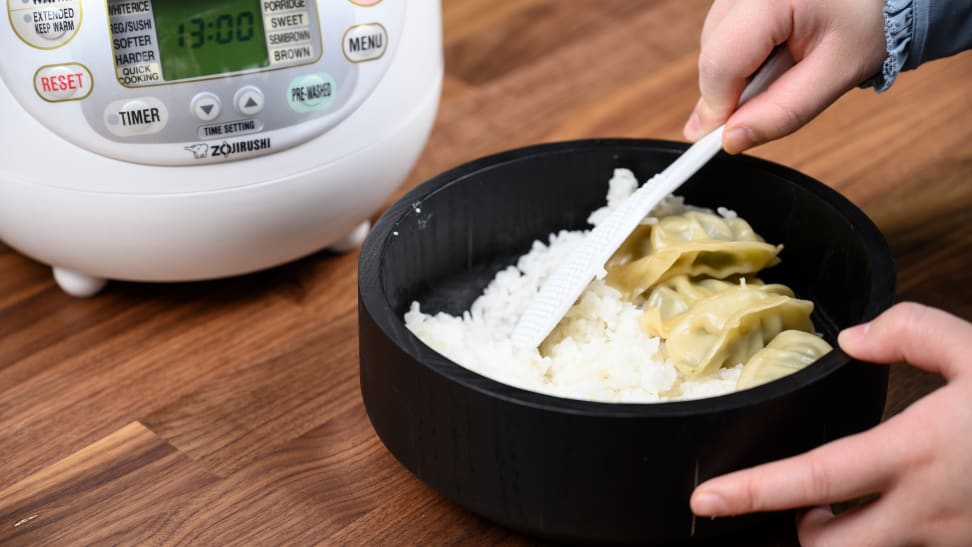 Image Source: res.cloudinary.com
1. Is the rice cooker easy to use?
One of the most important factors to consider while purchasing the best rice cooker regardless of the brand is the ease of usage. The rice cooker you get should make cooking rice effortless and should require little to no human intervention.
The best bit about the Zojirushi rice cookers is that they are pretty easy to use and they come with clear manuals that will guide you through the cooking process. Most of them also include details on how to measure and wash your rice as well as how much water you need to add to the cooking pan.
2. How long does it take to cook rice?
The range in cooking times varies greatly among the best rice cookers we tested. Although the time to cook rice will greatly vary based on the type of rice you want to cook the rice cooker could also affect the time used. The amazing bit is that most full-size Zojirushi models will take close to an hour for medium- and long-grain white rice and nearly an hour and a half for brown rice.
3. Does the rice cooker have any useful additional features?
Each Zojirushi cooker comes with unique features and accessories, so it is necessary to check and ensure the product you choose has the features that will satisfy your needs. Some of the most important accessories to look out for include; a measuring cup and a rice paddle. You could also go for a rice cooker that has steamer baskets or other technical features, like a warmer or timer.
4. What's the Size of the Rice Cooker?
It is also important to think about how much rice you will be cooking for your household before making a purchase so that you can estimate the size of rice cookers you will need. Most Zojirushi full-size capacity models can cook 8 to 10 cups of rice at a time, which correlates to 16 to 20 servings.
You do not have to cook that much at any given time, of course, but is the upper end of what you need. A standard-size cooker is probably right for you if you're just cooking rice for one or two people. If you are looking to cook rice enough for a small gathering the mini sizes will be the best option.
5. Even and consistent cooking
Image source: thereviewnewspaper.com
You should ensure that you purchase a quality rice cooker that can cook your rice evenly and consistently. Although most rice cookers from Zojirushi will cook any type of rice evenly it is always wise to check so that you don't have a mushy center or uncooked rice. You should also be able to cook the same fluffy rice whether you cook a single cup or fill the rice cooker to its maximum capacity.
6. Cleaning and Maintenance
Although all Zojirushi rice cookers are hard to clean it is advisable to look for a product that will make your work easier. Look for a cooker that is at least has dome dishwasher-safe accessories. Plus you can pick a product that can be wiped clean easily with a damp cloth. Purchasing a product that comes with cleaning instructions included in the manual is a plus.
6. Is the rice cooker a good value?
Although the Zojirushi rice cookers are expensive, the prices vary from one product to another. The prices start at $25 and could go all the way up to $260. Ultimately you should aim at getting the best rice cooker that will satisfy your needs.
Frequently Asked Questions About the Best rice cookers
Image Source: ktla.com
1. How long does the Zojirushi rice cooker last?
As we have mentioned earlier Zojirushi rice cookers are a bit expensive compared to other rice cookers such as the cuckoo rice cooker, or the hamilton beach rice cooker. However, the products from Zojirushi will last much longer. For instance, a purely mechanical model will last for up to more than 10 years, while a modern one can be used for between 2 and 6 years, depending on their maintenance and use.
2. Can you leave rice in Zojirushi overnight?
Of course, you can leave your rice in the Zojirushi cooker overnight, but we recommend keeping your rice for only a maximum of 12 hours if you want to maximize taste. As a matter of fact, some clients say that they keep their rice in the cookers for up to 5 days and it is still fresh.
3. Can you cook other things in the Zojirushi rice cooker?
Although Zojirushi cookers are designed to specially cook perfect rice, they can also cook healthy grains such as quinoa or brown rice, steel-cut oatmeal, and steamed veggies all at the touch of a button.
Image Source: bonappetit.com