A mattress topper is a great way to make your bed more comfortable when trying to sleep. This affordable addition can make your bed feel luxurious and boost your bedroom's style. Are you having a problem with 'how to choose a mattress topper?' If so, we've got you covered.
This blog post will discuss choosing a mattress topper that makes your bedroom cozy and stylish. Additionally, we will recommend a few types of toppers that are perfect for any bedroom.
Let's get started!
What is a Mattress Topper
A mattress topper is a removable cushioned extension designed for extra comfort and support of a mattress. It can be made with various fillings such as feathers, latex, memory foam, gel, hollow fibre, or microfiber. Mattress toppers improve the quality of sleep, especially if your mattress is old.
Image Source: mattressfirm.com
Purchasing a new mattress can be expensive. Therefore, if your mattress is becoming too stiff or too soft, investing in the best mattress toppers can be the best alternative to purchasing a new mattress without breaking the bank. You can also use mattress toppers to raise and increase the mattress' height and protect your mattress from sagging and stains.
Why Would Someone Need a Mattress Topper
Mattress toppers are normally used to make up for the shortcomings of your sleeping surface. If you feel something is not right with your existing mattress, a high-quality mattress topper can help improve some inefficiencies. Here are the reasons why you may need a mattress topper.
Image Source: purewow.com
1. To Adjust the Mattress Firmness
If your mattress is too firm, a mattress topper can adjust its feel to your liking. Foam or feather mattress toppers can give you soft, cushioned comfort while providing enough body support. On the other hand, old mattresses sag and lose form over time. One of the efficient and effective ways to prevent a sagging mattress and restore structure is to add a topper.
While latex and memory foam mattress toppers provide added support to soft mattresses, wool and feather mattress toppers add extra softness to firm mattresses. A topper gives your mattress the firmness you need for a comfortable sleep.
2. To Regulate Mattress Temperature
If you are a hot sleeper, a cooling mattress topper can help heat escape as you sleep. For example, mattress toppers with breathable foams have tiny pores letting hot air out and away from your body.
On the other hand, mattress toppers that are made with wool trap heat to keep you warm and cozy on cold nights. Whatever your preferred sleeping temperature, a mattress topper is designed to make your nights more appealing.
3. To Lift a Sagging Mattress
Over time, mattresses can sag from nightly usage. A topper is an effective way to fix a sagging mattress. If your mattress starts to sag, add a layer of thick topper cushion to restore it. Even though a mattress topper can be a remedy for a sagging mattress, it is not a substitute for a mattress that's long past its prime.
Types Of Mattress Toppers
Here are some of the most popular types of mattress toppers that are perfect for cozy and stylish bedrooms:
1. Memory Foam Mattress Topper
Image Source: walmart.com
Memory foam mattress toppers are known for providing maximum comfort and support.
Memory foam is popular for mattress toppers because it contours your body, providing support and pressure relief. It also absorbs movement, so you won't be disturbed by your partner's tossing and turning.
They are perfect for those who want a luxurious feel without compromising quality.
2. Latex Mattress Topper
Image Source: getgreenbewell.com
Latex toppers provide excellent cushioning and air circulation, making them ideal for those who sleep hot or cold. Latex is a naturally springy material that conforms to the body, supporting and preventing pressure points.
It is also highly breathable, helping to regulate body temperature and prevent night sweats. In addition, latex is resistant to dust mites and mold, making it an ideal choice for those with allergies.
3. Wool Mattress Topper
Image Source: surroundewe.com
A wool mattress topper is a thick, padded layer of wool placed on top of a mattress. It is typically made from natural materials such as sheep's wool. Wool is an excellent material for bedding because it is naturally moisture-wicking and temperature-regulating.
It helps to keep the body warm in winter and cool in summer and can also help to reduce night sweats. In addition, wool is hypoallergenic and dust-mite resistant, making it ideal for people with allergies or asthma.
4. Down Mattress Topper
Image Source: terrysbedcentre.com
A down mattress topper is a popular choice for those looking to add an extra layer of comfort to their bed. They are filled with feathers from ducks or geese and offer a variety of benefits.
Down Mattress is an excellent insulator, so it can help to keep you warm in winter and cool in summer. The down is extremely soft and plush, making it very comfortable to sleep on. Also, it is highly breathable, so it won't make you feel hot and sweaty during the night.
Factors to Consider Before Purchasing a Mattress Topper
The best mattress toppers are often made from memory foam, latex, wool, or down and range in thickness from 2 to 4 inches. They are the perfect choice for people looking to get the best from their mattresses.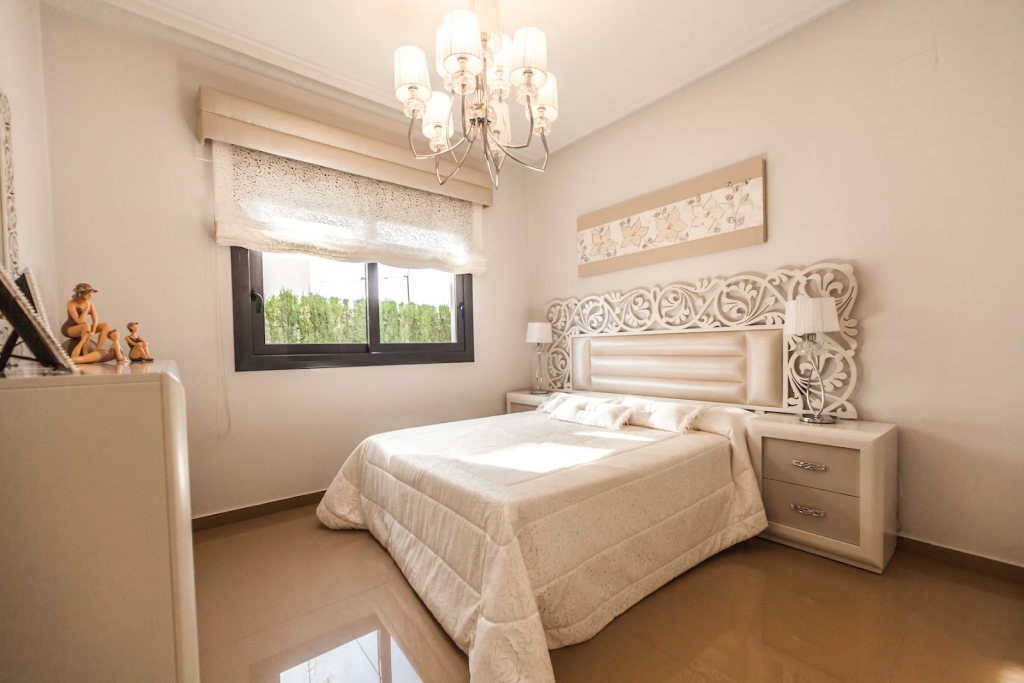 Ultimately, the best mattress topper will offer the right balance of comfort and support. You'd want to read this complete guide about mattress toppers to get started. Also, you should consider the factors below before purchasing any mattress topper:
1. Quality
The quality of the mattress topper will determine how long it will last and if it offers enough support and comfort. Generally speaking, higher-quality mattress toppers should be able to provide better support over time. They use high-quality materials that are breathable, durable, hypoallergenic, and resistant to dust mites and mildew
2. Size
Mattress toppers sit on top of your current mattresses and come in different sizes. Therefore, you need to ensure that you buy one that fits your bed perfectly. If it's too small or big, it might slip while you sleep and won't provide adequate cushioning for a restful night's sleep.
3. Thickness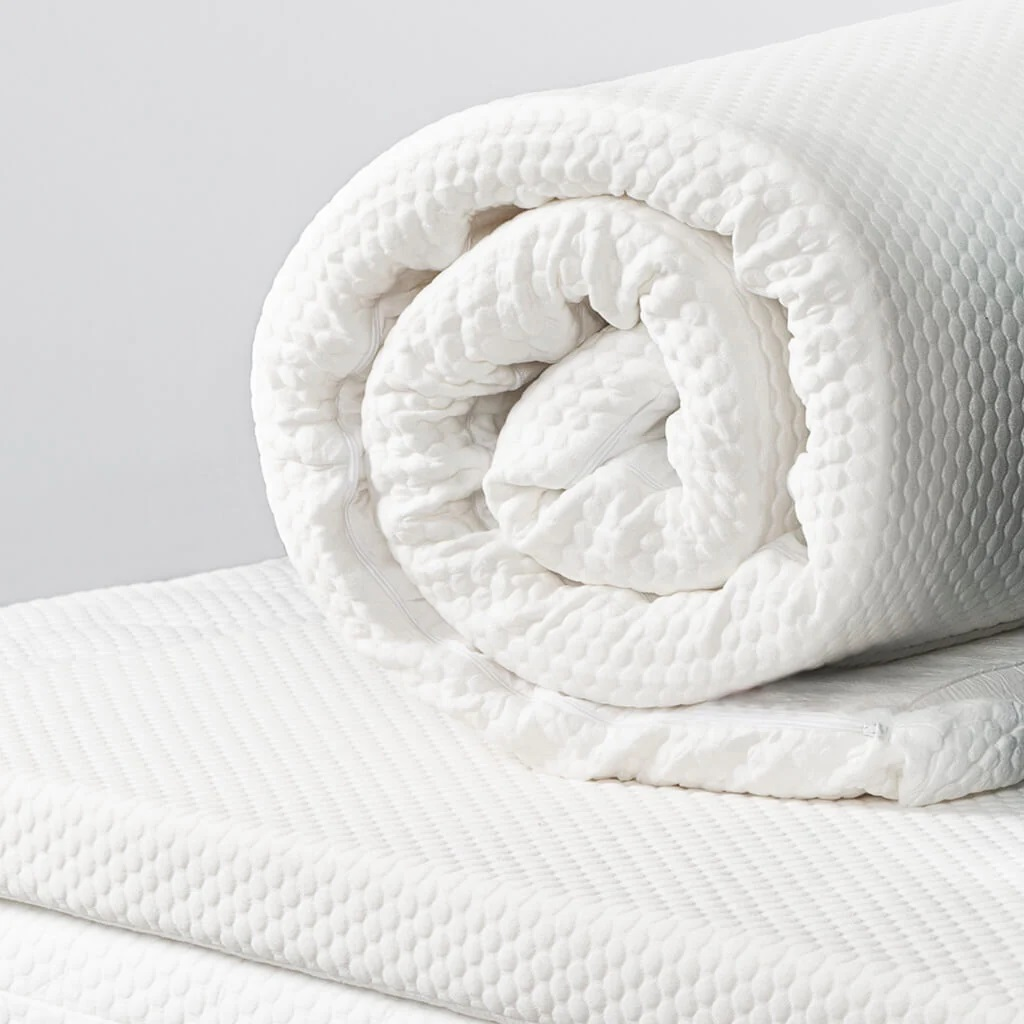 Image Source: tontine.com.au
Generally, the thickness of the mattress topper should match your personal preferences. Some prefer a thinner mattress topper, while others want something thicker and more supportive.
Most mattress toppers range between one to four inches in thickness. Thicker toppers offer more support; therefore, if you sleep on your side, need to restore an aging mattress, or carry significant weight, 4-inch toppers should be sufficient. But if you only want a little softness added to your mattress, a 2 to 3-inch topper will do the trick.
4. Material
Mattress toppers come in various materials, including latex, memory foam, wool, down, and feather. The material is crucial in determining the value you get from the product. For example, mattress topper materials like memory foam are softer and conform to your body, while latex is a bit more firm. Wool will hug you and keep you cool. The perfect material for your mattress topper depends on your needs and preferences.
5. Price
Mattress toppers' prices can range from very affordable to quite pricey, depending on the quality and features. Also, higher quality doesn't guarantee it will be a better option for you. It's best to shop around to know you're getting the best value for your money. Keep in mind that it is not about buying the most expensive you can afford. It is about meeting your needs.
6. Allergies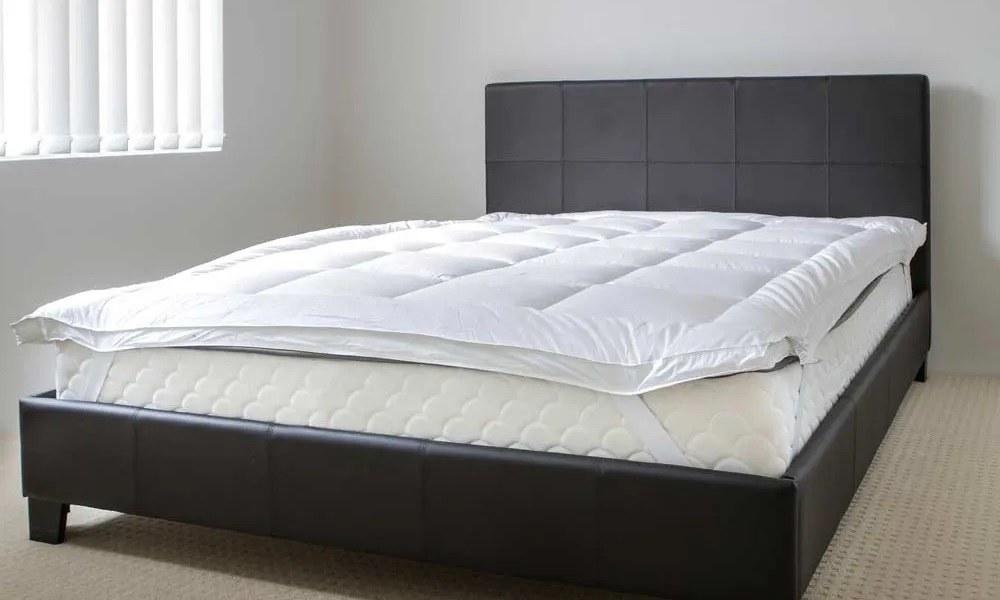 Image Source: productreview.com.au
 If you have allergies, you must choose a hypoallergenic mattress topper that is free of dust mites, pet hair, and other allergens. Some topper materials are better for allergies, and some prevent mites, bed bugs, mildew, and mold. Ensure you don't choose a product that will result in more serious health issues.
7. Ease of Moving
You need to take out your mattress topper from the packaging, set it up on the bed, and also remove it from time to time for cleaning.
If you are alone and not physically strong, the heavy weight of a memory foam or latex topper can be an issue if you don't have anyone to help you set it up.
Down, feather, microfiber, and cotton are the easiest to move around the home and adjust on the bed if necessary.
8. Motion Isolation
Mattress toppers should help reduce how much you are disturbed when your sleeping partner moves in bed. Mattress toppers made of close-conforming materials like latex and memory foam can improve a bed's motion isolation. Also, couples who share a larger mattress may consider buying two separate mattress toppers that will not affect each other when one person moves
9. Comfort and Softness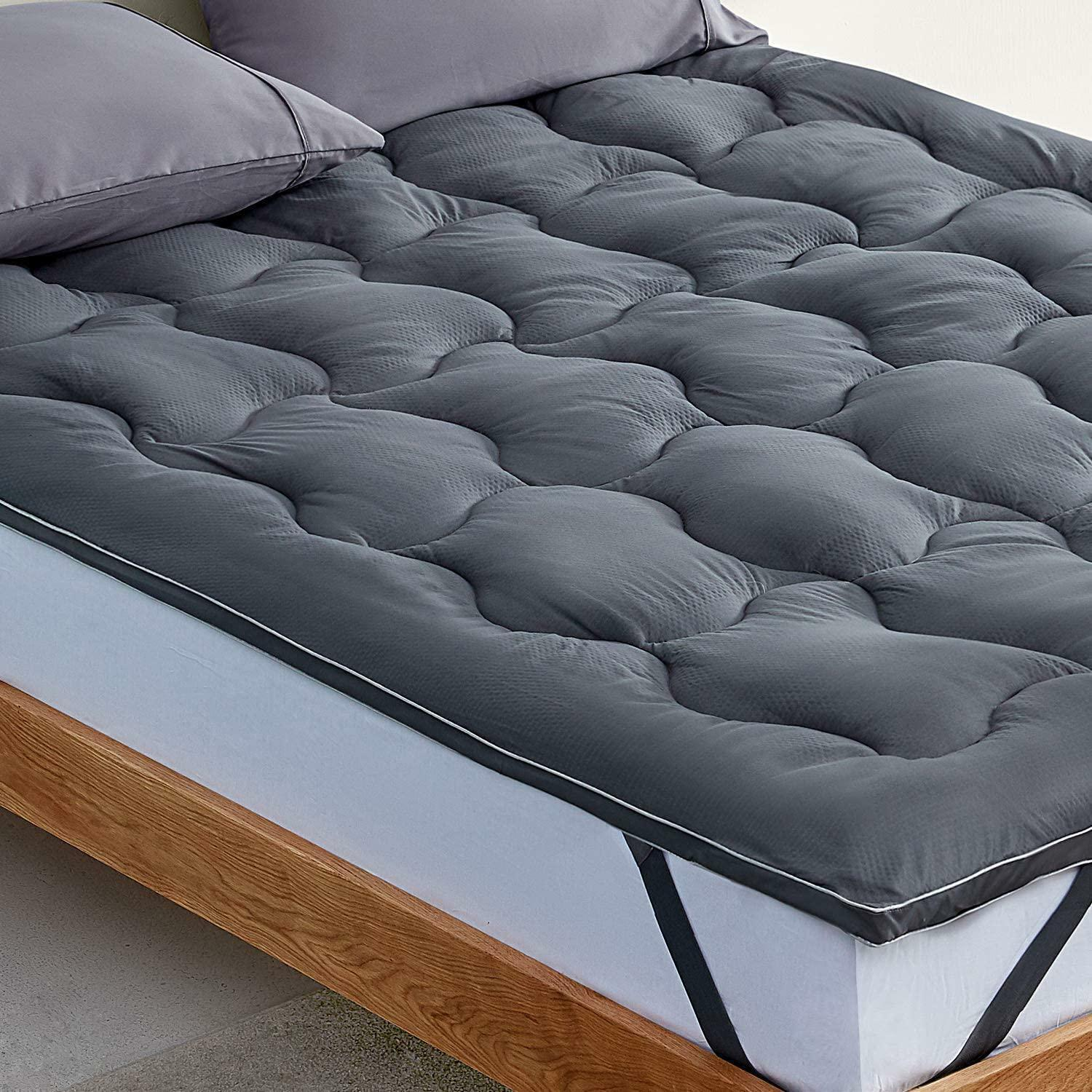 Image Source: ebay.com
With such a wide range of brands, densities, materials, and thicknesses, you should be able to find a product that suits your perfect level of comfort and softness.
Whether you prefer a topper that molds to your body or lying on a fluffy and soft surface, achieving comfort and softness is easier with any mattress topper, including a low-density memory foam or inexpensive fabric topper with a plush layer of soft padding.
10. Pain Relief, Firmness, and Extra support
If you need extra support for your back and other pressure points, you should look for a mattress topper that supports you without sagging. Balanced, thicker, and medium-to-firm toppers made with latex and memory foam are great options for providing firmness, support, and pain relief. Mattress toppers that are too soft may not give your body the support you need.
11. Warranty
The standard warranty period for many mattress toppers is around two years. However, depending on the company, this period can be as long as ten years or as short as one year. You will not get a replacement if the topper is compressed under your weight over time. So read the terms and conditions carefully before purchasing.
12. Temperature Regulation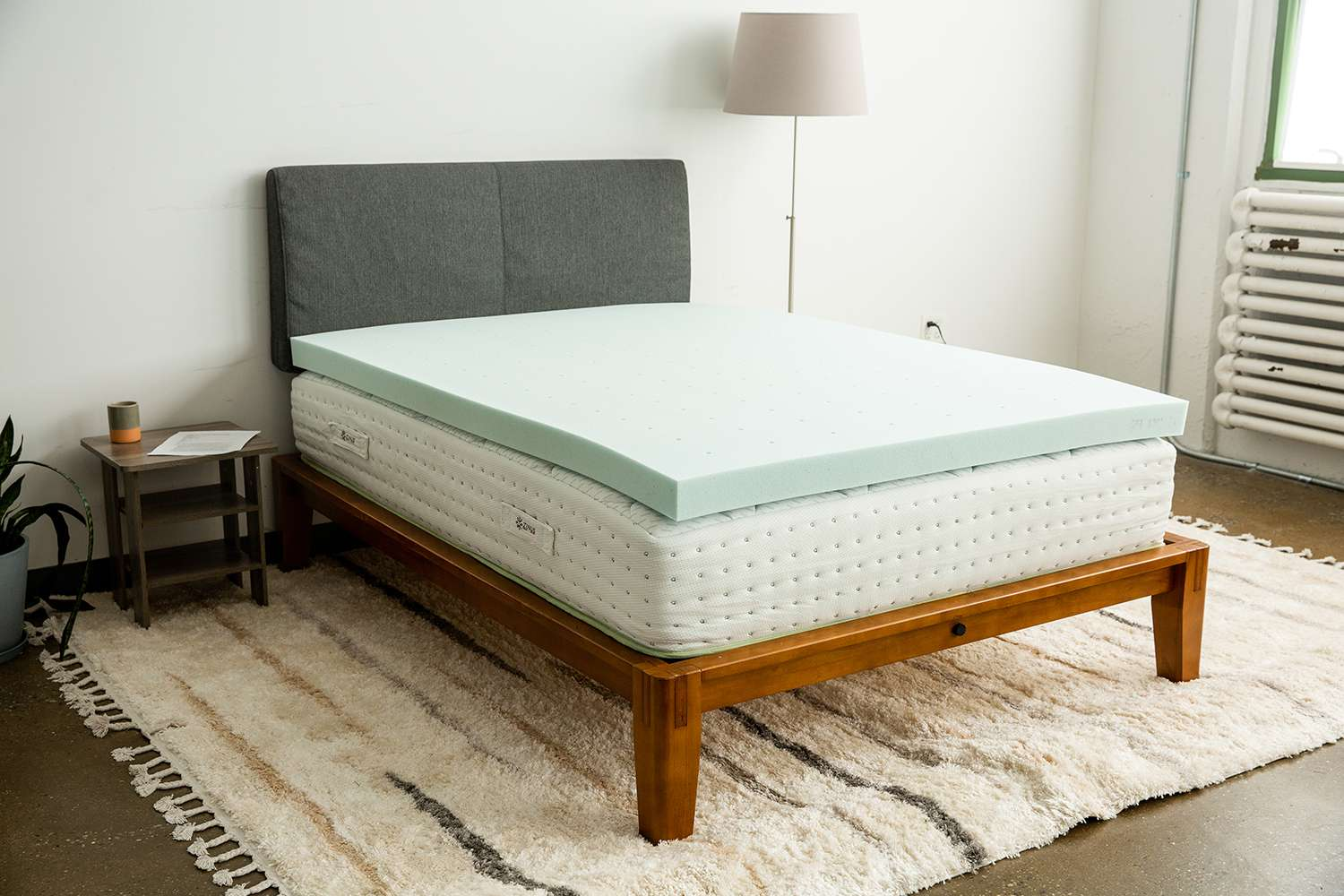 Image Source: thespruce.com
Choosing a mattress topper with temperature regulation features is important if you tend to sleep hot or cold. Wool and down mattress toppers are good for all seasons because they don't overheat too much but are still warm and comfortable in cooler seasons.
On the other hand, memory foam and latex retain most body heat and probably are not the best choices if you overheat in bed. The denser they are, the warmer they feel, so if you're looking for a topper to keep you warmer at night, a latex or memory foam topper is your way to go
13. Design
Mattress toppers come in various colors and patterns, which can enhance the look of your bedroom. So go for what you love. This is also another way to express personality in your bedroom.
14. Cleaning and Maintenance
You should also consider how easy cleaning and maintaining your mattress topper will be. Some materials can be machine washed, some can be wiped clean, and some require dry cleaning. It's even more difficult to clean the mattress topper by hand, so research before purchasing. You can invest in a cover to avoid the frequent need to clean your topper.
Frequently Asked Questions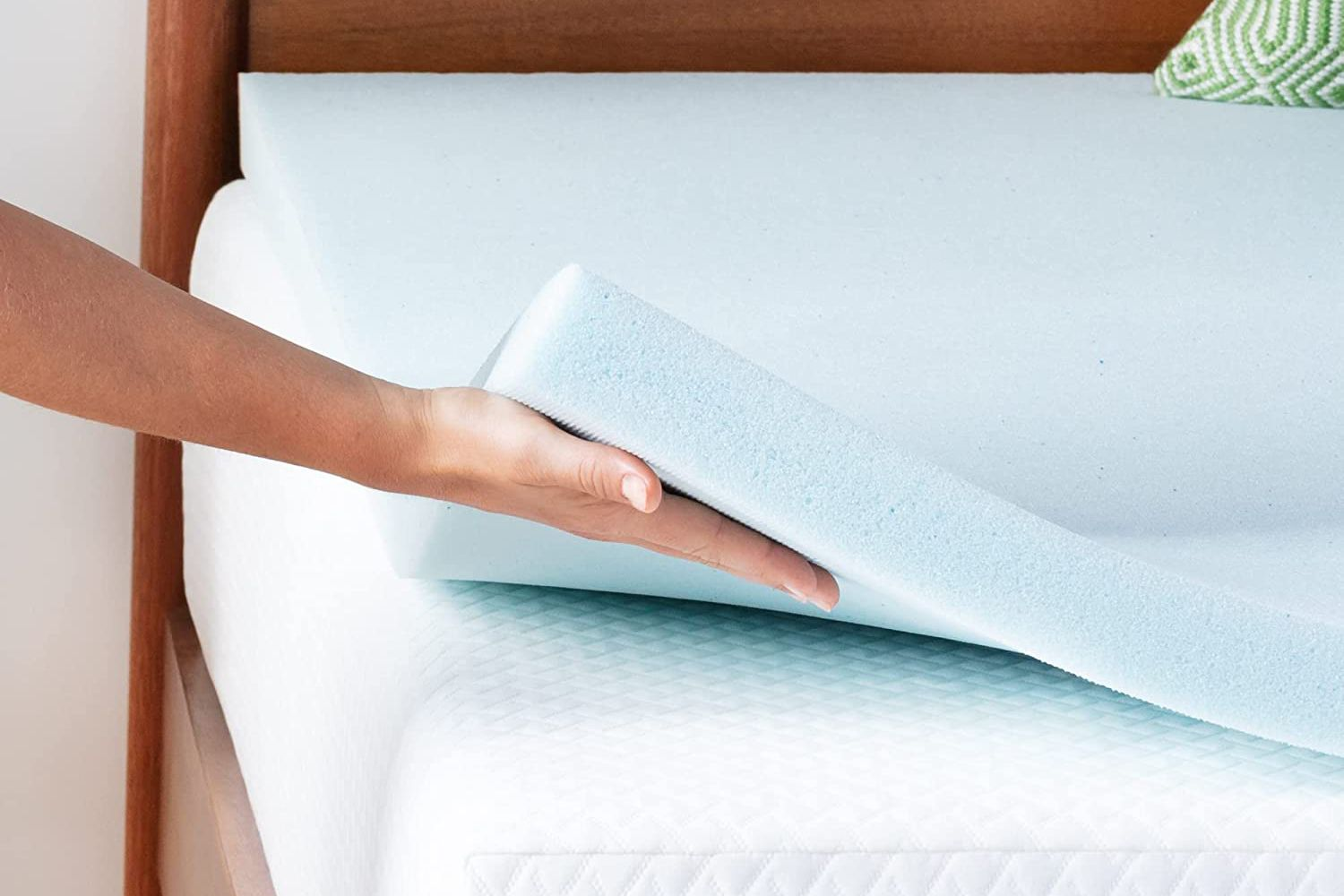 Image Source: realsimple.com
1. How do you choose a good mattress topper?
Choosing the right mattress topper depends on your preferences, sleeping position, budget, the features you want, and the type of mattress you have. For instance, stomach sleepers may need a firmer topper, while side sleepers would prefer a softer mattress topper. Also, some materials are more cooling, while some will hug your body tighter
2. What makes a good topper?
The materials and density of a mattress topper are important in determining the quality of support and comfort you'll get. Memory foam and latex have the best thickness range and densities, giving you the best topper choice for your perfect comfort level.
3. How thick should a mattress topper be?
Mattress toppers are not a one-size-fits-all situation. They are mostly available in 2 to 4 inches, but the appropriate thickness will depend on several factors, including mattress condition, foam density, and your health and weight. For instance, if you have a newer mattress, your ideal topper should be 2 inches thick. However, if your mattress is older, toppers between 3-4 inches will provide you with the needed extra cushioning.
Also, a 4-inch mattress topper is perfect for people looking for a higher level of support, side sleepers, and those who weigh more because this topper provides more comfort for pressure points.
4. What mattress topper filling is best for asthma?
As lovely and comfortable as feathers feel, they can be real trouble for asthma patients. So, choose hypoallergenic options. Microfiber is soft and mimics the feel of down. It is also washable, helping keep allergens at bay.
Hollowfibre and memory foam are also washable, making them a good choice. You can choose wool instead of feathers if you prefer a topper with natural fillings. It's washable and naturally hypoallergenic, ideal for a healthy night's sleep.
5. What is the best filling for a mattress topper?
The best filling for a mattress topper should be easy to keep clean and help keep allergens at bay for sensitive skin. Synthetic fill and memory foam toppers are some of the best choices that will give you comfort while keeping you safe. Also, you can consider a wool-fill topper because wool is also hypoallergenic and easy to clean. Its temperature-regulating capabilities also mean you'll stay at a healthy temperature for a peaceful night's sleep.
6. What is the difference between mattress pads and toppers?
The difference between these two is in their function and thickness. A mattress pad is a thin, 1- to 2-inch layer that provides a little cushion and protects your mattress from oils, fluids, spills, and allergens. Meanwhile, a mattress topper is a thick, 2- to 4-inch layer of various materials, including memory foam, wool, latex, or feather, that change the feel of your bed's surface to offer more support and comfort. 

A mattress pad is great for those who love the feel of their mattress but want a budget-friendly, additional layer of protection and comfort. Alternatively, a mattress topper is ideal for sleepers who want to change the feel of their mattress entirely.
Conclusion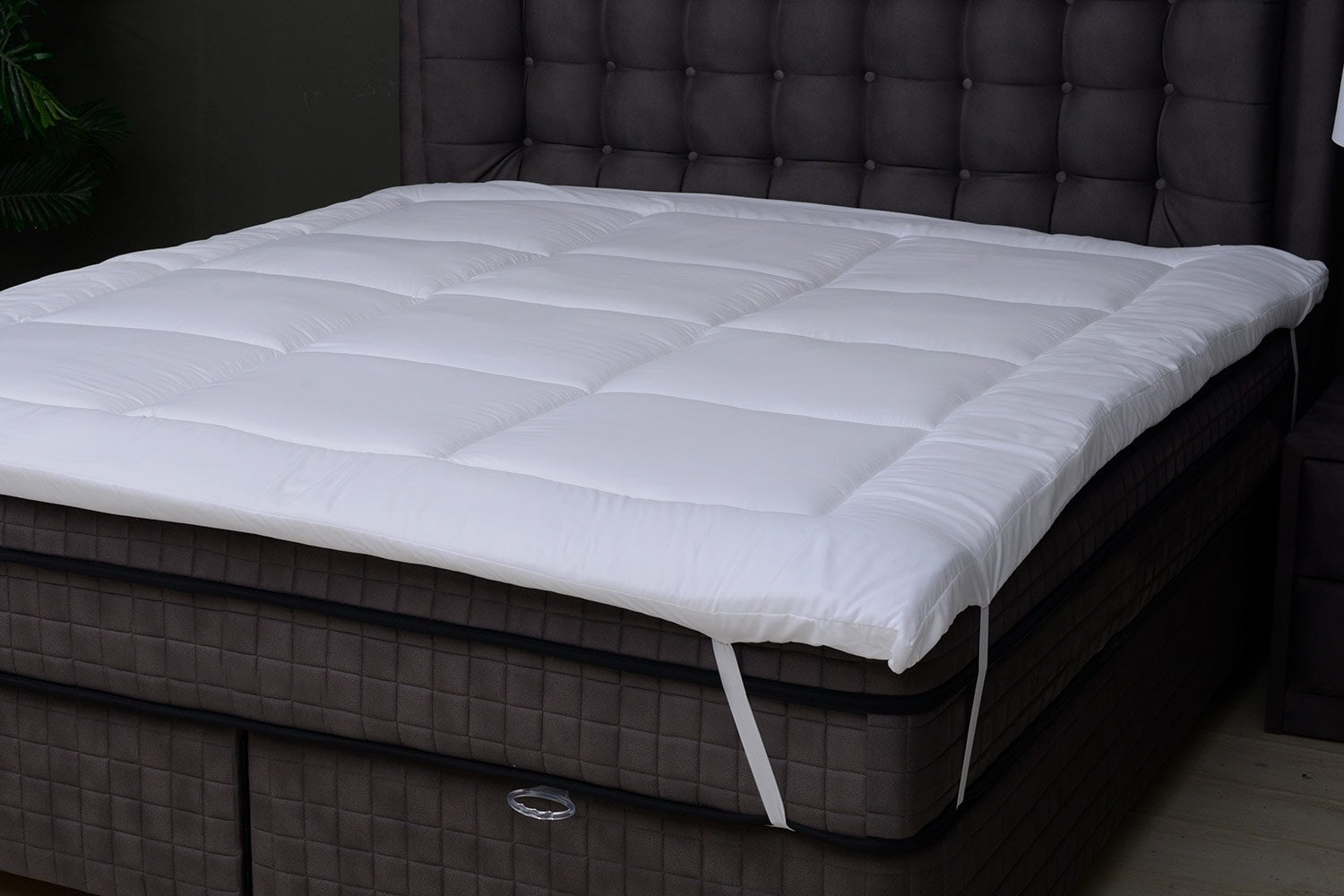 Image Source: panemirates.com
Here you have it! Choosing the perfect mattress topper for your bedroom décor is easier than you think. With this guide, you'll be able to find a topper that fits both your style and comfort needs. 
Once you have your new topper, take care of it properly so you can enjoy its coziness and style for years to come. 
Happy shopping!