You are scrolling through Pinterest, looking for color ideas to use after renovating your living room or kitchen. However, deep down, you already know that you want to work with dark blue, but the real challenge is how to make it look good. I have outlined the colors that go with dark blue to use in any room in the house.
There are two ways to use blue; on the wall or on furniture and accessories. I will discuss ways to match blue regardless of how you use it. But first, what formulae can you use to match dark blue?
How To Match Blue with Other Colors
Blue is one of the primary colors, making it easy and fun to work with. Here are some ways you can use blue with other colors.
1) Blue and Its Analogous Colors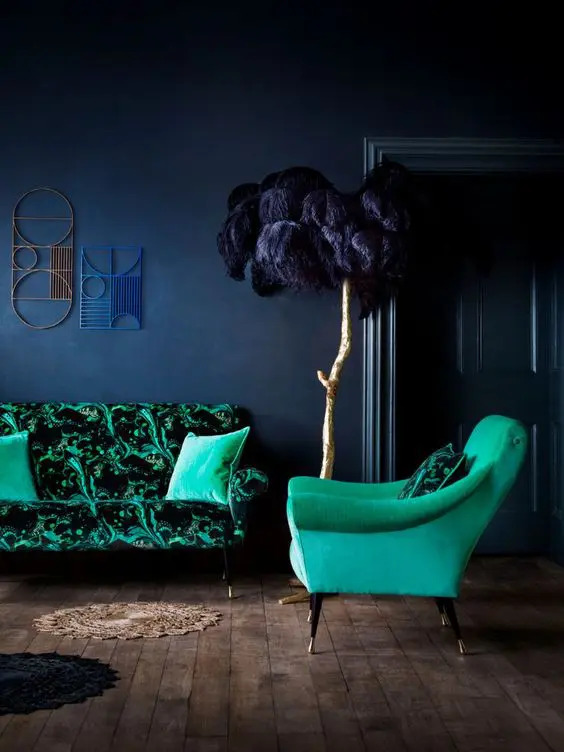 Image Source: digsdigs.com
Analogous colors are somewhat next to each other on the color wheel. This is because the colors need to share hues as well. While we can argue that primary colors are analogous since they border each other, they would not have a practical application.
Therefore, analogous colors are made up of one primary color and either a secondary or a tertiary color that is a shade of the primary color.
A secondary color can make the main color just like the primary color. You can come up with exciting combinations of colors when you use secondary and tertiary colors as analogous colors.
2) Blue and Its Complementary Colors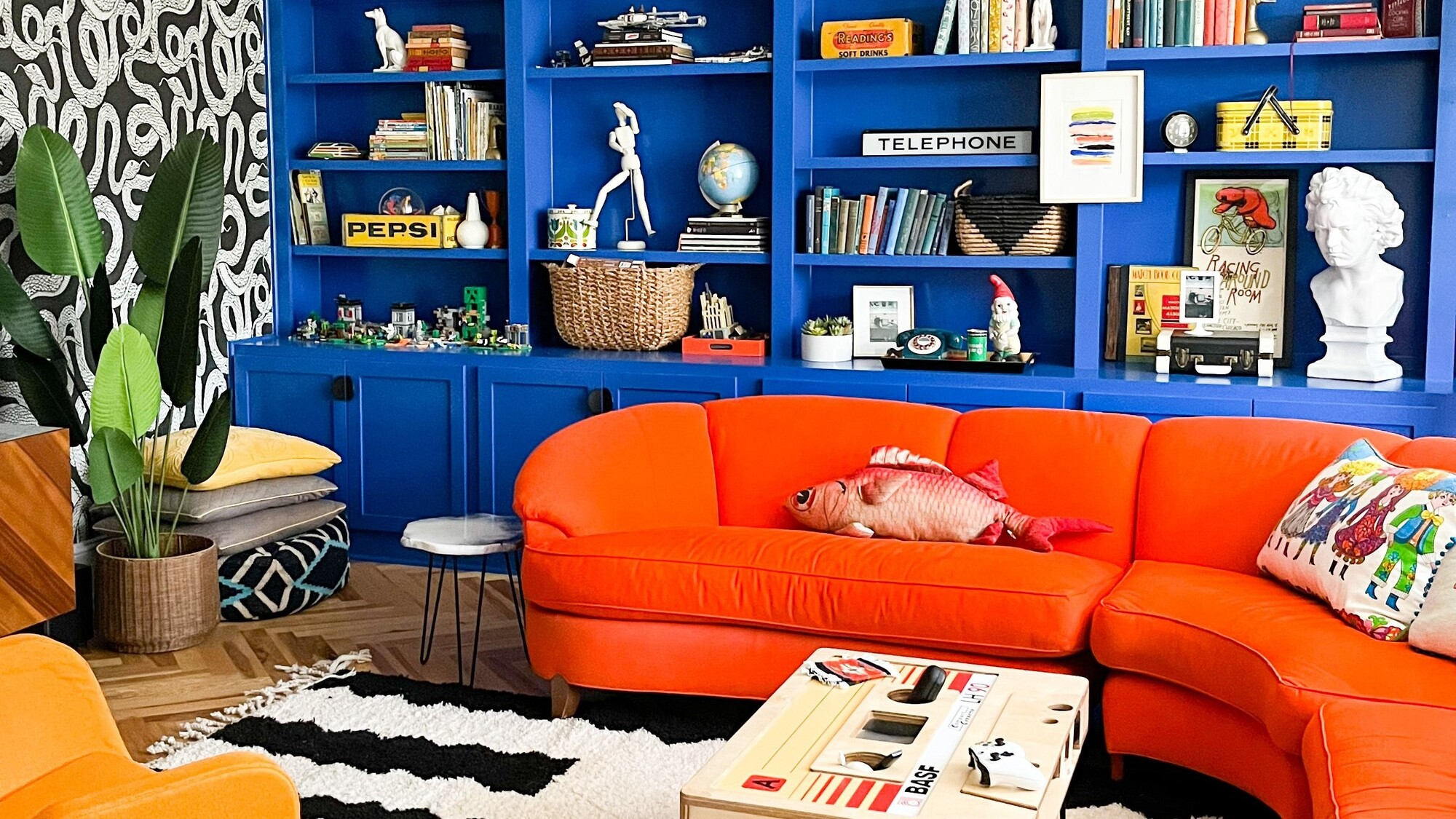 Image Source: livingetc.com
Complementary colors are generally on opposite sides of the color wheel. This is the most common way to match colors, as they have very satisfying results—for example, blue and yellow look nice because the two colors complement.
Complementary colors contrast, giving off a vibrant aesthetic that is hard to ignore.
3) Blue and Neutral Colors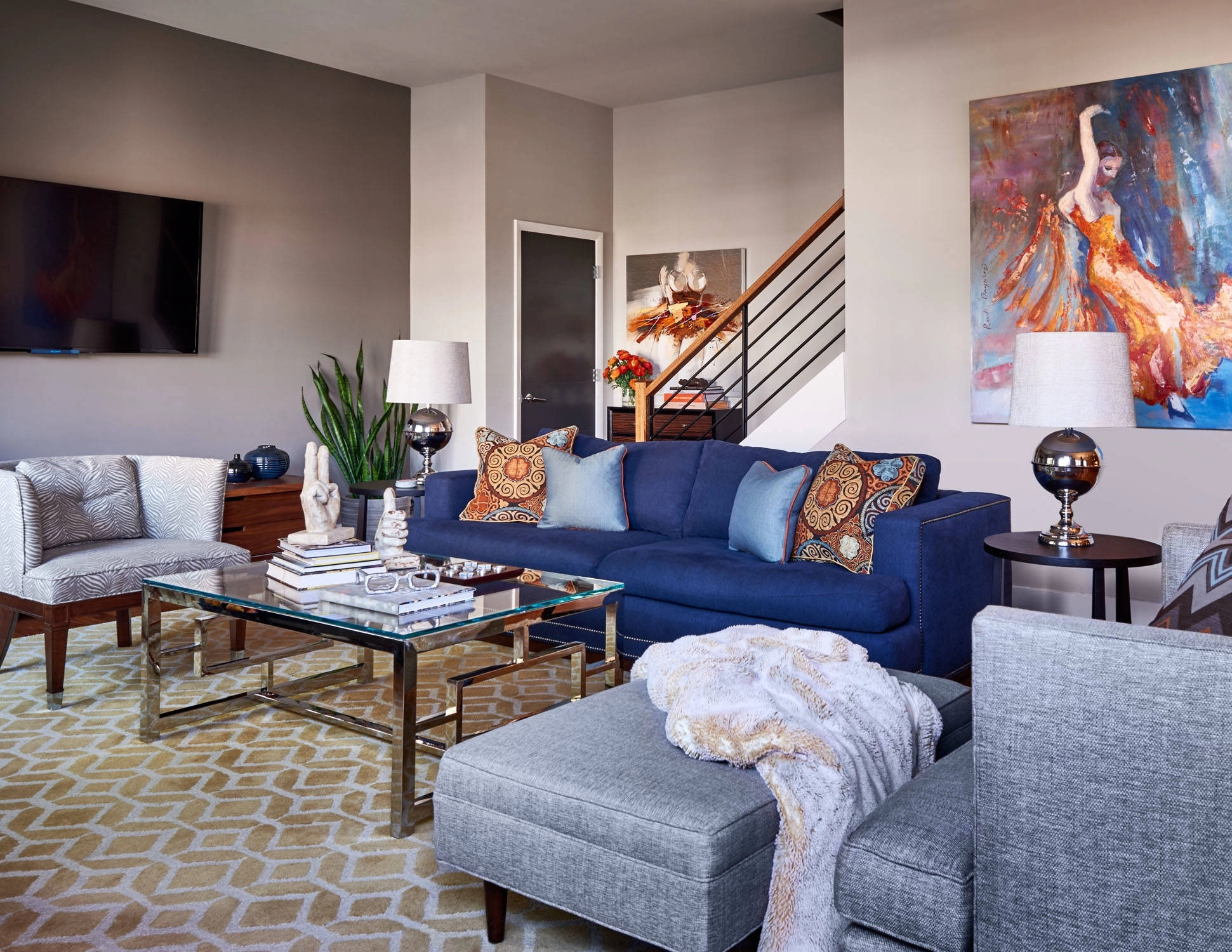 Image Source: foter.com
The neutral palette is easy and fun to work with. There are endless ways to match neutral colors with blue. The good thing about neutral colors such as grey is that they let the main color in use stand out without leaving the rest of the subject boring. You can use grey and blue to come up with some elegant combinations.
4) Blue Monochromes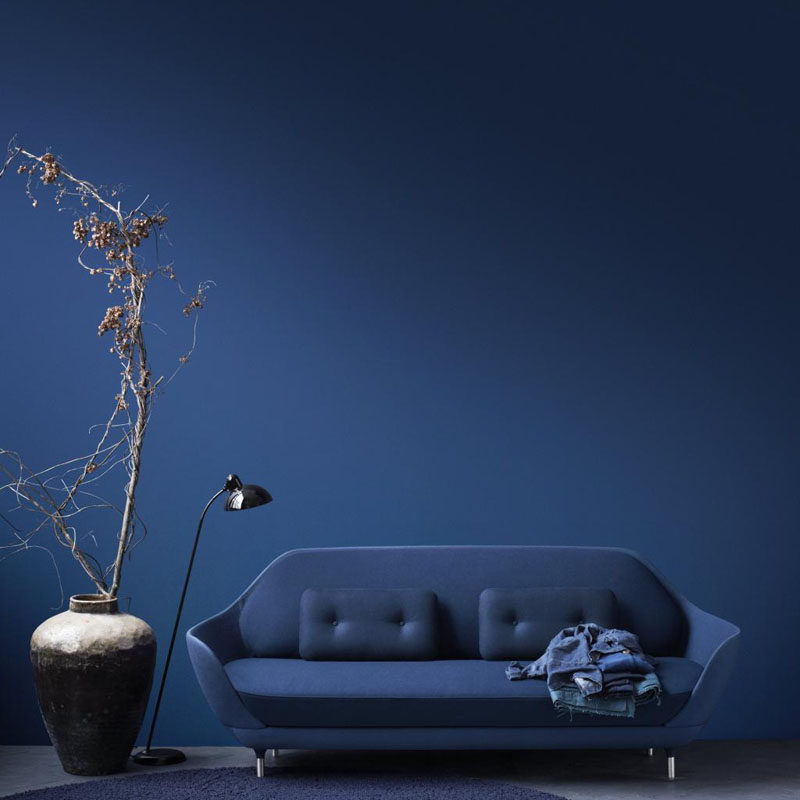 Image Source: contemporist.com
"Mono" means single, and monochrome is when you use blue to match itself and give a consistent and stylish feel. This is perhaps the easiest, but not the simplest, way to match colors. Furthermore, this combination could be more interesting for interior design
Is it analogous, similar to monochrome? Yes, to an extent, since you are using shades of a color.
5) Soft and Pastel Blue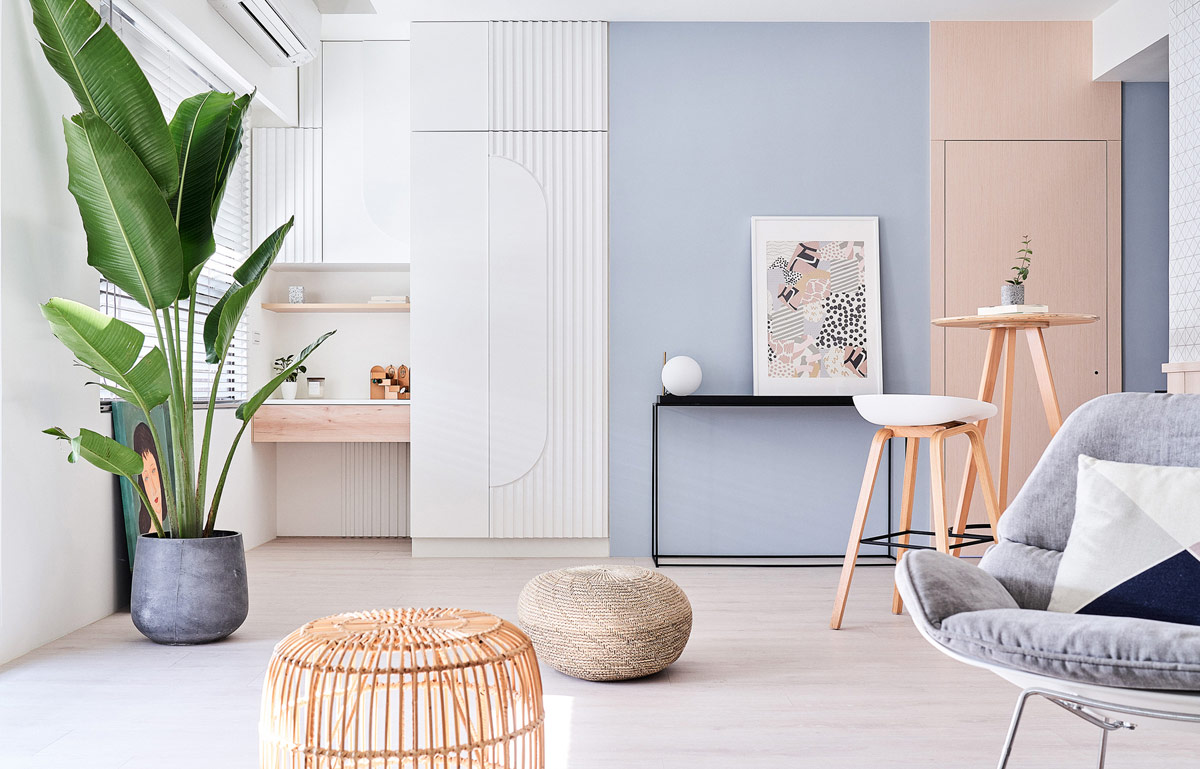 Image Source: home-designing.com
Pastel blue is easy to match as it looks good with almost any other pastel color. Pastel colors are soft and satisfying to look at. You can achieve a comfortable look by using pastel colors.
Colors That Go with a Dark Blue Wall
Wall color is the most abundant color in a room. Please note that a widely used color does not pass as the dominant color. For instance, you can use a yellow couch in the middle of a navy blue room. Since yellow will stand out the most, it will be the dominant color.
That being said, let us look at different colors and ways to match dark blue.
a) Yellow Couch and Blue Wall
I match yellow throws and blue couches, but blue walls match well with a yellow couch. However, dark blue interiors are hard to pull off since the success of such an interior depends on the color you use alongside the navy blue color scheme.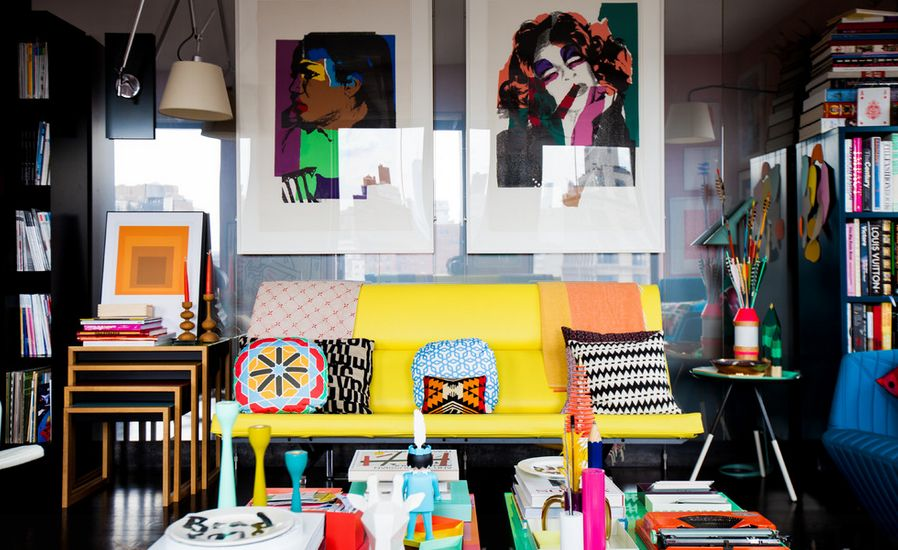 Image Source: homedit.com
A yellow couch stands out and shows the thought put into the design process.
I avoid throwing a color like yellow all over the place simply because it matches blue. I mentioned above that you could combine three colors. I can have a navy blue wall, grey couches, and one yellow chair. This combination is so sweet.
b) Navy Blue Walls and Blush Pink
This combination is great for the bedroom. This is because it is easier to play around with drapes and materials, and the bedroom has many. In addition, blush pink is manageable to look at against dark blue and gives off a relaxing vibe.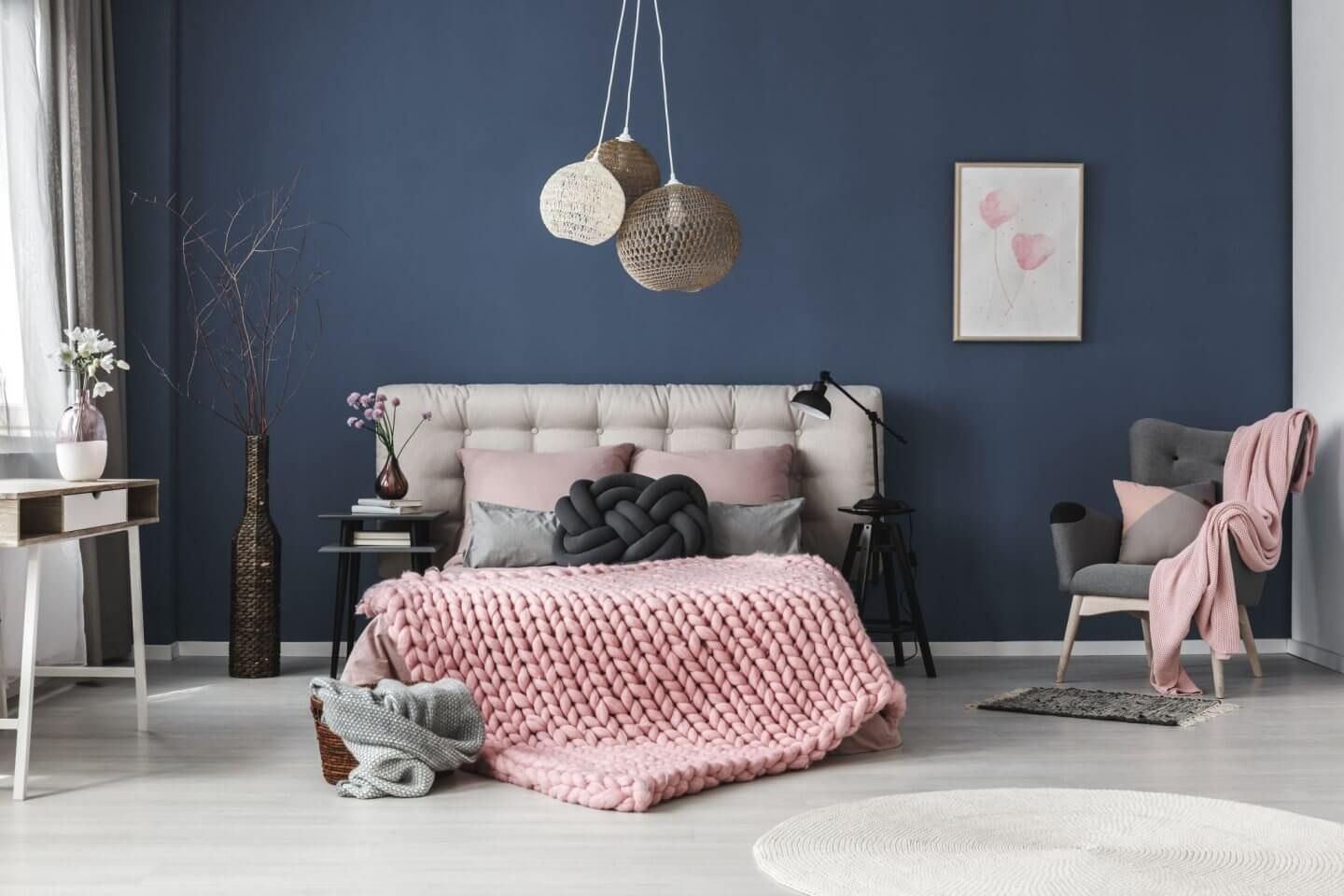 Image Source: pinterest.com
Blush pink can work in place of rose pink, and each time I look at this color combination, I know it is one of the best ideas for a bedroom.
c) Dark Blue and Emerald Green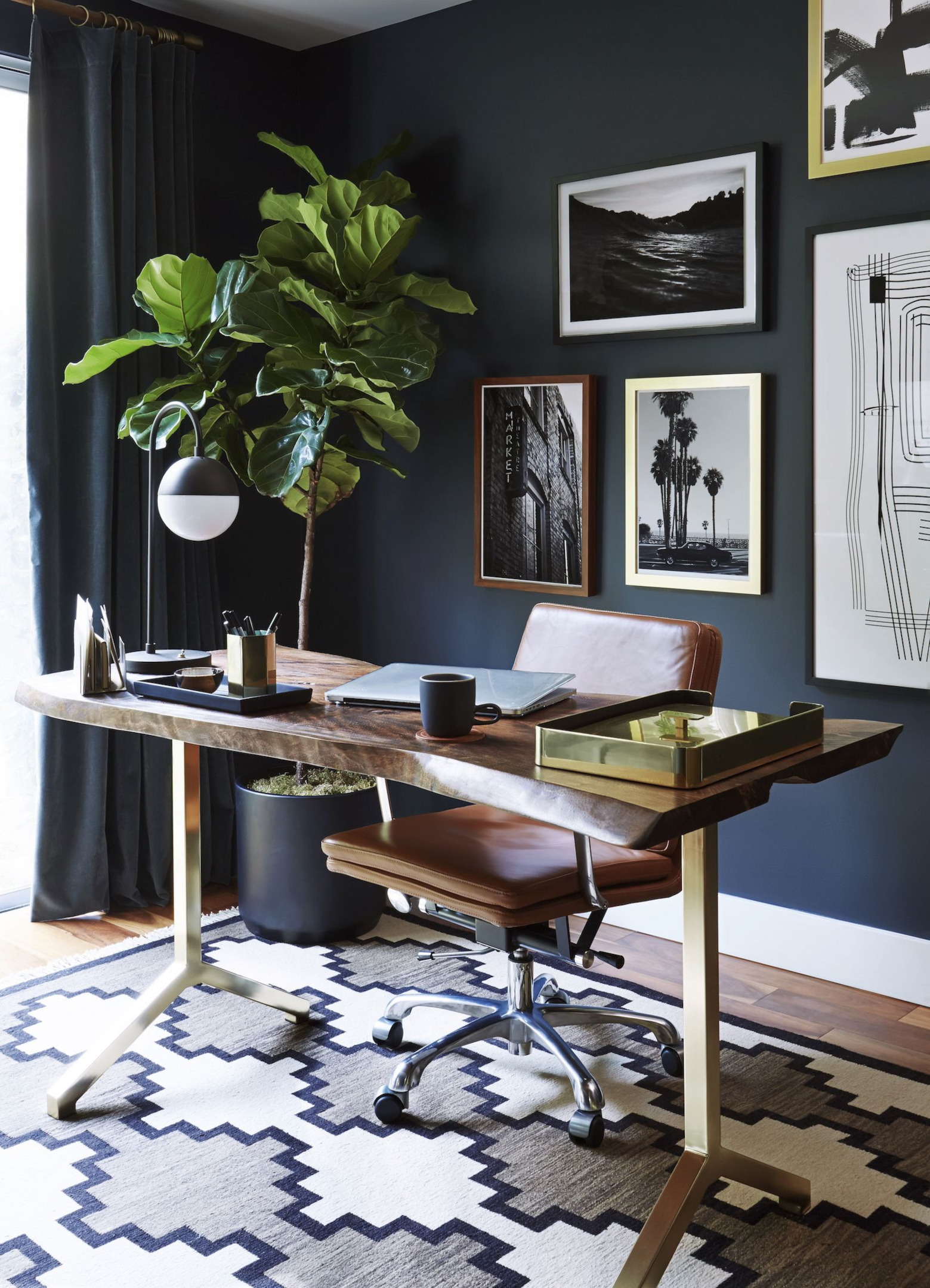 Image Source: elledecor.com
The easiest way for me to achieve this combination is by getting plants. A lot of plants. Having a mini-forest next to a navy blue wall is one of the most satisfying interior design ideas I have tried. Plants are very close to emerald green, especially when juxtaposed with dark blue.
The beauty of plants is that they will create a play of greens. No single plant has only one shade of green, as young leaves have a lighter shade of green, giving off good transitions. Plants work with many colors, but they use navy blue better than most.
d) Navy Blue and Gold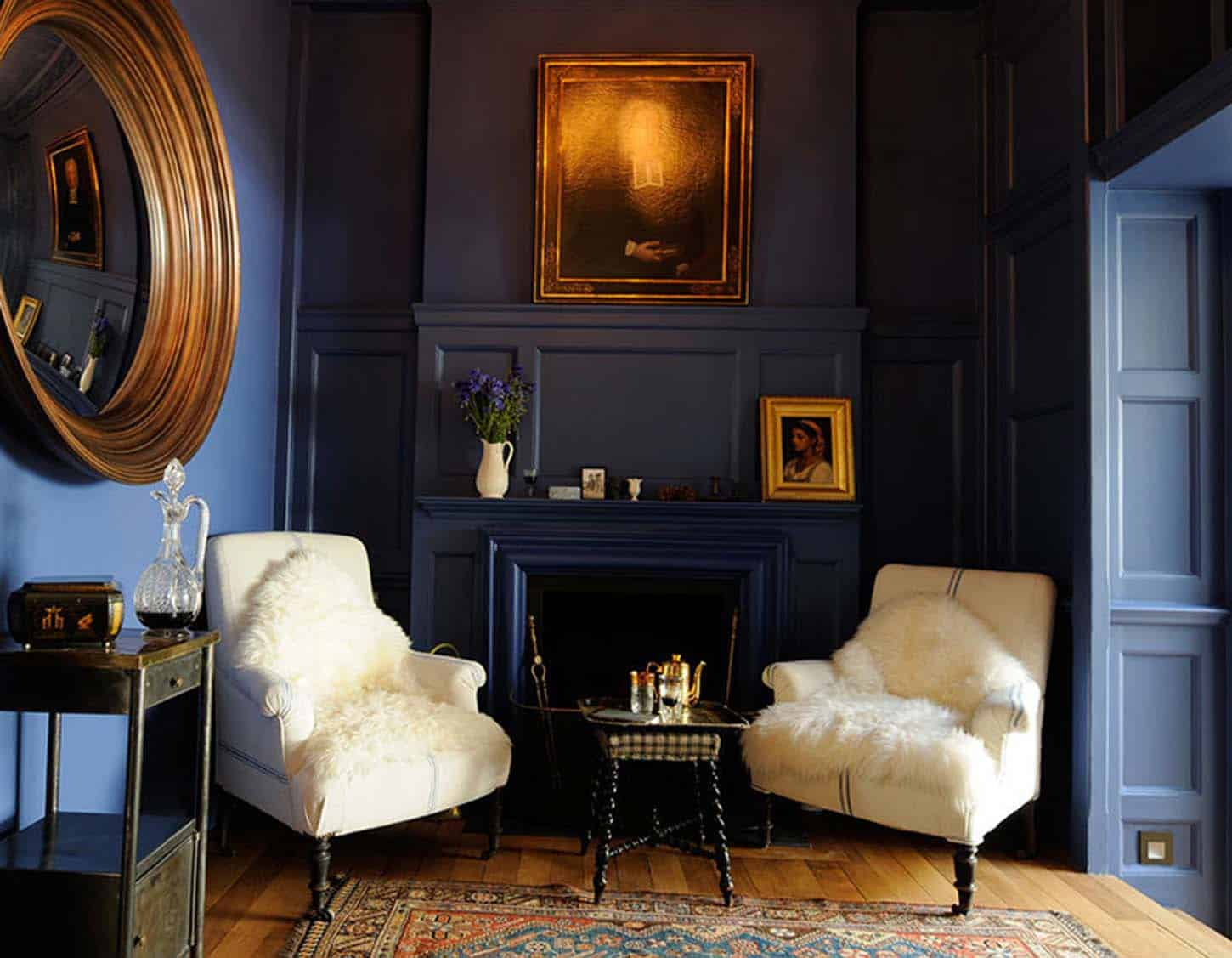 Image Source: greenandmustard.co.uk
The navy blue color palette can work with many colors, but gold is the best. Since this color is royal, we must consider what a king would wear. The answer is a crown and gold rings. How can we apply this to a wall?
A king's crown can be replaced by a golden lampshade and rings with golden door knobs. A golden doorframe of the picture frame will do a great job acting in place of the golden necklace.
Gold never disappoints, especially with a royal color like dark blue.
e) Dark Blue and Wood
There is a reason why wooden furniture works for almost every situation. The natural wood color is one of the neutral color choices that act as gold. The color stands out beautifully against a dark color like navy blue.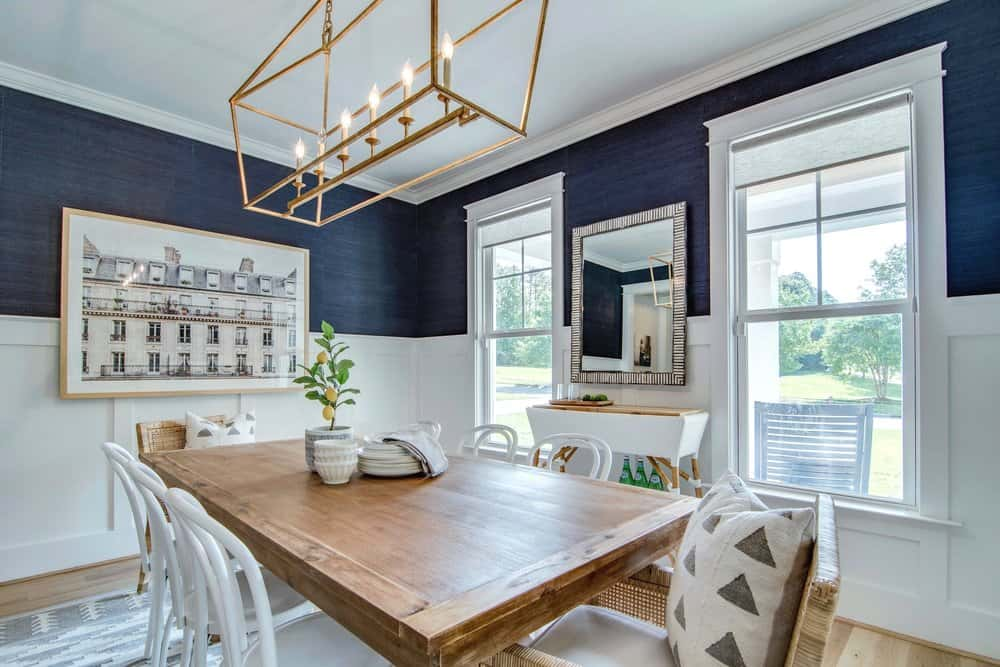 Image Source: chrissymarieblog.com
Dark blue would work well in a dining room because the dominant furniture in a dining room is a wooden table and chairs whose colors go with navy blue. There is just enough contrast between the furniture and a blue wall to create an atmosphere that enhances the vibrant colors of fruits and food.
f) Navy Blue and Light Grey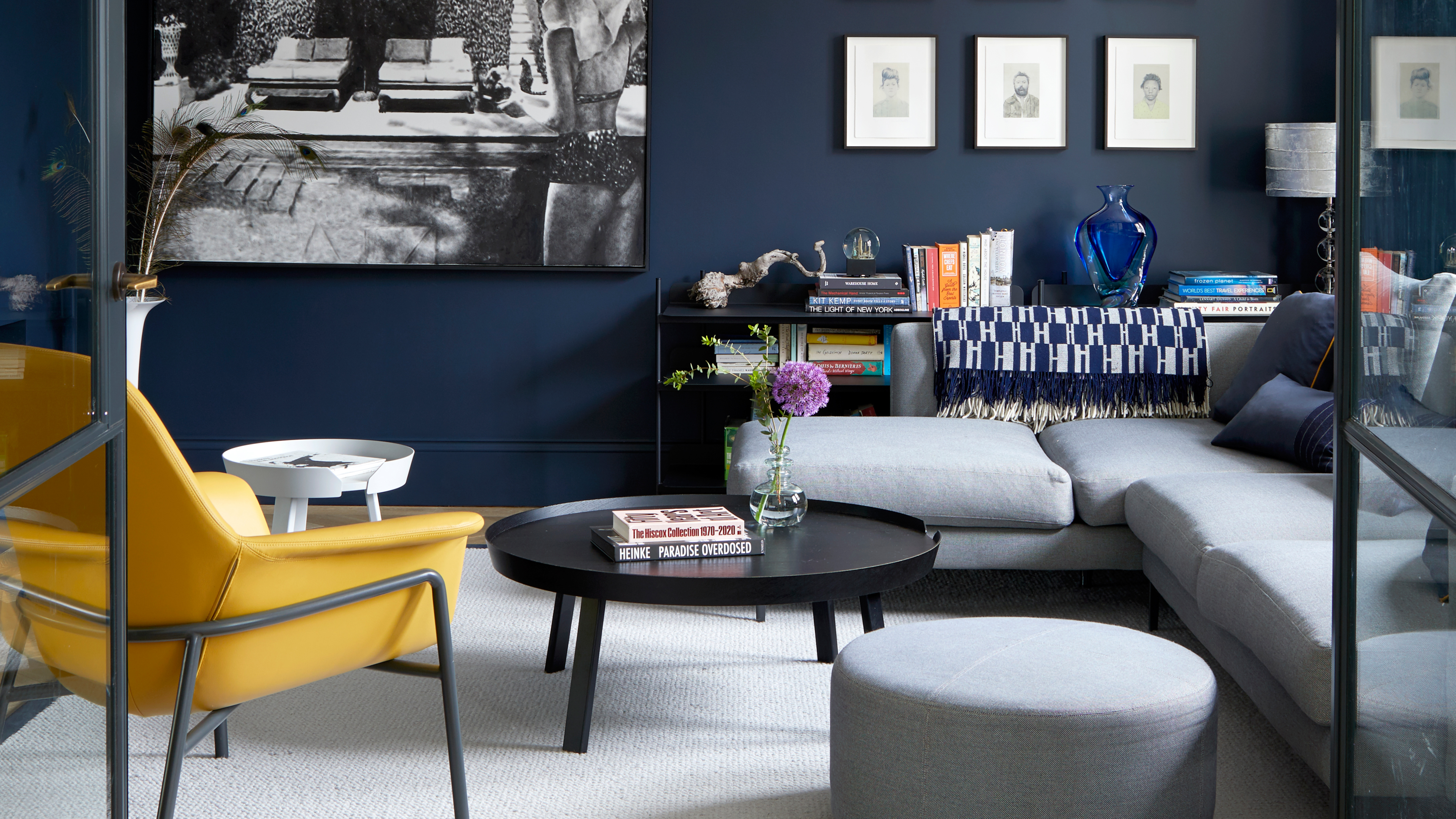 Image Source: livingetc.com
When you pair navy blue and light grey, then there is another color you should add to the mix because these two colors alone may be dull together. Combining the two shades creates space for accessories like mustard yellow to break any monotony. This combination is great for living rooms with a television or a great painting.
g) Navy Blue and Red
This is one of the most royal color pairings. Red and blue are hard to beat in how beautifully the colors work together to create a strong background prepared to receive a dominant color like yellow or gold.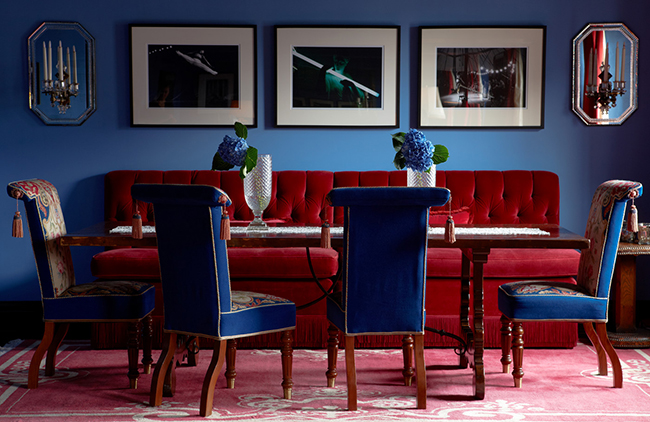 Image Source: livinator.com
There is a lot of care to be taken with combining these two colors, as it is not the easiest thing. You can mess it up easily.
Other Ways to Match Navy Blue
Apart from the wall, there are other ways to match navy blue that will enhance the look of an interior design. Navy blue is a great choice on anything as it can stand out or support other paintings to stand out.
Here are some ways to use navy blue other than on the wall.
i) Navy Blue Furniture
The best other places to use navy blue are on the furniture. I have a navy blue couch in my living room, which allows me to match colors in the house in many different ways.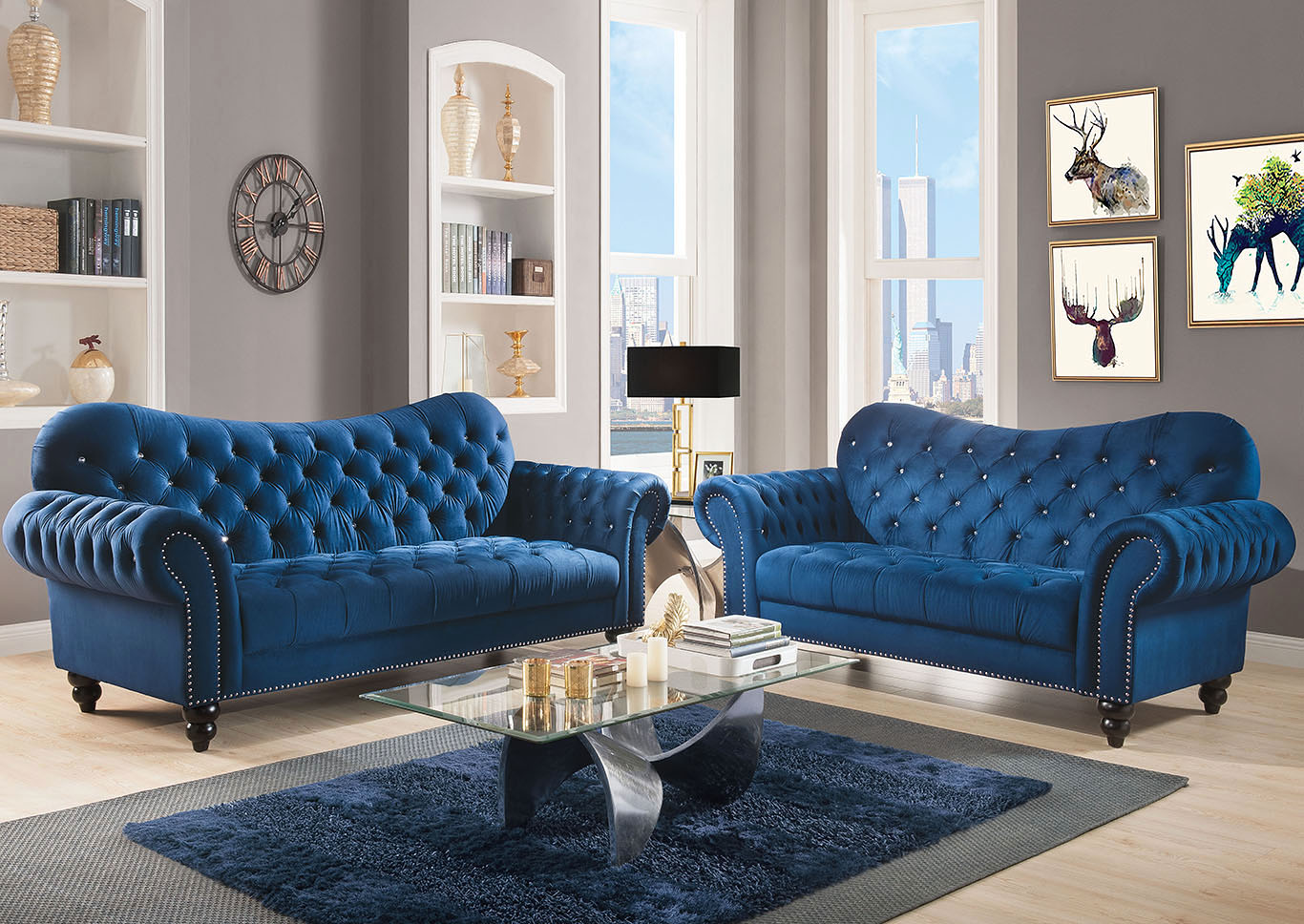 Image Source: truvalufurniture.com
I have a red and yellow carpet, which makes the combination of the couch and the carpet stand out beautifully. Also, dark tones on furniture are great because you can have a chance to throw on different colored pillows and throws.
The best color to match navy blues on furniture is white. Navy blue and white give a presidential look. The combination of navy blue and white makes the room feel slightly larger than it is. This combination works best for anyone going for the minimalist vibe.
ii) Navy Blue Curtains
Curtains have a strong effect on how the house will feel. Just like mirrors, curtains create the perception that a house is more spacious than it is. Therefore, curtains play an important role, especially at night, and are better off looking good.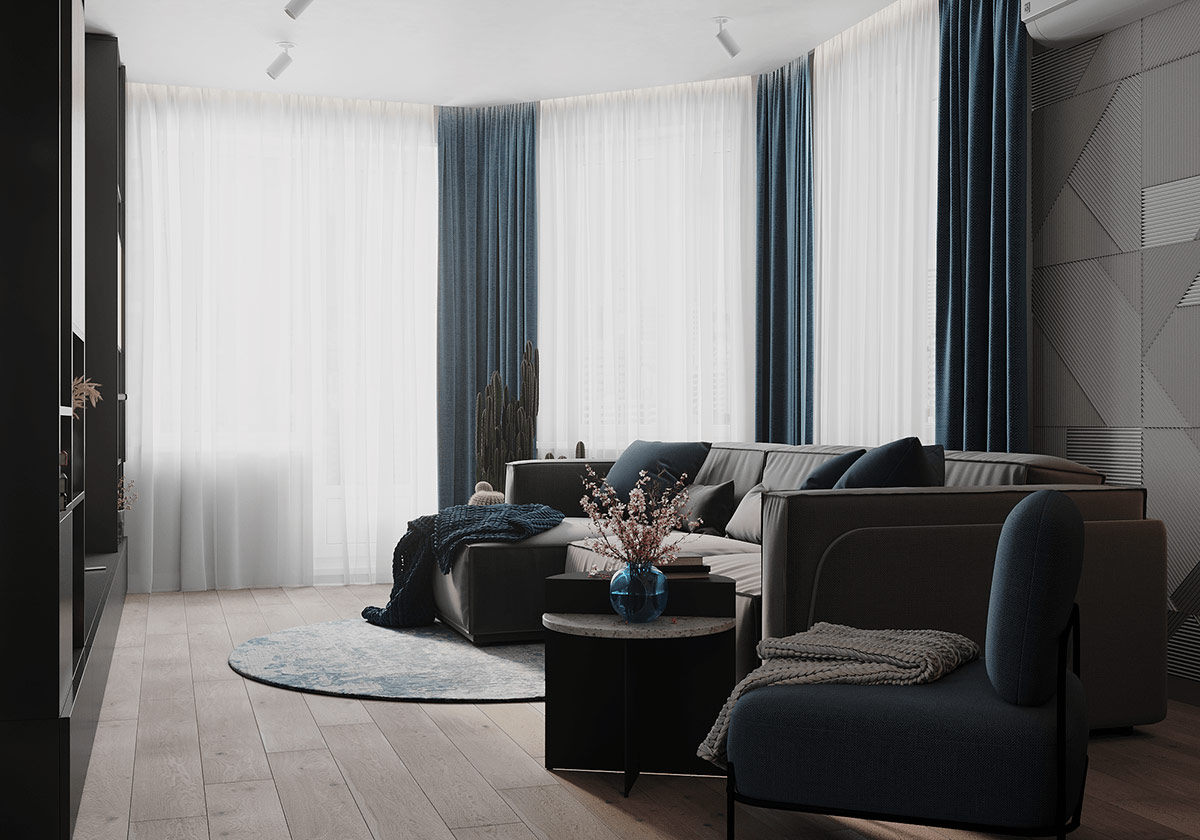 Image Source: home-designing.com
Curtains can have a solid color or vibrant patterns. For a solid-colored curtain, navy blue is the best way to go. Navy blue works well with other cool tones and almost all colors you can have on a wall.
Curtains create high contrast and reverse the effect that open windows give during the day.
iii) Navy Blue Carpet
A navy blue carpet is a bold move that I would not go for. However, I have seen the concept work amazingly, making me want to reconsider my stand. Blue creates a solid color that is easy to accent using other colors.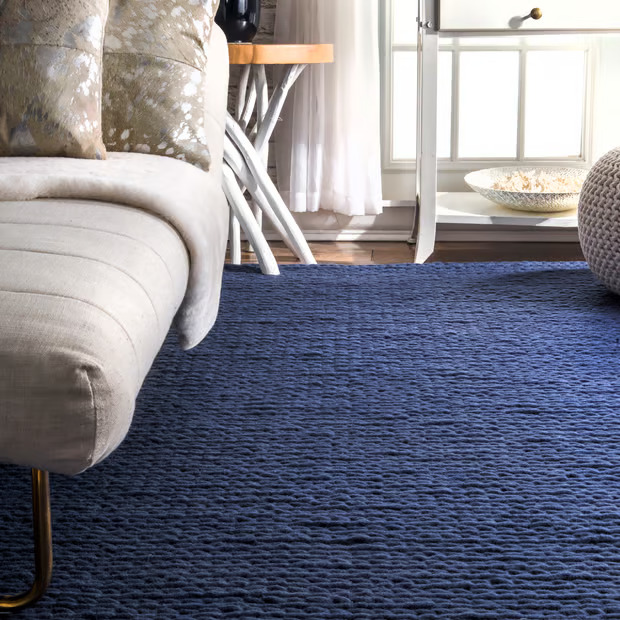 Image Source: rugsusa.com
Carpets do not have to be bright to stand out.
The best way to use navy blue on a carpet is when the carpet is wall-to-wall, and the interior design has a minimalist approach.
iv) Navy Blue Cabinets
Kitchen or bathroom cabinets allow us to play around with colors. Cabinets are fun to work with because they directly connect with the wall. For example, if I had white walls, the cabinet could be a shade of blue, like midnight blue.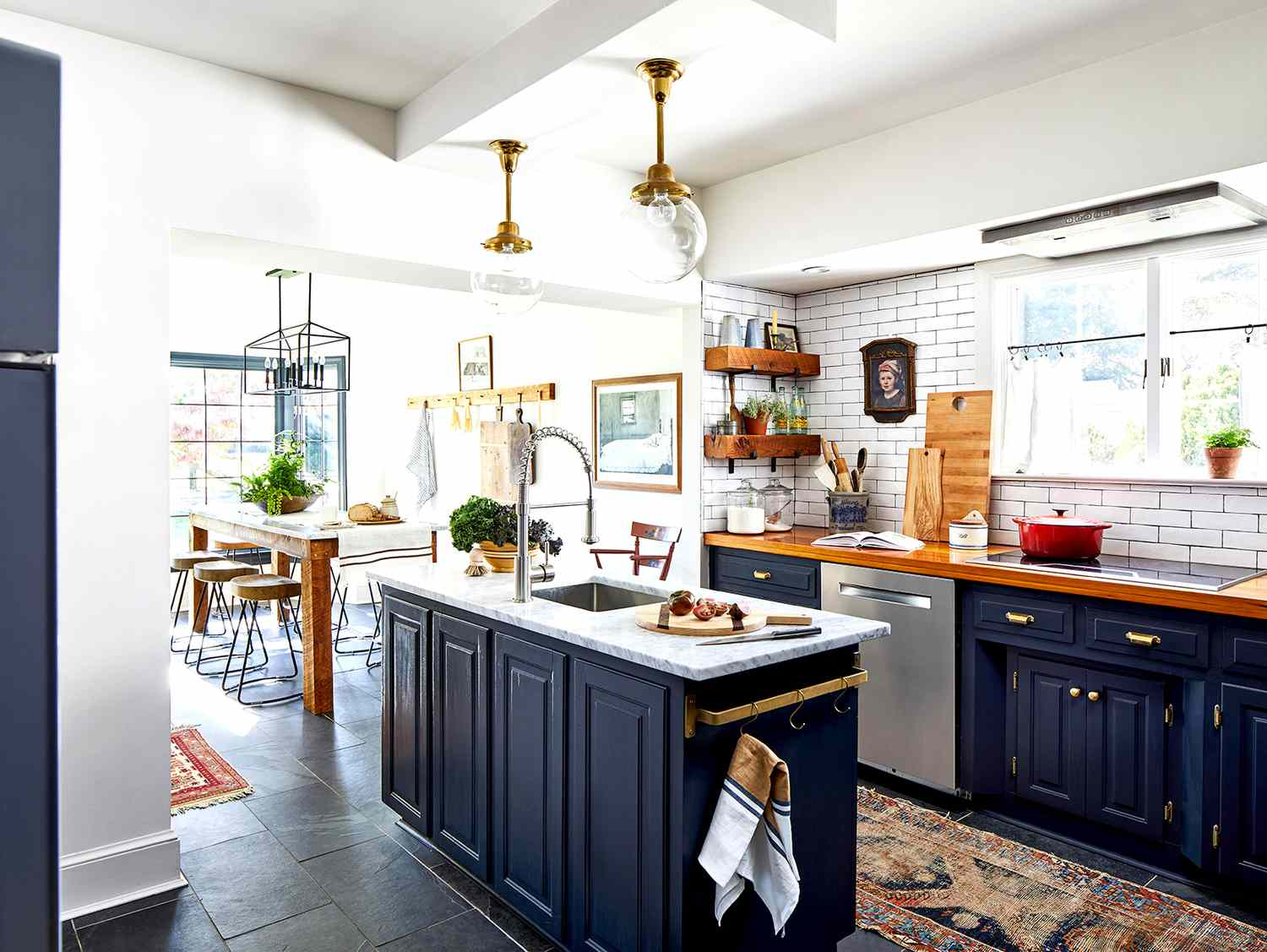 Image Source: bhg.com
Other cool undertones come with navy blue, and one of the best ways to match navy blue is by using an analogous color like light blue or sky blue.
Cabinets can work with a blue wall as well. To match a blue wall, you can use burnt orange, brown, yellow, and other colors.
v) Terra Cotta Plant Vases and Navy Blue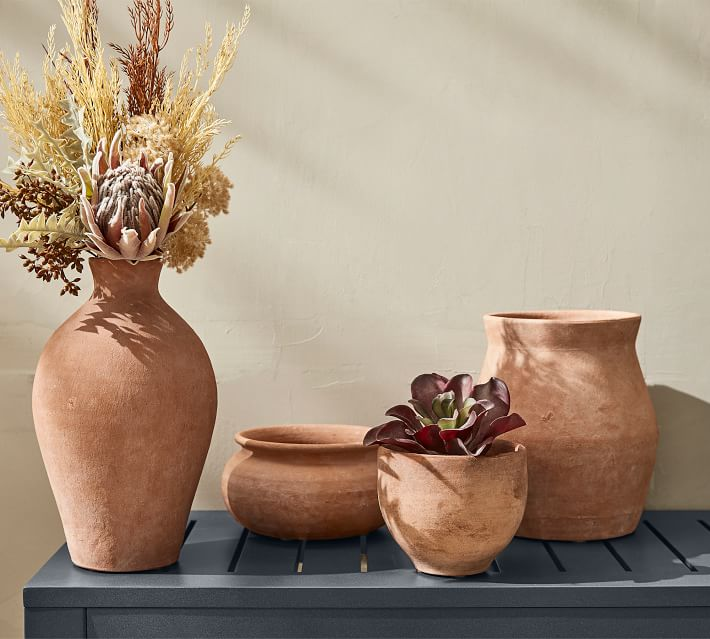 Image Source: potterybarn.com
I have large plants, and when repotting them, I used pots with the natural terra cotta color. This worked perfectly with my navy blue color scheme in the house. Terra cotta has a similar vibe as blush pink and blends in easily with blue. Together with the plants inside, terra cotta brings a vibrant energy to the mix. This is one of the few classic color schemes that I love pairing.
vi) Throws and Navy Blue Couch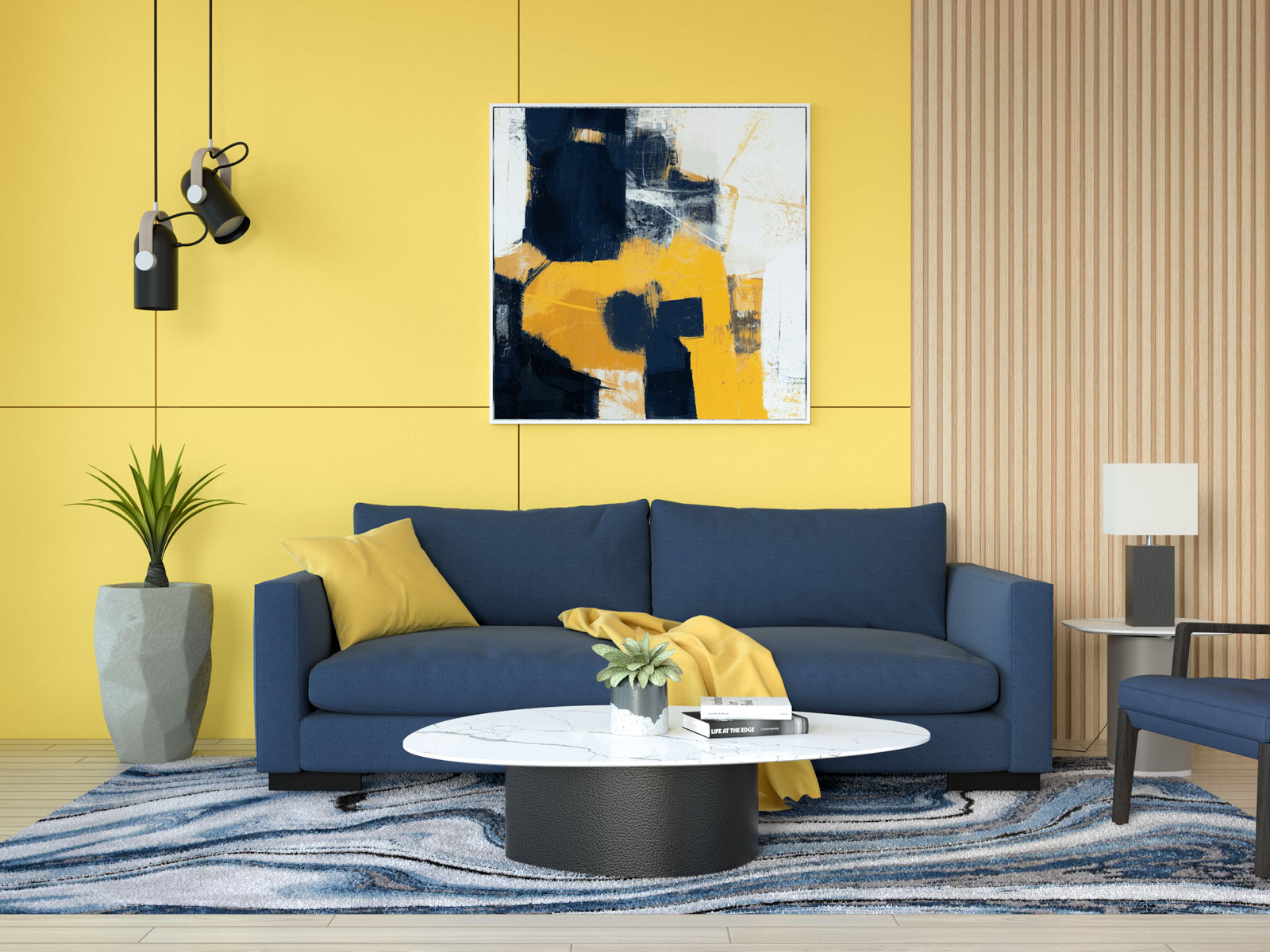 Image Source: roomdsign.com
One of the most popular pillow combinations is having differently colored throws on a navy blue couch. However, one well-loved pairing is a yellow throw on a navy blue couch. The color works well, just as a yellow pocket square makes a navy suit versatile and stylish.
viii) Navy Blue and Gray
The combination of navy blue and gray is one I like seeing in different interior settings, as they are two colors that do not fight each other. So many colors can go with navy, but not so many are as inviting to a third color as gray and navy blue.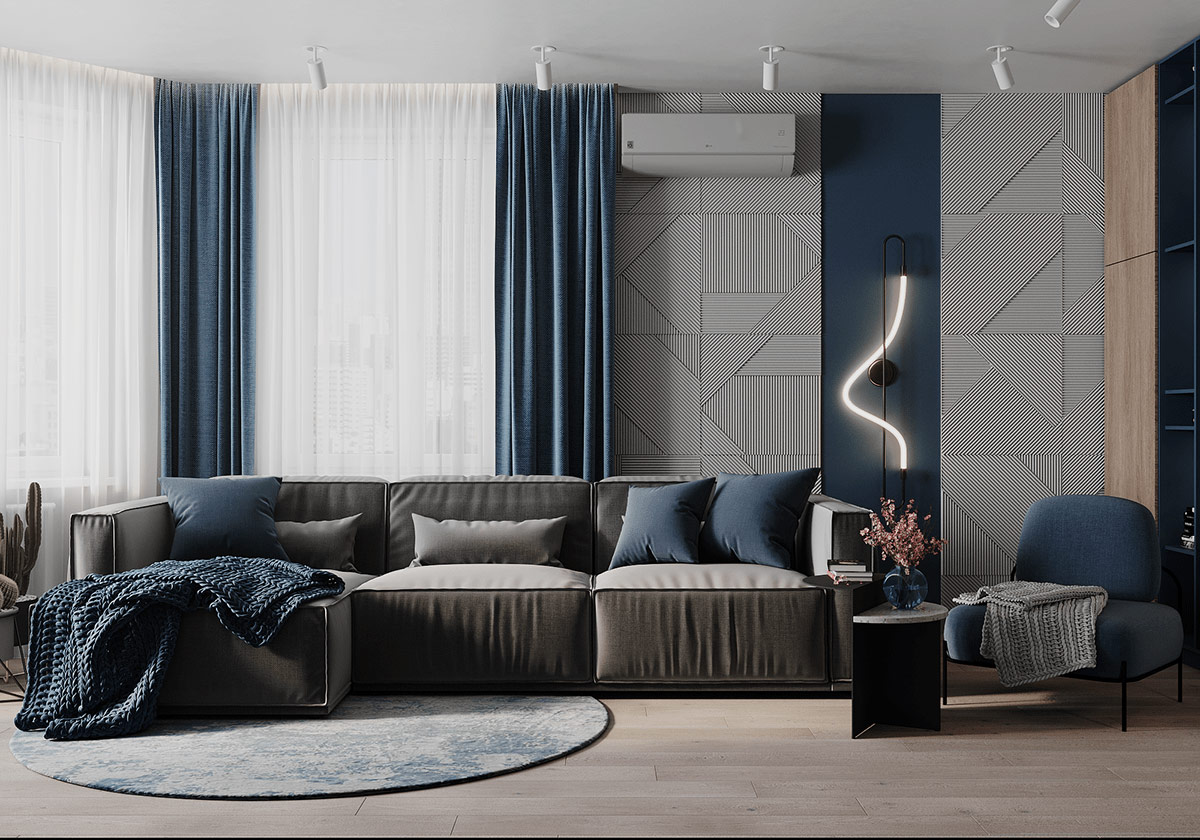 Image Source: home-designing.com
Of all the colors that I match with navy blue, grey is the color I can secretly use without anyone noticing it. Gray is like ambient music; it is meant to be within sight but invisible.
ix) Navy Blue Picture Frames or Centerpieces
If you have a striking piece of art with a navy blue frame, having it against a white wall will bring a white wall brings the Parisian salon interior design vibe.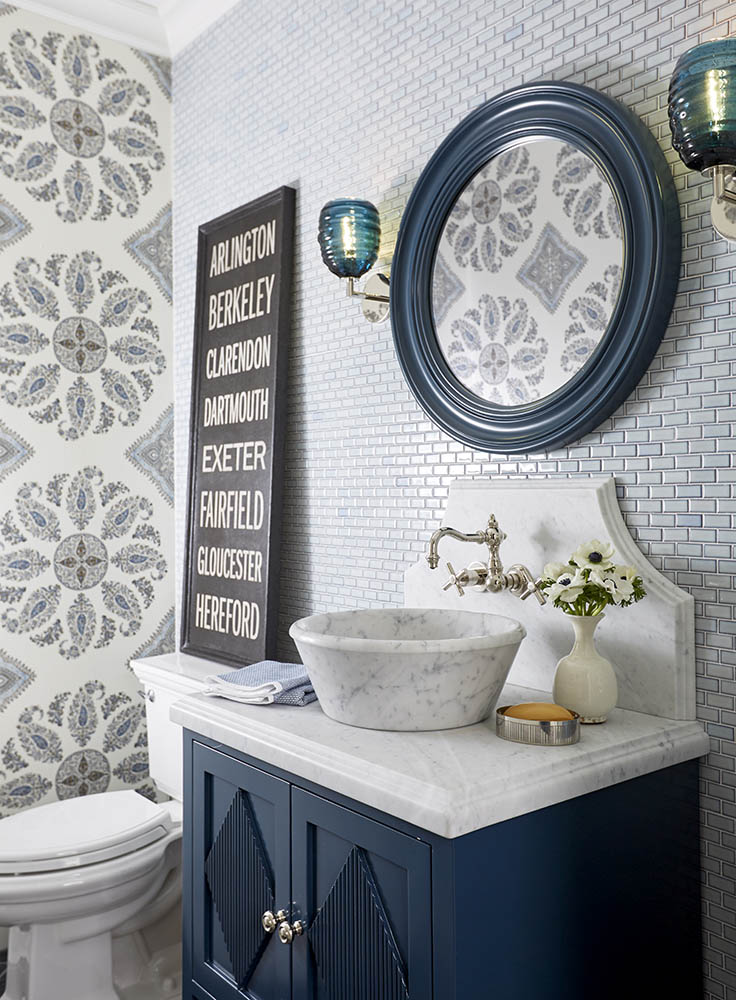 Image Source: theinspiredroom.com
A navy blue centerpiece would not need an introduction each time someone walks into the house, and the color brings the room together to one tension point that attracts the eye.
Frequently Asked Questions About Dark Blue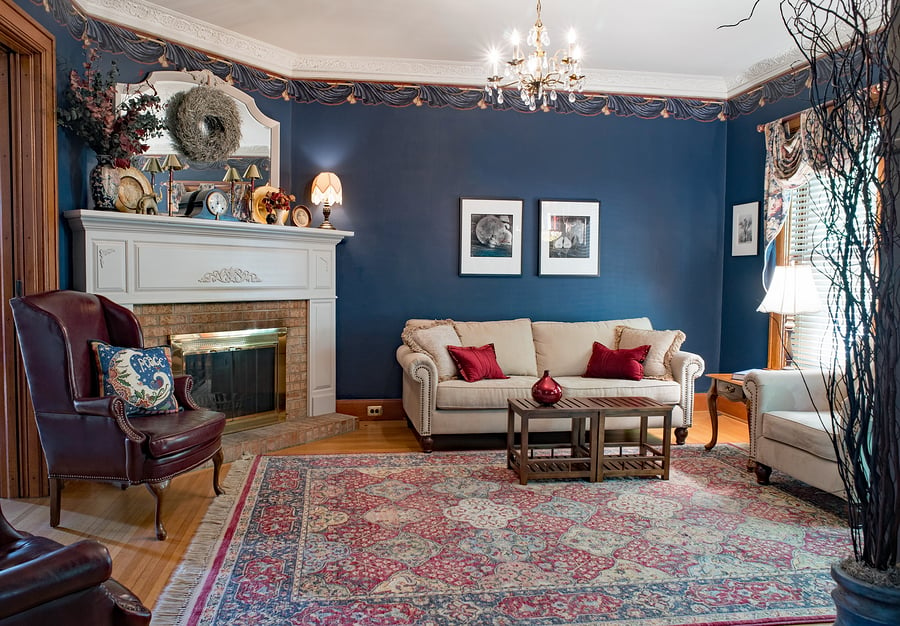 Image Source: blog.polarshade.com
1) Is dark blue similar to navy blue?
Navy blue is one of the darker shades of blue and can pass as dark blue. However, there are other shades of dark blue, including royal blue, azure, berry blue, indigo, and more.
2) What colors make dark blue?
If you mix blue with purple, you are bound to get a darker shade of blue. However, since you do not have to mix this yourself, you have nothing to worry about.
3) How many shades of blue are there?
Colors are gradients, and there are no hard transitions between shades. It is, therefore, impossible to quantify how many shades of color there are. However, there are generally more than 20 popular shades of blue.
4) What is the difference between imperial blue and royal blue?
Imperial and royal blue can be used interchangeably, meaning the same thing. Queen blue can also be used to refer to imperial blue.
5) Can I mix blue with more than one color?
Mixing three colors is exciting and detailing blue with other accessories is relatively easy. For instance, you can pair blue with one of its analogous colors, then accessorize it with another color, like yellow.
Final Thoughts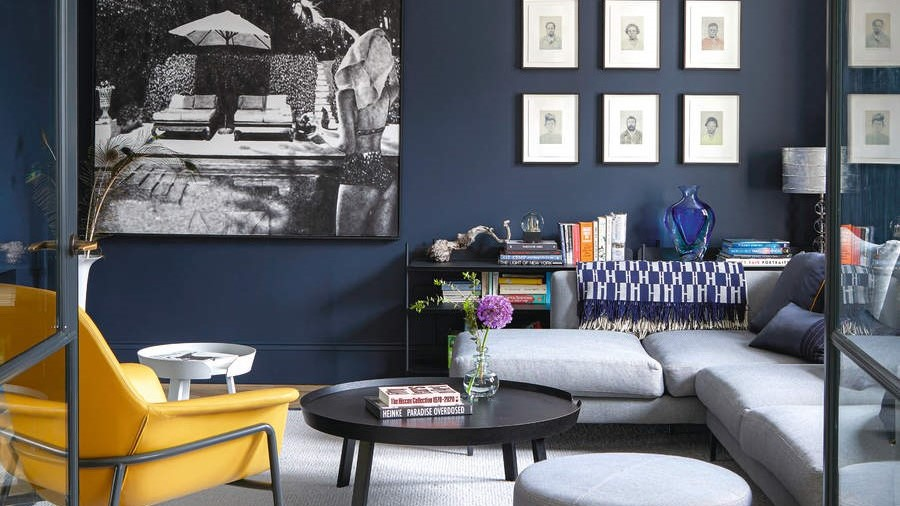 Image Source: livingetc.com
There are a lot of colors to match navy blue, including the varying shades of blue itself. The secret is how to mix the colors and create something nice. From traditional pairing combinations to more complex jewel tones, you can successfully achieve good outcomes for your interiors using navy blue.
Featured Image Source: home-designing.com