The popularity of the maroon color is on the rise. Despite being quite demanding, it is versatile and ideal for living rooms, bedrooms, kitchens, and even bathrooms. Do you want to know the colors that go with maroon?
The good news is that maroon pairs well with a wide range of colors. In this article, I'll show you the best color complements for maroon to use in your interior design.
What Color is Maroon?
Maroon is a very deep color of red. The word "maroon" was first used in 1789. The name is gotten from the French word "marron," which means chestnut, a nut with a deep reddish brown hue.
Maroon is typically made up of red and brown. You must first blend blue into a red base using a 5:1 ratio in order to create maroon paint using only primary colors.
Once the red paint has been darkened with the blue paint, apply a tiny bit of yellow paint to give the maroon its brownish hue. Adjust the ratios until you get the correct hue.
Due to its connection to Buddhism, maroon may even evoke emotions of enlightenment, wisdom, or serenity. Maroon is connected to control, responsibility, and thinking in color psychology.
Is Maroon A Good Color For Decorating?
Yes! Maroon can be a bold, trendy choice for home decor. Not only does maroon appeal to homeowners of all ages, but it also serves as an ideal balance between red and purple. You can use maroon to create a contemporary look or to achieve a traditional, den-like feel.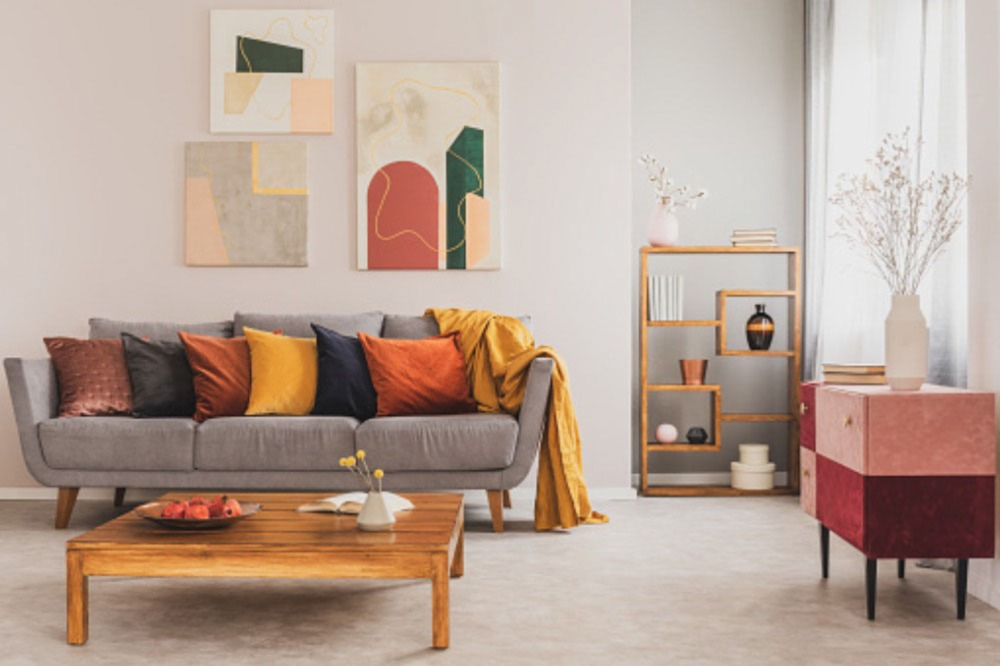 Maroon generally pairs well with any jewel tone. If you want a calmer and more comfortable look, you can also experiment with neutrals with this color. Maroon will also mix nicely with colors like gold and silver, so your options are unlimited.
Colors that Go With Maroon
1. Maroon and Black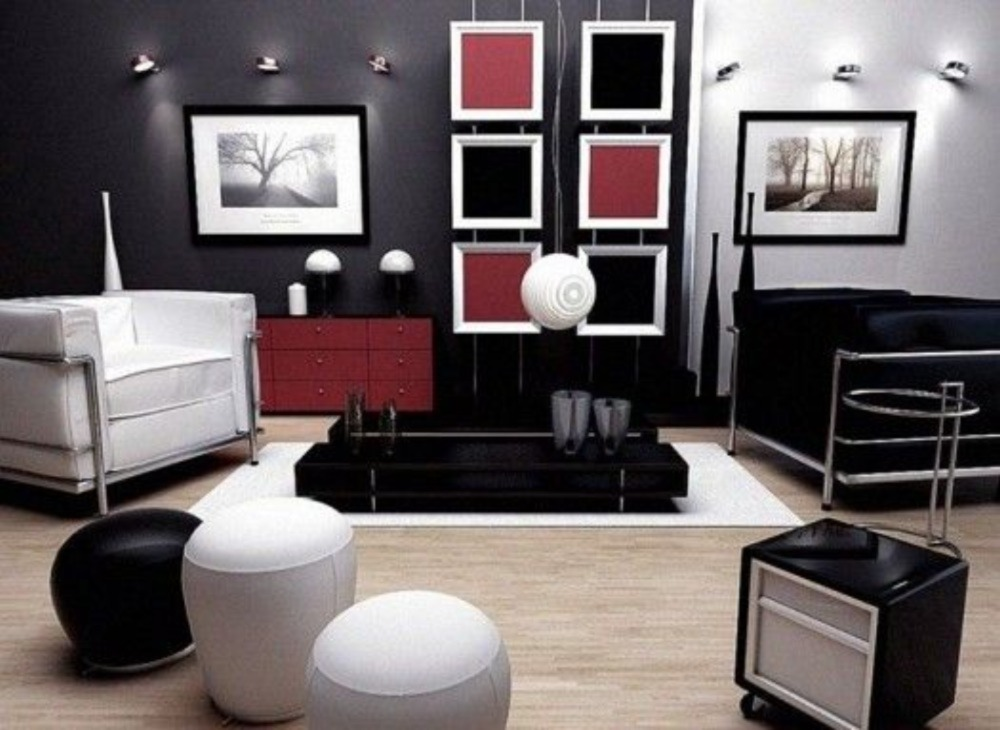 Image Source: pinterest.com
Black is an achromatic color with a long history of use and significance that continues into the modern era, much like white.
Historically, black has been associated with evil, including the underworld in Greek mythology, sadness, despair, and gloom. Nevertheless, it was a symbol of safety and wealth in ancient Egypt.
Black now stands for elegance and minimalism. Maroon and black both have a lot of depth. To balance elegance and fashion, choose white for the wall/floor, black for the gadgets, and maroon for the minor accessories.
2. Maroon and Gray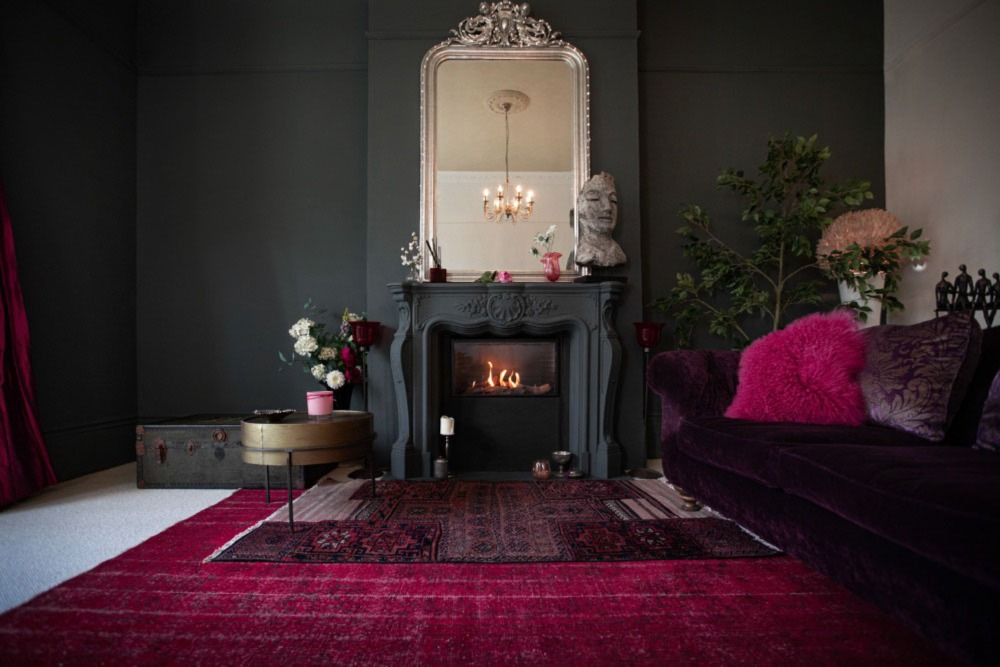 Image Source: homedecorbliss.com
We've come up with a trendy scheme of gray and maroon that also features gold accents. Due to its royal undertones, maroon pairs well with equally dramatic colors like gold and silver.
You can see how well the maroon accents give this bedroom's grey-dominated design a finished look that is almost too good to be true.
3. Maroon and White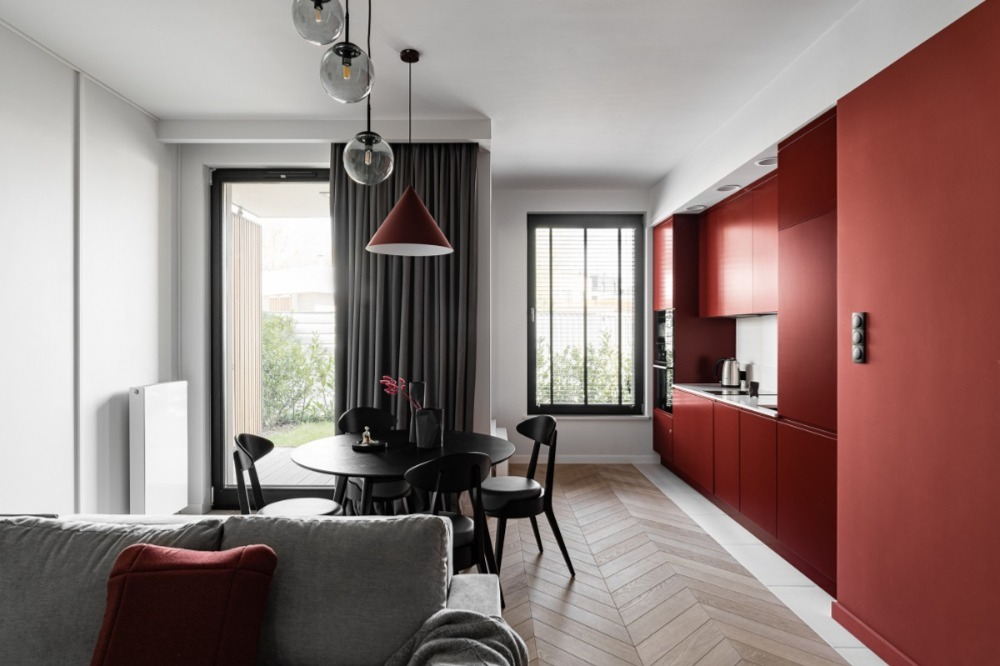 Image Source: treehouse.co
White is the color most often chosen to brighten a room and provide the impression of a more open space. On the other hand, maroon is a warm yet dark color.
Maroon can make a room feel cozy and intimate, but if you pair it with white, the environment will feel airy and calm.
The colors complement one another beautifully and provide a room balance. To breathe new life into an all-white space, incorporate maroon accents like cushions, blankets, and tiny quantities of furniture.
The maroon color should be used sparingly in order to avoid overpowering the space.
4. Maroon and Green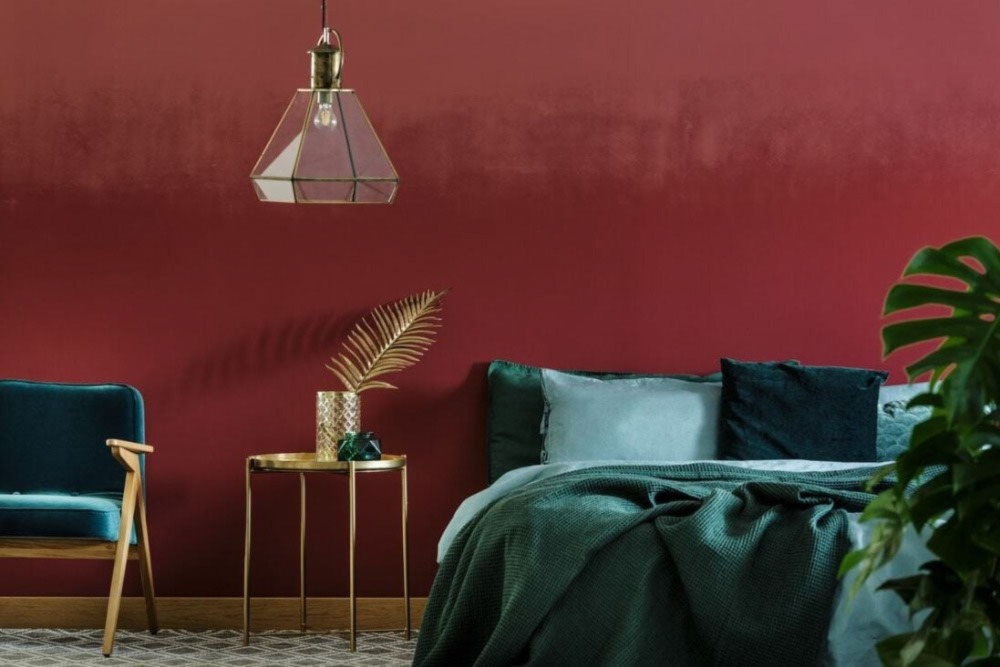 Image Source: treehouse.co
Maroon and green are frequently combined in traditional settings since they complement colors. However, depending on their pairing and placement, this pairing could also be considered in a more modern setting.
Bright green contrasts the depth of maroon best when compared to softer shades of green. A neutral color or a gold accent also adds a touch of life.
5. Maroon and Yellow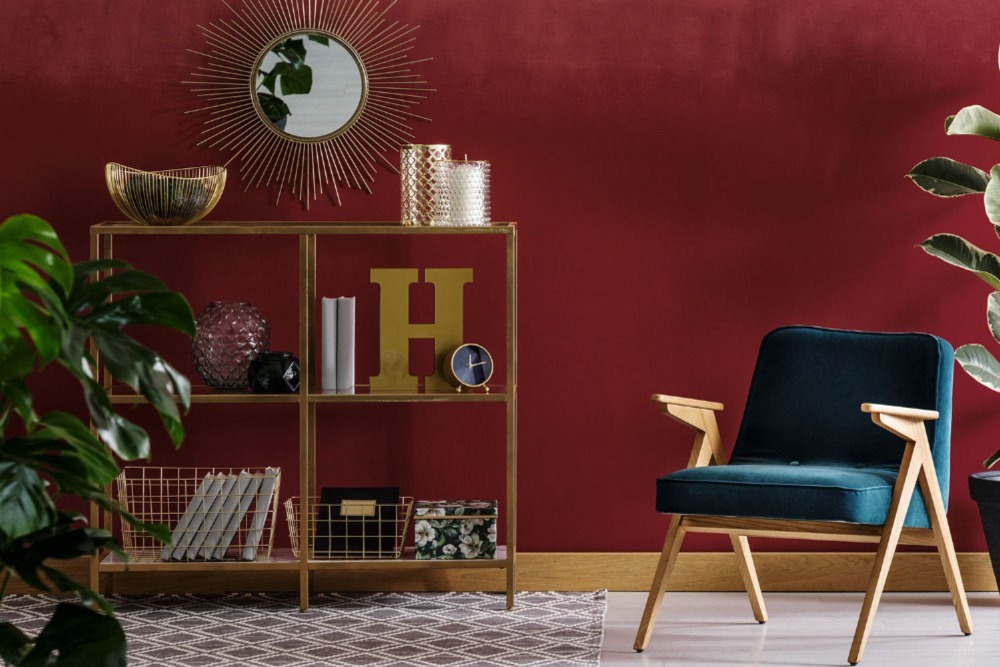 Image Source: treehouse.co
This is a somewhat unusual pairing, but it's a good one. Go for the lighter tones of yellow to adhere to be safe because it may be a bit of a powerful aesthetic for any room. Using these two colors in your interior design can be the ideal transition because they are known as fall colors.
6. Maroon and Purple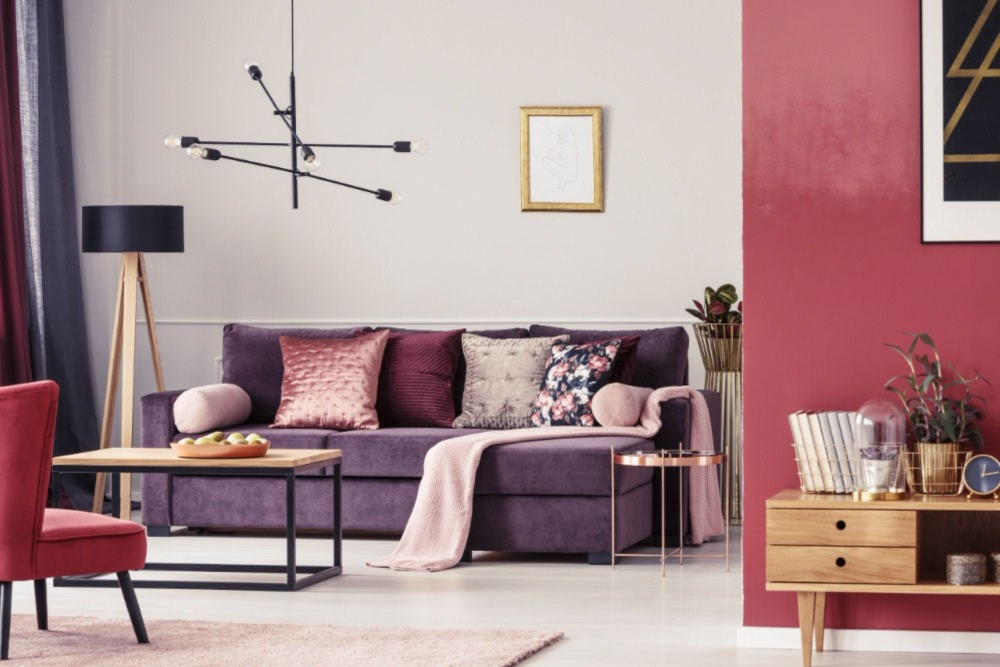 Image Source: foter.com
Purple and maroon make a dramatic color combination. With the purple undertones in maroon, though, the two colors pair beautifully. Use the 60-30-10 guidelines to prevent the richness of maroon and purple from overpowering a space.
Use an off-white or neutral hue as the room's base at 60%, followed by maroon at 30%, and purple accessories, such as a piece of furniture, at 10%.
7. Maroon and Blue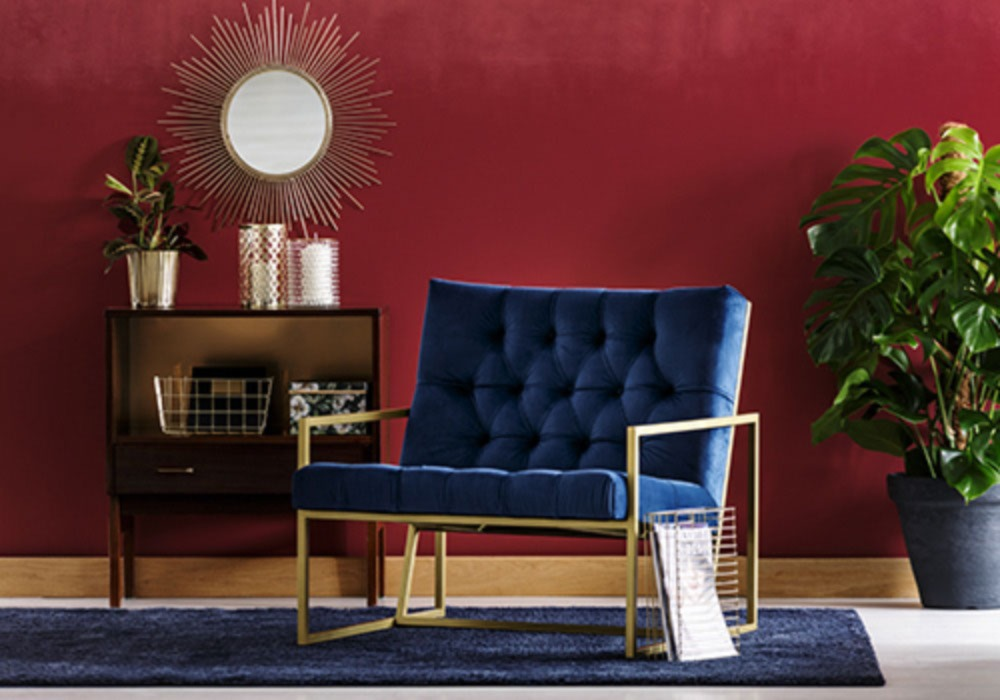 Image Source: foter.com
The combination of maroon and blue is a classic one. Since maroon is a rich, dark color, it is ideal for pairing it with blues that are either lighter or cooler in tone. The base of the space should be painted in a bluish-gray tint.
Maroon accents can be added to soft furnishings like bedding, cushions, or rugs. Mix in a third, medium-toned color, such as teal, to liven up the otherwise muted combination of light blue and maroon.
8. Maroon and Teal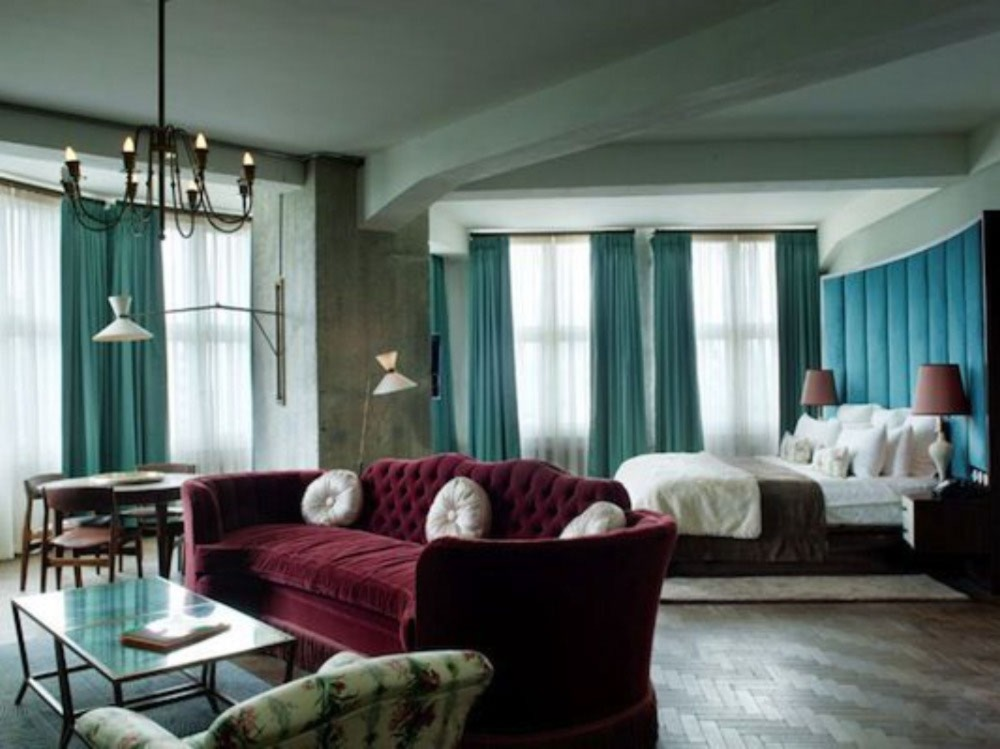 Image Source: pinterest.com
Teal complements maroon much like blue does. Teal color combines green's stimulating qualities with blue's calming qualities. It is a renewing and stimulating color that also symbolizes open communication and mental clarity.
Teal contrasts beautifully with bright white, coral, cream, and pink. Additionally, it emphasizes metallic tones like silver and gold. Teal might also be a wonderful choice for your maroon decor because of its adaptability.
9. Maroon and Pink
Image Source: adoremagazine.com
The next striking combination is the maroon and pink color scheme. In addition to having similar undertones, pink and maroon look lovely together. The mix of light and dark pink color gives this room an upscale final look and helps bring out the cool tones from the maroon seats.
10. Maroon and Gold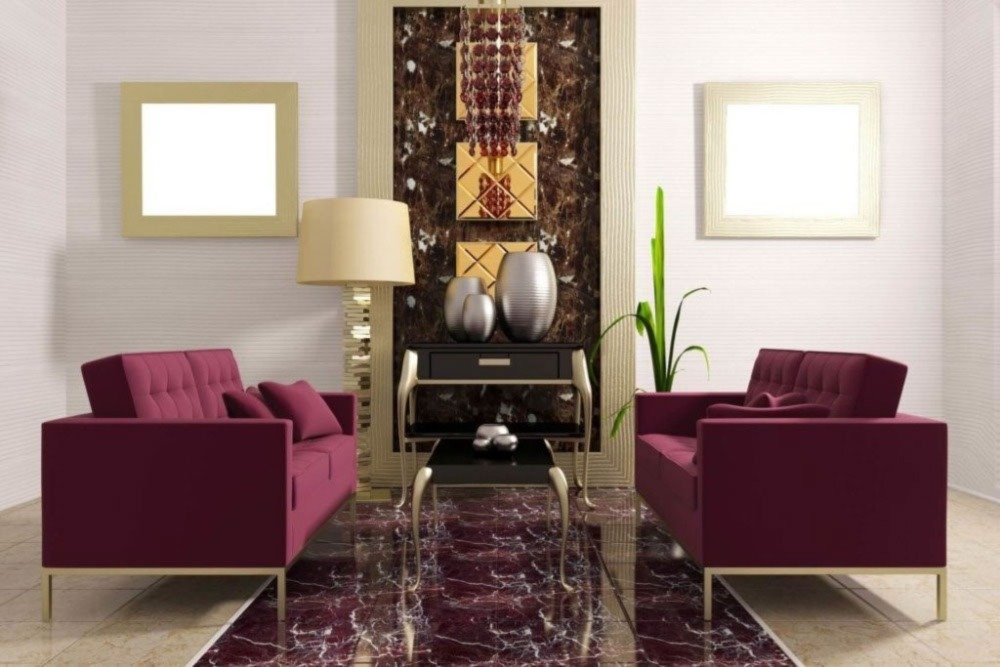 Image Source: foter.com
The combination of maroon and gold has long been considered a classic choice for elegant decor. A cooler neutral color should be used to balance maroon and gold's rich and warm tones.
You can use maroon for the throw pillows and then add gold color with the accessories and lighting.
11. Maroon and Beige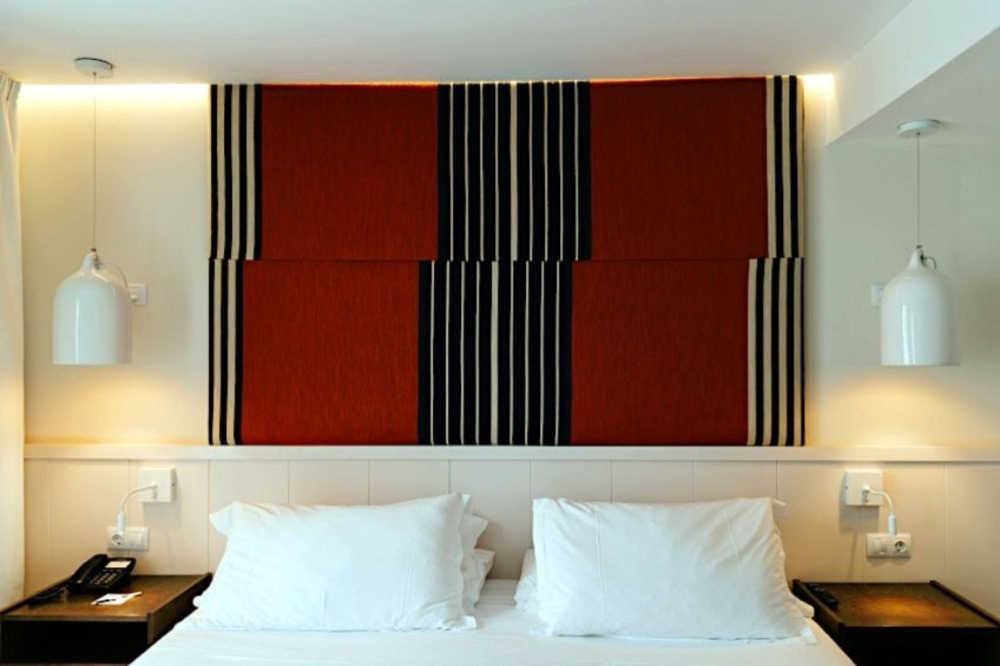 Image Source: artincontext.org
Beige and maroon are also fairly common color pairings in home design. Many textiles and patterns, including those on Persian rugs. Persian rugs typically feature a maroon decorative pattern over a beige background.
It is always a great idea to avoid using cool colors when using these two colors as the primary combination in interior design since they together create a really warm and inviting color combination.
Make sure the beige color is less intense with yellow undertones and more subdued overall; otherwise, it could look antiquated.
12. Maroon and Brown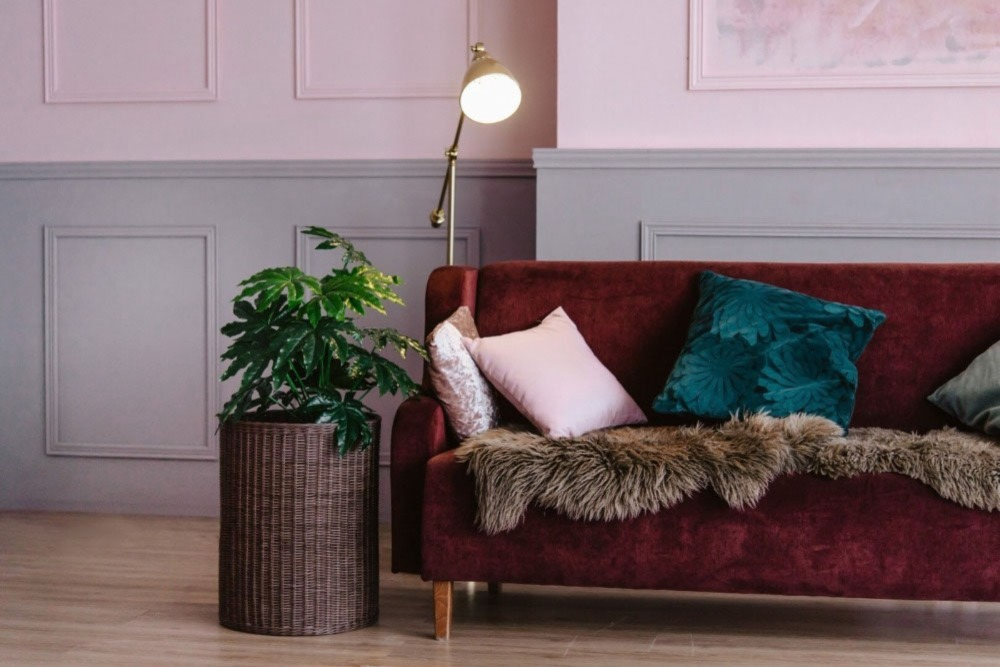 Image Source: arthitectural.com
Brown is a color that may be found in nature and everyday life, despite most people disliking it. Some people find comfort in the elegance of brown because of how natural and earthy it feels.
Brown is a safe choice because it tends to go well with all colors and is a relatively warm color. In addition to being a color that complements practically all others, brown has a refined and calm vibe.
13. Maroon and Taupe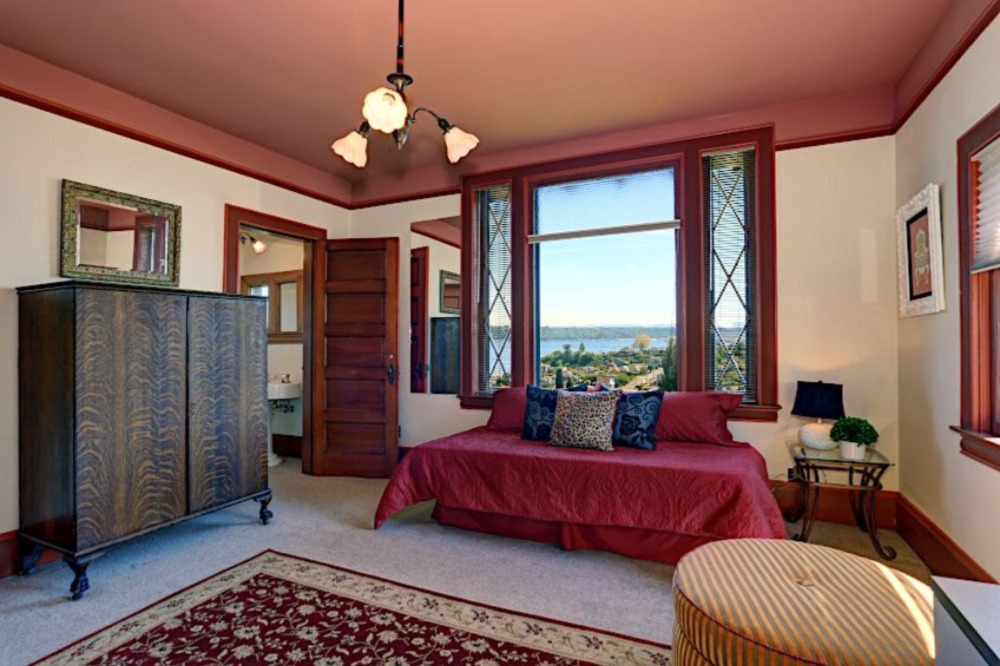 Image Source: artincontext.org
A neutral taupe color works well as a base for maroon highlights. Taupe is a great alternative if you have any maroon furniture shade and are unsure what wall color to pair it with.
The best taupe to pair with maroon is neutral, and a cool taupe is second-best. In rooms with a lot of maroons, stay away from warm taupe.
What is the Best Way to Use Maroon For Home Decor?
Maroon is a great color for walls. Painting the walls maroon provides a cozy and warm look.
Decorating a kitchen or dining room with touches of maroon has been shown to stimulate appetite.
Kitchen cabinets can be painted maroon for a unique spin on the standard white or black.
Oriental rugs frequently feature maroon colors and are versatile in a classical or contemporary setting.
If you want to add some color and warmth to a room that is mostly neutral in tone, use maroon accent pillows and throws.
Frequently Asked Questions (FAQs) on Color Maroon
1. What style is best for maroon?
Maroon may be used to create various interior styles depending on the elements you select and the color combinations you make. It is most frequently used in traditional and luxurious designs. This color also works well with industrial design.
2. What furniture should I choose if I want to use maroon color?
Finding complementary furniture to the color maroon is not easy. It all depends on the overall result you want to achieve and the specific maroon colors you choose.
Natural timber furniture works well with both intensely maroon walls and maroon décor. If you like bold combinations, think about furniture with a distinctive color, such as emerald green or orange-yellow.