A great entryway, including wall decor, sets the tone for your whole home. Whether artwork, a mural masterpiece, or fabric, wall decor brings character to your space. Finding perfect entryway wall decor ideas isn't easy, but the basic tip is to consider them with the front door, porch, and entryway in mind.
Nevertheless, we've got tricks for making your entryway walls come to life, bringing out your personality, and adding interest, character, and intrigue to your home. Read on to discover.
1. Use Wallpaper for Paneling
Entryways are usually the first space you and your guests encounter when entering your home. This narrow but highly functional space can be difficult to design using furniture. Moreover, this is an area you pass through rather than dwell in, so adding wall decor is a fantastic solution.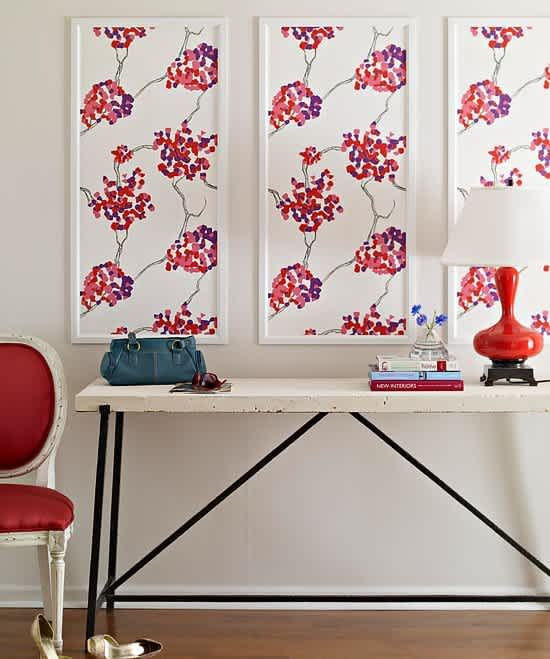 Image Credit: mom.com
Be bold with the color, scale, and texture of the wallcoverings. Bolder patterns and prints installed in a panel are a great alternative to hanging artwork. It adds visual interest and a striking design feature incorporating any style for an inviting entryway.
2. Use Shiplap on Your Walls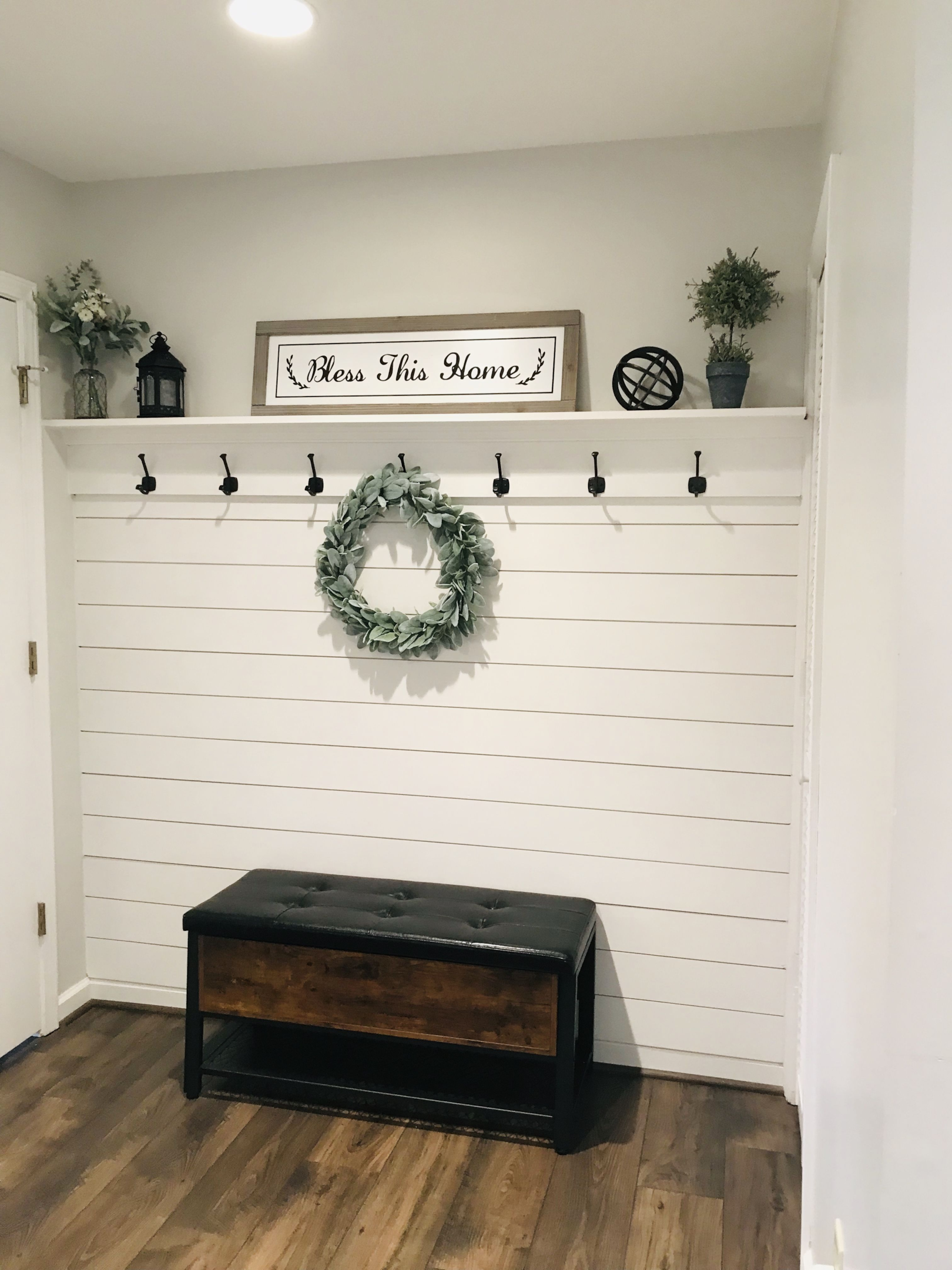 Image Credit: pinterest.com
Shiplap is very versatile and easy to apply. Update your entryway walls with shiplap to give them a textured look that lifts a tired scheme. Additionally, you can keep the space bright and fresh with plenty of colors because this technique can be tailored for different feels.
3. Natural Wood Frames to Accentuate Hardwood Flooring
Painting your entryway walls in a cool white hue makes them seem larger than they are. While white dominates, the focus is on the flooring. Frames with a finish echoing the hardwood floors give the entryway a light and cohesive energy.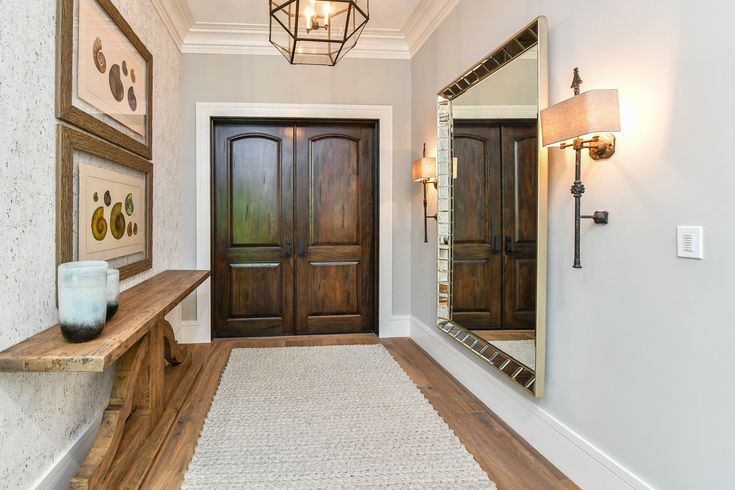 Image Credit: pinterest.com
If your flooring is not hardwood, you can still use this strategy to achieve a harmonious entryway. To begin with, use the flooring as the focal point, paint the wall white and choose picture frames reflecting the floor.
4. Lean a Large Mirror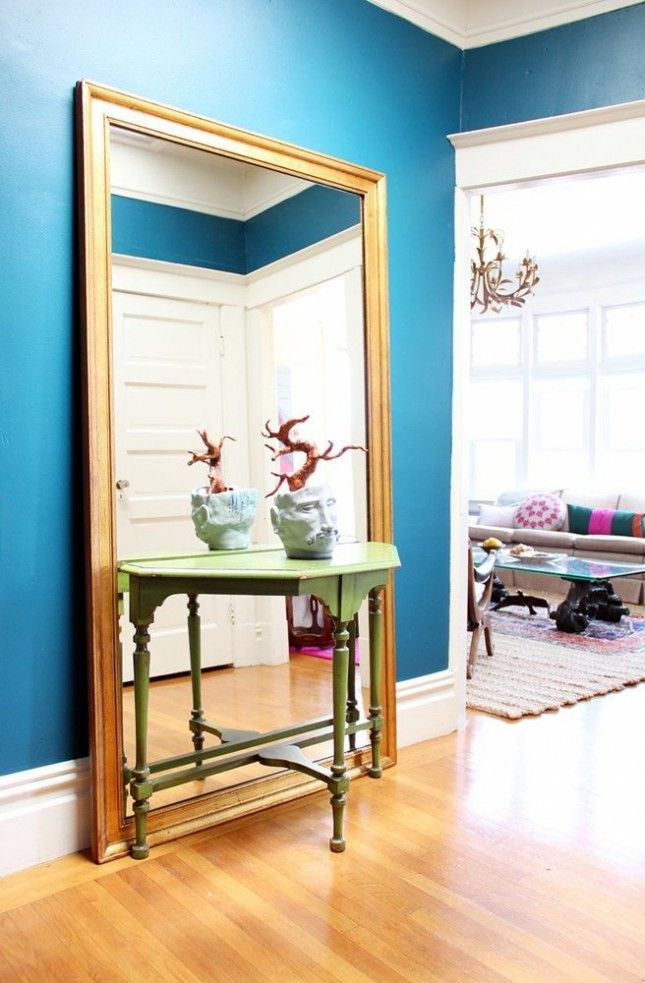 Image Credit: pinterest.com
If your entryway has the space for it, leaning a floor-length mirror on your wall makes the space look beautiful and bright. Mirror's versatile design nature adds glamour and interest to your space. It also reflects the natural light boosting the sense of lighting and space in your entrance. Also, you can have a quick wardrobe check on your way out.
5. Go All Out with a Gallery Wall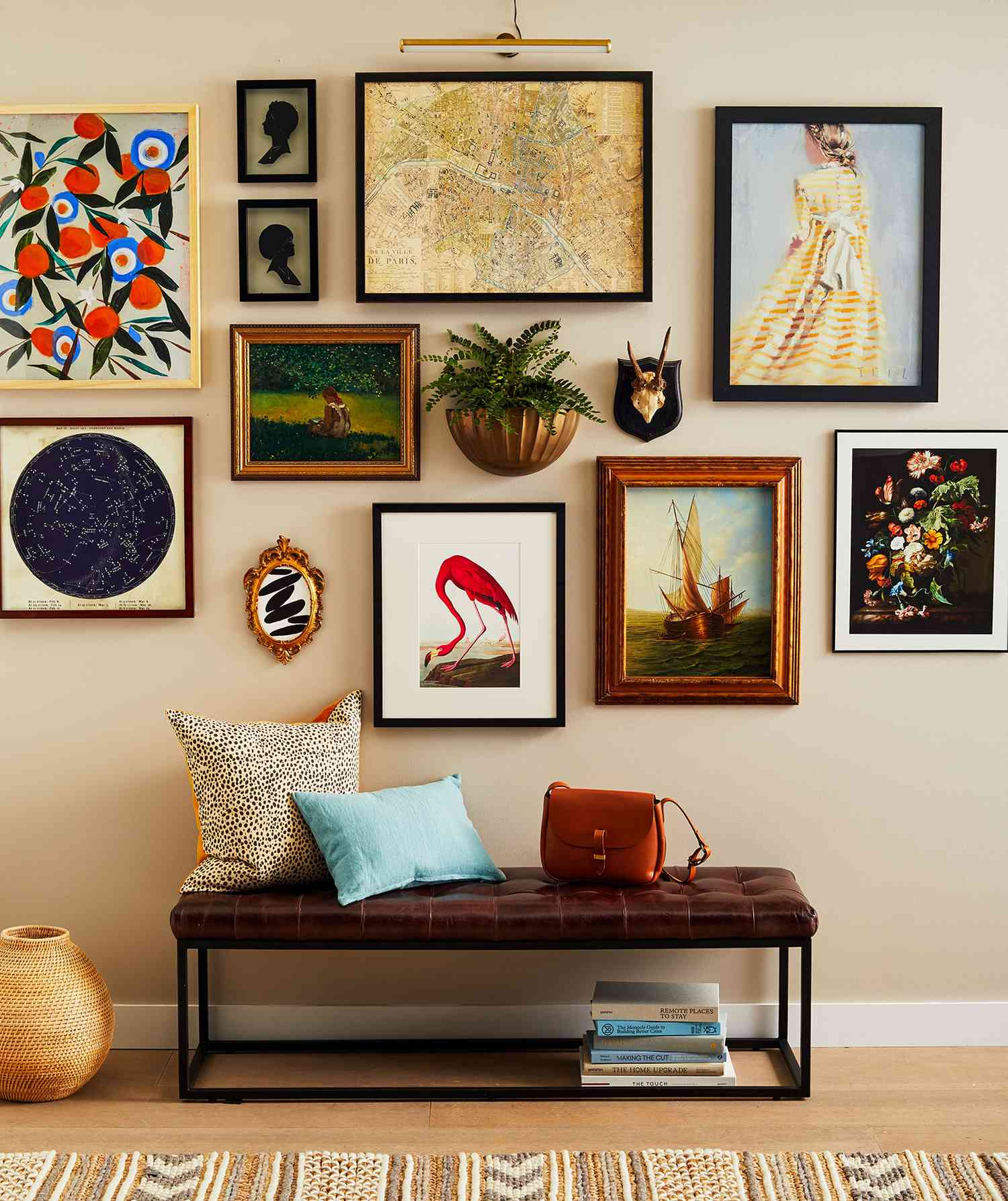 Image Credit: realsimple.com
For a larger entryway, consider incorporating a gallery wall to display your personality with a curated collection of artwork. Feel free to mix and match frames, sizes, styles, and colors but remember to source within your predominant color palette for a cohesive vibe.
6. Choose Contemporary Art that Fills One Wall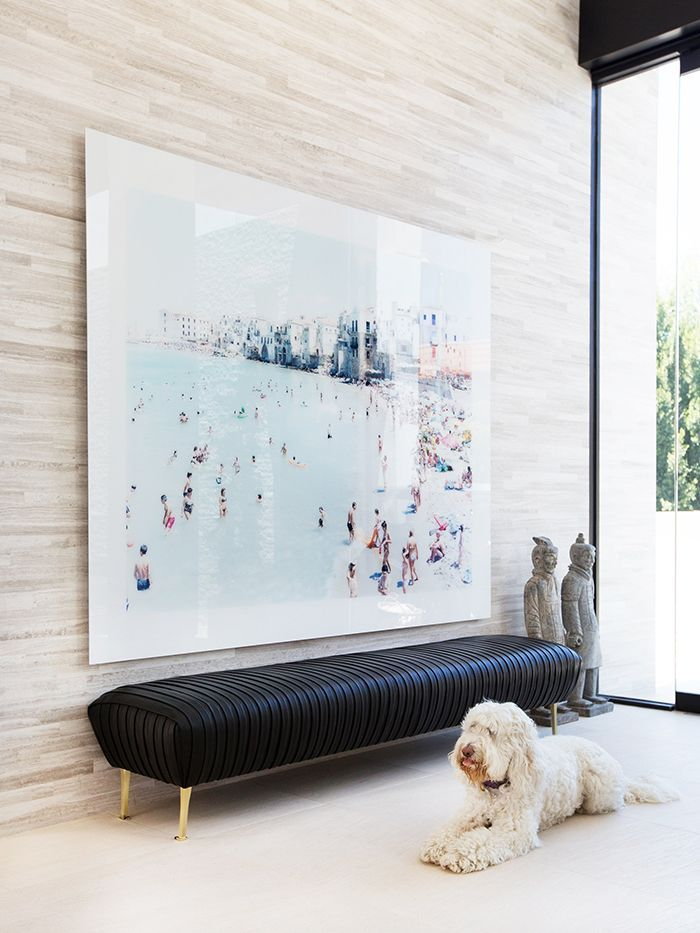 Image Credit: pinterest.com
This is another effective way to make a statement with art in your small entryway. Again, play with the scale and make the most of your wall space by choosing artwork that spans the full height of the wall. It is bold and impactful. For narrow entryways, creating a personal gallery with a mixture of artworks in different colors, styles, and sizes makes it inviting.
7. Lighten Up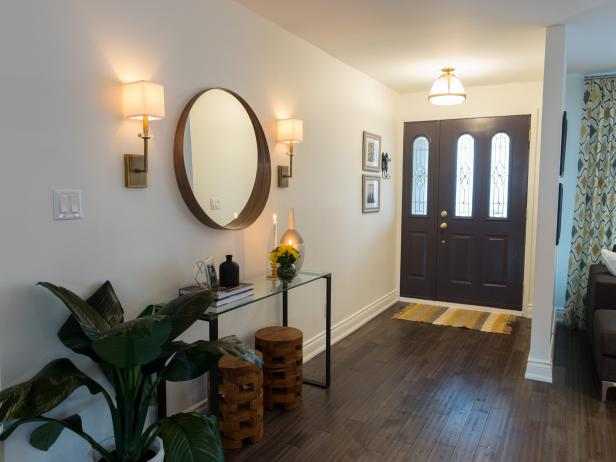 Image Credit: photos.hgtv.com
Create a cozy, inviting vibe to your home by illuminating the entryway. Layering a table lamp on a console table or hanging a chic chandelier light can be transformative. Still, for a prominent entryway wall decor, mount sconces on the sides of your artwork or mirror to glow up this space literally.
8. Go Vintage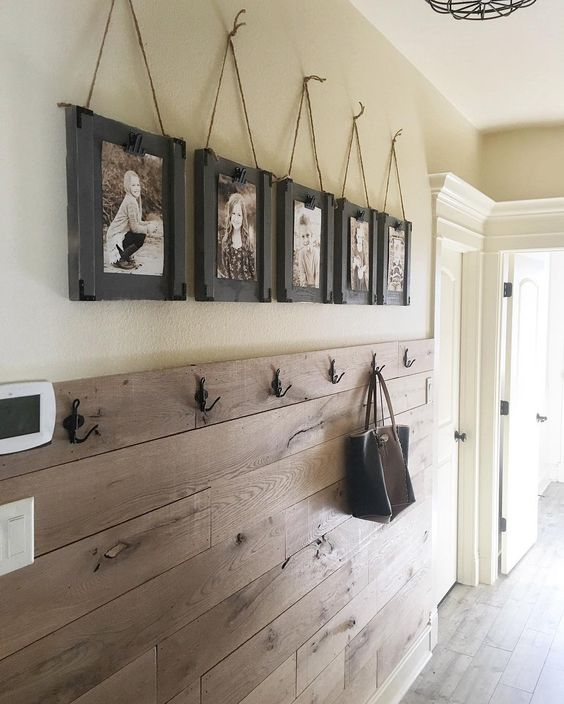 Image Credit: shelterness.com
A classic style entryway wall decor can't beat old frames with original artwork or your photographs. An heirloom mirror or these vintage art pieces add history and character to your passageway. They come in different sizes with ornate details fit for decorative elements. Pair with modern decor for a relaxed and lively feel.
9. Incorporate a Unique Clock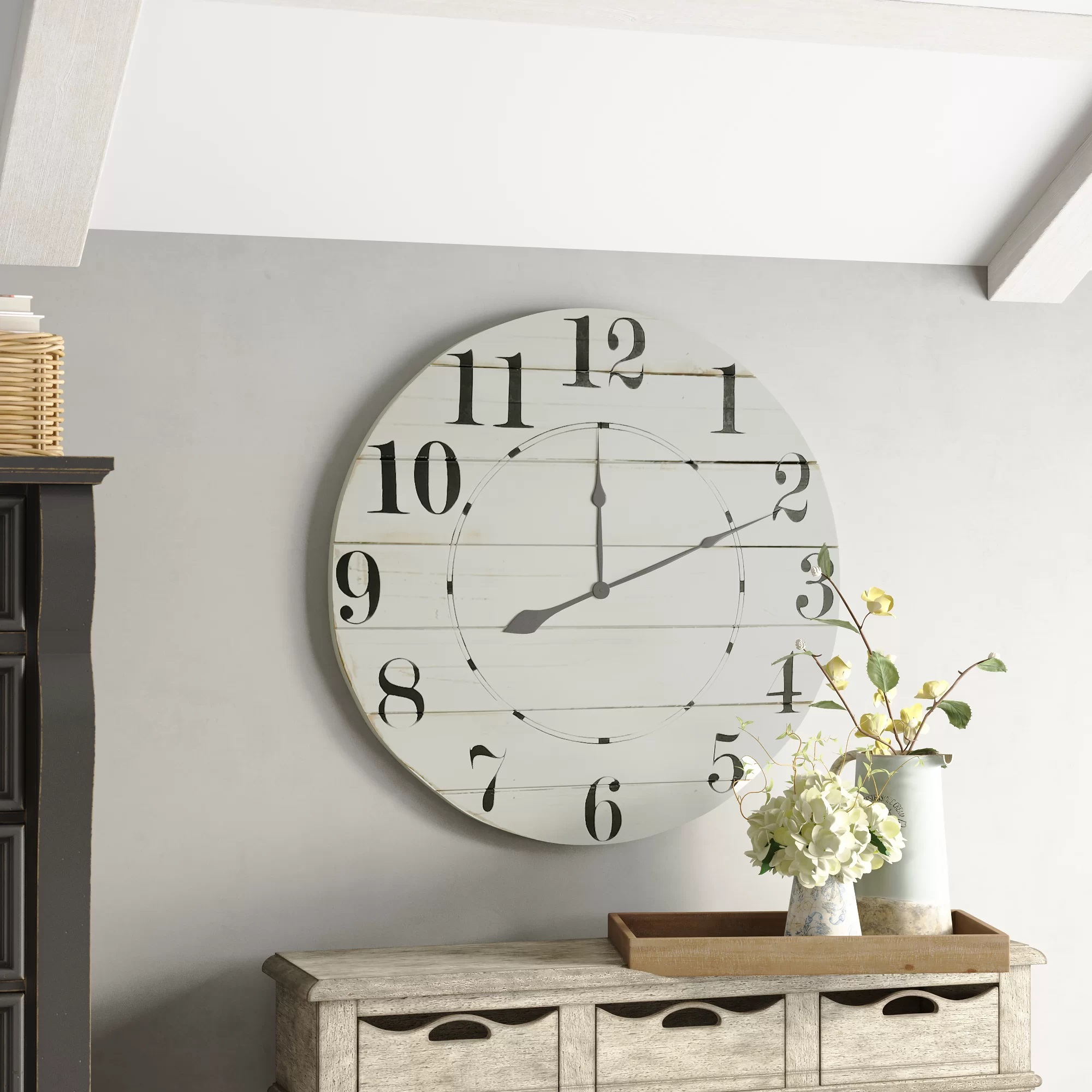 Image Credit: wayfair.com
Give a good first impression by creating an interesting vignette with key pieces. With a large space to decorate, it can be challenging to make an impact. Match the size and grandeur of the room with a clock that stands out.
10. Use Elongated Branches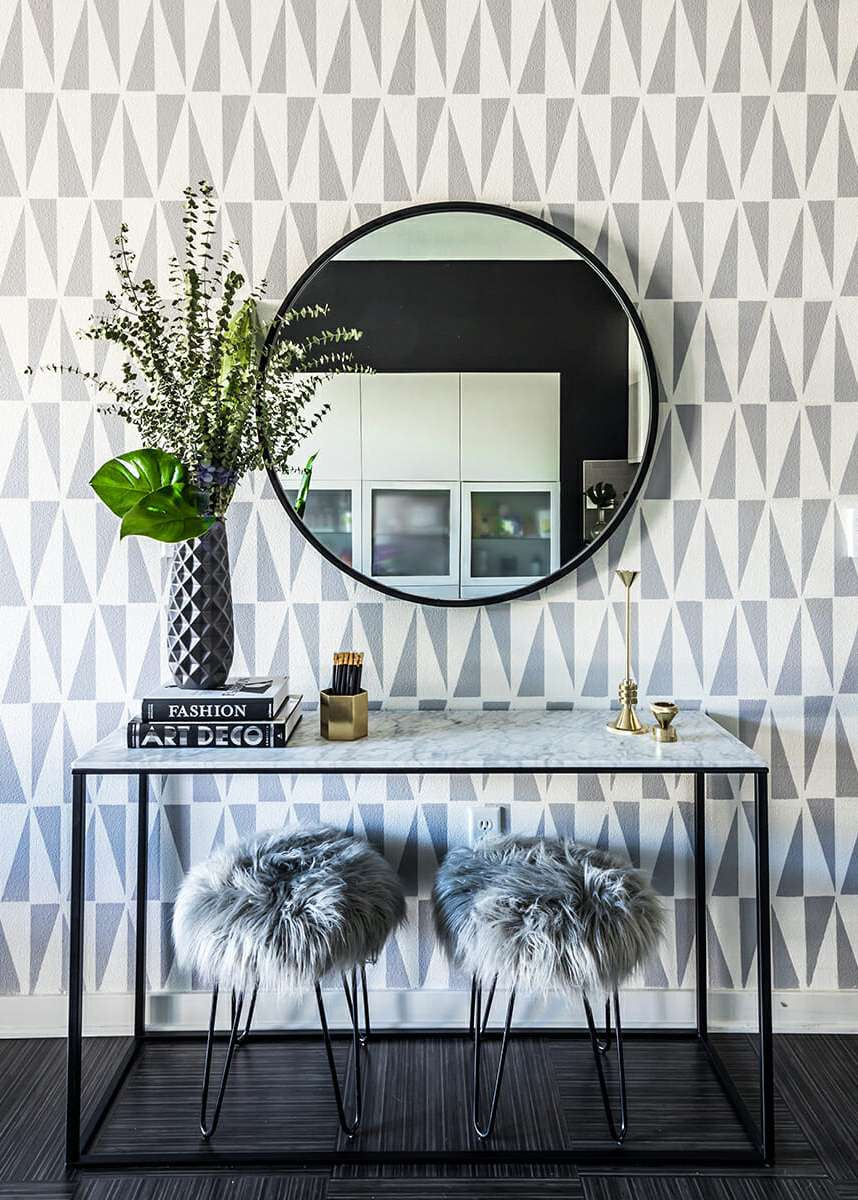 Image Credit: realsimple.com
Transform your entryway wall decor with a vase filled with long branches on your console table. It is not really wall decor, but the greenery inspires and draws attention to the whole wall space.
11. Weave in Natural Accents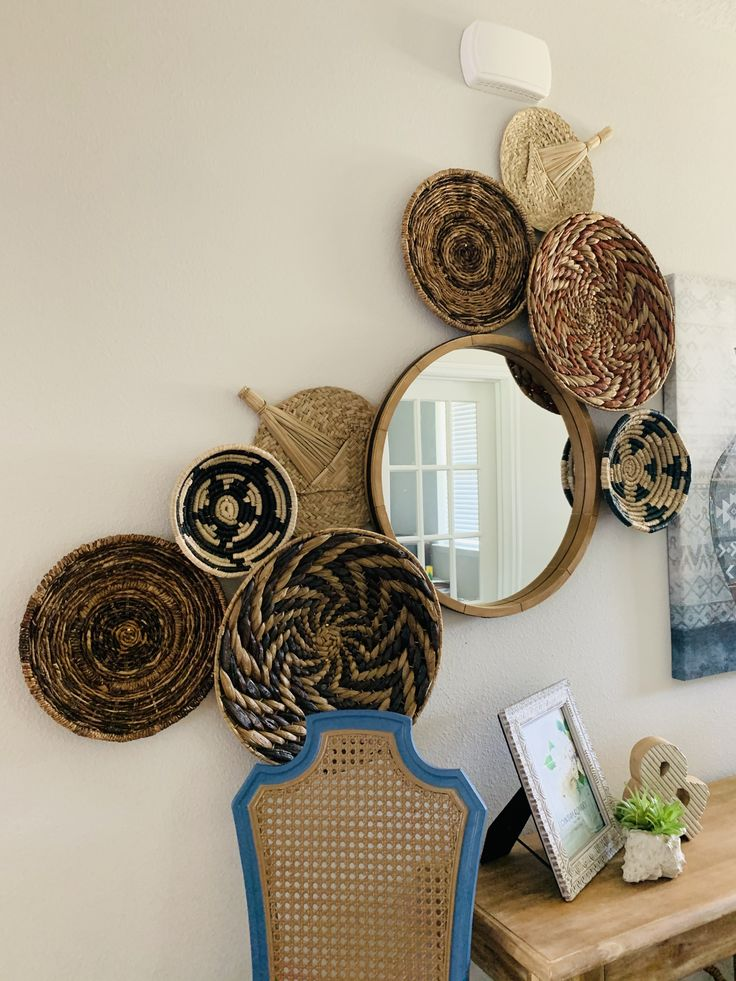 Image Credit: pinterest.com
Organic textures have been a design staple for a long time, and there is no better way of connecting your entryway to the outside world than by adding natural accents to the walls. Whether a woven tapestry, wall baskets, or rattan mirror, pair it with greenery to bring nature to your entryway.
12. Create a Vignette
Grouping small decorative items to create a larger visual piece is a sure way of transforming your entryway wall. For example, with a large hanging mirror on the wall, put sconces on the sides, wall art, and picture frames to create more depth and dimension.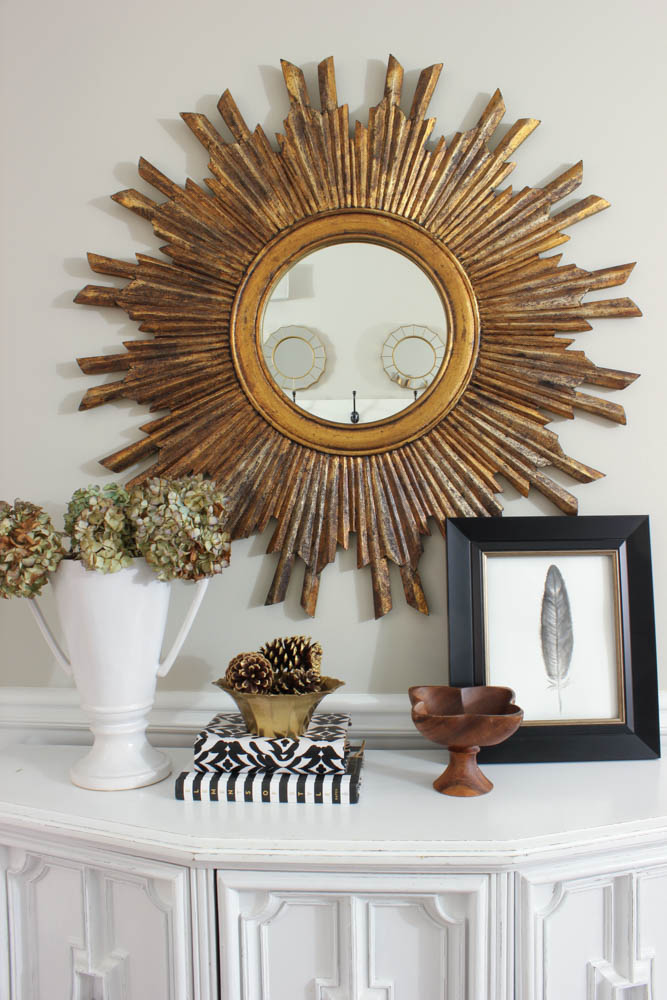 Image Credit: erinspain.com
You can also lay a small vase, coffee table books, and picture frame on the console table with a large mirror or wall art hanging on the wall. Connecting the wall and the tabletop creates a more polished look to your entryway.
13. A Place to Hang Various Items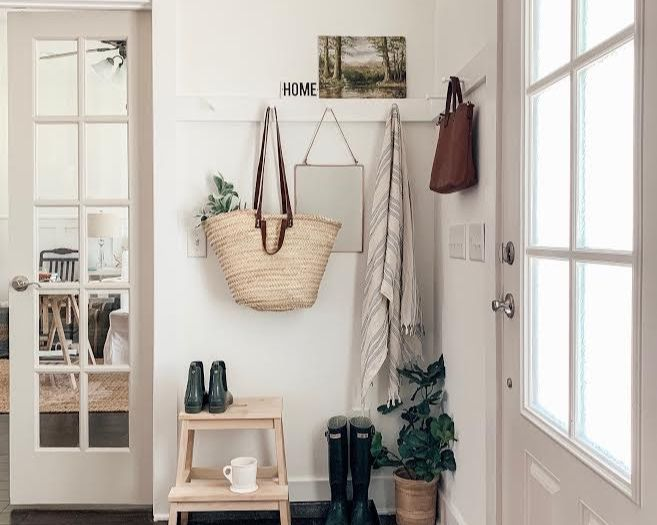 Image Credit: pinterest.com
Make everyday objects play a role in enhancing the look. Add a peg rail for hats, coats, scarves, and baskets to layer in functional texture. They also break the color monotony of the walls and weave in personality. Moreover, the shaker-style peg rail is a good entryway storage idea.
14. Jazz Up Your Wall with Paint
People have different tastes and preferences when it comes to colors. A painted accent wall delivers high-impact visual appeal. Several ideas are available on how to use paint as your entryway wall décor.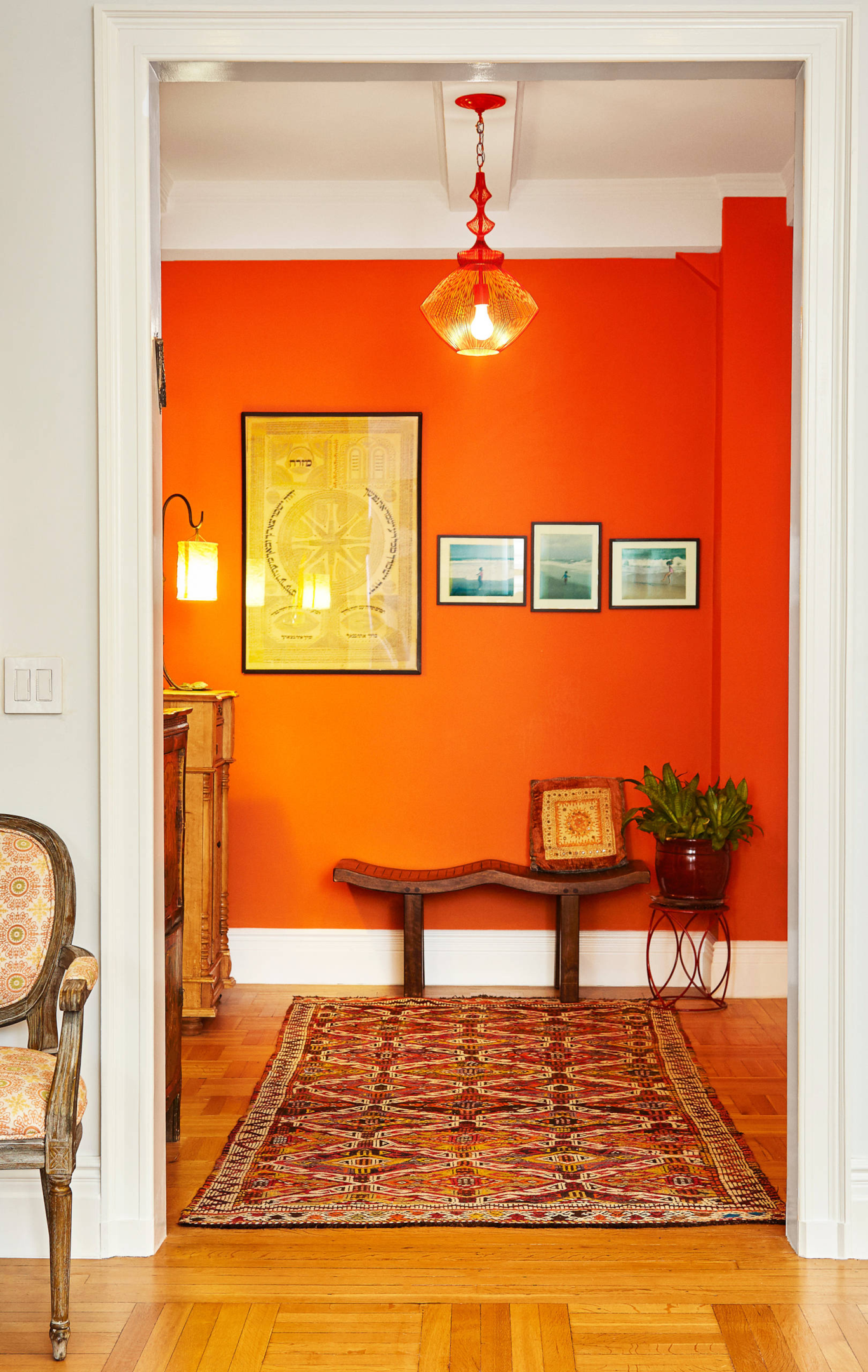 Image Credit: houzz.com
i) Give a Sneak Peek
Channel to the rest of your home's colors to give a sneak peek into what's inside. Alternatively, set a different aesthetic for the passageway to stop people in their tracks.
ii) Consider the Darker Side
Use dark-colored paints if the entryway is already dark to give it a cozy feeling. Conversely, bright colors on a dark entrance make the space gloomy, with no illumination to bounce off the bright color.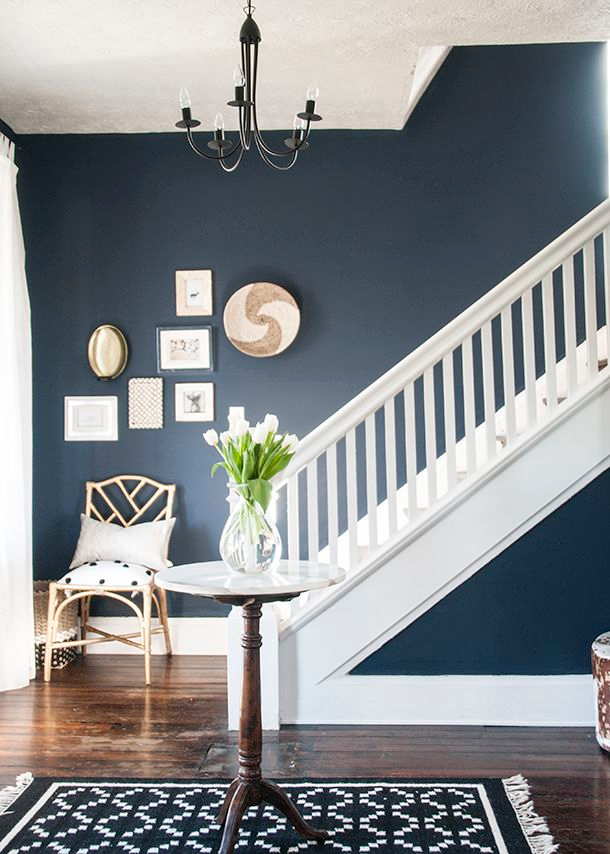 Image Credit: pinterest.com
iii) Use Bold, Daring Colors
Bold and daring colors command attention, making the passageway more appealing. For example, an orange-painted wall decorated with brown or white frames makes a strong statement.
iv) Go for a Minimalist Look
Opt for lighter shades like Medici grey, eggshell blue, or a simple off-white for a minimalist look. A hue from Oriental color palettes, such as pinks, maroons, and blues, can also create a salient statement.
15. Hang an Interesting Wallpaper
Varying color scales and spectra define your entryway wall design as either relaxed or aggressive.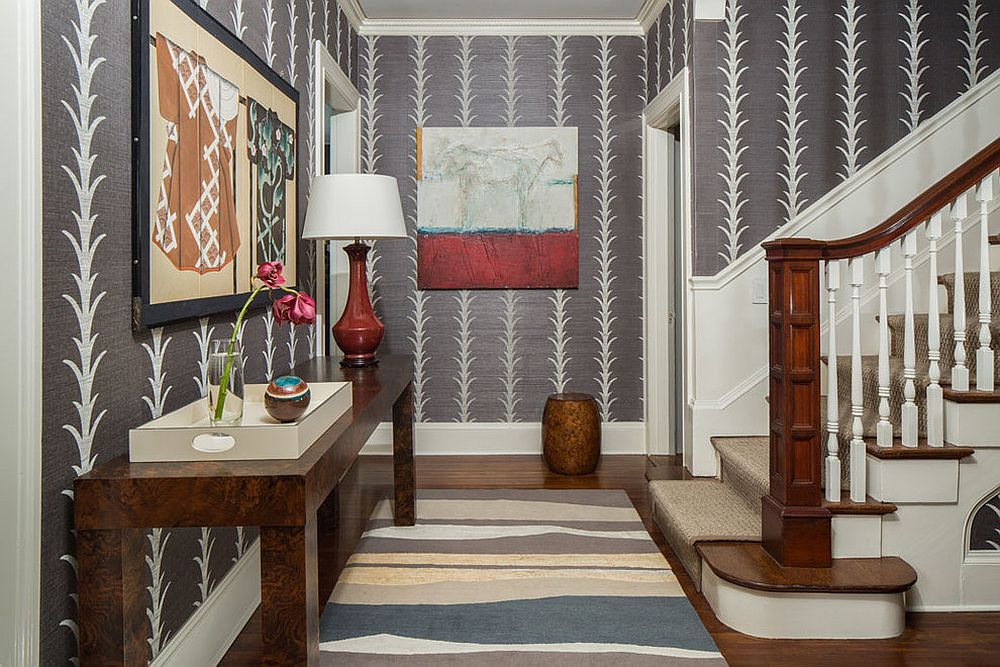 Image Credit: decoist.com
Metallic or jewel tones with geometric patterns work well for an updated, elegant look. On the other hand, floral prints infuse special characters into the space. Wallpaper on one side creates an accent wall, but using it on all the walls in the entryway can create drama and interest.
16. Ramp Up the Practical Appeal
Aim for 'purpose' by making your entrance wall decor functional. Rustic hooks and floating shelves can simultaneously be wall decor and temporary storage space. Ideas like fixed benches and shoe racks fit the entryway and provide space to put your flower vase, frames, and store shoes.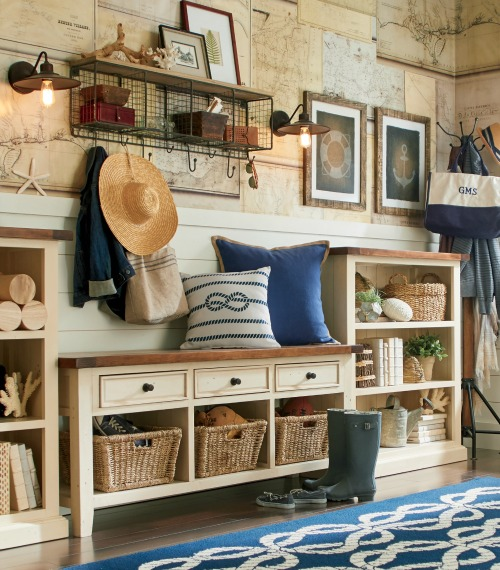 Image Credit: completely-coastal.com
Also, a large mirror reflects light into the dark space and gives you a quick outfit look on your way out. You can also get some poufs that fit into the limited space easily.
17. Hang a Wall Quote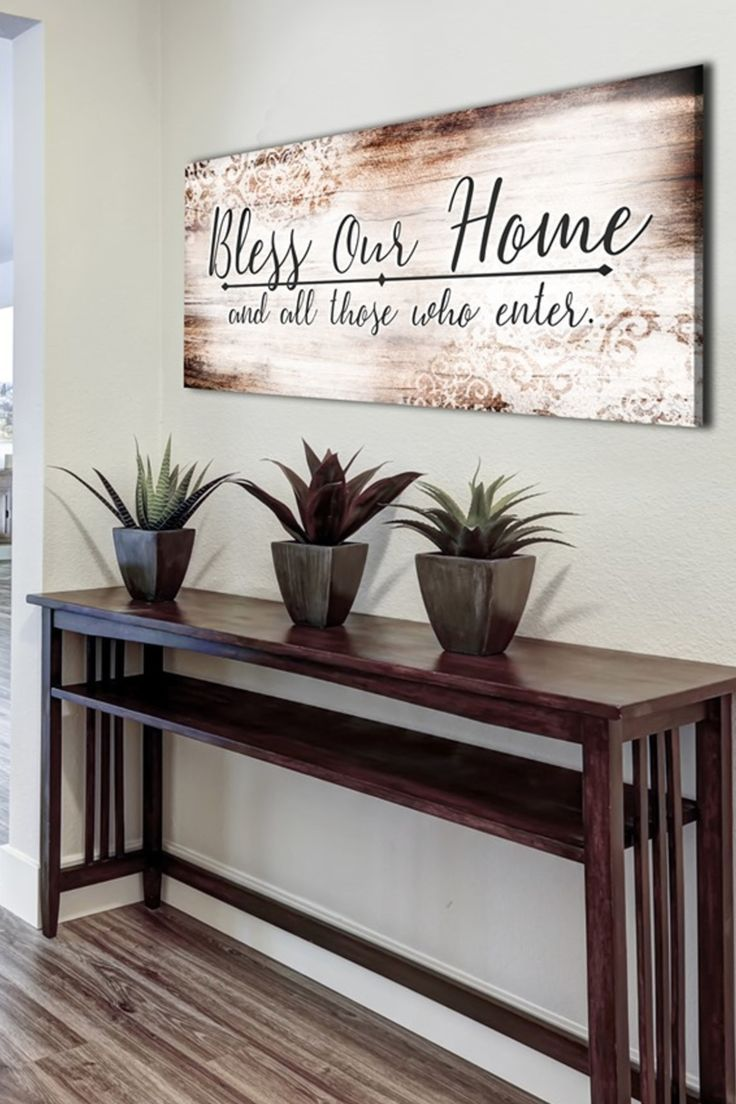 Image Credit: pinterest.com
Let your entrance walls speak by hanging one or more wall quotes. You can also change them periodically depending on your theme. Wall quotes create a focal point and add a personal touch to your entryway. They also draw your guests' attention to all other decorations in the entryway. Another idea is writing personalized quotes and changing them daily on a chalkboard frame.
18. Add Greenery to Your Entryway Walls
Image Credit: inkarch.wordpress.com
Bring the beautiful impact of a green wall to your entryway. Greenery in the forms of nature or art looks beautiful. Cover your focal wall with artificial planters. It looks amazing and will undoubtedly add charm to your entry space.
19. Hang Family Photos
Decorating your entrance with family photos is the best way to welcome your guests and make them feel like family. A display of casual memories, favorite moments, and special portraits create a sense of warmth. Get creative with your frames and make them remarkable. You can also choose similar frames to highlight the photos.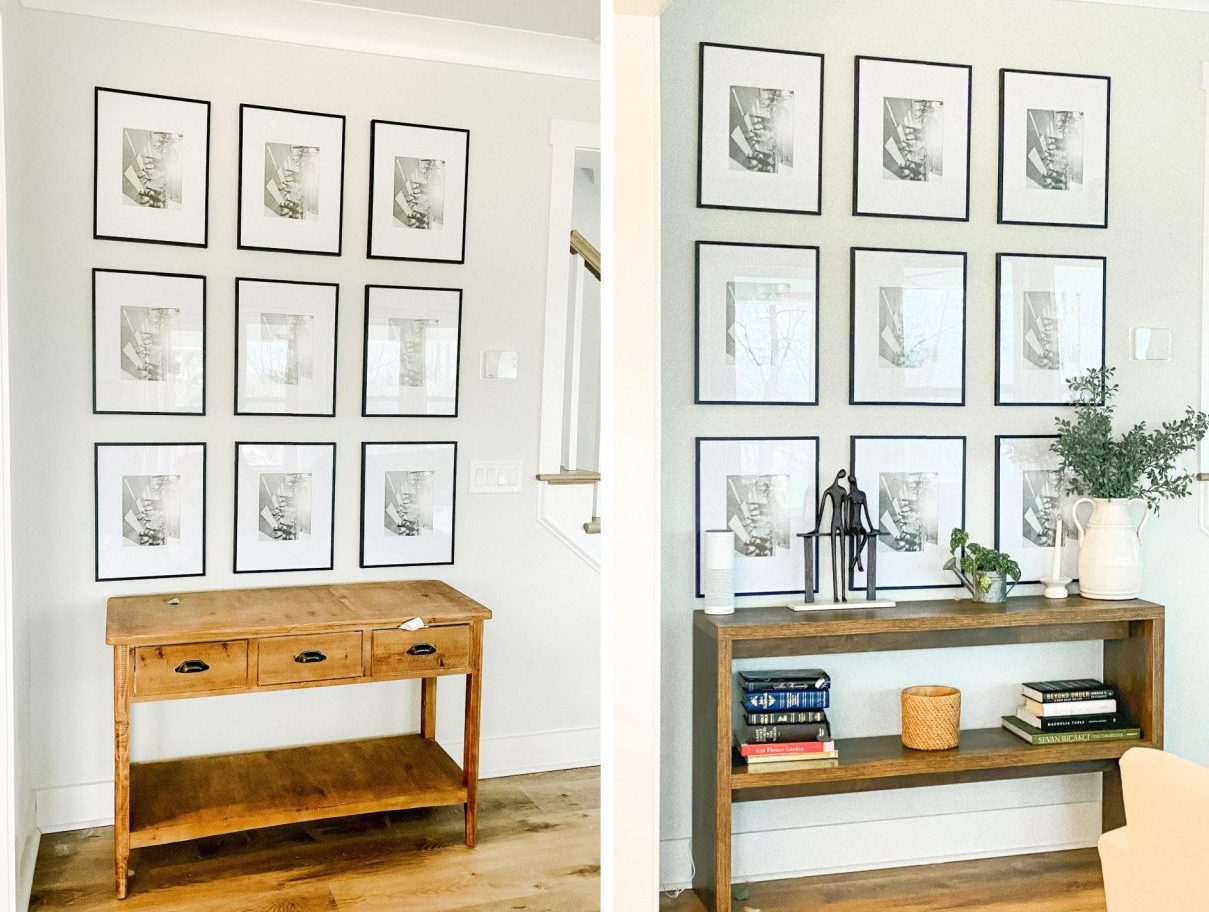 Image Credit: simplytaralyn.com
Use pictures of different sizes and many colors, or use black and white pictures to create a vintage and uniform look.
20. Install Classic Wall Mirrors
Create great impact by placing your mirror directly opposite your front door to make it the first thing your guests see on entering your home. Alternatively, hang it 6 to 8 inches above your console table to create space for the tabletop decorations.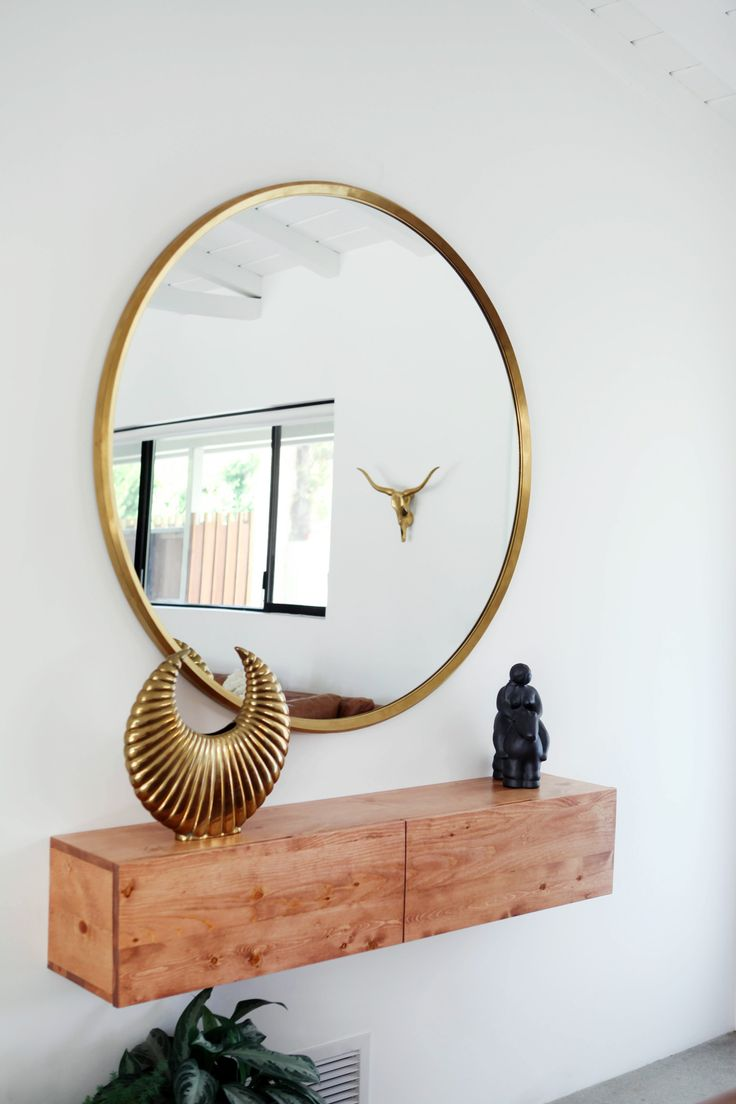 Image Credit: decoist.com
Just like maximizing space in your small living room, placing mirrors off the side of an entryway makes the small space seem larger, brighter, and more sophisticated. Create a first stunning impression by choosing mirror shapes that complements your home's architecture and decor. Round mirrors are ideal for walls with clean lines, while extra tall mirrors stand out with high ceilings.
Entryway Wall Decor Guide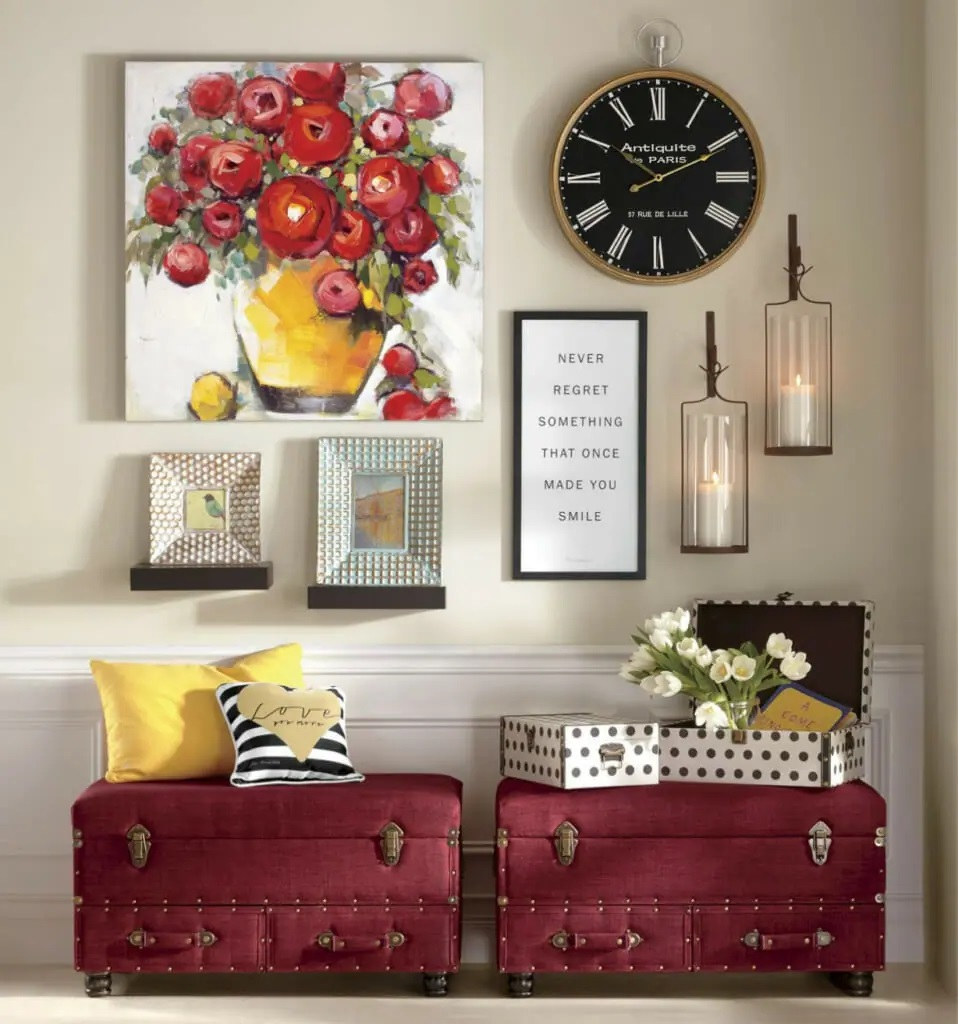 Image Credit: countrydoor.com
The foyer is a pivotal part of your house regarding décor. Consequently, we've created an ultimate guide to help you navigate to a specific idea based on your interests.
a) Trending Wall Decorations for Entryway
Your entryway is a great space to try out trends. The best way to play with trending decor is to incorporate a design making a comeback. Also, choose trends that don't easily get outdated. This helps you to blend the classic with the contemporary.
b) One-of-a-Kind Entryway Wall Decor
Go for unique wall décor for your entryway to stand out. Likewise, maintain a predominantly minimal foyer to keep the focus on your starry art.
c) Defining Modern EntrywayWall Decor
Try a more mystical approach for space-themed décor. You can offset the dark mysticism with light, neutral décor or use a multi-panel mystical print for a contemporary look.
d) Decor Before You Enter the Room
Your passageway is a lead into your interior aesthetic. Decide what you want to say with your space. Go with traditional décor pieces if you live in a vintage space, or consider something trendy and abstract if you are in a modern house.
e) The Best Color Schemes for Your Entryway
Prevent a cluttered look in your entryway by keeping it clean and simple. A minimalist color palette creates a sophisticated character without overwhelming the space. Decorate with neutrals and add a bright pop of color for contrast.
f) Decor Shape, Size, and Style
The wall decor should be in a shape that best fits the attitude you are trying to convey. Ideally, decorations should cover most of the available blank wall. Also, stay true to yourself when selecting your entryway wall decor. This is the chance you have to reveal your personality to your guests.
Final Thought
If your entryway wall is blank, you are missing a great space where you can show your creativity and make a stunning first impression. Whether your space is traditional or modern, there are many creative ways to let the walls speak.
You don't have to confine your entryway wall decor to the traditional methods of wallpaper and paint ideas. There are plenty of ways to bring life to those walls, from easy-to-change options such as stickers and photos to bespoke solutions like murals.
Featured Image Source: heavenly.com