Purchasing a home is a good investment for anyone today. However, even though there are many homes on sale in different places, it is difficult to find that one home that ticks everything on your checklist for the perfect home.
For instance, you might get a house with everything you need but a small kitchen. This might make it necessary for you to find ways of making the small kitchen look bigger. Should you remodel, renovate, or incorporate other design ideas?
Whatever you decide, you can implement numerous kitchen ideas and design tricks to make your kitchen look larger. These ideas help you create the illusion of space even when you do not have actual space. But before the ideas.
How to Accurately Estimate the Costs of Your Kitchen Remodeling
Kitchen remodeling is not a minor project and can cost you a lot of money if you do not plan well. The total cost depends on several things, key among them the materials you use, the kitchen's size, and the scale of the project.
Fortunately, even though you might decide to hire a professional to estimate kitchen remodeling costs, you can also do it on your own using some online resources. You do not need to skip this step when starting this project. Here are a few ways to make your kitchen look larger:
1. Avoiding Strong Visual Contrast
If you have chosen a certain color for your kitchen, ensure you will stick to that color. Some homeowners think adding an accent wall to their kitchen will liven things up. However, this is a mistake.
Image Source: kevsbest.com
This is a great idea for people with large kitchens. However, adding a strong visual contrast to a small kitchen leaves the room feeling restricted or segmented. Keep your kitchen walls bright and light to make the kitchen look larger.
2. Use Light Colors
You can use three design components to make your small kitchen look larger than it is. They include the items in the kitchen, lighting, and color. One of the easiest ways for those who do not want to get rid of their items or add more lighting is to repaint.
Image Source: designcafe.com
If your kitchen has bold and dark walls, chances are very high that it feels cozy and crowded, especially if you have a small kitchen. This is one of the reasons your kitchen looks and feels smaller, even though its size is small.
On the other hand, you can use lighter colors to change the look and feel and make the kitchen look larger. You can make your kitchen feel open with shades of gray, light yellows, creams, off-whites, or antique whites.
3. Use Cabinets For Extra Space
Cabinets play an important role when creating more space in a small or large kitchen. Consider choosing a modern kitchen cabinet design to make your small kitchen feel larger. These cabinets raise your ceiling to a higher level.
Image Source: designcafe.com
In addition, taller cabinets give you more storage in the kitchen. This means you can keep some kitchen items in the cabinet. This is crucial for making small kitchens look larger.
When adding the cabinets, make sure their colors are light, just like the kitchen walls. You should also avoid using complicated door designs that might make it difficult to achieve your goals.
4. Use Accent Lighting
When making your small kitchen look larger, you must ensure that you have eliminated any shadows in the kitchen by adding accent lighting. For instance, ensure you do not have shadow lines between the kitchen ceiling and cabinets. Here are some of the high end lighting brands to consider.
Image Source: mydomaine.com
With lighting installed above the cabinets, you can soften or even erase shadows. This plays a vital role in making the kitchen feel open and larger. You can also install more lighting beneath the cabinets.
5. Place Kitchen Items in the Right Places
When you leave small appliances, spices, cookbooks, and other items on the counter, you will end up eating up a lot of valuable space and making the kitchen look even smaller than it already is.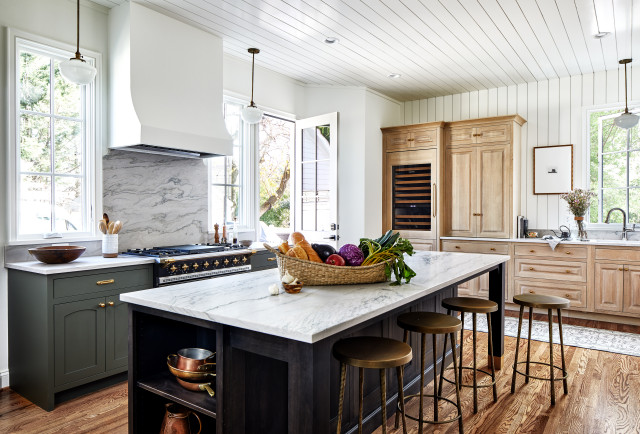 Image Source: houzz.com
When installing new cabinets, make sure to have different storage customizations to take care of the items you want to keep in the cabinets. For instance, you can have swing-out shelves, pull-outs, or even concealed storage for different items. This will help ensure that kitchen items are kept in the right places.
6. Use Sleek or Integrated Appliances
Another way to make a small kitchen look bigger is to use sleek, integrated kitchen appliances. Appliances can take up a lot of space, making a kitchen look even smaller and more cluttered. Using sleek or integrated appliances helps you maximize your space without sacrificing style.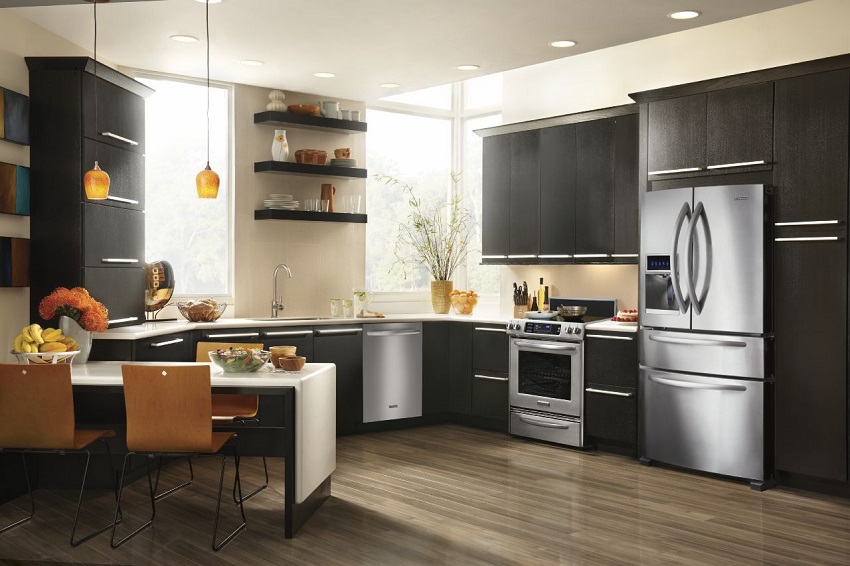 Image Source: uakc.net
Sleek appliances such as ovens, dishwashers, and refrigerators are designed to be narrower and more compact than regular appliances. Therefore, you will have more space to move about and get things done in your kitchen. Conversely, integrated appliances are designed to be installed into your kitchen cabinets and out of sight. This creates a seamless, streamlined appearance and makes your kitchen look more open and airy.
Furthermore, you can customize integrated appliances to match the rest of your kitchen's fixtures, including your countertops, cabinets, and flooring. Besides, when choosing sleek or integrated appliances for your small kitchen, consider your specific needs and the layout of your space. Go for kitchen appliances designed to fit your small space and provide the features and functions you need.
7. Use Open Shelving
Closed cabinets can make a small kitchen look cramped and enclosed. Still, open shelves, especially in a galley kitchen, can create the illusion of more space by allowing natural light to pass through and generating a feeling of airiness. If you choose open kitchen shelving ideas, ensure your shelves are tidy and well-organized. Don't overpack them so the kitchen doesn't seem cramped.
Image Source: houzz.com
If you are still deciding whether to go with completely open shelves, we recommend removing the cabinet doors to get a feel for the design; if you change your mind, you can conveniently pop the doors back on.
8. Replace Cabinet Doors with Glass
If you don't opt for open shelving, you can replace cabinet doors with glass. Replacing the doors with transparent fronts will make the kitchen more open and spacious. With glass cabinet doors, it will help draw the eyes past cabinet frames and inside the storage space, so walls will feel farther away, creating the illusion of the kitchen looking bigger.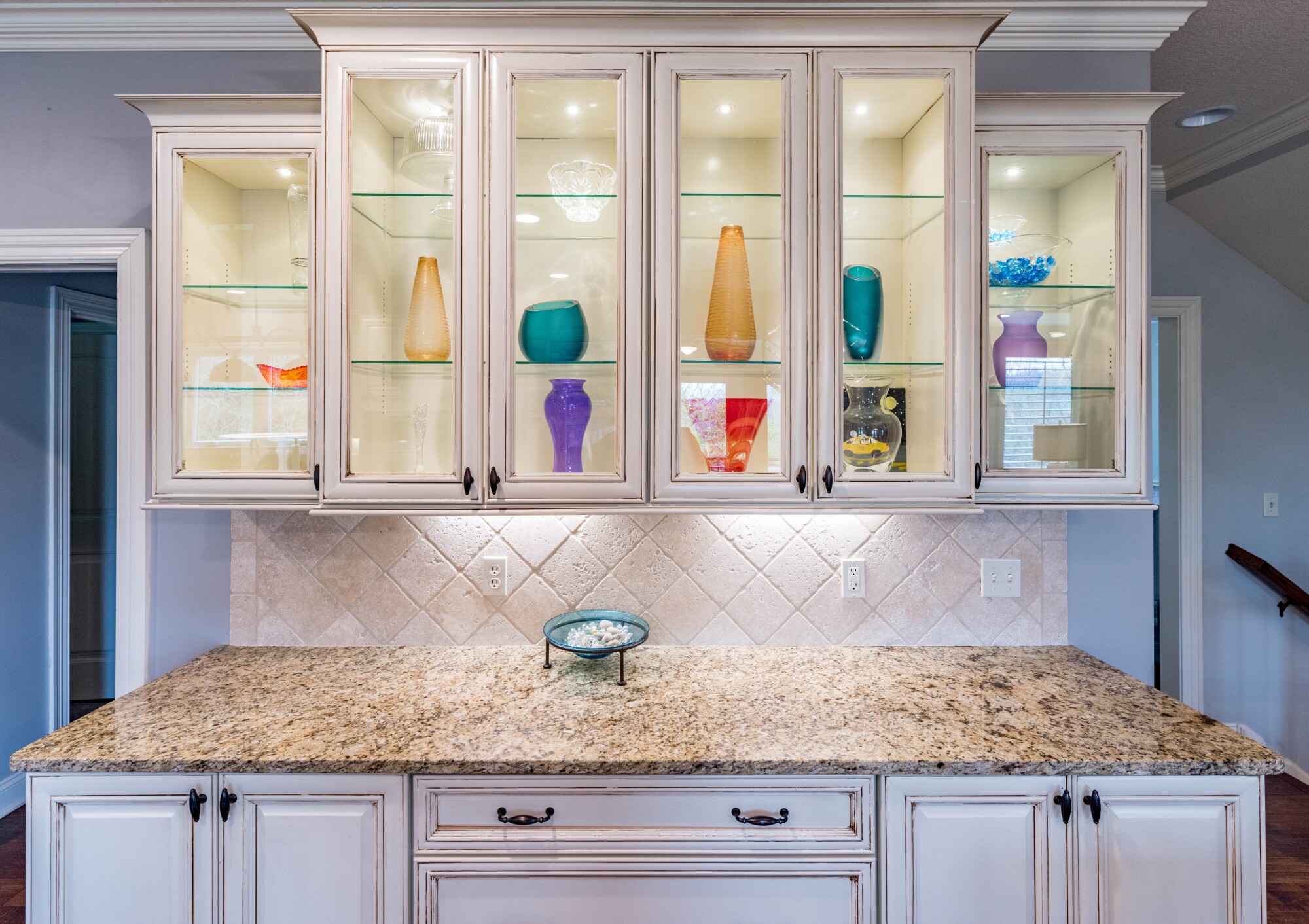 Image Source: premiercabinetpainting.com
However, this trick is most effective if you can keep your cabinets neat, well-organized, and color-coordinated. Clutter tends to make a room feel crowded.
9. Add a Focal Point with Wallpaper
Adding wallpaper with a striking design to one end of a small galley kitchen can give the impression of a bigger space. To make a small kitchen seem more spacious, use a busy design on the narrowest wall to draw the eyes along.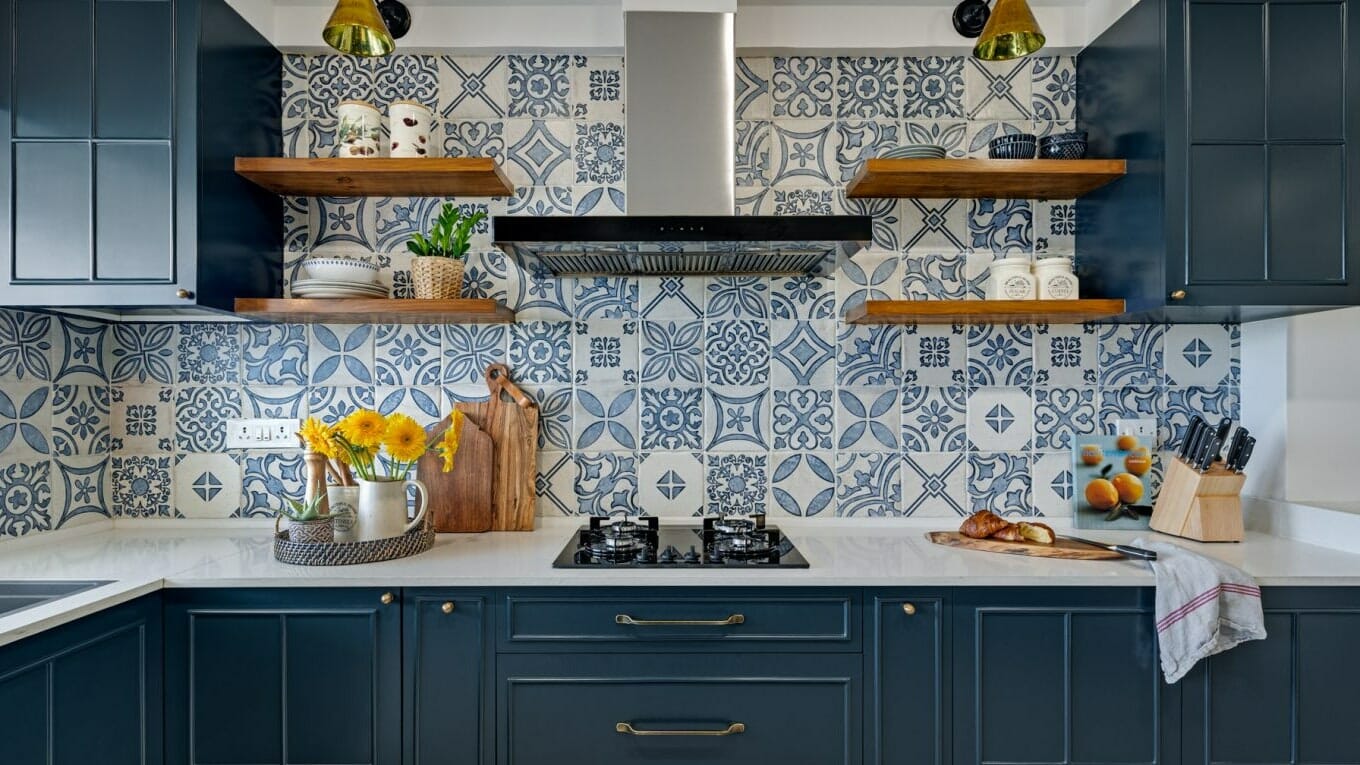 Image Source: decorilla.com
Ensure you choose a design that works well with your existing kitchen decor. Also, match the pattern and color to kitchen cabinets, a colorful splashback, flooring, or wall color for a chic, coordinated look.
10. Let the Natural Light in
Any room that has plenty of windows will feel brighter and more spacious. Keep kitchen window treatments to a minimum to allow the most natural light into your small kitchen. And if the windows are not overlooked at street level, you can remove window treatments entirely if that's possible. Besides, you can place some plants on the windowsill to keep it from looking bare and empty.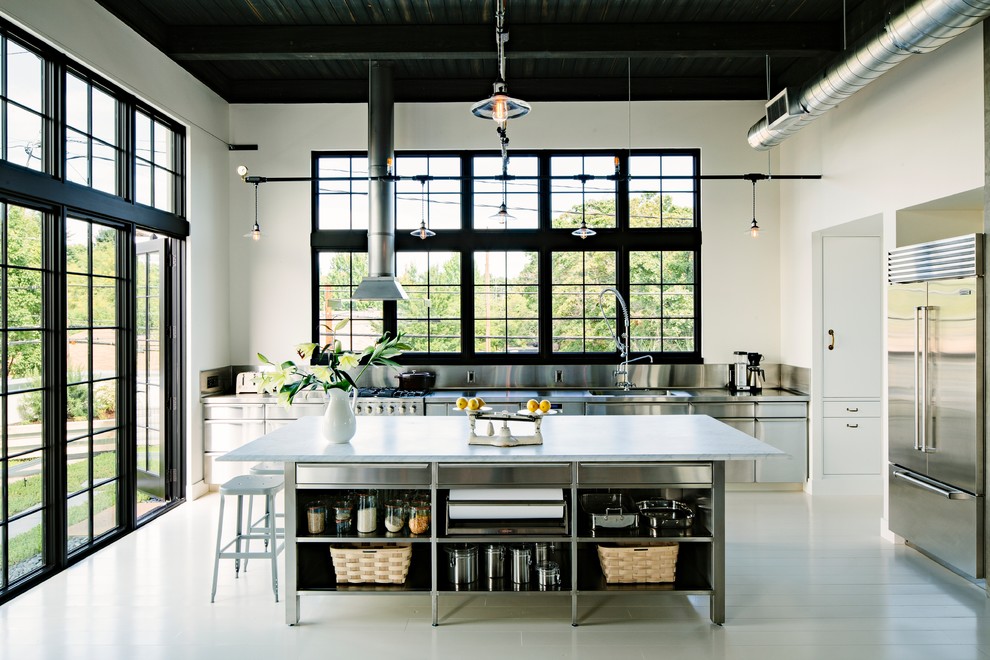 Image Source: fitzgeraldkitchens.com
On the other hand, if you must have a covering, opt for a sheer blind that will give privacy and allow natural light to get in. Alternatively, you can install traditional cafe-style shutters to block out the bottom half of the window while allowing plenty of light to shine through on the upper half.
11. Opt for Reflective Surfaces
Using reflective surfaces is another way to make a small kitchen look bigger. Consider options like shiny floors, glass tiles, high-gloss paint, and glossy cabinets to achieve this. The kitchen countertop's color is also crucial. Opting for glossy, countertop reflective surfaces like stainless steel, laminate, or quartz will help reflect light around the room, giving the impression of more space.
Image Source: dogtas.com
Furthermore, you can use mirrors to open up the space and add more reflective space visually. Putting a mirror in the kitchen is a quick and easy way to make the room seem larger. This is because the mirror will reflect light across the room, making it seem larger.
12. Be a Minimalist
The minimalist aesthetic creates more counter space and gives the impression of a bigger kitchen. We recommend avoiding ornate, overly decorative details and keeping the aesthetic simple and uncluttered to maximize space and visibility. If your kitchen seems cluttered due to a lack of storage space, it will be seen as being smaller than it is.
Image Source: unsplash.com
Maintain a consistent routine of clearing all kitchen countertops and putting away any unused items. This includes keeping the space above the kitchen cabinets clutter-free. In your small kitchen, you need to eliminate items you don't use.
For instance, investing in a steaming hot water tap will allow you to keep a clutter-free counter as you will no longer need a kettle for hot water. Also, by integrating a food waste disposal in your sink, you can get rid of the food waste caddy or bin that takes up valuable floor space.
13. Ditch the Handles
Another way to make a small kitchen look bigger is by going for handles and a sleek, seamless appearance in your kitchen. We recommend using handles for kitchen ideas for a modern, minimalist look. The popularity of this kitchen idea is fueled by an increase in demand for a clutter-free aesthetic, especially for homeowners with a small modern kitchen where space is at a premium.
Image Source: modianikitchens.com
A small kitchen can become sleeker in its design by avoiding any extrusion, with uninterrupted, streamlined lines providing the perception of more space and creating a more efficient environment where there is room to move around.
14. Go for Freestanding Furniture Over Fitted
Image Source: bhg.com
Kitchen furniture can play a significant role in making a house look bigger, especially in smaller homes or apartments where space is limited. Choosing freestanding furniture over fitted furniture can make a small kitchen look bigger. The legs on freestanding furniture allow you to see underneath the piece, giving the impression of more space. Another advantage of freestanding furniture is that you can move them around and thus maximize your kitchen space.
15. Use Light-Colored, Large-Format Floor Tile
To create the impression of more space in a small kitchen, you can use light-colored, large-format floor tiles. A larger tile usually works better than expected to achieve this. If the tiles are smaller, the grout lines will fill the space and detract from the look of the floor.
Image Source: flooringamerica.com
We recommend a 900mm x 600mm tile since it's a versatile size that works well in smaller and larger areas. The grout will be less noticeable if you choose a color that complements the tile, further contributing to the illusion of more space.
Conclusion
Making your kitchen look larger is not a difficult task. You can create a more open, bright, and welcoming space with clever design tricks and smart storage solutions. All you need to do is ensure you understand the techniques for making a small kitchen look bigger, as discussed above, and use the ones that meet your requirements.
Frequently Asked Questions on How to Make a Small Kitchen Look Bigger
1. What color makes a small kitchen look bigger?
Choosing the right color can make a small kitchen look bigger. To make a small space seem larger and brighter, we recommend using lighter colors as they reflect more light. Here are some color schemes that might help make your kitchen look more spacious:
White is a timeless color for a small kitchen since it brightens the space by reflecting light.
Light gray: A light shade can add depth and airiness to a small kitchen while creating a spacious feeling.
Pale blue: This soothing shade of blue can give the illusion of a larger space as it has a calming effect.
Pale green: Soft greens are calming, making a small space feel bigger.
Beige: A light beige can offer coziness and warmth to a small kitchen without making the room seem smaller.
2. What kind of backsplash makes a kitchen look bigger?
With the right type of backsplash, you can give the impression of more space and depth. Here are some backsplash options to consider:
Mirrored backsplash: A mirrored backsplash usually reflects light, providing the illusion of more space.
Glass backsplash: A glass backsplash is an excellent option for a small kitchen because it allows light to pass through, creating the illusion of more space.
Light-colored backsplash: A backsplash in a light hue, such as white or light gray, creates an illusion of openness, making the kitchen look bigger.
Simple backsplash: A simple backsplash with minimal texture or pattern can create a clean and uncluttered look, which can help a kitchen space feel less cramped and more open.
Vertical backsplash: By installing a backsplash that extends vertically from the countertop to the ceiling, you can create the illusion of more height and make your kitchen seem more spacious.
3. What floor tiles make a kitchen look bigger?
The choice of flooring is crucial to creating a sense of space and openness in your small kitchen. Here are some floor tile options to consider:
Large-format tiles (24 x 24 inches or 24 x 48 inches) can make a small kitchen look bigger by creating a sense of continuity and openness.
Light-colored tiles: For instance, beige, white, or light gray tiles can help reflect light and make a room seem larger and brighter.
Glossy tiles: glossy tiles can create reflective surfaces that help bounce light evenly over the room, giving the illusion of more space.
Textured tiles: Tiles with texture, for instance, wood-look tiles, can provide the impression of more depth and space when used as flooring.
Diagonal tiles: Placing tiles diagonally, rather than in a straight pattern, can create the illusion of movement and flow, making a small kitchen appear bigger.
4. How can I make my small kitchen look expensive?
There are several ways to make your small kitchen look expensive, which include:
Declutter and organize: An organized kitchen gives the impression of being more expensive. We recommend investing in storage solutions such as cabinets and drawer organizers to maximize space.
Upgrade your lighting: Good lighting will make a world of difference in the ambiance of your kitchen.
Choose a cohesive color scheme: Choose a color scheme of no more than two or three colors to create a cohesive and elegant appeal. Go for neutral colors, such as black, white, or grey, with a pop of bold accent color.
Invest in quality materials: To create a luxurious look, upgrade to higher-quality materials, such as marble or granite countertops and hardwood or ceramic tile floors.
Keep it clean and tidy: Regularly clean your kitchen and keep it tidy to maintain a high-end appearance. A clean and tidy kitchen always looks more expensive.
5. Are big tiles better in a small kitchen?
Big tiles can be a great option for a small kitchen since they provide the impression of a larger floor space. Using bigger tiles can make a space seem less busy and congested due to the reduced number of grout lines. Also, big tiles make the room appear more seamless by creating the impression of continuity and flow across the space. However, big tiles might not be suitable for all types of small kitchens, especially if the kitchen has a lot of corners or angles or has a complex layout, such as those with islands or peninsulas.