When most people think of the minimalist lifestyle, they imagine someone who lives in a small studio apartment with just the bare essentials. While this may be true for some minimalists, others take the minimalist approach to interior design, especially the bedroom. Minimalist bedroom design is all about simplicity and functionality.
Are you looking for ideas to make your bedroom look more minimalist? If so, you're in luck! This blog post will explore awesome ideas for creating a minimalist bedroom that you will love!
Minimalist Bedroom Design Ideas
1. Minimalist Bed Frame
A minimalist bed frame is a perfect way to complete a minimalist bedroom. After all, what could be more minimalist than a bed with no headboard, no footboard, and no frills? A minimalist bed frame is simply a metal or wood frame that supports a mattress. That's it. No fancy carvings, no inlaid designs, and no elaborate hardware. Just clean lines and simple functionality.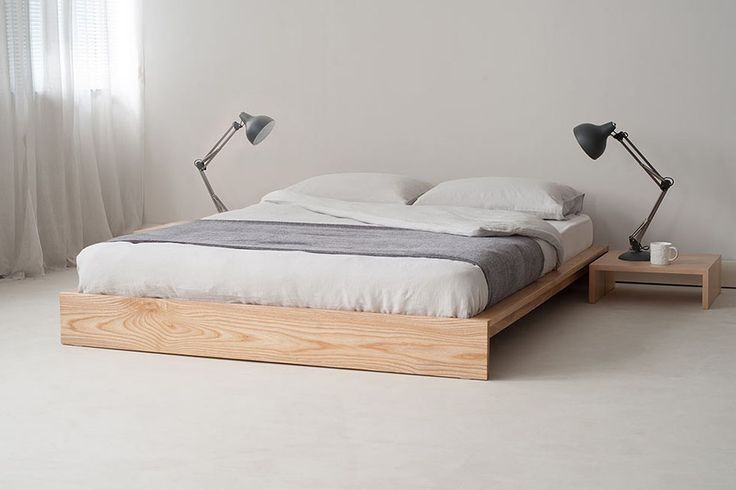 Image Source: pinterest.co.uk
And yet, despite its simplicity, a minimalist bed frame can actually be quite stylish. In fact, many minimalists believe that less is more when designing and that a truly beautiful object has been stripped down to its essential elements. So if you're looking for a refined, sophisticated look for your bedroom, consider furnishing it with a minimalist bed frame.
2. Smart Storage: Use Storage Solutions to Keep Your Bedroom Organized
Another great way to create a minimalist bedroom is to focus on smart storage. After all, one of the hallmarks of minimalism is simplicity, and what could be simpler than having all you need right at your fingertips? That's why incorporating smart storage into your bedroom design is such a great idea.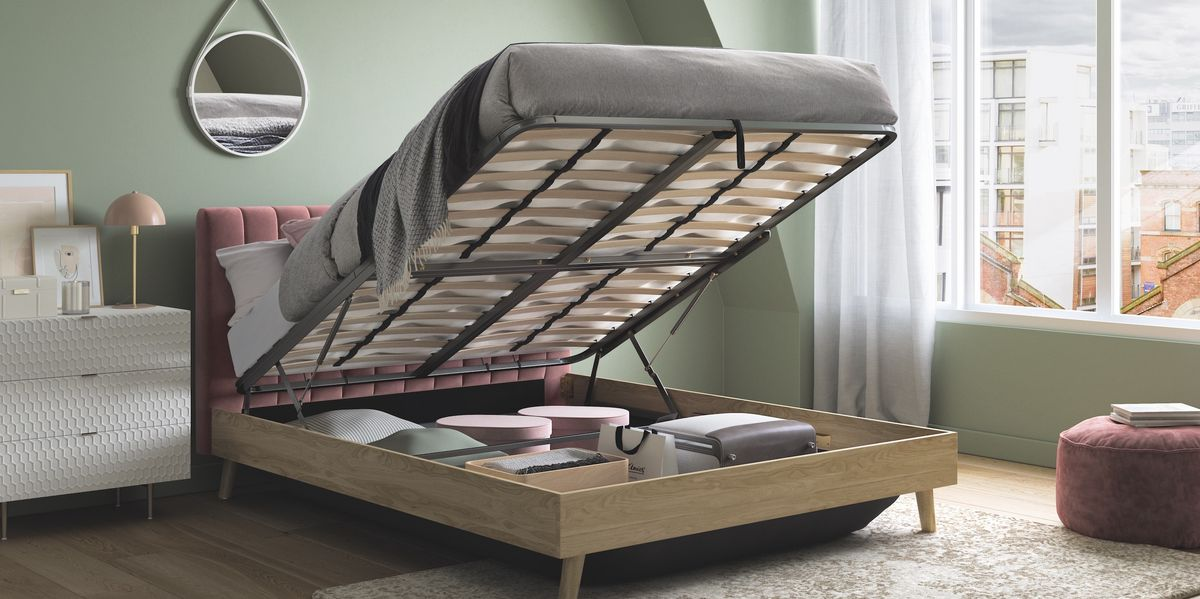 Image Source: housebeautiful.com
There are different ways to do this, but one of the simplest is to invest in a storage bed. A storage bed is a type of bed that has built-in drawers or compartments for storing items like clothing, linens, and even shoes. This is a great way to lessen clutter in your bedroom and keep everything you need within easy reach.
Another option is to install shelves or cabinets along one bedroom wall. This is an excellent way of creating a focal point in the room while providing ample storage space. And if you're really short on space, you can invest in a Murphy bed, which folds up into a cabinet when not in use.
3. Furniture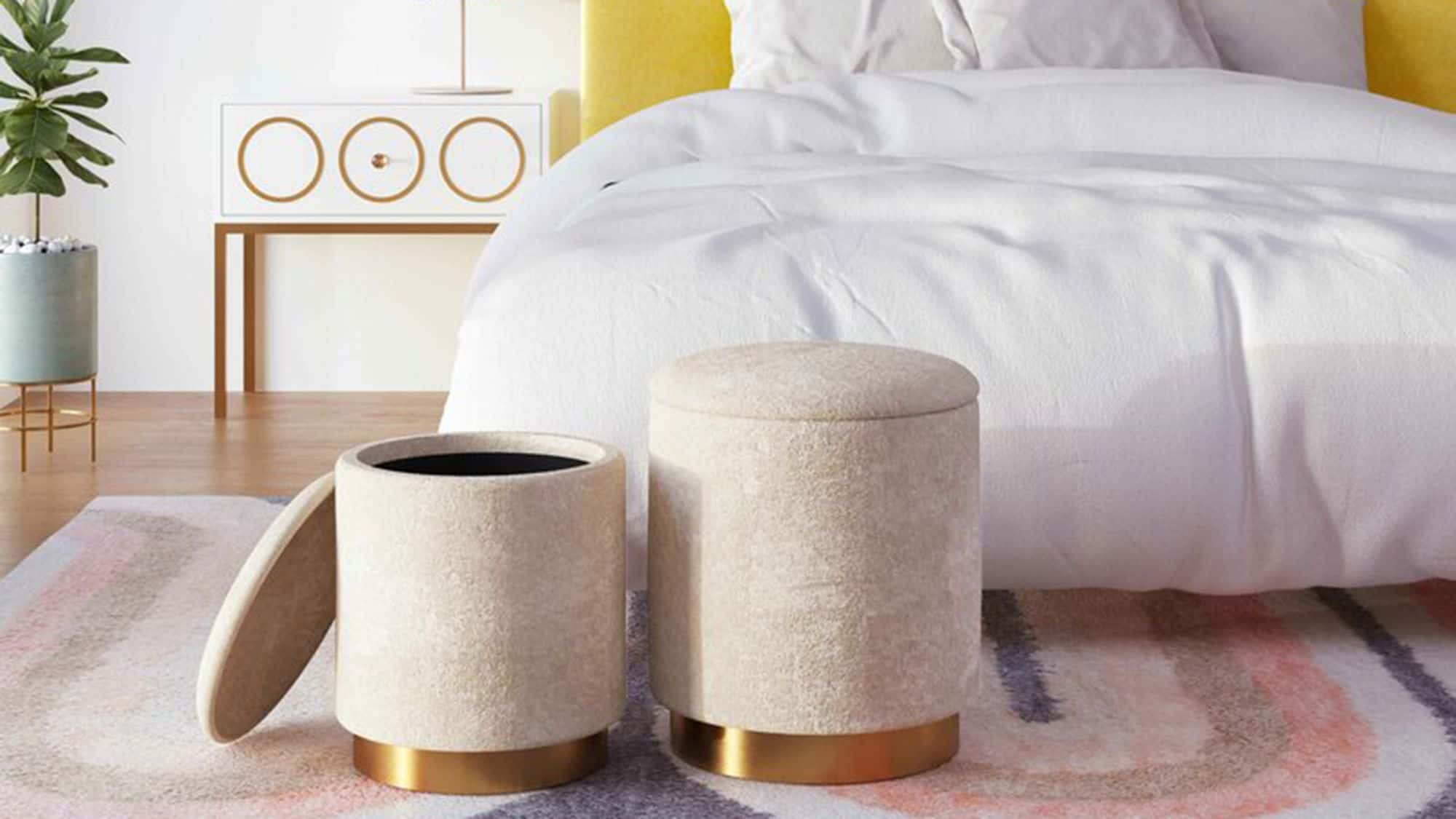 Image source: realsimple.com
When it comes to furniture, less is definitely more since you're going for a minimalist look. That means avoiding bulky pieces like armoires and dressers in favor of more streamlined options like nightstands and side tables. Here are several ways you can use furniture to design a minimalist bedroom;
i) Invest in Multi-Purpose Furniture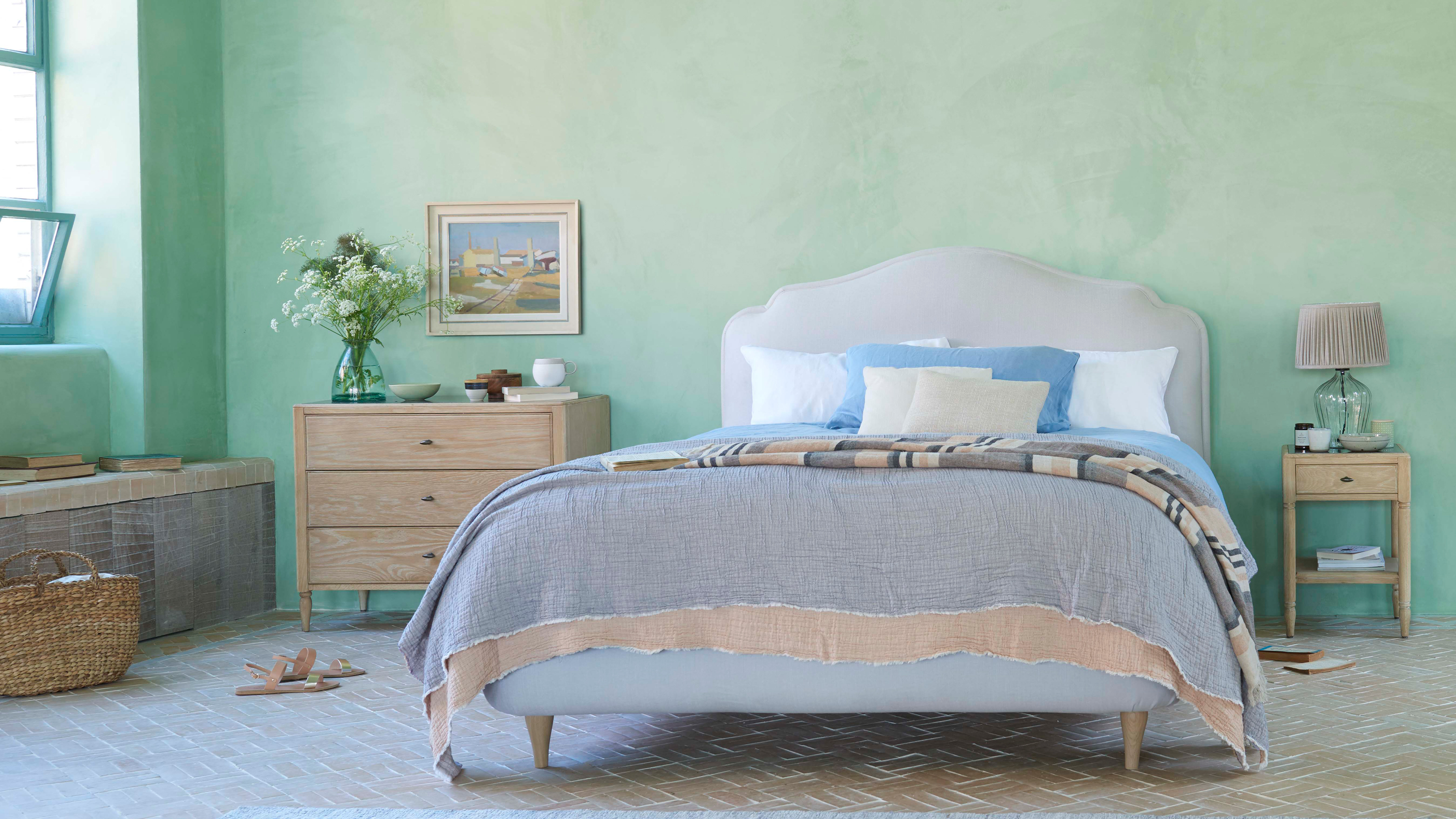 Image Source: realhomes.com
Functionality and aesthetics play a vital role in minimalism. Include furniture that serves more than one purpose. For instance, you can choose nightstands that serve as shelves, tables, and storage options and still look sleek and stunning
Other examples include an ottoman with storage that can double as a coffee table or a place to stash extra blankets, and a daybed which can be used as a sofa and a guest bed. Also, don't forget about mirrors! Mirrors can help a small space feel more open and airy, which is always a good thing in a bedroom.
ii) Low-to-the Ground Furniture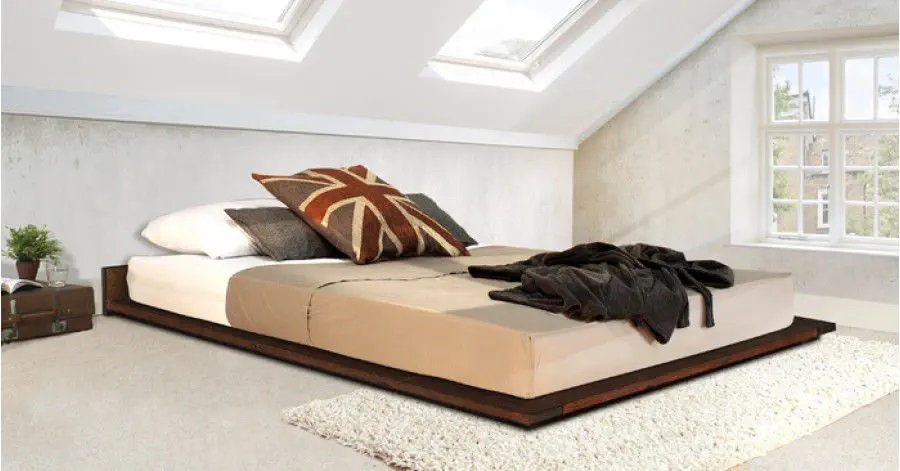 Image Source: archiexpo.com
Minimalist bedrooms become more visually interesting if they include unexpected furniture. Unlike most bedroom designs, this is one of the minimalist bedroom ideas that drag eyes down to the ground. You can pair a squat cabinet or dresser with a bed frame without a headboard.
4. Make Use of the Walls
As far as a minimalist bedroom is concerned, every inch counts. And that includes the oft-neglected vertical space. Here are the stylish ways to use your walls for a minimalist design;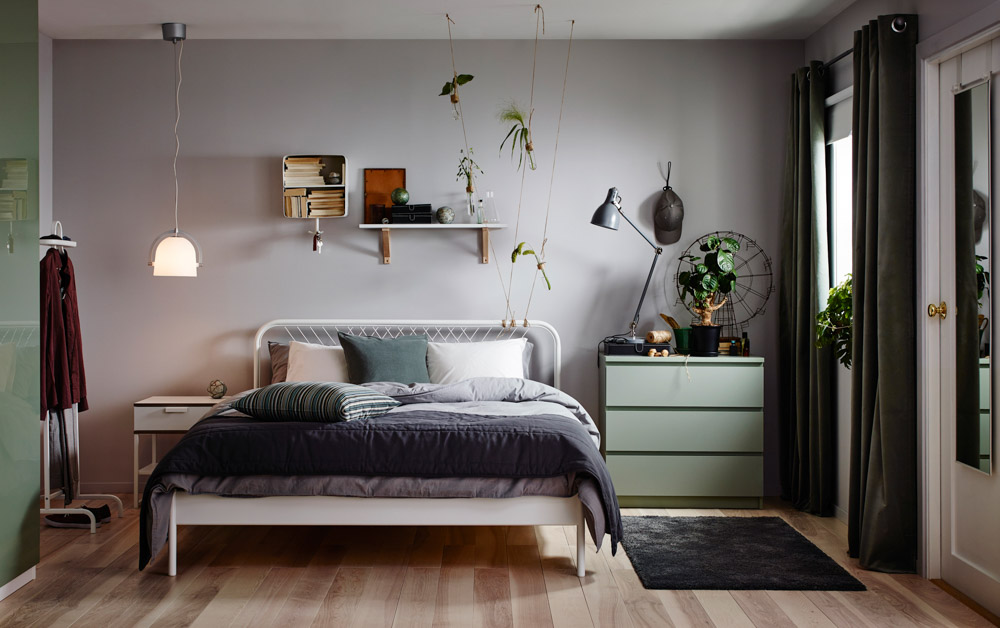 Image Source: beautifulhomes.com
i) Implement storage features
Walls may not seem like an obvious storage solution, but with a little creativity, you can transform them into a stylish and functional part of the room. For instance, you can use hooks to hang everything from coats and bags to hats and scarves. The shelves are perfect for displaying books, art, and small décor items. 
And pegboards can provide a flexible way to organize everything from jewelry to office supplies. So if you're looking to make the most of your minimalist bedroom, don't forget to put your walls to work.
ii) Implement a Subtle Accent Wall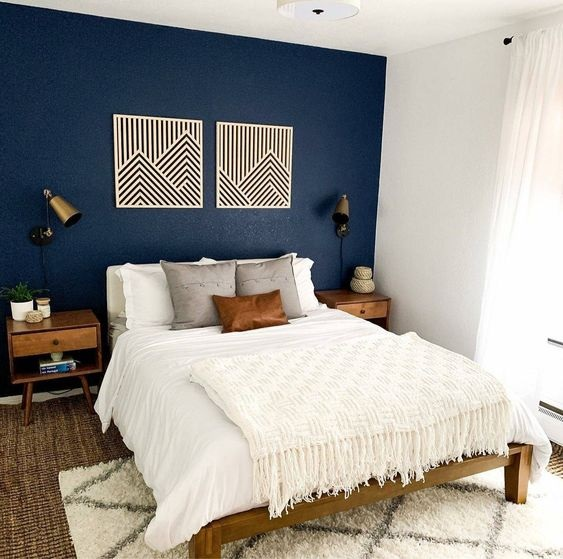 Image Source: blog.displate.com
If you are looking for calming vibes in a minimalist streak, express it with an accent wall. There are several stylish bedroom accent wall ideas you can choose from. With the right design, the bedroom will maintain minimalist energy while the centerpiece makes a statement. Keep everything else in the room symmetrical and simple. For instance, match the lamps and closets so that the accent wall can do all the talking.
iii) Use Collections as Wall Décor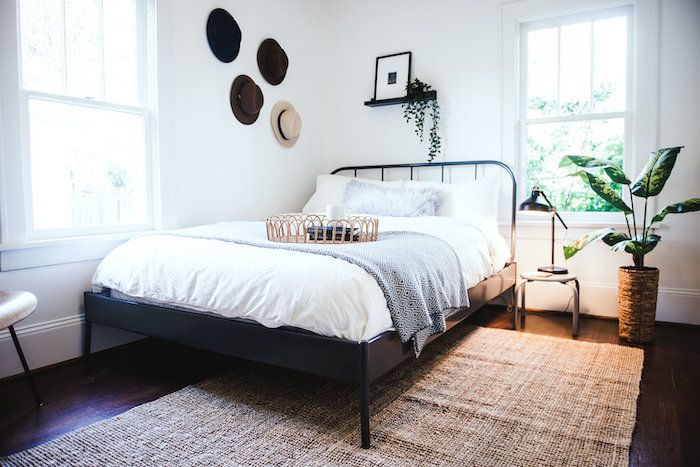 Image Source: mydomain.com
The best trick for this style is to use what you have at hand to decorate instead of buying additional items. If you have a collection of items you can't dispose of, turn them into wall décor. For example, hanging stylish hats can be both aesthetically pleasing and functional.
iv) Wallpaper Transformation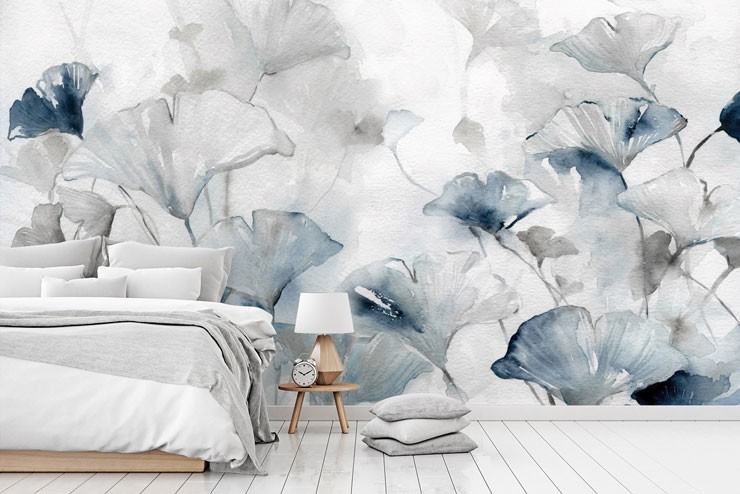 Image Source: wallsauce.com
Recently, wallpapers have developed many colors, textures, and patterns, and the right choice of wallpaper can instantly bring life to your bedroom. If your minimalist bedrooms need a more personal touch, consider putting wallpaper directly behind the beds. Opt for wallpaper with plenty of negative space to make the room feel calmer rather than cluttered.
v) Thoughtfully Displayed Artwork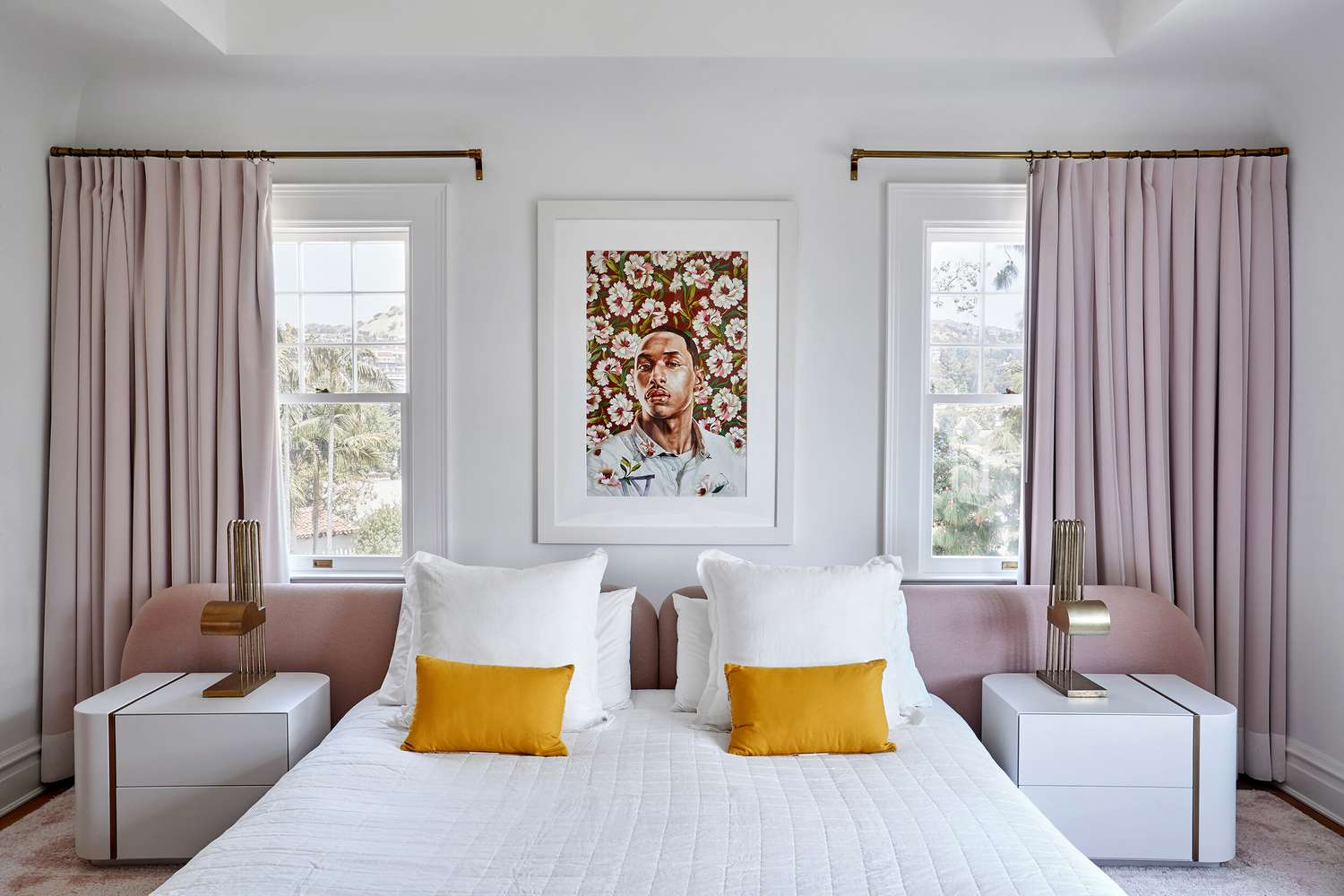 Image Source: thespruce.com
Keep things direct and simple with one focal piece of artwork instead of hopping onto the gallery wall trend, which might sometimes look cluttered. Then allow the artwork to dictate the color scheme.
5. Add a Few Plants or Flowers to Bring Some Life into the Room
A bedroom should be a haven: a place to relax, unwind, and forget about the stresses of the day. But for many of us, it's just a place to crash at night. If your bedroom is feeling a little lackluster, there are some easy ways to add some life without compromising on the minimalist aesthetic. 
Image Source: homedecorbliss.com
A few strategically placed plants or flowers can make all the difference. Not only will they add a pop of color and visual interest, but they can also help to purify the air and boost your mood.
And if you're worried about keeping them alive, there are plenty of low-maintenance options to choose from. So go ahead and green up your space—your bedroom will thank you for it.
6. Play with Colors
Minimalism and color can go together, especially if you find color as an element that brings joy into your everyday life. Here are ways of using color for a minimalist bedroom design
i) Warm Neutral Color Palettes
Warm neutral palettes speak for minimalism in the bigger picture. Muted colors make the room feel and look harmonious. These colors also boost the effect of daylight entering the bedroom, making the space feel larger and allowing a more breathable space. For a neutral bedroom, you can pick warm undertones like beige, alabaster, taupe, blush pink, and khaki that leave a soothing effect.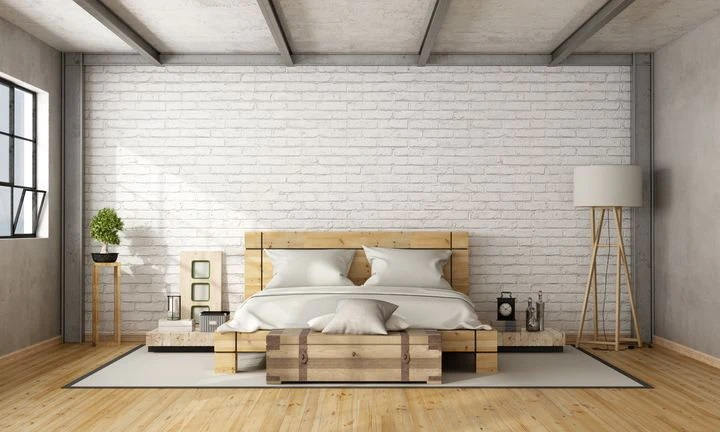 Image Source: bedhut.com
Try these shades as furniture finishes, paint on walls, and woven details to keep the colors true to their nature, calm and unrefined. Patterns and texture are allowed, but you should keep the décor pieces in the same color family. You can also opt for the trendy all-white interior themes and include a few muted shades to turn your space into a serene scene.
ii) Stick to an All-White Palette for a Modern Bedroom
When speaking of predetermined or classic perceptions of minimalism, all-white décor compositions are inherently minimalist. Their serine emanation and feeling of purity go perfectly well for relaxing spaces such as bedrooms. Even though walking into an all-white space is instantly calming, total whiteness can be overbearing.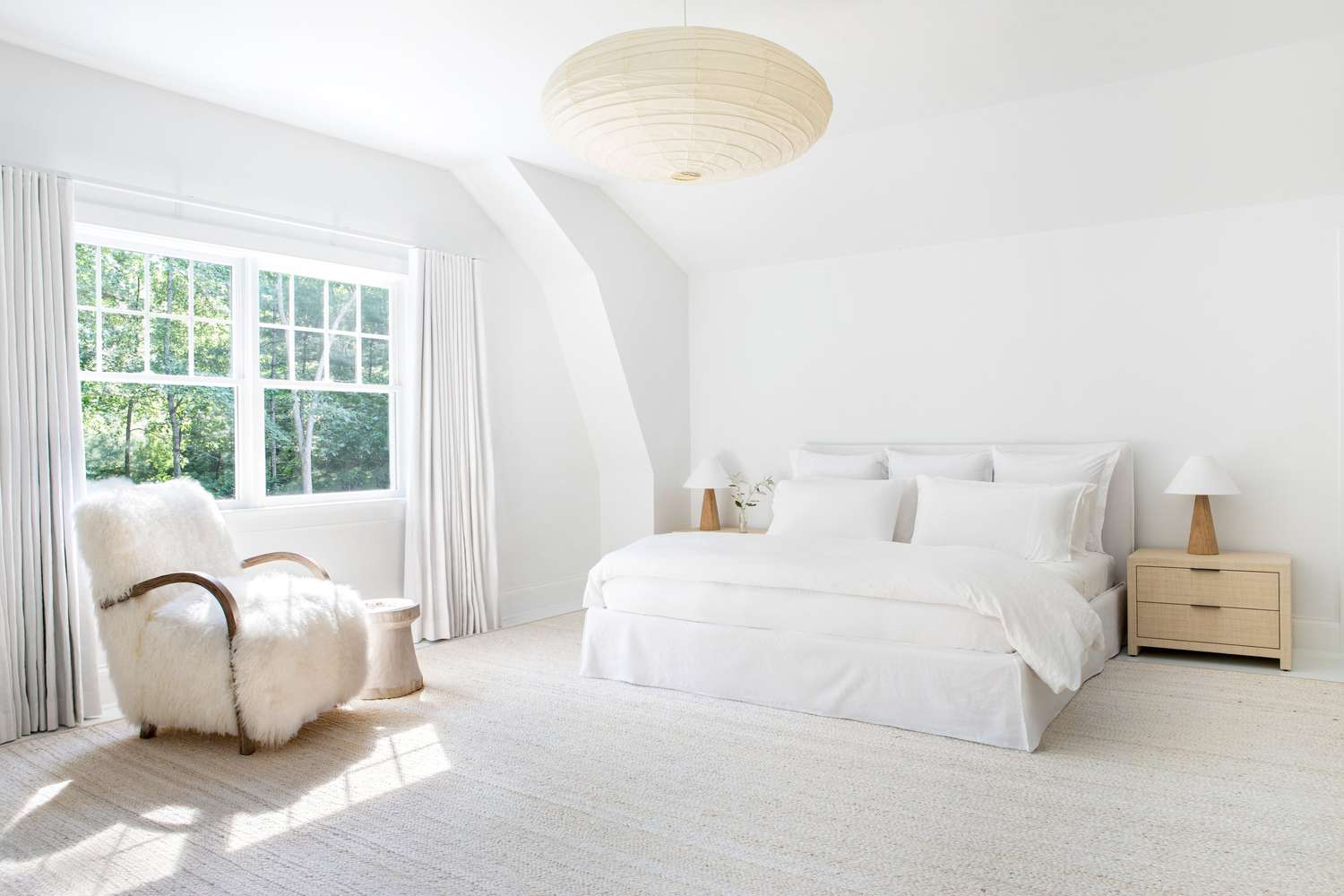 Image Source: thespruce.com
You can elegantly introduce small detail with additional presence, such as a sprinkle of pastel, a neutral color splash, bones, or wooden structures. Balance is important and can be quite fun to create.
Nevertheless, white, as the main color scheme, such as white walls and bedding, has its perks. It is timeless and elegant and can create a feeling of spaciousness and introduce softness into the ambiance, creating a serene bedroom with endless freedom, perfect for a space to relax and calm.
iii) Try All Black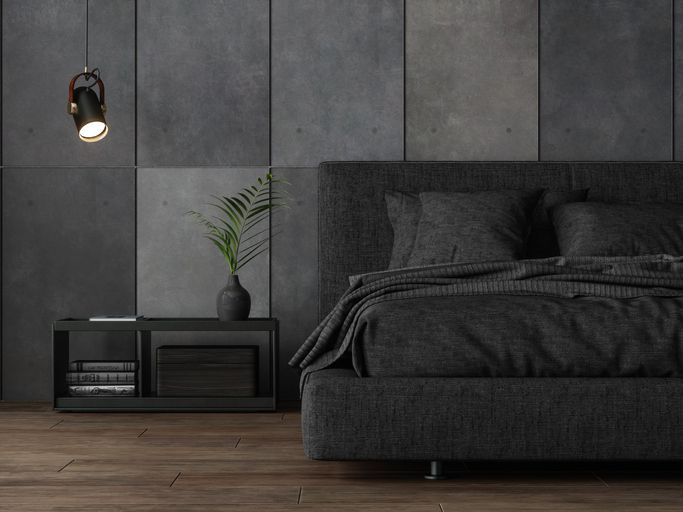 Image Source: mydomain.com
It might seem odd, but minimalism does not require entirely white or light-colored décor. Dark tones, such as a black color scheme, can be simple and calming yet striking in their own way. If you want to try a dark color palette, ensure the decors are as monochromatic as possible. 
iv) Colorful Bedroom Décor
Image Source: decoist.com
Minimalism doesn't have to be shades of gray and white. Simplicity, coziness, and just enough design can also flourish with complimentary colors. So, free your imagination and boldly explore if you want an uncluttered serene bedroom. Choose a few primary bold colors that mix well together and make them your theme.
v) Go Entirely Monochrome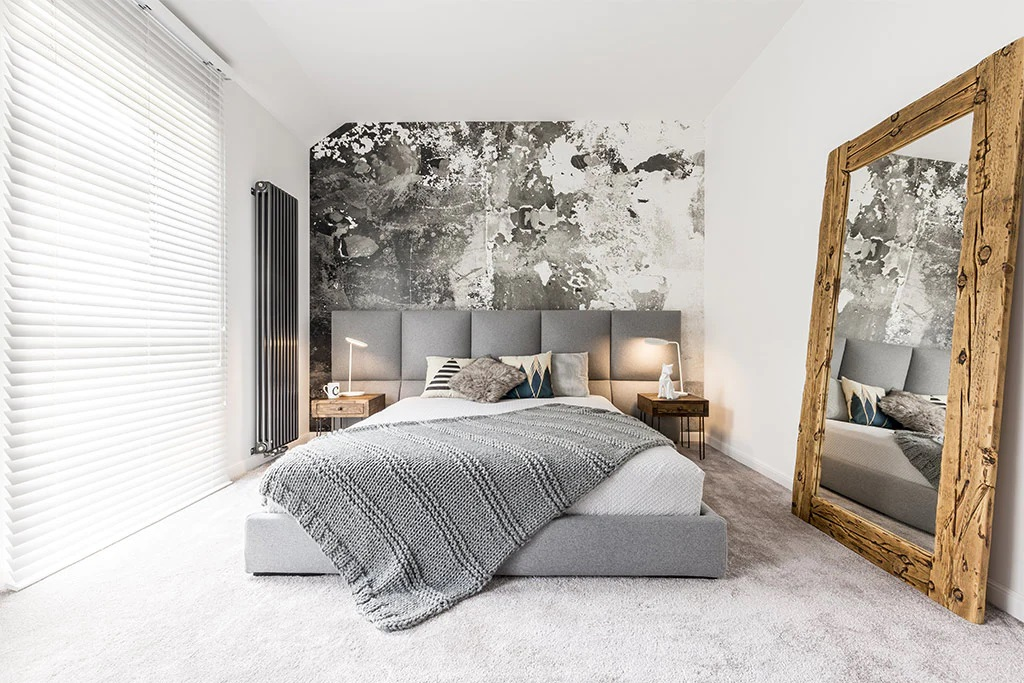 Image Source: puffy.com
Having one color statement exudes a sense of uniformity in a space, which is often found relaxing. Clear lines, simple shapes, and a monochromatic color palette are a good foundation for a minimalist bedroom look. You can choose the gray palettes, including different shades of gray, to create a serene, minimal effect.
7. Lighting
Lighting ideas for a minimalist bedroom include:
i) Layering the Room with Lights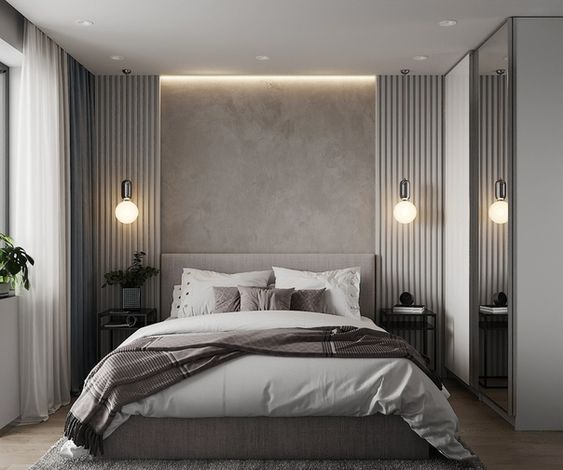 Image Source: pinterest.com
A room feels complete with the right combination of illuminations. The right lighting layout transforms the space. Use additional lighting throughout the bedroom to offer extra warmth in addition to the natural light coming in through the windows. If you don't have enough space for table or floor lamps, you can choose light fixtures that don't occupy significant space, such as wall scones, string lights, or pendant lighting.
ii) Using Statement Lighting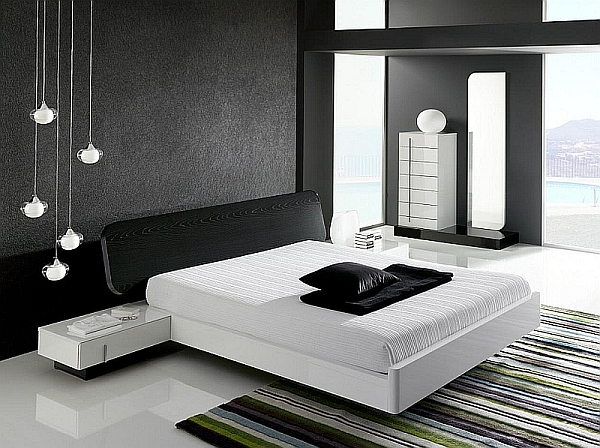 Image Source: decoist.com
If you need something special that isn't too loud, statement lighting makes a subtle statement during the day and has a soft effect in the evening. A Spartan minimalist bedroom can feel stylish and intentional when a statement light fixture is involved. To breathe some personality into your space, keep the furniture minimal and choose a unique ceiling fixture that seamlessly blends into the space.
8. Match Nightstands with Floor Finish
Image Source: goodhousekeeping.com
You can create a sanctuary in your bedroom with this unnoticeable choice. Focus on a neutral palette with texture to create s cohesive, calming feel, quite restful for your brain. Sticking with the same color and material create clean lines and unity in your space.
9. Hang Floor-to-Ceiling Curtains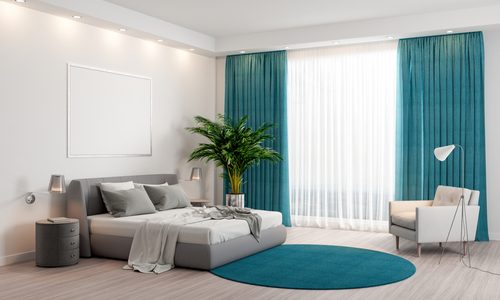 Image Source: magicbricks.com
Fusing minimalism with comfort can seem complicated at first. But focusing on simple elements such as window treatments quickly pulls a room together with a cozy feel. Running the curtain from floor to ceiling increases the sense of volume in the room. You can select a beautiful subtle neutral in a warm texture to create a cozy night-time space.
10. Glamorous Materials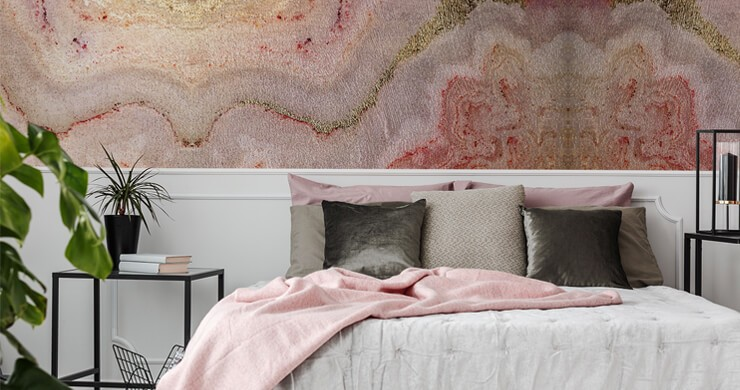 Image Source: wallsauce.com
A minimalist space doesn't have to be simple and stark. Apart from narratives of artwork and dashes of color, materials are one of the best ways to communicate a modern mood. For instance, you can add a mirrored side table and rich velvet coverlet to your bed for a modernist look and feel.
11. Incorporate Matching Bedroom Mirrors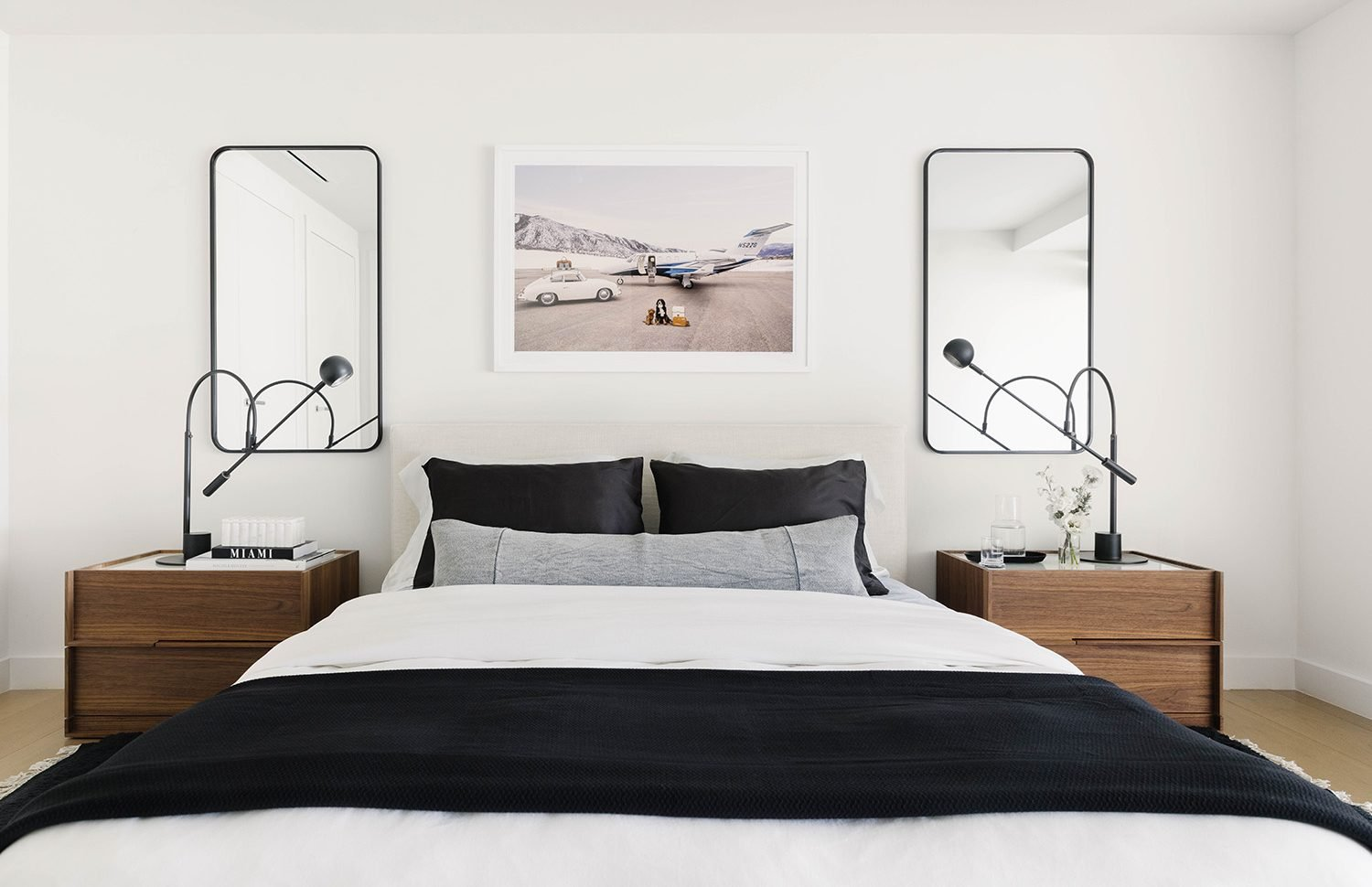 Image Source: havenly.com
Incorporate matching mirrors to make a minimalist bedroom feel even airier. Hanging the mirrors over the nightstands makes the room feel bigger and more dynamic. 
12. Mix Shapes and Textures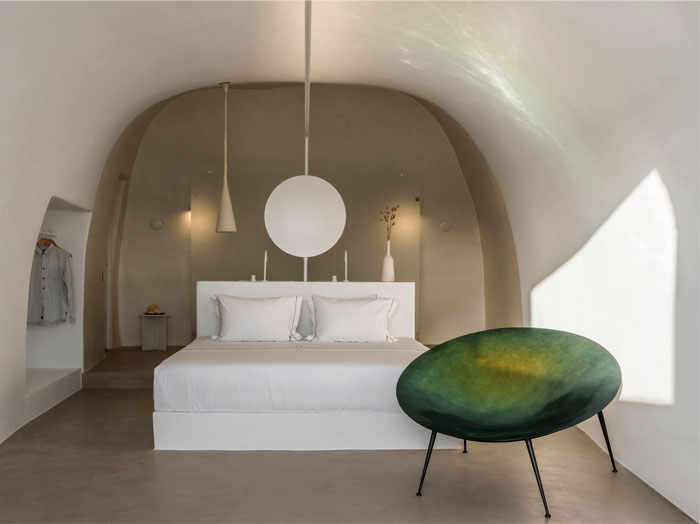 Image Source: interiorzine.com
Minimalism doesn't mean boring. Curate your bedroom design with an eye for diverse lines and feels. Mixing textures and shapes the right way enriches the space, making it more artistic and vivid, a perfect complement to a minimalist palette. For instance, you can choose to pair a curving lamp, round wool cushions, and rectangular silk pillows to create interest for the eye without complicating things.
13. Bring Nature Indoors
Bringing nature indoors is a great way to build a minimalist vibe for your bedroom. Echo the nature surrounding your house. There are several ways of materializing this idea, including incorporating floor-to-ceiling windows in an area surrounded by trees to feel like you are wrapped in the trees.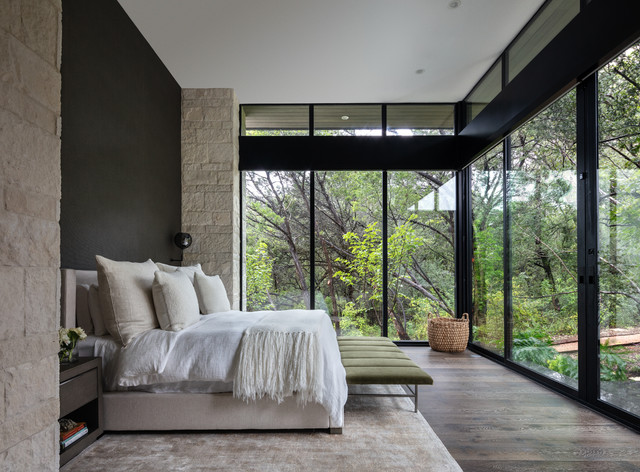 Image Source: houzz.com
You can also use other décor pieces such as wood light fixtures with dimmable bulbs, bedding and pillows made from natural materials, and rough-sawn wood flooring that brings the room together as the perfect cozy hideaway.
14. Bohemian Minimalist Bedroom
Most urban dwellers with romantic inclinations usually choose to decorate their most intimate space, the bedroom, in the vivid and typical bohemian style. The characteristics of this trendy style include warm, vital colors, organic materials selections and living plants, craft elements, or vintage and unique pieces of furniture.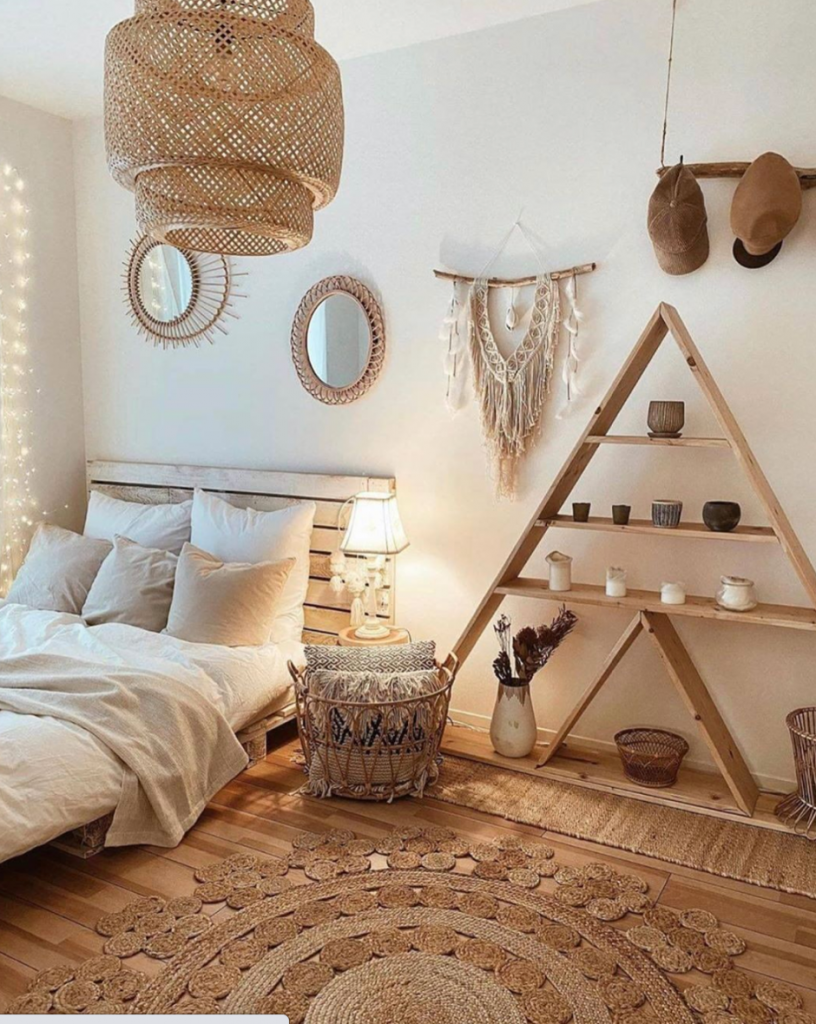 Image Source: sleepexpress.co.uk
Minimalism and Bohemian styles are not opposite and can be combined successfully. Both are fashionable and inspirational powerful searches for modern designers.
15. Geometry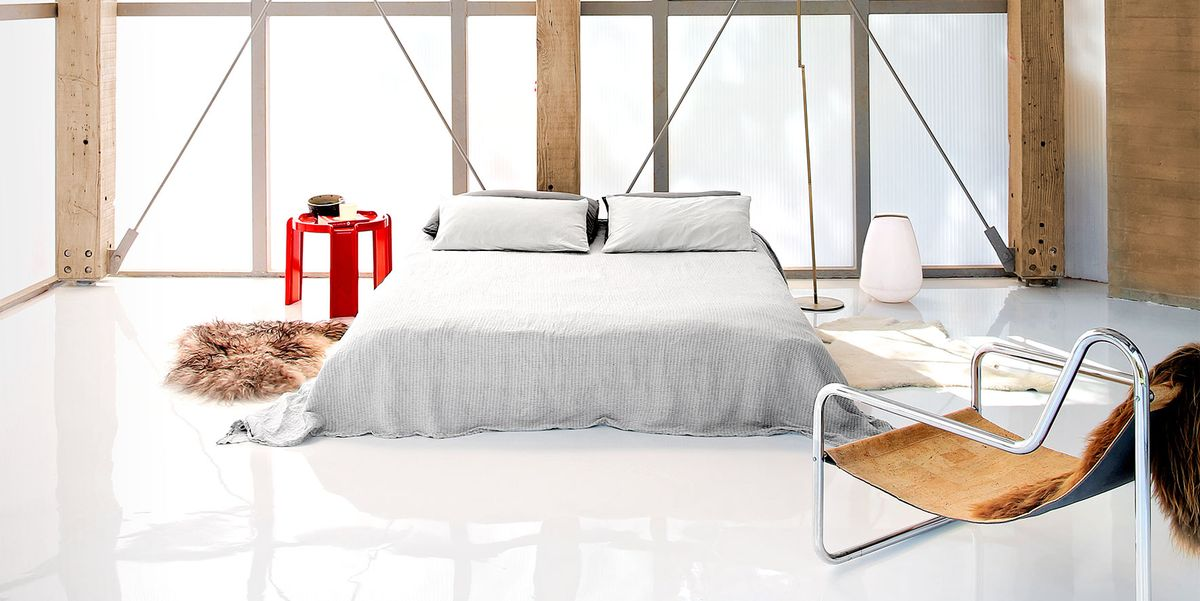 Image Source: elledecor.com
Minimalism is about making a visual impact with a few decorative items when working with a streamlined room. Therefore it is important to make them items count. Try incorporating geometric pieces such as linear consoles, orb pendants, square artworks, and hexagonal mirrors to make the balance noticeable to the naked eye.
16. Layer with Seamless Fabrics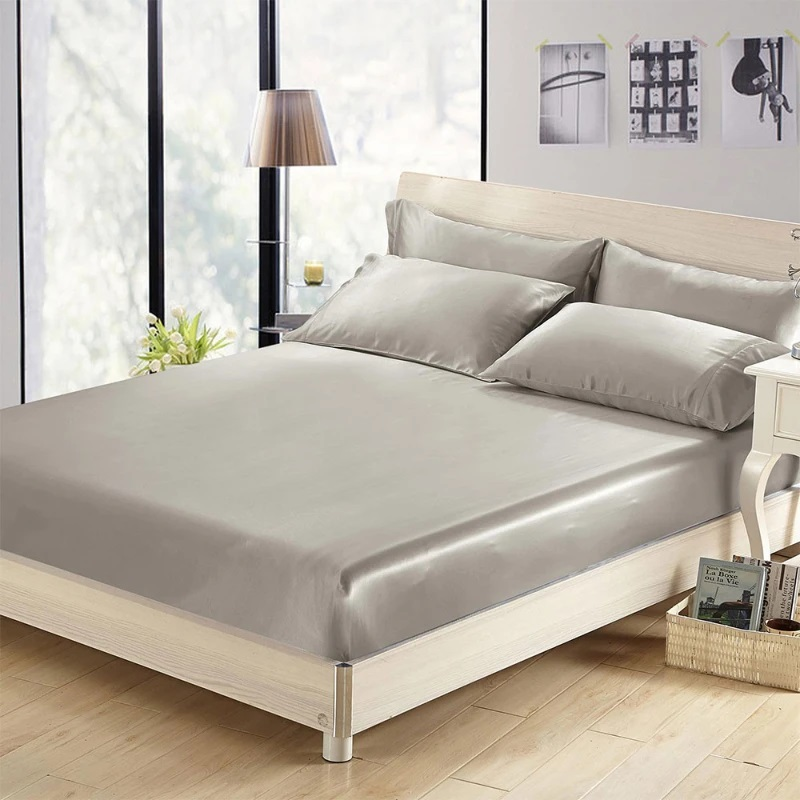 Image Source: aliexpress.com
Minimalist spaces need subtle layering that is completely refined and nearly flat. You can bring this effect by using fabrics with a seamless look. Choose from combed cotton, premium suede, or fine linen to give a pristine look to your bedroom. Use this minimalist bedroom idea on textile layers of throw pillows, furniture upholstery, rugs, and curtains. Such aesthetics brings a calming vibe to intimate spaces like the bedroom.
17. Keep the Nightstands Tidy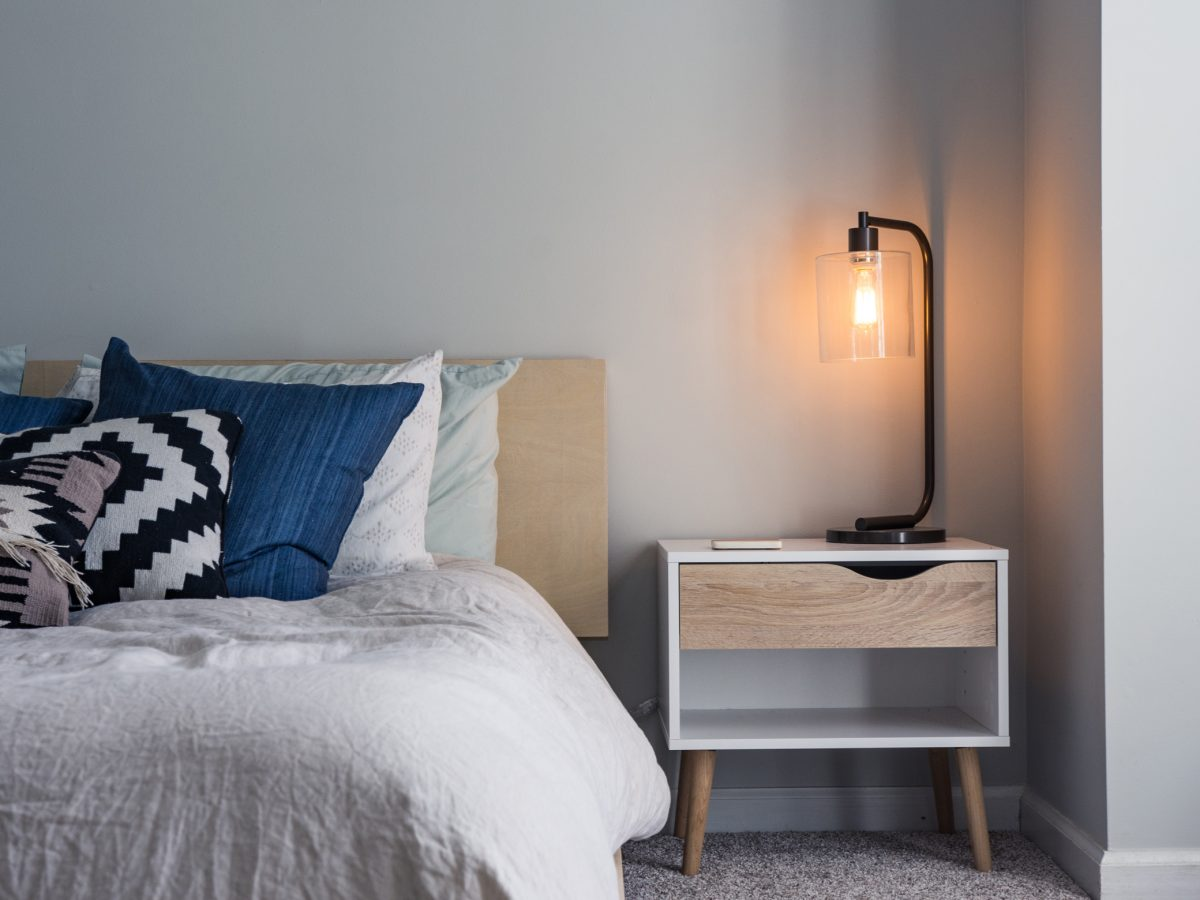 Image Source: becomingminimalist.com
The organization plays a key role in minimalism. But this doesn't mean you have to get rid of everything. You can keep a small bowl or tray on your nightstand to corral all your items and keep clutter at bay. You can also group them with other decorative items to create a vignette.
18. Keep Your Bedding Simple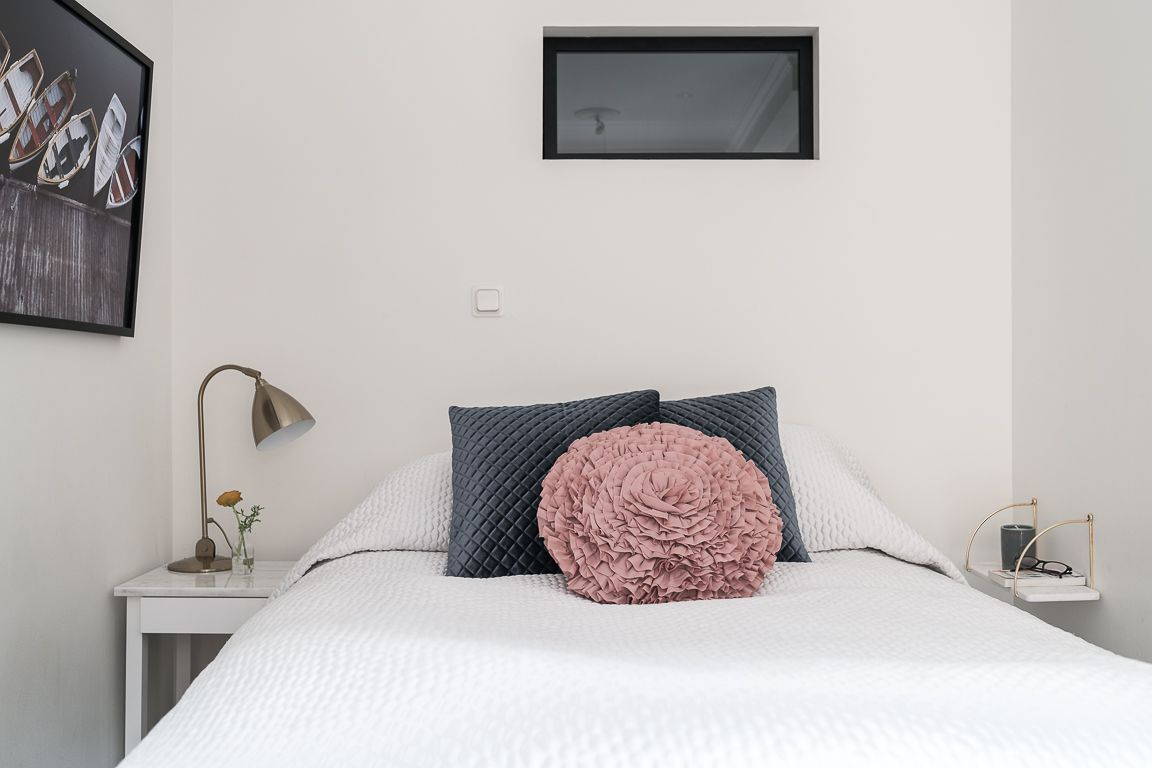 Image Source: homedit.com
You don't have to pile your bed with dozens of covers and pillows you don't plan on using. Too many accessories may disturb the harmony of the space. Style your bed simply with a blanket covering the foot of the bed and one accent pillow.
19. Negative Space Minimalism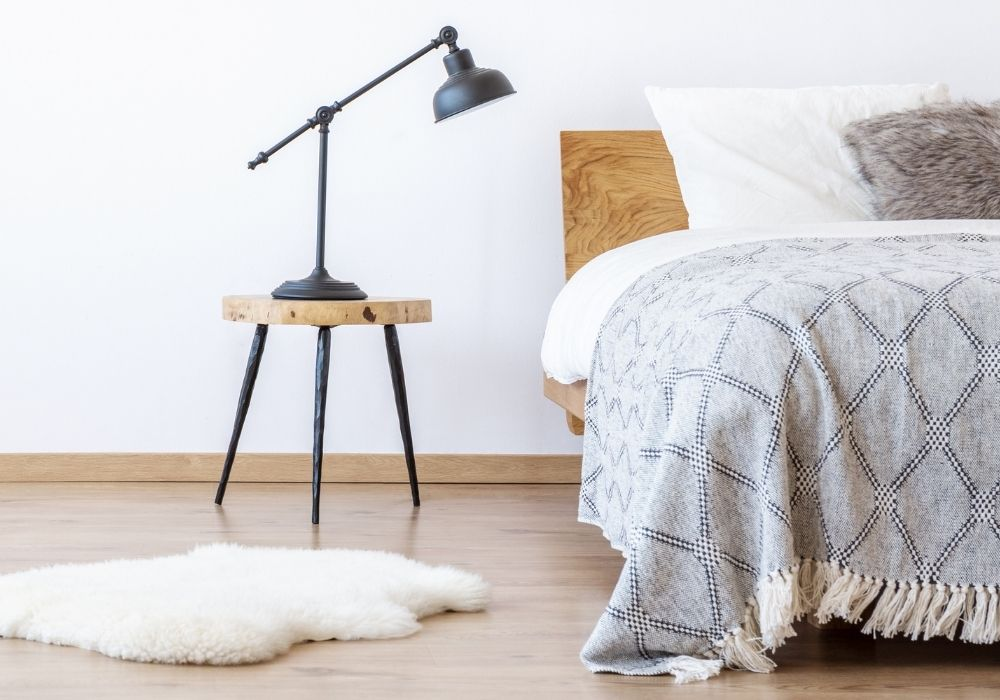 Image Source: balancethroughsimplicity.com
Go for furniture with plenty of negative space to create a minimalist bedroom. For instance, you can choose a tall headboard with gaps, which creates lots of negative space, making the room feel airier.
Frequently Asked Questions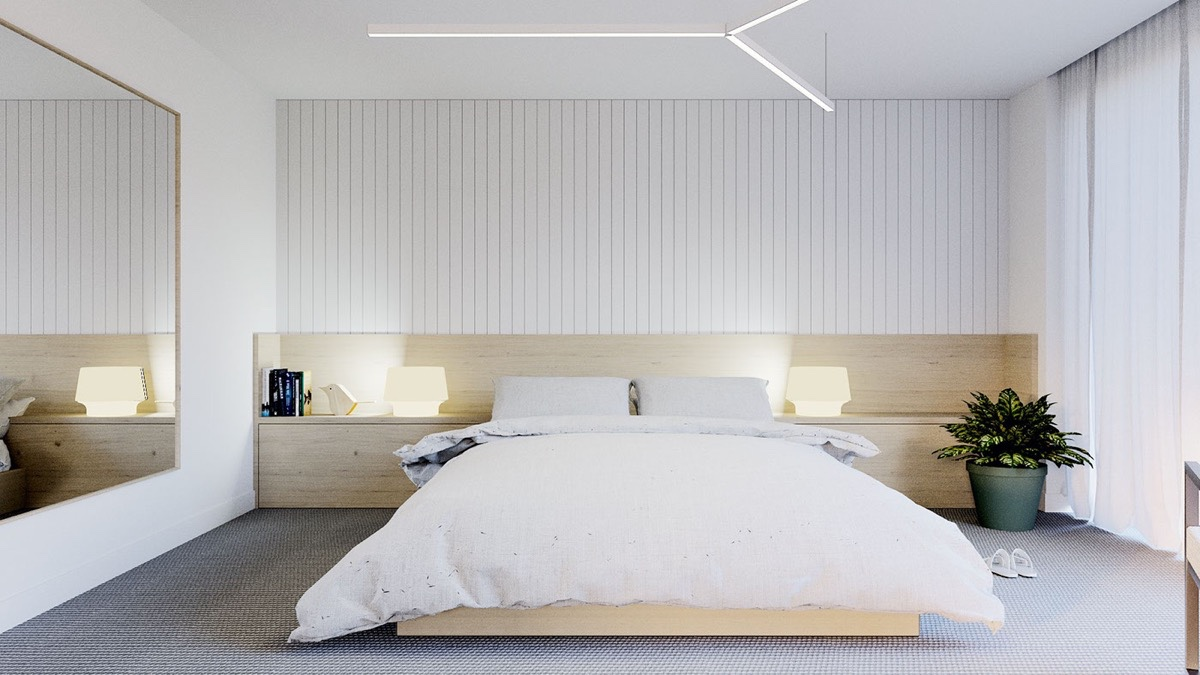 Image Source: home-designing.com
1. How do you style a minimalist master bedroom?
To style a minimalist master bedroom, the first thing you should do is get rid of all the clutter. Then install a minimalist bed frame as the focal point and dress it with neutral bedding. Allow in natural light as much as possible, and pick a piece of art or wall hanging to create a statement. Also, there are several inspiring master bedroom ideas you can work with to create a stylish, comfortable bedroom.
2. What is minimalist room décor?
The minimalist interior décor is similar to modern interior décor, which involves the use of bare essentials to create an uncluttered and simple space. It is characterized by clean lines, simplicity, and a monochromatic palette with color used as an accent. Minimalist interiors usually combine lots of light, an open floor plan, and functional furniture, and it focuses on the color, shape, and texture of a few essential elements.
3. How to design your bedroom with a low budget?
When budget becomes a stumbling block to decorating your bedroom, opt for minimalist bedroom ideas. Adopting this type of interior design creates a classy simple bedroom with fewer items.
4. Why choose a minimalist bedroom?
The main reasons behind minimalist bedroom ideas are creating a peaceful vibe and restful space. A streamlined bedroom design with less decor and clutter reduces the risk of causing physical injuries, reducing stress and promoting relaxation. Also, a less cluttered space is easier to clean and maintain
5. What are some important qualities of minimalist design?
There are several perks of minimalism, including;
Less stuff leads to a serious reduction in the amount of junk in your bedroom, which makes for less dirt, dust, and allergies.
Less clutter makes for a clear head and peace of mind.
Minimalist design works as a money-saving exercise, which removes the need for purchasing unnecessary pieces of furniture and other décors.
Helps make a room look and feel more spacious, enhancing the feeling of tranquility and peace.
It is easy to change out the look of a minimalist space.
6. What do you need for a minimalist bedroom?
To design minimalist bedrooms, stick to the basics. All you need in the room is a bed, a light fixture, and a nightstand. Other décors, such as art, wallpaper, and furniture, are optional and must follow a pared-down vibe.
Conclusion on Minimalist Bedroom Design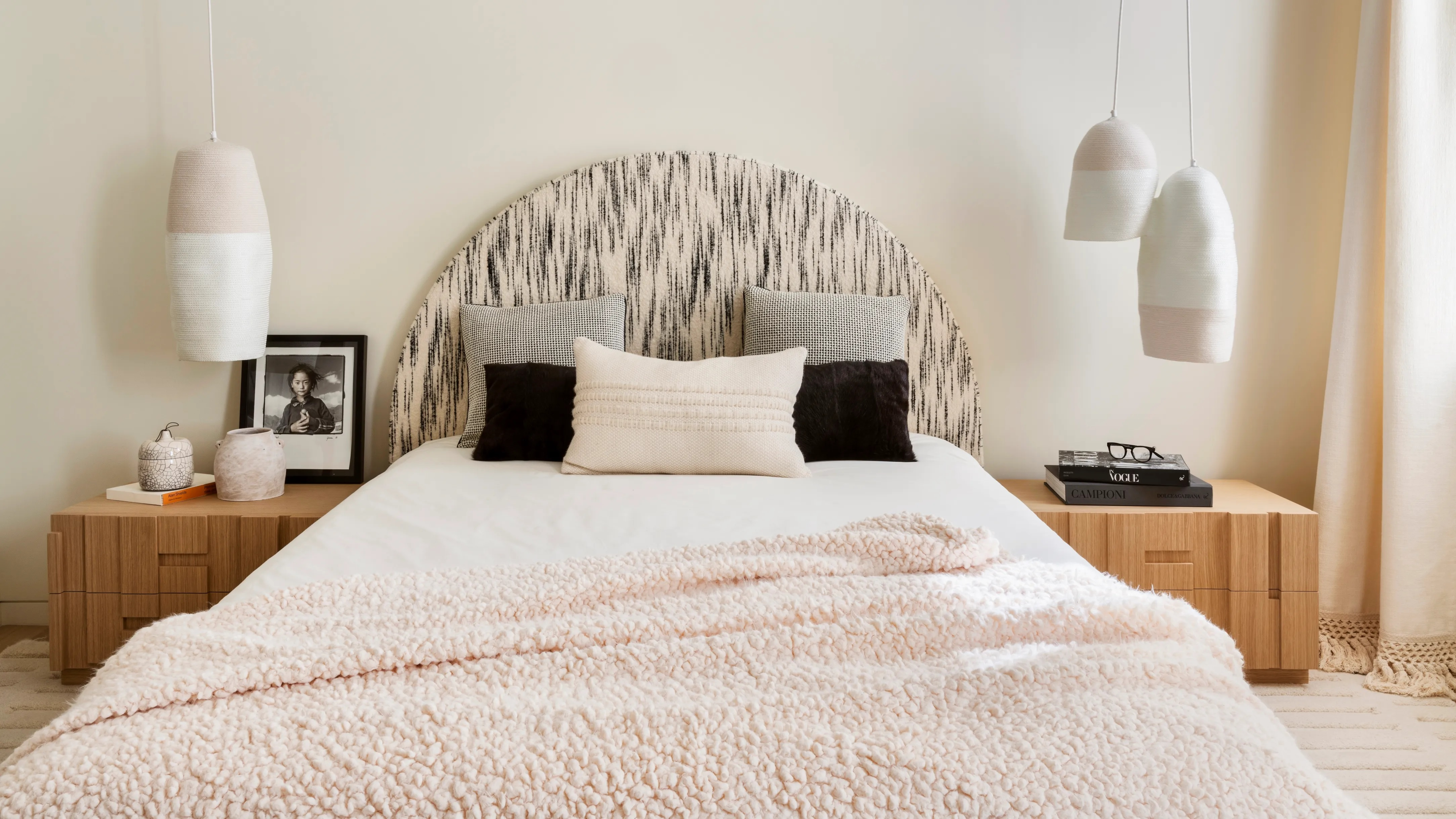 Image Source: architecturaldigest.com
In today's world of ever-changing trends, it can be difficult to keep pace with the latest fads. One minute, everyone is obsessed with a certain style, and the next minute, they've moved on to something new. But one trend seems to be here to stay: minimalism. The ideas shared in this article should give you a good starting point for designing your own minimalist bedroom.
Just remember to keep things simple and focus on functionality, and you'll be well on your way to creating a serene and stylish space that you will enjoy for years to come. Thanks for reading!