Cottages are small houses built to look like old-fashioned homes. Cottage-style houses are still very popular today despite being smaller than the average American home. For some people, a cottage-style home represents a simple life. Below I have examined different modern cottage styles.
Types of Cottage Styles
Different cottages have different styles. It would be best to remember that styles can always be changed. Therefore, here are the top 6 cottage styles with the trademark qualities that make them my favorites.
1) English/ Quintessential Cottage
My favorite part about English cottages is the lavish gardens filled with roses and lavender flowers. Additionally, the small arched doorways with leaded-glass windows are an architectural beauty. Depending on when the cottage was built, you have either brick or stone walls with wooden beams.
Image Source: thespruce.com
The ivy-covered fences and a meandering stone path elevate the traditional cottage style. Furthermore, you can implement an English-type cottage anywhere in the world. Add a few modern elements, and you have the perfect dream getaway home.
2) Vintage Cottage
A vintage cottage can also be called an antique or retro-style cottage. Vintage cottages feature a homey and collected look. I prefer to emphasize collectibles and handmade décor pieces to create a perfectly placed style. If the cottage still has the original red brick, then the rustic and rural charm will not fade.
Image Source: housecrazysarah.com
If you want to maintain the vintage look and feel, major renovations should not be done unless necessary. However, that doesn't mean you can't retain the character exclusive to older cottages. Of course, you have to have stellar maintenance.
3) Southern Cottages
Southern cottages showcase Southern heritage. I have noticed that Southern cottages tend to emphasize outdoor living with a modern design. It would be best to consider that any renovations should blend seamlessly with the original cottage style. For example, the screened porch and washed walls complement each other in a modern cottage style.
Image source: thecottagejournal.com
Thanks to the temperate climate in the South, the screened porch can hold a small but cute breakfast nook. A Southern cottage style has poplar tongue heart pine floors and terra cotta roof tiles. These are some of its best features and, in my opinion, should always be retained or replaced with the same.
4) Country Cottage Style
A country cottage style embodies a simple life in the countryside. This cottage can also be described as a cheery and down-to-earth house. This house style also prioritizes function and comfort over aesthetics. Most country cottage-style owners emphasize vintage-inspired patterns and cozy, well-loved, or distressed furniture. Did you know you can distress furniture? Here is how to distress furniture with three simple methods.
Image Source: bostonmagazine.com
A country cottage house has exposed beams, large plank-wood flooring that's mismatched, and wood shiplap walls. Additionally, a country cottage has an enclosed patio instead of a family room, making it a great gathering space for family and friends.
5) Coastal Cottage Style
Coastal cottages derive inspiration from a body of water since that is where they are located. As a result, coastal cottages have a fairly modern look and are defined by seaside elements and colors. Coastal cottages capture the breezy feel of the coast with large and open windows and a calming color palette of soft neutrals, creamy whites, and blue hues.
Image Source: thecottagejournal.com
I like to think that coastal cottages try to give off a sense of relaxation indoors without the mess of sand outside. I like to keep everything neutral with coastal cottage styles because nothing should be overwhelming.
6) Farmhouse Cottage Style
A farmhouse style prioritizes the aesthetic of rural architecture. In addition, even a modern farmhouse will have a cozy and stylish interior with modern pieces and natural materials. The farmhouse style originated out of necessity and not as a housing style. After fixing a worn-down farmhouse, it can be elevated into a coveted aesthetic. Of course, that's if you know how to remodel a home and how you can plan it out to save money.
Image Source: holidaycottages.com
When decorating a modern farmhouse cottage, I prefer the classic mix and-matched large furniture pieces and minimalism that brings warmth. Farmhouse decor should strike a balance between the old and the new.
Modern Cottage Interior Ideas
Be it a new fixer-upper or a cottage that's been in your family forever; cottage looks have evolved over the years from the 1920s to 2021. Thanks to the industrial era, the word cottage is now accompanied by modern elements. Likewise, the cottage aesthetic has evolved over the years and continues to do so. Here are some timeless interior decorating ideas I like to suggest to clients.
a) White Living Room Furniture
White will always be timeless regardless of which shade of white it is. I like keeping white confined to the seats and the coffee table. Therefore, the rest of the furniture should always retain brown and neutral tones, like a bookshelf or floating shelves. This is to preserve the rustic look of the style.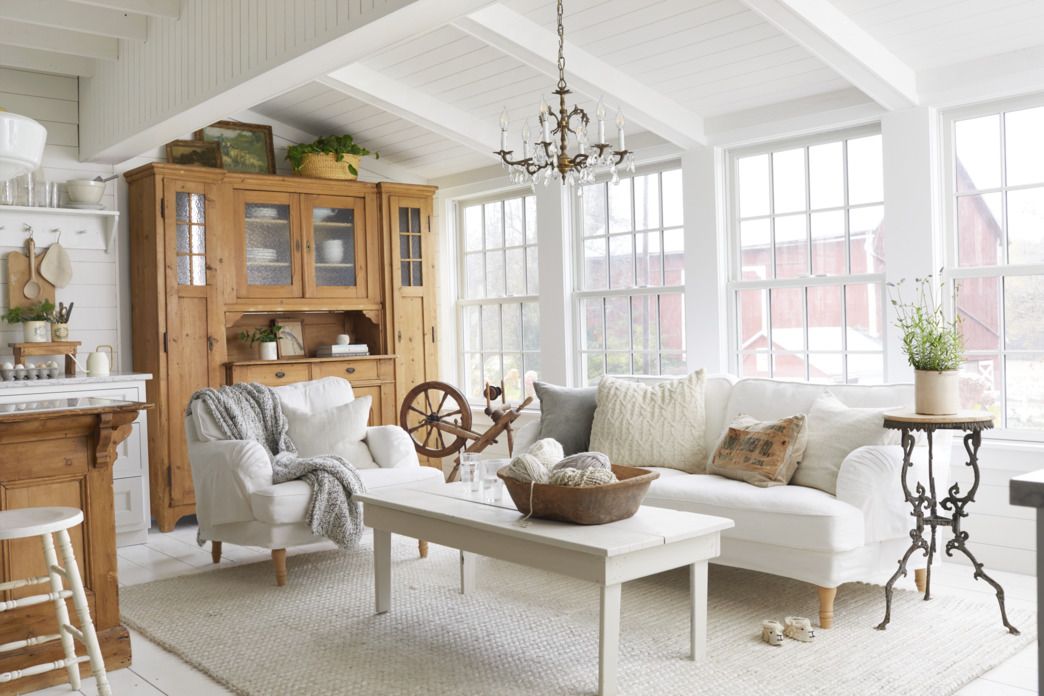 Image Source: countrylivingmagazine.com
Additionally, white seats complement other colors to ensure everything is well-balanced, warm, and welcoming. I like to suggest white linen materials for the seats and incorporate chunky textiles for the throw pillows. White also accentuates natural lighting and gives the illusion of a large space. You must know how to mix and match pillows on a sofa with simple tips.
b) Sunny Breakfast Area
Most cottages have a wrap-around porch or a patio. This space can be converted into a breakfast area. While the space is not large, it can comfortably fit at least 4 seats and a table. With some upcycled furniture and throw rugs, you can transform a negative space into somewhere you have breakfast and breathe fresh air.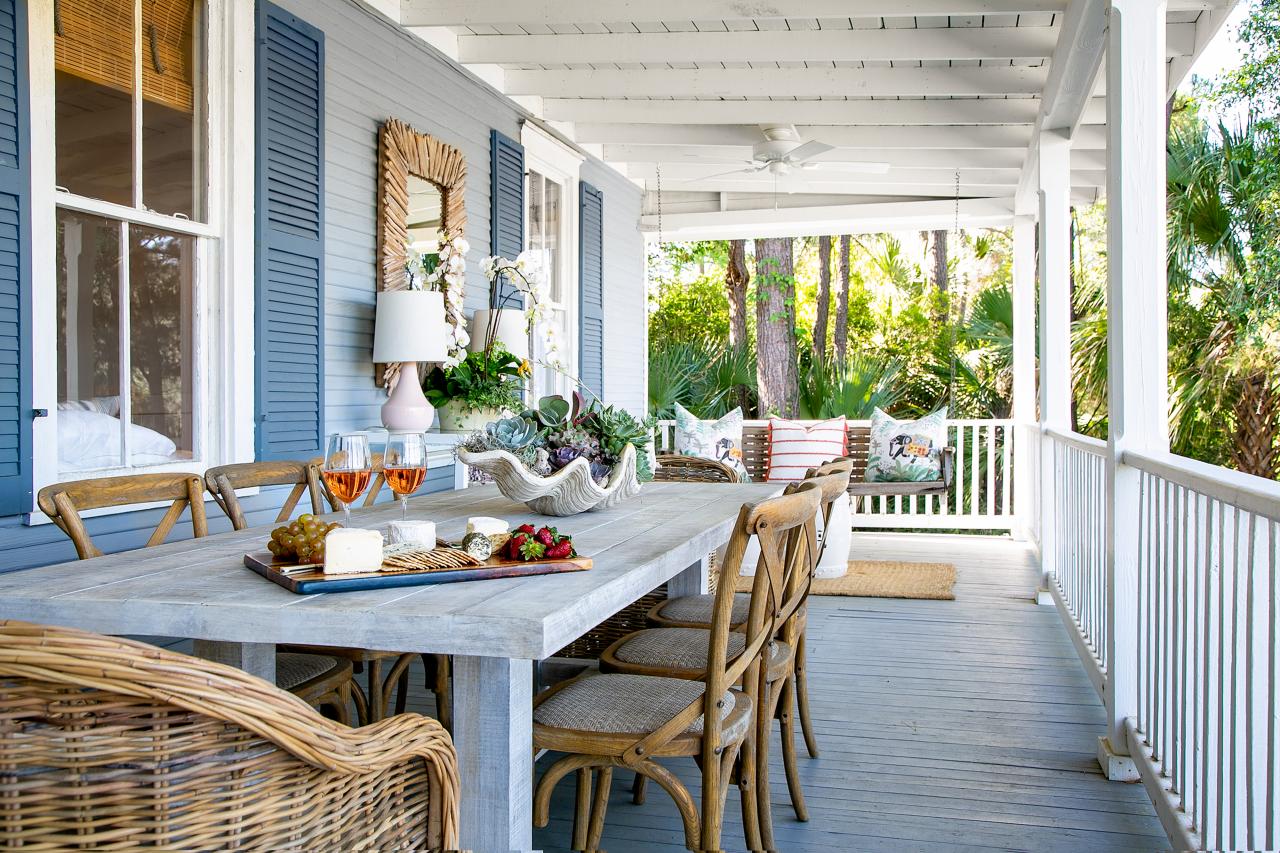 Image Source: hgtv.com
Creating a breakfast nook doesn't necessarily require a corner for it to work. However, since having a porch guarantees a corner, hopping on the breakfast nook trend shouldn't be difficult. You should be set with a little dress-up for your seats and table, for example, table runners, placemats, and seat cushions.
c) Vintage Decoration
Incorporating family heirlooms is perfect when decorating your master suite, dining room, or any other room. I like to remind my clients not to overdo the décor because we should always aim for minimalism in contemporary cottages. The artwork doesn't have to be hung either. Therefore a rug that's been in your family for ages might bring character to your dining room.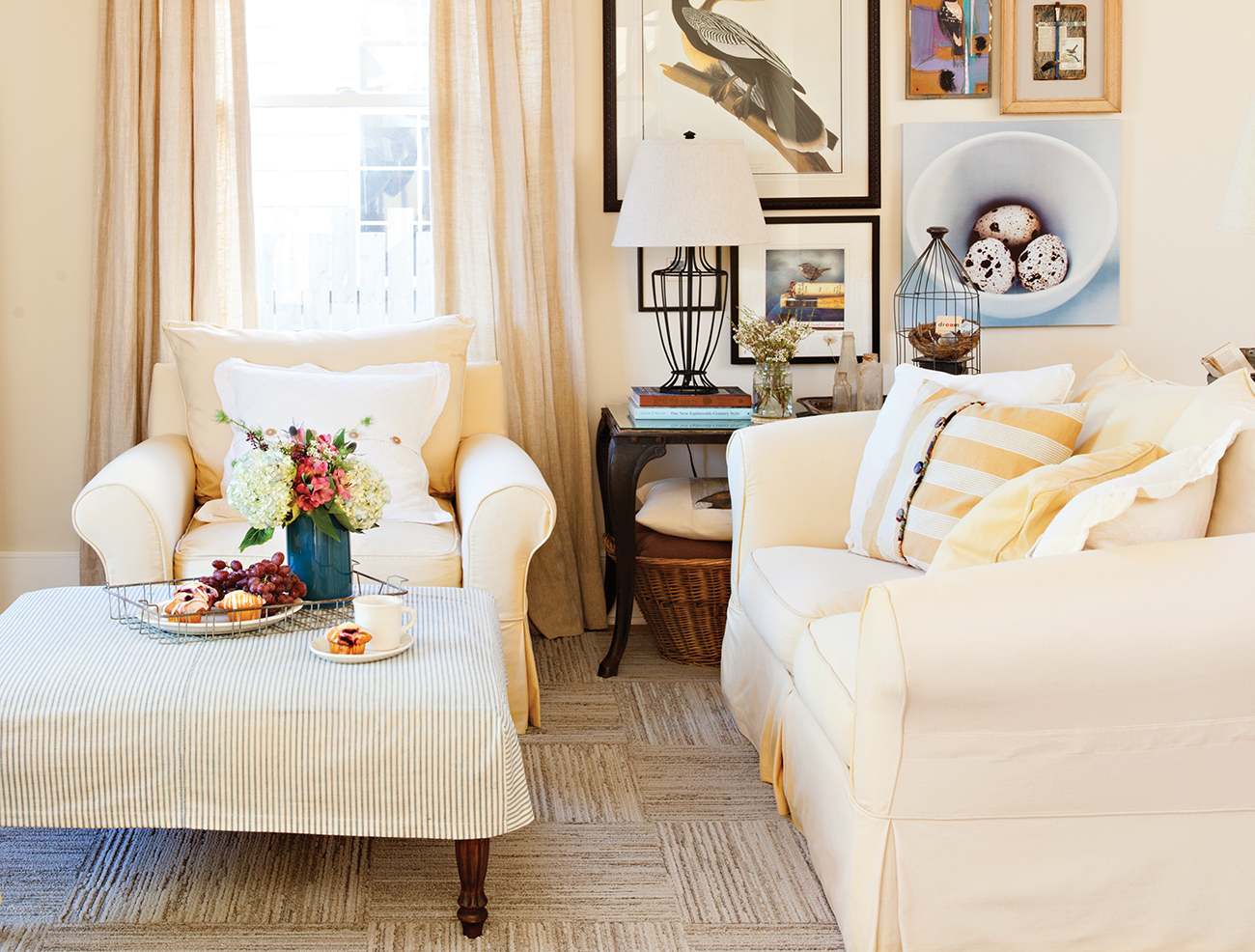 Image Source: cottagesandbungalows.com
Furthermore, flea markets are your best bet for a rustic aesthetic if you don't have any artwork or rugs. I prefer that modern cottage-style décor be handpicked and handmade for an authentic feel.
d) Stylish Bedroom
Humans sleep for a third of their life. Apart from the living room, we spend much time in the bedroom. I feel like a beautiful bedroom will aid in getting a good night's sleep every day. Therefore, a stylish bedroom is not a bad idea. You don't have to do a complete remodel; you can always spice things up with new shams and duvet covers.
Image Source: decoist.com
Installing a chandelier and keeping your walls in light colors will make all the difference. Instead of curtains, consider window treatments to give a minimalist approach. Furthermore, a twin pair of bedside rugs, a small bookshelf, and task lighting can go a long way.
e) Simple Mudroom
Keeping your mudroom simple is key to ensuring your house retains the modern cottage style with a rustic touch. Keeping the walls neutral is recommended. I like to take a "little is more" approach to the mudroom. At the entrance, I would lay a "welcome home" mat. On one side, I would install a wall coat hanger.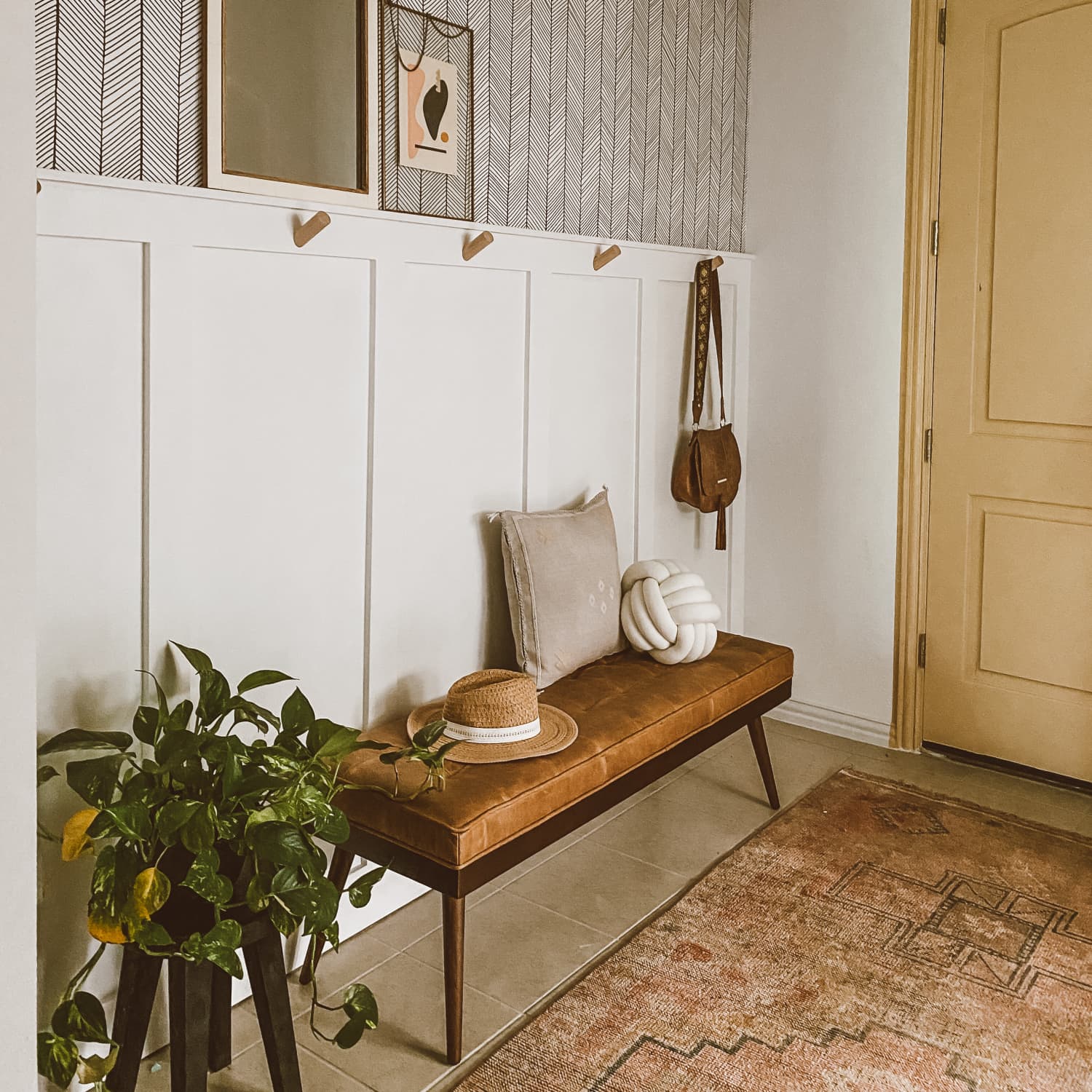 Image Source: apartmenttherapy.com
You can go with a stand-alone hanger; however, I like to keep the space as free as possible. If you don't have a busy household, you can lay a neutral-colored mudroom floor runner. Furthermore, If the mudroom is wide enough, a small table with a bowl for keys and a vase of fresh flowers will give the area character.
Modern Cottage Exterior Ideas
Most modern cottage styles nowadays have features similar to older cottages. Interestingly, some cottages are old cottages that have been preserved through the years. Modern cottage exteriors are made of natural materials that give a rustic look. They are also made of modern accessories such as tapered columns but on a smaller scale.
a) Garden Gate
A modern cottage is incomplete without a garden gate. An arched garden gate, whether open or closed, always says "welcome." From a classic half-moon gate to a white picket fence, there is no shortage of cottage-style gates. The idea of a garden gate is to tie the cottage style together.
Image Source: oldhousejournal.com
Furthermore, garden gates set a tone for your backyard and are ideal for other outdoor spaces. Depending on the desired size, garden gates range between 3-6 feet tall and 3 to 4 feet wide. If you don't want to purchase a gate, you can custom-build and install your own. It doesn't take much to build a gate.
b) Double-Hung Two by Two Windows
Modern cottage style dictates that the house should have large windows to let in plenty of light. Cottage-style windows can be installed during construction or as part of a remodel. Double-hung windows have two parts: the top part raises to let hot air out of your ceiling, and the bottom sash raises to let in the fresh air.
Image Source: thewindowsourceofchatanooga.com
If you live in a cold area, I recommend getting thick window panes instead of normal ones. Additionally, adding a fireplace will keep you warm if you don't have central heating. Since some cottages are getaway homes, having a fireplace is easier than installing central heating, which you might use once a year.
c) Charming Exterior Cottage Paint
Every quaint modern cottage-style house has a charming painted exterior. With the painting, it is better to keep them neutral with a hint of earthy colors. This can also be implemented in other rooms in your house, like the bathrooms and main interior. However, if you have red brick, I recommend that it stay the same.
Image Source: homedit.com
Red brick has a beautiful and rustic appearance. It also shows different shades of red and brown during the day. When the sun sets in the evenings, its light on your brick house reflects a stunning red color. Brick will always look classy and timeless, with a hint of showing some of the house's history.
d) Herringbone Brick Walkways
Every cottage-style house should consider having herringbone brick walkways. If your landscape design professionals see fit, it should also have meanders. All you have to describe is how wide you want the walkway to be. A red brick walkway or path will complement a painted house.
Image source: www.angi.com
A red walkway will look beautiful if your house has cool paint colors. Additionally, well-kept brick can last for years without requiring any replacement. If you are unsure about red brick, you can also try cement.
e) Colorful Landscaping and Porch Plants
A little greenery on your porch makes the modern cottage style more relatable. Greenery also makes your house look cozy and lived-in. Furthermore, a modern cottage style has a porch with plenty of space for decorating. You can easily add vines and other potted plants around the porch and entryway.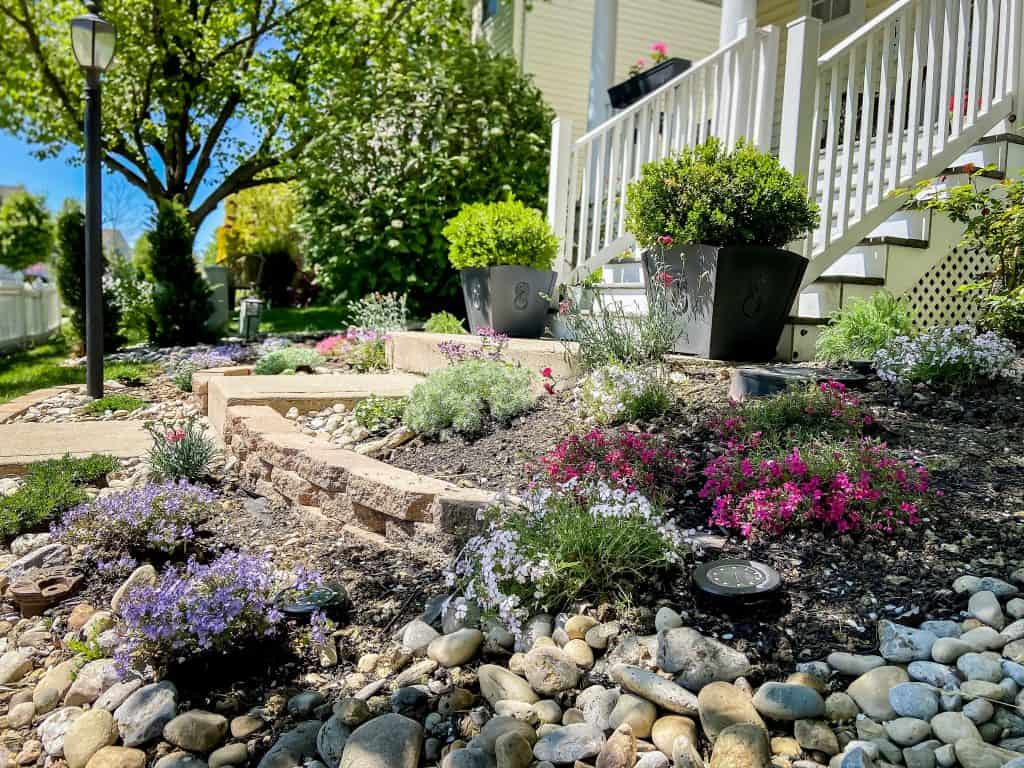 Image Source: snazzylittlethings.com
Additionally, a well-manicured flower garden will always be eye-catching. It will add a lovely feel to your cottage and give it character and a unique style. A flower garden can add more value to your house. The bigger your garden, the more value it adds. Therefore, your garden should be well-protected and manicured.
How to Modernize a Cottage
Modernizing the cottage that's been in your family for ages takes a lot of work. It's like a remodel project. Hiring a designer or an architect is recommended before doing any major remodels. However, below are some things you can work with to modernize your cottage.
i) Rustic and Reclaimed Furniture
Reclaimed furniture is usually custom handmade pieces that give your space a unique feel. Additionally, there is no shortage of rustic and vintage furniture at flea markets. It is recommended that you also have distressed furniture pieces to add more warmth. You want your cottage to look and feel rustic. Furniture is a large part of that.
ii) Mixed Metals
Brass and copper have that rustic feel and look. Therefore, some of your decorative pieces should be made of these metals. I have noticed that matte black also goes well with such metals. Therefore when you have décor pieces made of brass or copper, it is recommended that you pair them with a matte black bookshelf or coffee table.
iii) Subtle Patterns
A hint of plaid or floral prints enhances the rustic look that you want to achieve. These are commonly worn patterns everywhere and are perfect for every season. If you know how to pair plaid and floral prints, then your cottage will never run out of beautiful ideas. These patterns are perfect for a rustic look because they have a classic feel.
iv) Flaws in Furniture
The best part about cottage furniture is that it doesn't have to be new. Therefore, your space will look loved and lived in even if you get furniture with chips and flaws. Nothing says old and aged like furniture with flaws. This adds to the entire space and keeps the vintage vibe alive for longer.
v) Neutral Colors
A neutral palette will be a game changer. Be it indoors or outdoors, whites, light blues, blacks, browns, and beige colors will add more definition and warmth to your space. You should also consider how light affects colors and try to find inspiration for a color scheme as you browse and research different palettes.
vi) Artisan Accents
There is artisanal art, such as pots made from clay. Mixing and matching artisan accents gives you a beautiful, classy, and aged look. Which is exactly what a modern cottage is all about. Furthermore, all the items are handmade and organic and have a natural look to go with the cottage vibes.
vii) Cozy Furniture
Cozy seats are a must when it comes to cottage furniture seating. Furthermore, the only self-made rule I abide by is covering the seats in white slipcovers. This protects the original fabric, and you can keep the white clean by washing the covers. Slipcovers also give a cozy and warm vibe which is important to the overall rustic feeling of the room.
The Bottom Line
Cottages are not only beautiful, but they look like they were plucked from the pages of a comic book. Apart from being a getaway holiday house, it can also be a retirement plan. The best part about a cottage house is that you can reuse and recycle furniture. This will achieve that cottage aesthetic and make your space cozy and warm.
Featured Image Source: nextluxury.com