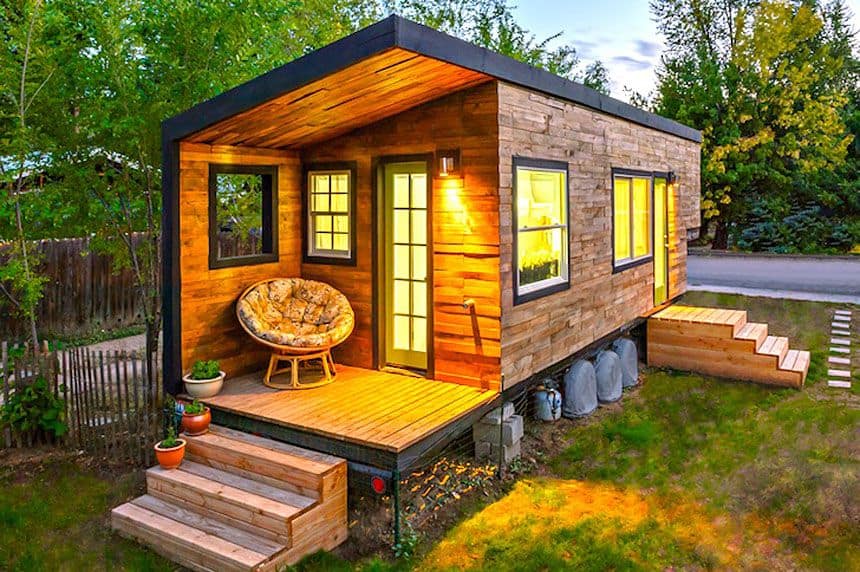 10 Tiny House Plans To Kickstart Your Tiny Home Dream
In today's world (and economy), living large can be considered a thing of the past. The tiny house movement is an architectural and social movement that encourages living a simpler life in a smaller space. Tiny home designs have increased in popularity, with many young singles, empty nesters, and small families opting for them. Tiny house plans can save money and allow you to be mobile and independent. Though two-bedroom tiny home floor plans are not quite common, you can easily find plenty of designs with a loft or flexible design that accommodates expansion by connecting two tiny houses.
Having a tiny house allows you to downsize and declutter, and this goes hand in hand with the minimalism movement. We curated a list of tiny house plans that will have you feeling excited and ready to get started on your very own. Whether you're looking for a tiny vacation home plan or you're looking to downsize completely, there's bound to at least be some tiny house plans on our list that will suit your style and taste.
1. Ms. Bohemian Soul Tiny House
Jewel Pearson had always wished to live a lifestyle that would allow her to travel, be free and live "lighter." In 2006, she began the downsizing process and eventually moved into her tiny house. Her tiny house style can be summarized as urban, chic, and contemporary with a lot of soul.
The tiny house floor plan was built on a 28′ x 8'6″ trailer and coming in at about 360 square feet of interior space. The open floor plan and large windows make the space seem larger. The tiny house's main focal point is a majestic round window; however, the full kitchen, high ceilings, nook area, large walk-in closet, and useful built-ins largely contribute to making the home feel comfortable and cozy. There's a garden path, porch, and fire pit that's perfect for outdoor entertaining.
Here's a video of the interior, and you can learn more about Jewel's tiny house floor plans here.
2. Extendable "Starter" Micro Home
The Micro Home house plan is a great choice for young couples looking to start a family. It's a nice and flexible concept of urban modular homes that can be grouped into clusters. This is ideal for young families who want to live closer to the cities.
The Starter Home is a one-story, single-room house with a loft that fits into the pitched roof. The footprint is 14 by 17 feet, giving the house a total of 238 square feet. The interior space is made to feel larger by using special architectural techniques like a 16inch-high ceiling, two skylights in the roof, a wide entrance opening that gives the room a light and expansive feeling, and sliding mirrored doors in the closet and bath that visually enlarge the interior.
The floor plan allows for future expansions by adding "Starter Units."
Click here to view more details on these tiny house plans.
3. Tiny Urban Modern Aesthetic
This Tiny House Floor Plan has a bold modern aesthetic. For the exterior, you can either use grey and stark or red and bright options. Selecting this tiny home floor plan allows you to live out your modern contemporary dream lifestyle. The home plan can be built without loft space, thus creating unique options for single-level living situations. This home plan can be built into a modern cabin area or fit in an urban situation where economy of size and accurate space to function ratio is essential. The floor plans can also be converted into an office area, apartment or studio. The plans are flexible and can be tailored to fit your needs. The kitchen is small but functional. The loft space has ample space for a bed, nightstand, and its own separate workspace. The plan includes an open space for a closet in the loft.
Click here to view more details on these tiny house floor plans.
4. Rancho Mirage
The Rancho Mirage is one of the six pretty little 400-square-foot houses in the California Collection created by The Homestead Partners. This tiny house plan is perfect if you're after the architectural aesthetics of the 1930s and is based on the rich and famous projects. It is also built for the warm California and Arizonian climate.
The tiny house plan includes a full kitchen and bathroom, a private bedroom with enough space for at least a queen-size bed, a living/dining/kitchen that opens up to an outdoor dining patio or terrace, and plenty of storage.
Click here to view more details on these tiny house plans.
5. Cabin In The Woods
If you spend your time wishing you could escape the busy city life and live in the middle of nature, this tiny cabin floor plan may just be for you. The house is 20 feet wide by 24 feet deep and offers 480 square feet of living space. The tiny house floor plan features an open area that includes a kitchen, living room, bathroom, and master bedroom.
Click here to view more details on these tiny home floor plans.
6. Tudor Cottage House
This character-filled tiny house will have you feeling like you're living in a fairy tale. The tiny house plan is 300 sq ft and features a kitchenette, walk-in closet, 1 baths, and a bedroom. It can be used as a guest house, in-law unit, or starter home. The tiny house can also be converted to a stand-alone home office or art studio.
Click here to view more details on these tiny house plans.
7. Tiny Rustic
Cabin Plans are ideal for those who want a simpler life but on a foundation.
This tiny house is about 385 square feet; however, this does not include the loft as the architects do not consider it "habitable." There are seven feet of ceiling height over more than 50 square feet. Though not technically "habitable," the loft does still provide space and can be accessed by a ladder in the kitchen. There's an option to customize the house plan without the downstairs bedroom hence reducing the house's size from 384 to 289 square feet. The tiny house includes one bedroom, one bathroom, a kitchen, a living room, and a separate dining area.
The tiny house plan includes a dishwasher, full-size range with oven, and built-in microwave. There's also an under-counter washer/dryer, and the tank-less on-demand water heater ensures that you don't run out of hot water. The tiny house is not designed to be portable; however, it comes with a raised perimeter foundation. The house can be put on a slab foundation or even over a basement.
Click here to view more details on these tiny house plans.
8. Round House
The best thing about tiny homes is that they can be customized to suit your needs. This tiny house is an excellent choice for people living in extreme conditions as it can provide great wind resistance. It is also a much better choice for dealing with heat because of the smaller surface of the outer walls than the common rectangular tiny house plans.
The tiny house plan is 617.4 square feet, one-bedroom, one bath.
Click here to view more details on these tiny house plans.
9. Moschata Tiny House on Wheels
The tiny house movement is all about living a simpler life in a smaller space, and the best part is that you can do this while on the move. This tiny house has been featured on CNN Living, Tiny House Blog, Tiny House Design, Top 7 Sunset finalist for mobile houses, and was awarded favorite tiny house rental by HomeAway in 2014 on the Today Show. The Tiny House is ideal for people who enjoy traveling and at any moment are ready to pick up and go. All you need to do is hook it up to your truck, and you can make the whole country your neighborhood.
The Tiny House plan is 160 square feet and includes 2 loft spaces of 60 square feet and a sleeping loft space of 18 square feet. The main floor has a cathedral ceiling height of 11 inches, while the ceiling height in the main floor in the bath is 6'-9 1/2 inches.
Click here to view more details on these tiny house plans.
10. Tiny Bungalow
If you're after the suburban lifestyle, this tiny house plan would be a perfect choice. This design comes with several options to suit your needs. You have the option between a sleeping loft upstairs or a cathedral ceiling. There is also an option for a larger version, which includes a downstairs bedroom at the back of the house.
The tiny home was designed with simplicity in mind; hence it has an abundance of light. It has all the conveniences of modern life such as microwave, dishwasher, and full-size range oven.
The house is not designed to be portable.
Click here to view more details on these tiny house plans.