Cardi B is a unique hip-hop rapper and singer who has spent the last few years living the life of a celebrity in the music industry. In songs like WAP, she makes bold declarations that have made her an idol for many women. So, where does Cardi B live?
Cardi B and her new husband, the rapper Offset, have chosen to make their home in Atlanta's posh Buckhead neighborhood. Read on to learn more about the couple's property portfolio as well as the price of their home.
Who is Cardi B?
Cardi B is the undisputed ruler of the hip-hop industry at this time. Cardi B, actual name Belcalis Marlenis Almánzar, worked as a cashier at an Amish market in Manhattan before hustling her way up and creating her road to fame.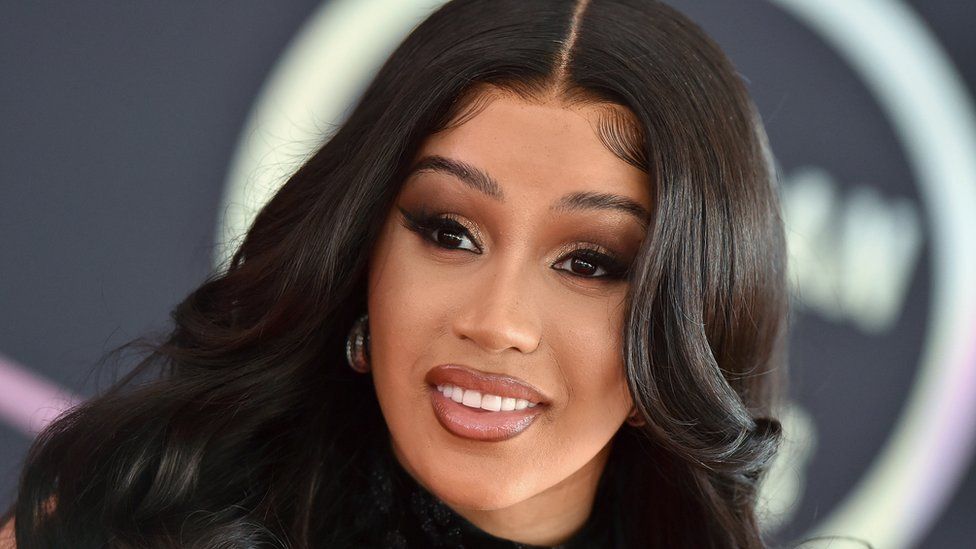 Image Source: bbc.com
Born on October 11, 1992, the megastar switched roles while remaining focused on her objectives and working tirelessly to succeed in the most cutthroat field in the world. The South Bronx rapper has gradually gained the love of millions of followers worldwide since making his debut in 2017.
Cardi B is married to rapper Offset, and the couple has two lovely children, Wave and Kulture. With a net worth of $40 million, she can afford luxurious houses to live in with her family.
Where Does Cardi B Live?
The couple lives in a luxury Atlanta house with their two beautiful children and ample space for all Cardi's precious possessions. As a social media influencer, Cardi informed her fans about her home hunt as soon as she decided to relocate permanently to Atlanta.
Although Cardi's extended family still resides in New York City, they can feel at ease knowing they will be taken care of when they drop by for a visit, thanks to her Atlanta home's spaciousness and abundant amenities. Let's see Cardi B's gorgeous Atlanta house and other houses the couple owns.
1. New Jersey
First House in New Jersey
Image Source: loveproperty.com
Cardi B left the Bronx for the more upscale Edgewater neighborhood of New Jersey, where she is paying under $3,000 a month for a condo that would have cost her a small fortune in Manhattan.
Image Source: loveproperty.com
This is the outside view from the rear of the posh residential building (the front is blurred out on Google Street View, for obvious reasons). Cardi has been quite private about the details of her condo, although she has shared the occasional photo of the space online.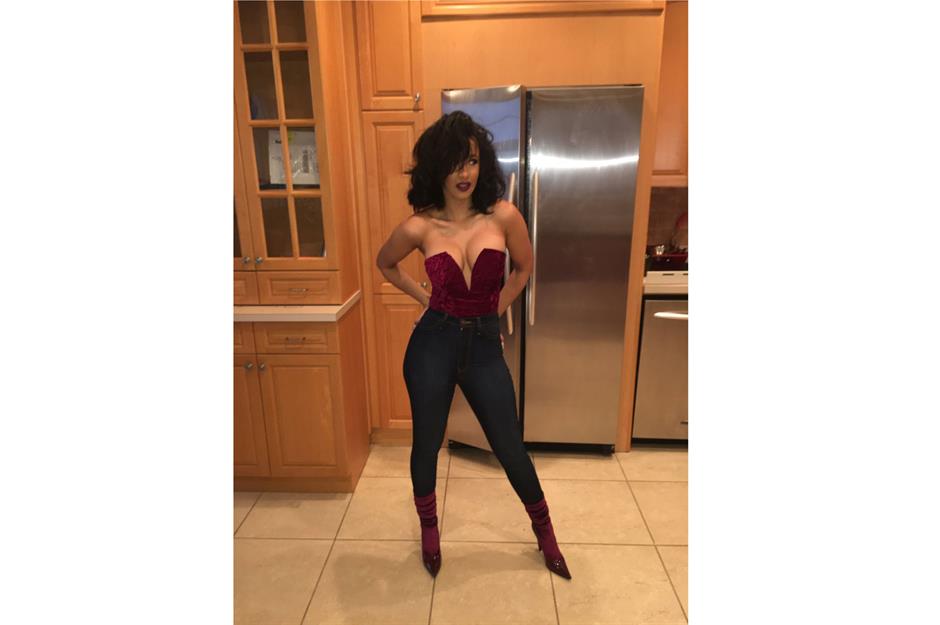 Image Source: loveproperty.com
It's a full-fledged chef's kitchen with plenty of counter space, cabinetry, and modern appliances.
Image Source: loveproperty.com
Take note of the beautiful wooden flooring and the Georgian-style windows in the bedroom.
Second House in New Jersey
In September 2021, the same month Cardi B gave birth to her son, she spent $5.85 million on a spectacular new-build mega-mansion in New Jersey.
Image Source: realtor.com
The original listing, given by Orly Chen of RE/MAX, indicates that the home is gated, sits on 1.8 acres, and has 13,000 square feet of space. The listing states that there are eight bedrooms, but there is likely one more in the guesthouse, making the total nine. There are also twelve bathrooms.
Image Source: realtor.com
In this image from October 2020, the in-ground gunite saltwater pool at the villa is shown before it is finished. On the property, there is a tennis court, a guesthouse/cabana with the specified complete kitchen, bathroom, and possibly that extra bedroom, as well as a four-car garage and an outdoor kitchen.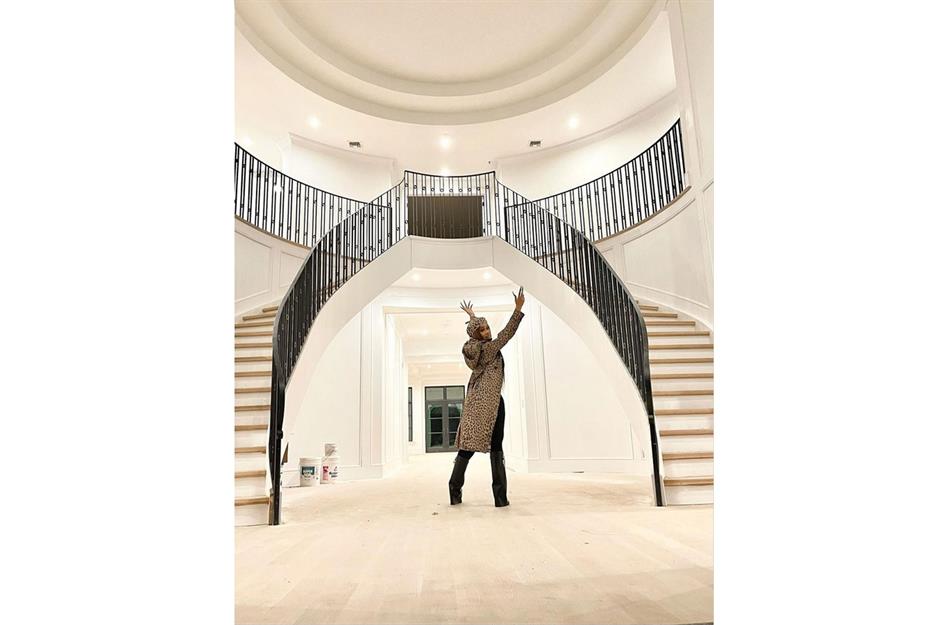 Image Source: realtor.com
Furthermore, in the image shown above, you can see the inside is beginning to take shape, especially the grand imperial staircase.
The mansion also features a gourmet kitchen, a large dining area for a banquet, a spacious living room, a library, an office, and a family room with an extra fireplace. The master bedroom has twin walk-in closets and baths.
In addition to a home theater and fitness center, Cardi B's dream home also features a wine cellar, kitchen, powder room, leisure area, an elevator, and a cutting-edge smart home security system.
2. Atlanta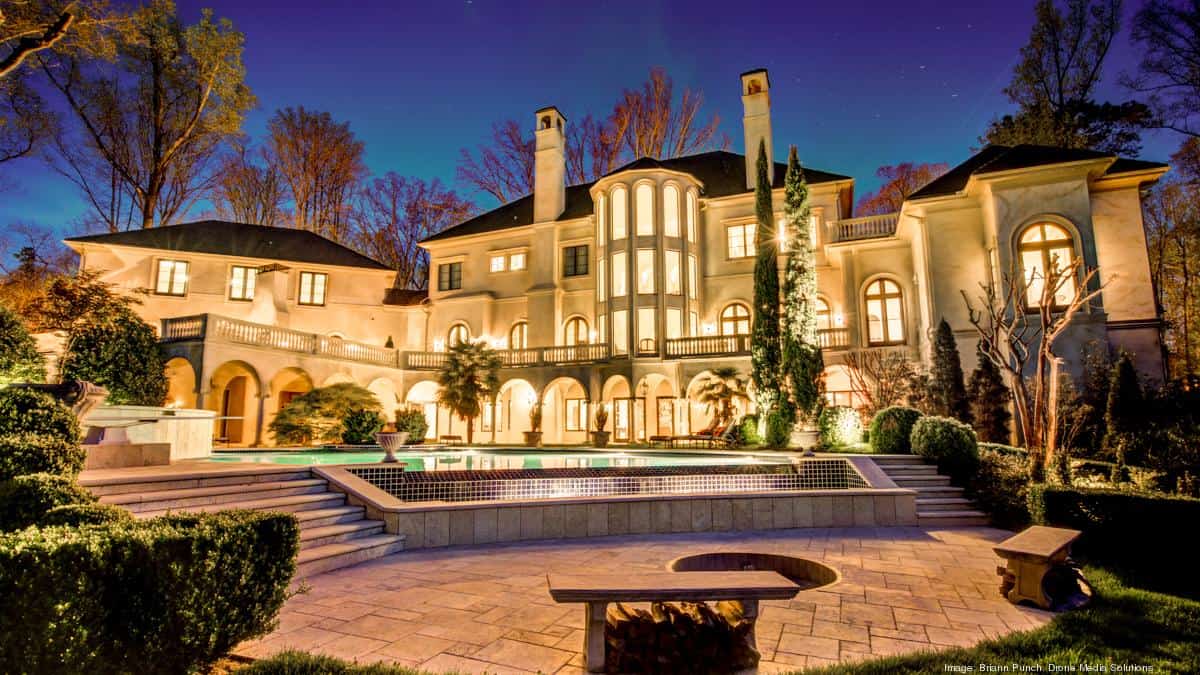 Image Source: zillow.com
Cardi B recently moved to a lovely home in Atlanta, the "#culture capital of the world." The 22,000-square-foot mansion is situated in the posh Atlanta suburb of Buckhead. The mansion was initially offered for $5.795 million, but the actual sale price has not been disclosed.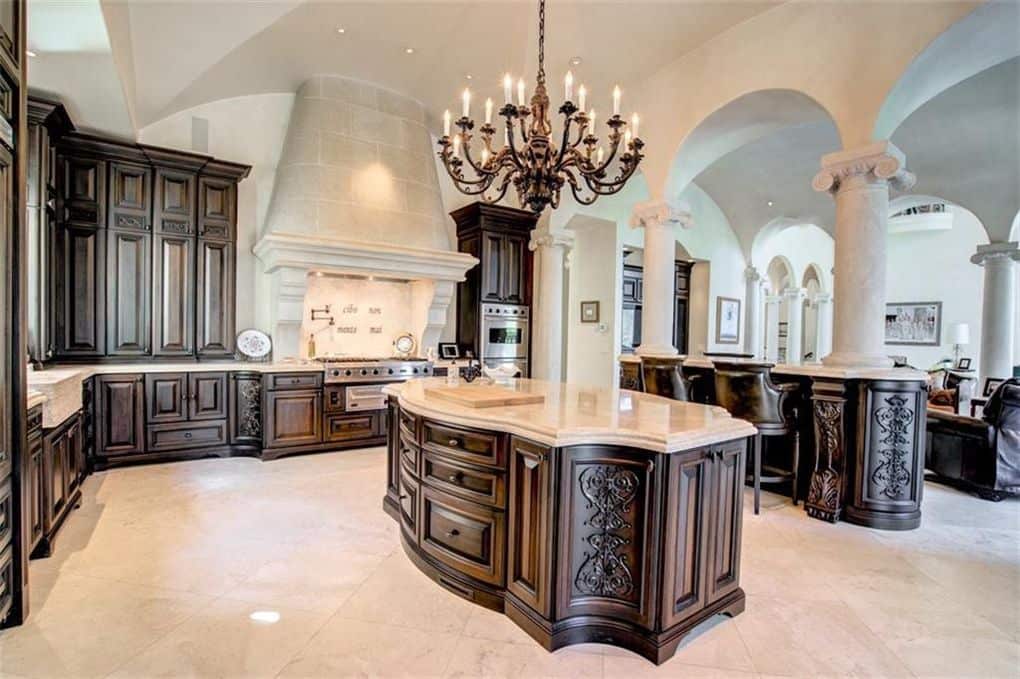 Image Source: zillow.com
The three-story building, hidden behind gates on a thickly forested lot, has a spacious motor court with parking for at least six cars. There are maintained lawns and formal gardens at the front of the house.
The home's towering façade is decorated with soaring columns and molded architectural touches and is accessed through a large, broad set of outdoor stairs.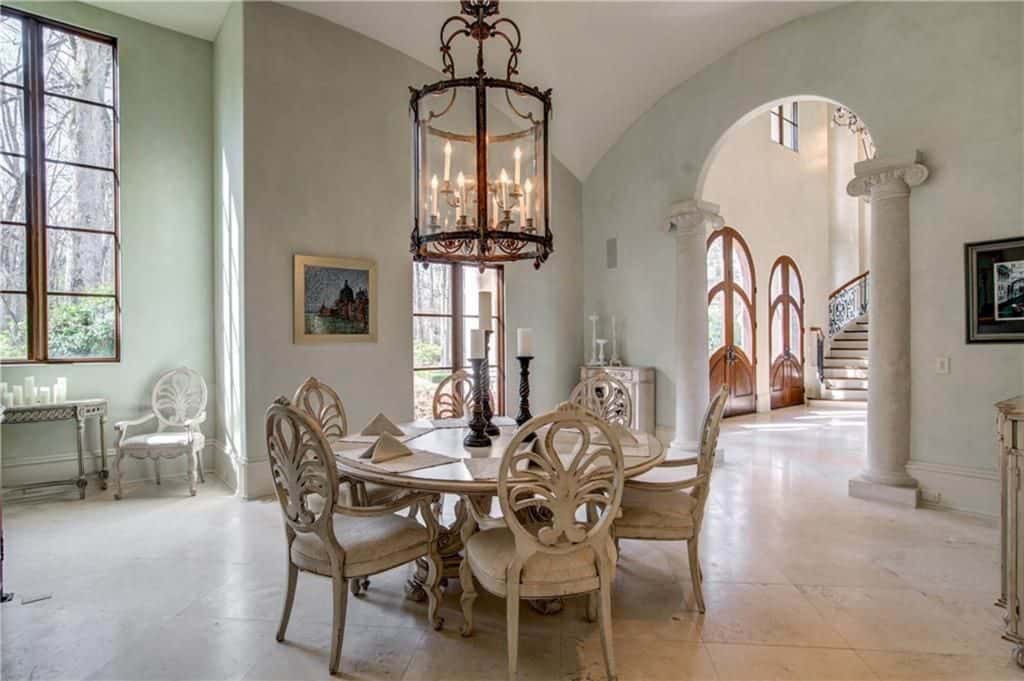 Image Source: zillow.com
The inside has a double-height entryway with a chandelier the size of a compact vehicle, rows of Corinthian columns, and a grand staircase that gives off a pastoral vibe.
A huge living room/great room looks out onto the estate's rear through a tall wall with 18 inset windows and is overlooked by Juliet balconies on the higher floors.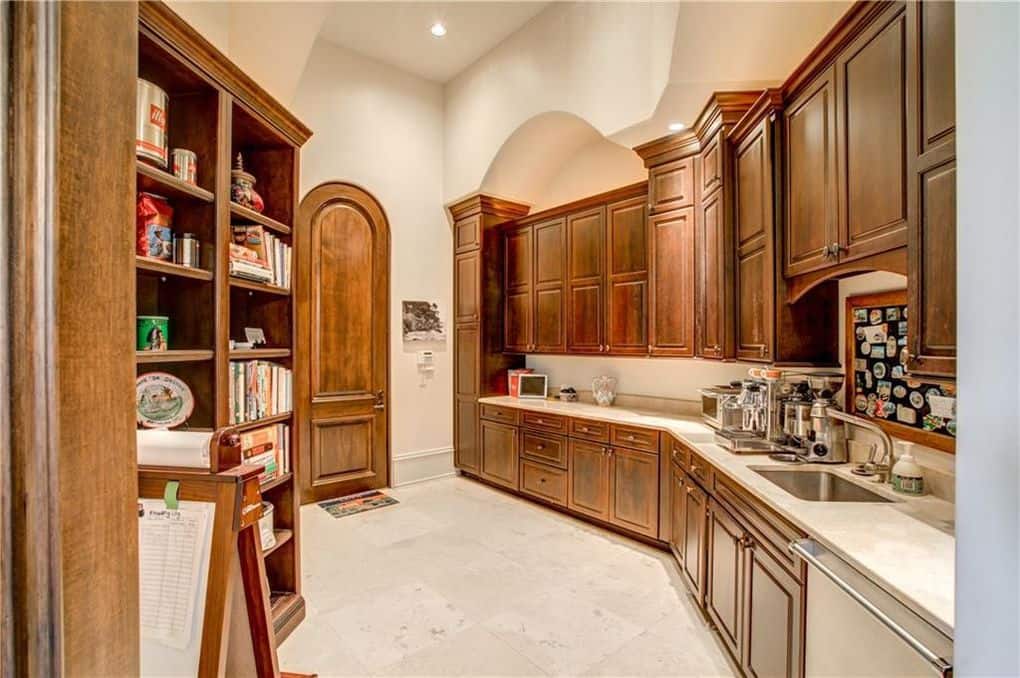 Image Source: zillow.com
Also included are a library/study with wood paneling, a family room off the eat-in kitchen with a fireplace, an upstairs master suite with coffered ceilings, a campy four-poster gilt bed, a private sitting room with fireplace, a spa-style bathroom, and his and hers closet so large that ladders are needed to reach the highest shelves.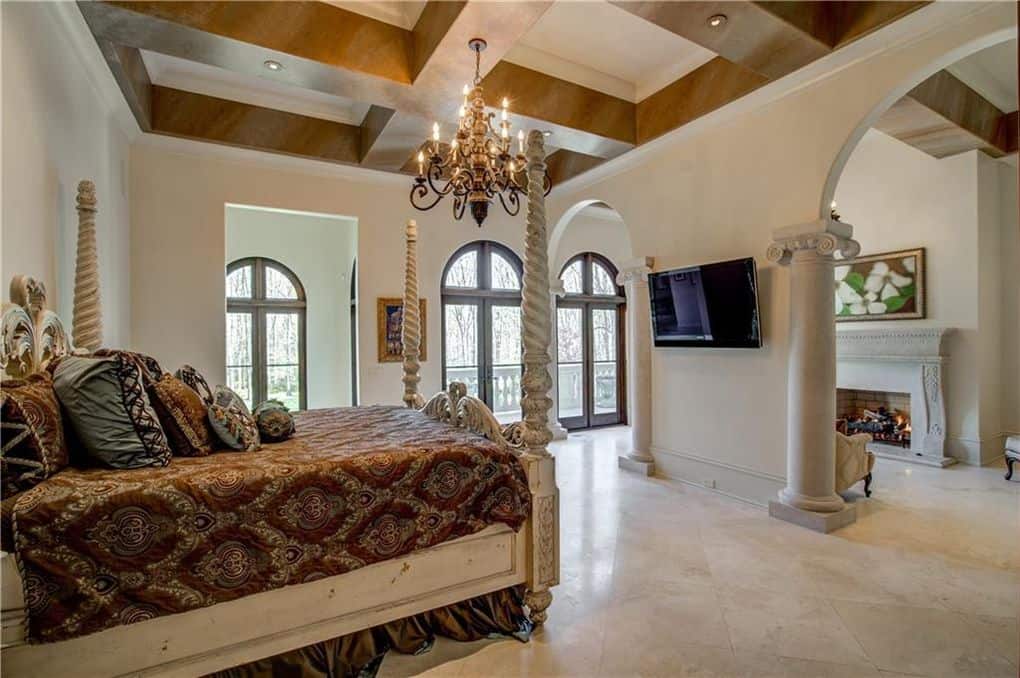 Image Source: zillow.com
The master bedroom's vaulted ceilings, separate lounge area with fireplace, and spa-like en-suite master bathroom make it a seven-star resort suite.
Image Source: zillow.com
The two walk-in closets are connected by an adjoining corridor and are so spacious that a ladder is needed to access the uppermost shelf.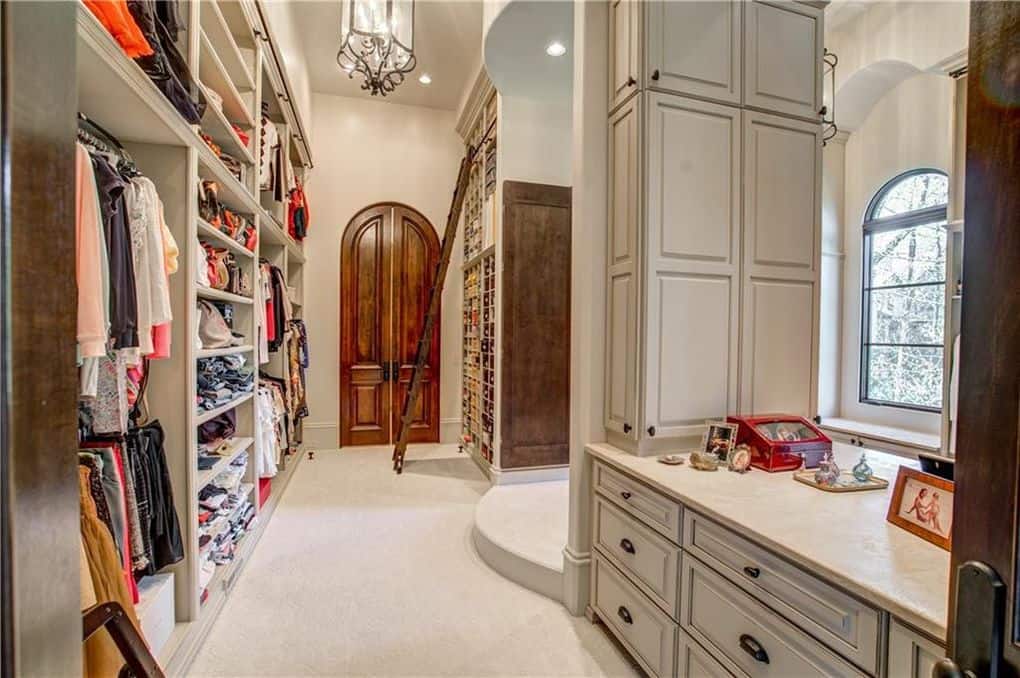 Image Source: zillow.com
In addition to the main kitchen inside, there is a large outdoor patio with a secondary kitchen, a games area, and four extra bedrooms, all of which have private bathrooms. Backyard features include sloping grass, an asymmetrical infinity pool, many fountains, and sculpted European-style hedgerows.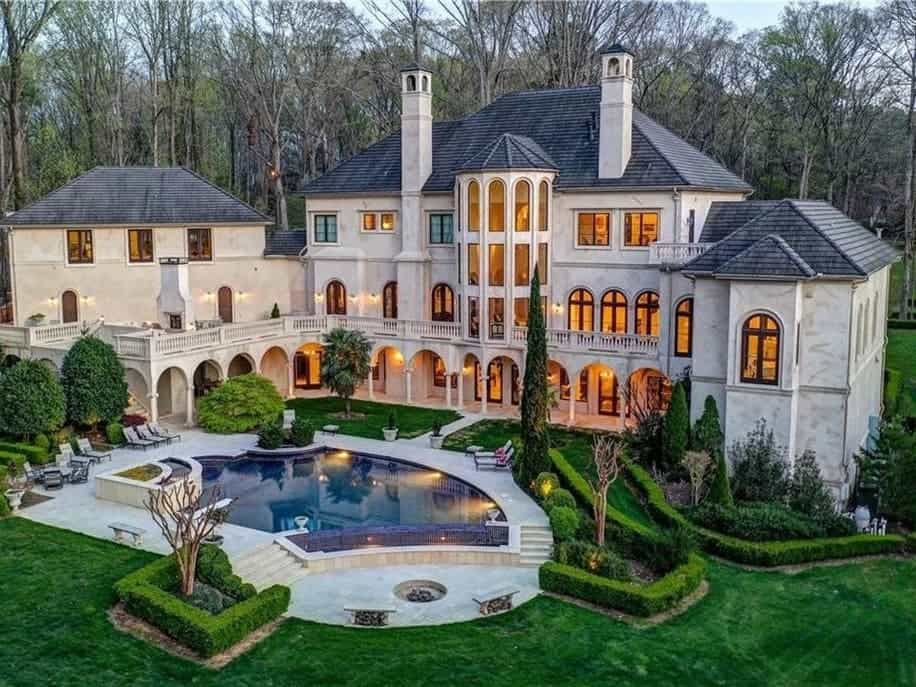 Image Source: zillow.com
3. The Dominican Republic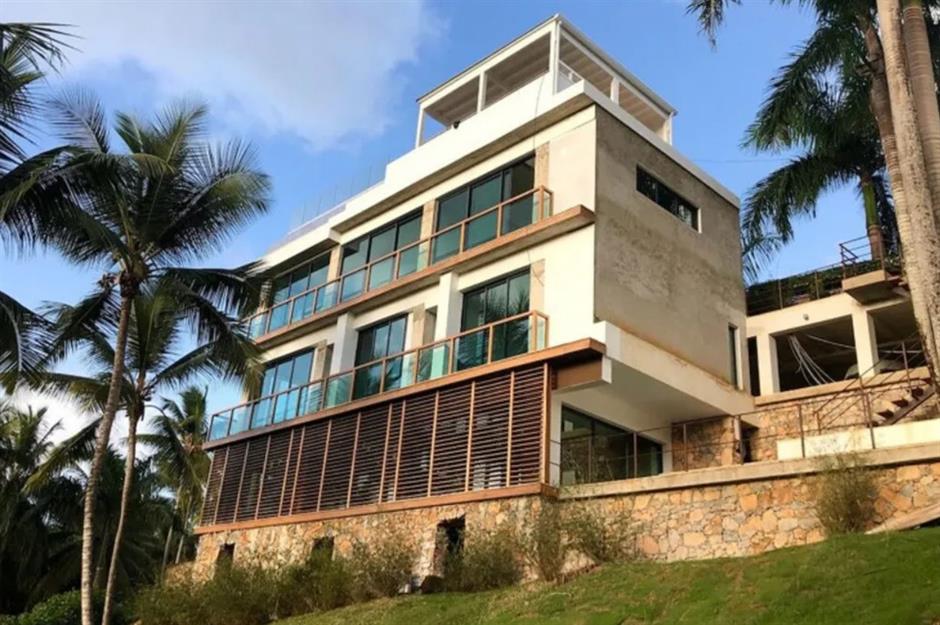 Image Source: airbnb.com
Just a few weeks after Cardi bought the New Jersey house, her husband surprised her with a beautiful holiday home in the Dominican Republic that he had purchased as an investment. It is unknown if he paid the $1.49 million advertised price or not.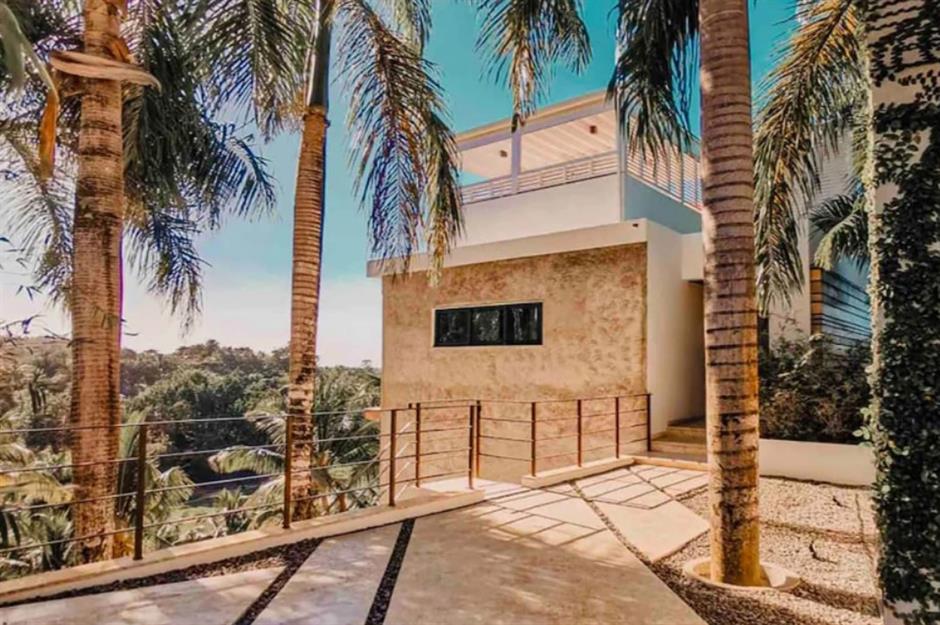 Image Source: airbnb.com
The four-story, picture-perfect home, once known as Calle Plaza but now known as Villa Loft, is marketed for rent on Airbnb for about $890 per night. However, the cost covers the services of a chef and deluxe amenities like a golf cart to take guests to the neighborhood beach.
The secured and gated vacation property has it all, including a prime location, spectacular sea views, and a beautiful tropical garden setting.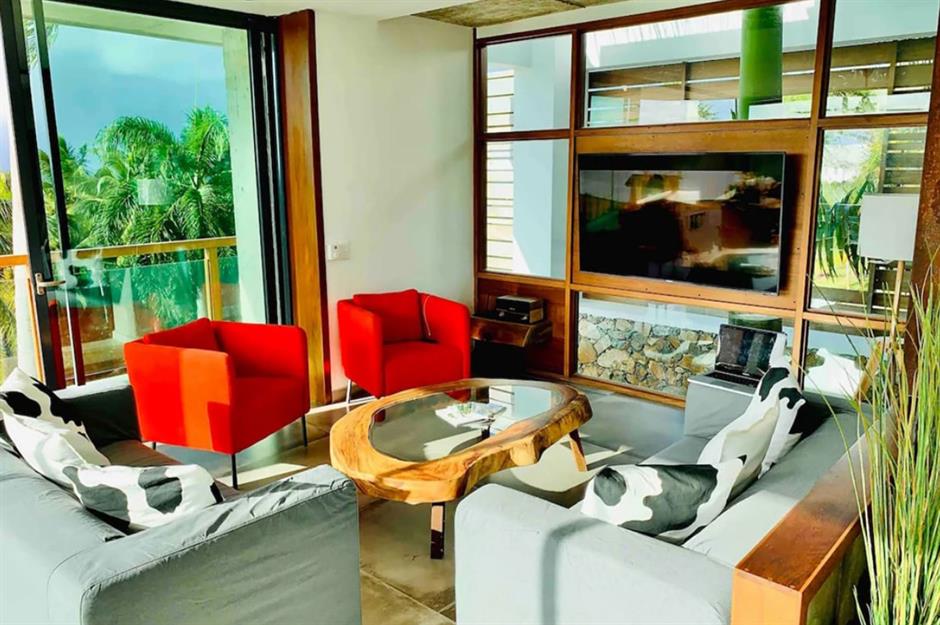 Image Source: airbnb.com
The architect-designed home, which has received glowing reviews on Airbnb, was built using natural materials like wood and stone.
It features seven bedrooms, the same number of bathrooms, and a great airy open-plan atmosphere with floor-to-ceiling windows that fill the inside with light.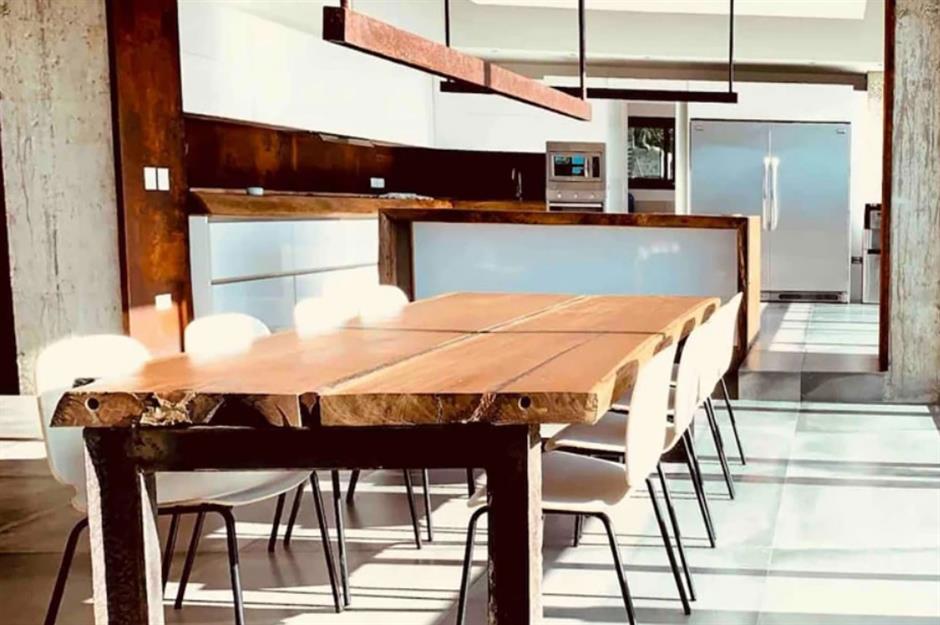 Image Source: airbnb.com
The modern kitchen is a showpiece because of its sleek design and high-end equipment and fixtures, such as the Hansgrohe faucets, the wine fridge on top of the enormous double fridge, and the stainless steel gas range. In addition, the amazing floor-to-ceiling windows in the adjoining dining and chillout room give breathtaking views.
Image Source: airbnb.com
There is also a separate guesthouse with one bedroom, a living area, and a bathroom on the property. The property has plenty of facilities. First, two pools are available at the property, with the first being on the lowest level. It's secluded and shaded by coconut palms, and one of the seven bedrooms has direct access to it.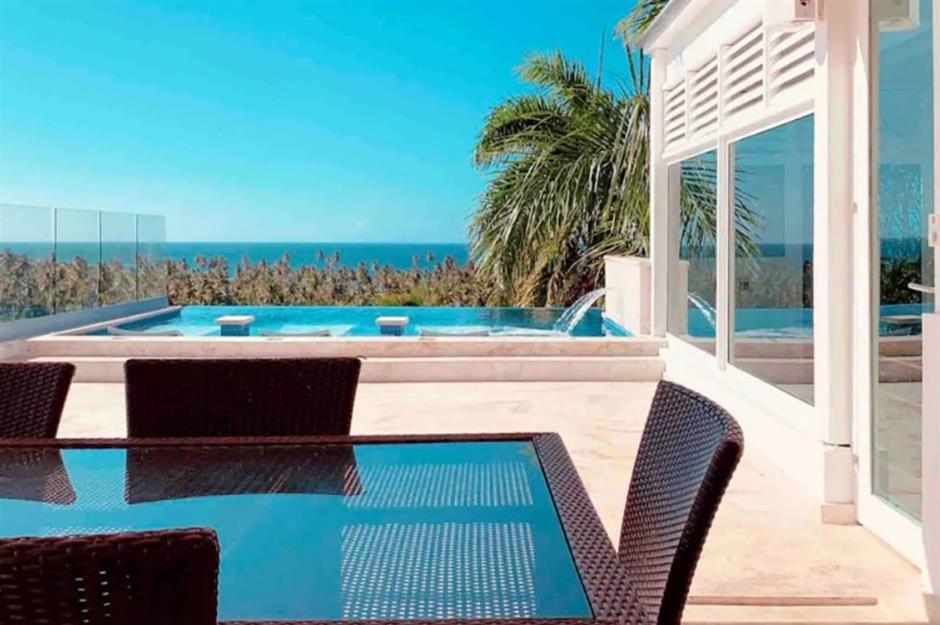 Image Source: airbnb.com
The second is a tranquil infinity pool with floating lounge chairs on the top of the building. There's a gym up there, plus a covered grilling area with a sink and grill.
Also read: Where Does Kim Kardashian Live.?
Conclusion
Cardi B will most likely continue to acquire real estate in the Dominican Republic, her home city, and internationally. With a net worth of up to $40 Million, she is more than able to do so despite coming from extremely humble beginnings. Seeing how Cardi B soared up to owning several properties is impressive.
Featured Image Source: zillow.com