Most people imagine that a typical rock star resides in a mansion worth several million dollars, filled with expensive luxuries. However, Kid Rock, born and raised in Michigan, would rather keep it simple than have expensive extras such as a wine cellar or infinity pool. So, where does Kid rock live?
The multi-platinum musician, who has sold over 26 million records worldwide, hangs his cowboy hat inside a doublewide trailer he placed on his 102 acres of land outside of Nashville, Tennessee.
Read on to find out about Kid Rock's houses and real estate portfolio.
Who is Kid Rock?
Image Source: ew.com
Robert James Ritchie, better known as Kid Rock, was born on January 17th, 1971, and is well-known for his work in rap, hip-hop, and country rock music. Kid Rock's career started as a rapper and DJ. He has long been one of the most prominent artists in those genres.
The musician has sold an estimated 30 million CDs worldwide and received numerous Grammy awards, MTV Music Video Awards, and American Music Awards. With a net worth of 150 million, he can live in a multimillion-dollar home, but he chooses a simple life.
Kid Rock's Childhood Home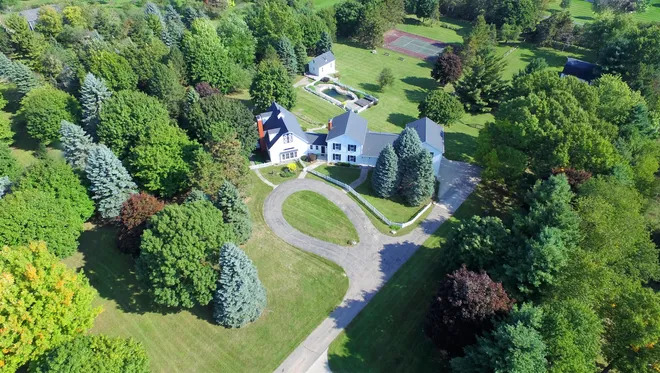 Image Source: realtor.com
Although he's known for his colorful rap-rock and country music, he was raised in rather comfortable circumstances, as evidenced by photos of his childhood house in Michigan. The Bruce Township, Michigan, home is 5,660 square feet, with five bedrooms and seven bathrooms, and is located on a 5.5-acre site, which is about 40 miles north of Detroit.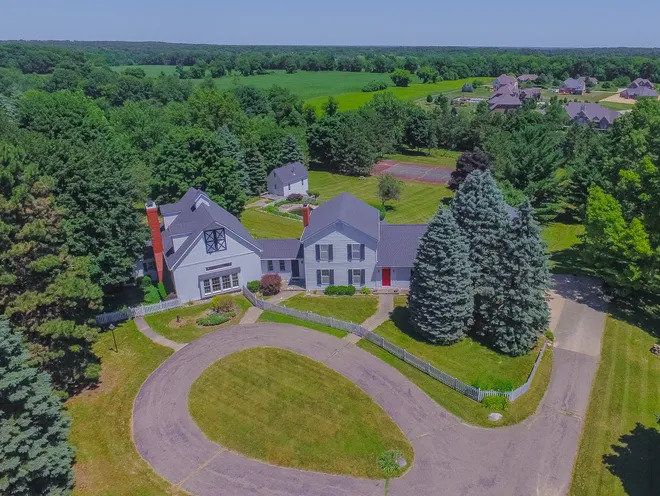 Image Source: realtor.com
According to Realtor, Kid Rock's family has owned the home since it was built in 1972, the year he was born as Robert James Ritchie. Morgan & Mizlow advertised the home for sale at $599,900 in August 2018. Instead, the house was bought for $650,000 in November 2018.
Where Does Kid Rock Live?
As already mentioned, Kid Rock spends most of his time in the country music city of Nashville, Tennessee. His two-story home in Tennessee's capital city of Nashville is an ideal place to retreat from the world. Kid Rock claims he never truly has to leave his comfort zone when he tours since his fans are always there to make him feel at home.
1. Nashville
Kid Rock, who has lived in a mansion, visiting friends and other musicians who live a high life, has said, "You go to these places, and I go, 'Where do you start in this thing?'" Like, "How often do you go to the movie theater?"
As a result, Kid Rock decided to give up the opulent lifestyle and live in a trailer. His trailer is situated on his 102-acre plot of land. There is a fishing pond immediately outside the back door of the mossy oak-print trailer.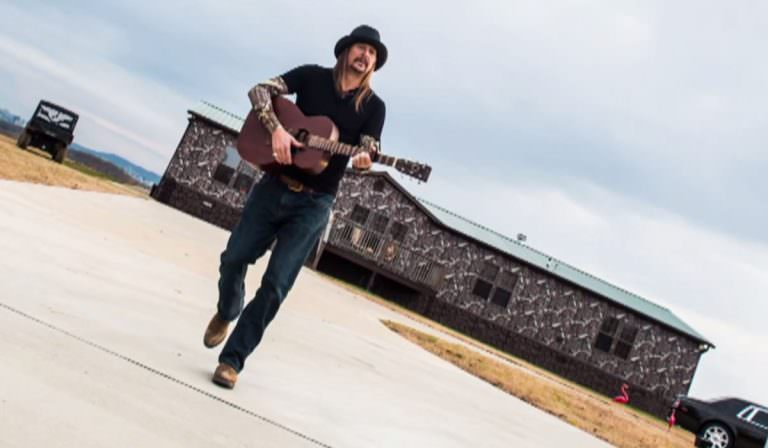 Image Source: velvetropes.com
The deck can accommodate many visitors thanks to the wooden stairs leading up to it, making it perfect for summer gatherings and barbecues. In addition, this modest but comfortable home boasts breathtaking views of the Nashville countryside from every window.
2. Detroit
Image Source: mlive.com
Zillow claims that the old Kid Rock mansion, which boasts six bedrooms, six bathrooms, and six thousand square feet of living space, is one of only a handful of homes in the neighborhood that lies on the waterfront of the Detroit River.
Image Source: mlive.com
The complete and spectacular view of the river" is one of its selling points. Additionally, there are Jet Ski lifts, a boathouse with an outdoor shower, and an upper deck that is ideal for waterfront partying.
Image Source: mlive.com
White Hardie Plank siding with black shutters, railings, and roofing create a striking contrast on the exterior of the multi-million dollar mansion.
Image Source: mlive.com
Visitors will find themselves entering the house in a foyer that continues all the way around to the back, where a second, double-height porch can be found.
Image Source: people.com
There is a living room with a fireplace next to the foyer. The dining area in the kitchen looks out onto the beautiful green exterior, and the kitchen has stainless steel appliances.
Image Source: people.com
The two-car garage is heated and attached to the house, which also features a grand staircase, balconies overlooking the lawn, beautiful hardwood floors, a gourmet kitchen with top-of-the-line appliances, a complete bar, a game room, and more.
Image Source: mlive.com
The house is on 85 acres of beautifully landscaped land, complete with well-clipped hedges, benches, and picnic tables, all of which contribute to the impression that the property is designed with social gatherings in mind.
Image Source: mlive.com
According to sources and records, Kid Rock advertised the home in July 2019 for $2.2 million and then sold it for $2 million. According to real estate websites, the property's current $2,099,000 price equates to $350 per square foot and an $8,593 monthly payment.
Image Source: mlive.com
3. Malibu
Image Source: chriscortazzo.com
The large home in Malibu's residential Point Dume neighborhood has complete privacy thanks to the thick foliage surrounding it.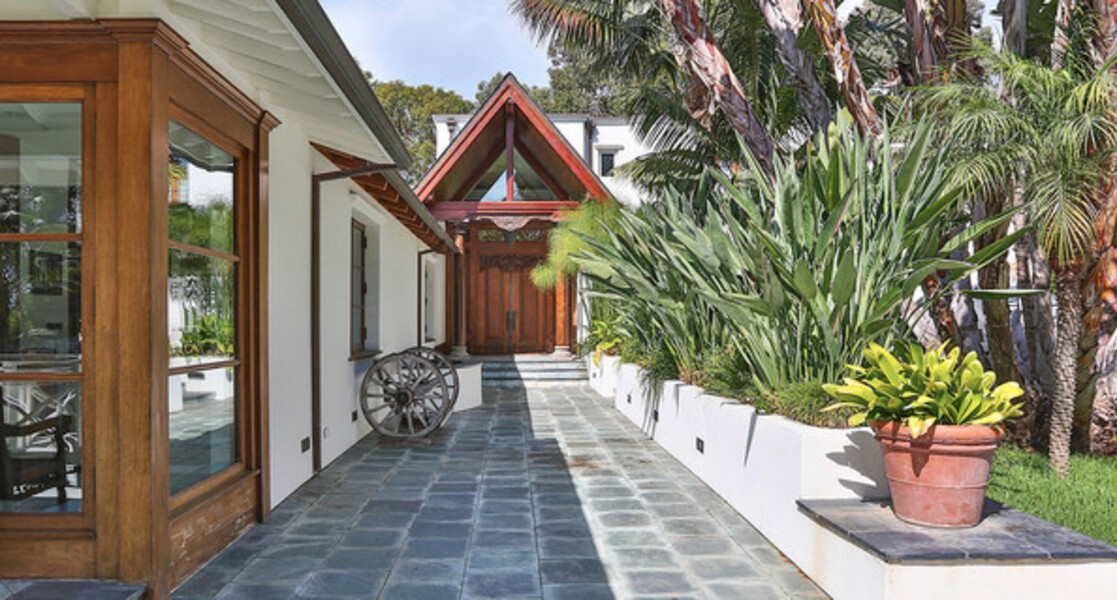 Image Source: chriscortazzo.com
The property combines the greatest aspects of indoor and outdoor living with its open layout and winding corridors.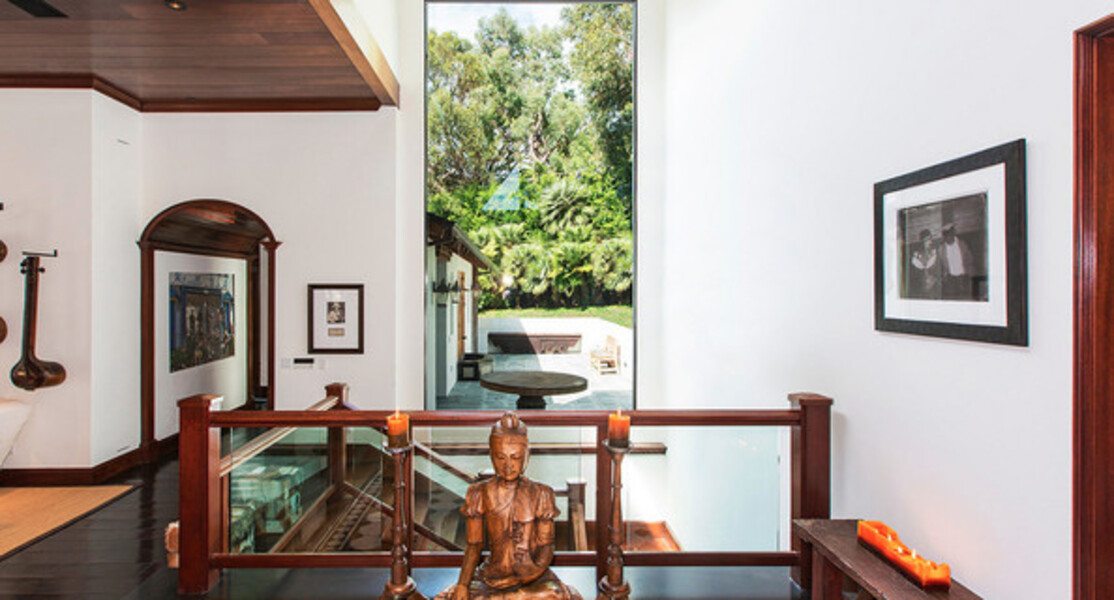 Image Source: chriscortazzo.com
The 8,305-square-foot mansion with its hand-carved wooden doors, open floor plan living and dining quarters, and surrounding french doors are now off-limits after he sold the gated property.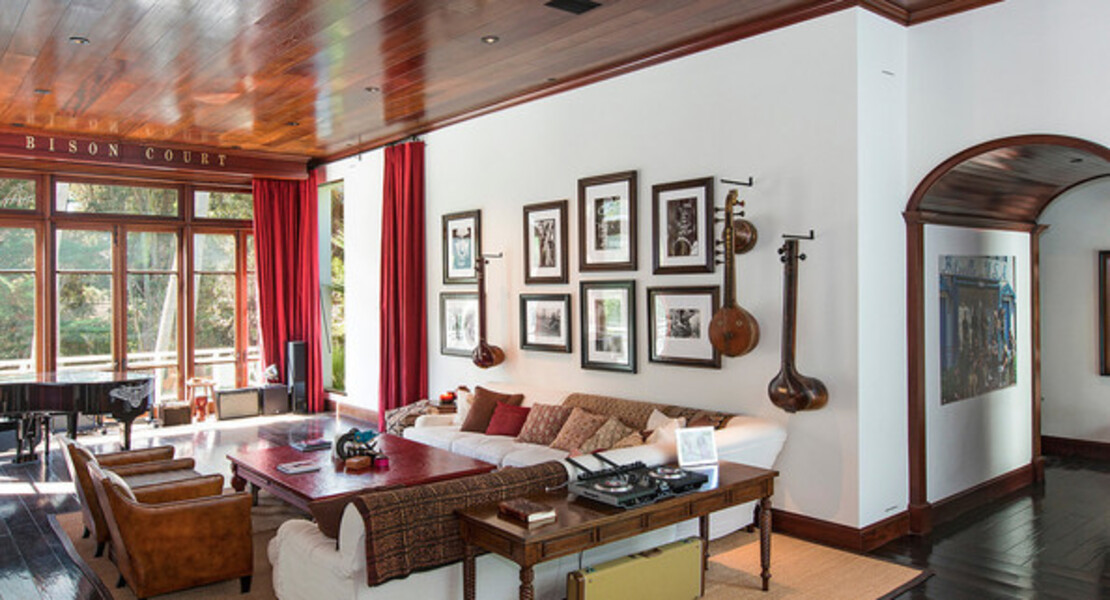 Image Source: chriscortazzo.com
There is a wide variety of furnishings and textiles in the spacious living room design with a vaulted ceiling.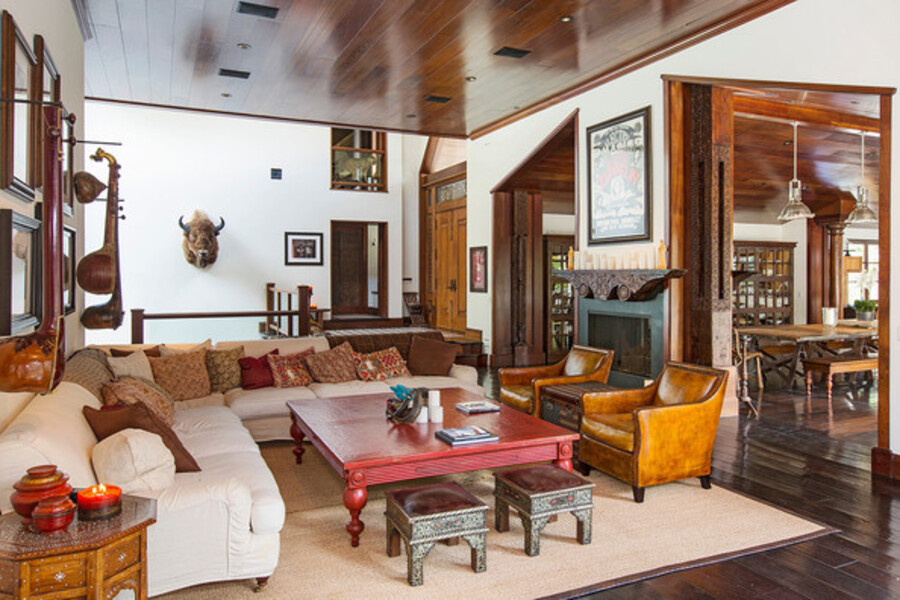 Image Source: chriscortazzo.com
It has 5 bedrooms, including a master suite with two walk-in closets, a big sitting space, a glass-enclosed shower, and a private patio. Of the guest bedrooms, 4 have private bathrooms.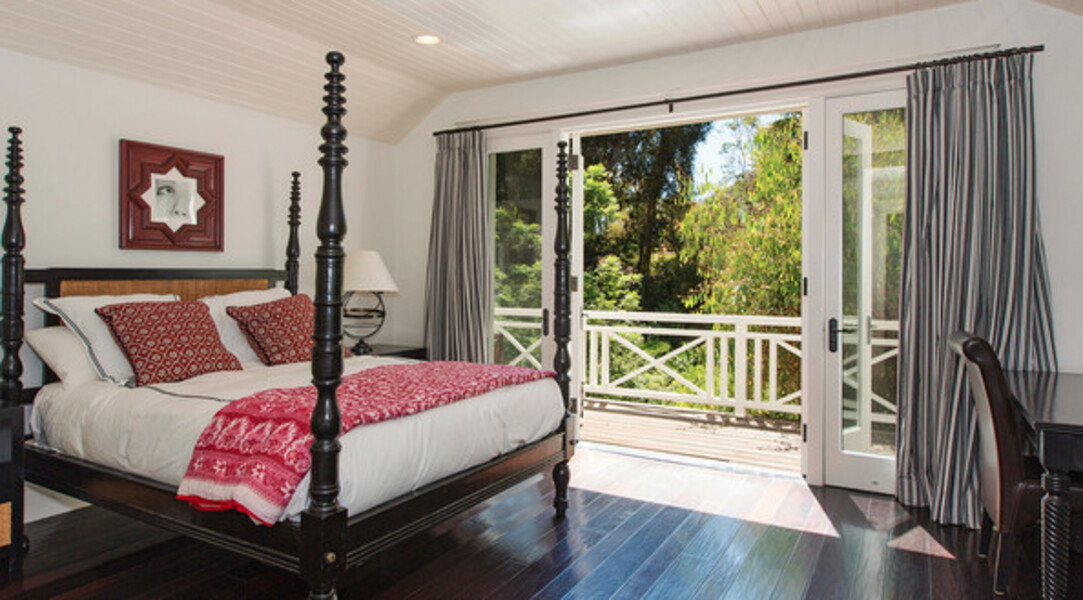 Image Source: chriscortazzo.com
Wide-plank wood floors provide a strong base for a complex four-poster bed, eccentric bedding, and elegant drapes to be piled in a guest room.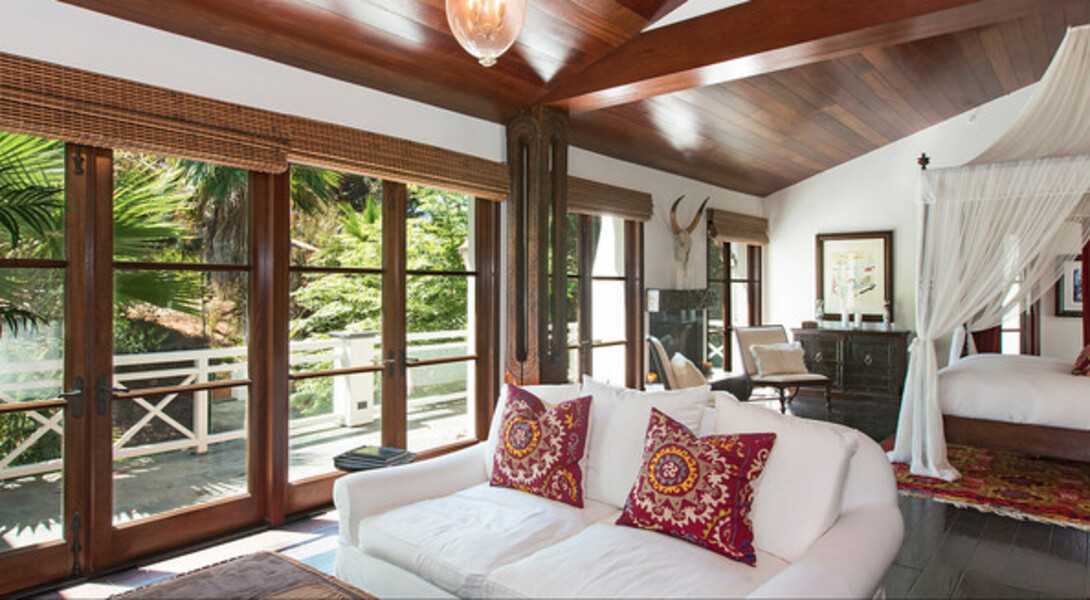 Image Source: chriscortazzo.com
The house also has a huge master bedroom, four other bedrooms, five full bathrooms, a family media room, and a gym.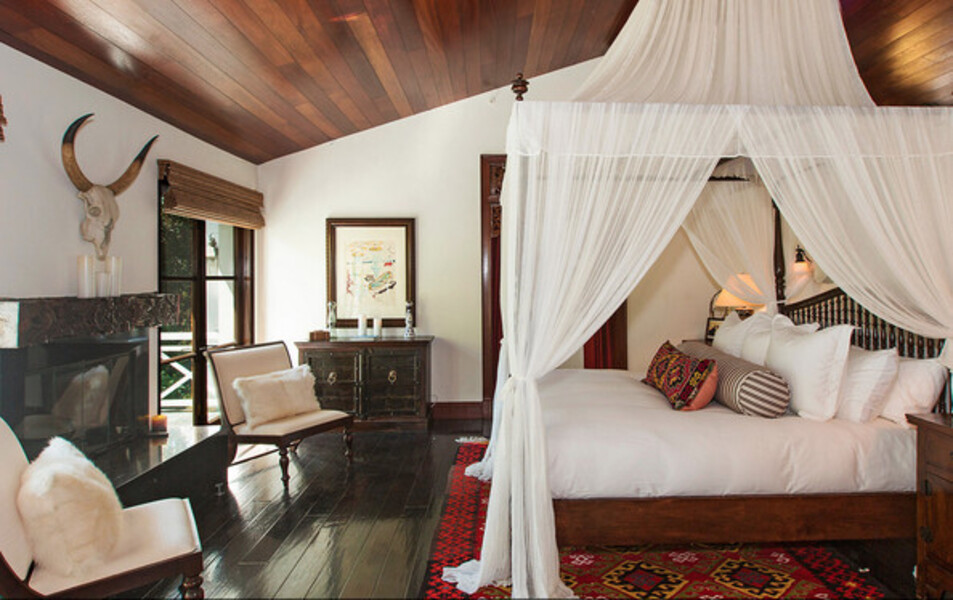 Image Source: chriscortazzo.com
The dramatic Balinese-inspired bed is covered with a cascading canopy of sheers, keeping with the Asian isle that inspired the home's interior design.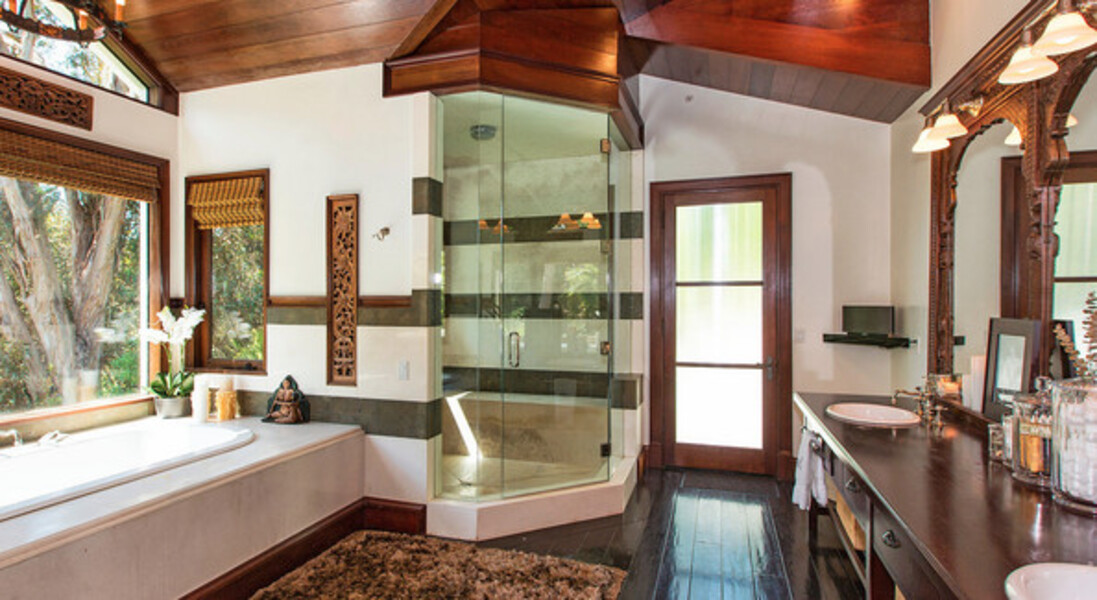 Image Source: chriscortazzo.com
With its white walls, dark wood accents, and walls of windows, the expansive master bath mimics the style of the rest of the house.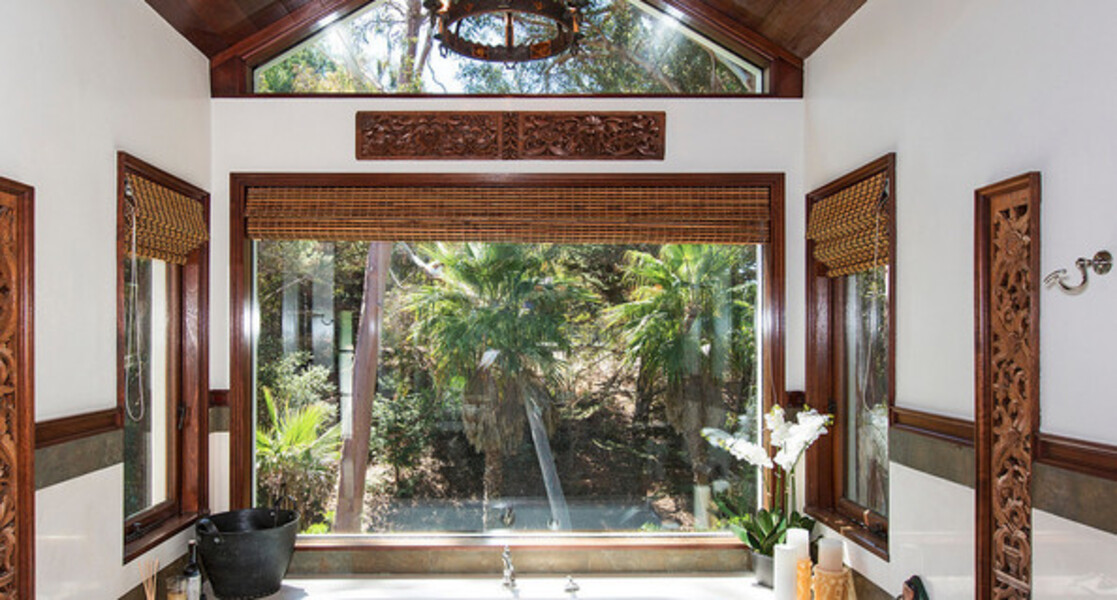 Image Source: chriscortazzo.com
With three large windows and hand-carved wall panels on either side, the tub is fit for a Balinese prince.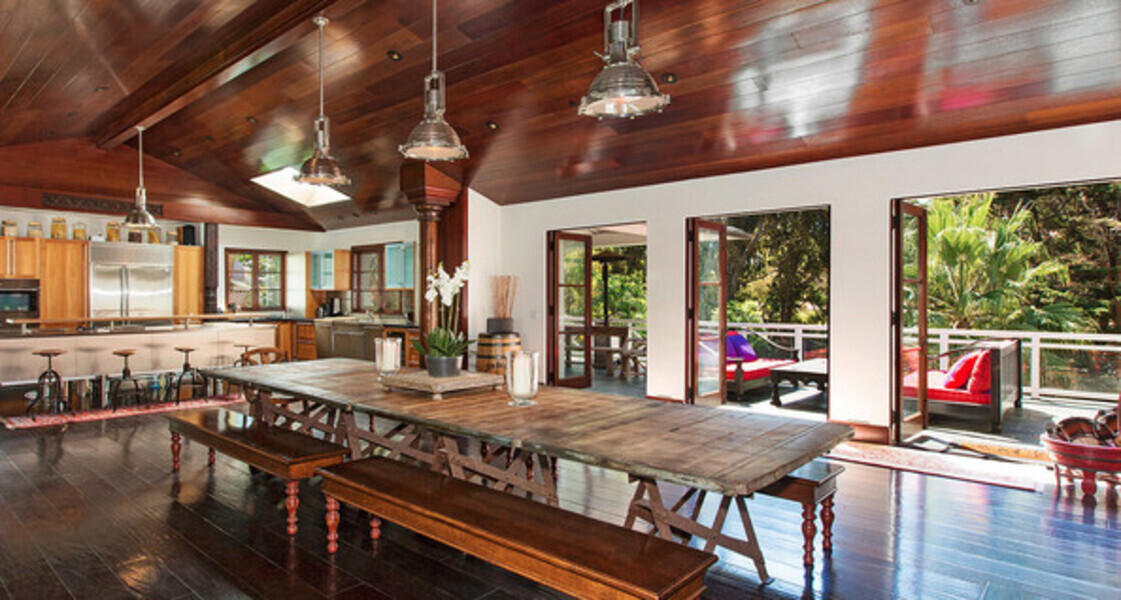 Image Source: chriscortazzo.com
The beautiful chef's kitchen opens up to a light, airy dining room and the beyond lanai. The grand fireplace serves as a focal point of the room and is framed by an artistically carved mantle lit by candles.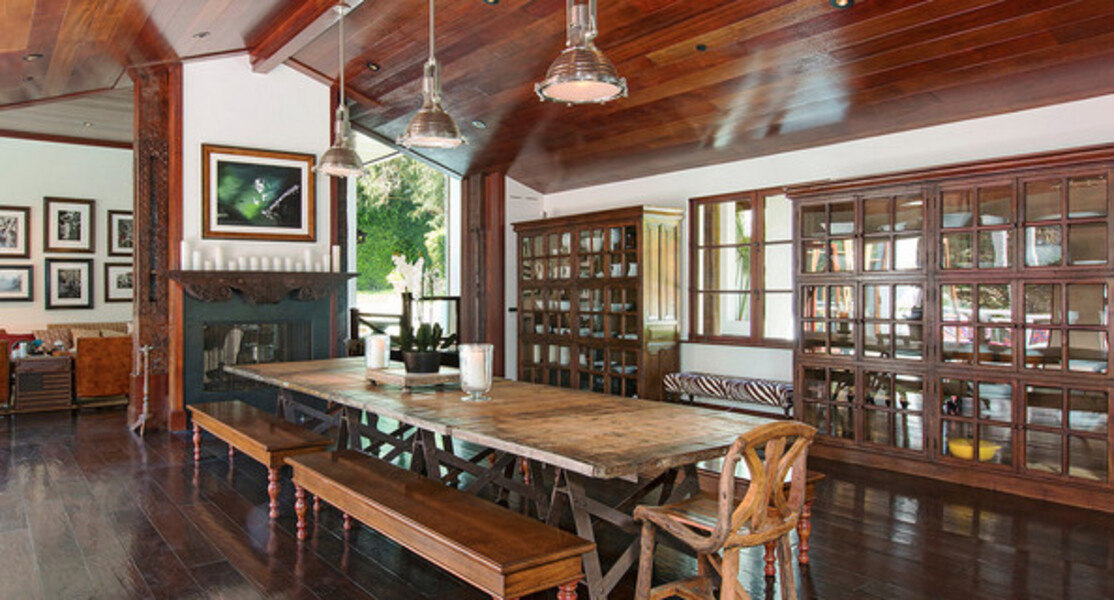 Image Source: chriscortazzo.com
A row of pendant lights illuminates the long dining table in the style of factories. Cushions, throw pillows in complementary hues, and a tufted design elevates wooden outdoor furniture to the next level of style.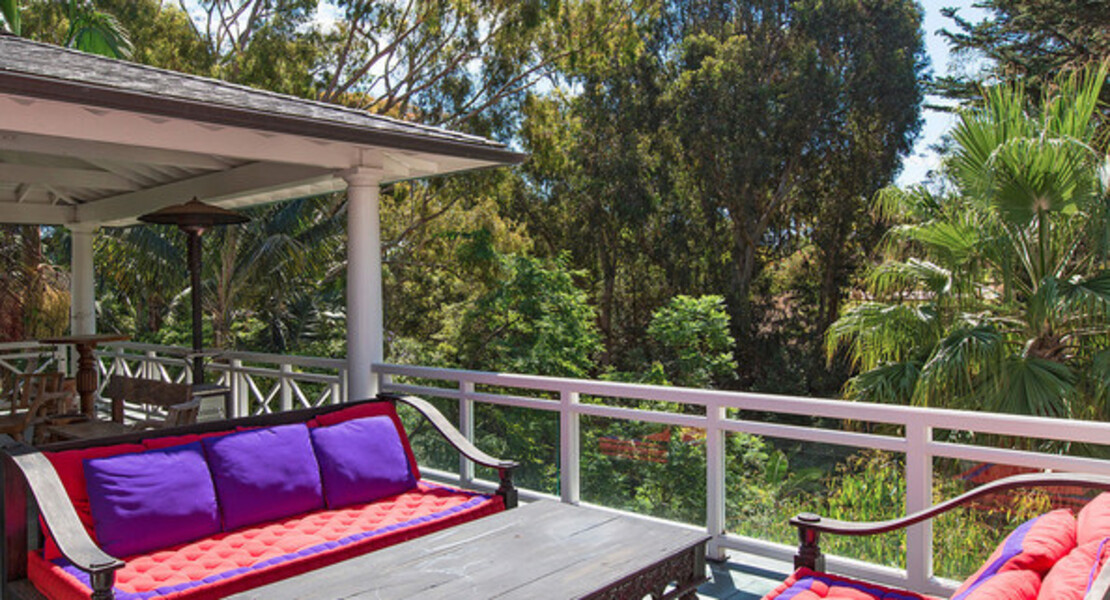 Image Source: chriscortazzo.com
A swimming pool, an outdoor shower close by, and a fitness center and sauna. The property even has a guest house.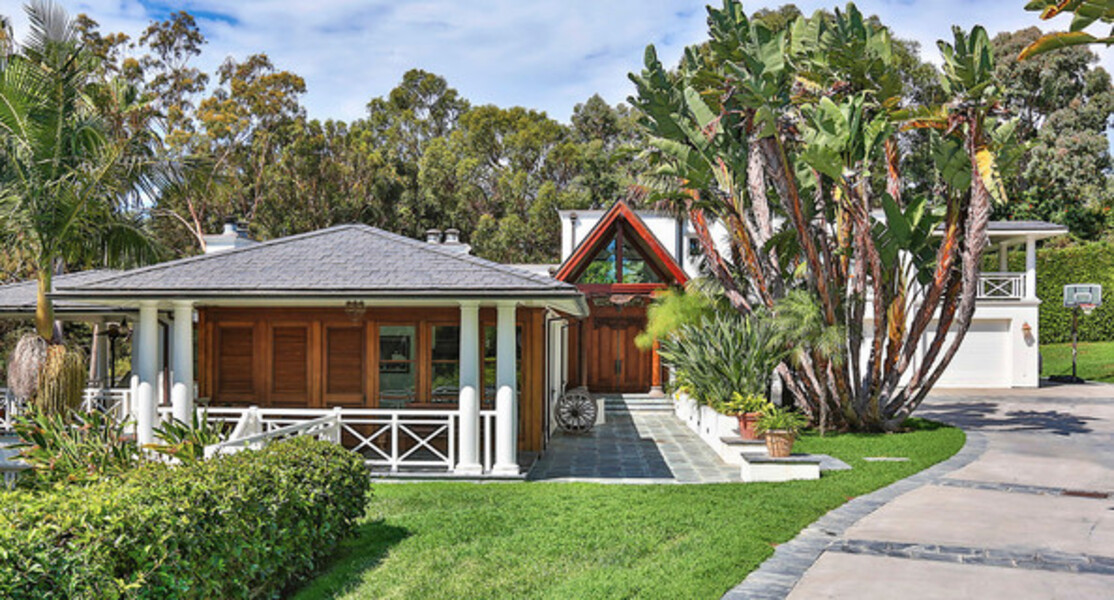 Image Source: chriscortazzo.com
The expansive balcony provides a breathtaking view of the beautiful tropical surroundings of the property.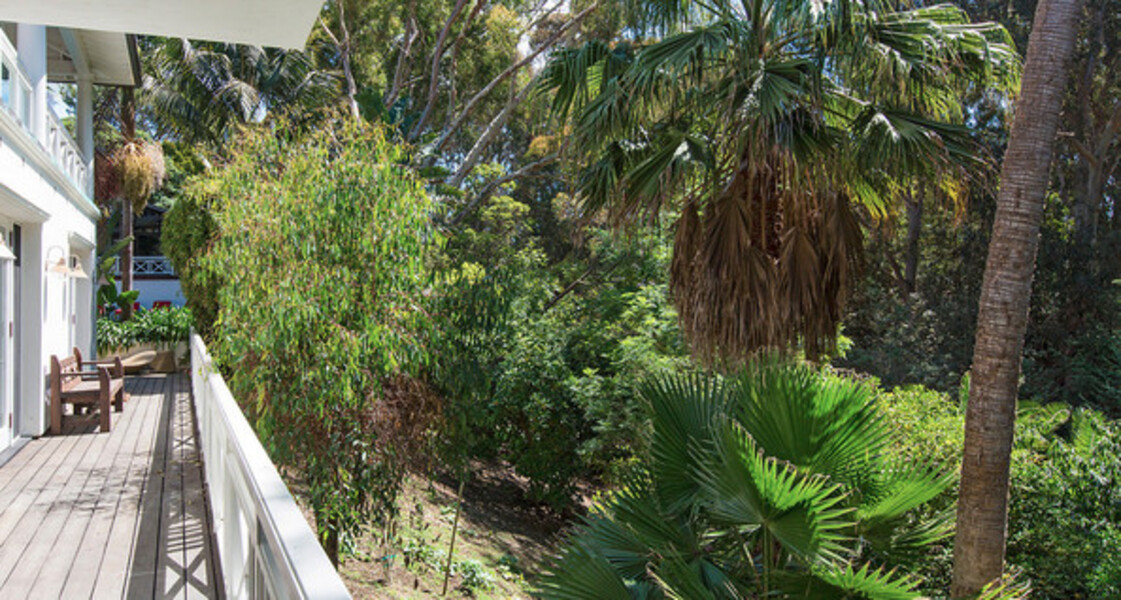 Image Source: chriscortazzo.com
The clean, geometric lines of a patio provide a striking contrast to the home's natural, tropical surroundings. The sparkling pool at the back of the rocker looks endless.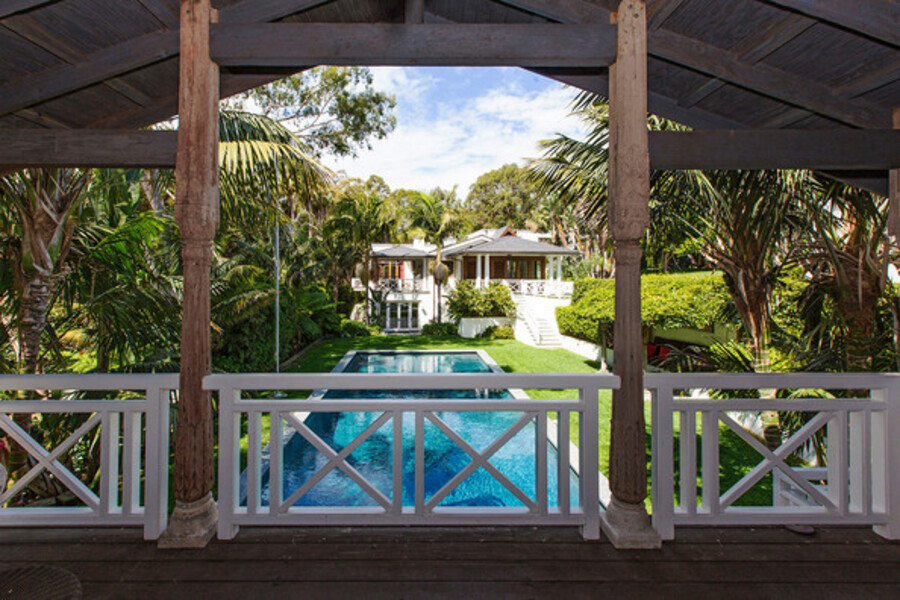 Image Source: chriscortazzo.com
The house's exterior is painted a brilliant white, creating a striking visual contrast with the property's lush landscaping.
Conclusion
Kid Rock has spent much time in his multimillion-dollar Malibu property. But, when he finally saw the city of Nashville, his perspective shifted.
He moved to Music City, USA, where he now resides on a 102-acre property formerly home to A Cowboy Town horse ranch after falling head over heels in love with Nashville and selling his mansion.
Kid Rock needed to downsize his possessions to make a move to Nashville. He placed an order for a custom doublewide trailer and has been living in it since rather than constructing a mansion on the expansive property. Kid Rock said he's much happier without the high-maintenance home.
Featured Image Source: chriscortazzo.com