Jake Paul is a social media sensation turned entrepreneur. You have probably seen him if you were a fan of Vine videos. Besides, he has a massive YouTube following, so you might have seen his videos.
Being famous and rich at a young age has made him the subject of controversy and criticism, especially for his behavior and the content of his videos. He has also been charged with criminal trespass and unlawful assembly. With his lavish lifestyle comes the question; where does Jake Paul live?
Who Is Jake Paul?
Jake Paul ( the "Problem Child"), as he calls himself, is an American YouTuber, actor, mixed martial artist, and professional boxer. He was born on January 17, 1997, in Cleveland, Ohio but grew up in Westlake, the same state as his older brother Logan, a famous YouTuber and internet personality.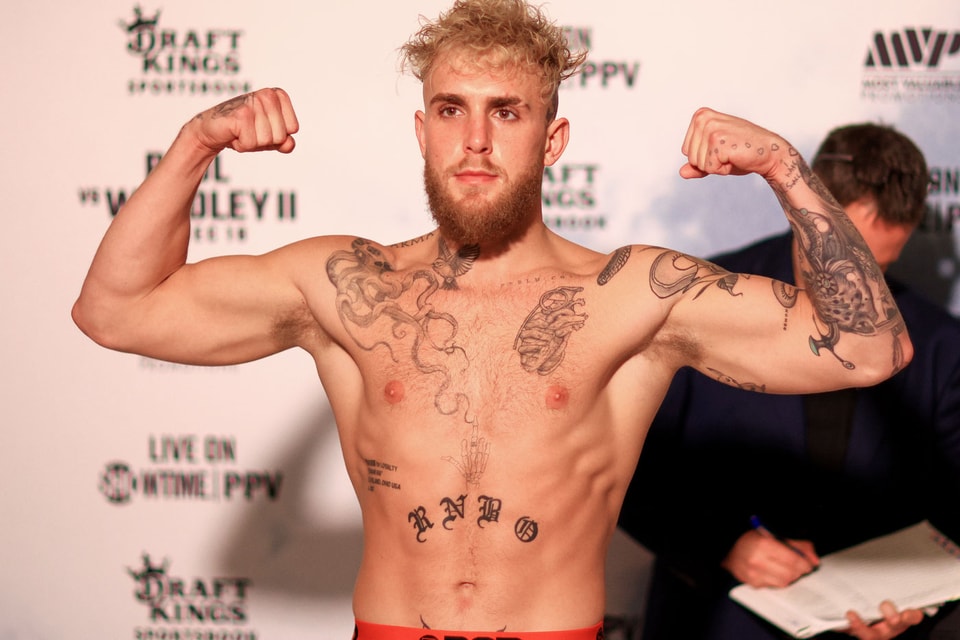 Image Source: hypebeast.com
He first gained fame on the video-sharing platform Vine, where he was known for his humorous and entertaining videos. Jake Paul later became a prominent figure on YouTube, where he amassed a large following with his vlogs, challenges, and other content.
Besides his work on social media, Paul has also appeared in several television shows and films. He had a role on the Disney Channel series Bizaardvark for two seasons as Dirk Mann and has also appeared in the movie The Thinning (2016) and The Thinning: New World Order (2018).
Furthermore, Jake Paul's amateur boxing career began in August 2018 when he defeated British YouTuber Deji Olatunji through TKO in the fifth round. Then, Paul made his professional debut in January 2020, defeating YouTuber AnEsonGib and Nate Robinson. He stated in January 2023 that he would make his professional MMA debut with the PFL.
Now that we know who Jake Paul is let's check out his real estate portfolio investment.
Where Does Jake Paul Live?
As of 2021, Jake Paul has lived in various places across the United States. In a video in 2020, Paul revealed his intention to sell his main residence in Calabasas, CA. Other homes he has lived in include a mansion in Encino, California, and a beach house in Miami, Florida. His current residence is in Puerto Rico, where he lives with his brother.
1. Jake and Logan Paul's New Puerto Rico Mansion- Current Residence
Where does Logan Paul live? Is he living with his brother, Jake Paul?
Jake and his brother Logan Paul are moving to a new property located in dorado beach, Puerto Rico, in the high-end area of the Ritz-Carlton Reserve. The mansion is so expensive that the listing price is only available upon request.
The property was built in 2018 and is set on approximately two acres of land and has a beautiful backyard view. It is divided into a main house with five bedrooms, seven bathrooms, 10,538 sq ft of living space, and a guest house with three bedrooms, four bathrooms, and 2,750 sq ft of living space.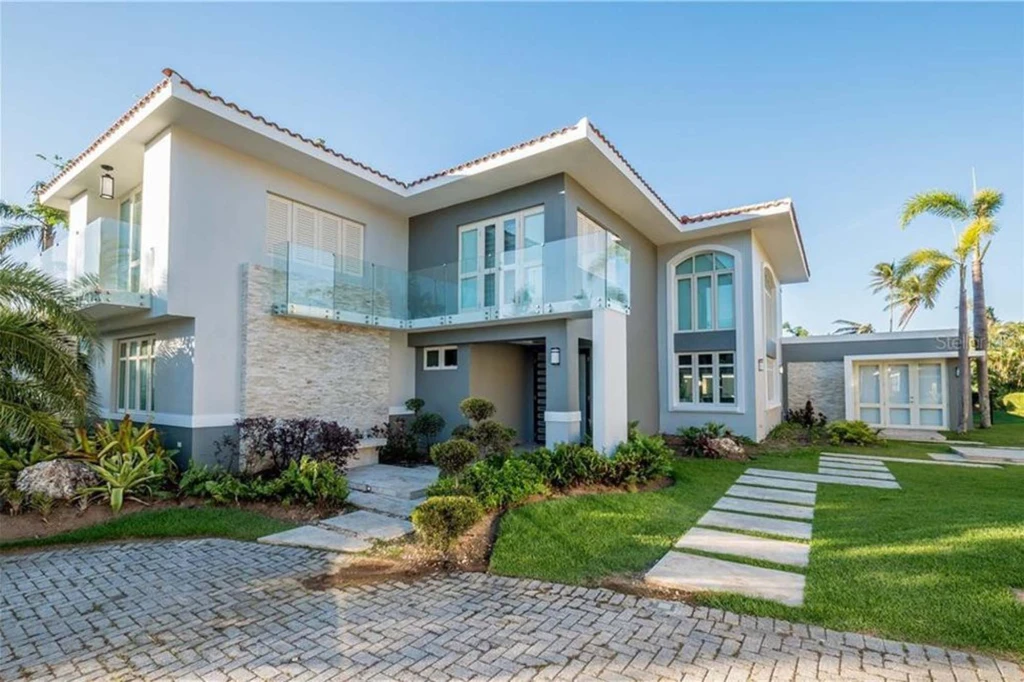 Image Source: nypost.com
The sitting room has a beautiful accent wall, and directly to the right brings you into the home's formal dining room with a custom light piece hanging from above. Dividing the dining room and the kitchen is a large wine cellar that holds enough wine for the brothers. Moreover, the kitchen has a big central island with a breakfast bar and enough space for their chef to prepare meals during fight camp.
What's nice about this new mansion is that it faces the ocean with a private golf course directly in the backyard. The backyard features a resort-style pool with plenty of lounge space. The first floor is a junior primary bedroom with sliding glass doors accessing the backyard. Additionally, there is a large walk-in closet, a master bathroom, a large balcony, office space, and the master bathroom.
The rest of the mansion has many luxurious features, such as a home spa. Jake and Logan want to relocate to focus on preparing for upcoming fights. The three-bedroom guest house next door is used as the staff house.
2. Inside Jake Paul Calabasas Mansion- Team 10 House
The property sat on 3.5 acres of land and was built in 1990. The mansion served as the headquarters for the YouTube group, Team 10, and his management company.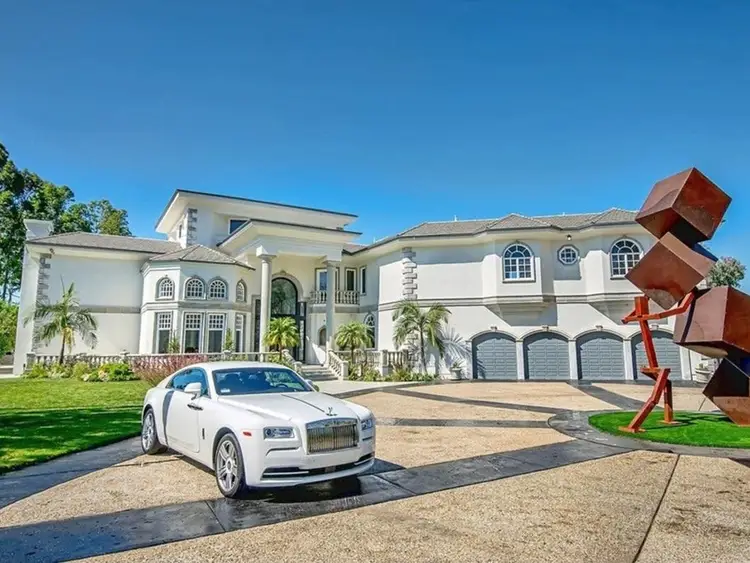 Image Source: https://africa.businessinsider.com
It is 15,000 sq ft and has eight bedrooms, eight bathrooms, a gym, a home theater, and a pool. Besides, the house's interior is decorated in an industrial style, with exposed brick walls and metal accents. Paul has also added a music studio, a game room, and an indoor basketball court.
The grand entrance has a three-story spiral staircase, and all rooms are huge, including the different common areas and the formal dining room. The house also features a large outdoor pool and spa, a covered patio, and a BBQ area. Paul has added several features to the house's exterior, including a waterfall, pond, and trampoline. Furthermore, the $6.9 million mansion is located in a gated community, providing additional privacy and security for the YouTuber.
I). The Living space
Image Source: priceypads.com
The double-height living room has neo-Palladian windows and connects to another living room with a fireplace and even more neo-Palladian windows. The third living room (a family room) has a vaulted ceiling, built-in shelving, and French doors leading to a terrace.
ii). The kitchen
Image Source: priceypads.com
The huge kitchen has top-of-the-line stainless equipment, which includes four ovens, a coffee maker, and a temperature-controlled wine closet. And both the adjoining breakfast area and formal dining room feature French doors leading to al fresco eating patios.
iii). Bedroom
The bedrooms are on the upper floors. The octagonal master bedroom connects to a private balcony with magnificent views of the rugged hills surrounding Calabasas. Besides, the master bath has a glass shower large enough for six people, stone floors, and a sitting area with a beverage fridge. Also, there are two walk-in closets, each of which has custom cabinetry.
Image Source: priceypads.com
Moreover, the master suite features a kitchenette and a secret entrance through the bookcases connecting rooms. The property also has seven further suite-style bedrooms.
iv). Outdoor space
This Jake Paul house has multiple loggias and patios in the back, serviced by two distinct BBQ centers. Besides, a secluded swimming pool area sits off to one side of the terraced, and down a few more flights of steps is another flat grassy pad with enough space for a tennis court.
Image Source: famouscelebrityhomes.com
Furthermore, the property has a four-car connected garage and is secluded from its neighbors behind a parking lot-sized motor court and a long driveway. The landscaping in the front yard is defined by a few palm palms and a large area of green lawn.
3. Jake Paul's Mansion in Encino, California
The mansion is located at 16650 Mulholland Drive and was built in 2008. It has seven bedrooms, seven bathrooms, a movie theater, and a 25-meter swimming pool. Besides, it is surrounded by lush gardens, olive and citrus trees, and a koi pond. Jake Paul bought the mansion in 2017 for $2.5 million.
Furthermore, the mansion offers sweeping views of the San Fernando Valley. The property is spread over 8,500 sq ft and has been renovated with a modern design. Other features include an outdoor kitchen, a wine cellar, a grand staircase, an outdoor terrace, and a spa.
4. Jake Paul's Beach House in Miami, Florida
Jake Paul's beach house in Miami, Florida, is a five-bedroom, five-bathroom property located in the exclusive Bal Harbour neighborhood. The house features a private dock, pool, hot tub, and a covered patio with an outdoor kitchen.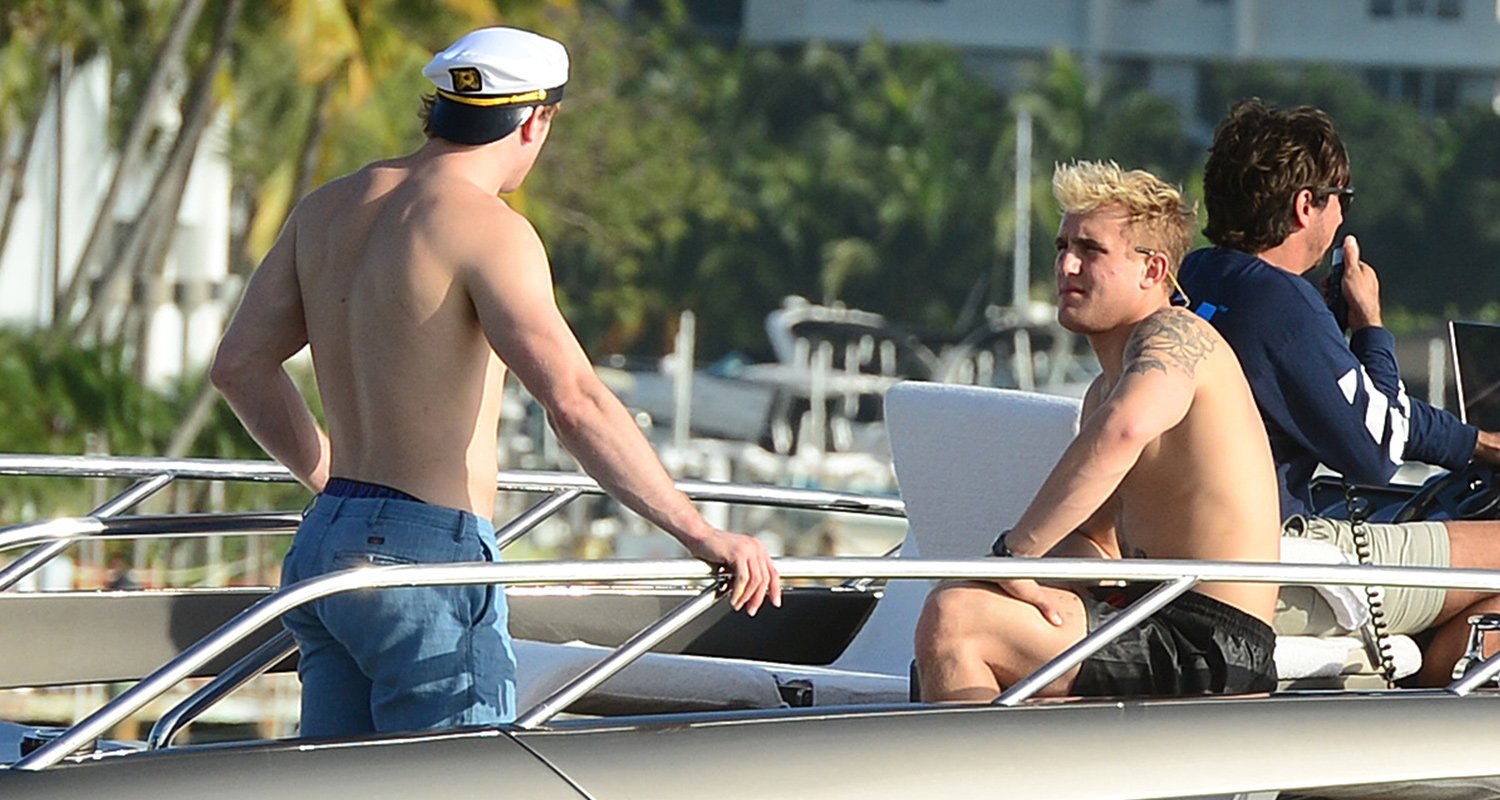 Image Source: justjaredjr.com
The house includes a two-story great room, a gourmet kitchen with top-of-the-line appliances, a full bar, and a media room. The home also features a large master suite with a private balcony and a guest suite. Moreover, the property has a security system and a full-size gym.
Frequently Asked Questions on Where Does Jake Paul Live?
1. Do the Paul Brothers Live Together in the New House?
Jake and Logan Paul live together in their new Puerto Rico property. The Paul brothers are practically all in the same line of work, and remaining together might be beneficial.
2. Why Did Jake Paul Sell His Calabasas, CA House?
Jake Paul sold this home at a loss for $6.15 million to concentrate on his boxing career and become a "legitimate pro fighter," leaving Los Angeles' party life behind. This, however, is one of the primary reasons for selling his house.
3. What Made Jake Paul So Rich?
Jake Paul is a professional boxer, a Youtube star, and a social media star. He generated huge wealth from his YouTube streaming, which helped him rise to popularity with his brother Logan. Jake Paul's net worth is $30 million as of December 2022.
Featured Image Source: africa.businessinsider.com