Whenever you hear about the greatest NBA players of all time, various names are bound to be mentioned, and there is one which will, no doubt, be the divisive icon himself, LeBron James. Currently playing for Los Angeles Lakers, James' net worth is over a billion dollars, and as such, he is expected to own some of the most luxurious homes in the world. So, where does LeBron James live?
In his over 19-year NBA career, LeBron has owned multiple properties in the cities he has played in. He has invested big bucks to ensure he can relax and rejuvenate in comfort and luxury after a long day. From his first Ohio home to an extensive $36 million Beverly Hills abode, we take a closer look at LeBron's impressive cribs.
Who is LeBron James?
LeBron Raymone James, nicknamed King James, who was born on December 30, 1984, in Akron, Ohio, is an American professional basketball player famously considered one of the greatest players in the history of the NBA. He has won four NBA (National Basketball Association) championships with the Miami Heat in 2012 and 2013, the Cleveland Cavaliers in 2016, and the Los Angeles Lakers in 2020.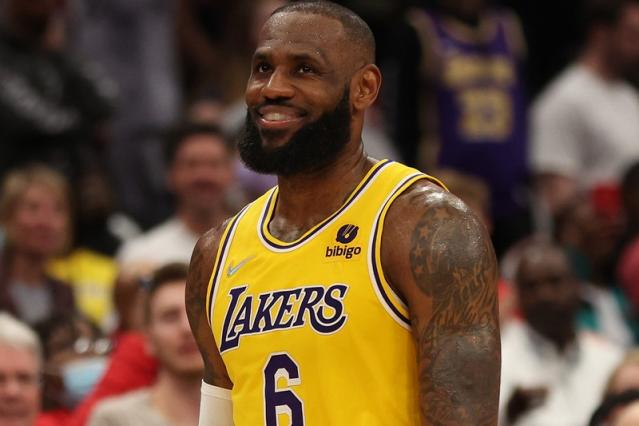 Image Source: sports.yahoo.com
In 2023 he became the NBA's all-time leading scorer, so it's not surprising that he's one of the highest-paid NBA players. Actually, LeBron became the first player in NBA history to amass $1 billion in earnings as an active player. His many achievements extend off the court too. LeBron is an actor, producer, co-owner of leading soccer team Liverpool FC, and philanthropist.
Naturally, this NBA star also has a spectacular real estate portfolio. So if you're wondering where LeBron James lives and how luxurious his homes are, this article puts together King James' past and present residences.
1. LeBron's Luxury Mansion in Beverly Hills
In 2020, the basketball superstar bought a pricey estate in Beverly Hills for a whopping $36.75 million. This stately property once belonged to Hugh Hefner and Katharine Hepburn, but James bought it from its recent owners, Lee Phillip Bell, co-creator of The Young and the Restless and The Bold and the Beautiful.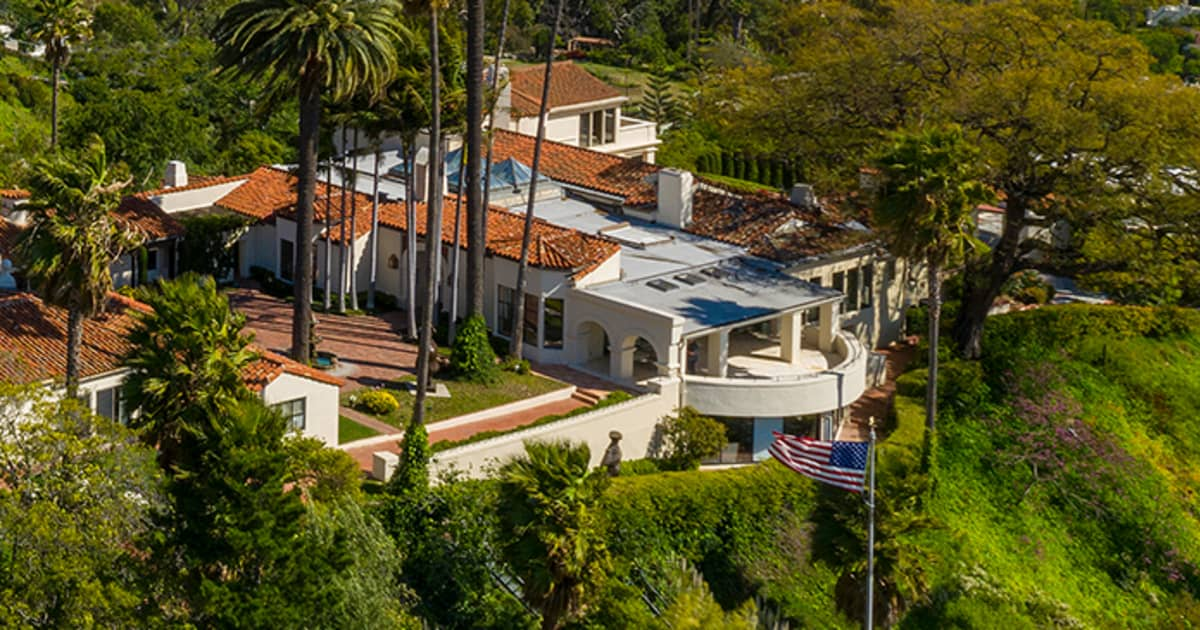 Image Source: forbes.com
Built in the 1930s, this Mediterranean-style home boasting 2.5 acres of land and spectacular views of Los Angeles has undergone several home upgrades and renovations. This luxurious property includes a main house spreading up to 9,100 square feet, with eight bathrooms, four bedrooms, and two suites. It also comes with vaulted ceilings, seven fireplaces, a screening room, multiple entertaining areas, and walls of glass gliders for striking, unobstructed indoor-outdoor flow.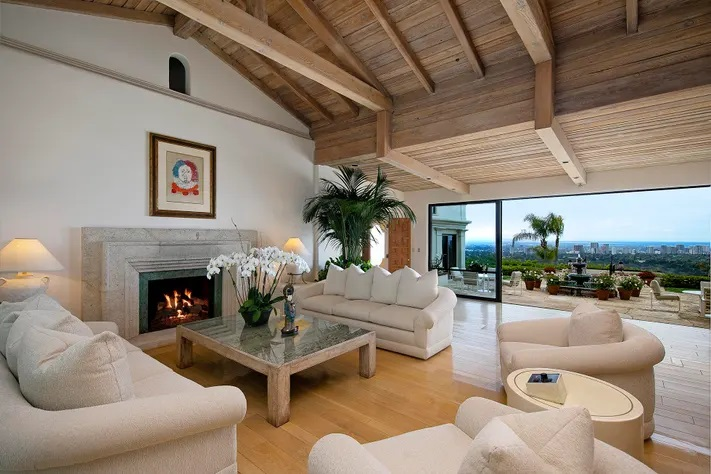 Image Source: forbes.com
Including not one, but two detached guest houses, LeBron's Beverly Hills posh property also features a lighted tennis court, pool house with two bathrooms, large swimming pool, hedge-lined parkway, and large palm-topped motor court for his many cars, all in a dramatic private setting fit for King James.
2. LeBron's Second Brentwood Mansion
In 2017, LeBron bought a mansion in Brentwood, Los Angeles, for 23.5 million. This property is situated in a highly desirable, luxurious neighborhood with scenic views, and it's a new build, so it has a modern vibe with marble finishes throughout. It covers 15,846 square feet and features eight bedrooms and eleven bathrooms with beautiful views of the Pacific Ocean from downtown Los Angeles.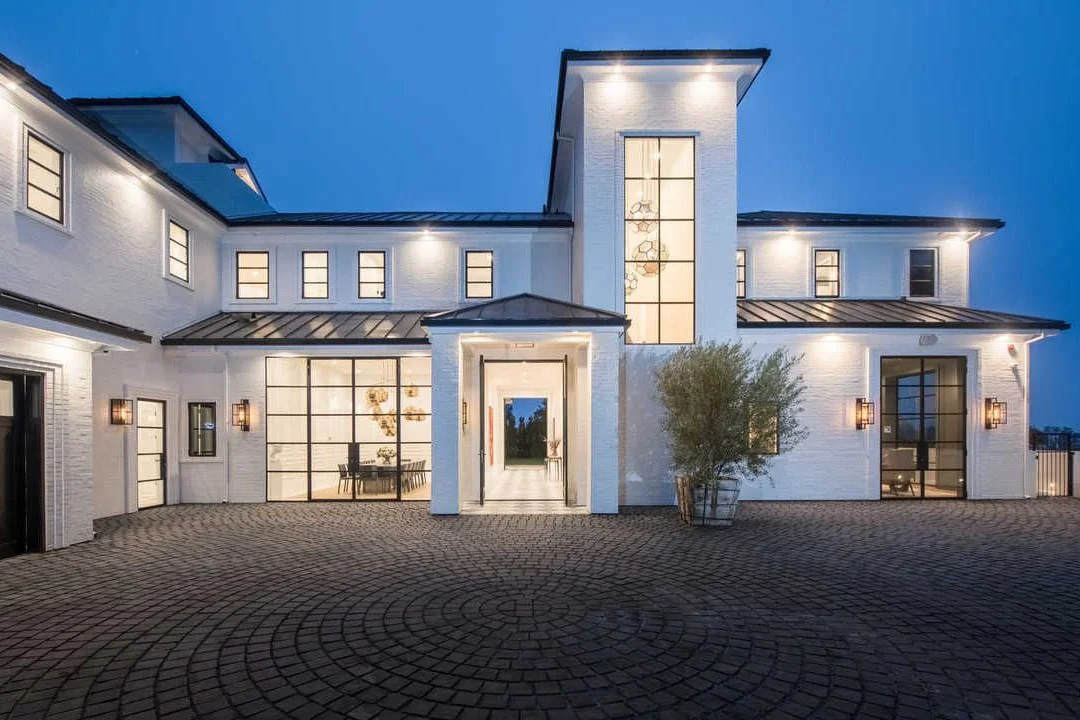 Image Source: essence.com
Known as a master of design and light, the mansion combines a warm, traditional-style exterior with contemporary European finishes, including 14-foot ceilings, antique reclaimed marble countertops, floors, and walls, and a pleasing color pellet, mostly white.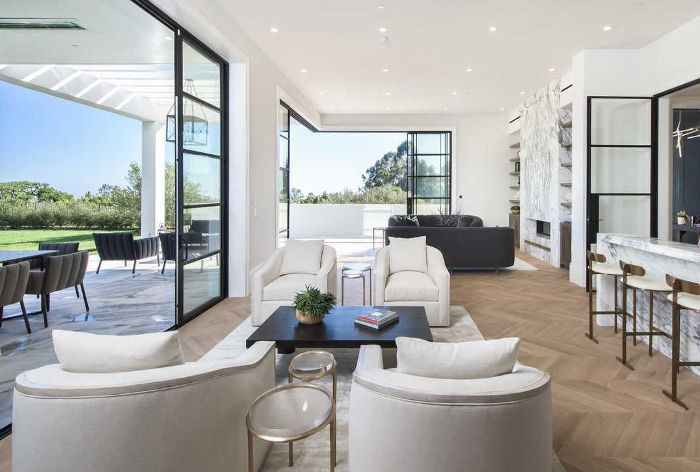 Image Source: mydomaine.com
The luxurious living space in Brentwood, Los Angeles, is about bringing the outdoors into the interiors. The sliding glass doors and floor-to-ceiling windows ensure the space gets all the natural breeze. The living space also features a very subtle choice of modern and classy décor aptly incorporated into the room to enhance its overall ambiance.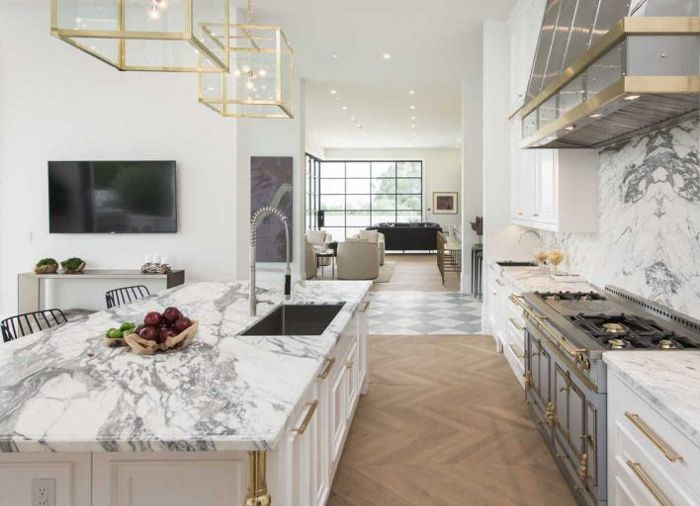 Image Source: mydomaine.com
The mansion includes a well-lit kitchen that is stylish yet minimalistic. It boasts magnificent French range equipment with modern black and white-toned marble countertops. Also, the brass details of the lighting, oak wooden floors, and kitchen cabinets add to its aesthetic appeal.
Image Source: washingtonpost.com
Additionally, this property features a lavish bedroom with a royal touch thanks to the enormous master bed and the furry décor. The hardwood floor and the white walls add contrast to the room. But like the living space and the kitchen, the crowning aspect of this bedroom is the well-lit seating area with tree-stump tables and the curved bean couch. The oversized artwork summarizes the design with a touch of sophistication.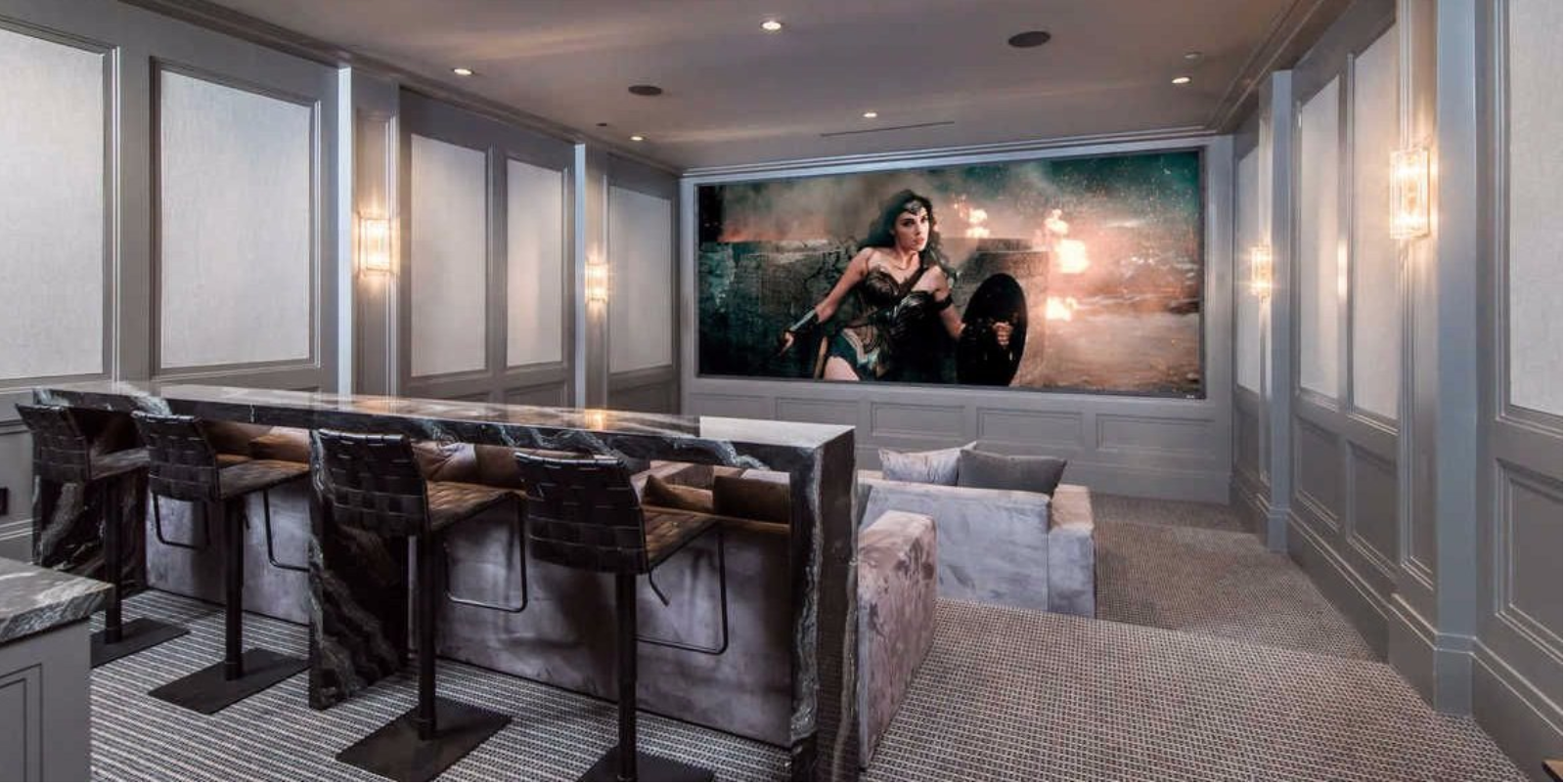 Image Source: washingtonpost.com
Designed with entertainment in mind, this home comes with many high-end amenities, such as an expansive daylit space holding a fully-soundproofed home theatre with a professional sound system and a massive screen. It also includes a 1,500-bottle wine cellar and a cigar room with air-purifying technology. As if there is not enough space for friends and family to chill out and relax, the home also has an onyx bar and a well-designed game room with a pool table.
The mansion has a fully furnished indoor and outdoor gym, half inside the home and half outside. It is directly linked to the spa with a shower, steam room, sauna, and massage room.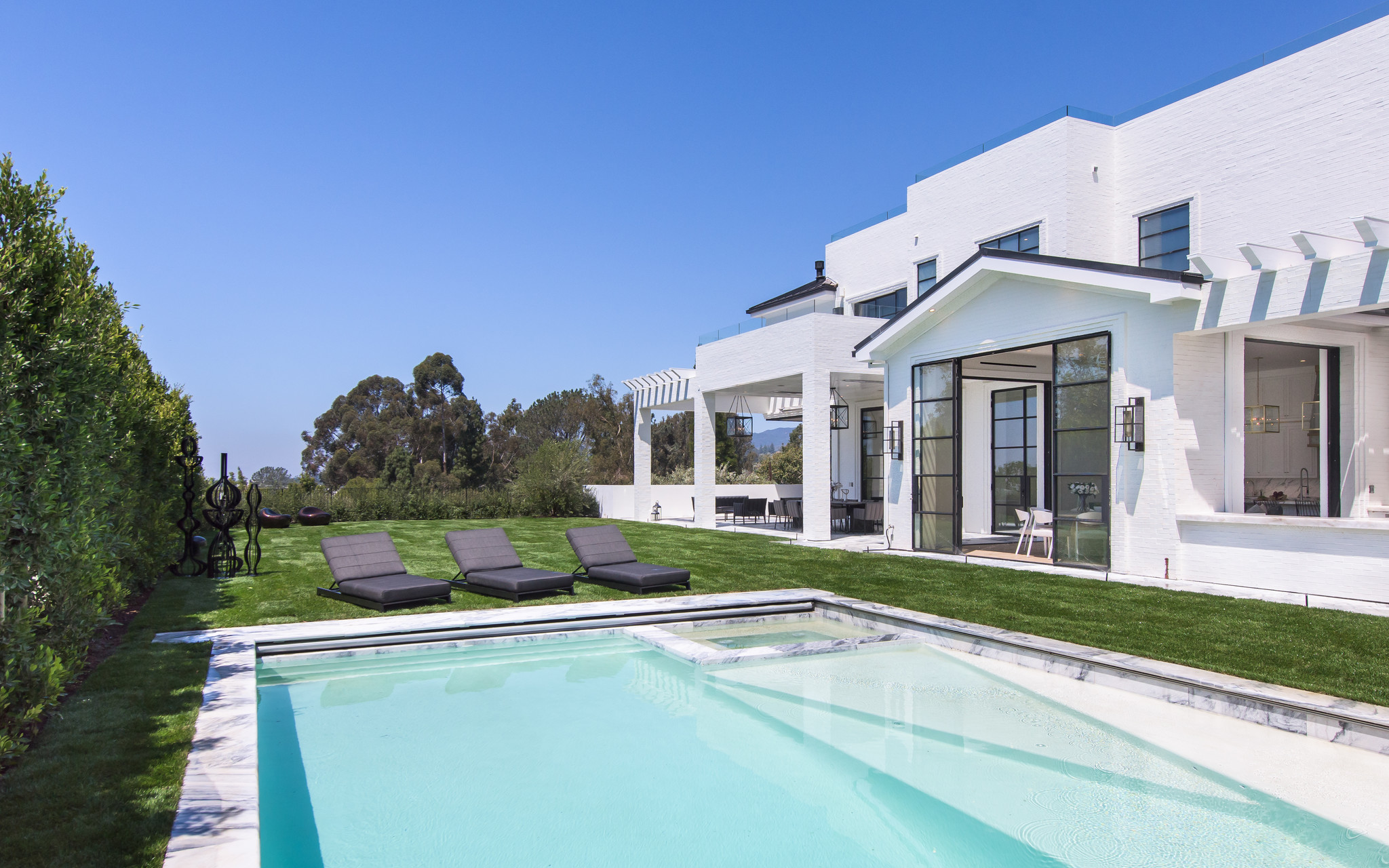 Image Source: chicagotribute.com
On the outside, LeBron James' house in Brentwood, LA, boasts a massive porch with marble floors overlooking grassy fields. There is a huge swimming pool and another spa located close to the outdoor kitchen, which features a barbeque and beer tap. Also, a private driveway decorated with 100-year-old imported Sevillano olive trees leads to an ample cobblestone parking space.
3. LeBron's First Brentwood Home
After selling his Miami waterfront mansion in 2015, King James paid $ 21 million for a Brentwood mansion on Rockingham Rim. It is no surprise that King James picked this area for his two Los Angeles homes as it is one of LA's leading neighborhoods that house various celebrities and plenty of local attractions. James' family, including his wife and three kids, later moved to LA in 2018 after he signed with the Los Angeles Lakers.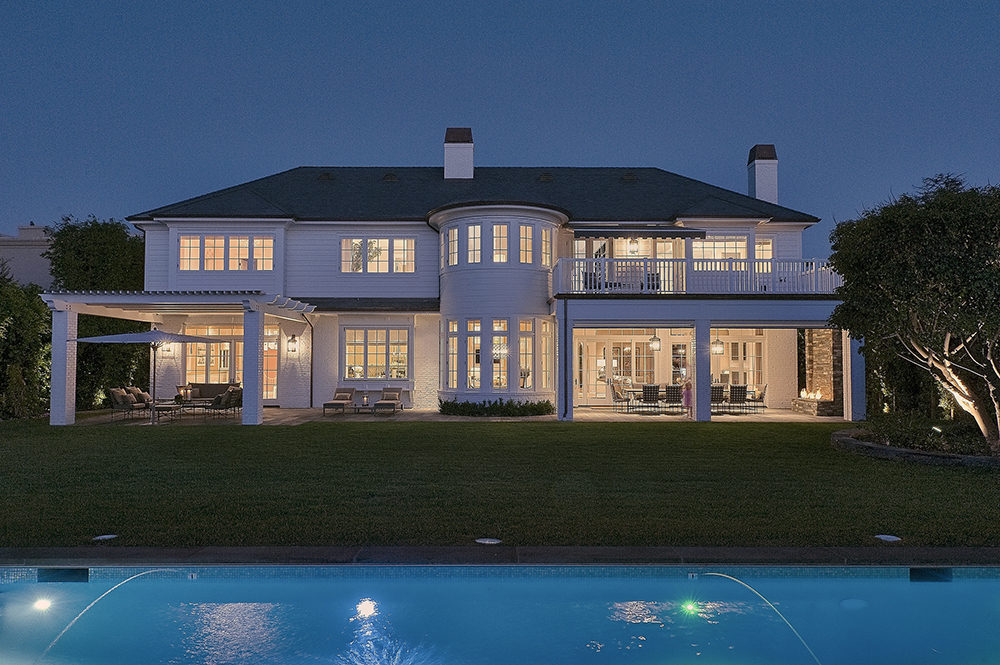 Image Source: esquirereb.com
The palatial property that spreads over 9,400 square feet was built in 2011. The stone and white brick colonial mansion include seven bathrooms, six bedrooms, two family rooms, a paneled office, an elevator, a home gym, and a media room. Other interior decors include a double-height foyer, a state-of-the-art kitchen, detailed ceilings, Oakwood floors, and a window-lined breakfast nook. Also, the master suite boasts a private sitting room, a two-way fireplace, and a terrace.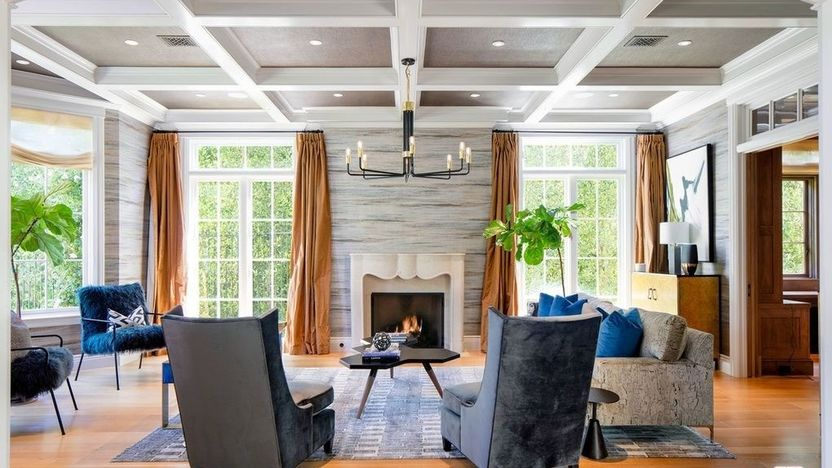 Image Source: realtor.com
Not to mention the luxurious outdoor amenities, including a pool-side cabana, an infinity swimming pool, a three-car garage, and a basketball court at the end of the driveway.
But the NBA superstar didn't hold the property for long. Five years later, he sold this Brentwood home for a lesser price of $19.6 million.
4. LeBron's Ohio Home
James LeBron's first major property splurge was in 2003 after signing with the Cleveland Cavaliers. He acquired a Bath Township property, sitting on 7-acre land northwest of Akron in Summit County, for $2.1 million, and has since built a 30,000-square-foot mansion, fit for a king of his stature.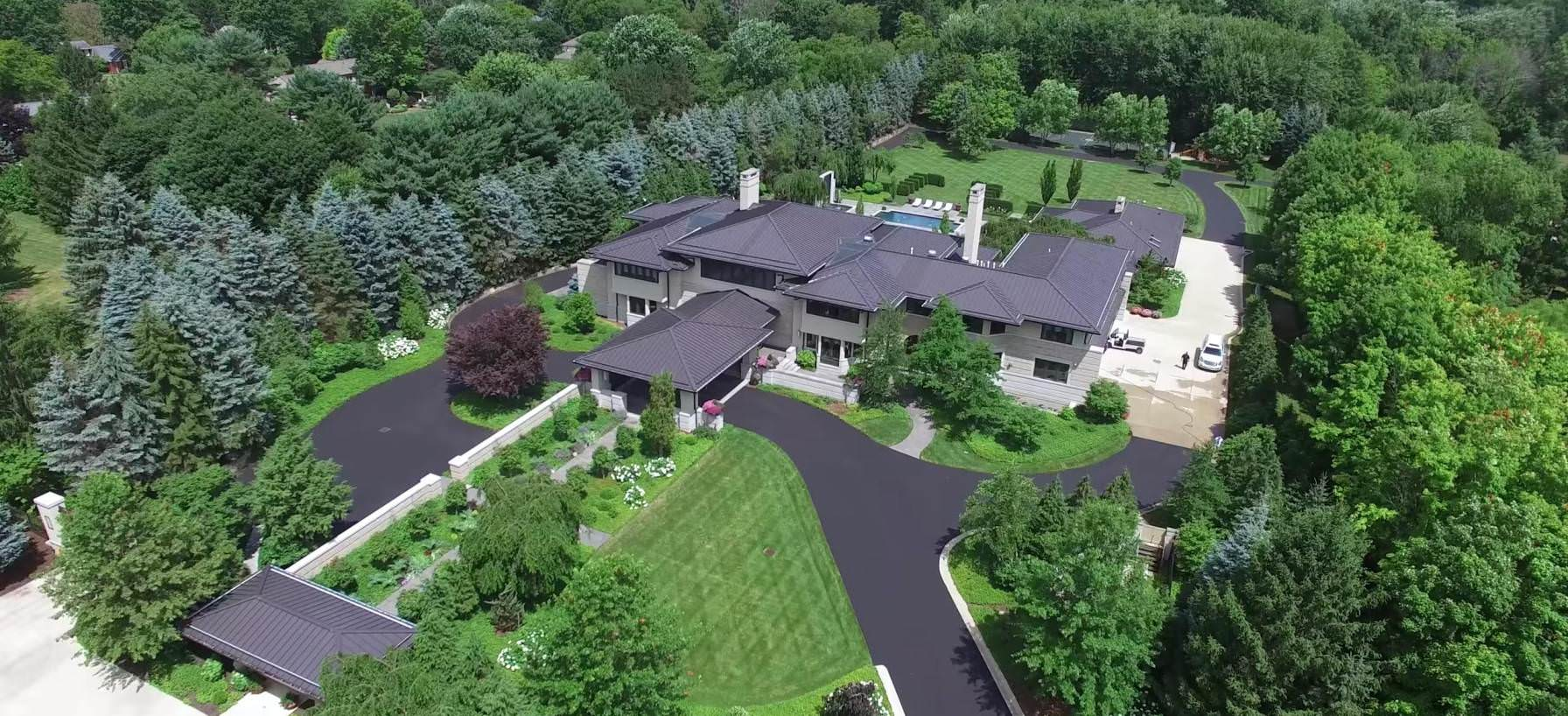 Image Source: bashabearsbasketball.com
The exquisite mansion, which was custom built for James, has 19 rooms, including six bedrooms, with the master bedroom featuring a two-story walk-in closet, eight bathrooms, a two-lane bowling alley, a sports bar, a home movie theatre, a recording studio, a barbershop, and an aquarium.
Despite switching teams, LeBron James still owns his Ohio home. But with the extensive renovations, it is now reported to be worth over $9 million.
5. LeBron's Miami Mansion
2010 after leaving the Cavaliers for Miami Heat, LeBron bought a custom-built, three-story mansion in Coconut Grove, Florida, for $9 million. He lived in this property during his four-year tenure with Miami Heat between 2010 and 2014.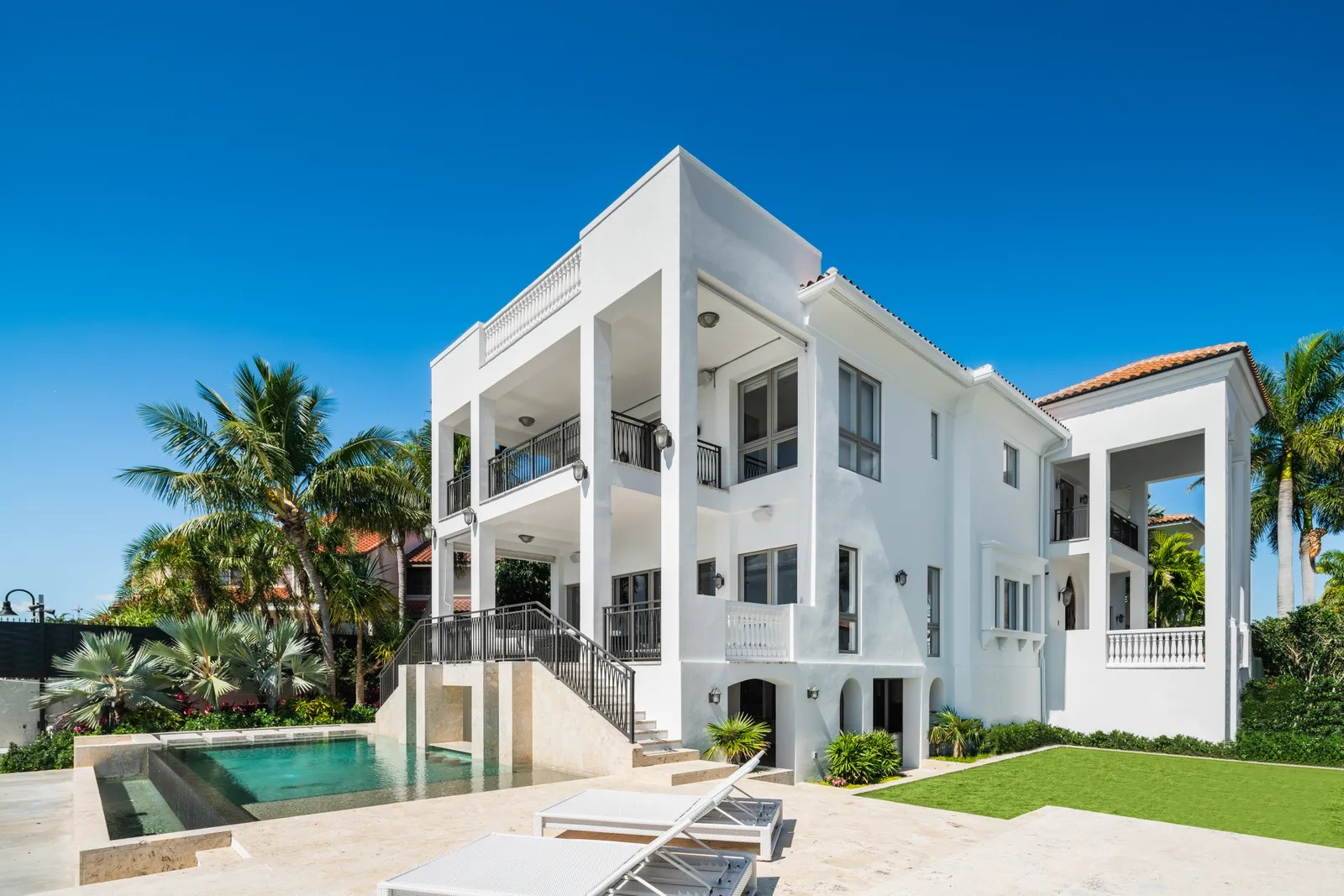 Image Source: architecturaldigest.com
The property includes a main house that spreads over 12,000 square feet and has eight bathrooms and five bedrooms. Its primary suite extends to a rooftop deck via a spiral staircase on the balcony with a spectacular view of Biscayne Bay. The Miami pad also has a one-bedroom guesthouse and a concrete dock with a large enough space for 60-foot yachts.
Even though he later sold this Miami home in 2015 for $13.4 million, he did enjoy it while he had it owing to a wine cellar, an eight-seat home theatre, a private waterside balcony off the main suite, and a backyard pool area.