Baking is fun and therapeutic. However, the prep work can be daunting, especially when you intend to make a large batch. Specifically, mixing the ingredients can be a nightmare. Hence, to make the experience more enjoyable, you will need to get yourself one of the best baking mixers on the market.
There are many available mixers you can choose from, depending on the size, type, and other factors. We shall discuss some of the best stand mixers you may be interested in trying.
Best Baking Mixers
1. BLACK+DECKER MX600B 5-Speed Hand Mixer
BLACK+DECKER MX600B Helix Performance Premium 5-Speed...
2X More Beater Surface Area: Increased surface area of the...
This mixing set includes: two helix beaters, two dough hooks, and...
Reinforced Nylon Beaters: The helix beaters are made with...
5 Speeds + Turbo Boost: Find the right speed for every mixing...
Hand mixers also work excellently to provide consistent and smooth batters. In addition, this Black + Decker hand mixer provides two times more beater surface, allowing for more contact with the given ingredients.
This hand mixer set comes with two dough hooks, two helix beaters, and a wire whisk. Its reinforced nylon beaters deliver strength that enables it to handle tough mixtures, thanks to its added durability.
Image Credits: rin, amazon.com
The Black + Decker hand mixer has up to five speeds, which you can use to make different batter consistencies. In addition, you can increase the speed gradually as you mix for optimal consistency.
2. Hamilton Beach Electric Stand Mixer
Hamilton Beach Electric Stand Mixer, 4 Quarts, Dough...
Same mixing action as KitchenAid stand mixers*. this mixer...
Baking with ease: effortlessly mix Thick batters and doughs like...
Complete bowl coverage- No scraping necessary: mix hands-free...
Mixing versatility: includes splash guard, dough hook, whisk and...
7 speeds and mixing guide: go from a slow stir to a fast mix,...
Ask me about this bad boy if you want the best baking mixer. I used it and enjoyed making my batter as it works smoothly. It makes baking a lot more fun than it already is.
I could mix even thick batters and doughs as it is powerful and has a 300-watt motor. This Hamilton Beach stand mixer gives excellent results every time as the planetary mixing rotates the beaters around the stainless steel bowl for even mixing.
Image Credits: Jay, amazon.com
One of the best things about this stand mixer is its several attachments, such as a dough hook, flat beater, whisk, and splash guard. Additionally, the mixer has up to seven speeds with a mixing guide that made it easier for me to go from a slow mix to a fast mix, each with exact control.
3. KitchenAid Artisan Mini Plus
Sale
Kitchenaid Artisan Mini Plus 3.5-Qt. Tilt-Head Stand...
Built to take it all on with the durable and built-to-last metal...
3.5 Quart Stainless Steel Bowl for smaller batches, to mix up 5...
Easily add ingredients with the tilt-head design, because you'll...
Lighter. Smaller. Just as Powerful. With the same power as the...
10 Speeds for Nearly any Task or Recipe. From mixing ingredients...
To begin with, this mixer is made with durable and long-lasting metal, making it strong and suitable for long-term use. The head tilts, making it easy to add ingredients. This made work easier for me while baking with my kids as they like to help, and the tilting head made the process easier.
This KitchenAid mixer has up to 10 speeds, which makes it handy for most of my recipes. This includes mixing ingredients on the stirring speed, whipping creaming butter, cake batter, and even kneading bread dough.
Image Credits: Ivy, amazon.com
The KitchenAid stand mixer comes with over ten attachments. Imagine what you could do with 10 attachments if you love the kitchen.
Also, the 3.5-quart stainless steel bowl is suitable for mixing smaller batches of batter. Consequently, these KitchenAid stand mixers worked great in my favor as I mostly bake only in small quantities.
4. Ankarsrum Original 6230 Stainless Steel mixing bowl
Ankarsrum Original 6230 Black Chrome and Stainless...
Black Chrome mixer base with stainless steel and carbon steel...
Includes a 7 liter stainless steel mixing bowl, dough roller,...
Self adjusting speed control
Powerful and quiet 600 watt motor
Whisks meringue, creams butter, and holds up to 18 egg whites
Having to knead bread dough can sometimes be frustrating as you need more strength. However, with this stand mixer, I could mix my bread dough easily and effortlessly.
I liked that I could leave this mixer unattended and get my dough ready. This is due to its sturdiness and stability, which is everyone's dream.
Image Credits: Jim, amazon.com
Like other dough-kneading machines, this stand mixer is ideal for ensuring consistent mixing is achieved, and it is also versatile. For example, I could use it to whisk meringue and even cream butter. In addition, I could mix cake batter, cookie dough, bread dough, and all forms of batter with ease.
The stainless steel bowl is easy to clean and with a capacity of 7 liters, making it ideal for those who love baking in large quantities.
5. Smeg 50's Retro Pink Stand Mixer
Finding the best stand mixer was one of the things that improved my baking skills. This particular one has a powerful motor with 600 watts, making mixing easy and providing consistent results. In addition, the motor makes mixing even the stickiest and toughest doughs easy.
Accessing the speed control button is easy as it is on top of the tilt head. This means that you can easily access it from whichever direction you stand.
Image Credits: Edera, amazon.com
Smeg stand mixer comes with numerous accessories like a wire whisk, pouring shield, flat beater, and dough hook. These attachments make the mixer versatile as you can use it to mix different types of batters.
It has a stainless steel five-quart bowl that can be used to mix large batches of dough and batter. I even used it to make elastic and stretchy pizza dough when I tried making my favorite recipe for the first time. The best thing is that even if you make extra dough due to the large size of this bowl, you can always find what to do with the extra pizza dough.
What to Look for When Selecting the Best Baking Mixers
a) Types of Baking Mixers
1. Hand Mixers
A hand mixer has to be held by hand during use. They are flexible and can be used with any mixing bowl. However, they are slower and require a lot of manual work.
Image credits: food52.com
There are two types of hand mixers;
i) Electric Hand Mixers
Electric hand mixers need an electrical outlet to work.
ii) Rotary Hand Mixers
Rotary hand mixers have levers. So, to use a rotary hand mixer, turn the lever and let the mixer do the remaining work.
2. Stand Mixers
To make mixing tasks easier, stand mixers come with a stand, mixing bowl, and several attachments.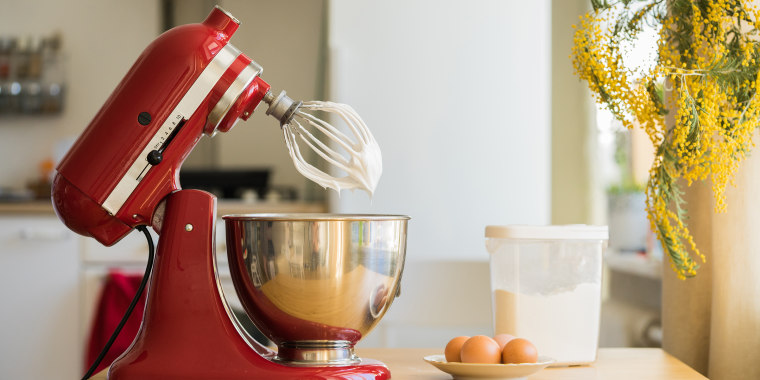 Image credits: todayshow.com
These mixers are a great solution when baking with thick batter or mixing with the need to add ingredients as you go. Due to their static nature, stand mixers allow you to multitask while they mix.
Although they are better in most ways than hand mixers, stand mixers are more expensive and require more counter space.
b) Size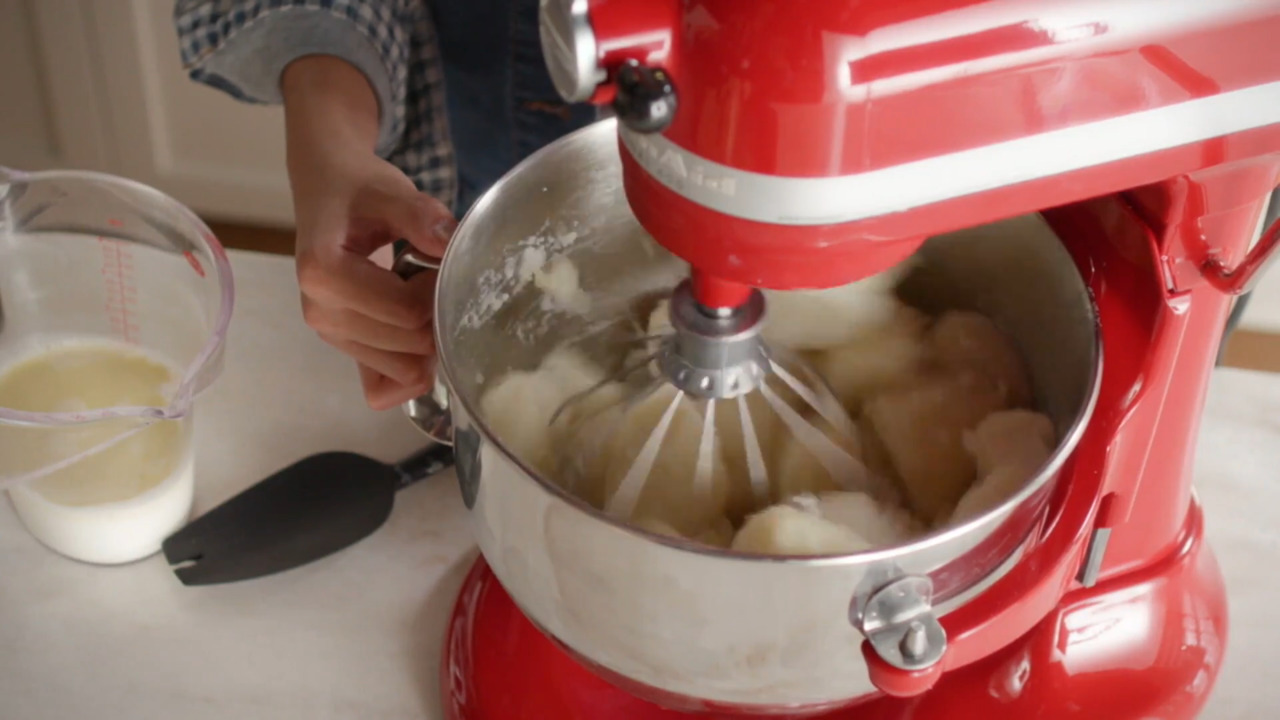 Image credits: QVC.com
Large cake mixers are a good choice if you are a serious baker or run a cake-making business to make baking easier. However, if limited space is an issue, you might have to disassemble your mixer to make it compact for storage.
c) Weight
Since you will need to hold a hand mixer while it is being used, stick with lightweight models. On the other hand, go with a robust stand mixer. Because heavier models are more stable, you won't have to worry about them moving around the countertop while you're using them.
d) Speed Settings
Different cake mixers feature different speed options, and while mixing various types of food, various speeds will be needed. Therefore, choose a cake mixer with at least three-speed settings to cover more recipes.
e) Attachments
The more attachments available, the more versatile a mixer is. However, you can get one with at least three attachments.
Image credits: leadsafemama.com
Wire Whip- A wire whip, also known as a balloon whisk, is constructed of wire strands organized in an oval pattern. It is appropriate for blending light ingredients like icing, whipped cream, puddings, custards, soufflés, and meringues.
A flat beater is a large, flat surface ideal for combining brownie, cake, or cookie batter. You can also use the beater to make frosting or mashed potatoes.
Dough Hook- this is a helix or C-shaped attachment. It can be used to knead or fold bread dough or pizza dough.
f) Price Range
If you stick with hand mixers, several alternatives are available for less than $100, some even closer to $20. However, if you're ready to invest in a stand mixer, most models range in price from $200 to $700.
If you want to prepare particularly huge quantities of food, you would need one of the more expensive commercial versions, which can cost over $1,000.
g) Wattage
Never accept a stand mixer that has less power than 250 watts. You won't be able to mix the batter or other recipes except for pancakes as they are thinner. . The motors in more expensive models are stronger, hence suitable for mixing the dough with different consistencies.
Tips for Using Baking Mixers
Here are a few things to remember when using a mixer to make your dough or batter.
a) Use the right speed: As a general rule, use the slowest speeds for folding in ingredients and kneading. However, faster speeds are best for creaming, beating, whisking, and whipping cream.
b) Adjust the height of the mixing tool, which should be positioned so that it nearly touches the bottom of the bowl.
c) Choose the right tool between the balloon whisk, a dough hook, and a flat beater.
Flat beater combines normal to heavy consistencies, including icing, biscuits, and cakes.

Flex Edge beater (updated flat beater) that scrapes ingredients stuck on the sides o the bowl for easier mixing.

Balloon Whisk- This is ideal for mixing light cake batters, whisking egg whites, and whipping and creaming ingredients.

Dough Hook- used to knead the dough and make heavier pastries.
d) Place the whisk in the batter before starting.
Frequently Asked Questions on the Best Baking Mixers
1. When would one use a hand mixer?
Using a hand mixer when handling lighter-duty tasks or mixing small portions is advisable.
2. Can a blender be used instead of a hand mixer?
If you do not own a hand mixer, you can use an immersion blender if you're working with more liquid ingredients. The blades cut through the ingredients, making them ideal for hand-mixing tasks.
3. Is a stand mixer necessary?
Having a sand mixer is necessary, especially if you enjoy baking. It makes the whole process easier and less time-consuming.
4. How powerful should a hand mixer be?
Generally, hand mixers use between 200-250 watts of power. This power should work fine for lighter tasks.
5. Does wattage matter in a mixer?
If you go for a mixer with less than 250 watts of power, you will only be able to mix pancake batter. More expensive models have more powerful motors of 500-1000 watts, making them ideal for mixing thicker batters.